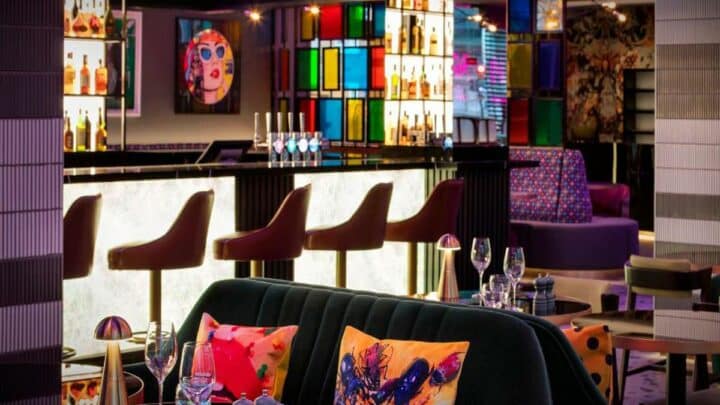 Looking for the best hotels in Bloomsbury? These are the top places to stay in the area.
Packed with gorgeous hotels, it's no wonder that the leafy area of Bloomsbury is one of the best areas to stay in London.
Better yet, the neighbourhood's accommodation caters to budgets of all sizes and sits within easy reach of Oxford Street, London's major theatres, and the vibrant area of Soho.
But with so much choice, where do you stay? Fear not, friends – read on to discover our favourite Bloomsbury hotels.
Best Hotels in Bloomsbury: At a Glance
Best Hotels in Bloomsbury
The Montague on the Gardens, Montague Street
££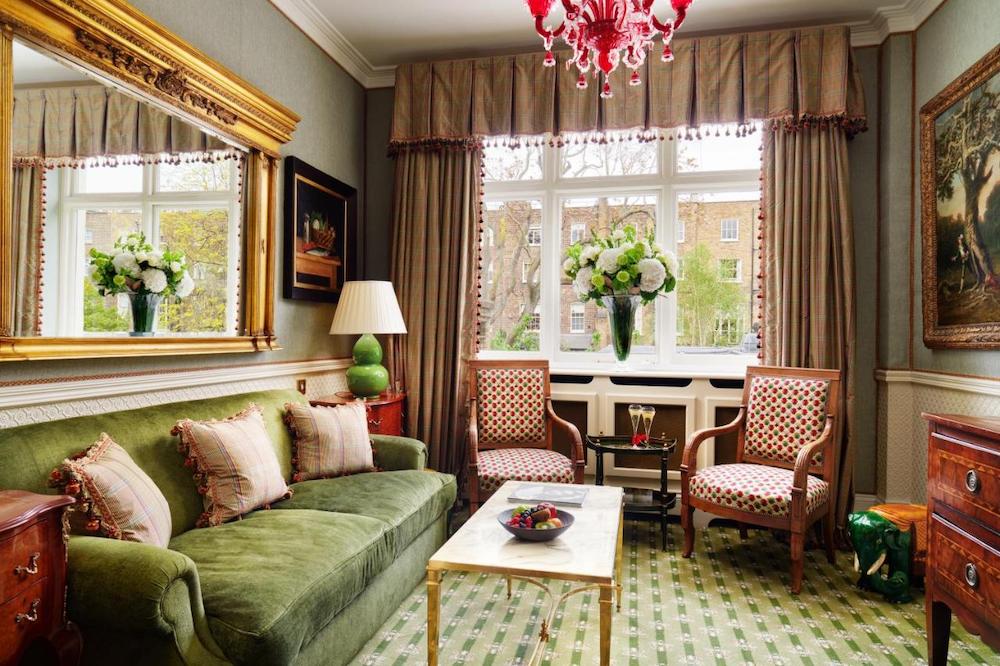 Just a short walk from the British Museum, the Montague on the Gardens is a plush, four-star spot situated in a Georgian Townhouse.
As well as some of the most luxury rooms in Bloomsbury, this boutique hotel offers plenty of outstanding entertainment and culinary choices for guests. The Leopard Bar plays home to regular live jazz sessions. And we're convinced their quintessentially English afternoon tea is best enjoyed in the Conservatory.
For those wanting a fine dining experience, the Blue Door Bistro is the place to go. Though the seasonal Beach Bar and Ski Lodge experiences in the private gardens are not to be missed.
The Standard, Argyle Street, Kings Cross
££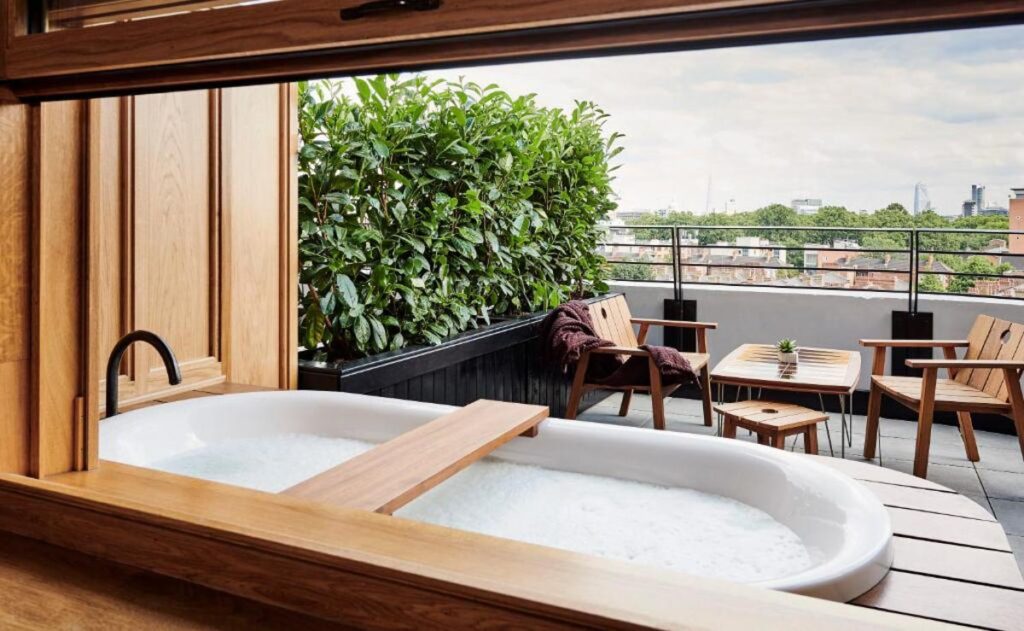 The Standard is located in the restored Brutalist surroundings of Camden's Town Hall annexe, providing the US hotel chain with their first non-American hotel.
This hotel houses 266 rooms decorated in one of 42 different and eye-catching styles ranging from homely, comfy, chic single rooms to sprawling airy rooftop terraces with outdoor tubs and views of St Pancras station.
But that's not all that sets this hotel apart from its rivals.
The Sounds Studio provides a superb range of music and talk shows for hotel guests via their unique in-house radio station. And those looking for fantastic food and drink will be dazzled by the choice offered at the Library Lounge, Sweeties, Decimo and Isla.
Kimpton Fitzroy, Russell Square
£££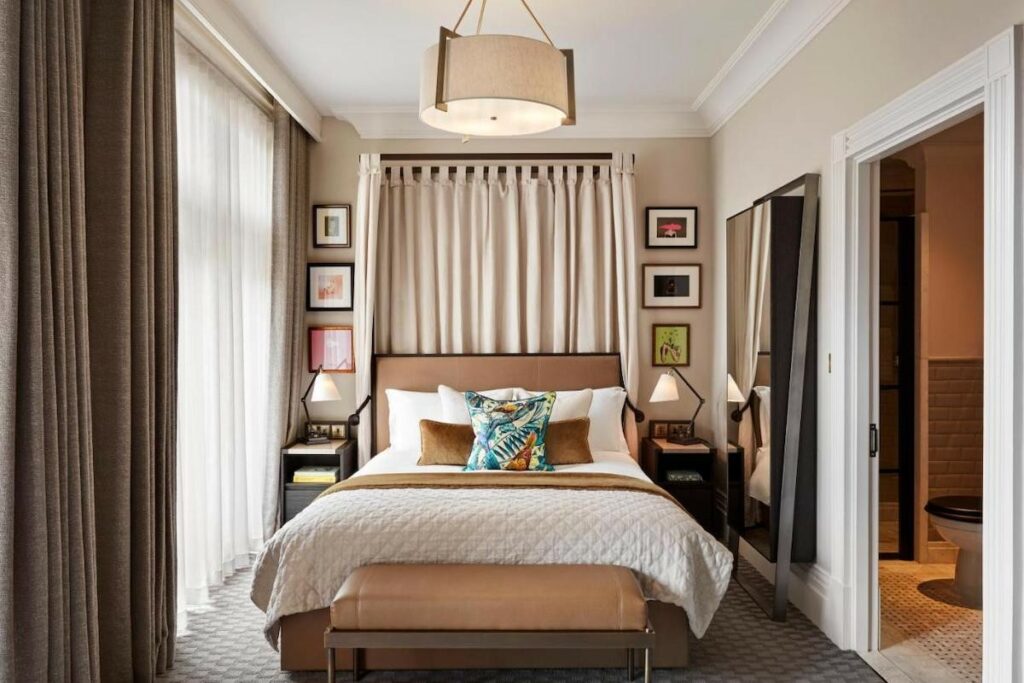 One of London's iconic hotels, the Kimpton Fitzroy is a jewel in the crown of Bloomsbury hotels. This grand Victorian hotel has thrived since its stunning 2018 renovation, occupying an entire block overlooking Russell Square.
Guests are welcomed by life-size statues of four British Queens upon arrival, and that sets the tone for the exquisite luxury that adorns the building and each of the individually furnished rooms.
Located within easy reach of London's West End, the Kimpton Fitzroy is a pet-friendly space with a gymnasium, hosted evening drinks receptions and a complementary bicycle for guests.
We love how each room has a yoga mat
The Gyle, Kings Cross
££
No prizes for guessing where proprietor Archibald Campbell hails from once you step through the doors of The Gyle on Argyle Street. This listed Victorian townhouse is home to 33 stunningly decorated rooms, each a calling card to the Highlands of Scotland.
Rooms have solid oak flooring, beautifully ornate mirrors, a hint of art deco design and authentic Scottish fabrics, including a snug tartan rug. All rooms have a Smart TV, high-speed WiFi and air conditioning.
For food and drink, the Gyle offers one of London's finest charcuterie boards and a bar in the Toast Lounge that includes a staggering array of Scotland's finest malts. A home from home for anyone with a passion for all things Caledonian.
The Megaro, Kings Cross
££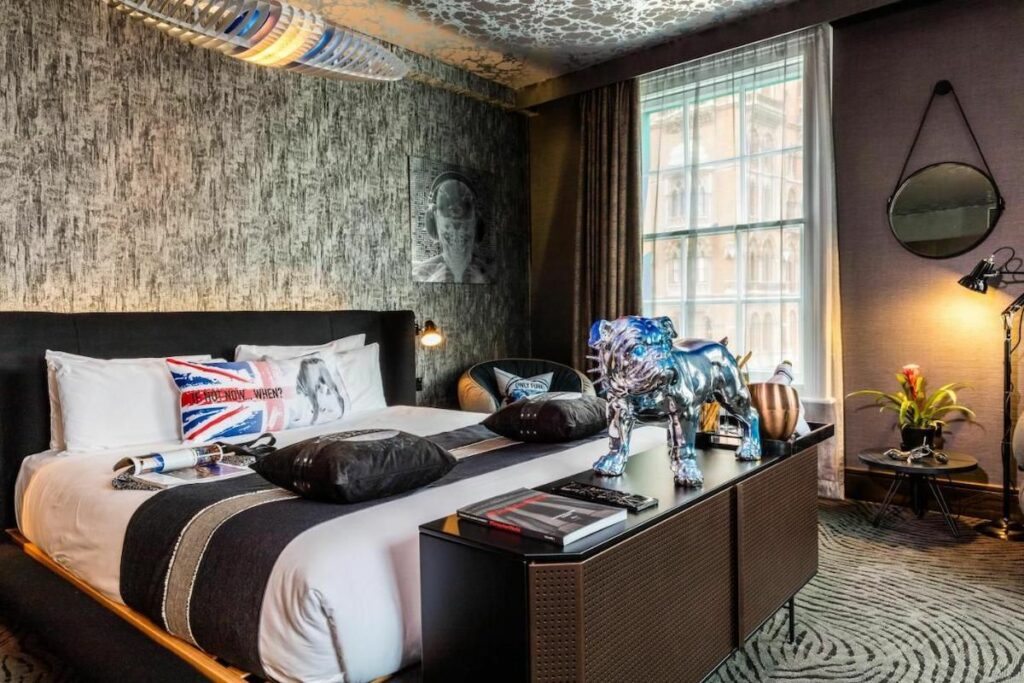 A hotel quite unlike anything else in Bloomsbury, The Megaro is located a stone's throw from Kings Cross and St Pancras stations.
We're entranced by the five styles of "Design Rooms", which hark back to a different age in modern cultural history. From Backstage Britannia, which blends Acid House with Punk rock, to the Diesel Living suites that highlight recognisable local cultural icons.
Alternatively, guests can choose the more functionally designed but equally beautiful and comfortable "Megaro Rooms", which offer neutral tones for a relaxing stay.
In addition, the hotel has a stunning cocktail bar, a high-quality restaurant and access to the KX club, which provides an enticing range of special offers and discounts.
Hub by Premier Inn, Goodge Street
£
This budget hotel on the edge of Tottenham Court Road is one of the best cheap hotels in Bloomsbury, London. Hub by Premier Inn provides crisp, clean finishes in their minimalist rooms, each with an en-suite monsoon shower.
The economy of space is at the heart of Hub by Premier Inn, with under-bed storage replacing drawers and wardrobes.
There are two types of rooms, Standard and Bigger, each of which comes with thick, luxury bedding. We adore the innovative space-age touchscreen room controls, including the room's smart TV.
The Bloomsbury, Great Russell Street
£££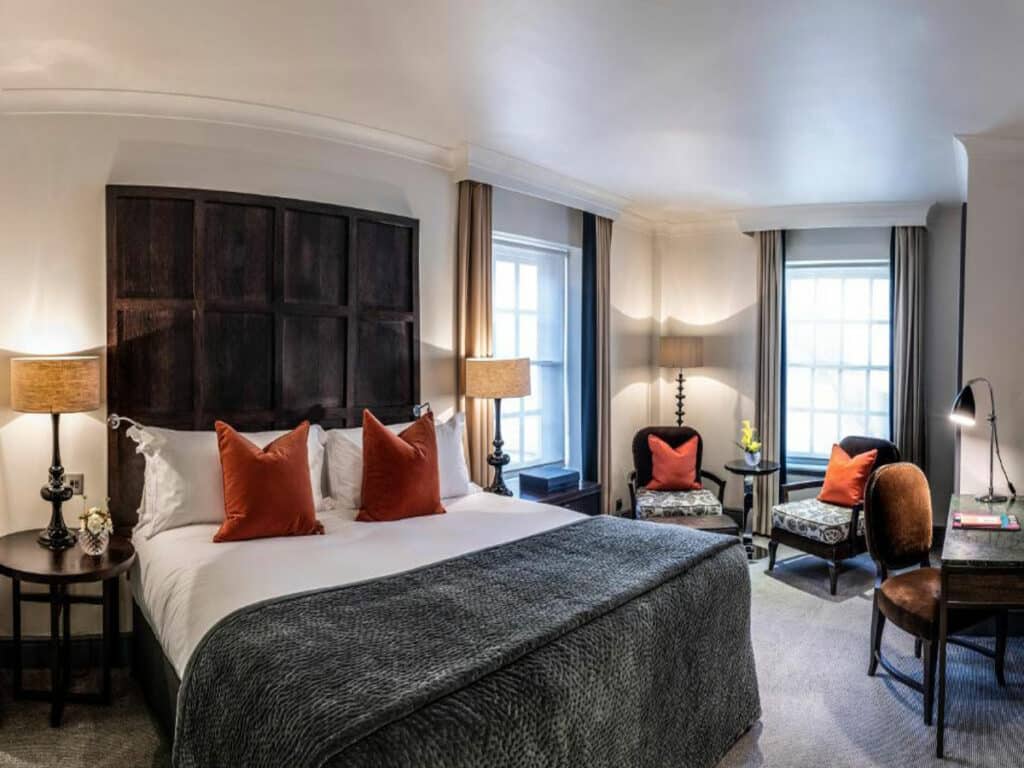 The Bloomsbury on Great Russell Street combines sparkling elegance with luxury that returns to a bygone era. This makes it one of the finest hotels in Bloomsbury, within easy reach of London's theatreland and finest eateries.
Designed by the famous neo-Georgian architect Edwin Lutyens, this hotel recently underwent a multimillion-pound facelift to restore its former glory.
Amongst the highlights include the Studio Suites, the height of luxury, the Sitting Room and the acclaimed Coral Room, a grand saloon bar. Meanwhile, the opulent Bloomsbury Club Bar will have you dreaming of being in a Virginia Woolf or Evelyn Waugh novel.
The Academy, Gower Street
£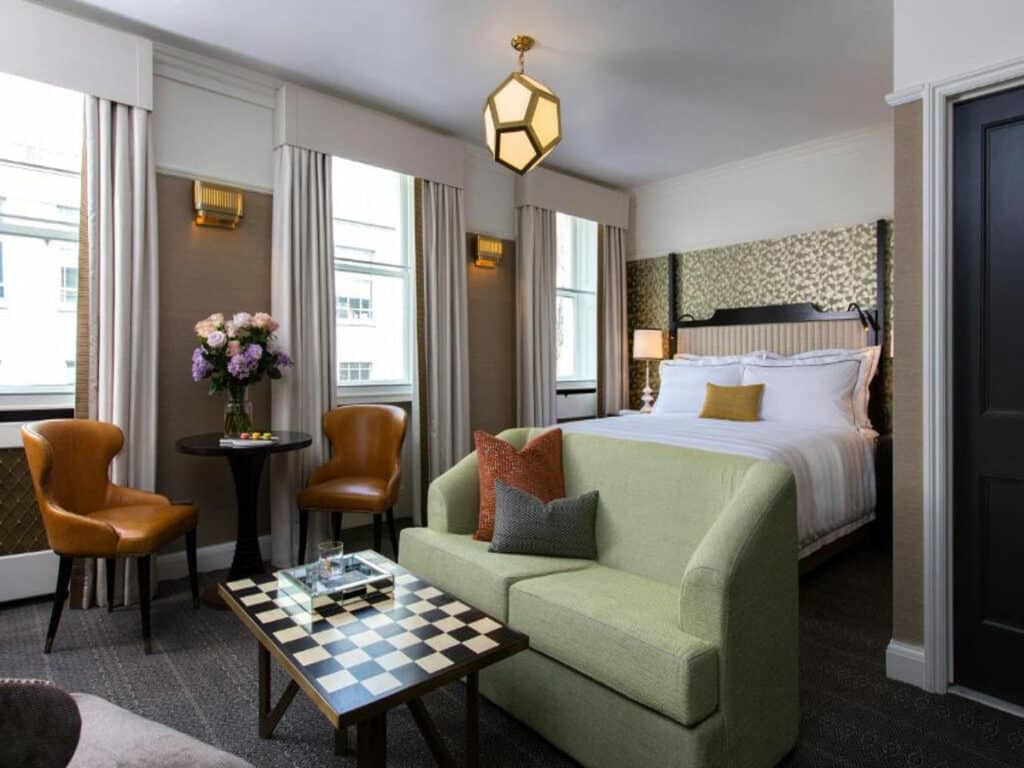 The Academy is a hotel that comprises five Georgian townhouses in Gower Street, deep in the heart of Bloomsbury and within a short walk from London Euston.
The hotel boasts 50 bedrooms and suites, each tastefully designed as part of a multimillion-pound redesign headed by Alexandra Champalimaud. A beautiful fusion of vintage and modern styling brings to mind the decadence of the Bloomsbury Set from the early 20th Century.
Dining options include The Refectory, The Alchemy Bar for those that enjoy bespoke cocktails and their choice of gin, afternoon tea in The Courtyard or coffee and cake amongst the literary gems in The Library.
KX Rooms, Kings Cross
£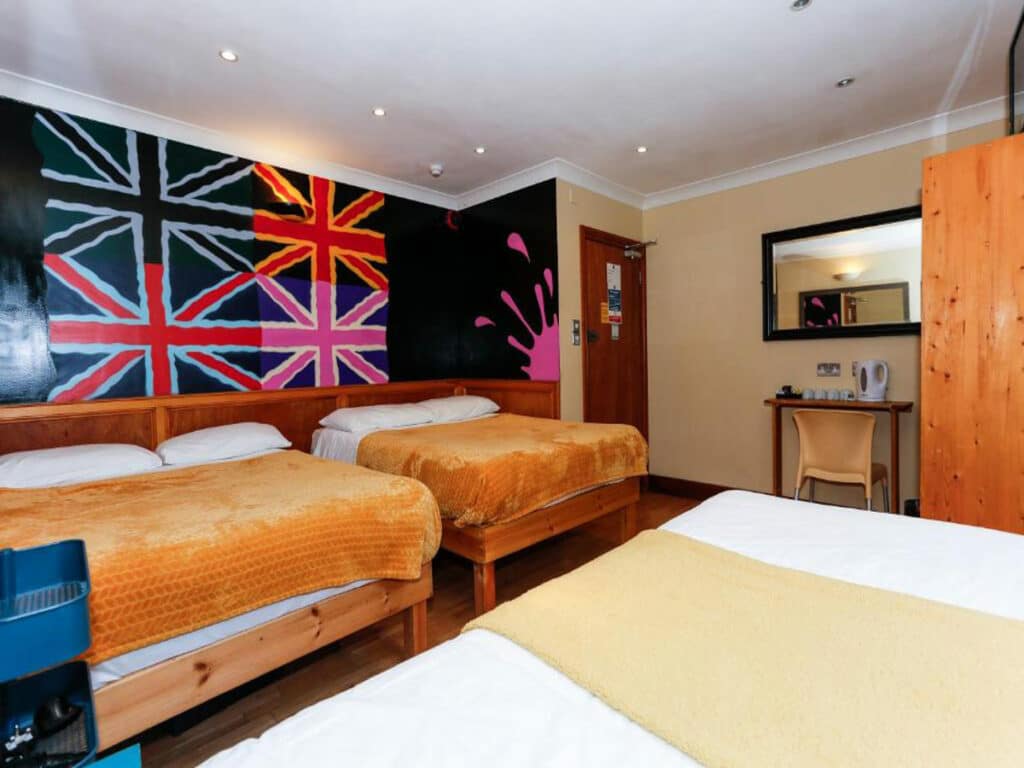 Built in an 18th Century townhouse in Kings Cross, KX Rooms is a hotel near Bloomsbury that offers a range of rooms targeting young families or younger solo travellers. Comfortably small, accommodating, modern and colourful spaces have the option of en-suite or shared bathrooms.
We like that this well-appointed budget hotel also has space for those who want to work remotely, with hot desks, meeting rooms and printing facilities available.
Amenities outside the property include a park with an outdoor gym and basketball for those who enjoy keeping fit. At the same time, those looking to explore can use electric rental bikes outside the front door.
NYX Hotel, Holborn
££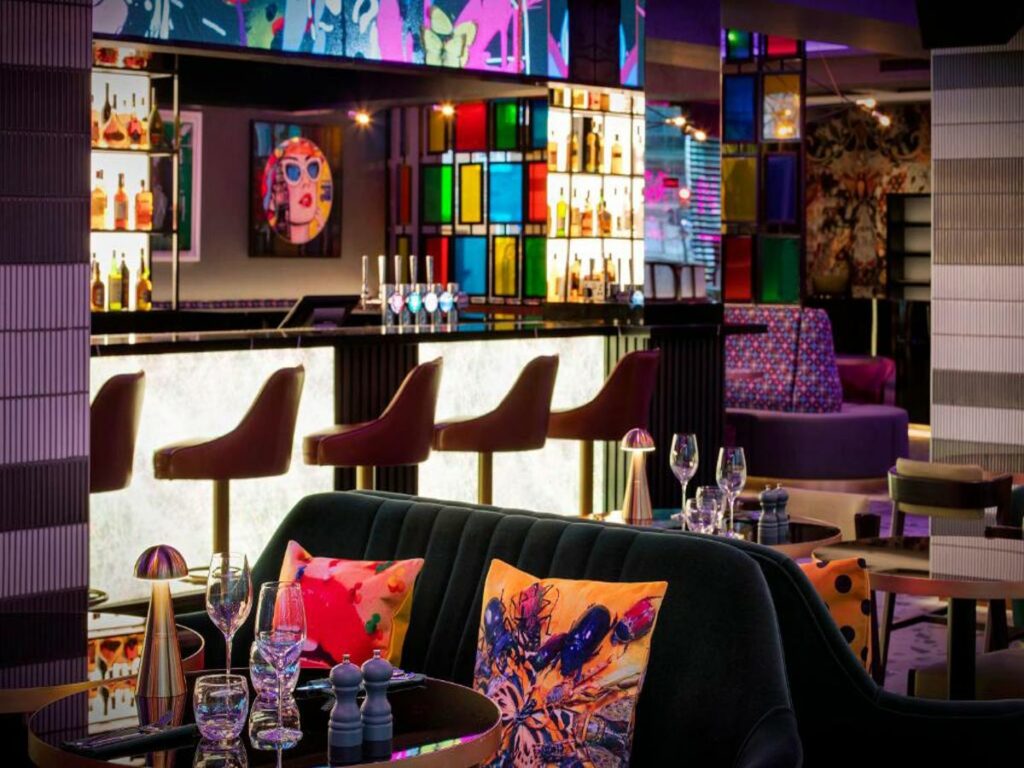 One of the most unique hotels in Bloomsbury, London and the UK, NYX Hotel combines comfort, art, a spa, and retro feels all under a single roof.
The stylish rooms mix smooth lines with a flowing curved desk and chair to provide a compelling contrast of looks. Meanwhile, amenities and services include the Midtown bar, restaurant, and Glasshouse rooftop bar that offers unrivalled views across the West End.
There's also Rena Spa and retro arcade games in the entrance hall is a lovely touch for kids of the 80s. All this in the heart of Bloomsbury makes this a hugely attractive tourist base.
Grange Beauchamp, Bedford Place
££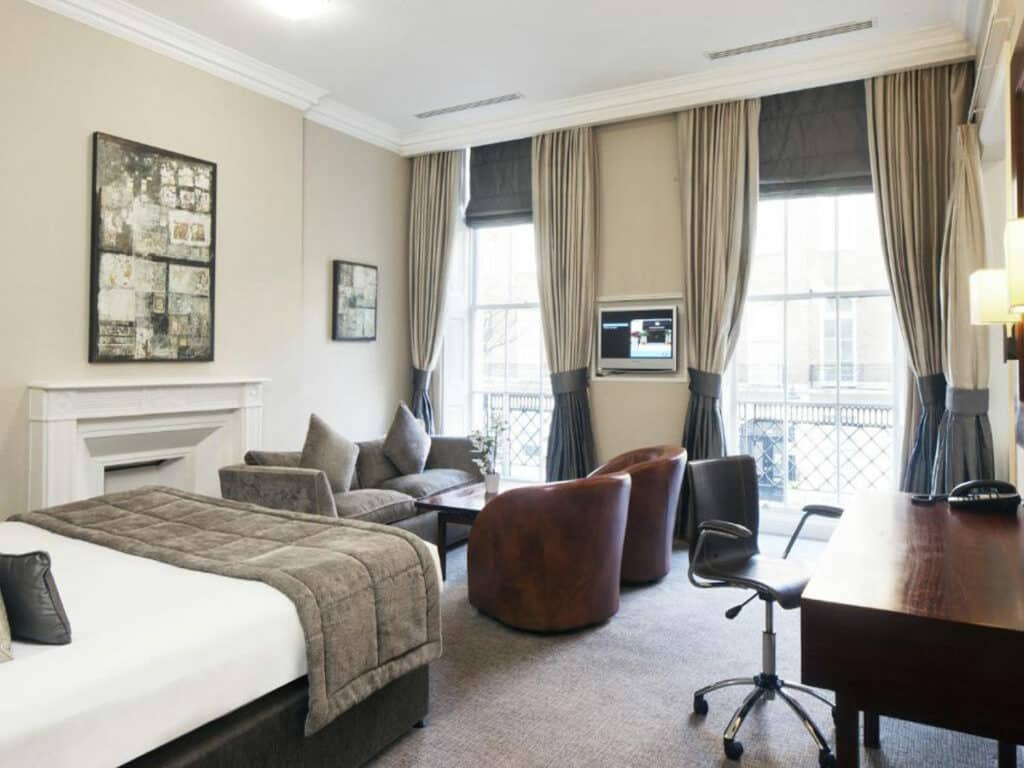 The Grange Beauchamp is a 4-star boutique hotel tucked away in Bloomsbury. 47 tastefully designed modern bedrooms include en-suite marble baths, LCD flatscreen TVs and queen-sized double beds, so you're guaranteed total comfort throughout your stay.
Breakfast and dinner are served at the in-house restaurant and light, airy conservatory. It's an ideal spot to dine before an evening in the West End.
Located just around the corner from the British Museum, we think the Beauchamp is one of Bloomsbury's hidden gems.
Where to Stay in Bloomsbury: Frequently Asked Questions
Practical Tips to Consider Before Staying in Bloomsbury
Bloomsbury is a quiet leafy neighbourhood in the heart of central London with a rich historical and literary past.
West End theatres, bustling Oxford Street, Leicester Square, Covent Garden and Soho are all within 15 minutes walk of Bloomsbury.
Best Hotels in Bloomsbury: Map