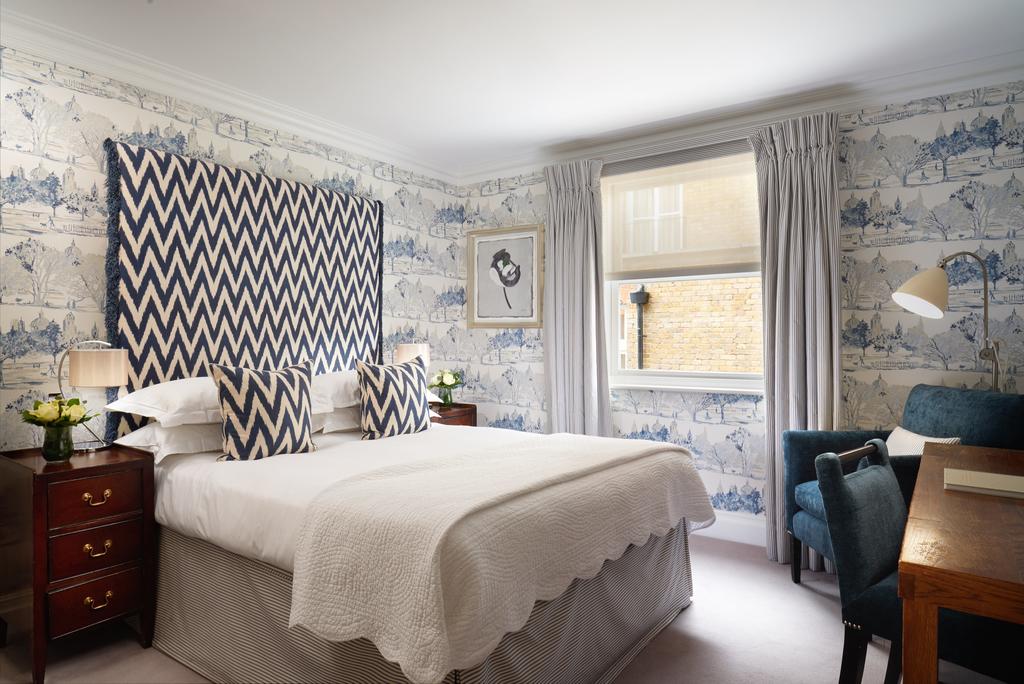 Planning to stay in Kensington and not sure where to start? Don't miss this guide to the best hotels in Kensington – gorgeous places to stay on your trip.
Kensington has always been one of the smartest areas in town and it makes a great base for a London trip.
With stunning architecture, some of the city's best museums, fancy bars and chic restaurants – not to mention leafy Hyde Park just around the corner – a stay in Kensington is to bed down in one of the most affluent parts of the city.
It's no surprise then that Kensington is also home to some of London's most iconic and beautiful hotels. From boutique hideaways to five-star grande dames, you're spoilt for choice when it comes to places to sleep at night.
Not sure where to start? This guide to the best
With so much choice, it's difficult to choose, so if you're in need of some advice of where to stay and why, then I'm here to help. These are the best hotels in Kensington for your next trip.
Blakes
Sexy and stylish, Blakes is a 5 star hotel in Kensington that is heralded as being the first boutique hotel in London.

Created by the international designer, Anouska Hempel, the hotel is adorned in black, gold and orange interiors; giving it its sumptuous feel. On arrival here, it's easy to see why this hotel was named one of the most hip hotels in London.

Each of the bedrooms are decorated differently, some more flamboyant than others. Filled with antique furniture, seductive four poster beds and low lighting, you can really understand why this property is considered one of the area's hidden gems.

Down on the ground floor there is also a garden, designed by the renowned Matthew Williamson. With brightly coloured florals, Moroccan-style tiles, it really feels like a little tropical hideaway here in London.

Price: ££



The Gore Hotel

Offering a quintessentially British hotel since 1892, The Gore is an authentic hotel in South Kensington. Originally opening its door to house guests visiting the World Exposition, its style plays homage to bygone Tudor and Victorian London.

Offering an eccentric blend of antique period pieces and original 18th- and 19th-century décor, across the hotel's six floors, you will find a treasure trove of period details.

From antique carved beds to classical paintings, silk wallpaper and Victorian tiling, this boutique hotel has been created for lovers of all things vintage. So if you're into oldy-worldy stuff then this is for you.

Ironically – and slightly away from its classic notions – for those into a bit more of the Rock'N'Roll style then this place is also for you… Back in 1968, the notorious rock band, The Rolling Stones, launched its album, Beggars Banquet here. So the hotel's Bar 190 plays tribute to this through its design and cocktail menu.

Price: ££

Kensington Hotel
The Kensington Hotel is a beautiful, luxury hotel in Kensington and an ideal retreat for visiting London. A short walk from South Kensington tube station, it is well located near to the museum quarter for all you culture vultures.

Made up of four 19th century townhouses, this four-star hotel is both roomy and comfortable, with luxe and modern décor. Reflecting its Victorian style, it has high ceilings, large windows, open fireplaces, glitzy lights and colourful details – but the best part is it's not stuffy.

With a distinctly romantic style, the Kensington is also a great spot for an intimate weekend escape.

The smaller bedroom categories are sleek and smart, whilst the larger rooms offer more gracious details. Expect four poster beds, with heavy fabrics and marble bathrooms with claw-footed baths. Dreamy.

Planning on staying with the kids? Don't worry, they'll love this family friendly hotel in Kensington. Family rooms come equipped with a tepee, a turndown service of milk and cookies and a collection of classic children and family DVDs to choose from. Now how cute is that?

Price: £££

The Hari
Boutique hotel The Hari offers laid back luxury and a stylish retreat on the edge of Kensington. With chic furnishings and designer touches, the hotel is surrounded by leading London attractions.

With 85 designer bedrooms, including 14 luxury suites, this is one of my favourite places to stay in South Kensington and is decked out in contemporary artwork, plush velvet upholstery and elegant marble bathrooms with spacious rainfall showers. For connoisseurs of luxury, this hotel is for you.

If you're willing to spend a bit more money, then upgrade to one of the larger bedroom categories. Here you will be greeted to bay windows with big marble bathtubs looking out across the whole of London. What a way to soak.

With such high-end facilities across the hotel, guests can also enjoy a beautiful little terrace bar on the ground floor. During the day this little secret, space is a complete sun trap. Come evening, you can head down here for a nightcap and watch the stars twinkle above London.

If you're more into the big feasts, then it's Italian restaurant, Il Pampero, cooks up classic Italian dishes, with regional influences. Hearty and delicious.

Price: ££
11 Cadogan Gardens

Spread across four grand Victorian townhouses, 11 Cadogan Gardens is a lavish hotel just a 5-minute walk from Sloane Square tube station. It's perfectly placed to enjoy the best designer shops and restaurants that this area of London has to offer.

Built in the 19th century by Lord Chelsea, the buildings are of a redbrick grandeur – blending into the style of the nearby King's Road with whitewashed arches and decorative glasswork. It's beautiful but discreet – boasting a small collection of 56 bedrooms.

The hotel was previously a private members' club and still retains this exclusive feel. The service is impeccable; from the greetings by the doorman, to the eloquent check-in, to even the thoughtful little touches – like the small complimentary treats offered to guests in the bedrooms.

Each bedroom has a unique interior, so not all of them are the same, which also offers a quirky touch. Some rooms are more flamboyant than others, but they still all possess the same grandeur as seen from the exterior of the building.

Price: ££

Hotel Indigo
Hotel Indigo is a colourful hotel located a 3-minute walk from Earl's Court tube station. As far as cheap hotels in Kensington go, this is one of the best.

Set on a peaceful residential street in Kensington inside a converted Victorian townhouse, this polished hotel is part of the Hotel Indigo chain.

Chic and discreet, the boutique hotel offers 100 spaciously-sized bedrooms. Decorated with baroque furniture, rugs and cushions all in bright colours, this hotel feels sleek, but also very modern.The bathrooms reflect this contemporary feel with rainfall showers and dark tilings.

The lower price point does mean fewer bells and whistles, but there's a fabulous on-site restaurant; Theo's Simple Italian, an informal all-day restaurant and deli. This place has the very best of Italian food from the acclaimed chef, Theo Randall, and is the perfect option if you don't want to head out for dinner one night.

In a great location and at a very reasonable price, this hotel is an ideal destination for those on a bit more of a budget.

Price: £

Milestone Hotel Kensington

The Milestone Hotel Kensington is a small 57-room hotel in south Kensington which first opened in the 1920s and occupies three Grade II Victorian townhouses.

Overlooking Kensington Palace and Gardens, this property is ideally located, only minutes from the Royal Albert Hall and with easy access to the West End.

As part of the Red Carnations collection, each of the bedrooms are individual in style with generous and elaborate-style furnishings. Think flowing fabrics and cushions, patterned carpets and a collection of pictures on patterned walls. This is definitely not considered old and fuzzy.

The hotel is small scale: with minimal outside space, cosy public rooms, including a very pretty Victorian style sitting room. With bedrooms across five floors, its small scale makes it feel very unique and boutique.

Also, if you are one for liking to get a bit spoiled when staying in a luxury hotel, then this is for you – as there is also a plunge pool and a sauna tucked inside the property, as well as numerous serene spa treatments. Personally the best way to unwind after arriving here.

Price: £££

The Pelham

Traditional, but yet still stylish for a new century, The Pelham is a boutique hotel in Kensington from the Italian group, Starhotels Collezione.

Set inside a classic Kensington-style townhouse, moments' walk from Kensington Gardens, it blends very much into the neighbourhood and offers a mix of both classic English style with pops of extravagance.

Led by the renowned interior designer Kit Kemp (also known for her striking interiors in the Firmdale Collection's hotels), The Pelham has 52 rooms full of character with vivid, theatrical colours mixed with old-school furniture, wood panelling and oil framed paintings. Each of the rooms has a unique style, but still brings in a quirky feel – a trait well-known for Kemp.

As with all traditional townhouse hotels in the heart of London, guests can take some time out in the Drawing Room (where one can sit for afternoon tea) and a library, but without the stuffiness that one would expect or suggest from the names.

Quiet and contemporary, this hotel is well located for a busy weekend in London.

Price: ££

The Ampersand

Almost adjacent to South Kensington tube station, The Ampersand holds a prime South Kensington position. The hotel sits in a gorgeous Victorian building which was built in 1888 – and a hotel has sat on the site ever since.

Across the property there are 111 bedrooms, which are all designed around a theme of Victorian discovery; such as ornithology, music, or astronomy – inspired by the nearby renowned museums.

The rooms are slightly on the smaller side, but still very comfortable, with spacious bathrooms. Though, if you're a sucker for a good old soak, then you'll have to spend a few more pennies on your room, as most of the smaller category bedrooms come with a shower only.

The hotel also has numerous facilities to enjoy during your stay, just like the other Kensington hotels there is of course a Drawing Room, where you'll find modern, colourful and quirky interiors with fine furnishings – but again, in no way stuffy. An ideal location for a spot of afternoon tea.

Price: ££

The Resident Kensington
Previously known as the Nadler, The Resident Kensington is a beautiful Edwardian hotel located nearby to Earl's Court station. As a budget hotel in Kensington this property has everything you need for a city break to London and in one of the best districts of the city.

Although the 65 bedrooms seem quite basic, they are designed to provide comfort. If you're on a busy and tight schedule whilst visiting London, then this hotel can equip you perfectly for your day.

All bedrooms offer in-room mini kitchens, complete with a fridge, microwave and sink – so you can rustle up a quick meal, should you wish to not dine out all the time.

For a lengthy stay or short city break in London, this hotel is the perfect choice at a much cheaper option. With a great location in Kensington, it is both flexible and affordable with spacious rooms – perfect.

Price: £

Kensington Hotel Guide: Practical Tips and FAQ for Your Trip
If you're a shopping fiend then do make sure you take a trip to Harrods in Knightsbridge (next door to Kensington). Although the price tag may seem overwhelming, its motto is 'Omnia Omnibus Ubique' which translates from Latin as 'All things for all people, everywhere.' Of course to be taken with a pinch of salt.
If you have no preference at what time of year you make your trip to Kensington, try to avoid the peak months (these fall in line with the school summer holidays) as these boutique hotels will ensure to bump up their prices.
Best Hotels in Kensington: Map
Save Yourself the Hassle. Book My Custom London Trip Planning Service