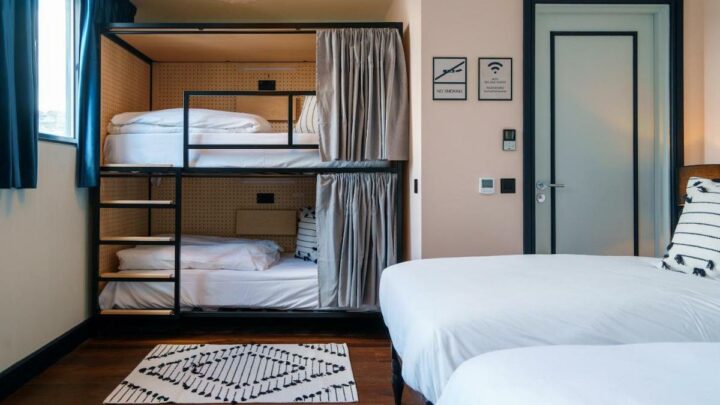 Your guide to the city's best hostels for budget-friendly stays in the capital.
Are you looking for the best hostels in London? Whether you're trying to save money or avoid those big-city rates, finding a place to stay in London on a budget can feel impossibly difficult.
However, cheap doesn't necessarily have to mean boring or basic. Once you start looking beyond the obvious hotels and Airbnbs, you'll be surprised at the hidden gems that you'll find.
London is a vast place filled with a diverse selection of hostels to suit nearly every taste. To help you find a suitable place to stay, we've created this guide to the best hostels in London.
Read on to discover your next great stay in the city.
Best Hostels in London: At a Glance
Best Hostels in London
SafeStay Kensington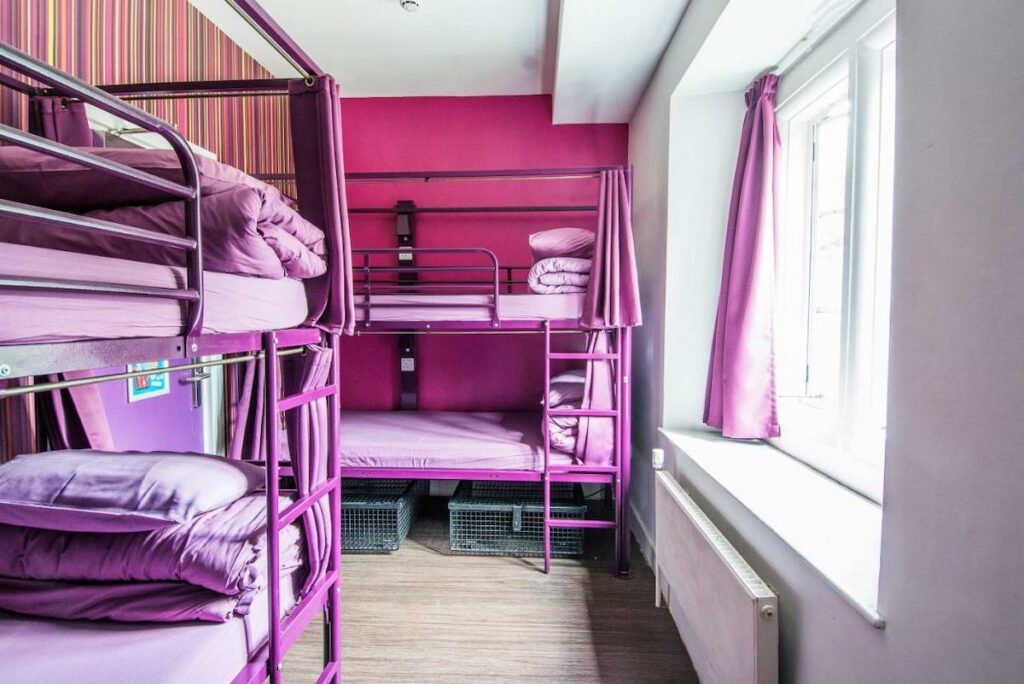 Originally a centuries-old castle before the folks at Safestay transformed it into a chic hostel, Safestay London Kensington Holland Park is one of the best hostels in London. You'll find the beautiful Grade I listed building tucked away in Holland Park, one of the city's most affluent areas, and just a short walk away from luxurious shops and busy bars.
It's not just the exterior that's impressive either. The rooms (a mix of private and different-sized dorms) are spacious and clean – some even have their own balconies.
Dorm beds have their own curtain, so you can have some privacy when you turn in for the night.
Rather than leaving everyone to fend for themselves, Safestay also hosts a cool programme of events to help you have a good time and make some new friends during your stay. Their event calendar ranges from pizza parties to games nights for all their guests.
Wombats City Hostel London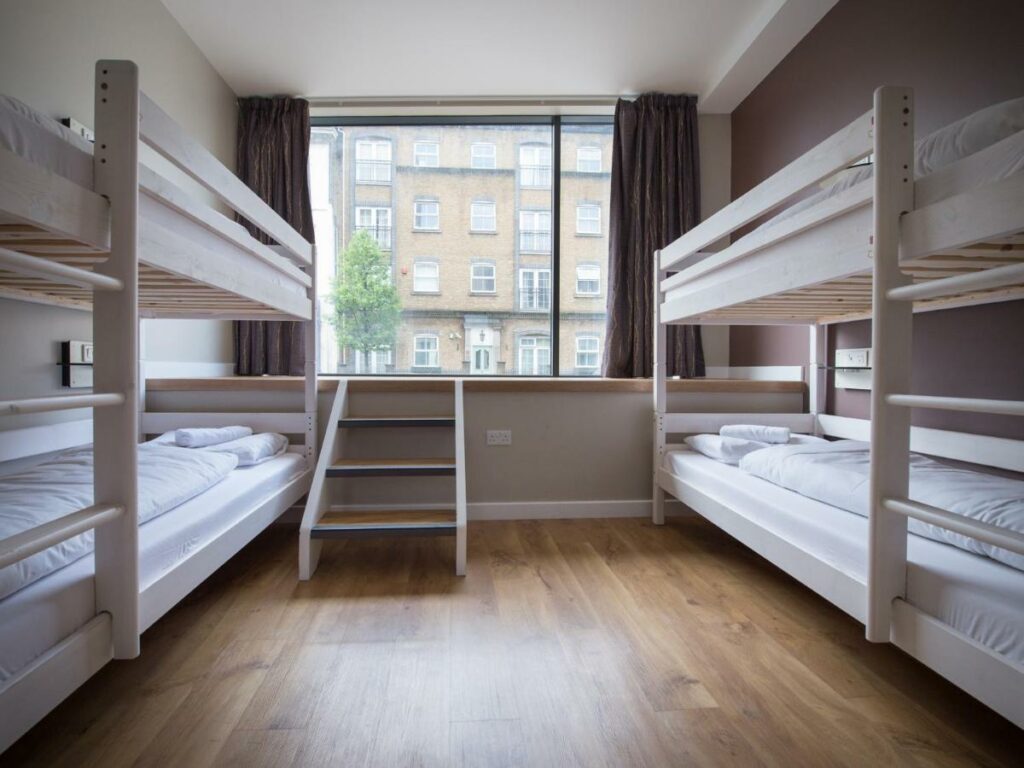 Wombats City Hostel London has made a name as a great hostel in East London thanks to its sleek and modern rooms, quick check-in, and sparkling cleanliness. This is a hostel that really gets things right – whether you're a backpacker or simply looking for somewhere affordable to stay in – Wombats is an excellent option.
There are dorm rooms (of course) or private rooms for those who wish. You get an electronic locker in the room for the duration of your stay. Rooms and bathrooms are cleaned daily – with pretty much everyone who stays commenting on how clean and comfortable Wombats is.
It describes itself as a home for travellers. That means hammocks and a bar for when you want to make some new friends as well as the necessary facilities we all need when we're travelling, such as laundry and secure lockers.
Selina Camden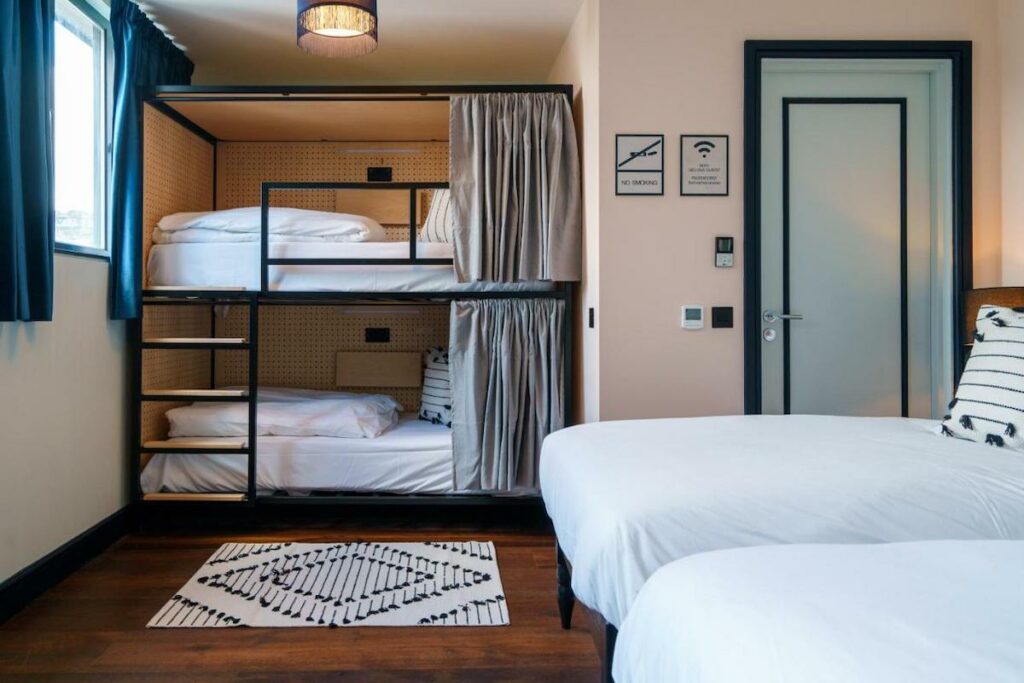 When looking for hostels in North London that offer style and comfort, Selina Hostel doesn't disappoint.
Described as an "authentic cultural hub", Selina Camden aims to offer its guests a unique wellness experience through its beautiful decor and relaxing calendars of activities that include weaving workshops and an open mic.
There's a lot to love about Selina. First, there's the location. In uber-cool Camden, famous for its market and lively nightlife scene. Then there's the hostel itself. The decor is stunning – giving off more boutique hotel vibes than hostel hangout.
The dormitory rooms have generously sized beds, boxed off and with a curtain for ultimate privacy. In addition, they provide all guests with bedding and towels for their stay.
Selina Camden also has a fully-equipped communal kitchen for when hunger pangs strike and a trendy vegan/vegetarian style eatery.
Although Selina Camden has shared accommodation, it is a London hostel that offers private rooms if you fancy a little more privacy.
Generator Hostel London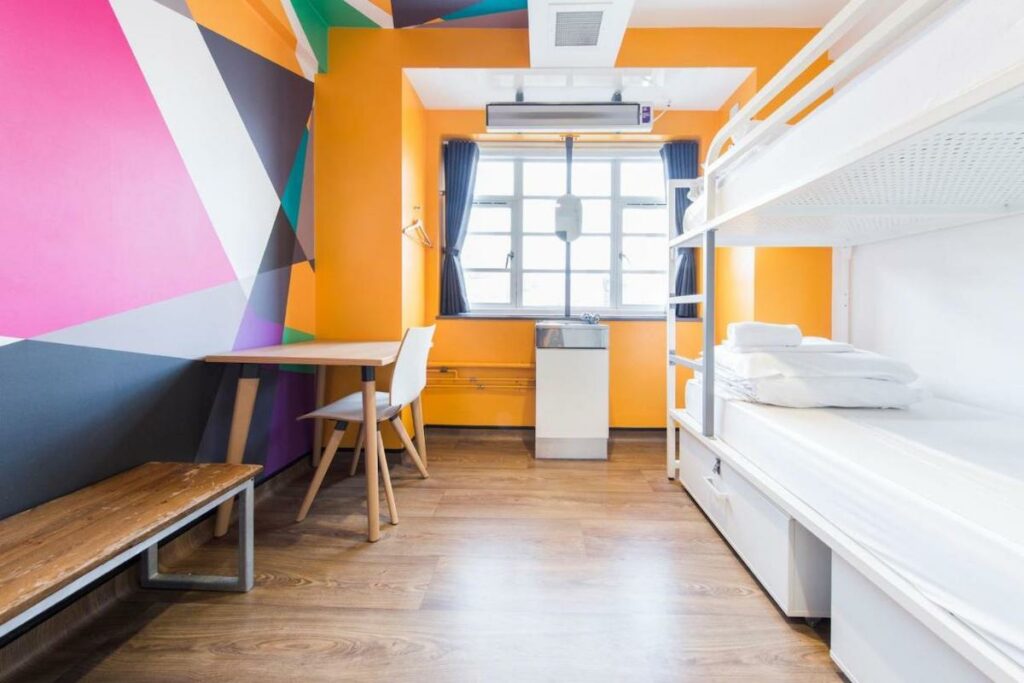 It can be difficult to find cheap hostels in London's city centre that still feel stylish. That's why Generator Hostel London stands out.
Conveniently located next to the transport hubs at King's Cross and Euston, this hip hostel can be found within a refurbished old police station that has been carefully designed to reflect and capture the city's street life.
Pick from a mix of private and dorm rooms – the private rooms are some of the best value you'll find in the city, particularly given the convenient location.
While there are no cooking facilities, you can take advantage of the hostel's very own bar (which serves fresh pizza). Other facilities include a travel shop. So even if all you want to do is have an early night in, you can feel safe in the knowledge that there is a 24-hour reception ready for whenever you need it.
St Christopher's London Bridge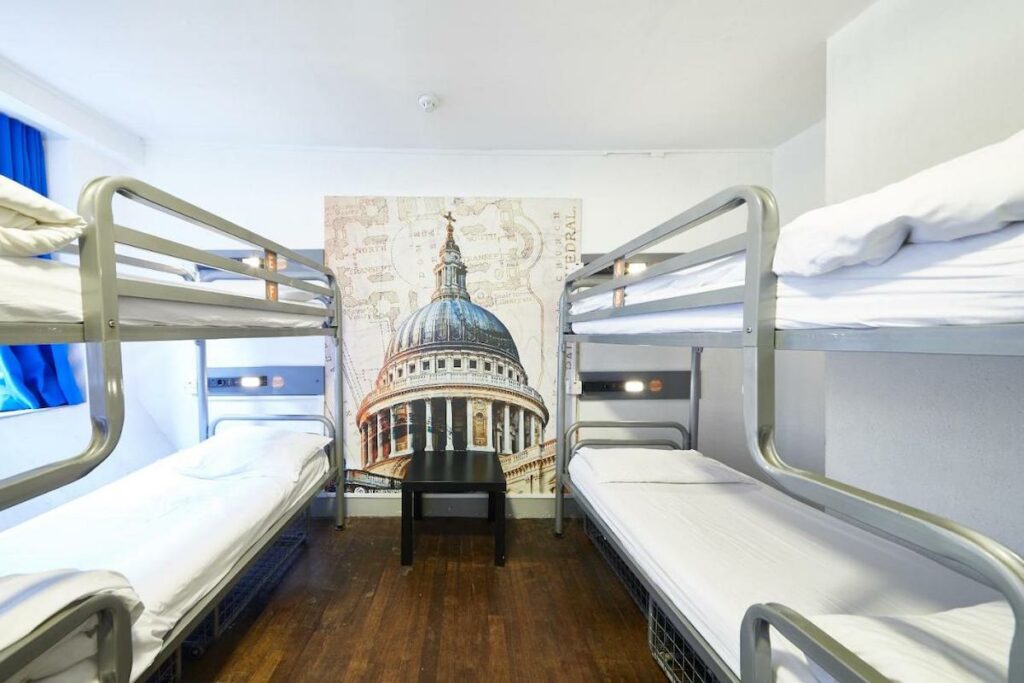 St Christopher's Inn is a well-known name amongst backpackers, and not without good reason.
They have hostels located in the most popular and liveliest cities across the UK and Europe, so have a lot of experience catering to travellers' needs. They offer a free cancellation policy for the more spontaneous amongst us and complimentary breakfasts. They also have hostels in eight areas of London, making it easier for you to explore the whole of the city. What's not to love?
The St Christopher's Inn at London Bridge hostel is particularly nice, set in the picture-perfect venue of a building that used to be a coaching inn. Satisfy your hunger with the onsite pub serving delicious traditional food, or take a 5-minute walk to one of London's most famous food locations – Borough Market.
Be warned, this is one of London's livelier hostels, so it might not be the best option if you're looking for a quiet place for your stay.
Astor Museum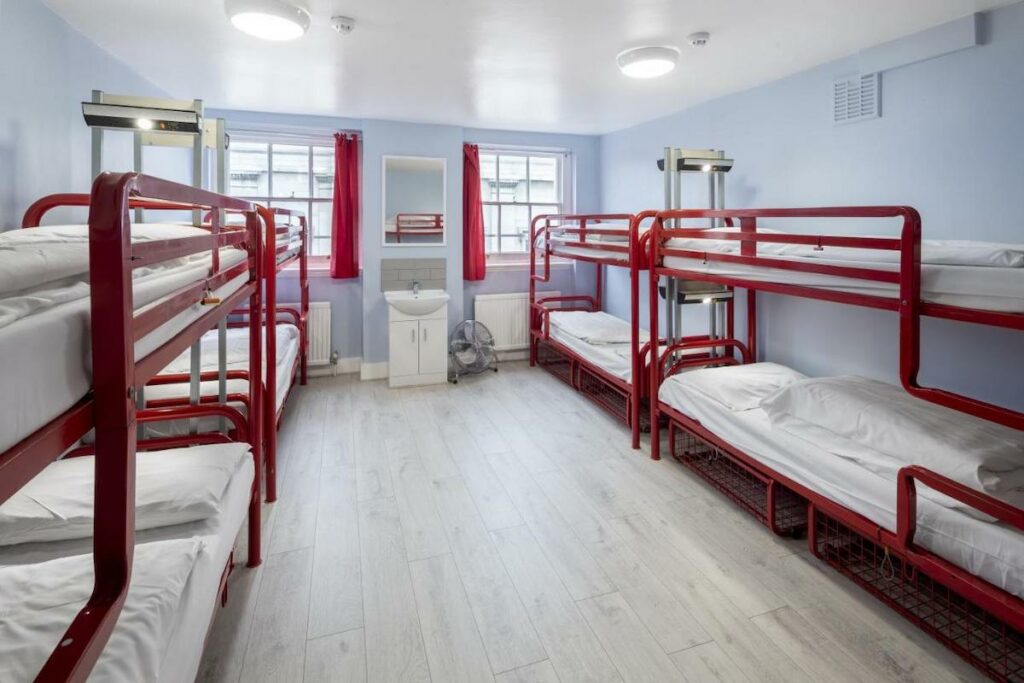 For fans of culture and shopping, Astor Museum is the perfect hostel. It's located directly opposite the British Museum, and is just a 10-minute walk from Oxford Street, one of the city's best shopping hubs.
It has spacious twin rooms for one or two people, but also caters for larger groups with rooms that accommodate up to sixteen people.
The Walrus Bar and Hostel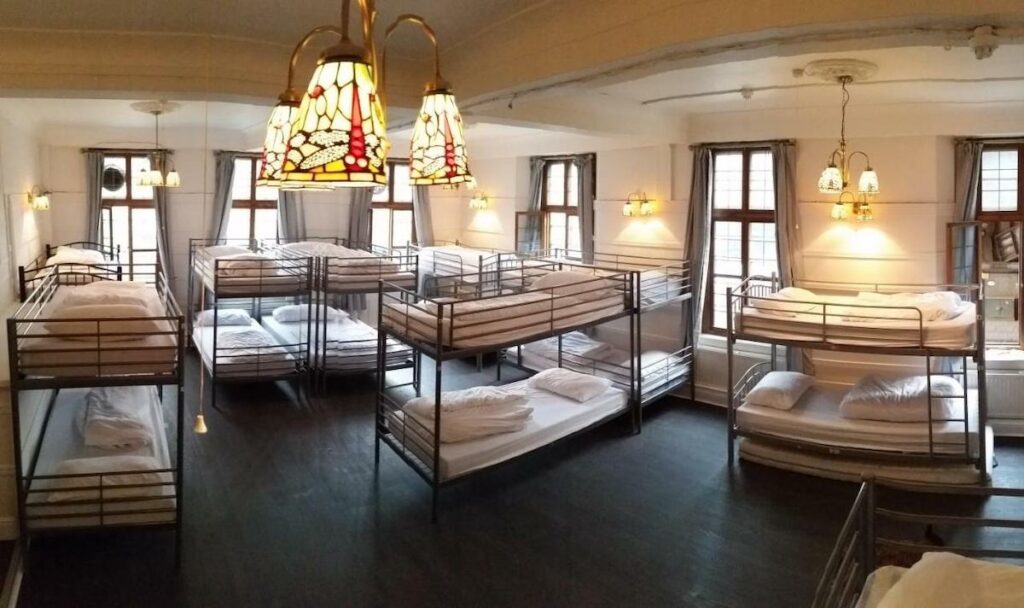 Unwind to the chimes of Big Ben in this comfortable hostel situated just 750 yards away from this iconic London landmark. As that might suggest, The Walrus is located in the heart of the city, and benefits from many surrounding transport links.
With a shared kitchen, luggage storage, lockers and safety deposit box, this hostel has everything you need for a safe stay – and also boasts its very own onsite bar if you are too tired to travel farther afield.
SoHostel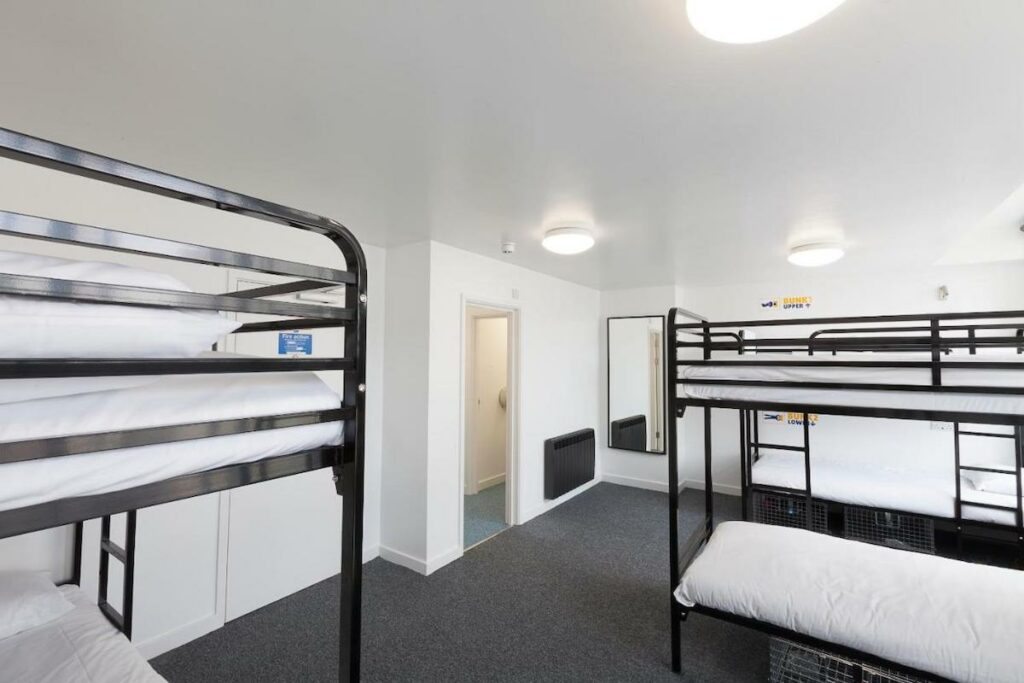 Low-cost London hostels don't have to be bland or located miles away from where all the fun is – and SoHostel is proof of this.
Decor-wise it's bright and basic, but most importantly, clean. It is quite a basic option, but as long as you're not expecting anything swanky, it is a good base for your London trip.
As the name suggests, SoHostel is located in the vibrant area of Soho and the West End, making it the ideal place to stay for fans of musical theatre and nights out. Enjoy a cold beverage at the onsite bar before heading out for an evening of musicals, or unwind in the shared TV lounge for a cosy night in.
Clink261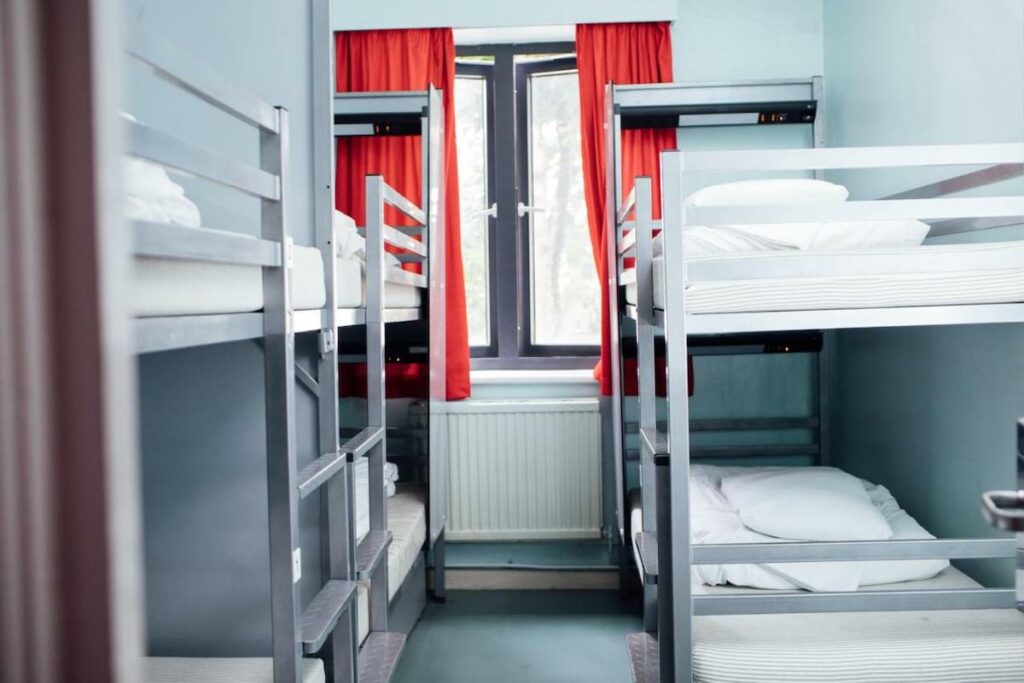 Clink261 is a worthy mention when considering the best cheap hostels in London. It has provided a comfortable place to stay for travellers for over 15 years and is renowned for its relaxed and welcoming vibe.
Don't think that just because this is one of London's long-established hostels that means it's one of those tired places to stay that have seen better days. Clink261 has been spruced up. Dorm rooms are on the small side, but these are some of the cheapest beds in town and are a good option for those on a tight budget.
Kick back and relax on a sofa at one of its regular move nights, or hop on a tube or bus to explore some of the city's famous sites.
It's also just a 2-minute walk from Kings Cross Station, making it a highly convenient place to stay if you have an early train to catch the next day.
Book A Bed Hostel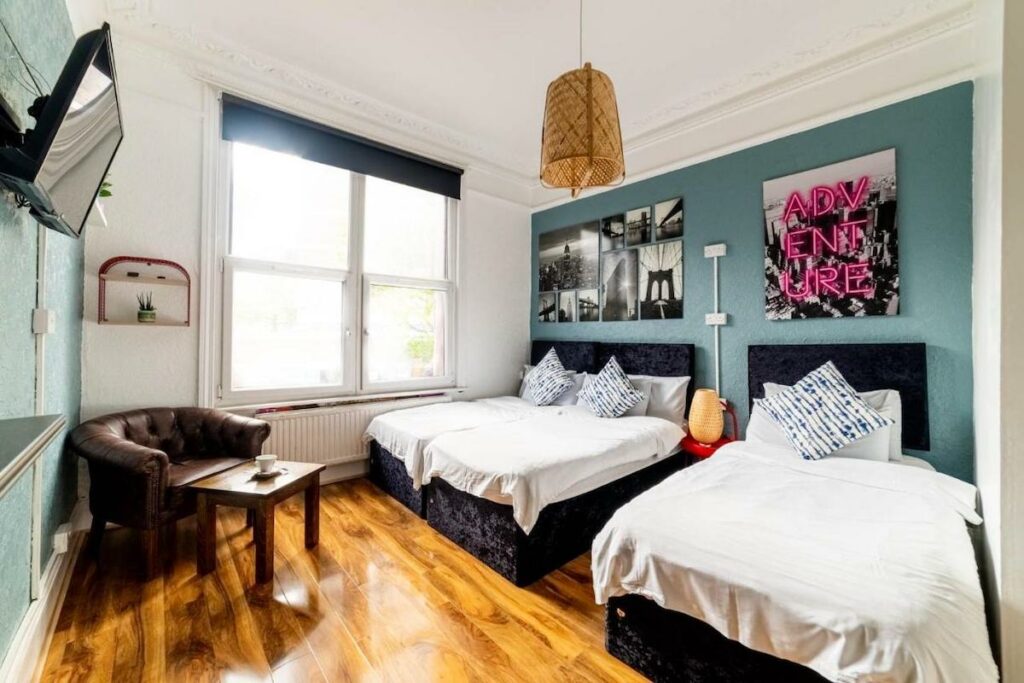 Venture Hostel is an affordable but vibrant option for travellers and backpackers keen to explore South London. It's set against a backdrop of street markets and music venues, and there's plenty to see and do nearby. So it's little wonder it's made a reputation for itself as one of the cheap hostels in southeast London.
The hostel itself is bright and refurbished, and is housed above The Royal Standard Bar – perfect for anyone fancying a quick nightcap before unwinding for the night. All dormitories include free Wi-Fi for easy browsing, as well as in-room lockers to safely secure your belongings.
When looking for cheap hostels in South London, the Venture Hostel ticks all the boxes.
YHA London Earl's Court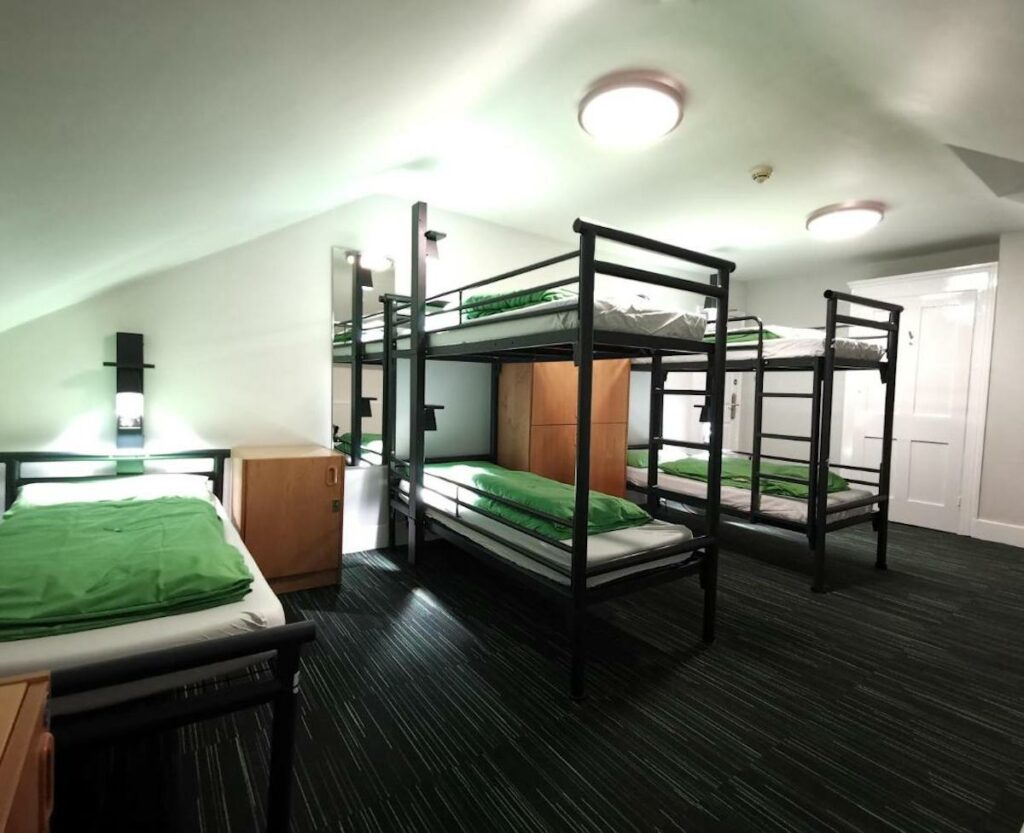 Housed in a stunning Victorian building with a courtyard garden, the YHA London Earl's Court hostel makes for an excellent base for a cheap London break. It is just a 5-minute' walk from Earl's Court Tube Station and benefits from the security of a 24-hour reception and TV lounge.
Once you've checked in, there's no shortage of exciting things to do – take a trip to the conveniently close areas such as Olympia, Kensington Gardens and Hyde Park, or soak up some culture at the Natural History Museum. If you feel overwhelmed by the choices on offer, staff can assist with sightseeing recommendations and help you with transport arrangements.
Smart Camden Inn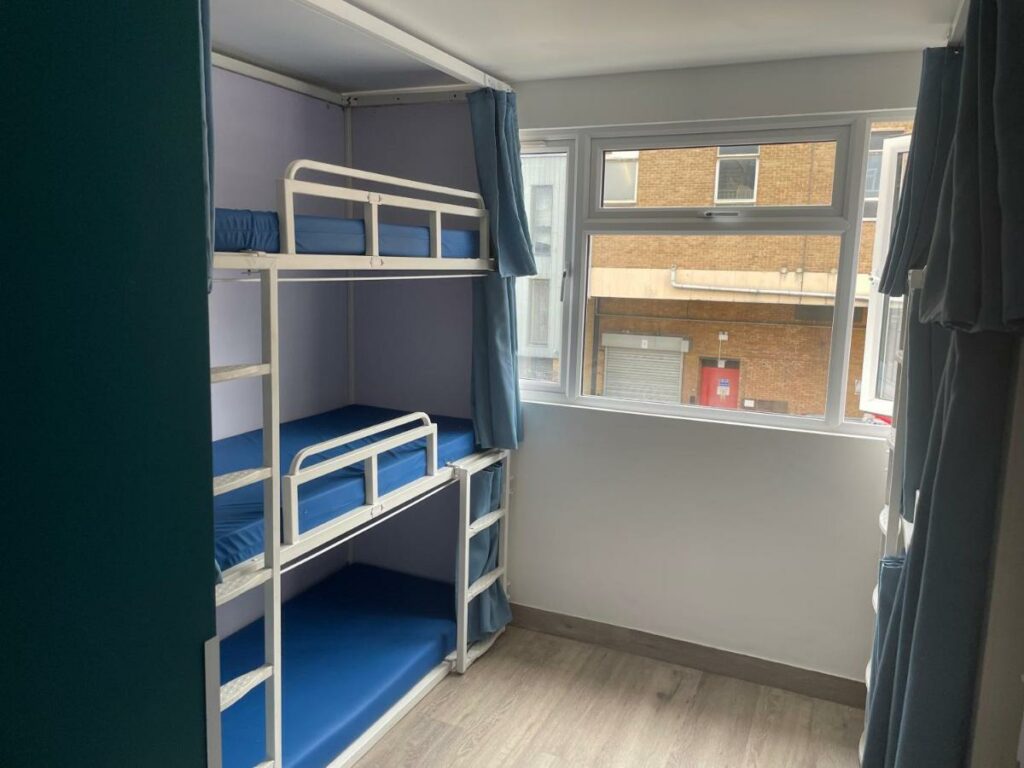 Are you looking for a suitable place to stay whilst you party in Camden? Then this is the hostel for you. Less than 550 yards from Camden Market, the Smart Camden Inn is located right in the centre of the area's pubs and clubs district.
With no curfew or lockout times, this hostel is excellent for night owls who want to dance late into the evening without any consequences.
Enjoy a lazy lie in the following day, or go and see some exotic animals over at London Zoo, which is less than a 20-minute walk away.
Strand Continental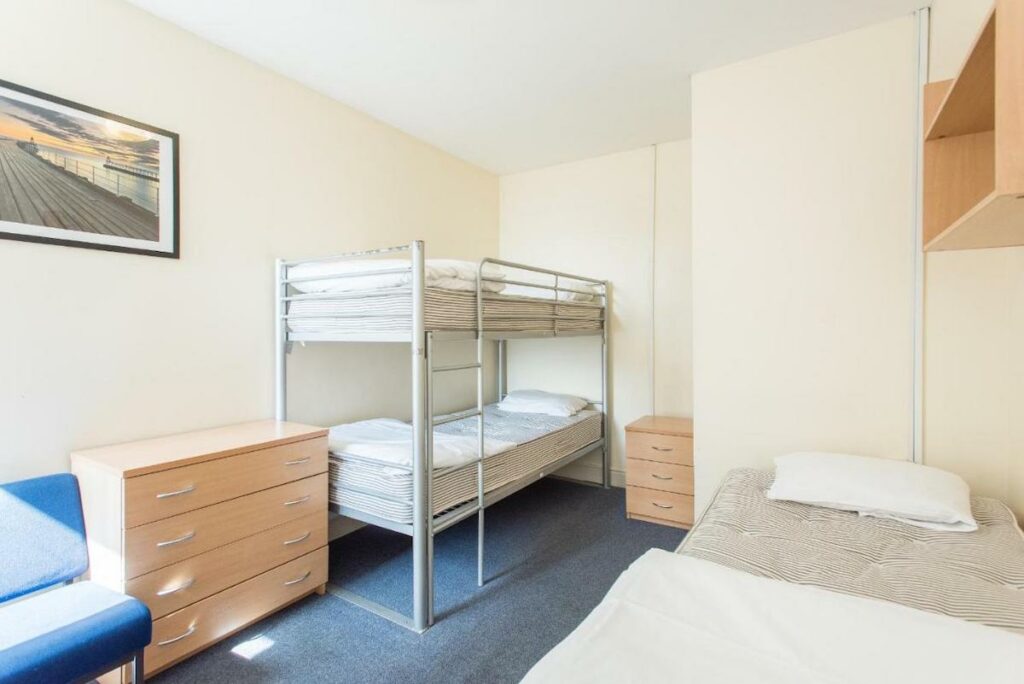 Enjoy Indian cuisine and a vintage-inspired bar at the Strand Continental Hostel. In addition to offering basic accommodation, this quirky hostel has an authentic 1940s-style bar for you to drink in, and a Club Bar with colonial-style décor where you can snack on South Indian dishes.
It's also in a great location. The London Eye is a mere 15-minute walk away, and an even shorter distance from the must-see sights of Covent Garden and Trafalgar Square.
Note: At the time of writing this hostel was closed for refurbishment. Check back with them for more information.
Hootananny Hostel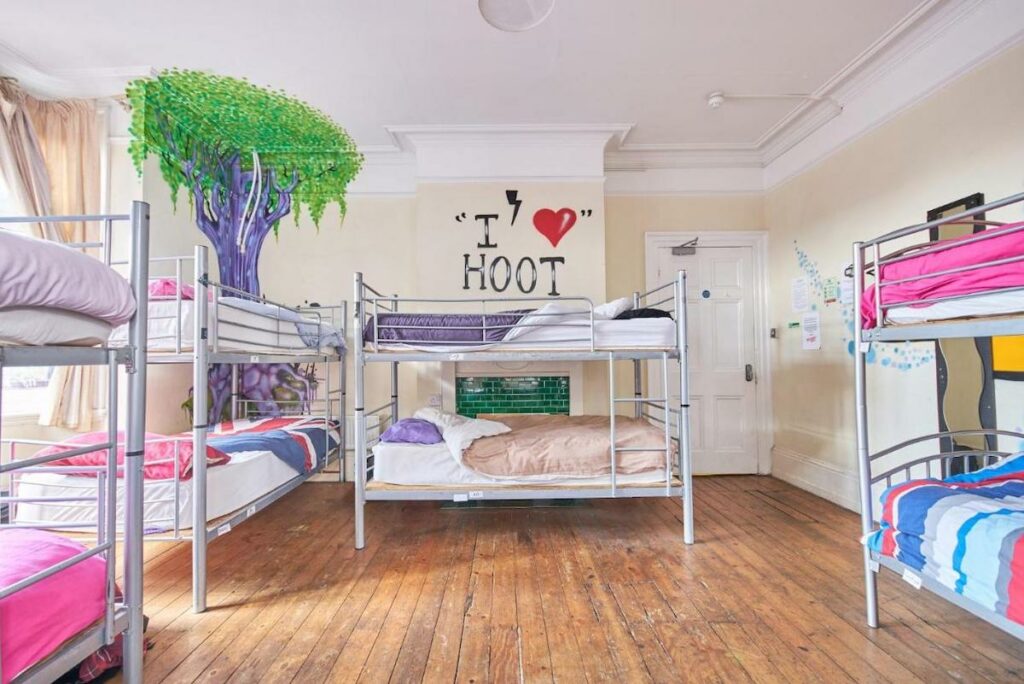 If you like music, then you'll love Hootananny Hostel.
Located above an award-winning bar that recently received the title of "Best Live Music Venue in London", Hootananny Hostel is easily accessible via Brixton Underground station, which is just a 10-minute walk away.
It's also 0.7 miles from Brixton Academy – the go-to venue for many bands and artists. Catch a show there, or make new friends at the hostel's shared lounge.
Urbany Hostel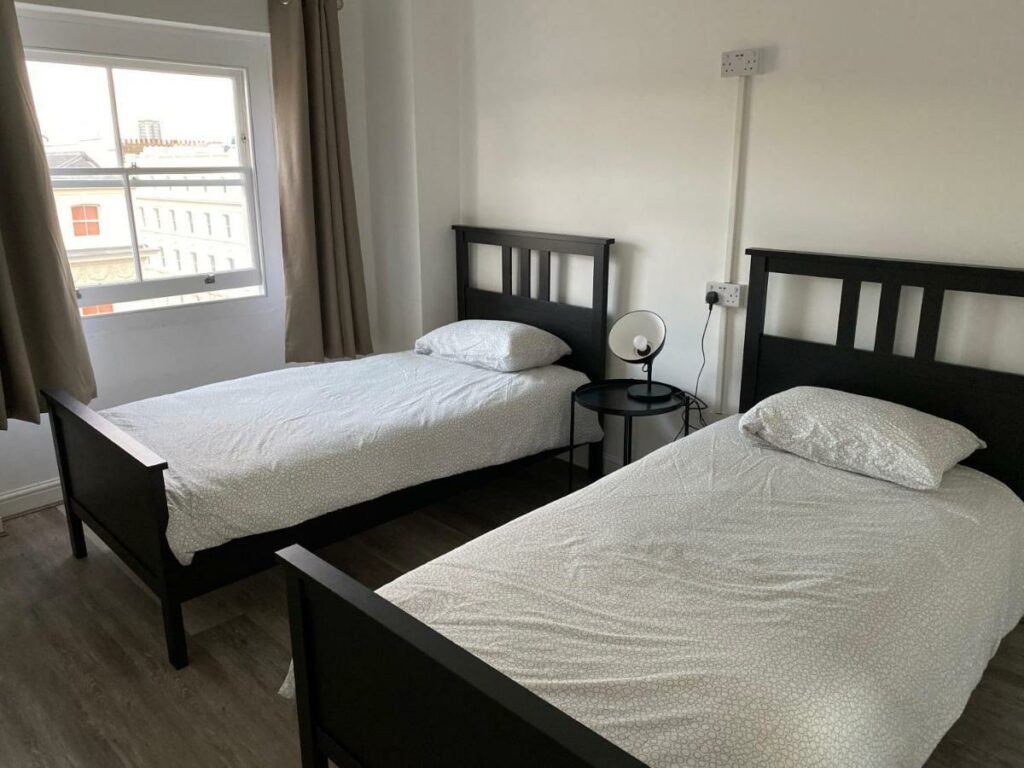 For social travellers, the Urbany Hostel is not to be missed. Offering both shared dorms and private rooms, this hostel is a friendly place for London backpackers to stay and meet like-minded people. Watch some TV in the communal lounge, or take advantage of the hostel's garden area.
Once you've had your beauty sleep, there's a wide variety of locations to visit. Browse the wares on offer at Portobello Road Market (just 0.7 miles away), or take a stroll in the nearby Hyde Park.
Publove @ The White Ferry, Victoria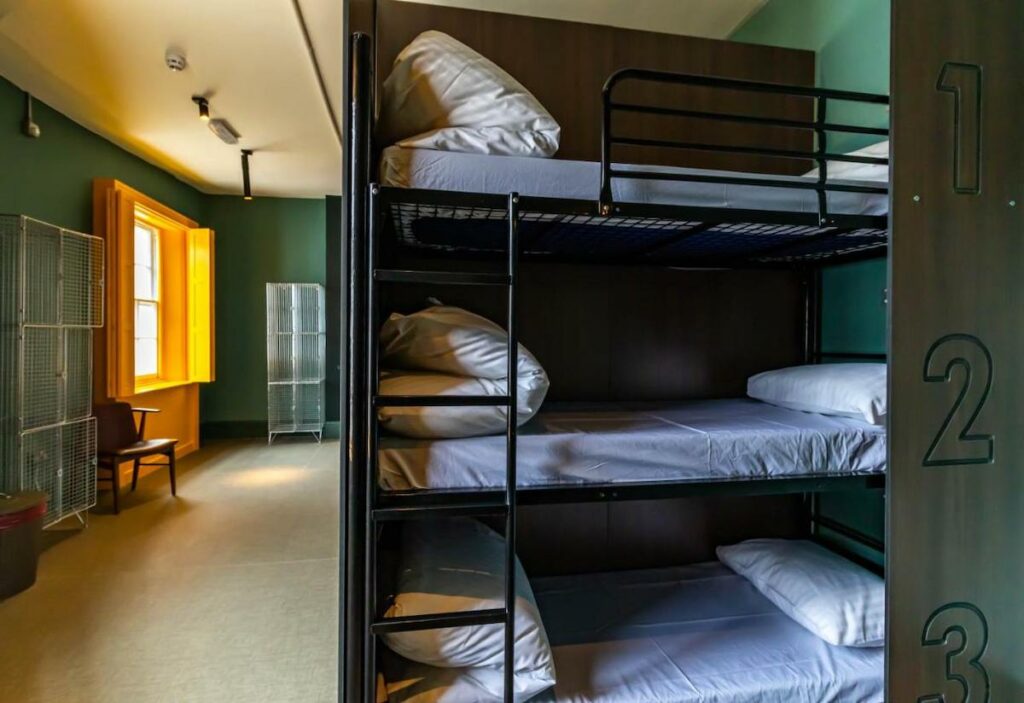 If you're looking for a quaint, pub-hotel style stay then this hostel is a great compromise. It is a traditional English pub offering a range of accommodation between Victoria, Pimlico and Sloane Square Stations – all locations with no shortage of things to do nearby.
Publove @ The White Ferry is close to Buckingham Palace, Oxford Street, Big Ben, Hyde Park and the London Eye, so is ideally located if sightseeing is your thing. However, if you come back later and fancy a drink – never fear. The White Ferry pub is open 24 hours a day, and offers a selection of dishes from the in-house award-winning kitchen during the day.
Hostel One Notting Hill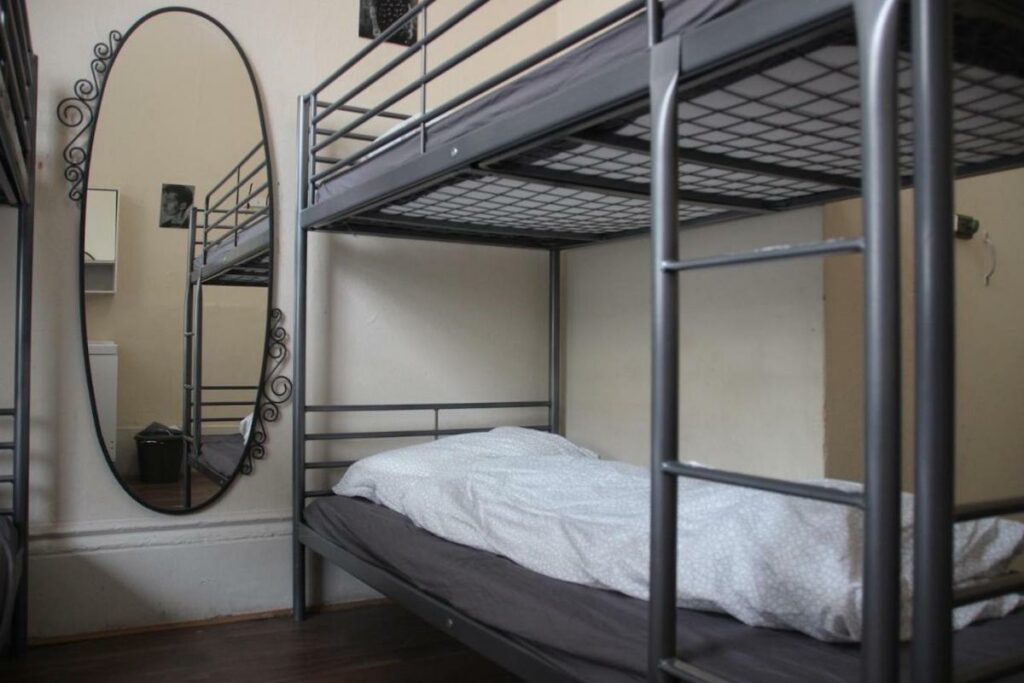 Designed and run by London backpackers, Hostel one is an incredibly friendly and social place to stay and has three common areas designed for different moods: work, relaxation or party. So, whether you're wanting to dance and drink late into the night, or would rather get some shut-eye – this hostel caters to both making it popular amongst all travellers.
It also offers free activities and evening events, and is a short walk from the fresh greenery of Hyde Park if you want to escape the hustle and bustle of city life.
Abercorn House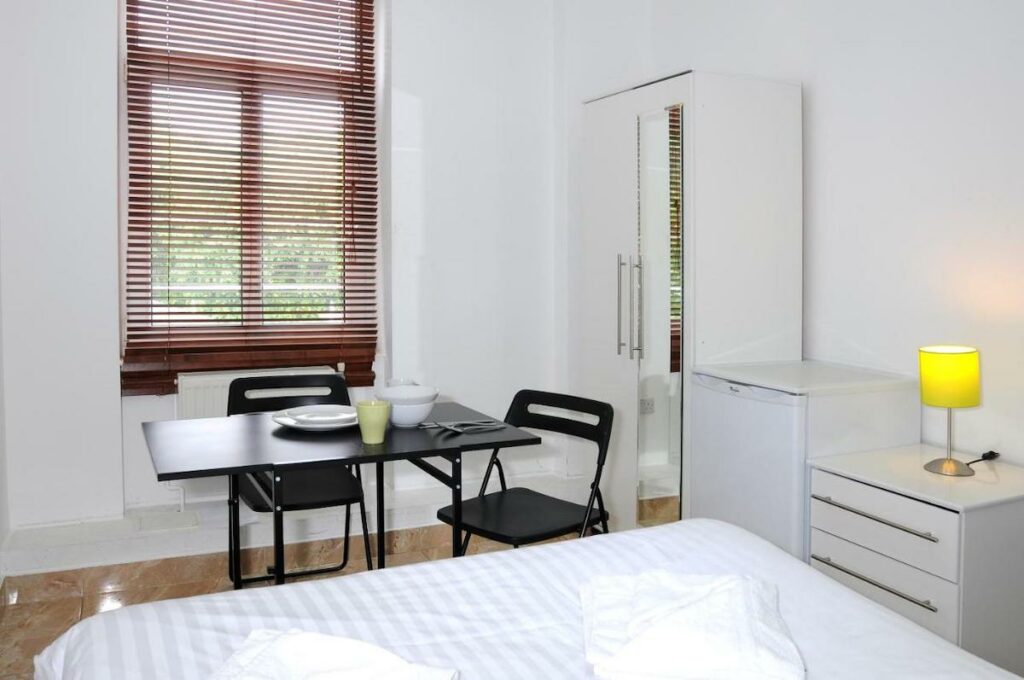 Abercorn House is located in Hammersmith, West London – and is ideally located to reach some of the city's must-see live music venues, markets and shops. It's particularly favourable amongst travellers who want privacy and has recently refurbished private single, double and twin rooms, giving you the option to opt for the luxury of your own en-suite in selected doubles or twins.
If you're looking for a cheap place to stay, Abercorn House is a brilliant option. The hostel has great service, low rates and all the basic amenities needed to chill and relax after a busy day in the capital.
Palmers Lodge Swiss Cottage
Swiss Cottage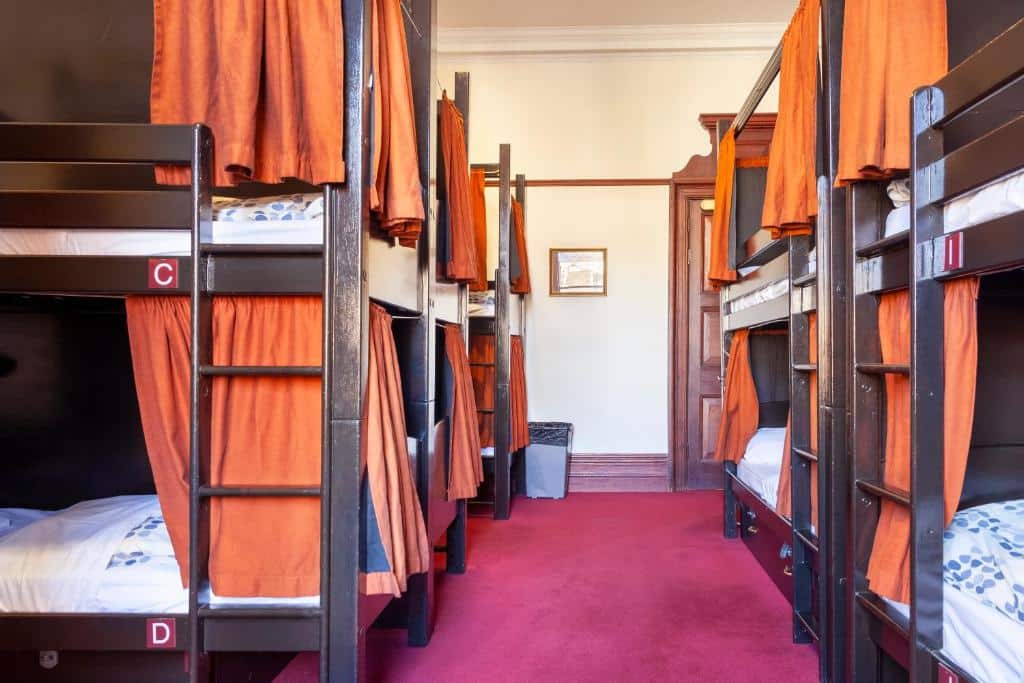 Cutting the budget on accommodation doesn't mean you'll have to end up staying somewhere that doesn't match your high standards. Palmers Lodge Swiss Cottage happens to be located in a very nice Grade II Listed Victorian Manor house, so you'll be living like something close to backpacking royalty.
They've got some great vibes – it's one of the places that really leans into the social element of hostel life. A fully stocked bar with well-priced drinks means that you won't have to suffer London prices to get on it, and that you've got a solid social base as soon as you arrive.
The rooms on offer range from eight to eighteen-bed mixed or female dorms in rooms with plenty of natural light and furnished a little nicer than your average hostel.
To top it off the nearest Underground station is just 300 meters away and can ferry you into the city centre in no time.
Kabannas London St Pancras
King's Cross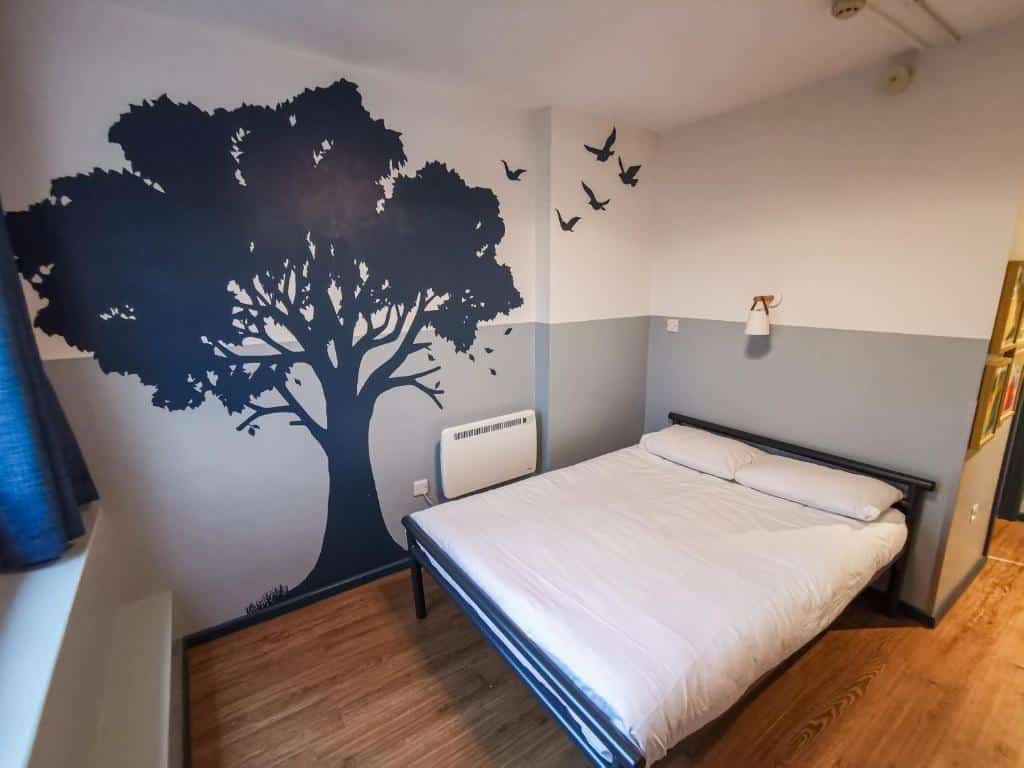 With options for standard double rooms and multiple sizes of dorms, you can rely on Kabannnas London St Pancras for a bit of choice. One choice we really like is the option to pay an extra £5.95 for the inclusion of breakfast in their downstairs bar and lounge.
The hostel itself isn't luxury, but that's reflected in the very reasonable price you'll be paying to stay here, and after all, you'll want to be out and about in the city as much as possible anyway.
With that in mind, Kabannas is probably the best located of all the hotels in this guide for getting around the capital. Close proximity to Euston, King's Cross and St Pancras Stations means you'll be able to get about on public transport with ease.
It also means that many of the city's top attractions will be within a half-hour stroll from your front door.
Practical Tips for Booking Your Hostel in London
Manage your expectations. Although the hostels we've listed are clean and friendly, they may not offer the level of privacy or luxury that a hotel does. We would urge you to pay a little extra for a private room if you prefer peace and quiet.
Always check the hostel's policies. Each will have their own, listing their individual do's and don'ts, and whether they have a curfew before the doors are locked for the night. It's worth checking these out before exploring the city.
Know where to go or who to approach for help. Most hostels will have a designated person or team that is on hand to assist you with any problems. It's worth noting who these are if you need to complain or report any suspicious behaviour.
How Much Does it Cost to Stay in a London Hostel?
Prices in London hostels vary but expect to pay upwards of £18 for a bed in a dormitory room and £80 for a private room per night.
Are Hostels in London Safe?
In general yes, but it makes sense to take some precautions.

Keep your valuables safely locked up. This is especially important if you are in a shared dormitory. Although most fellow travellers you will meet will be nice and there for the same reasons as you, unfortunately, a select few people will take the opportunity to steal or damage belongings.
London Hostels Map