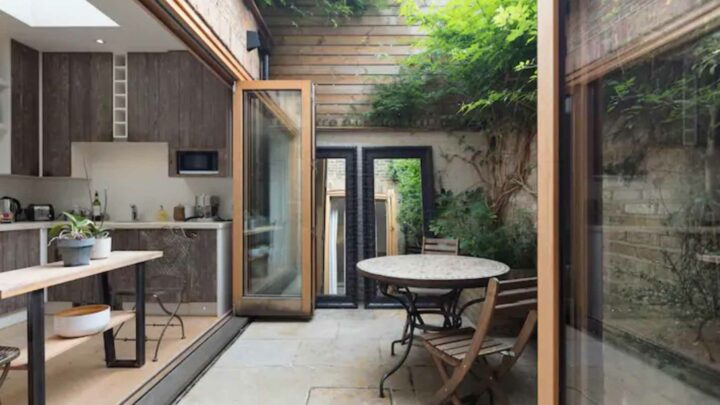 Looking for the best Airbnbs in Chelsea? An affluent neighbourhood known for high-end boutiques and luxurious restaurants, it's no secret that this is a great place to stay.
Perhaps the most fashionable place to stay in London, especially if your visit to London is for a shopping spree, Chelsea could not be any better, location-wise.
Though it's not all material goods and high society – Chelsea is also home to fabulous restaurants and bars, as well as gorgeous streets.
To help you plan your stay, we've created a guide to the best Airbnbs in Chelsea.
Pssst… The apartments on Plum Guide are more reliable than those on Airbnbs, as they are vetted before appearing on the site– meaning you're guaranteed an excellent stay.
Best Airbnbs in Chelsea: At a Glance
The Best Airbnbs in Chelsea
Cheyne Row II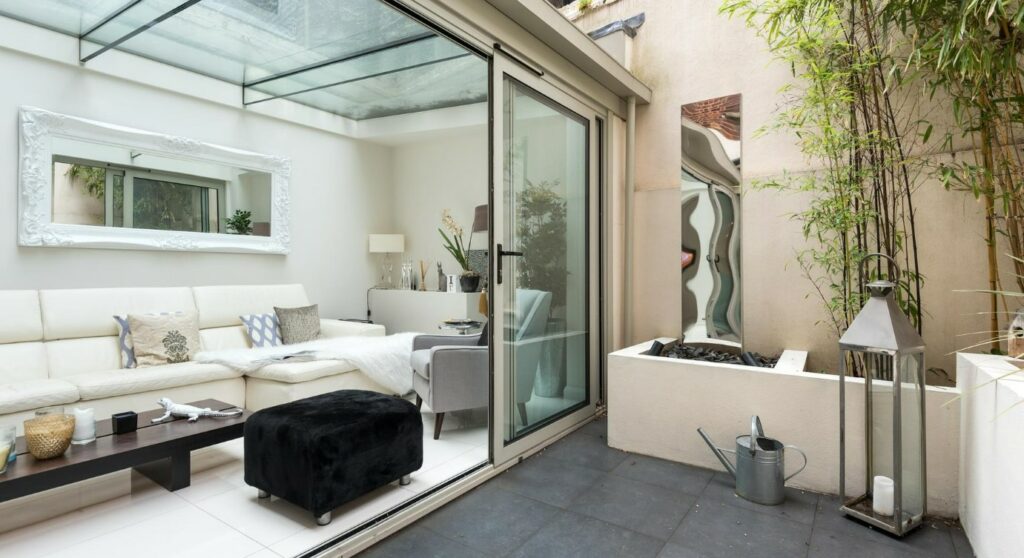 Sleek by design, this one bedroom apartment is every minimalist's dream. Whites and blacks contrast lush greenery in this designer apartment. With careful placements of plants and characterful ornaments.
As sleek as it is, you'll feel right at home as soon as you sink into its inviting bed after your evening stroll along Albert Road Bridge by the Thames.
Grab a bottle from the wine fridge and drink it out on the adjoining patio or open the room-length sliding doors and cosy up on the sofa underneath its glass roof for some inside al fresco.
Chelsea Penthouse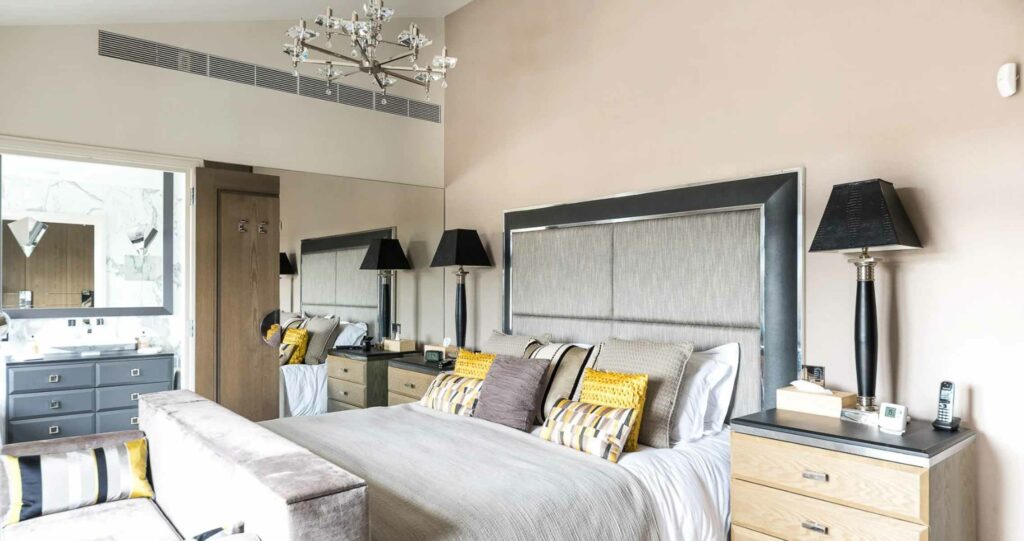 Lavishly decorated with eye-catching pop art and a glamorous marble table, this luxurious penthouse apartment fits the location well.
With a fireplace surrounded by large comfy sofas, the living space is perfect for all of your guests to relax in after a day shopping on Kings Road.
Prepare some drinks on the large island in the modern open planned kitchen and enjoy them outdoors on the terrace complete with a wrap around sofa if the weather allows you to– the views this apartment offers are some of the best views in London.
When it's time to turn in, get a great night's sleep in one of the three grand bedrooms.
Chelsea Terrace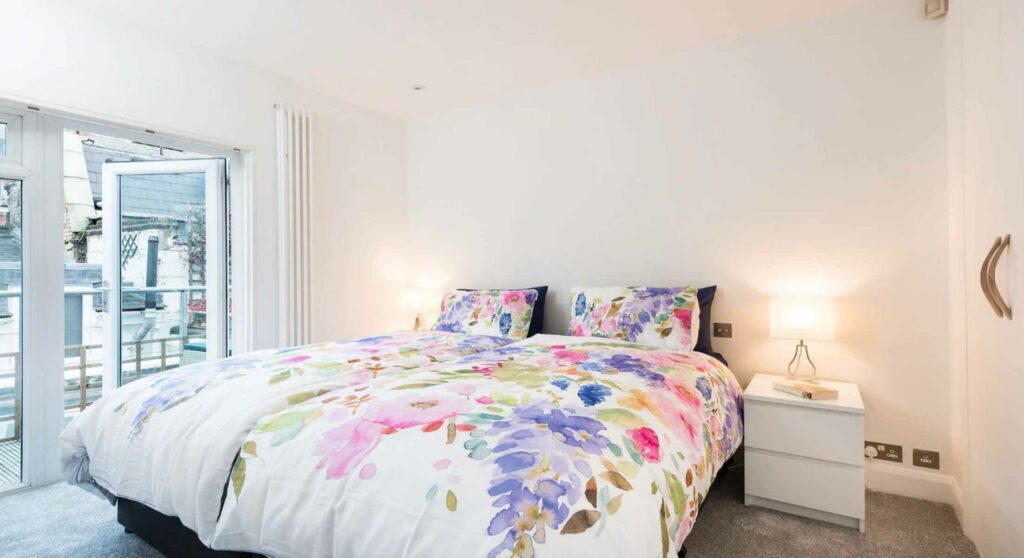 A two-bedroom terraced townhouse on a secluded residential street that's unassuming from the outside, but the inside is a real gem. The master bedroom opens out onto the decked terrace for some fresh air to start your day right.
Its open planned kitchen is a great place for hosting, paired with a sizable dining table set underneath a mesmerising skylight.
This apartment is close by to lots of restaurants including Franco Manco who serve a mean pizza and a cosy English pub, The Surprise.
Luxurious Apartment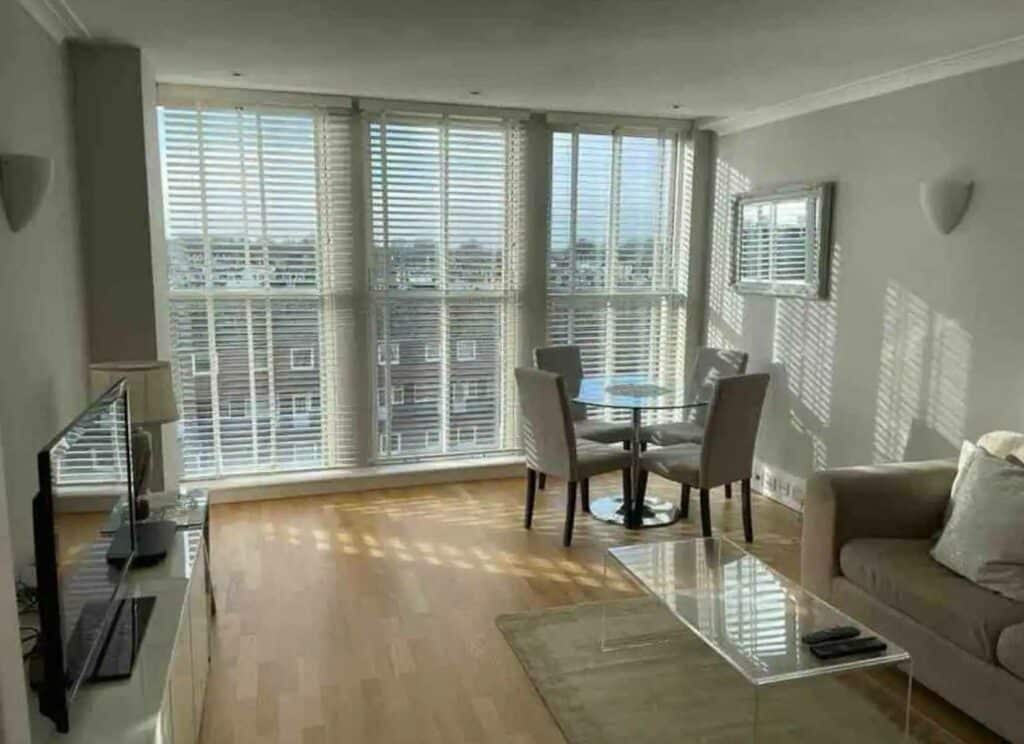 A luxurious apartment located inside a gated development with a 24 hour concierge on hand. This one bedroom apartment comes with full access to a relaxing indoor pool and tennis court for the fitness inclined.
Surrounded by a beautiful communal garden bursting with greenery, you'll feel right at home here. The apartment is fitted with modern furnishings and a floor to ceiling window in the living space, giving you city views.
Sloane Square Sweet
Located in the heart of the fashionable Sloane Square, this one bedroom apartment is the best place to stay for a luxurious shopping spree on Sloane street just moments away.
You'll have a pleasantly calm and tranquil stay at this Airbnb in Chelsea surrounded by nude furnishings and a cosy fireplace for those cold winter days. Let the outside in, and open the french doors leading out into the quaint courtyard filled with seating, plants and sun.
Visit Saatchi Gallery and admire contemporary art exhibits or catch a show at The Royal Court theatre– both are within easy walking distance from your apartment.
Radiant Home in Chelsea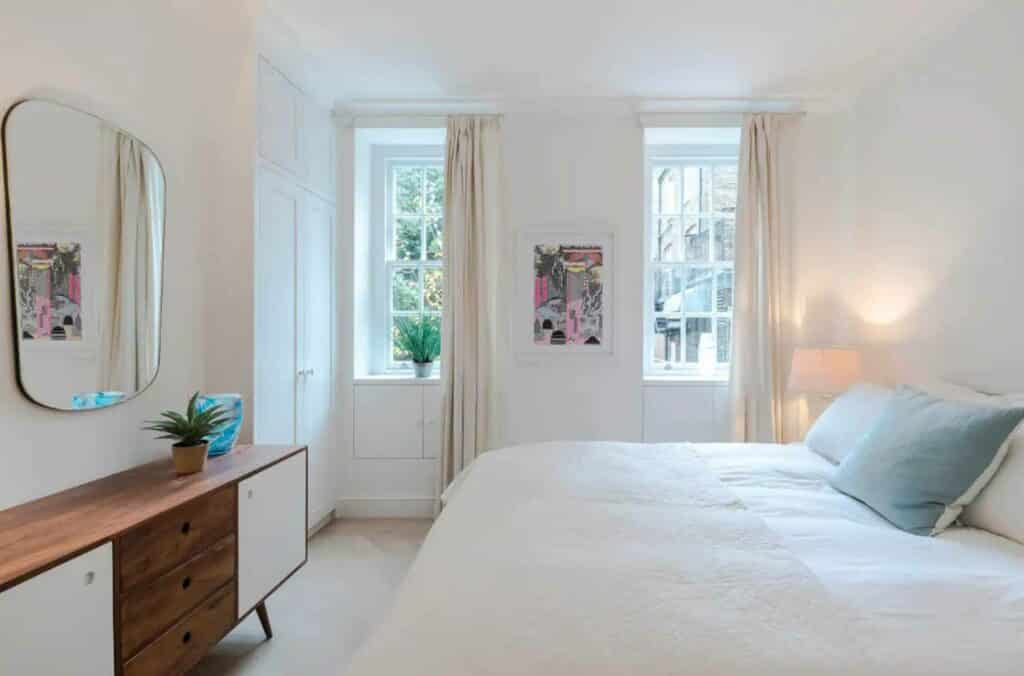 A radiant, white-washed Airbnb with modern furnishings, and all the amenities you need to have a relaxing stay.
You'll be spoiled with ambient light in this bright home, natural light floods in from the windows and pairs nicely with foliage throughout the home. There's not so much a pillow out of place here, everything is crisp and clean right down to the off-white curtains.
The bathroom has a walk-in power shower and a heated towel rail meaning you never have to feel chilly in the winter months.
This home is right next to King's Road with lots of coffee shops to pick from for your morning caffeine fix.
Fashionable Home in Chelsea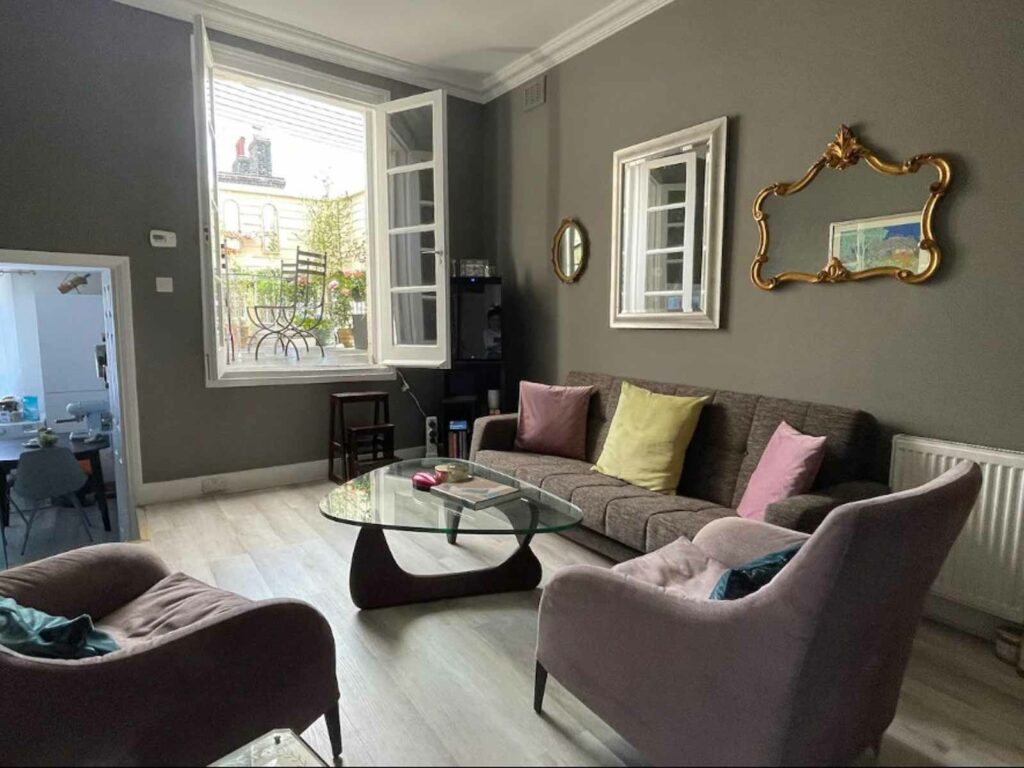 This is a fashionably-furnished one bedroom apartment of dreams, situated just moments away from Kings Road and Fulham Road – both lined with shops, restaurants and cafes ready for you to explore.
The home is stylish with modern dark grey walls, colourful artworks and furnishings that add touches of yellows, pinks and blues for a homely feel. Rooms are spacious and the apartment is a really decent size for a couple spending a weekend in Chelsea.
The star of the show has to be its canopied terrace, step up and out onto the secluded decking adorned by plants and relax on the garden furniture with a book. When you're done relaxing on the terrace, head out and admire Chelsea's tree-lined streets and bustling restaurant scene.
Scandi-Inspired Home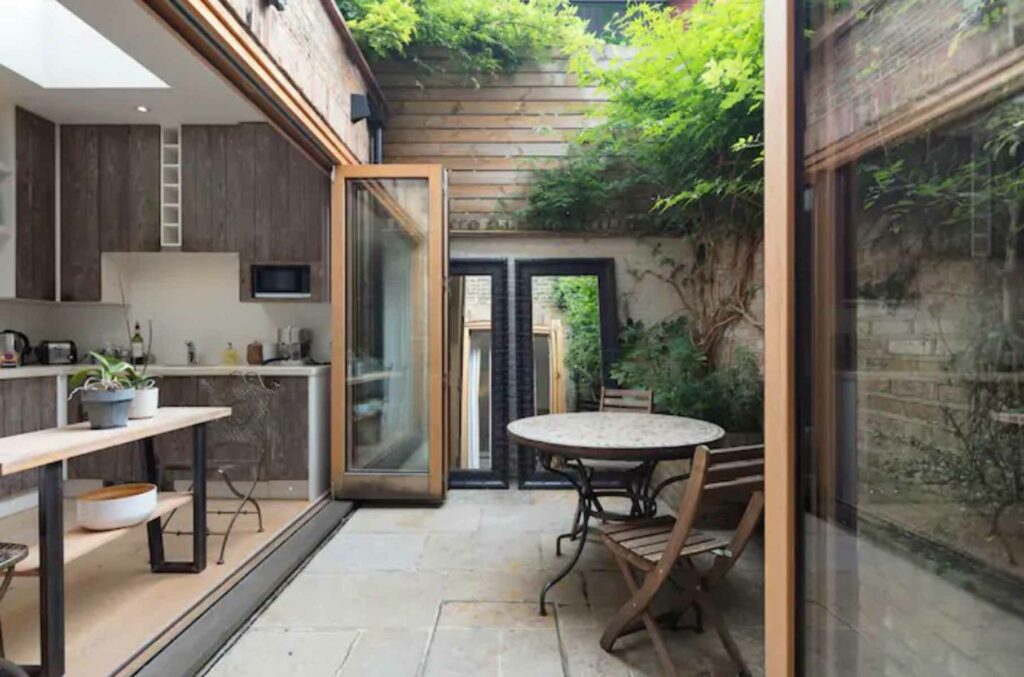 The interior of this Airbnb transports you into Scandinavian living, soulful and carefree. Unassuming from the outside, but as you step inside you're greeted by scandi woods and calming white furnishings to match.
This home draws you in deeper through the open-plan kitchen that has everything you need, from the wood-furnished bifolding doors that open out onto a quaint patio to the overgrown greenery maps the surrounding walls at this retreat.
For cooler days, cosy up by the log fire in the living space or in your bedroom that's also complete with a log fire and huge bay window with a sitting space to read your book.
The Ormonde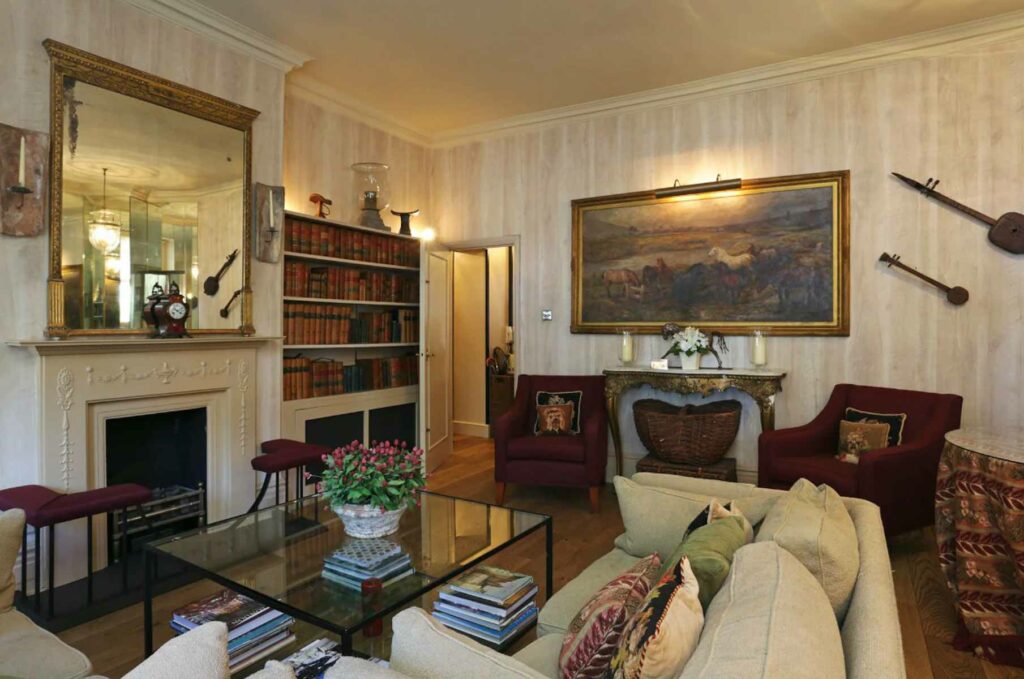 This contemporary home is a traditional English residence just a three minute stroll away from the Thames.
Think stately living, with an original fireplace in the living room and fascinating artworks fill the rooms at this 2 bedroom Chelsea Airbnb. Grab a book from the extensive historical library to enjoy in the secluded garden with flower pots and lush greenery. Yes, please.
It's situated within walking distance to The National Army Museum for the history buffs and Chelsea Physic Garden– a stunning botanic garden with an onsite restaurant.
Bright and Airy Apartment
A bright and airy home away from home in the heart of Chelsea with big windows throughout letting in lots of natural light.
Its wooden floors are homely and paired with greys and striking yellow cushions and throws throughout the living space and bedroom. Sleeping up to four, the living/dining space is a perfect size for entertaining, while the main bedroom is cosy and inviting.
It's a great location to explore the surrounding cafes, shops and restaurants, it's also not far from the River Thames, should you fancy a waterside stroll.
Chelsea Airbnbs: Discover More Chelsea Guides
Unmissable Restaurants in Chelsea