When it comes to finding the right place to stay in the capital, the choice is endless. There are hotels of every star-rating, a wealth of Airbnb homes… and then there's aparthotels – a cross between the two.
Aparthotels in London offer the best of both worlds – the freedom of your own property, without the limitations of renting someone's private home. There's all the luxury fixtures you've come to enjoy from hotels, without any of the nuisances of being bundled in with tourists. It's a no brainer, right?
Without further delay, let's take a look at eight of the best aparthotels London has to offer.
Best Gorgeous Aparthotels in London: At a Glance
Best Aparthotels in London
Park Lane Apartments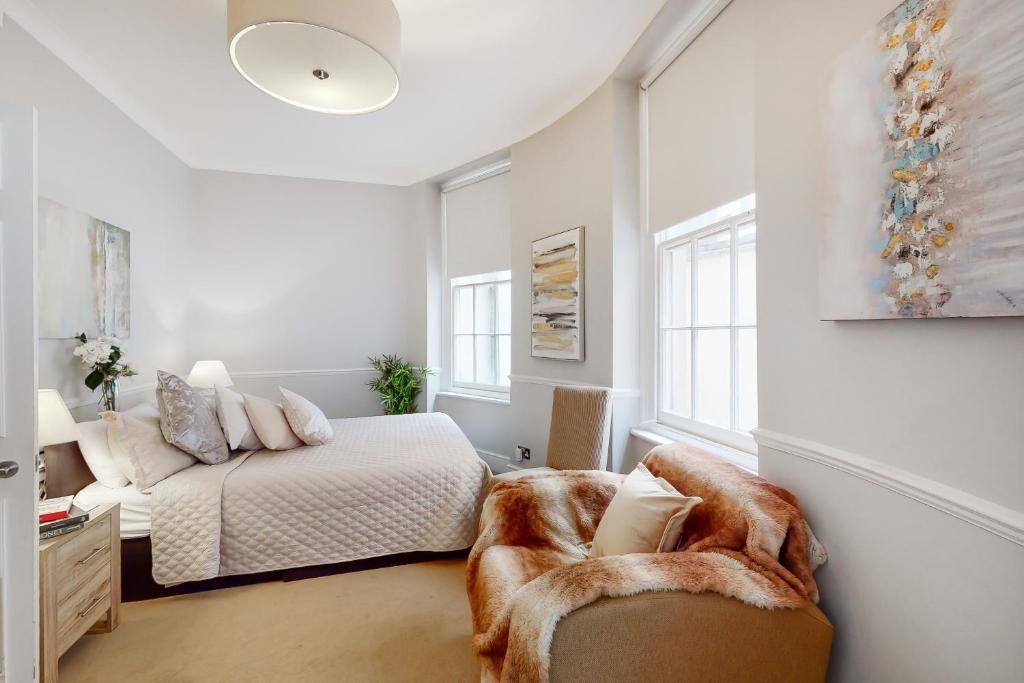 Consistently ranked one of the top hotel apartments in central London, Park Lane Apartments are an excellent choice for those with discerning taste. Nestled in an affluent Mayfair street, near to designer boutique shops, five-star restaurants and Green Park, it's a wonderful spot for taking it all in.
The property itself is spacious, bright and airy, making it a great choice for lengthy visits. The property benefits from a fully equipped kitchen, flat screen TV and private dining area – there's even a free DVD rental service for chilled nights in. With room for up to five guests, it's every inch a home from home.
The Lincoln Suites, Covent Garden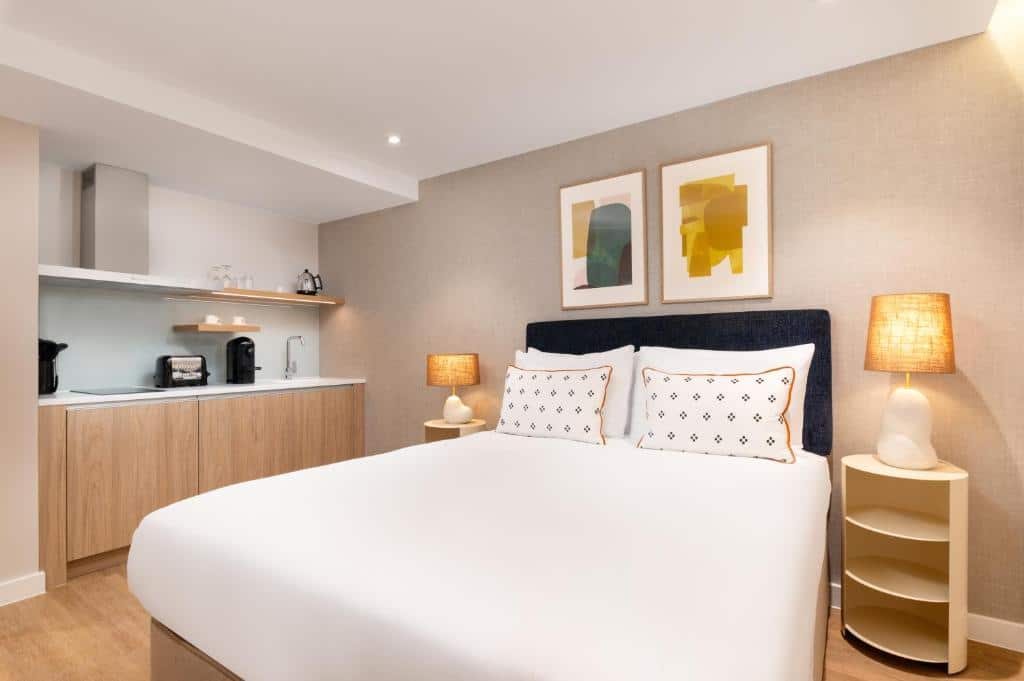 Well located in the hub of Covent Garden, these London serviced aparthotels at Lincoln Suites make a wonderful choice for small, or larger groups, with room for up to seven guests. For all the five-star feels, every amenity you could hope for is taken care of, from kettles and microwaves in its kitchen, to slippers and fully robes in the private bathroom.
Clean and comfortable, the Lincoln Suites are a big hit with visitors, for their comfort and convenience, close to theatreland, and some of the best restaurants the city has to offer.
Aparthotel Wilde Aparthotels by StayCity Covent Garden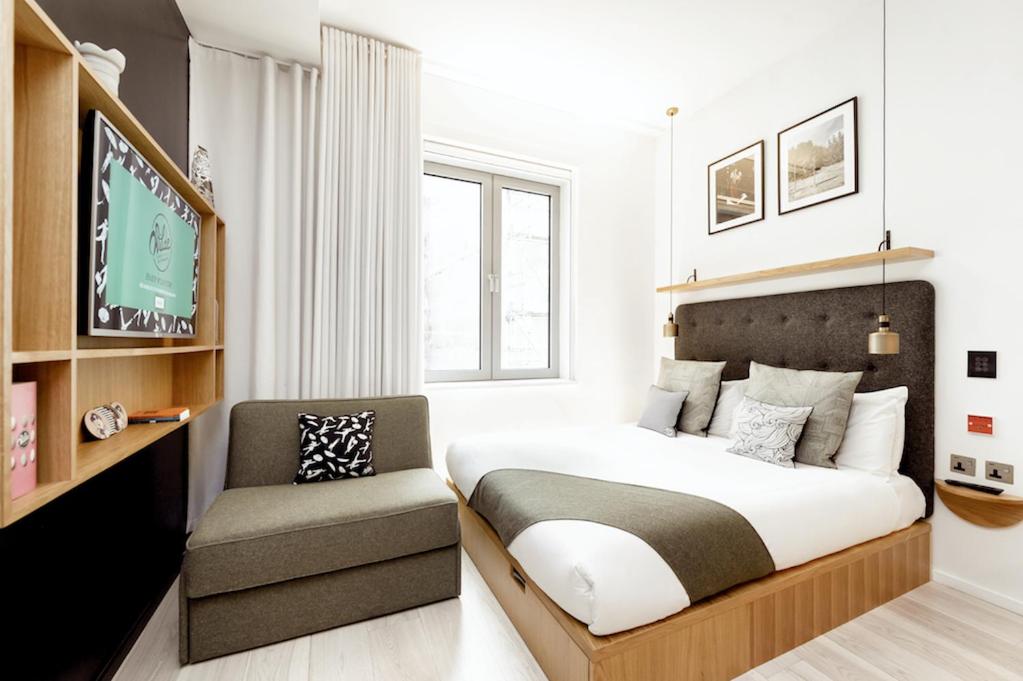 London's Staycity Aparthotels is the perfect place to rest your weary head in one of the best central locations. Close to the bustling West End, theatres, restaurants, museums and attractions, it's the ideal sport for tourists wanting to soak up the authentic London experience.
The studio is ideal for couples, and the cosy set-up includes a kitchenette with dishwasher and microwave for self-catering, as well as a luxurious 43-inch smart TV. With WiFi throughout, every necessity is meticulously taken care of to enhance your stay.
Urban Chic, Covent Garden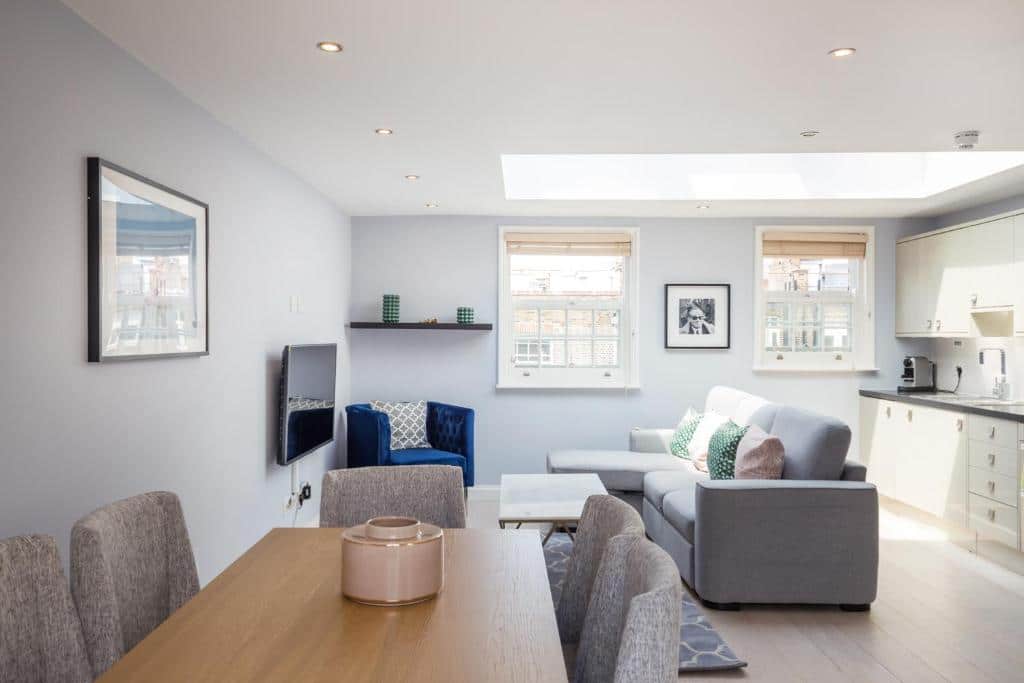 Smack bang in the beating heart of Covent Garden, Urban Chic is located within stumbling distance of all the best entertainment the city has to offer. With some of London's finest shops, boutiques, bars and restaurants on your doorstep, not to mention the Royal Opera House and British Museum, it's one of the top rated aparthotels in London's Covent Garden.
Each unit has its own private fully-equipped kitchen, seating area, flat screen TV and bathroom for the utmost privacy. Overall, this chic setting creates a soothing calm environment, offering respite from the bustle outside. Family rooms are available, making this suitable for groups of up to six guests.
Leman Locke, Tower Bridge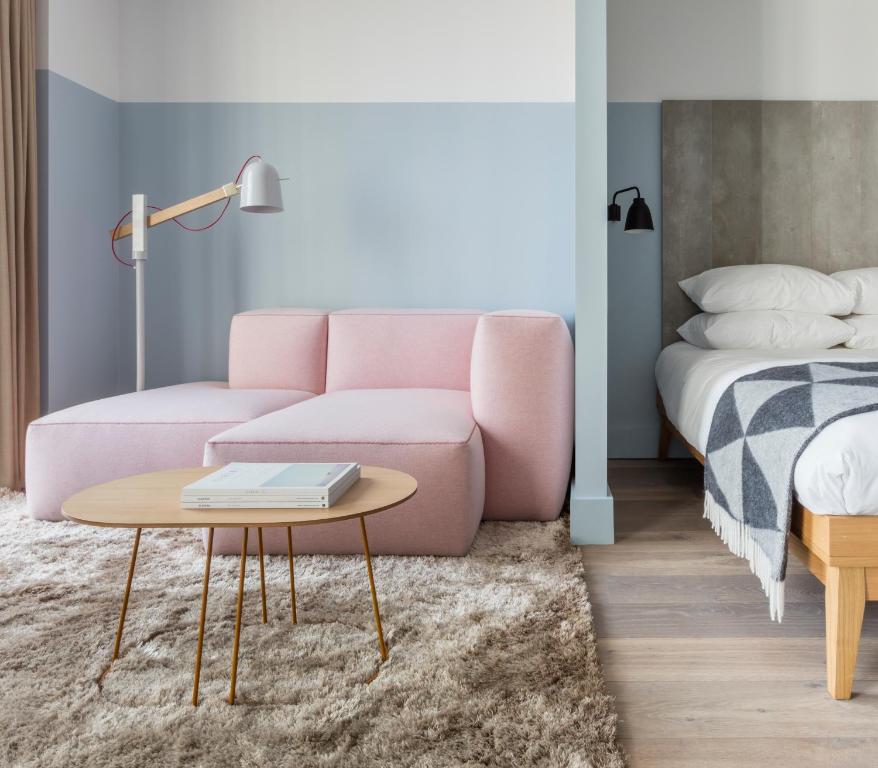 Oozing sophistication with a nod to Scandi-chic design, this spacious property enjoys wonderful views across the city. Just minutes from Tower Bridge in the vibrant neighbourhood of Whitechapel, it's well connected to the city, bars and clubs of hip East London.
Best suited to two people, this London serviced aparthotel benefits from a 24-hour reception and concierge service to take care of all your needs. Inside, you're treated to all latest mod-cons, including Apple TV, a smart TV, a rainfall shower, fully-equipped kitchen and access to an on-site fitness centre. Basically, you'll never want to leave.
Rockwell East, Tower Bridge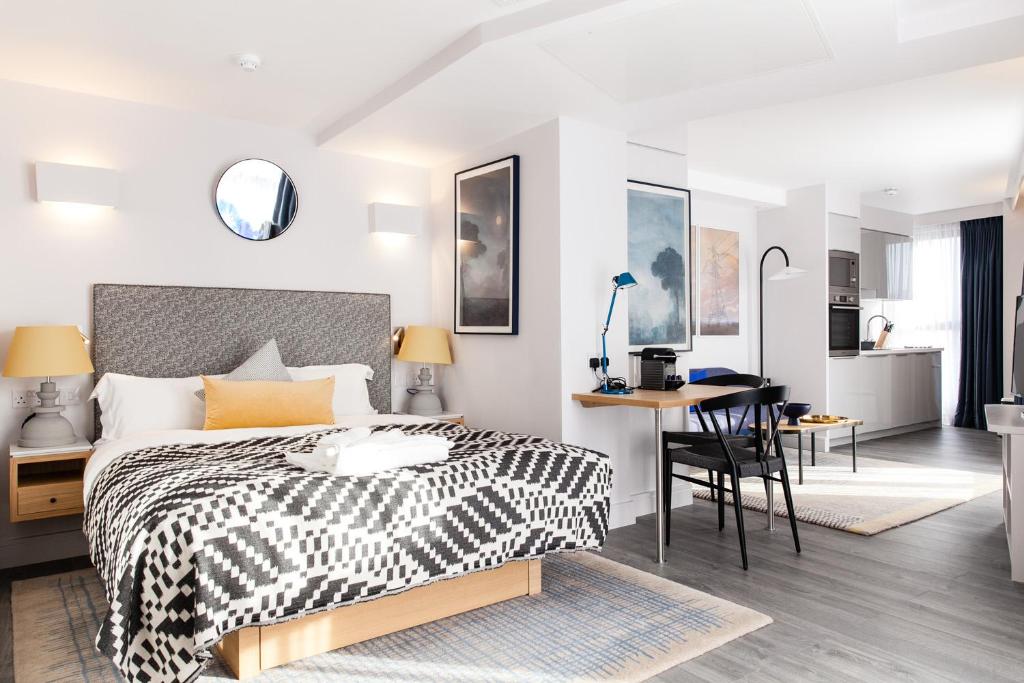 Rock out in this joyous open-plan aparthotel in London. The one-bedroom and studio apartments on offer are beautifully furnished with private facilities for you to enjoy. This includes a large comfortable bed to sink into, a quiet lounge area and a fully-equipped kitchen.
Wake up to wonderful views and a rainfall shower, close to the charms of Tower Bridge. If you're travelling from afar, you'll be pleased to know that it's just six miles from London City Airport. If you're looking for a charming comfortable stay, Rockwell is an inspired choice.
The Gate Aparthotel, West London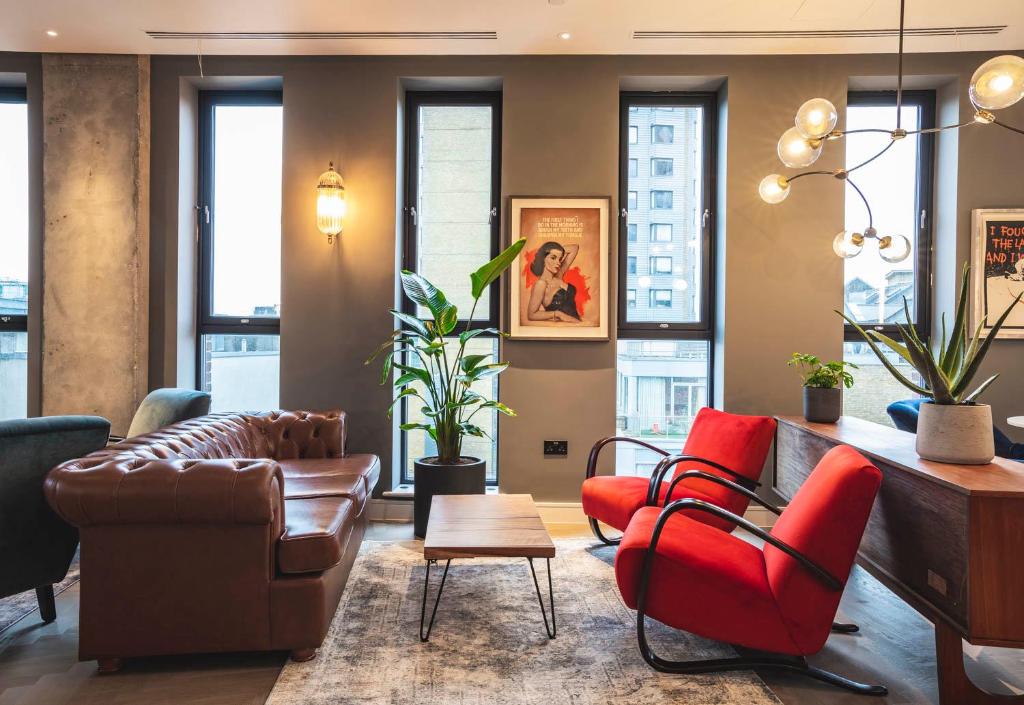 There's a real buzz around the Gate Aparthotel in London, making it one of the most sought-after apartments in the area. Close to the markets, vintage shops, bars and diners of Shoreditch and culinary delights of Brick Lane, it's a brilliant place for enjoying the local nightlife. When it's time to relax and unwind, the apartment offers a comfortable setting with pops of colour to bring it to life.
At times, you can feel like you're in an upstate New York hotel, with its soothing décor and views across the city skyline. Guests also benefit from a kitchen, private bathroom and shared rooftop terrace.
Hyde Park Apartments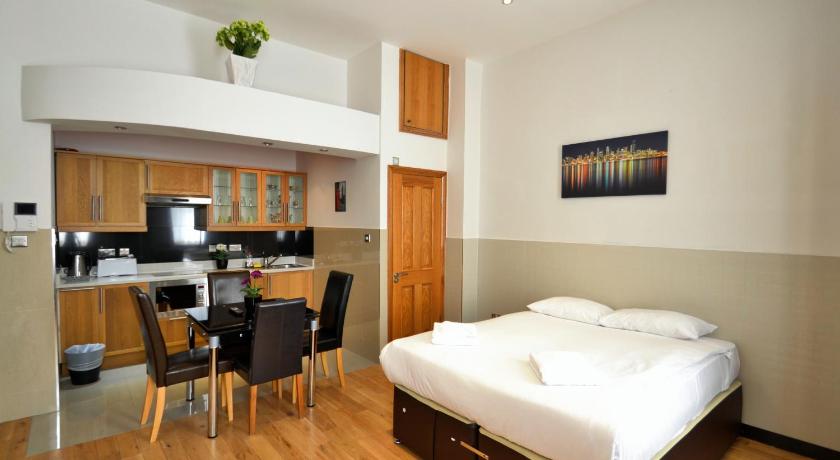 First time visitors to the capital are often surprised at the green space available, and these central apartment hotels in London make the perfect choice for enjoying its tranquil side. A short walk from luscious Hyde Park and Kensington Gardens, this clean contemporary property offers a serene base for your stay.
Stylishly decorated and kitted out with a modern kitchen and WiFi access throughout, it covers all your immediate needs. Bedrooms are welcoming and comfortable, with the added luxury of a walk-in shower and open-plan sleeping area.
Best of all, if you plan to hit the shops, or take a day trip out of town, you're close to both the lure of Oxford Street and the convenience of Paddington Station.
Practical Tips for Booking London Aparthotels
Finally, to help you make an informed choice for your upcoming stay. Here's some top tips for finding the best property to best suit your needs.
Unsure what neighbourhood to stay in? Centrally located apartments offer the best choice and transport links. This is particularly beneficial if you're planning to explore the wider area, since all the main attractions fall within zone one.
If you're seeking style and sophistication, the London serviced aparthotels in Fitzrovia are some of the most luxurious on offer, although expect to pay a higher price tag.
London serviced aparthotels are a great choice for visitors on a busy schedule. This affords you the benefits of housekeeping, within the privacy and comfort of your own apartment.
Aparthotels can vary in standards, so be sure to check that yours is fully furnished with all the required amenities to hand. This includes free WiFi (an essential!) as well as a fully-equipped kitchen if you're planning to self-cater.
Planning to go out-out? Save on cabs, and stay in an aparthotel in London's city centre, close to the bars, clubs and restaurants.
If you need easy access to Heathrow airport, opt for Aparthotels in West London, such as Chiswick, Chelsea and White City.
Travelling in from London City airport? Then base yourself in one of the many aparthotels in east London.