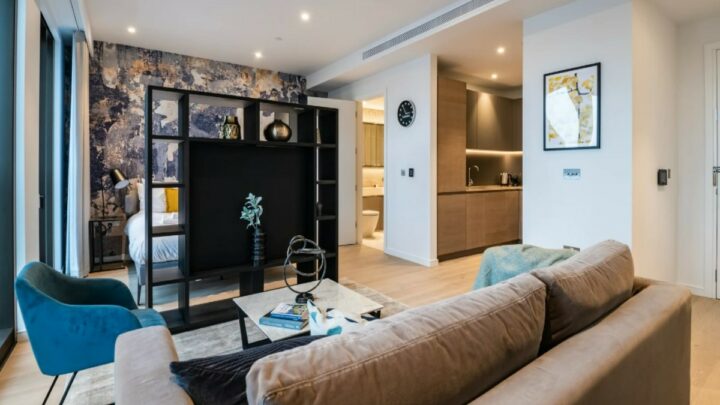 Looking for the best Airbnbs in Canary Wharf? This riverside spot boasts plenty of cool places to stay. Here's a guide to the very best.
Tucked away just outside the busyness of central London and boasting incredible views of the Thames, it's no wonder that so many people choose to make Canary Wharf the base for their London trip.
It's the home of London's best skyscrapers, the hustle and bustle of people going to work in the financial capital of the UK, and a great place to stay with fantastic transport links.
Now, we love Airbnb but we find that the properties on Plum Guide are of a higher quality – each home is handpicked by PG staff to ensure that only the most fabulous pads are featured.
Ready to discover the best Airbnbs in Canary Wharf?
Best Airbnbs in Canary Wharf: At a Glance
The Best Airbnbs in Canary Wharf
Seven Sages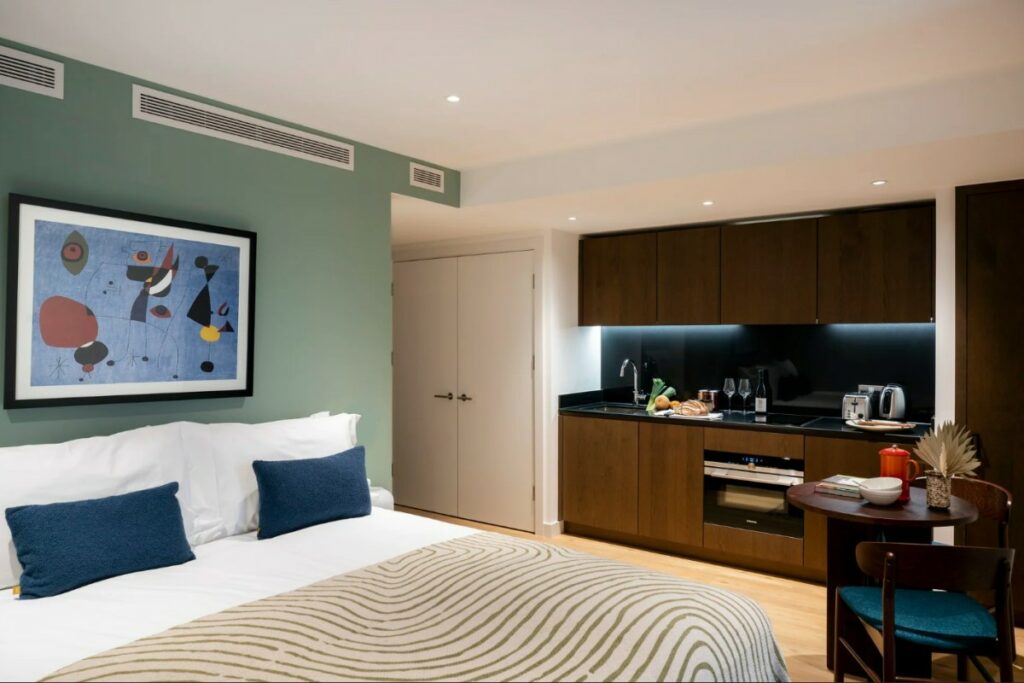 Hold up, we think we've found the best Airbnb Canary Wharf boasts – this apartment is special on a lot of levels.
Firstly, it has two bedrooms (king size beds we may add) which consist of two separate apartments joined by a hallway – a very rare occurrence in London, especially in Canary Wharf.
This Canary Wharf Airbnb is the perfect place if you're going on a couples holiday, have kids that want some space or even if you just need that extra room when your boyfriend or girlfriend gets annoying. Extra amenities include a large table in each kitchen, the fastest internet connection you can conceive of and a smart tv.
There's even two kitchens if you both can't decide what to have for dinner, or maybe you'll want to have a real life cook off! To be fair, we'd rent it just for the cook off idea.
Stunning Victorian House in Canary Wharf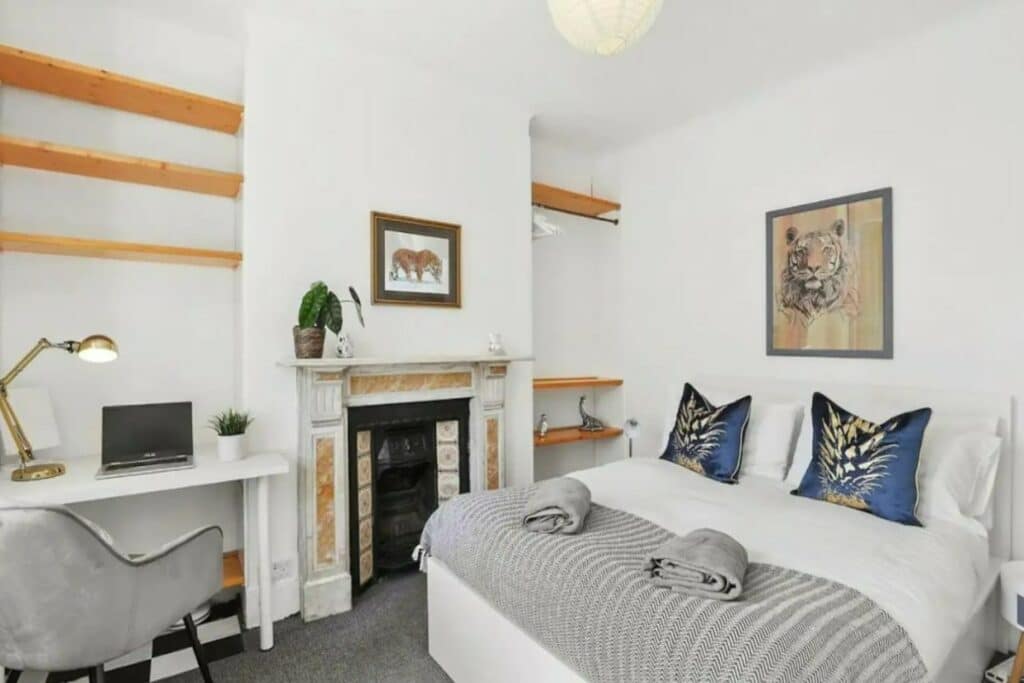 A real life house in Canary Wharf – who would've thought it was possible? We love this Airbnb.
It's a charming property with a huge amount of period features including fireplaces, original coving and beautiful sash windows.
With two double size bedrooms (queen size beds too!), an upstairs shower area, a downstairs bathroom and a lovely kitchen with loads of natural light, this place is a pretty perfect stop off.
A great place to stay if you want to be close to all the best restaurants in Canary Wharf, but also feel like you're staying in a home with lots of light.
Plain Sailing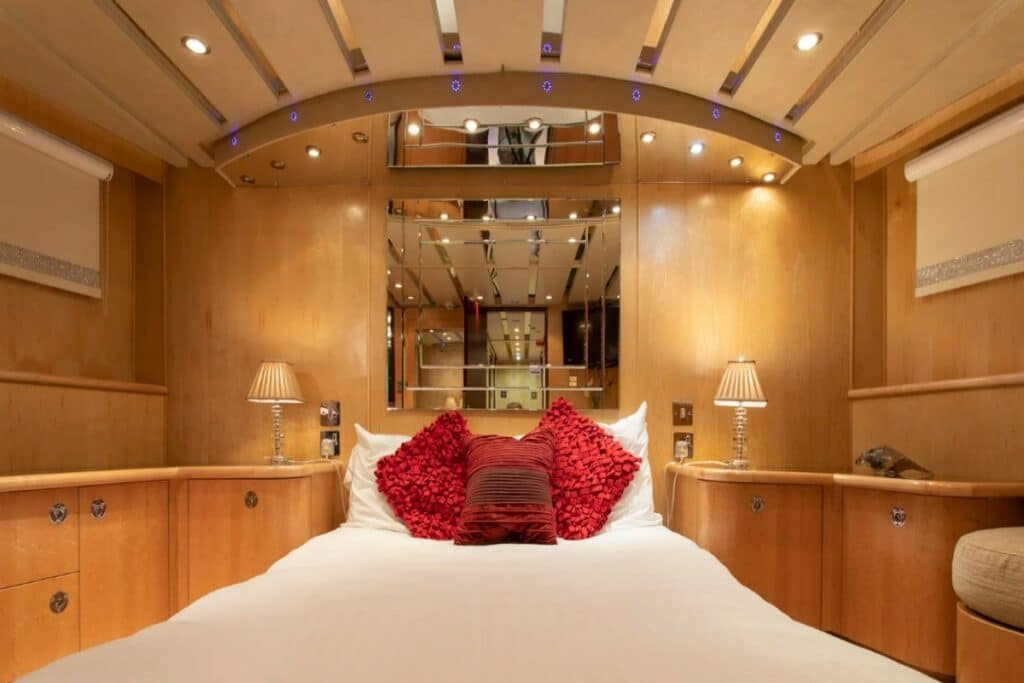 If the idea of a house got us excited, just imagine how we squealed when we came across this boat. Yes you can stay on a boat in Canary Wharf.
Right on the West India Quay, treat yourself (and all your closest family and friends) to this incredible luxury yacht. We're talking about a beautiful wrap-around sofa, a bar and a private chef at this impressive Airbnb near Canary Wharf.
Wake up like royalty drinking mimosas on the main deck and watching the world go by in the best way possible. Experience Canary Wharf from the best angle, the water.
With 5 bedrooms and 6 bathrooms, you could load up the ship and have one of the best experiences London has to offer.
On another note, the boat is award-winning on Plum Guide, and you know how much we love Plum Guide.
Bright First Floor Apartment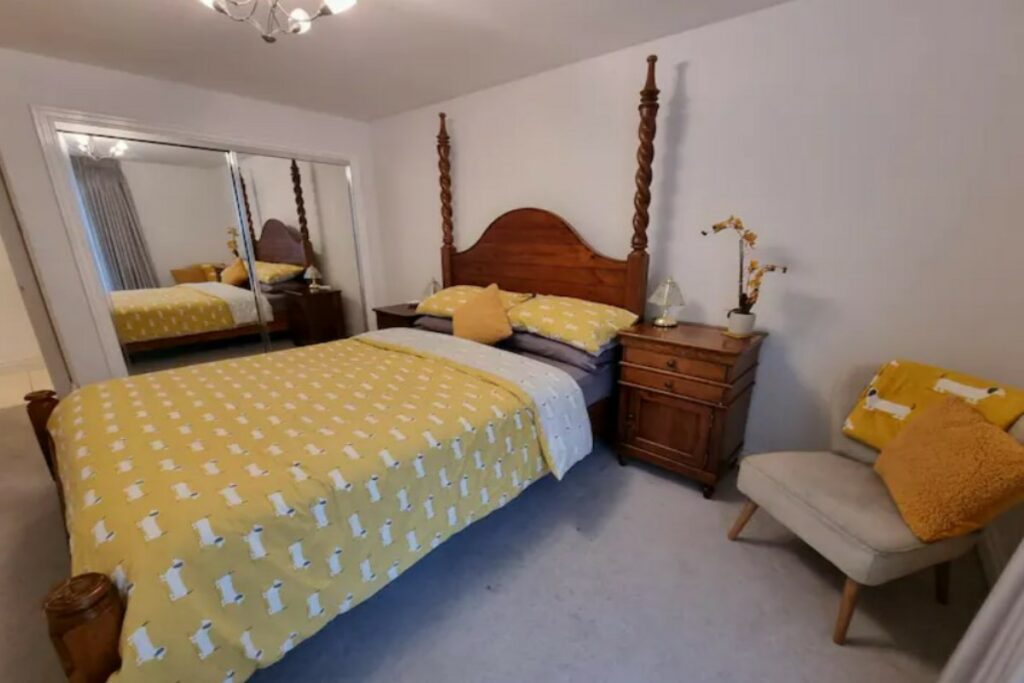 Looking for cheap short let Canary Wharf apartments? Now this is the perfect spot if you're on a bit on more of a budget. We think you'll agree that bright light is very important and this space has just that (after all, nobody wants a dark and dingy Airbnb in London).
Right by the West India Dock in Canary Wharf, and close to all the best places to see in Canary Wharf, you've got this lovely little Airbnb. The DRL is also a 3 minute walk away.
Kitted out with the full fittings, a smart TV, a little balcony, Wifi and all you need in the kitchen – you can't go wrong with this apartment.
You're also walking distance from all the best bars and best restaurants in Canary Wharf.
Skyview Waterside City Luxury Apartment with Pool and Gym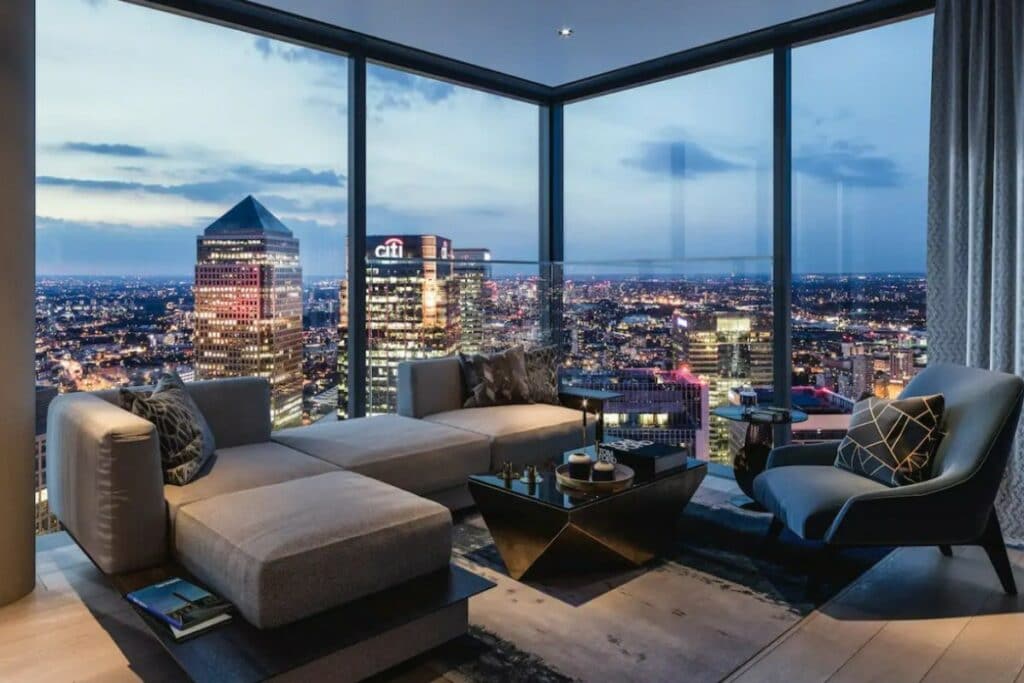 Now it doesn't get much better than this place… Yes, it's on the expensive side, but it can sleep up to 10 guests and is by far one of the most exclusive apartments in Canary Wharf.
Beautiful waterside views, slick interior and access to both a pool and gym – why would you need to leave?
Side note: We don't really mean that, there's a lot to explore in London. Definitely get out and about.
Although it only has two bedrooms, the living room has space for one king bed, one sofa bed and one airbed. So if there's quite a few of you and you don't mind getting up close and personal, go for it.
Incredible location, amazing views over the water and one of the best places in Canary Wharf to stay.
Bright and Airy Canary Wharf Loft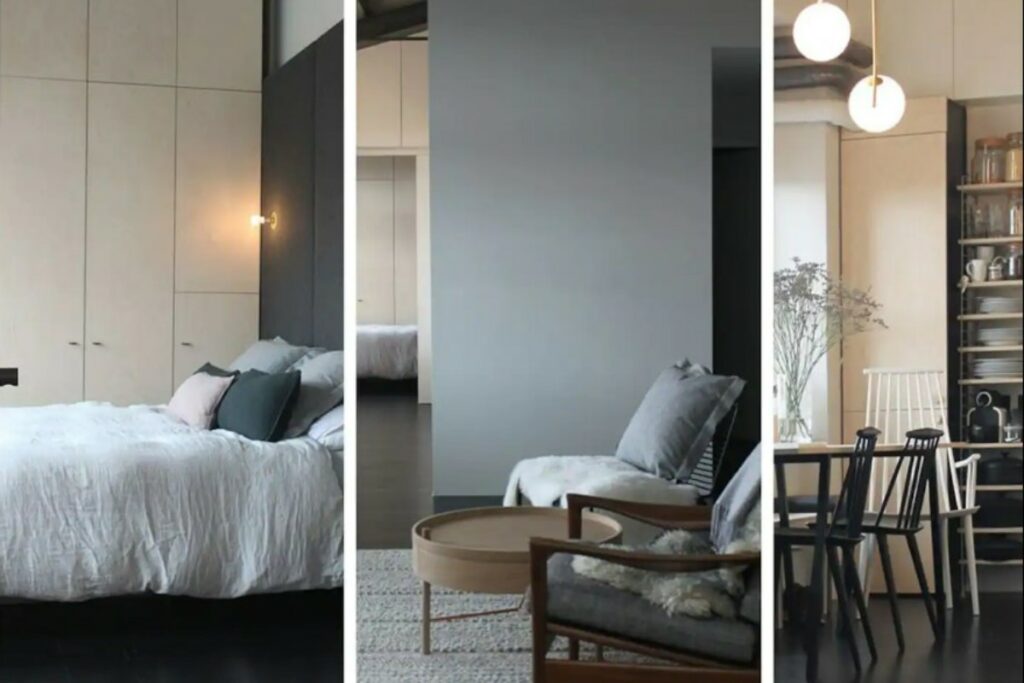 This apartment is winning the award for most stylish Airbnb in Canary Wharf.
Now let's be honest, a lot of apartments in Canary Wharf look the same. Not this one, however.
An architect-designed Loft, spacious and bright, the apartment was built in a converted warehouse building and it's truly one of the best places to stay in Canary Wharf. It's got everything, amazing location, fantastic price and even better decor.
With 1 king size bed, you've also got free parking (says no one ever in London), a bath, travel cots available and a 55" TV with all the streaming services known to man!
Think New York loft vibes with a Scandinavian twist, right in the heart of London. Perfection.
The Old East End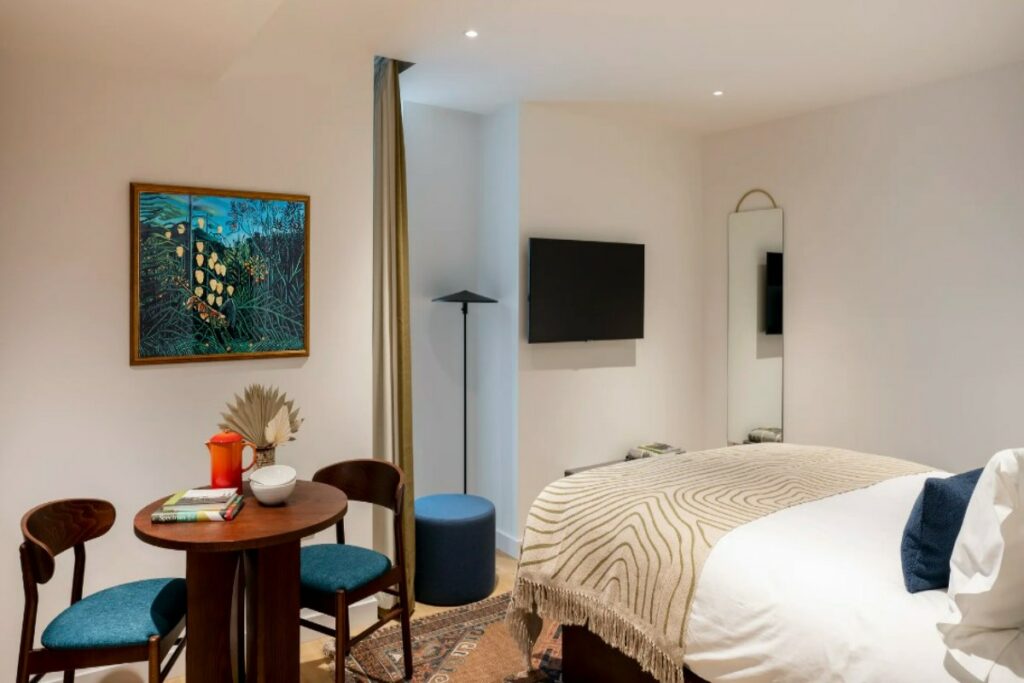 A stunning studio apartment in Europe's tallest residential building.
We love what the owners have done with this place and how well they've used the space.
Small touches, like the fact the little table in the apartment doubles as a laptop-friendly workspace, as well as the abundance of green plants is exactly what we look for in places to stay.
Also… the apartment has black out blinds so you're guaranteed a good night sleep.
Close to the best restaurants and some of the best views in London, you cannot go wrong with booking this spot.
Canary & Quay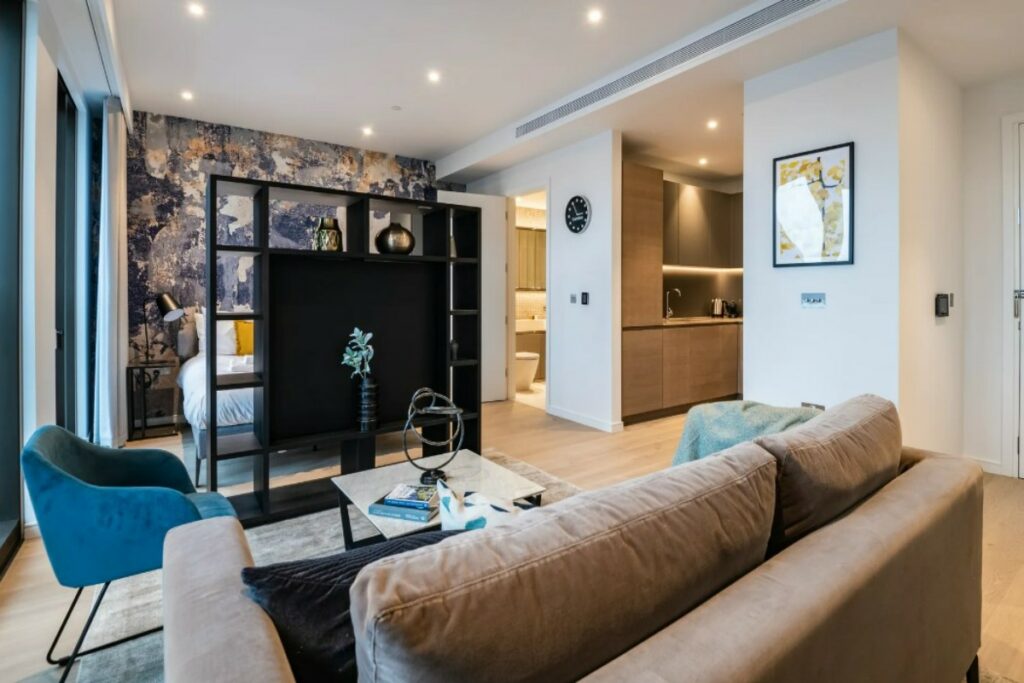 An entire glass wall leading to a Juliet balcony? Yes please.
This absolutely gorgeous 1 bedroom apartment is bringing us everything we need with its open-plan living life. A.K.A a stunning spot for your morning coffee or an even better place to watch the sunset over the South Dock.
The Canary Wharf Airbnb is very well designed and uses space excellently. You can easily flow from living space to bedroom and even better, make the most of your home's incredible amenities.
You can work out in the onsite gym, go have a drink on the communal terrace or even have a BBQ up there. Budget-friendly and the ultimate treat, cook your own food whilst watching the stunning city's skyline. We're in.
Harbour Quay Garden's is just up the road if you fancy a walk and you're only 15 minutes from London Bridge by tube if you want a change of scenery.
Search More Airbnbs in Canary Wharf