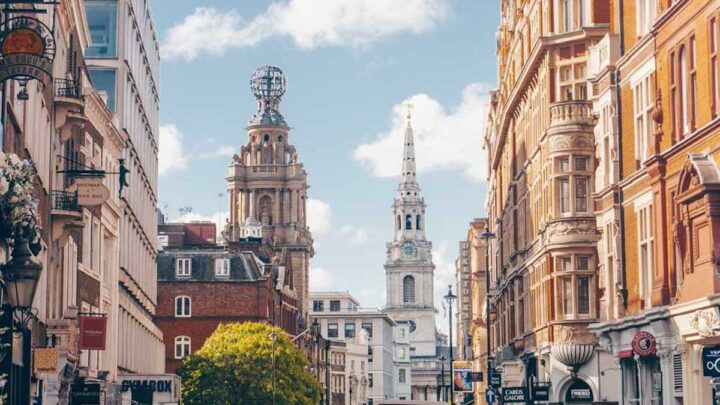 Covent Garden sits at the heart of the West End, a mix of museums, theatres, underground bars and old-school pubs. Looking for the best things to do in Covent Garden? Here's where to start.
Covent Garden is one of London's best-known areas – but it's too easy to dismiss it as a jumble of theatres, high-end restaurants and not much else.
Londoners often have an aversion to anywhere deemed "too touristy" – which is ridiculous really, as it means missing out on some of the best spots in the city. We'll put our hands up and say that we've been guilty of this in the past – big mistake.
Take some time to explore the area and you'll discover iconic landmarks sided by fabulous bars and pubs, a vibrant patchwork of London past and present.
Let's explore the best things to do in Covent Garden.
Best Things to do in Covent Garden
Wander Around Covent Garden Market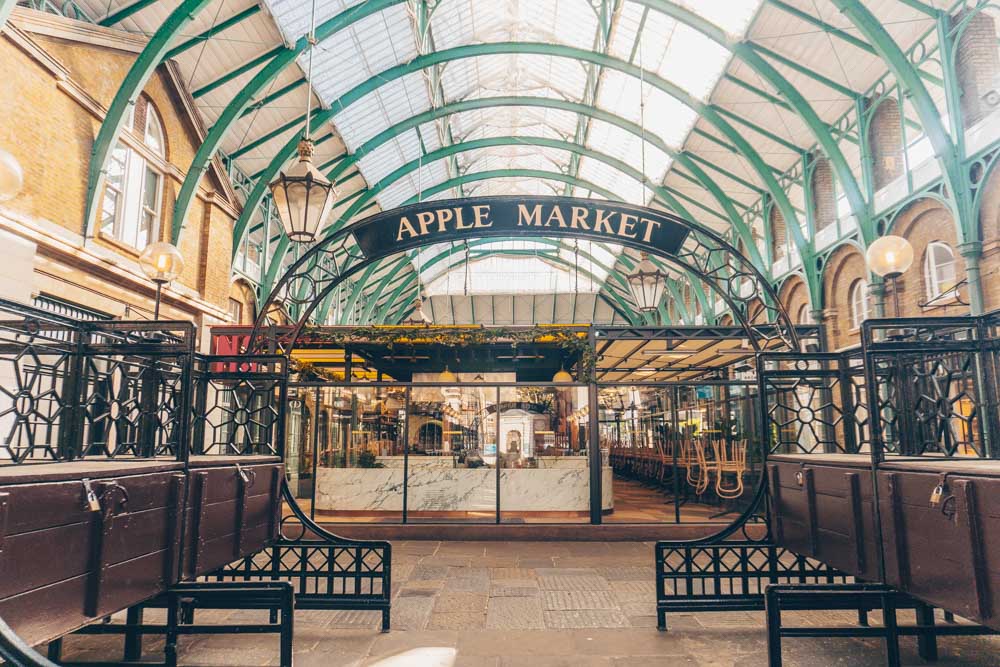 Well, you can't take a jaunt around Covent Garden and not go to Covent Garden Market itself can you? No.
Sitting at the heart of Covent Garden, the market is one of London's most recognisable attractions.
The beautiful market hall with its glass roof dates back to the 19th century, but the piazza itself actually dates back to the 17th century – making it the oldest planned square in London.
You could go shopping in the market, but to be honest, these days there's not much you'll find that isn't on any well-heeled high street.
Skip the shopping and instead marvel at the architecture – that is if you can get through the throngs of people to see it.
Dinner and Drinks at Rules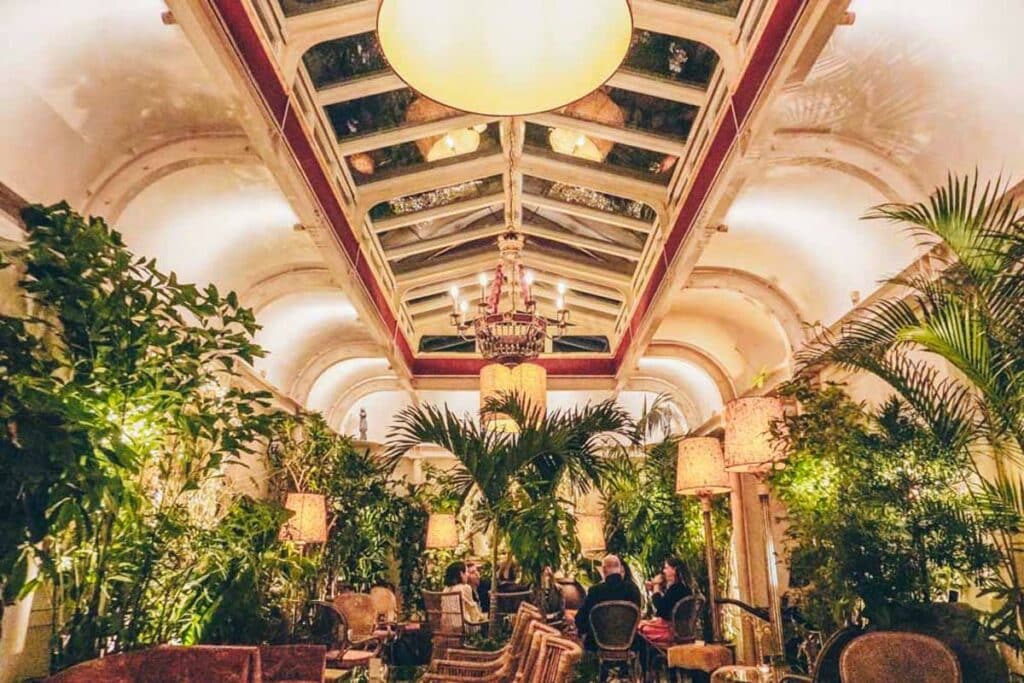 Rules is the oldest restaurant in London and still the go-to place when you want a traditional British dinner of the highest quality served with class and panache.
Not in the mood to eat or want to whet your whistle before you eat? Head to the fabulous Upstairs at Rules, which, quite frankly is pretty much the best cocktail bar in London.
Headed up by the gregarious Brian Silva, the cocktail bar is plush and comfortable – there's even a gorgeous winter room complete with palms and a glass ceiling for cosy cocktail tete a tetes.
The classics (like a Martini or Bloody Mary) are a fitting choice, although leaving it up to the bartender to decide is yet another option.
Read More: Brilliant Bars in Covent Garden
Get Cultured at Somerset House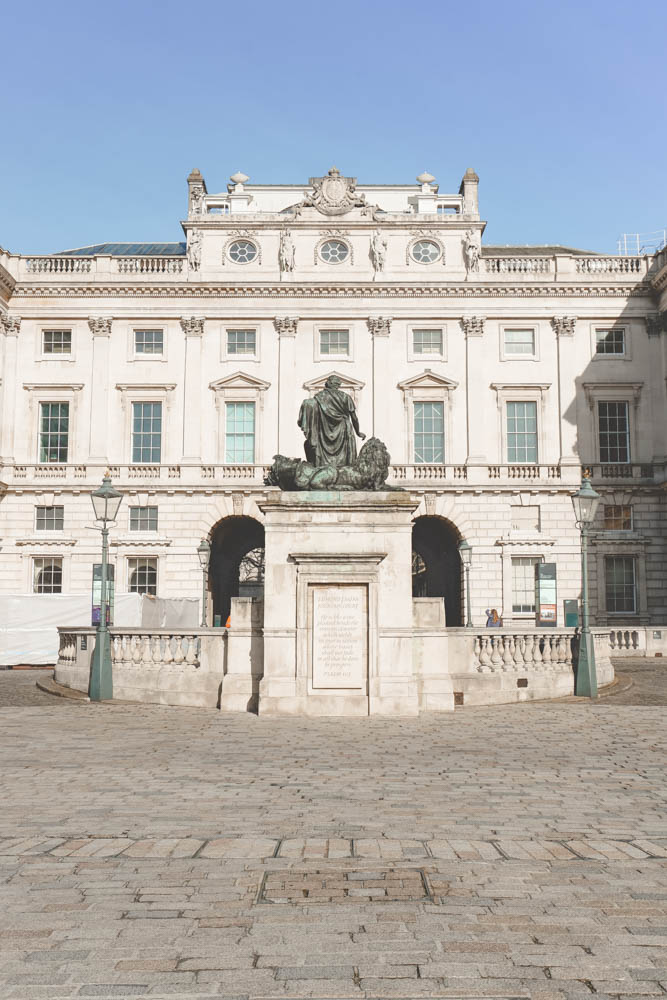 Is Somerset House truly in Covent Garden? Who knows – but it is only a short walk from the heart of Covent Garden and well deserving of a visit while you are in the area.
Somerset House is one of the few remaining palaces that used to line the Thames – a gorgeous, stately construction built in 1776 on top of an old Tudor palace.
These days, you will find open-air cinema screenings, a winter skating rink, concerts and events held in its stately piazza – quite fitting as Somerset House was always intended to be open for the public to enjoy.
The Courtauld Gallery, located inside Somerset House, is one of the most impressive in the UK and boasts work ranging from Medieval and Early Renaissance to Impressionism and Post-Impressionism.
The recent renovation has transformed this gallery into a bright and airy space – new exhibition rooms are home to a prestigious collection of art. Expect some pretty famous names to pop up – we're talking Van Gogh, Botticelli, and Pieter Bruegel the Elder, among plenty of others.
You'll need to book yourself a ticket for just £10 on weekdays, and £12 at weekends here.
Explore Neal's Yard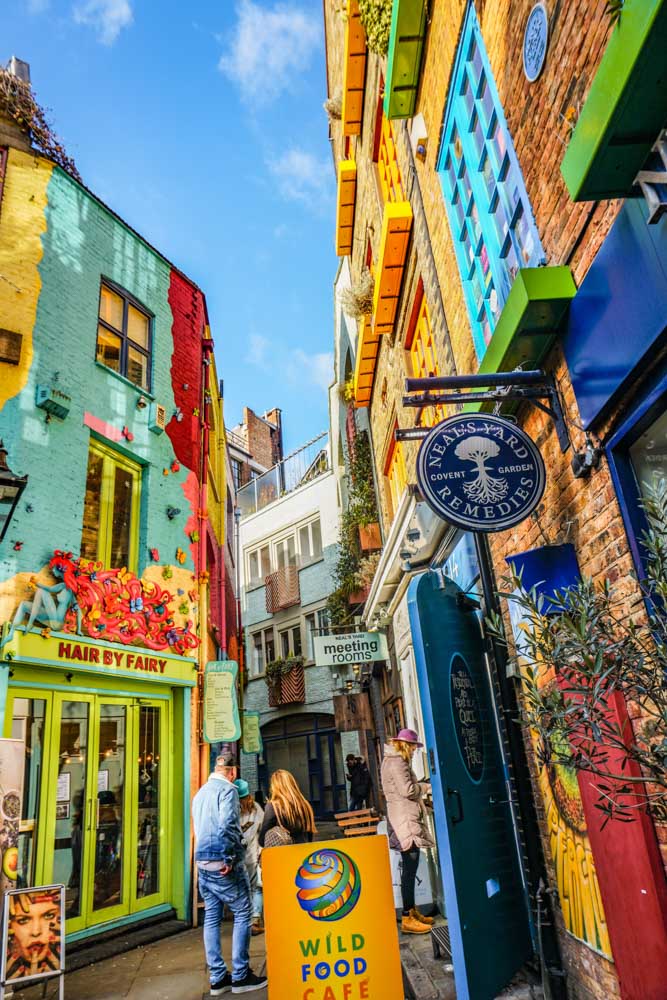 The colourful and higgledy piggledy buildings of Neal's Yard is like stepping into an alternate vision of London – one filled with quaint alleys and small shops.
It offers a colourfully vibrant respite from the hustle and bustle of London, and features many shops and cafes devoted to health and wellness.
That's no surprise – the area was developed in the mid-1970s by the founder of the Whole Food Warehouse, Nicholas Saunders. Saunders oversaw a total rejuvenation of the area, using it as a base for several of his ethical and eco-friendly businesses.
Be sure to check out the original Neal's Yard Remedies (famous for its skin care and cosmetics).
Colourful buildings, indie shops and cafes – it's no wonder that it's become one of the most interesting places to go in Covent Garden.
Visit The Royal Opera House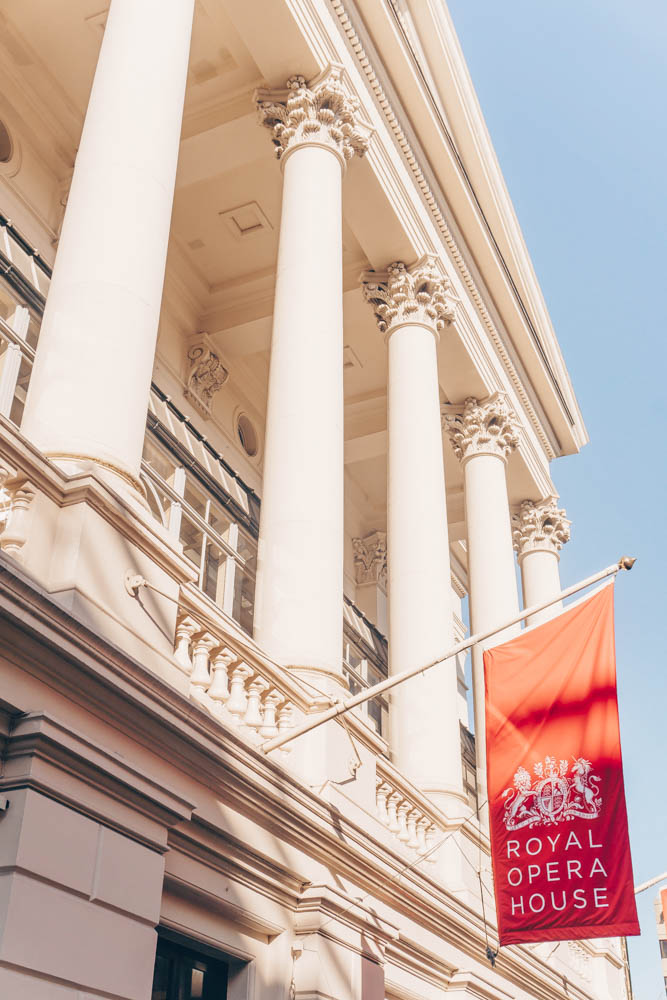 Want to really push the boat out with an iconic London experience? Book yourself in for a night at the opera or the ballet in the Royal Opera House.
With buildings that date back to 1858, the Royal Opera House is the home of the Royal Ballet and the Royal Opera and has been entertaining the city's hoi polloi ever since. Even the Royal Family (fittingly) attend shows quite regularly.
They have a regular calendar of events including (of course) ballet and opera, as well as other events including theatre shows and dances. Tickets tend to sell out quickly, so book ahead.
You never know who you might see – in fact, famed opera singer Luciano Pavarotti got his big break as an understudy at the Royal Opera House.
In addition to catching a show, be sure to head up to the terrace restaurant pre- or post-performance for a meal with a spectacular view.
Eat Your Way Around Seven Dials Market
With more food options than you could possibly ever need, plenty of pop-ups, and live DJ evenings, Seven Dials Market (AKA the coolest food court in the capital) should be at the top of your list of fun things to do in the area.
Previously a banana warehouse, Seven Dials Market has got all bases covered, from pan-Asian cuisine to spicy Mexican delights, from perfect pizza to sizzling steaks – head upstairs for a vision of pink terrazzo and stool seating, or opt for downstairs with communal tables in a steel bar setting.
Read More: Exploring Seven Dials – Bars, Restaurants, Things to do and a Rather Strange History
Take a Step Back in Time at Cecil Court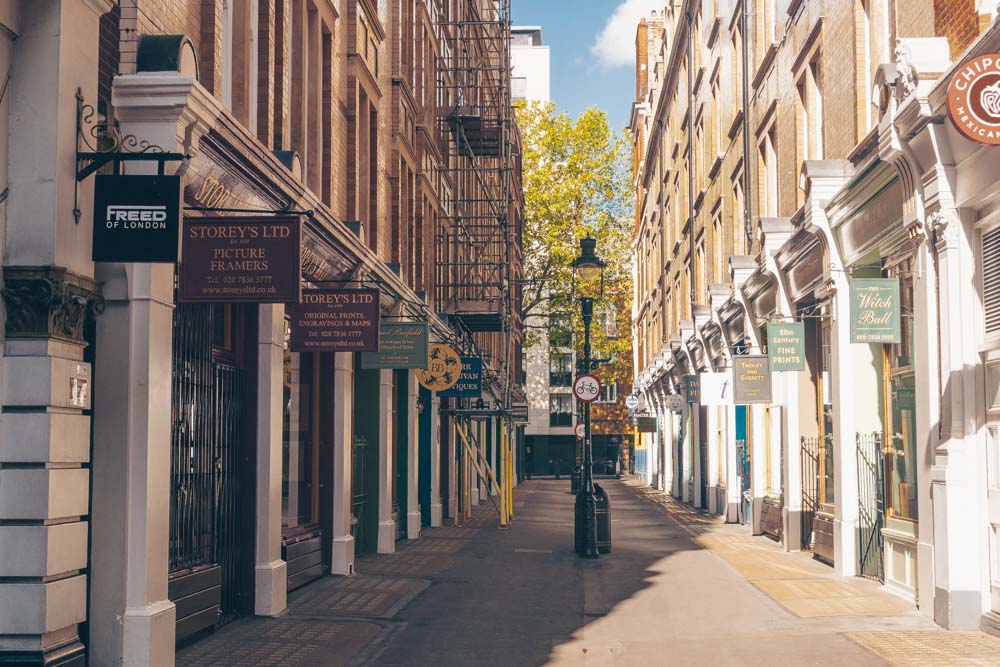 The quiet enclave of Cecil Court has stood the test of time, remaining largely unchanged since the 17th century.
Dotted with booksellers, it's like being transported into Dickens' London – complete with some of London's last gas lamps. It's the perfect place to get lost imagining how London would have looked hundreds of years ago.
The atmosphere is enchanting, and it's a great place to pick up an unusual souvenir of your time in the area.
Find the Seven Ears of Covent Garden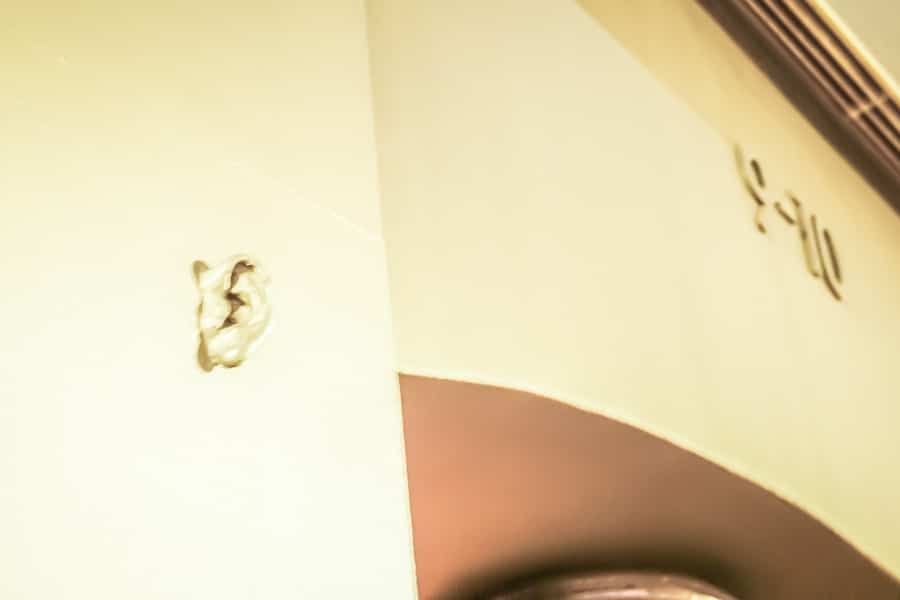 Soho has its noses, Covent Garden has its ears.
Keep your eyes open for the seven ears stuck to various buildings around Covent Garden.
Let us explain. A few years ago, the artist Tim Fishlock made casts of his own ears which he then used to make prosthetics to stick up around Covent Garden. They're certainly one of the more unusual icons in the area.
He's never explained exactly why he thought to give the walls literal ears… but hunting them out is one of those weird but fun things to do.
We once embarked on a mini adventure to see if we could find all seven – we'll give you a hint and say that there are two on Floral Street (one by 9-10).
How many can you find?
Check Out the K2 Telephone Boxes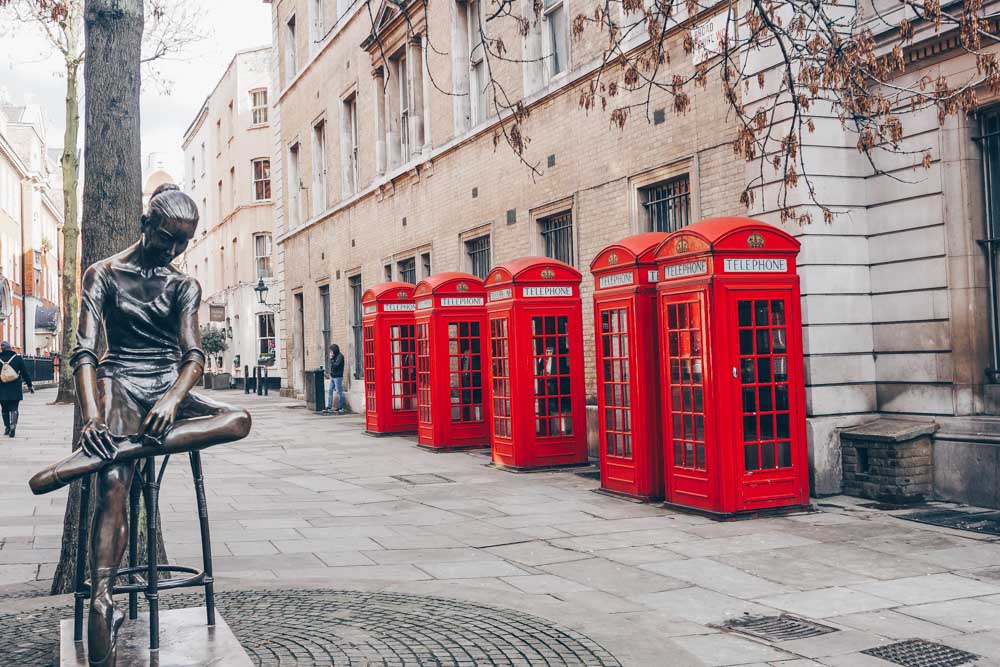 It's a classic London shot right? The K2 (Kiosk Two) telephone boxes are British design classics.
First installed in the 1920s, you can still find many of the iconic red telephone boxes dotted around the city but Broad Court, just around the back of Covent Garden is one of our favourite spots.There's not one but FIVE boxes perched jauntily behind the beautiful "Young Dancer" statue by Enzo Plazzotta. The perfect 'Gram shot if we ever saw it.
Have Some Fun at the London Transport Museum
We absolutely love the London Transport Museum. Transport doesn't sound like it would be that exciting, but the museum does a stellar job of whirling you through the history of London's transport system, complete with little-known facts to boggle the mind.
It's an interesting and interactive exhibit that's great fun for visitors of all ages, including kids – and kids-at-heart. If you are lucky enough to catch one of their After Dark events, nab a ticket – the adults-only events are so much fun!
Although its subject may sound a bit unusual, it's definitely one of the area's most interesting spots.
An adult ticket is £24 online (children under 18 are free) and the ticket gives you unlimited entry for an entire year. Book ahead.
Delve into the World of the London Film Museum
Opened in 2008, the London Film Museum is a great stop while exploring the area.
Inside the museum, you can see many costumes and accessories from famous and recognisable films. There's also information about how films have been made over the years.
Since 2014, the museum has been home to a 'temporary' exhibition that features the vehicles from the James Bond films. Thankfully, it doesn't look like it's going anywhere anytime soon, so there's still time to catch the famous cars.
Tickets are £14.50 for adults and £9.50 for children under 15 (under 5 are free).
Get Some Serious Wanderlust at Stanford's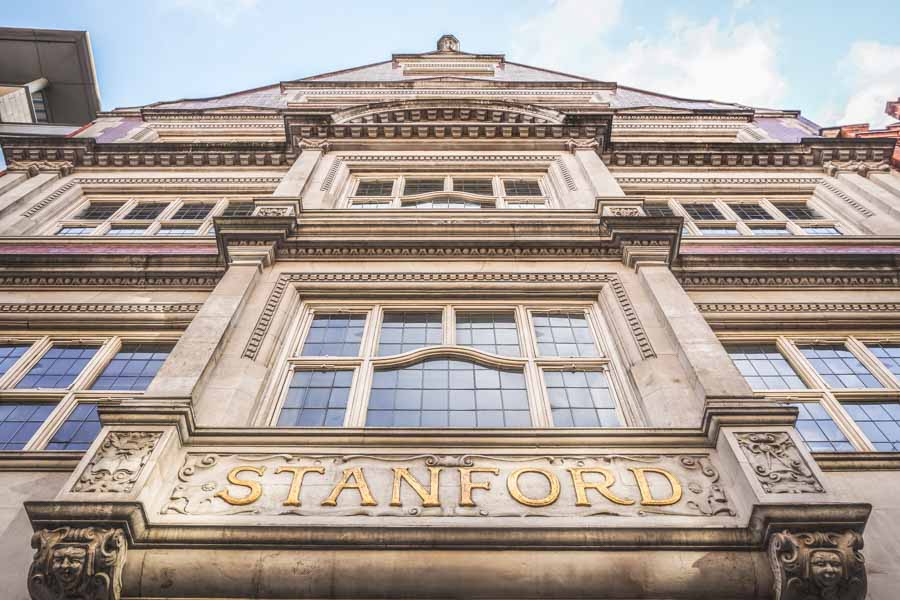 Specialist travel bookshop Stanford's is the place to go for when you want your head filled with new places and your wallet emptied. It's been inspiring serious wanderlust for 160 years, and shows no signs of slowing down.
It's just moved from its long-standing store in Long Acre to one just around the corner on Mercer Walk – you'll still find the same huge collection of travel writing and guides to help you hit the road.
Theatre at the Theatre Royal
OK, so we're complete theatre luvvies. There's nothing we like more than heading to a show where you're transported to an alternate world for a few hours – drawn into a story that's so different from your own.
It's safe to say that Covent Garden isn't short on a theatre or two – heading to a show is practically a must when it comes to things to do around Covent Garden at night. Even so, the Theatre Royal is special.
It has been welcoming theatregoers through its doors for over 350 years (although it's moved several times in that period).
For two centuries after it opened, the theatre was considered the most significant in London, hosting many great shows and performances.
Today, it still has a great calendar of shows, including many musicals. It's also said to be one of the most haunted places in London – with many ghost stories revolving around the alleged ghost of an actor who was killed during a spat with a fellow performer over a wig.
Read more: Interesting Facts You Didn't Know About London
Cutting Edge Drama at the Donmar Warehouse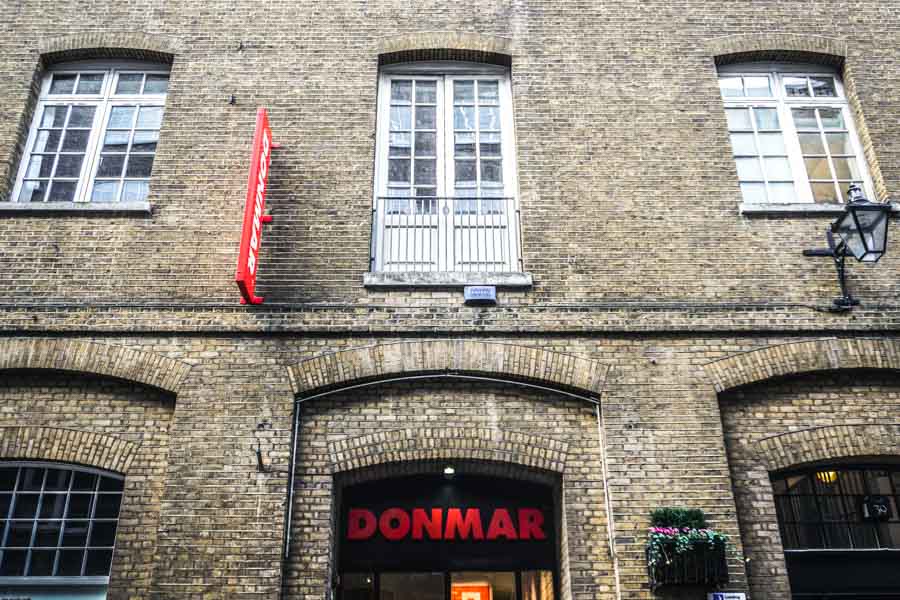 The Donmar Warehouse theatre is surprisingly intimate for such a powerhouse, with just 251 seats. This allows you to experience theatre as it should be – up close and personal, appreciating all the subtleties of the actors' performances.
Here, British acting legends such as Sir Ian McKellen perform alongside obscure up-and-comers. You never know whether you may just be watching the next big rising star.
We recommend that you book well ahead, or try and nab some last minute tickets – however you get in, a trip to The Donmar is always a good call.
Splash Out on a Meal at Clos Maggiore
Clos Maggiore is considered one of the most romantic restaurants in London, and it's pretty easy to see why.
Overgrown with pretty white flowers that wind their way up the walls and across the ceiling, Clos Maggiore is fairytale-like in the best way.
It's a place you go to splurge (think a fancy pre-show meal before the theatre, or romantic soiree), and the menu reflects it with delicious French contemporary meals.
Many of the plates are designed to be shared, so there's no chance your romantic date will be ruined by food envy.
While your credit card might get a bit of a workout, it is a great place to go for that special meal out in Covent Garden.
Read More: Romantic Date Ideas for London
Relax in The Phoenix Garden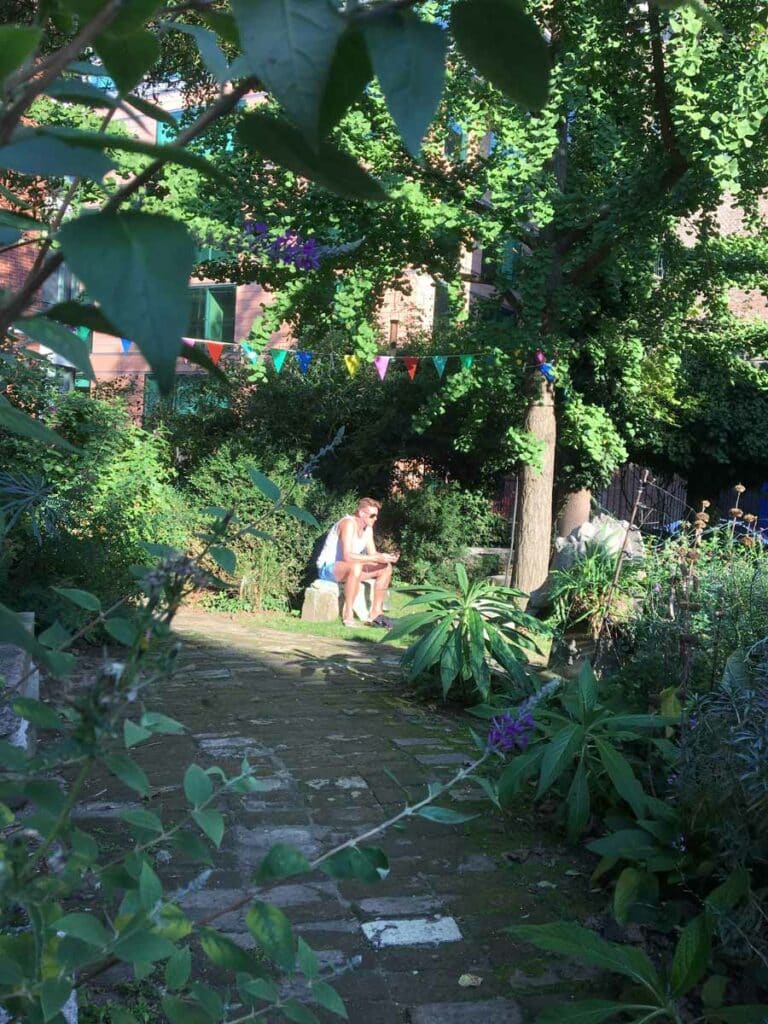 One of the last things you'd expect to do around the hurley-burley of Covent Garden is find an oasis of calm in natural surroundings.
The Phoenix Garden is a stone's throw from Covent Garden station and is a stunningly maintained community garden designed to offer a place to sit, reflect, and enjoy wildlife slap-bang in the middle of the West End.
Established in 1984 and situated on a former WW2 bombsite, the garden is built on rubble-filled soil and benefits from the urban heat island effect given off by its Central London location. Check out the Giant Viper's Bugloss, usually native to Mallorca!
The last of the Covent Garden community gardens, this is perfect if you want to get away from it all and quietly unwind.
Steak and Cocktails at Hawksmoor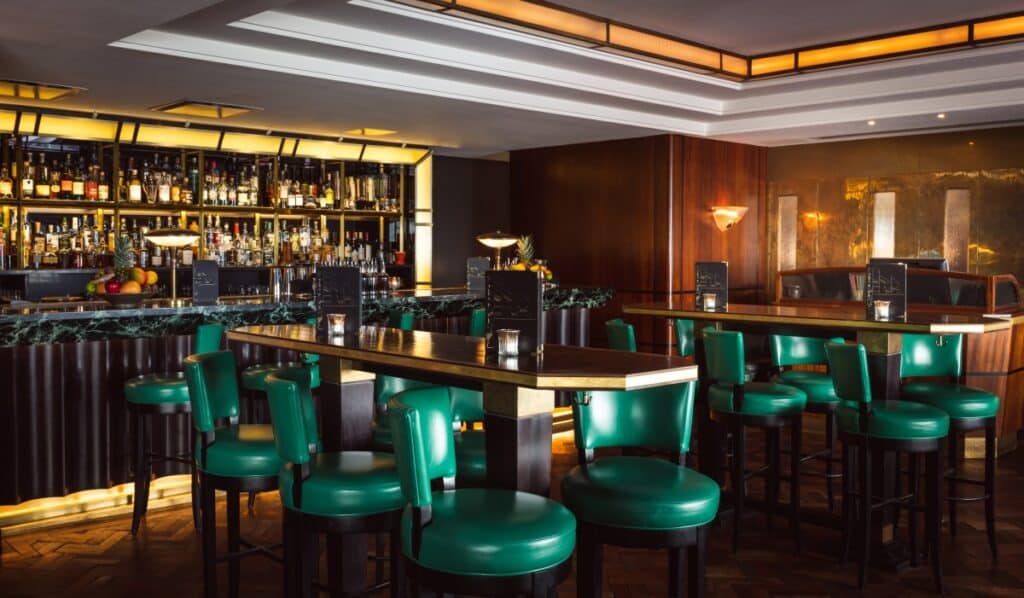 If you love steak or cocktails (or both, especially both), you'll love Hawksmoor.
The restaurant chain started by restaurateurs Will Beckett and Huw Gott may have taken over London, but the Seven Dials one is one of the early incarnations and still one of the best. There's a reason they've become some of the best-known steakhouses in London.
Head down the stairs into a world of hushed conversations, delicious cocktails and hearty meals. Although food is the centrepiece, it's the ambience that has locals returning again and again.
Plus, there's often the chance to spot a celeb or two – we saw Mick Hucknall on our last trip, which we were just the teeniest bit excited about – rest of the table… not so much.
Party at the Covent Garden Social Club
Much less salubrious, the Covent Garden Social Club isn't going to win any mixology awards but it is the place to go for reasonably-priced cocktails, loud music and a spot of dancing on the table.
Yes, you heard me right – dancing on the table.
Go for their rather ridiculous happy hour every day before 8pm to enjoy 2 cocktails for just £13, stay for the pumping tunes – it's always a reliable spot for a cheeky night out without the fuss.
PS – you have to sign up for (free) membership before you head down. Check in advance on the website for details.
Hang Out at the Escapologist Bar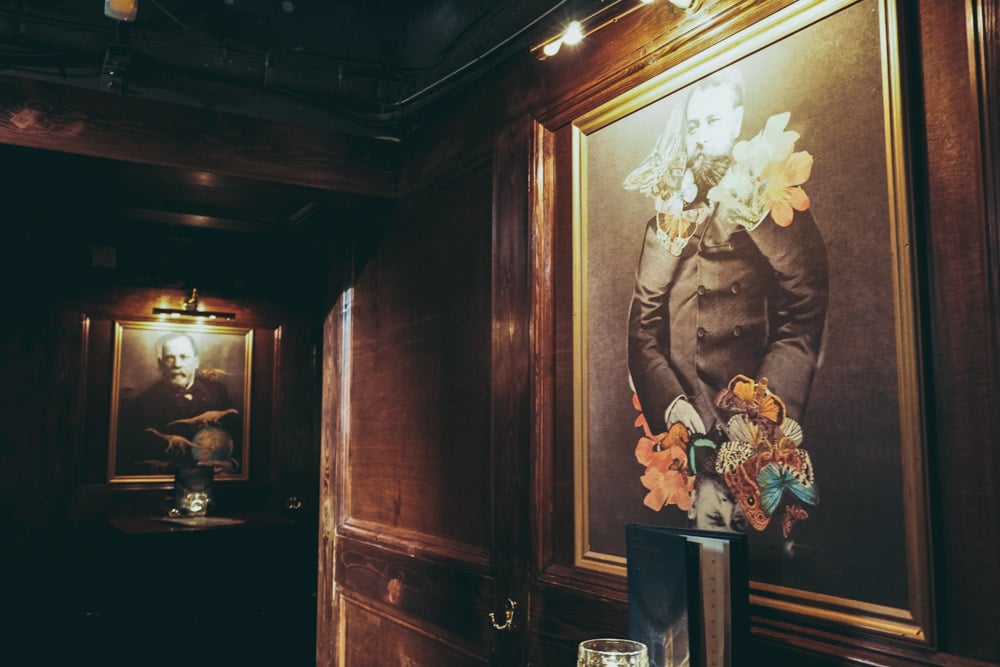 It's no secret that we love the Escapologist Bar in Seven Dials – but having a drink at this bar, themed after a cheeky Victorian crook who kept evading the law, is a must.
The cocktails are eclectic and modern, with the Plum Saké Negroni and Lemongrass Collins being just two of our faves from the menu. Although you can't really go wrong here, everything is delicious.
See St Paul's Church
This 17th century church is known as "the actor's church", thanks to its long association with the theatre.
St Paul's was built in 1631 and has been associated with the dramatic arts ever since – it even saw the first recorded performance of the puppet show 'Punch and Judy' way back in 1662.
Today, the church has its own in-house theatre company and regular events. Even if you can't catch a performance, it's still well worth popping in for a visit.
The church is open with free admission for visitors from 8:30am to 5pm on weekdays, and 9am to 1pm on Sundays. It's open at other times if there are events, so check their website for what's on.
Chow Down at Pivot by Mark Greenaway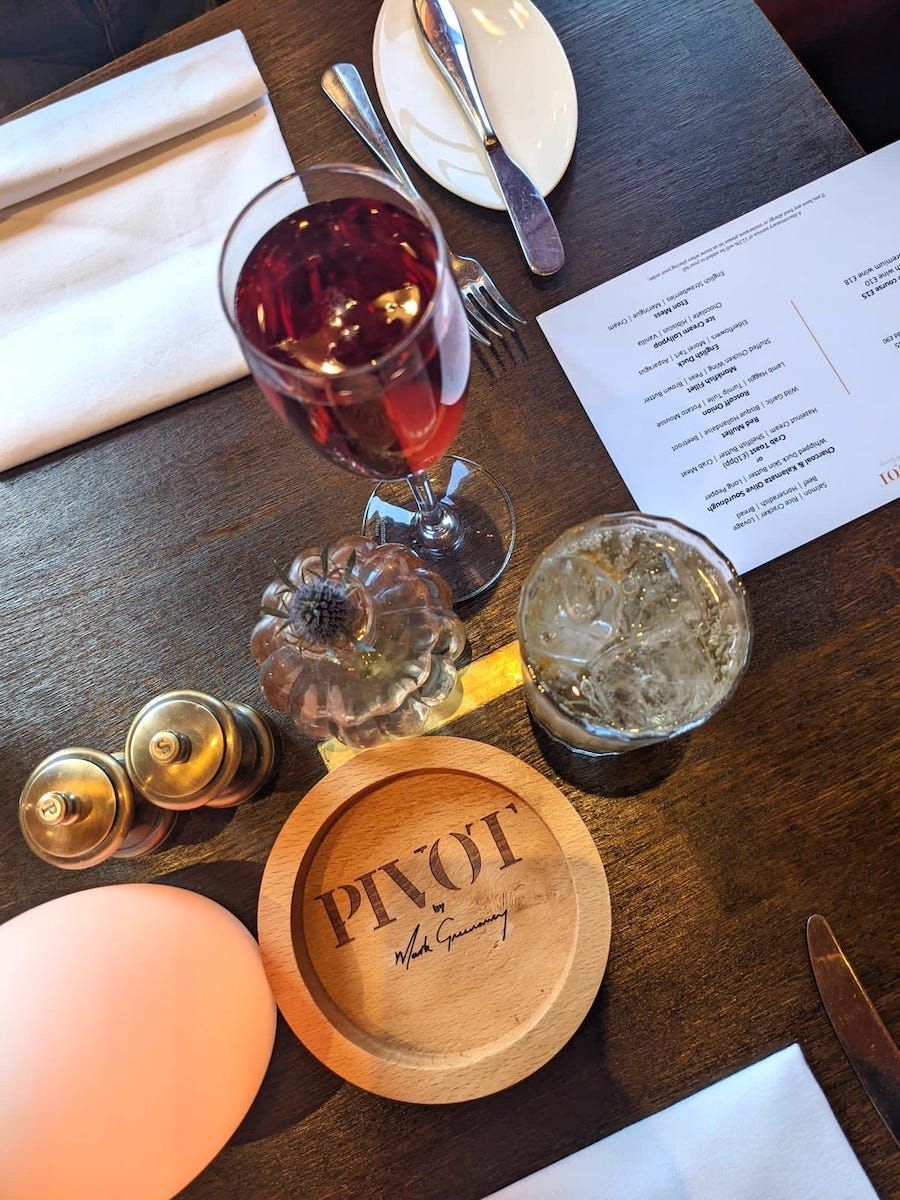 We have to admit it, Scottish Chef Mark Greenaway has smashed it out of the park with his most recent opening in Covent Garden.
If you haven't read our review of Pivot here (spoiler: we absolutely loved it), then you're seriously missing out.
British fare is served on a rotating menu, with the likes of haggis and onion roscoff, duck breast, and monkfish with a stuffed chicken wing being standout additions to the spring edition of Pivot's menu.
Drinks-wise, the menu is small but perfectly formed – an impressive selection of global wines and cocktails that pair perfectly with the flavoursome dishes.
Enjoy Underground Cocktails at Stereo
The only thing we love more than cocktails is cocktails in a secret underground cocktail bar. And Stereo emphatically delivers the goods in every possible way.
The perfect place for post-work cocktails or a catch up over dinner while being serenaded by the mellow vibes of the house band. Then, be regaled by one of the roster of singers between 9pm and 11:30pm before the in-house DJs play their heady mix of banging tunes until the small hours.
With more than a dozen classic and in-house mixes to sample you can't go wrong – don't miss Midnight Opera though. An absolutely devilish delight!
Looking for an alternative destination for cocktails in Covent Garden? Check out my review of Blame Gloria.
Spend a Jazz-Filled Evening at Middle Eight with Leo Green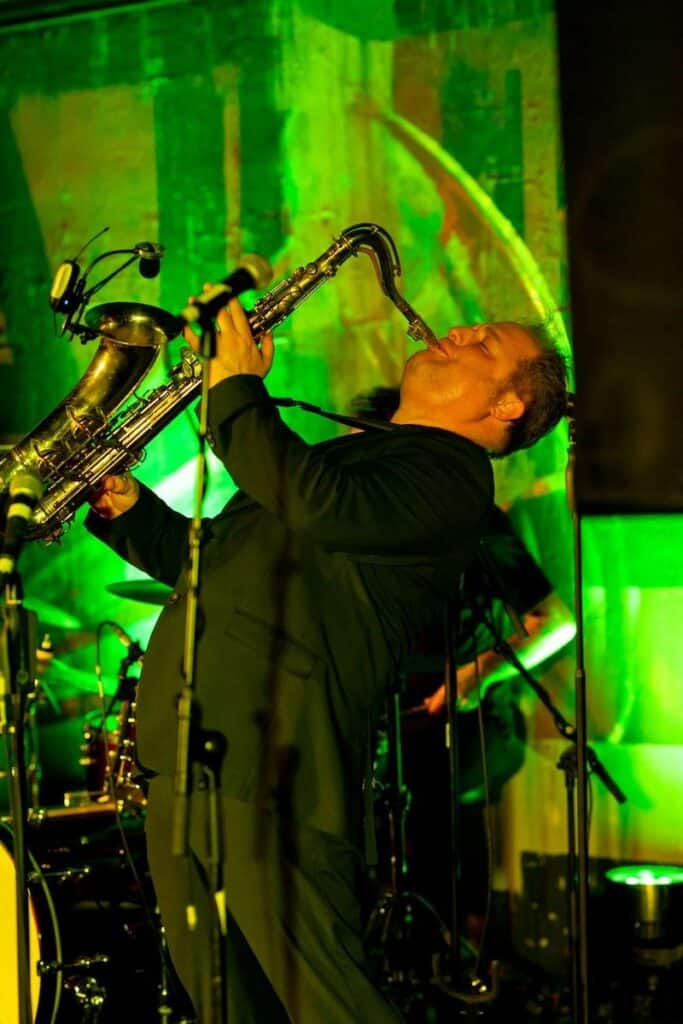 Want to give your jazz hands a workout? Look no further than QT Presents: Leo Green at the Middle Eight Hotel. Every Thursday, Friday and Saturday night, Leo Green puts on a huge, groovy sax party. And it's ridiculous fun.
No two nights are the same with Leo and the gang. But what's always guaranteed is an electrifying show with heaps of special guests – from West End stars to some very familiar faces.
We popped down there recently only to find Adrian Dunbar (yes, that's Mr. Ted Hastings from Line of Duty) on the mic, belting out an Elvis song.
We promise we were only one cocktail in at this point.
Check Out London's Last Gas Lamps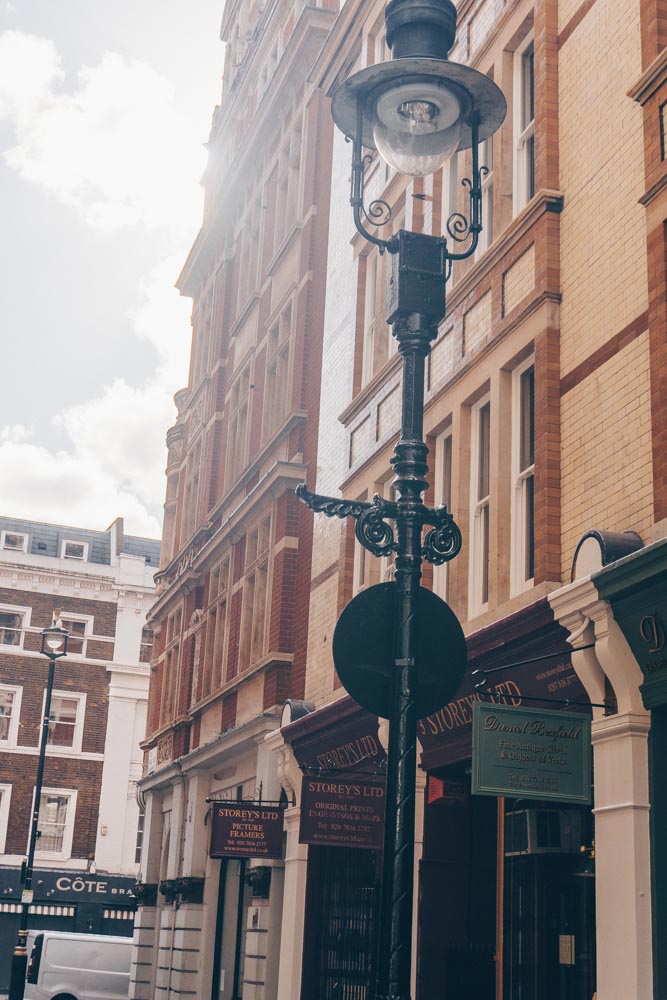 Did you know that London still has some fully functional gas lamps? Particularly in the Covent Garden area?
There's certainly a kind of romantic appeal with these antique gas-lit lamps, that look like the pages of a history book come to life.
Even though London is such a cosmopolitan city, there's certainly no shortage of throwbacks to the London of old – including the humble gas lamp.
The lamps are spread out throughout the area – you'll spot them by the slight flicker and ornate lamp posts. They are especially numerous around St Paul's Church, so be sure to keep an eye out.
See the Patent Sewer Ventilating Lamp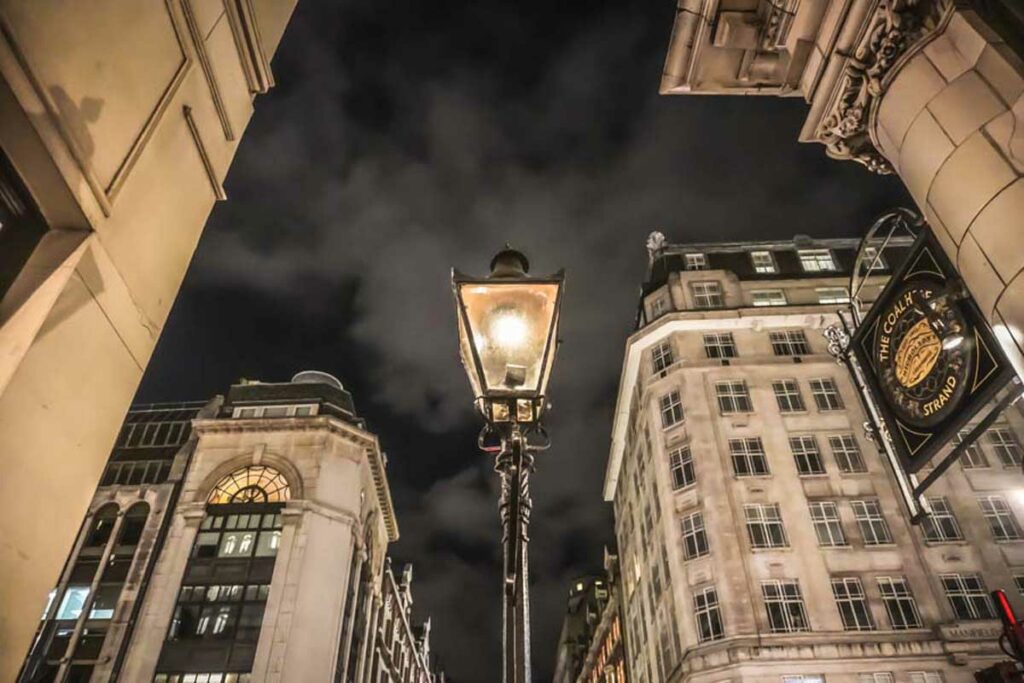 For an even more sight, swing by the Patent Sewer Ventilating Lamp if you have the time – it's one of London's quirkier sights.
The lamp used to be operated by the gases given off by London's noxious sewers. In Victorian England, there was a real fear that the methane gases in the sewers under the streets would eventually explode. To fix the problem, holes were drilled to allow the gases to escape.
The problem was….they smelled totally awful. So a bright young inventor came up with the idea of creating a lamp that would burn off the gases and illuminate the street.
Unfortunately the idea never really caught on. Nonetheless, you can still find the original just behind the Savoy Theatre on Carting Lane. These days, it's just powered by standard gas though…
Pop Into The Moomin Shop
London is filled with shops devoted to cult classics. Yet one of the more surprising, but most charming ones can be found in the heart of Covent Garden.
The Moomin Shop is devoted to the classic Tove Jansson-created characters that burst onto the scene post-World War II and became an instant cult hit. Jansson wrote in 1973 that she had created an artificial word expressing "something soft" – the Swedish word mumintroll.
Translated into Moomin in English, everything about the Moomin Shop encapsulates why these soft, rounded, hippo-looking trolls are so popular, even today.
Alice Through the Looking Glass
It's a book that's captured hearts and minds for generations. Whether you're a Carroll obsessive or just a casual Alice in Wonderland fan, you're sure to love this gorgeous shop in Covent Garden.
Since 2012, Alice Through the Looking Glass has been selling anything and everything related to the much-loved children's classic. From quirky souvenirs to ultra-rare limited edition prints, it's heaven for any Alice fan.
Even if you don't come away with a quirky souvenir of your time in Covent Garden, it's still wonderful to let your imagination wander and go "down the rabbit hole" in the colourful and eclectic store.
Check Out the Tea Collection at Mariage Frères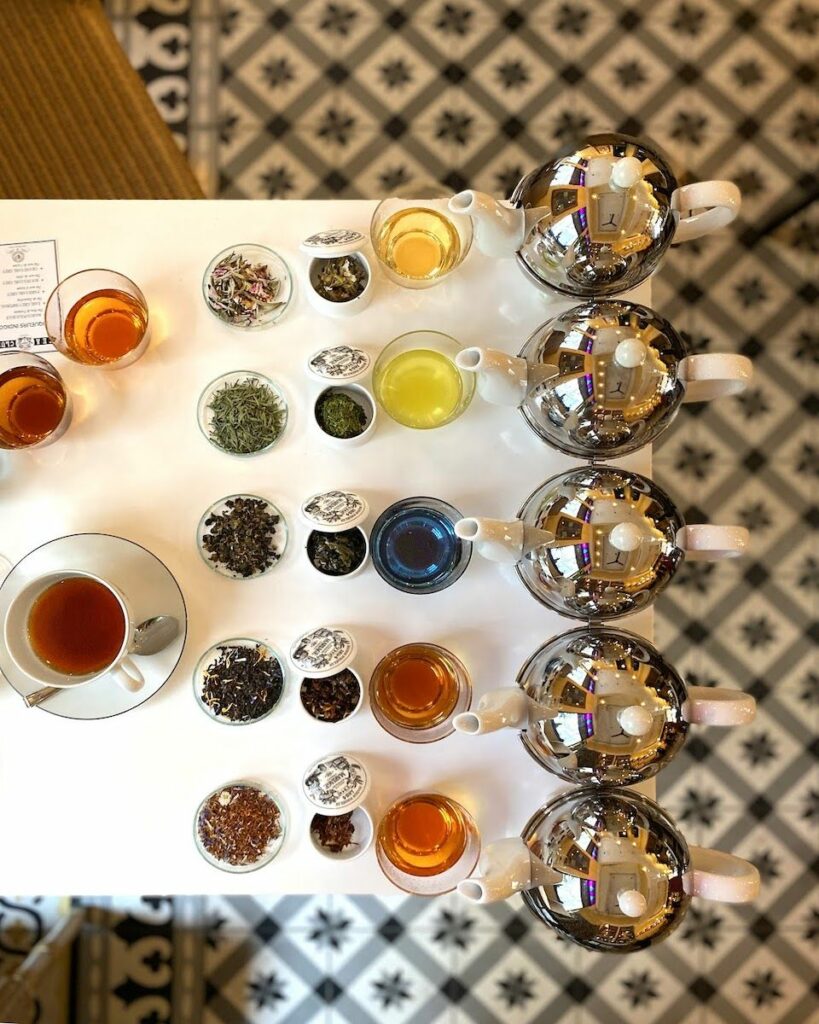 Please spare the jokes of British people loving tea – we totally understand how comical it is that we are recommending you visit Mariage Frères.
Set inside a 5-story Georgian townhouse near Covent Garden, this spot features a huge wall on the ground floor filled with an impressive collection of tea (the world's largest, FYI). You'll spot everything from classic English Breakfast to Darjeeling and hundreds of varieties of Green Tea.
Fancy delving deeper into the world of tea? Head to the Salon de Thé, the first floor restaurant that uses tea in every dish – whether that be as a spice or flavouring. It's an interesting experience and one of the more quirky things to do near Covent Garden.
Scoff Some (Very Rude) Waffles
How do we put this delicately… Zizi Factory is a Paris-based waffle company that has taken social media by storm for their phallic-shaped waffles. And they've opened up a London cafe so that you can get in on the action too.
Hilarious shapes aside, their waffles are actually delicious. Opt for the Yves – milk chocolate and speculoos – and you won't be disappointed. You can even opt for a happy ending (that's Chantilly Cream for £1 – get your mind out of the gutter).
Wouldn't recommend wandering too far from the shop with them though, or you might attract some very funny looks.
Pick up a Kilo of Vintage Clothing
PICKNWEIGHT is a German company promoting the re-use of clothing and sustainability in fashion, railing against the current trend of fast fashion, by selling a vast range of one-off vintage clothing items and accessories by the kilo.
With four stores in Germany, Covent Garden is home to their one non-German store and it's a brilliant place to browse and pick up something that's not only pre-loved, but that no-one else will be wearing.
Open Monday to Saturday 10am to 8pm and 11am to 6pm Sundays, Students get 10% off all-year round, while Happy Hour every Tuesday between midday and 3pm offers everyone the chance to grab a 20% discount.
Have a Side-Splitting Time at the Covent Garden Comedy Club
Nights out in Covent Garden aren't just about theatre, fine wines, cracking cocktails, and marvellous music.
Every Friday and Saturday night, the Covent Garden Comedy Club plays host to some of the funniest emerging talents in the UK and International comedy scene, some of whom you might just recognise off the telly.
Not only can you enjoy two hours of non-stop laughs, the promoters, Comedy Carnival, offer a package deal enabling you to grab a bite to eat at a local eatery before taking up your reserved seat for an evening of ribald merriment.
Pose Outside a Replica of 10 Downing Street
The black door of number 10 Downing Street is probably the most famous front door in England, if not the world. Sadly, taking pictures outside it is impossible with the actual home to the British Prime Minister heavily guarded by armed police behind wrought iron gates.
However, a two-minute walk across The Strand from Covent Garden takes you to Adam Street where number 10 is an almost exact replica of its more famous Georgian sibling designed by George Downing between 1766 and 1772 only half a mile away.
Number 10 Adam Street is also a Georgian-period building, now home to offices, that has a near-identical doorway, and is adorned with a copycat black wooden front door.
Seeing as the real-life corridors of power are off-limits to humble Londoners and tourists, get some grammable shots here and see if your friends and family can tell the difference!
Things to do in Covent Garden: Map