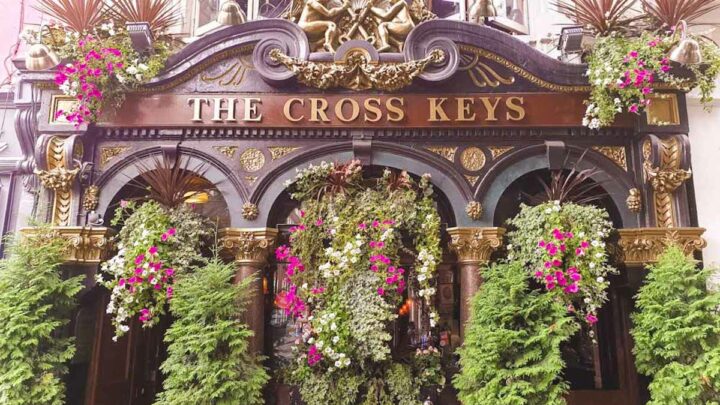 Covent Garden's pub scene is pretty darn good. Who'd have thought that an area in central London would boast so many cool little boozers? Looking for the best pubs in Covent Garden. Start with these.
Covent Garden – you know, that rather lively area tucked in between Soho, the Strand and Trafalgar Square? Not only is Covent Garden packed with some cool places to see, turns out that it also has some pretty brilliant pubs too.
Now, we love a good pub – but you have to be pretty careful in the West End. Let's face it, there are too many generic chain boozers that are just boring, boring, boring. Check out these awesome Covent Garden pubs for your next pint.
The Best Pubs in Covent Garden
The Cross Keys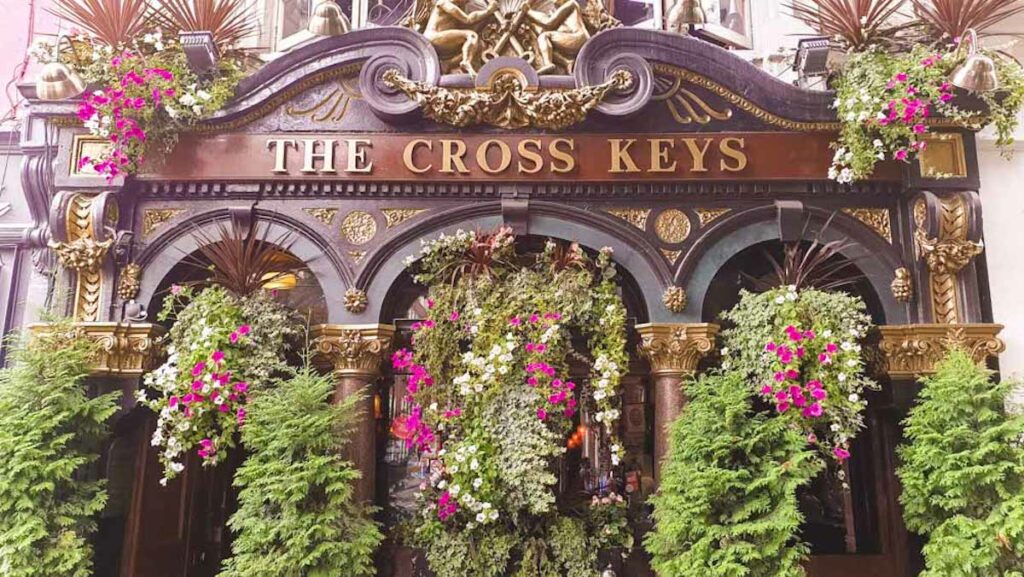 With flowers cascading down its ornately carved facade, The Cross Keys looks like it was made for the 'gram. But the reality is that it's barely changed in decades.
The old-school vibe continues inside. Think a touch of Victoriana – eclectic paintings and paraphernalia on the walls. It's a bit dark, but that only adds to its charm.
There's a good selection of beer on tap (in fact it's one of the best places to get craft beer in Covent Garden), with the obligatory selection of wine and spirits if they're more your style.
Sports-lovers are well catered to. The Cross Keys play a pretty full calendar of sporting events on their TVs, so don't be surprised if you stumble in mid-game to packed punters cheering on their favourite teams.
The Harp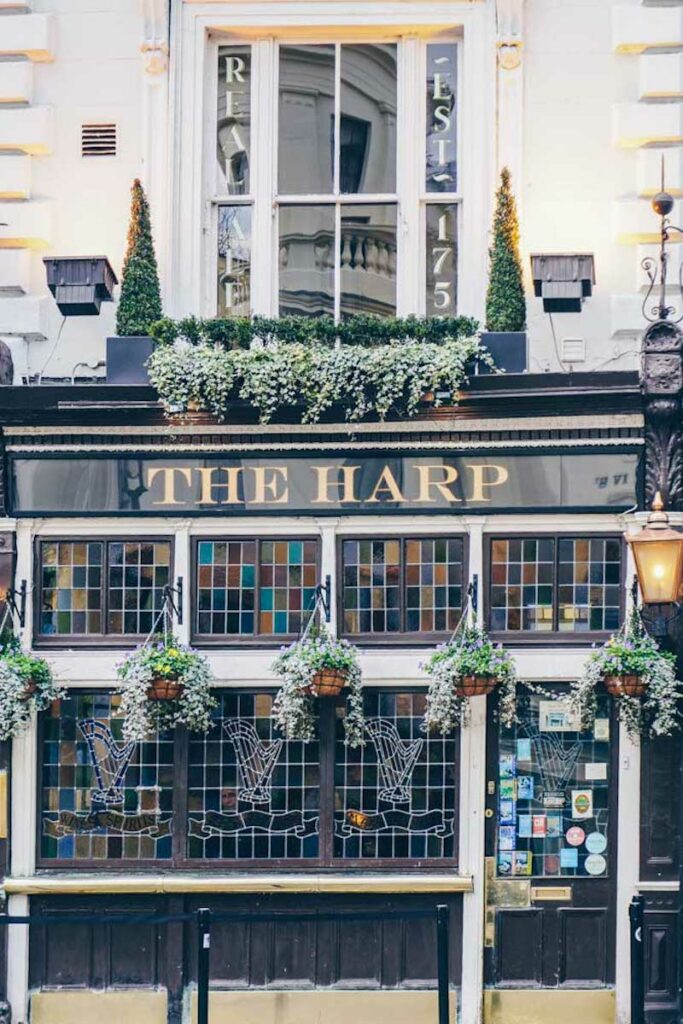 The Harp is a classic British pub through and through.
We all know that a pub is no pub at all without a couple of hand pumps for pulling pints… and The Harp boasts ten of them.
Add in its rather extravagant, flowerpot-laden exterior, and you've got yourself one of your new favourite pubs.
All sounds good so far – but what makes The Harp great is that although it's in central London, it still feels far more like a local haunt than a tourist trap.
It's unpretentious and welcoming, serving good honest food, and plenty of beer brewed locally and abroad.
The pub has seen hundreds of varieties of beer and cider pass through its taps – you can never be quite sure what will be on offer. But rest assured that it's going to be something good.
Read More: Cool Things to do in Covent Garden
The Princess Louise
There's no shortage of good pubs around Covent Garden, but The Princess Louise is a particular stand-out.
While many glitzy London venues have moved with the times, the Princess Louise has stoically refused to update its interior since 1891.
And why would you? The interior of this Grade II listed pub near Covent Garden is considered one of the best examples of Victorian decor in the UK. It is utterly delightful, oozing drama and history – and certainly a cosy stop for a drink or two.
We're pretty sure that those gorgeous carved walls have seen a lot over the years. Over a century of cheeky pints and cosy chats – if only the walls could talk.
No detail has been spared; even the (marble, because why not) men's urinals are heritage listed. There aren't many places where you can say that visiting the loo is a historic experience – but we've already established that The Princess Louise isn't like that many other pubs.
Now, it's no secret that we're huge fans of Sam Smith's pubs – they're cheap, don't blare out music and offer a decent range of beers and drinks (we'd probably stay away from the wine though).
All in all, a totally brilliant pub.
Read More: Must-Try Bars in Covent Garden
The Salisbury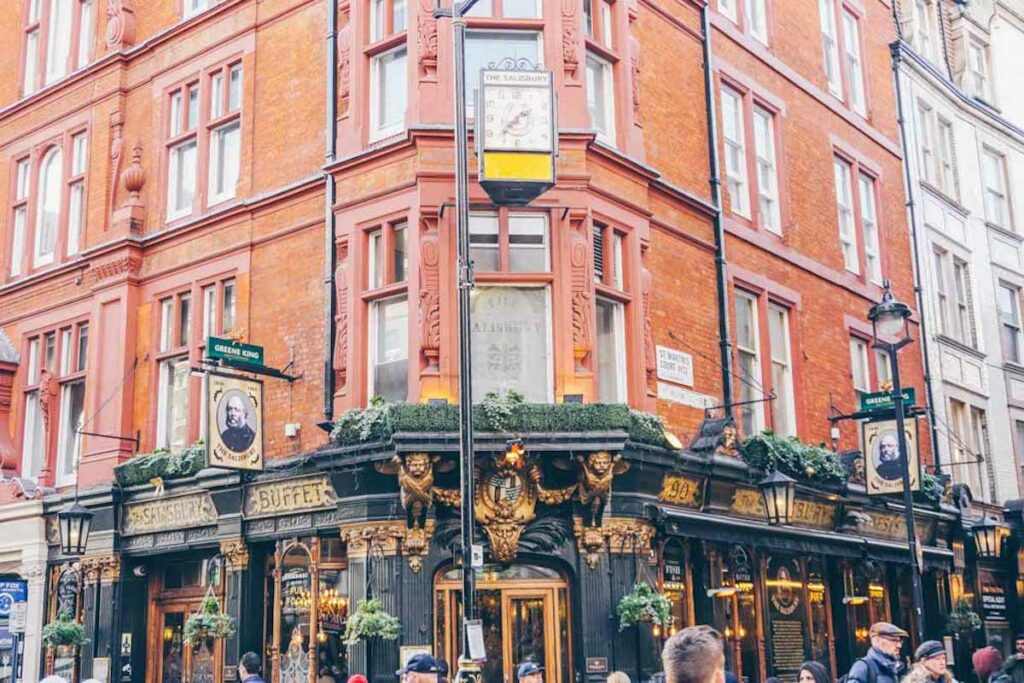 You'll find The Salisbury perched on a corner on St Martin's Lane in the heart of theatreland. One of the best pubs in Covent Garden, the outside's impressive enough but inside it is quite the treat.
The pub features classic Victorian architecture with an art nouveau twist. Be sure to look up at the elaborate and dramatic light fittings which feature art nouveau nymphs.
The pub's decadence has been legendary for well over a century, and it was also one of the first proudly gay-friendly pubs in London.
While The Salisbury has many typical British elements, it also has the unique selling point as "sport free since 1892". So if you're more about conversation, beer and architecture than yelling the telly, the Salisbury will be right up your alley.
The Marquess of Anglesey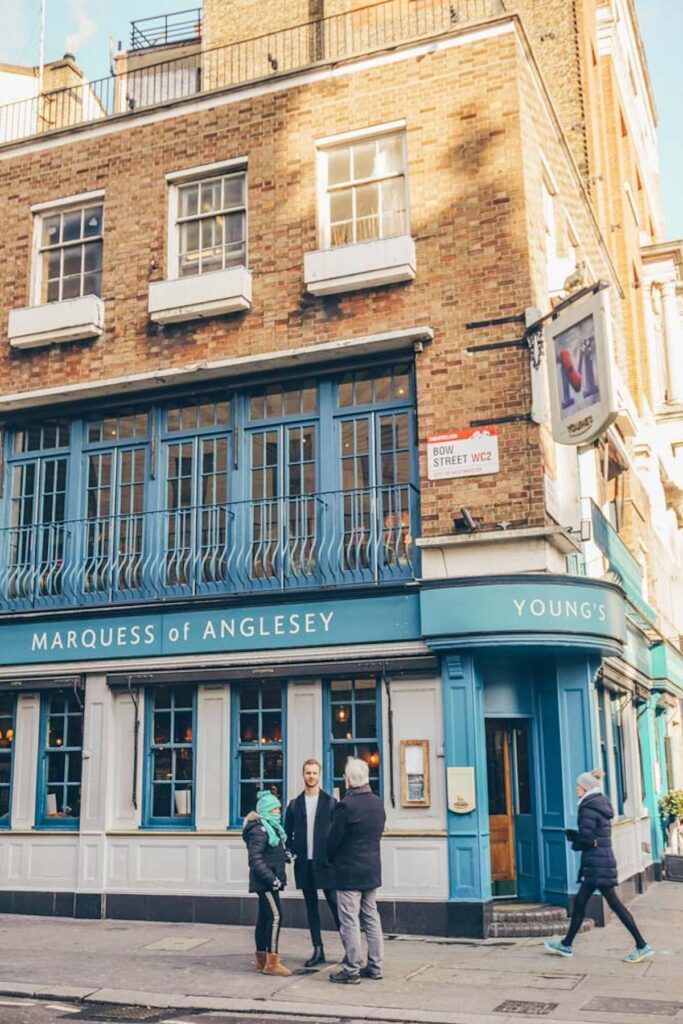 Forget these newfangled gastropubs – The Marquess of Anglesey does good, old-fashioned British food, and it does it well. The fish and chips alone make it a serious contender for the title of serving the best pub food in Covent Garden.
There is a generous selection of great ales, lagers and ciders on tap, plus an extensive wine list. If neither of those options is quite to your liking, there is also an upstairs cocktail bar. Their gin cocktails, in particular, are absolutely delish.
While the interior is a little more modern, it's still cosy and charming. Plus, it's dog-friendly – so you can bring your bezzie along with you.
Punch and Judy
Covent Garden has long been associated with the theatre – particularly the famous Punch and Judy show.
No surprise then that this Covent Garden pub draws its name from the puppet shows which would be performed in the 18th century in the nearby piazza.
To this day, one of the best features of The Punch and Judy is that you can look out from the balcony and down at the piazza, where you can catch a glimpse of the buskers performing below.
Inside, the charming pub offers a great selection of English beer (including some of Greene King's own cask ales) as well as wine and cocktails.
It's all served in the largely original setting, as The Punch and Judy was one of the few pubs in Covent Garden that escaped damage during the Second World War.
Whether you're enjoying a pre-show meal or perhaps exploring the area on a Covent Garden pub crawl, the Punch and Judy is well worth a stop.
Chandos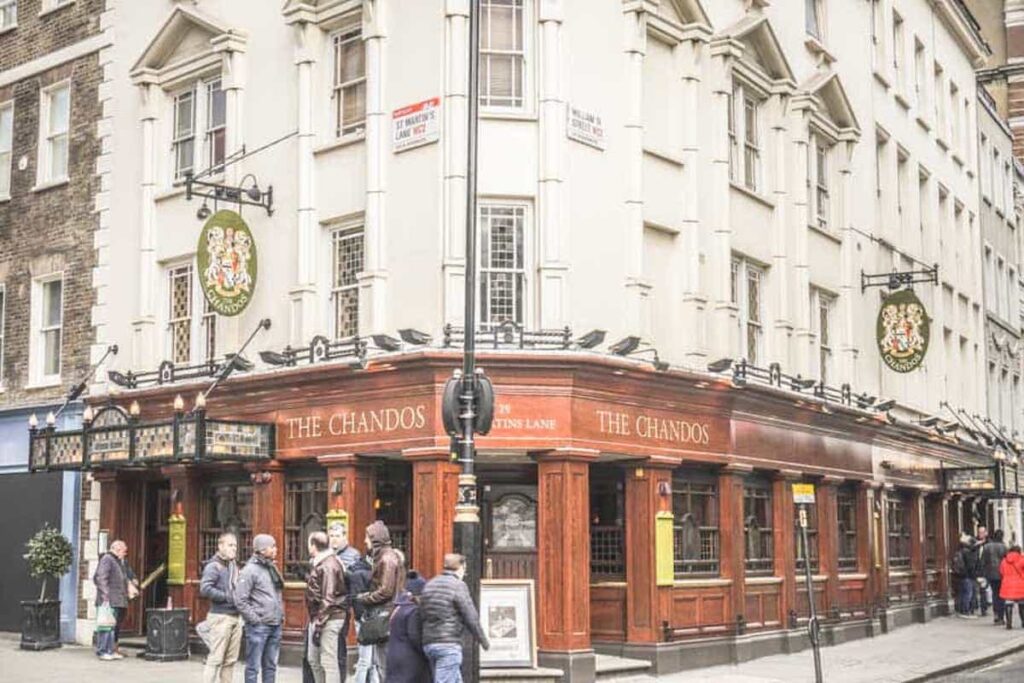 Chandos is bustling without being overwhelming, which cannot be said about most popular pubs in Covent Garden.
Another cool little pub in the Sam Smith's chain, Chandos is a no-frills kind of place with a rustic, wooden interior and a comprehensive list of beer, wine and spirits to enjoy.
The quintessential dark hardwood interior gives it that little extra bit of London pub charm.
As a Sam Smith's, it's one of the more affordable places in London, so if your credit card needs a rest but you need an ale, Chandos is a good spot.
Lamb & Flag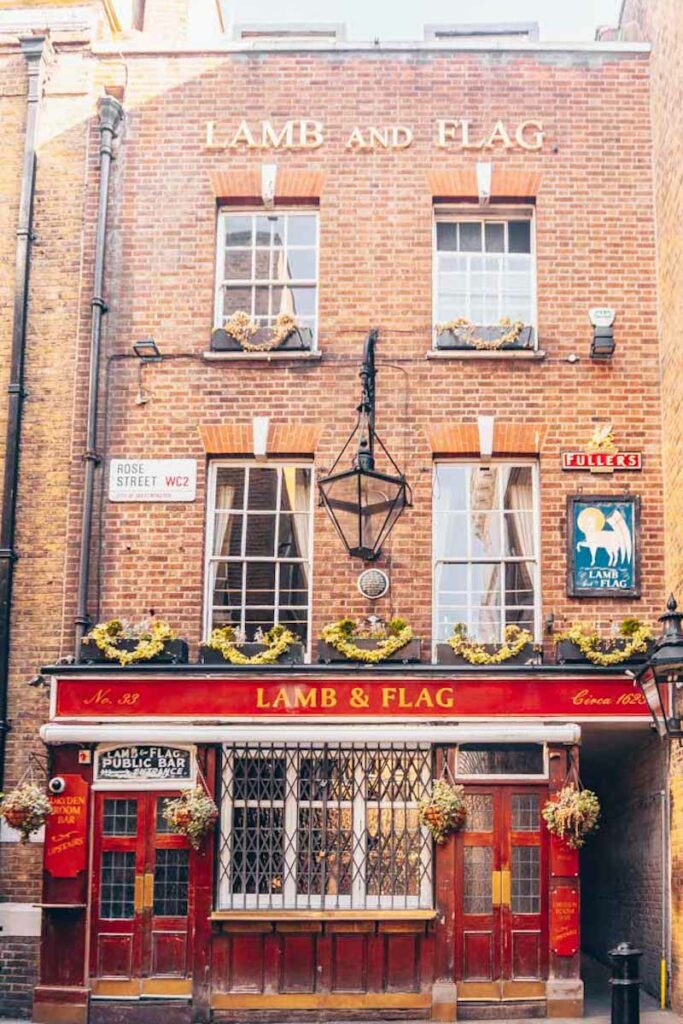 The Lamb & Flag is one of London's historic pubs – it's been open for over 240 years and is still going strong today.
Pop in for a pint and you'll start to see exactly why the Lamb & Flag was one of Charles Dickens' favourite watering holes.
It might look all staid and traditional today, but the Lamb & Flag hasn't always been so respectable. In fact, the pub boasts a rather gritty past. Back in the 19th century, it used to host many a bare-knuckle fight, leading to its nickname of 'the bucket o' blood'.
Before that, around 1679, the writer John Dryden was attacked in the pub at the command of Charles II in retaliation for his writing about the would-be King's mistress. Saucy.
You'll be glad to know that there's a lot less drama these days, but the Lamb & Flag still stands as one of the coolest pubs in Covent Garden.
Porterhouse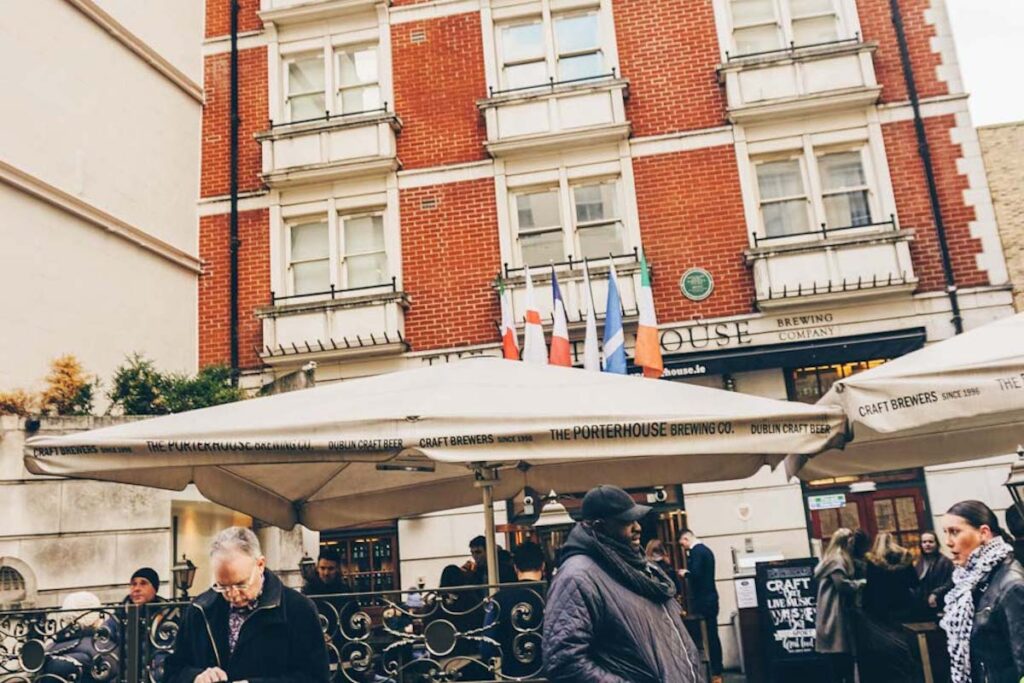 This Covent Garden classic manages to feel intimate and cosy, which is pretty astonishing considering it boasts twelve (yes twelve) levels and one of the best beer gardens in Covent Garden.
Not only does Porterhouse take the crown as the largest bar in all of London, but it's also the best Irish pub in Covent Garden, and probably the capital. The pub's genuine passion for Irish beer means they actually brew their own beer in Dublin, before importing over to London.
As well as plentiful Irish beer, the pub also offers a great food menu and a busy calendar of live music events. Gigs are normally held downstairs in the quirky basement bar.
Craft Beer Company
Ok… we know we said to miss out on the chains, but Craft Beer Company really is the blueprint for all other craft beer pubs in London. So we think all is forgiven, right?
Filled with 30 keg lines, 15 casks pumps, and over 200 bottles and cans if you're into trying out weird and wonderful craft beers and ales, make sure to swing by for a pint or two.
Aside from that, the inside is like something out of a 1940s barbershop – glossy red brick walls, dark oak finishes, and pops of colour dotted throughout.
The perfect (albeit hipster) setting for sipping an obscure beer with your pals.
Lowlander Grand Cafe
Less of a traditional English boozer and more of a Belgian pub, Lowlander Grand Cafe's is a little gem situated on Drury Lane.
Boasting a vast array of Belgian and Dutch beers, Lowlander's has an ultra-cool understated vibe inside reminiscent of a Brasserie in Brussels. Push the boat out and swap the usual craft beer for a Delirium Red or a Lindemann's – we love the peachy variety.
If you're feeling a little peckish, order yourself a portion of Moules Frites – that's mussels and chips for all you non-Belgians.
The Nag's Head
Probably the first pub you'll spot when you pop out of Covent Garden Underground Station is The Nag's Head. You know that rule about not stopping at the first place you see. Well, you can ignore it here. The Nag's Head is as good a place as any for a wet or two.
A pub under this name has occupied the spot at 10 James Street since the 1670s and possibly before. Of course the Nag's Head you're seeing didn't look like the one of the 1600s, but it's still got heaps of old-boozer style.
Much of that style involves the traditional Jacobian pub layout, with poky booths and dark corners to skulkily sink pints in or plot your next moves for world domination.
The White Lion
If it's not The Nag's Head you're seeing when you arrive at Covent Garden Station it's The White Lion. The two are right opposite each other – so close in fact, it's a wonder they're not serious rivals.
The pub is run by Nicholsons, so you may have some idea of the beers and food that'll be on offer when you come (a bit of familiarity can go a long way). The crowd here tends to spill out on to the street and outdoor seating area, which creates a nice atmosphere to drink in.
The White Lion is also a good pub if you're looking for a place to watch some sports in Covent Garden. They've got big teles throughout the pub and show both footie and rugby on the reg.
The Best Covent Garden Pubs: Practical Tips
Covent Garden isn't a massive area so most of these watering holes are within a short walk of each other. Do we feel a pub crawl coming on?
The pro to the above thing about distance is that if one of these spots is too busy, you can also just hop to the next place with ease. That's extra useful as pubs in Covent Garden do tend to fill up, especially at the weekend.
Looking for something to line the stomach before you hit the pints? Check out our guide to the best restaurants and places to eat in the neighbourhood.
The Best Covent Garden Pubs: Map
Looking for More Covent Garden Guides?