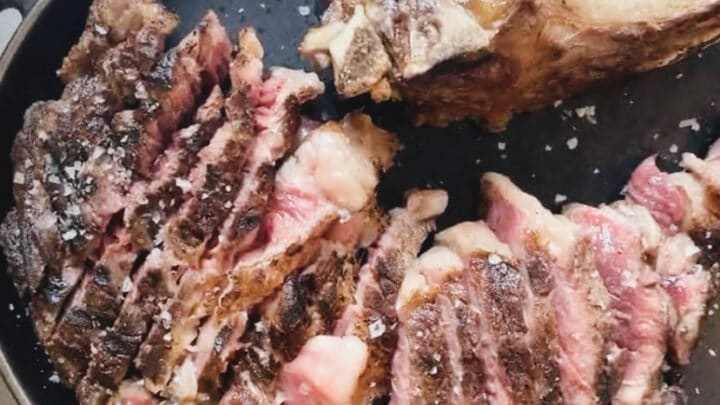 If you're looking for the best steak restaurants in London, look no further.
First of all, let's get real – how you like your steak is a very personal thing. Everyone has their own preferred cut and requirements for how it should be cooked – it's a subject that has been known to kick off a heated argument or two.
This can make it tricky to find a good steakhouse that fits the bill for everyone. Tricky, but not impossible though. These are the spots that manage to pull it off with aplomb.
Price guide:
£ – Under £20 for a meal
££ – Between £20-£30 for a meal
£££ – Over £30 for a meal
Best Steak Restaurants in London
Fallow
Mayfair
£££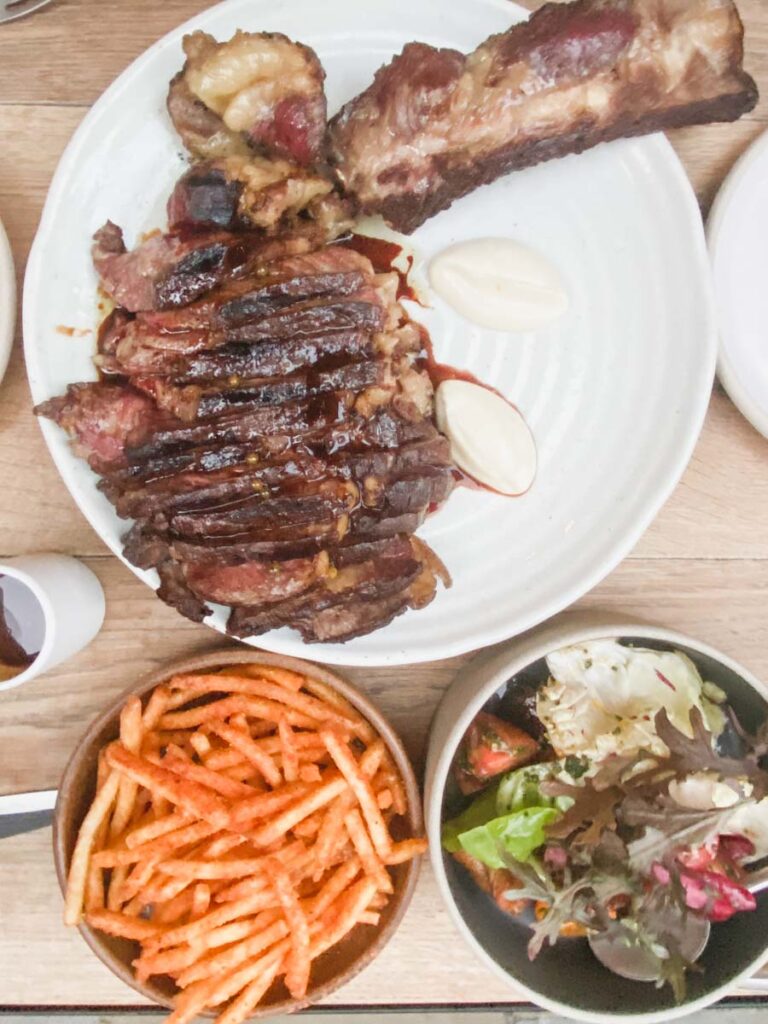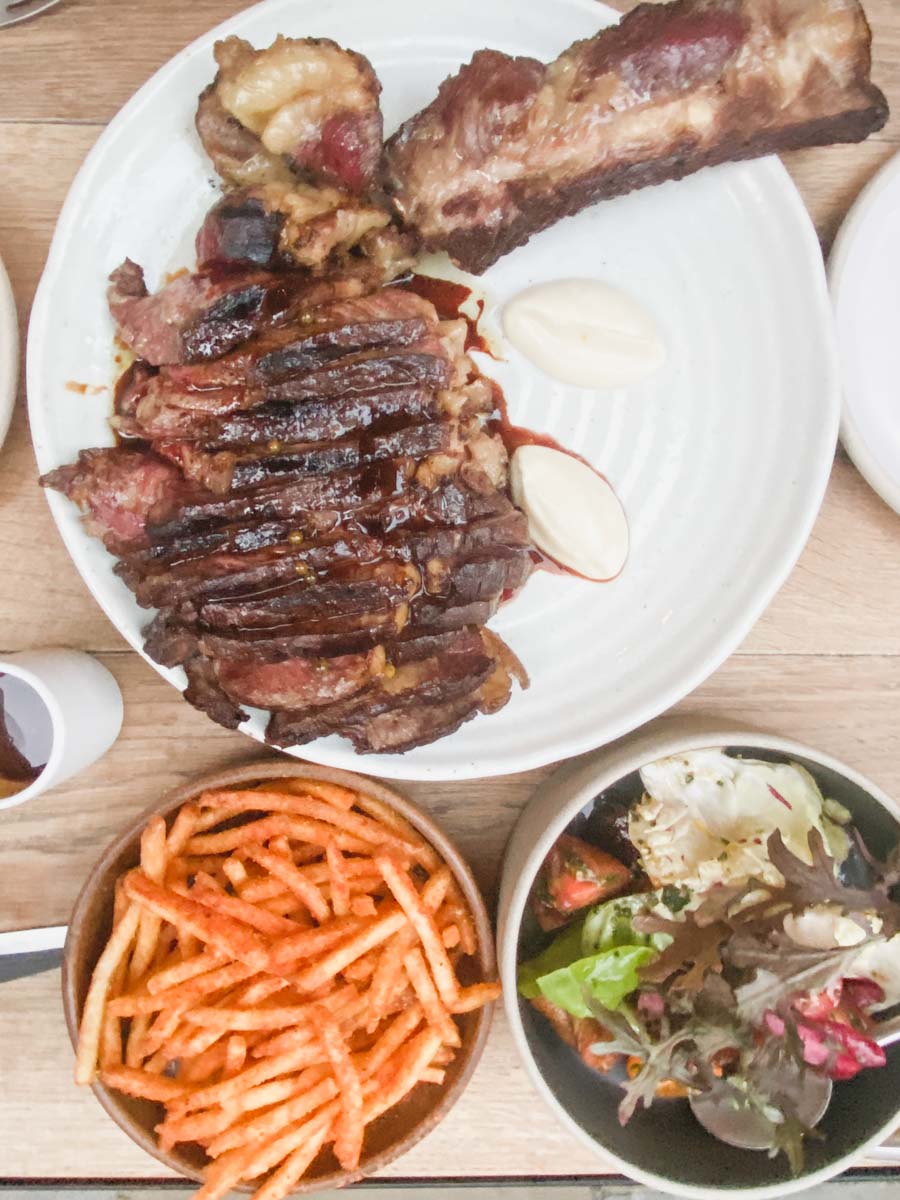 Fallow is a newbie to the London restaurant scene, but don't underestimate this sustainability-driven spot in Mayfair.
The menu has been carefully chosen with environmental impact in mind. This means that there are only a couple of steak options on the menu, though the dairy cow rib of beef is what they're best known for.
Fallow uses ex-dairy cows that are normally overlooked and scrapped once no longer needed, aging the meat slowly to intensify the flavour.
A sirloin cut is your other option, both are served with peppercorn sauce to drizzle over the meat. The kombu fries make for the perfect accompaniment.
Hawksmoor
Multiple Locations
£££
We are huge fans of Hawksmoor – the restaurant prides itself on offering the best of British beef at its many restaurants across the UK. After travelling far and wide (Japan and Argentina, to be exact) the owners decided that home is where it's at.
They price steak per 100g, though usually at 500g minimum. This is perfect for sharing, or you can order the Cast Iron Fillet Steak with bone marrow and onions should you be the only steak sleuth in your party.
T-bone, Chateaubriand, prime rib… Hawksmoor has got it all. And you would be absolutely mad not to order the beef dripping fries on the side.
Blacklock
Multiple Locations
£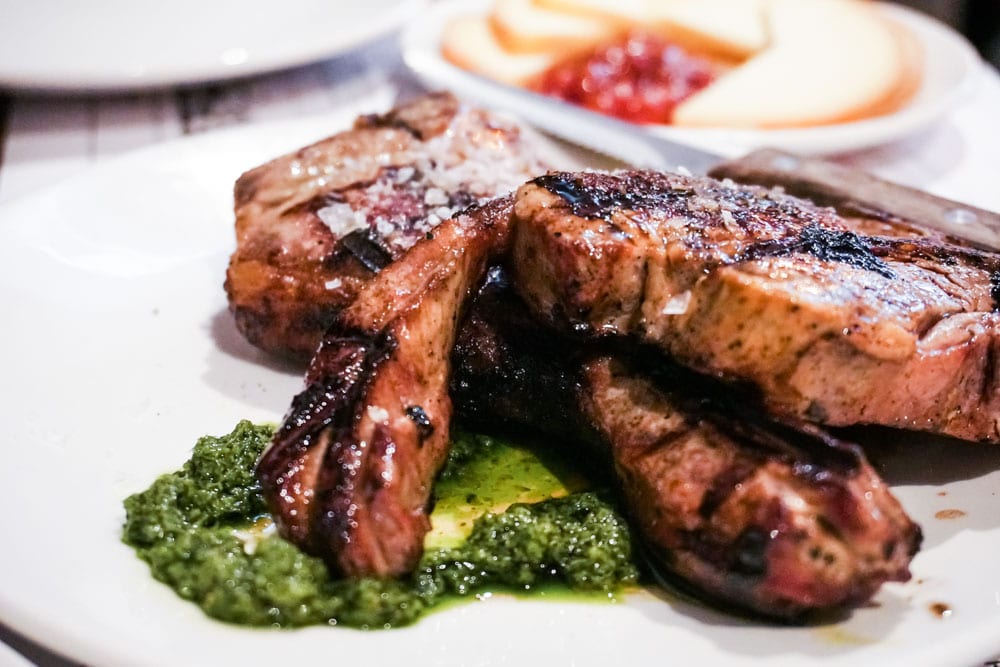 Steak in an old brothel doesn't sound too appetizing, but ultra-cool Blacklock pulls it off. There are three branches of this steakhouse in London, though the Soho location has a special place in our hearts.
You won't find anything as fancy as a Chateaubriand here as the offerings are more simple than other spots, but if you want no-fuss steak that's big on taste, Blacklock fits the bill.
Not only are the steaks ridiculously well priced – high quality steak and chips for under twenty quid is practically unheard of in the capital – but the array of sauces are delish.
Will you go for the chilli hollandaise, or perhaps the garlic marrow?
Lurra
£££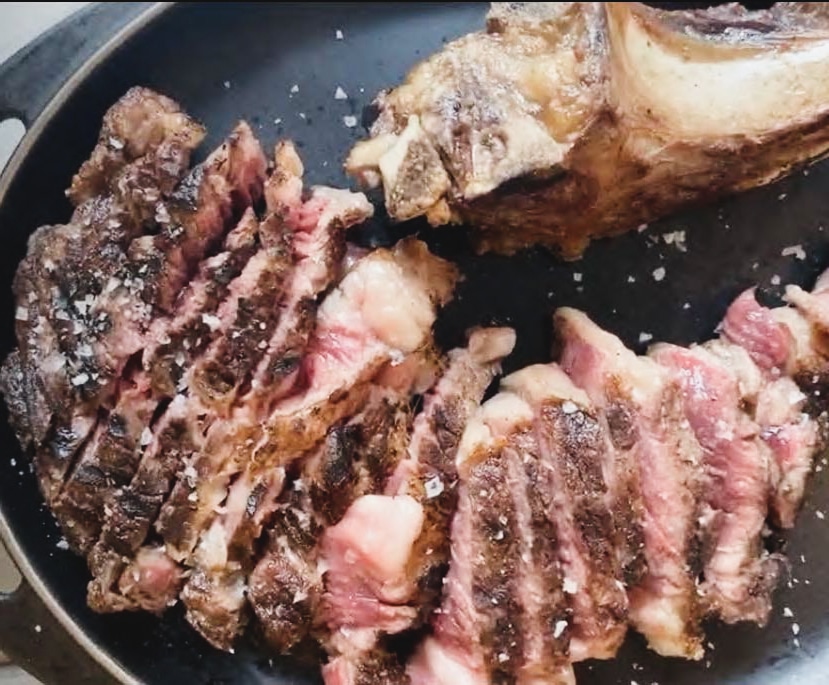 Taking its name from 'land' in Basque, Lurra is a Mediterranean-style restaurant that uses traditional charcoal and wood grills to enhance the flavour of the meat.
Whereas UK beef is often taken from cows under two years old, Lurra sources old Galician Blond cows that have been grass-fed and reared in Northern Spain. This care for the animals really reflects in the deliciously tender meat.
Because the steak comes from cows between 12 and 15 years of age, the meat has marbled fat throughout, which gives it a really drool-worthy flavour similar to that of wagyu.
Menu highlights include a mouthwatering Pluma Ibérica with romesco sauce and a 14-year-old Galician Blond dry-aged on the bone – get the smoked paprika fries on the side and thank us later.
The Coal Shed
Tower Bridge
££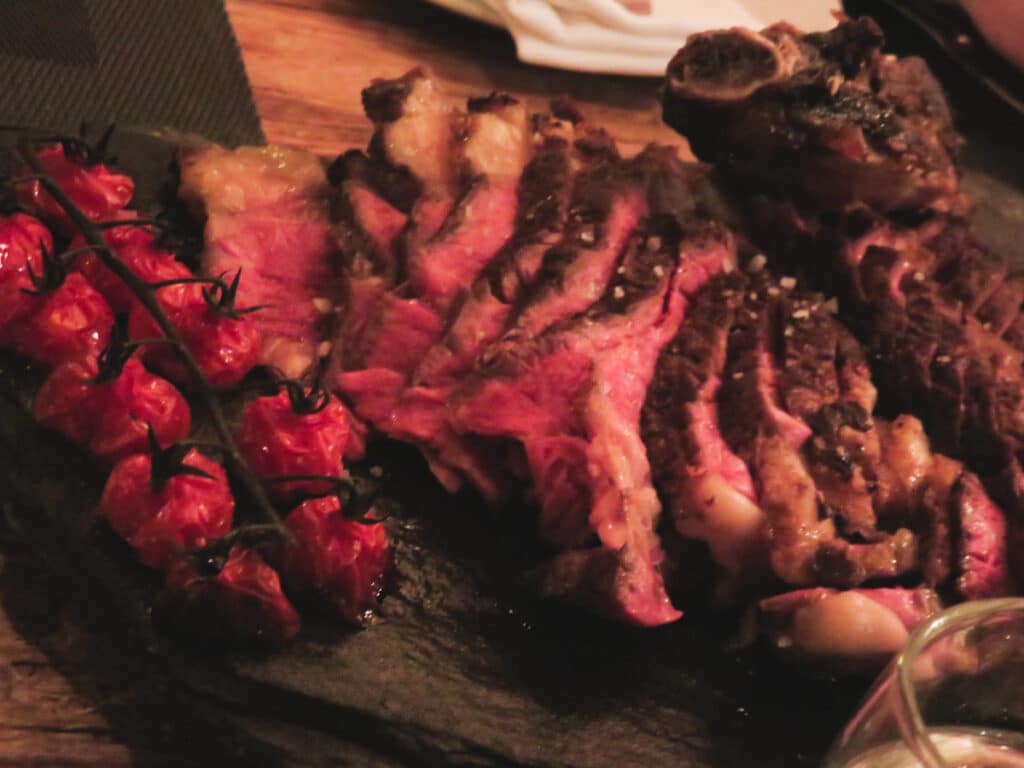 We don't like to play favourites when it comes to the best steak in London, but The Coal Shed is definitely up there at the top.
Their meat comes from Lake District grass-fed cows, with daily specials featuring alongside the regulars: fillet, rib eye, sirloin, and Chateaubriand.
Make sure to go for the heftier sharing cuts if you're with a larger group, as it works out very price efficient when you split the cost between pals. The short rib mac n cheese side is also one for sharers as it's extremely decadent, but boy is it worth it.
Flat Iron
Multiple Locations
£
After puttering around on London's steakhouse scene for a while, it feels like Flat Iron gained its superstardom overnight (thanks Instagram). These days it's always buzzing with tourists and locals alike looking for great steak. And we can confirm… It's flippin' good.
There's only one main thing on the menu here, which is a telltale sign that the chefs are amazing at what they do. The steak is served sliced into perfect hunks of juicy meat, cooked exactly how you would like it.
Do yourself a giant favour and skip the chips for crispy bone marrow garlic mash – Flat Iron manages to tiptoe on the side of creamy without edging into the dreaded potato slush so many restaurants have fallen victim to before.
Oh, and save some space for the complimentary salted caramel ice cream at the end of the meal.
Zelman Meats
££
Zelman Meats has certainly earned its title as serving the best Halal steak London has to offer (though we'll admit, the list is fairly limited).
The Soho branch actually closed earlier this year despite plenty of kicking and screaming from loyal fans – but worry not, it looks like the Knightsbridge restaurant is here to stay. Phew.
With cuts ranging from your classic sirloin and Chateaubriand to rarer ones like Tomahawk, each steak is cooked over a charcoal Robata grill for maximum flavour.
Some cuts are even treated to the dirty steak experience, which means they're placed directly onto charcoal for a smoky hit of flavour that really packs a punch.
Bar + Block
£
Bar + Block is easily one of the most underrated steakhouses London has to offer. Often shunned for some of the bigger names, Bar + Block know how to make good steak; they mature their beef for at least 30 days to allow oh-so-coveted marbling to occur.
Steaks are hand cut once you order, so you can have the exact size you want. You also have the option to customise how your steak is cooked, though the menu lets you know exactly what the chefs recommend.
This restaurant skips out on the snobbery found in some other London steakhouses, instead focusing on quality meat cooked exactly how you want it.
Steak on the Green
Ealing
££
Hidden away in Ealing, Steak on the Green is one of the capital's hidden gems boasting a vast steak menu.
It's basically illegal to see Wagyu on a menu and not order it. If you've never had Wagyu, let us enlighten you – it's a Japanese meat characterised by marbled fat that runs throughout the beef. The result? An unbelievably tender cut bursting with flavour.
It's spenny, but trying it for the first time basically feels like an out-of-body experience. Who knew that steak could be even better?
Looking for Halal steak? You're in luck. Steak on the Green has a huge separate menu dedicated to Halal meat that means you can enjoy the likes of sirloin and fillet steak without feeling left out.
Their tempting Sunday roast is also now Halal, if you're after something a little bit more cosy.
Steak & Co.
Multiple Locations
££
Boasting a fully customisable experience and Halal options aplenty, it feels impossible not to give Steak & Co. the love they deserve.
Often Londoners' first shout for quality steak at a decent price, the restaurant lets you take full control – think of it as a Nandos for steak. Pick your preferred cut of beef and then choose which butter, salt, and sauce you want your meat doused in.
Giving you total control over your meal means that you'll be left feeling incredibly satisfied (and probably doing a happy food dance) when the waiter brings your plate.
Salt Shed
£
With their steadfast location in Shoreditch Boxpark, Salt Shed is the street food King of steak.
Okay so it's technically not a restaurant, but the meat is just that good that you won't mind us bending the rules.
Salt Shed's 32-day aged flank steak is mind-blowing, bursting with unique flavours yet each bite still melts in your mouth. The pastrami steak marinated in honey-BBQ glaze is another top pick, bringing the right level of sweetness to the salty meat.
Make sure to keep your eyes peeled for Salt Shed pop-ups across the city too.
Temper
Multiple Locations
££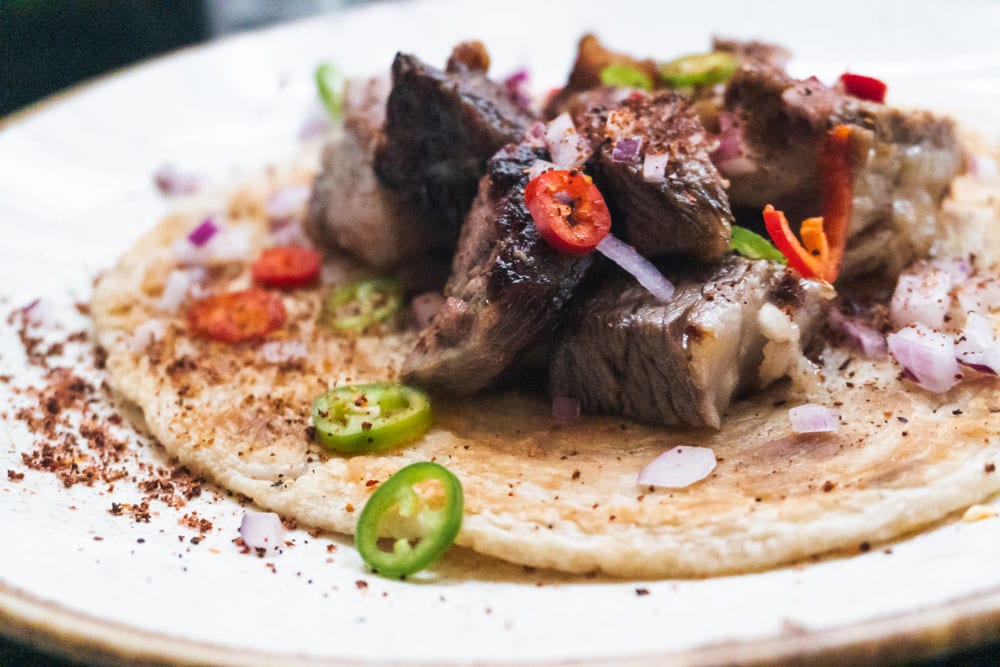 They say there's no smoke without fire, and that's certainly true at Temper: The coolest steakhouse in London.
Ranging from a reasonable rump cut to the more deluxe Porterhouse, the steaks are cooked over a high heat and flame-grilled to create a deliciously smoky flavour and succulent meat.
The Covent Garden and City locations also host a Steak Supper Club. Join them on certain nights throughout the week and chow down on rump steak, fries, and bottomless drinks for 90 minutes at just £39.50 per person – or if you want to switch it up, opt for the steak tacos #noregrets.
Sophie's Steakhouse
Multiple Locations
£££
For toothsome fare in a stunning setting, Sophie's your gal. The cosy yet elegant decor provides the perfect backdrop to flavoursome steak and chips.
Native breed British beef is the star of the show here, dry aged and butchered in house to perfection. Cuts vary, though the centre-cut fillet is stellar, and each steak is served with fries or salad, along with salsa verde, bernese, or a classic peppercorn sauce.
Looking for something a little bit special? Head to Sophie's Steakhouse for a Sunday roast and order the slow-roast prime rib of beef (for 2-3 people). The meat falls straight off the bone and is served with horseradish cream – it's an opulent take on a classic.
Goodman
Multiple Locations
£££
Self-described as the go-to spot for business dinners, it's safe to say that the steak at Goodman is unbelievably good, man. Sorry.
Take one little peek at the menu and you'll see what we mean. If you want to impress, take your dinner date here and order the Lake District grass-fed filler, though suppress the urge to sigh at the price. It's spenny but it's top quality.
Go for the truffle chips and the lobster mac n cheese to share and enter into a world of pure foodie bliss. A glass of bubbly is, of course, an acceptable beverage to wash it all down with.
Bob Bob Ricard
Multiple Locations
£££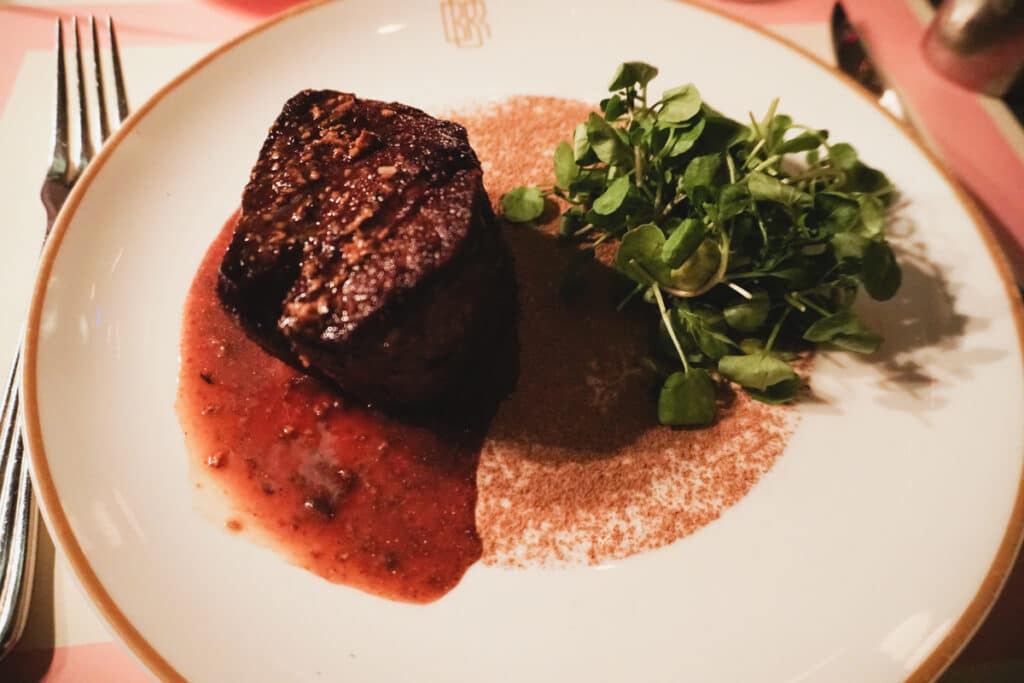 Though not known solely for steak, the chefs at Bob Bob Ricard certainly know how to cook meat.
Before you even get to the food though, take the time to appreciate the stunning design of this British-Russian restaurant, reminiscent of the Orient Express.
The decadent Chateaubriand with truffle jus is undeniably the standout dish. Although the steak tartare with egg yolk and buckwheat crispbread is not to be sniffed at either. Actually, everything on the menu is excellent, so go wild.
The best part? The champagne button that means with one press your glass is topped right up – Bob Bob Ricard is actually famed for pouring more champagne than any other UK restaurant.
High Timber
££
South African steak and Stellenbosch wine are the specialties at High Timber.
The restaurant is just moments from Millenium Bridge, offering an undisturbed view of the Thames from the light and airy space. Stylish nods to vibrant South Africa come through colourful artwork decorating the otherwise plain walls.
Owners Gary and Kathy Jordan own the ridiculously successful Jordan Wine Estate in Stellenbosch and wanted to harmoniously balance soil with the soul. Naturally, the link is juicy steak that compliments the wine.
Choose between sirloin, ribeye, or fillet cuts – all served with fluffy HT chips on the side. Splash out and order the creamed spinach too… so good.
Gaucho
Multiple Locations
££
With multiple restaurants in London and a few more across the UK, Gaucho is one of the leading steakhouses in the capital. First opened in 1994, Gaucho isn't subtle about modern Argentina's influence on the dishes.
The meat is imported from Argentina and fed on fertile pampas-land, leading to deliciously succulent steaks that impress.
In fact, ten different varieties of steak are on offer, from a cutesy 250g Lomo fillet to a gargantuan 800g Tira de Ancho (setting you back a casual £67.50). Or if you're sharing, opt for the Gaucho Sampler, which comes with rump, ribeye, sirloin, and fillet meat.
Pair this with one of the stunning Argentinian wines available and you're in for a real treat.
JW Steakhouse
Mayfair
£££
Nestled inside the Grosvenor Hotel in Mayfair, JW Steakhouse is a high-end spot that serves incredibly high-quality meat.
Prime cuts include a head-turning 48oz Tomahawk steak and Aberdeen Angus beef forerib that is aged for 40 days. Their steaks aren't show-offy though, cooked in a classic way that allows the meat to do the talking. No crazy sauces or rubs here.
A tempting array of sides and wines compliment the steak perfectly – you'll want to go for the truffle fries and a glass of Taittinger if you're feeling particularly wild.
Map of London Steak Restaurants
Looking for More London Food Guides?
Check these out…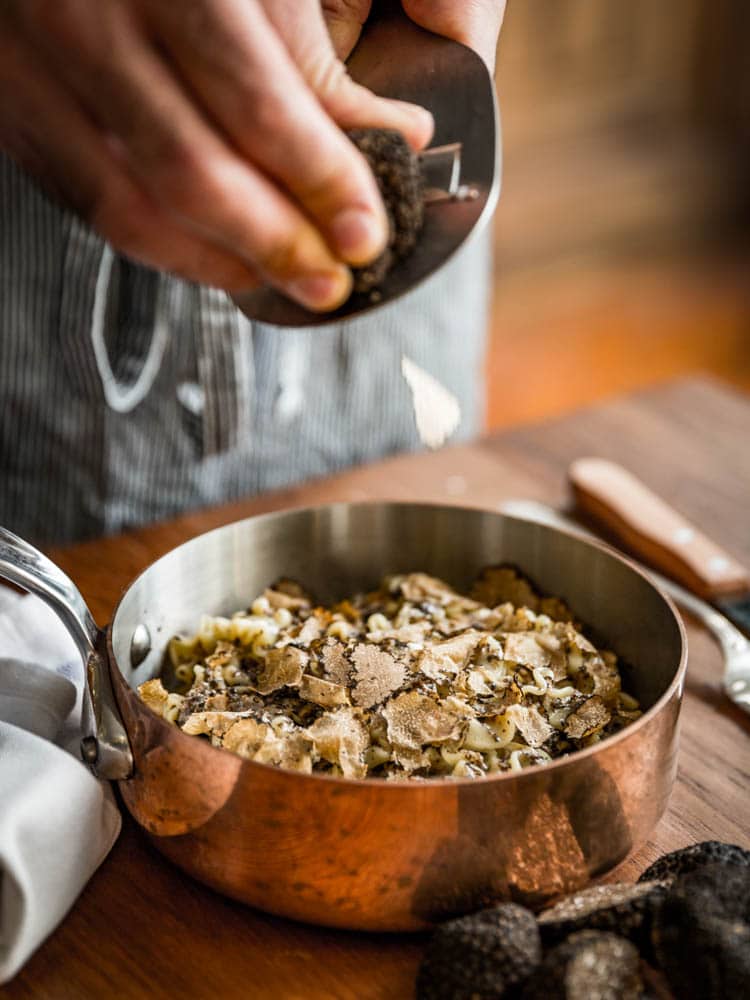 The Best Restaurants in London