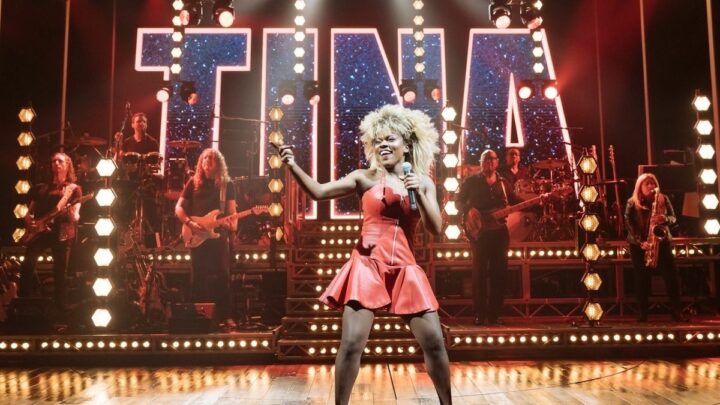 Looking for the best musicals in London to have on your radar this year? Read on to discover our top picks.
Rightly so, catching a production in the capital earns itself a place on many tourists' (and locals') bucket lists… and right now the capital is filled with hundreds of Wicked productions well worth your hard-earned cash (excuse the pun).
But which ones are the best? We've chosen the best musicals in London right now – the spectacular productions that are lighting up the city's stages.
From long-running biggies to newer additions that have gathered cult followings in recent years, these are the musicals you should get booking now.
Oh, and we've also shared some of our tips for nabbing tickets that won't cost a month of rent.
Ready?
Best Musicals in London
Wicked
Apollo Victoria Theatre
No guide to musicals in London is complete without the inclusion of Wicked. We all know the story of the Wizard of Oz, but Wicked offers an alternative take on the popular fairytale, reimagined from the point of view of the Wicked Witch of the West.
The musical follows green-skinned Elphaba and her saintly counterpart Glinda as they battle politics, love, and loss, and follows Elphaba on her turbulent journey to becoming the infamous witch in later years.
This is an iconic musical that has been a smash hit on both Broadway and the West End, and you can book your tickets here.
& Juliet
Shaftesbury Theatre
West End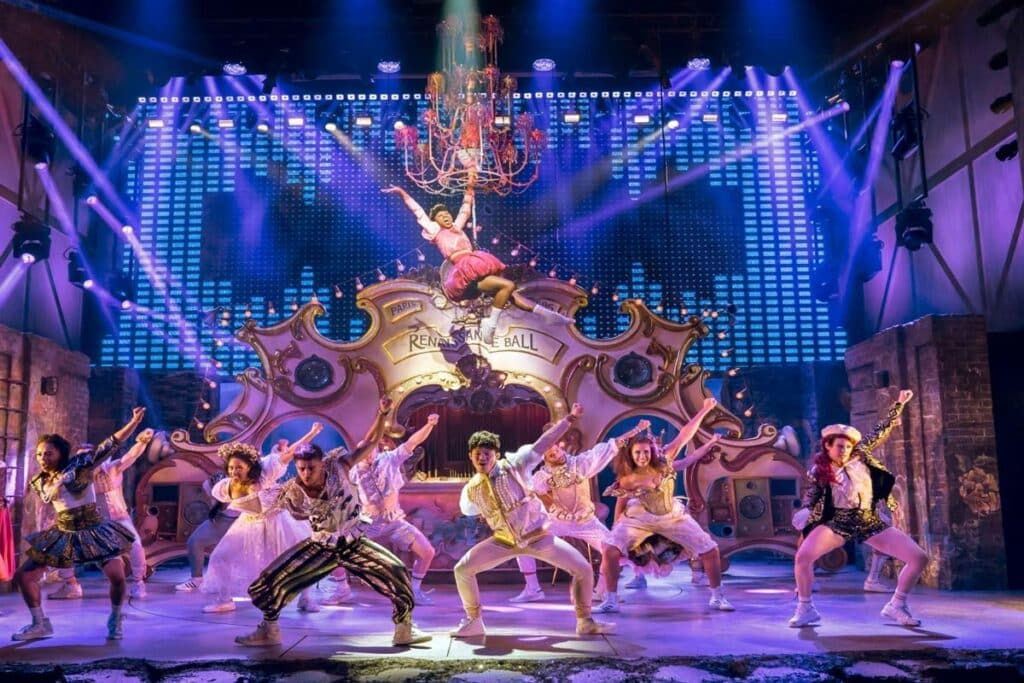 Shakespeare's most famous love story gets a modern makeover for this new musical that's been taking the West End by storm. It reimagines what life might have been like for the star crossed lovers if their tale didn't end in tragedy.
We follow Juliet's perspective after a spell of heartbreak drives her to pack up and leave Verona before she rediscovers herself through a good bit of dance.
It comes from the writers of Schitt's Creek so you can expect a few laughs alongside the choreography.
Cabaret
The Playhouse Theatre
This classic tale of American writer and English Cabaret singer has graced many a stage in its time. This iteration at the Playhouse Theatre has been getting a fair amount of media attention, though.
Set to the backdrop of Weimar-era Germany, the musical takes you along for a story of love in a potentially doomed city.
Of course, the jazz-age backdrop and cabaret club setting make the perfect place to tell a story so wrapped up in musical interludes. No wonder it's a classic.
Les Miserables
Sondheim Theatre
West End
Not only is Les Miserables the longest-running musical in the West End, but it has taken residence at the Sondheim Theatre for many years; its large sign is the backdrop to an iconic London photo.
The musical is based on the novel of the same name by Victor Hugo and has an interwoven narrative, following Jean Valjean after his release from prison, as well as the lives of Marius, Cosette, Fantine, and Eponine as they navigate increasing tensions over the French Revolution.
We won't spoil it, but the end scene with Do You Hear The People Sing? ringing out is pretty spectacular – bring tissues and prepare for an evening at the theatre like no other. Book your tickets here.
Moulin Rouge
Piccadilly Theatre
Baz Luhrmann took the screen world by storm when he released Moulin Rouge – a film that captured the hearts of its audiences.
This adaptation for the stage has picked up five Drama Desk Awards, fourteen TonyNominations, and eleven Outer Critics Circle Awards so you can pretty much guarantee it's going to be a winner.
Seems like the story of love in the seedy parts of last century's Paris is a tale that people can't get enough of.
Bat Out Of Hell – The Musical
Peacock Theatre
West End
A musical themed around the music of Meatloaf? Whodathunk. Turns out Jim Steinman was onto something. The show has now become a bit of a must see on the London musical circuit and even picked up an award or two along the way.
The story follows the tragic love of two people that can't be together. Strat is the immortal leader of The Lost, and Raven, the daughter of the oppressive ruler, Falco.
The musical uses Meatloaf tunes to tell the story of why exactly that means the two can never be together.
All the classics are in there. Rest assured.
Phantom Of The Opera
Her Majesty's Theatre
St James's
Andrew Lloyd Webber's sensational long-running Phantom of The Opera musical is a true cornerstone of London theatre.
Outlandish costumes and excellent performances from a star-studded cast of stag actors combines with a tragic story and some amazing musical scores to make for one hell of a show.
If you're into your musicals, you have no excuse not to add this to your list of things to see.
Standing at Sky's Edge
The National Theatre
This new staging at the national theatre tells the story of a handful of people growing up on a notorious estate in Sheffield. Some want to leave and seek better lives in London, others want to make the place a permanent home and start families.
The story unfolds over three generations and brings into focus some deep questions about what it is that makes a place home.
It got much acclaim in the town the musical is set, and is arriving in London to similar hype.
Jersey Boys
The Trafalgar Theatre
There's rarely a better subject for a musical than the life and times of a musical legend. In this case a few of them. Jersey Boys charts the rise and fall of The Four Seasons – the band that shot Frankie Valli to musical superstardom.
The story comes with all the ups and downs of life in the spotlight – the euphoria of making it in the world of music, the changes in direction and the eventual fall out and break up.
The show features some original tunes, and some classic numbers and has been considered a bit of a classic itself.
Tina – The Tina Turner Musical
Aldwych Theatre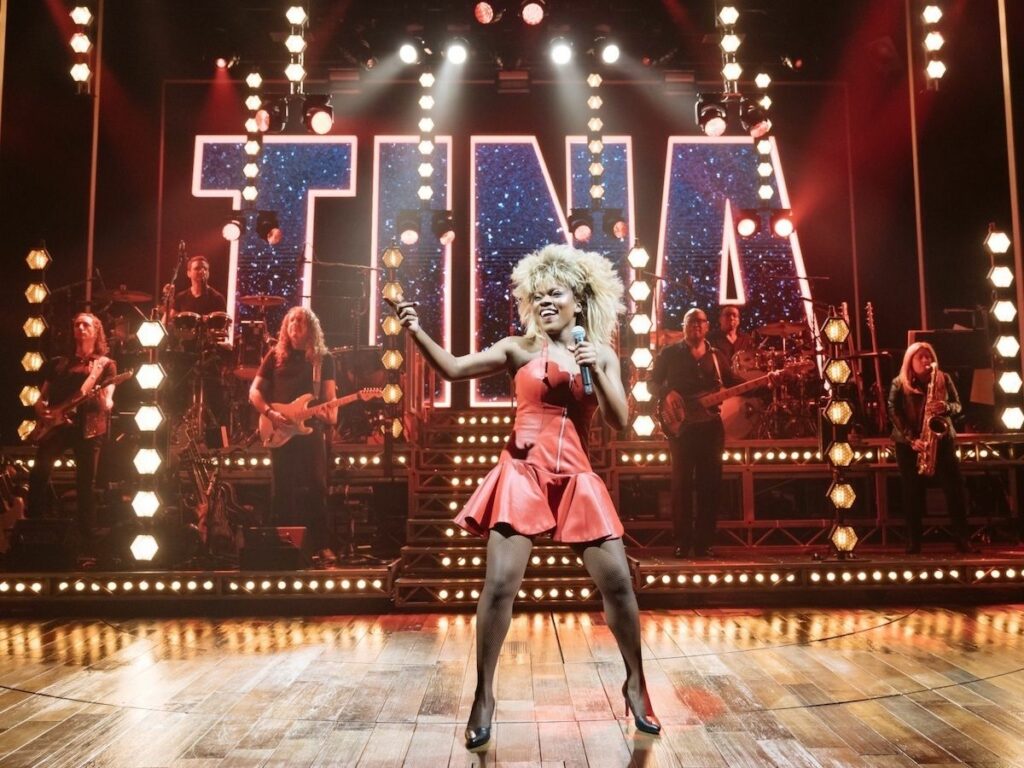 What was that we were just saying about how musical people make great subjects for musicals? This recently produced staging follows the life of Tina Turner from humble beginnings to musical superstar.
It features heaps of her best-loved songs and is something of an inspirational story.
Turner faced a lot of challenges in her rise to fame, and didn't let them stop her. She rose to become one of the greatest recording artists of all time.
Six
The Vaudeville Theatre
Six is a killer reimagining of Tudor history, as told by the former wives of Henry VIII.
After a dose of feel-good girl power? The kick-ass soundtrack comes straight from the world's hottest girl band, and the hilarious retelling of their tragic fates is as educational as it is entertaining.
Aragon, Boleyn, Seymour, Cleves, Howard, and Parr are backed by an all-female band (namely the Ladies in Waiting) and are ready to bring the sassiest musical numbers to your ears.
Hamilton
Victoria Palace Theatre
West End
If you haven't climbed aboard the Hamilton hype train yet, what are you waiting for? Lin Manuel Miranda's Hamilton has exploded in popularity throughout the pandemic and, after having to cancel plenty of shows, the show has reopened on London's West End.
Lin has revamped the story of the American Founding Father Alexander Hamilton, bringing together a cracking hip hop soundtrack and witty script to retell this story in the most engaging way possible.
Trust us, grab yourself a ticket and get yourself to The Room Where It Happens…
Back to the Future
Adelphi Theatre
West End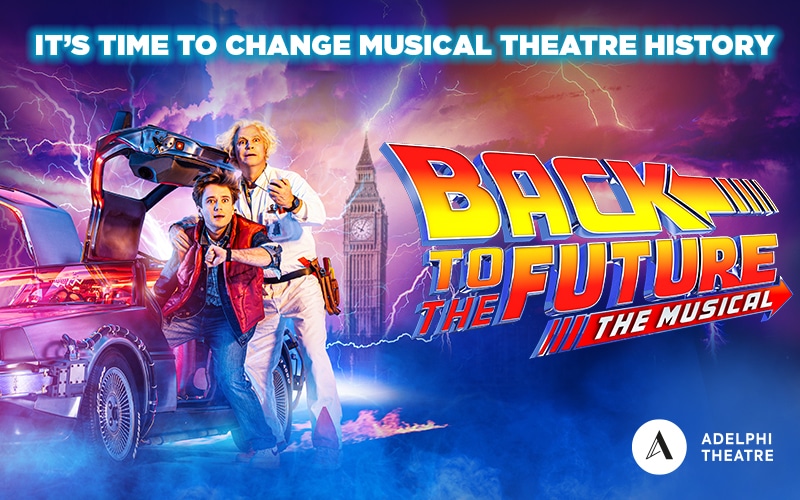 We may have lost our minds a little bit when we first found out a Back to the Future musical was coming to London (see here for proof), and a year on it's still one of the most popular productions to grace the West End.
We're sure you know what to expect – Marty transports back in time to 1955 and unwittingly changes the course of history. With plenty of damage done, he's left with the gargantuan task of fixing everything and getting himself back to the future, pronto.
Why should you book tickets to see this musical in London? Aside from the heavy dose of 80s nostalgia through the soundtrack and costumes, it's a hilarious and refreshing take on the cult classic.
The Lion King
Lyceum Theatre
West End
Long-running The Lion King has long been classed as one of the best musicals in London – the sheer level of artistry going into the costumes and choreography alone makes it well worthy of this accolade.
The Serengeti plains are completely recreated on stage, and the audience will follow Simba, Pride Rock heir, as he grows up fast and dodges his uncle Scar.
If you're looking for a London musical that will leave you completely in awe, book tickets to The Lion King.
Only Fools and Horses
Theatre Royal Haymarket
West End
Join Del Boy, Rodney, and the rest of the gang for a corker of a musical in Only Fools and Horses.
Stage and TV legend Paul Whitehouse is responsible for writing (along with Jim Sullivan) and starring in the musical, which sees the iconic characters we all know and love take to the stage.
The production features hilarious scenes taken from the TV series, alongside new material that is transporting audiences back to 1989 where the lovable rogues do their dodgy dealings and cause carnage in Peckham.
Frozen
Theatre Royal Drury Lane
Covent Garden
Children and adults alike will struggle to resist singing along to Frozen on the West End. Join Elsa, Anna, Olaf, and Kristoff as they venture through the icy realm to restore peace in Arendelle.
West End legend Samantha Barks will be stepping into the icy shoes of Elsa, and joined by a ridiculously talented cast who help bring the magic to life. Grab your tickets to this family-friendly production of the Disney hit now.
Matilda
Cambridge Theatre
West End
For anyone not familiar with Roald Dahl's incredible novel, Matilda centres on a bold 5-year-old girl with a horrible family and the gift of telekinesis.
Her love of reading has helped her to be wise beyond her years, and eventually she helps her teacher (who she eventually goes to live with) to stand up to the cruel headteacher.
This family-friendly musical is filled with catchy songs and is not to be missed – book your tickets here.
The Book of Mormon
Prince of Wales Theatre
West End
Created by Matt Stone and Trey Parker (a.k.a the creators of South Park), The Book of Mormon has proved itself as one of the most popular musicals on the West End and Broadway in recent years.
This quirky musical follows two missionaries sent to Uganda in an attempt to convert people to Mormonism though, upon arrival, they find that their mission might not be quite as easy as they first thought.
As expected from the creators of the crude American TV show, The Book of Mormon is hilarious and littered with tongue-in-cheek quips – book your tickets here.
Mamma Mia!
Novello Theatre
The legends that are Benny and Björn have brought their music to the stage with Abba's Mamma Mia! the musical.
If you've seen the film-adaptation (and if not, why not?), the musical follows the same synopsis: Sophie is living on a Greek island and dreams of inviting her Dad to her upcoming wedding. Though she soon realises that there are three potential figures and decides to invite them all. Chaos ensues.
This is an unmissable long-running musical for lovers of Abba, with a cheesy sing-along soundtrack you'll find it impossible not to smile at.
ctical Information for Booking London Musicals
Theatre tickets can be notoriously expensive, so booking through places like London Theatre Direct can make it easier to snag cheaper tickets. Make sure you don't support touters though, who flog highly-coveted tickets for extortionate prices.
If you're after last minute tickets, heading to TKTS booth on Leicester Square could save you lots of money. The booth sells leftover tickets for up to half price for same-day shows.
If you're looking to make the evening really special, booking a special drinks and dinner deal at the theatre you're visiting can be a really great way to save money – Lastminute.com has plenty of dinner deals (as well as heavily reduced tickets).
It's worth noting that many theatres offer reduced-price tickets for those lucky enough to be 25 or younger – remember to bring your ID!
Best London Musicals – Map
Discover More London Musicals & Theatre