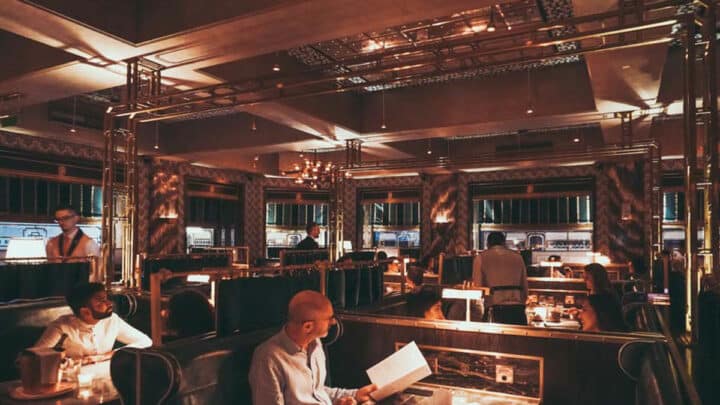 Looking for the most romantic restaurants in London? These fabulous eateries are the perfect date night spots.
Looking for the most romantic restaurant in London to treat your special person?
Through the right lenses (i.e. very loved up ones), London is one of the most romantic cities in the world – so it follows that it's home to some of the most romantic restaurants to go with.
We've got you covered – stellar date night spots that will *almost* be better than the company you bring with you.
London's Most Romantic Restaurants
Bob Bob Ricard
Soho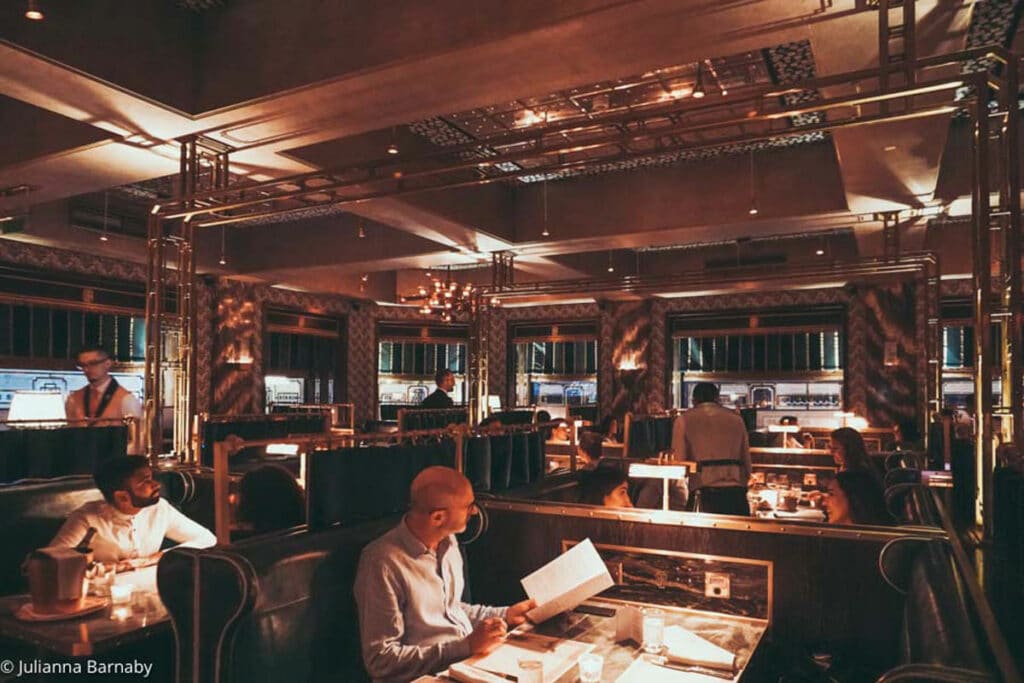 Bob Bob Ricard is probably most famous for its "Press for Champagne"-buttoned-booths – perhaps unfairly as the food is also stellar too. Either way, we bet they're pouring more champagne than any other restaurant in London (use the button sparingly though if you don't want to end up on the floor).
The exceptional vibe mixed in with retro decorations, nothing can beat the experience. Until you try the food.
We recommend starting with the oysters and steak tartare, as well as the Chateaubriand or Beef Wellington as a main – yes, it's all about the classics, but when they're done so well, why wouldn't you.
If you're looking for something extra special, this is the place to go when you want to pull out the wow factor.
Casse-Croûte
Southwark
If you're known for being one of the city's best French restaurants, there's a good chance you're also going to make the list of most romantic restaurants in London, and Casse-Croûte does just that.
Casse-Croûte has that "just stumbled upon a hidden gem" vibe that feels as though you're in on a special secret.
With a very small menu, you don't have to worry about reading a thousand different starters whilst trying to navigate a first date. It's easy and unpretentious, yet always has incredible food and ambiance .
The menu changes every day and you can guarantee it'll always be real authentic French food made to perfection. The wine list is unparalleled and unfussy, a great place for some true romance .
The Cow
Notting Hill
The Cow is a bit of an institution in Notting Hill. Famous for its Guinness and Oysters, it's an incredible pub with a fun atmosphere that gets you excited about being in London. A place where both famous people and locals sit side by side enjoying great food and delicious drinks.
The Cow is perfect for a more relaxed date spot in London, it's a little bit more alive and fun than a restaurant yet still has high quality restaurant food.
We recommend going for the fish stew or chicken kiev which is by far the best chicken kiev you'll ever have in London (it should win an award).
The seating is a little tight so if you want something a little fancier you can also book the restaurant upstairs which is white tablecloth with the same menu.
Ida
Queens Park
Ida is one of our favourites, the best Italian romantic restaurant in London.
It's small yet perfectly formed with a great menu, lovely staff and delicious homemade Italian food. Perfect if you're looking for something a little more quaint and relaxed, yet very romantic.
It's got a cosy atmosphere which adds to the family-run vibe. We recommend going for the pasta as they're all freshly made the same day with delicious family recipes.
The house red wine is incredible and on top of that, the restaurant is very good value for money. A no brainer.
The Popeseye Steak House
Brook Green
If we could give Popeseye 6 stars, we would.
This is one of the best romantic steak restaurants in London. Candlelight, amazing ambiance and a small menu of fantastic steaks – it can't get much better than Popeseye.
You get a choice of cut, size and meat, cooked however you like it. The portions are great and the value for money is even better. It's very old school and your bill will be handwritten. This is a cash-only restaurant so remember to get cash out before you get there.
The selection of wines is equally as amazing, and they also offer corkage if you fancy bringing in your own wine instead.
This is the best date spot in London and whoever you bring will be impressed by this hidden gem, although perhaps check that they eat meat first. It's a no-go for vegetarians.
Native at Brown's
Mayfair
If you're looking for an amazingly romantic restaurant in London that also puts sustainability at its forefront, then Native at Brown's is for you. Tucked away on a gorgeous summer terrace in Brown's luxury department store, lives Native.
Native is a celebration of wild produce, sustainability and the beauty of foraging. It's very rare for a restaurant like Native to come along, and they do, you'll be totally mesmerised by their tastes (and so will your date).
The tables are made with reused onyx from Brown's installations and mosaic floors featuring illustrations of foraged ingredients from the restaurant menu – the restaurant itself is a total masterpiece. Right in the centre of Mayfair, this is one of the best romantic restaurants in London that will have you mouthing the words 'wow' with your first step in.
The Pelican
Notting Hill
The Pelican is Notting Hill's new pub that everyone is talking about. Firstly, make sure you book because even on a Monday this place has a buzz like no other in London.
Featuring two amazing fireplaces, a beautiful restaurant and a farm-to-table menu – there's nothing quite like The Pelican, making you feel like you've taken a trip to the countryside right in the centre of London.
The interior design is beautiful and the great lighting makes it instantly feel romantic. The menu is best approached in a sharing way. Go for the leeks, raw beef and tomatoes to start and sharing a main is the best option. The deserts are also incredible, don't skimp out on the desert.
Sketch
Mayfair
The quirky, 18th-century townhouse tea room that transforms into a cocktail lounge every evening is the perfect date spot because it's got something for every mood. Sketch is great if you're in the mood for something a little bit different.
There's a lot of different rooms and the best thing to do is try each one. Start off in the gallery room. Sketch is extremely attentive to food allergies or intolerances and great if you're someone who can't eat specific foods.
Great for tea, great for drinks and even better for an adventure. A fun date place in London that has a whole lot of romance.
J Sheekey
Covent Garden
J Sheekey is traditionally the most romantic restaurant in London for seafood, fish, shellfish and oysters. It's famous as a pre or post-theatre restaurant with a fantastic interior designed like you're on the Orient Express.
It's not cheap, but you are eating some of the best seafood in London so it's bound to be a little bit pricey. The customer service is incredible. Also if you don't like fish and find yourself in this restaurant, try the triple cheese souffles, it's like nothing you've ever tasted before.
LPM Restaurant & Bar
Mayfair
LeLPM Restaurant & Bar is a fantastic upscale French restaurant. The food is some of the best food you can get in London and definitely a great date spot. The waiters will make you and your date feel like you're the most important people in the room.
It's the kind of restaurant where each dish just gets better and better and you'll just want more and more. A great place for a special treat and perhaps a good first date destination.
Another great aspect to this restaurant is the people watching. Think chic French people and a lovely atmosphere, a great place to watch the world go by whilst sipping on some lovely French wine and sharing plates.
Maison François
Green Park
Maison François is an unparalleled French restaurant with one of the best cocktail bars in London. It's elegant and it knows how to give a real restaurant experience.
The waiters know what they're talking about and it's best to let them lead you through the menu. We recommend getting there a little bit earlier and starting off your night at the bar downstairs before making your way to the restaurant upstairs.
It's also worth checking their website to see what events they have coming up. Maison Francois do fantastic wine tasting nights which is the ultimate romantic date experience.
Top Cuvée
Stoke Newington
Affordable, incredible food and wine and one of our favourite hidden gems in London. The menu changes regularly and it bushes the boundaries of making creative, unique dishes that are both simple and delicious.
The wine is some of the best wine we've tasted and it really makes the restaurant stand out. The quality of cooking and atmosphere will beat a top class restaurant, yet you're not paying an arm and a leg to get it.
A lovely local neighbourhood restaurant that you will want to keep coming back to. Try the bavette steak and chips if it's on the menu, you won't regret it.
Brat
Shoreditch
Brat has made a real name for itself in recent years. Situated in two locations, Shoreditch and Hackney. The strong basque influence on the menu of the rustic Spanish spot with open wood fire grill is a foodie's heaven.
For a surprise date spot, this is one of the most romantic restaurants in East London and will have you bowled over. We love the layout of the restaurant where you can see the kitchen along with the Manhattan style loft apartment vibe.
The food is varied and delicious, make sure you order something on the wood fired oven because those chargrilled tastes are out of this world.
La Famiglia
Chelsea
La Famiglia is one of the most famous italians in London and by far the most romantic west london restaurant. The outdoor/indoor terrace at the back is beautifully decorated and will make you feel as though you're sitting on the coast of Italy.
As soon as you sit at your table, you'll be graced with their homemade tapenade and delicious selection of breads. The wine's are all amazing, and it's best to ask your waiter what they recommend based on what you like.
As for the food, it's all amazing. We particularly love the tuna tartare to start with and the pasta dishes as a main. The truffle pasta is what dreams are made of and if ordered, you'll be dreaming about it for days later.
Sessions Arts Club
Clerkenwell
Sessions Arts Club is an urban sanctuary that sits in the old judge's dining room at Sessions House, a grand Grade II listed building in Clerkenwell.
It's a truly beautiful place with stunning interiors that are for the eyes of someone special. Food is different and rather thought-provoking. It feels as though you're in some art deco house in France, it also has an incredible roof terrace.
Sessions art club is the perfect place if you're after a candlelit dinner with delicious cocktails, food and ambiance. It's an amazing place if you really want to impress your date. The most romantic dinner you'll get in London.
Brutto
Farringdon
If you manage to get a table, Brutto is one of the most amazingly romantic restaurants in London. The atmosphere of this amazing little Italian is superb, only outshone by the food. Simplicity at its finest.
The menu focuses on simple ingredients to create some of the tastiest Florentine plates you'll ever have. On top of that, it's great value for the menu. The only negative side is how hard it is to get a table, they release the slots on Sunday morning at 9am so make sure you have your alarm set.
They do have a few walk-in tables available, so if you go early enough you could get lucky. Do not leave without trying the vodka pasta. You'll probably want to order 3 of them.
Brasserie Zedel
Soho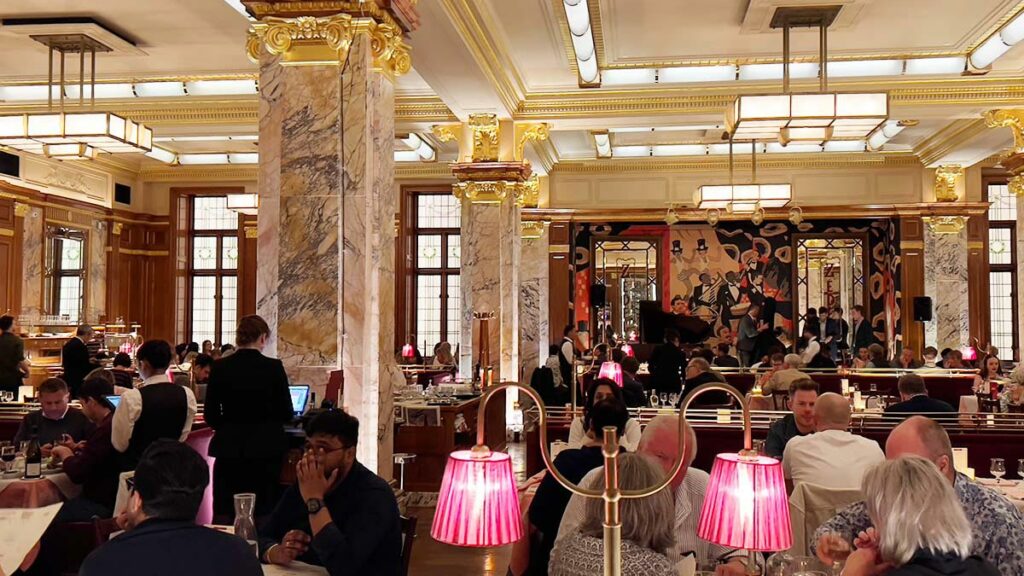 Brasserie Zédel is a Parisian brasserie with a 1930's interior right in the centre of Piccadilly. The building also is host to an American Bar, a cabaret and a French café.
Want to take your date to Paris without leaving London? Now is your chance for the ultimate romantic date in London, with its authentic art deco interior serving some of the most indulgent French food with house bands and late night cabaret.
The biggest surprise is actually the value for money, Brasserie Zedel is very reasonably priced for the phenomenal food. A great buzz throughout the whole restaurant and the perfect place for a first date in London.
Darby's
Vauxhall
A New York inspired neighbourhood restaurant with an incredible oyster bar, bakery and grill with some beautiful outdoor tables.
If you want to treat your date to something special and not break the bank, opt for the oyster happy hour with some of the best oysters in London for just £1. Darby's also has some great life music and events so be sure to check through their website.
The setting is gorgeous and the food is amazing along with some very friendly staff that know absolutely everything about the menu and wine list. A great environment for a date if you're looking for something not too formal yet still romantic.
Kudu
Peckham
Kudu is a wonderful family-run restaurant with an ever changing menu. The restaurant is buzzing with activity in a nice dark mood lighting, perfect for a little romance. We'd recommend sitting at the bar and watching the chef meticulously create incredible food.
The oglet is amazing alongside the truffle potato mousse and cabbage. The scallops and duck hearts are also full of flavour. Every dish, you'll want to order again. It's a great place for a romantic dinner with a lot of ambiance and amazing food.
Practical Tips for Booking Romantic Restaurants in London
Get your bookings in early. A lot of these restaurants are hard to get tables at so be meticulous with planning, the worst thing is getting to a restaurant on a date and not being able to get a table.
Decide whether you want something a bit quieter and romantic or with more ambiance. This is crucial for a successful romantic date!
London's Romantic Restaurants: Map
London's Most Romantic Restaurants: Read Next