11 creepy ghost stories that will leave you looking over your shoulder next time you walk the streets of London.
London ghost stories are not too hard to come by – and it's no secret that there are some pretty haunted spots in the capital.
From haunted tube stations to black dogs hunting down cannibal prisoners, and a phantom hitchhiker that makes a swift exit, there are plenty of creepy tales guaranteed to make you shudder.
Feeling brave? Let's explore London's spooky ghost stories…
Most Terrifying Ghost Stories About London
The Black Dog of Newgate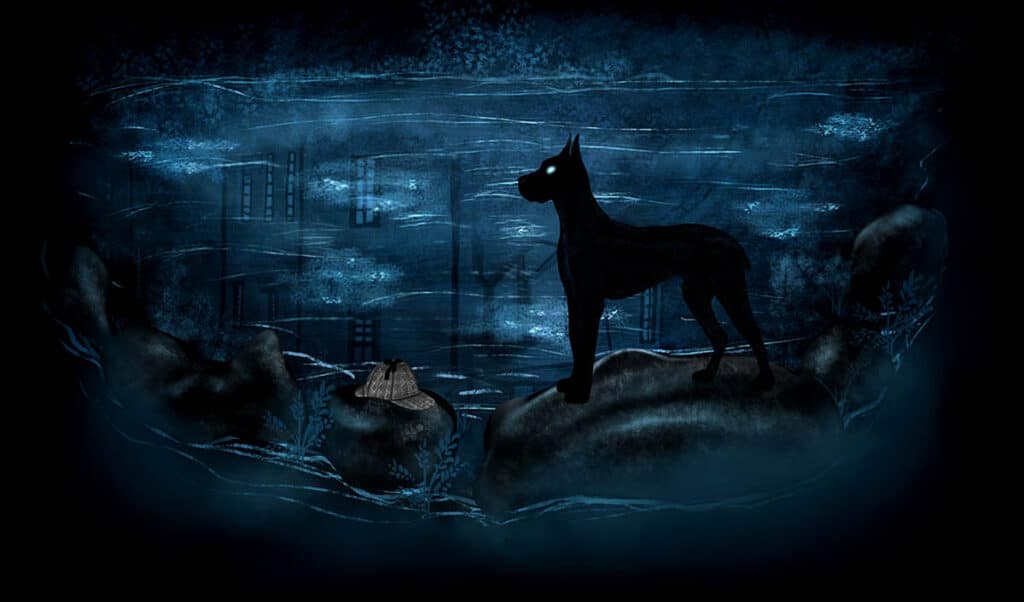 Newgate Prison was a former prison that sat on the corners of Newgate and Old Bailey street, just inside the City of London's original walls.
The prison was in use for over 700 years between 1188 and 1902 and was responsible for incarcerating some of the country's toughest prisoners, though today The Old Bailey sits on the site instead.
The legend of The Black Dog of Newgate began in 1596, when a prison inmate named Luke Hutton was believed to have created the tale. Although, as with many folklore figures, nobody is quite sure whether the dog is just some creative fiction or a freaky fact.
Hutton told the tale of a famine during the reign of King Henry III, when a scholar was sent to Newgate Prison after it was believed he was a sorcerer and a warlock who used devilish witchcraft to hurt the King's people.
At the time, the famine was so severe that prisoners were believed to have resorted to cannibalism in order to keep their strength up.
As you can imagine, shortly after this man arrived in prison, he was eaten by his inmates. But of course, consuming humans is not exactly good for you, and so the prisoners slowly turned mad. This is when the first reports of seeing a black dog guarding the prison cells began.
When the prisoners had chowed down on the weakest links and were down to just a final few, they eventually planned an escape to avoid being eaten by each other.
The black dog is said to have chased the escaped convicts and eaten them all, one by one.
The Haunted Stables Market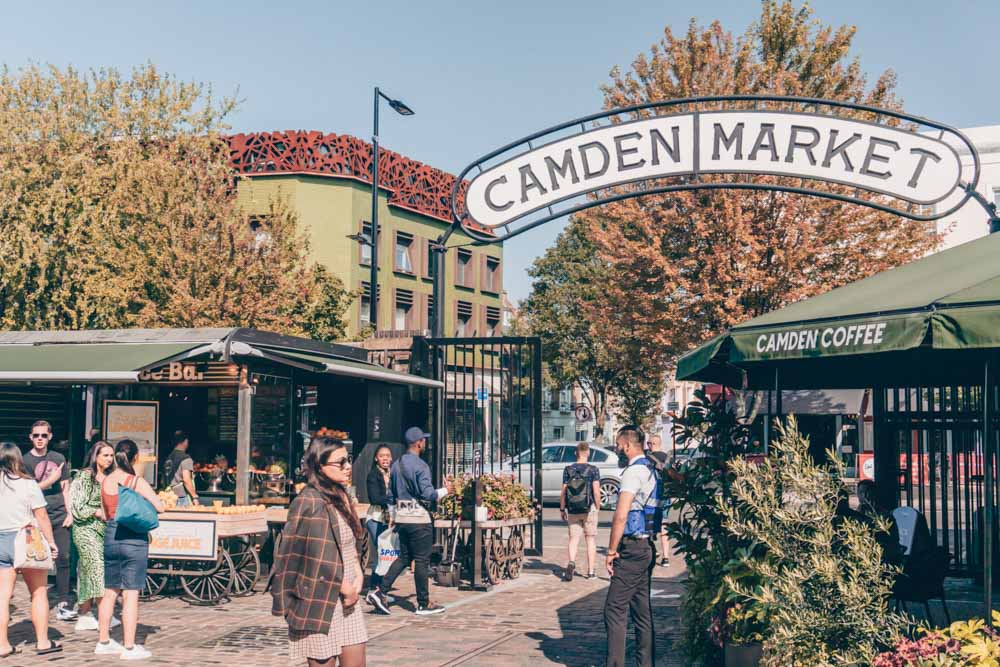 Camden Market is a vibrant tourist hotspot in the capital today, but go back a couple hundred years and the area looked much different.
During the Victorian era, the market area was used as stables, horse tunnels, and a horse hospital, and this grizzly period made its mark on the area.
At any one time, there were around 800 horses and hundreds of people crammed into these spaces – and with little in place in terms of health and safety, lots of workers would die as a result of being trampled on or getting crushed by the machinery. It's believed that the horses weren't treated much better either.
Today the area is filled with market traders, and as the stable markets have largely been kept in their original states, many people have reported hearing the sounds of hoofs clattering, horses neighing, and men screaming in agony early in the morning.
Is it true? You'll have to visit for yourself to find out.
Ghosts on The Underground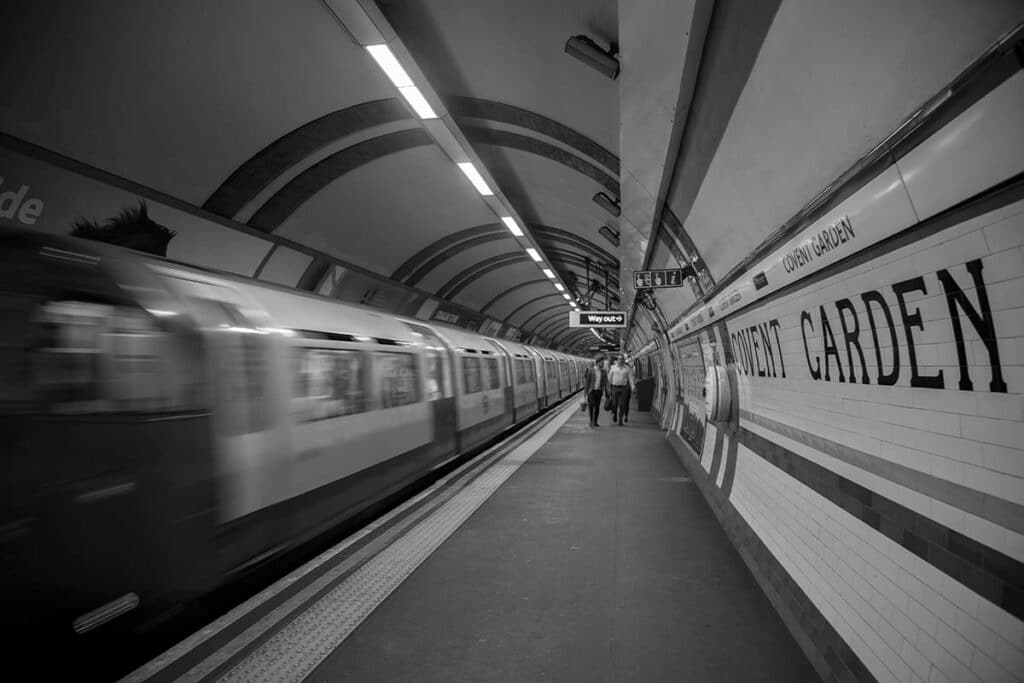 Did you know London is home to plenty of abandoned tube stations?
These spots (or ghost stations, as many people have dubbed them) are creepy, but even some of London's working underground stations are known for their unexplainable goings-on.
Covent Garden Ghost
Covent Garden Tube Station, for example, is famed for its freaky sightings of a tall man in a hat and cloak who likes to wander around the station after dark.
It's thought that this man is the murdered actor William Terriss, who would often visit the bakery that was previously on the station's site.
The sight of him is said to be so creepy that plenty of tube workers have requested to move to a less ghostly station, though nobody understands what William is looking for as he floats through the corridors (perhaps a bagel?).
The Screaming Spectre of Farringdon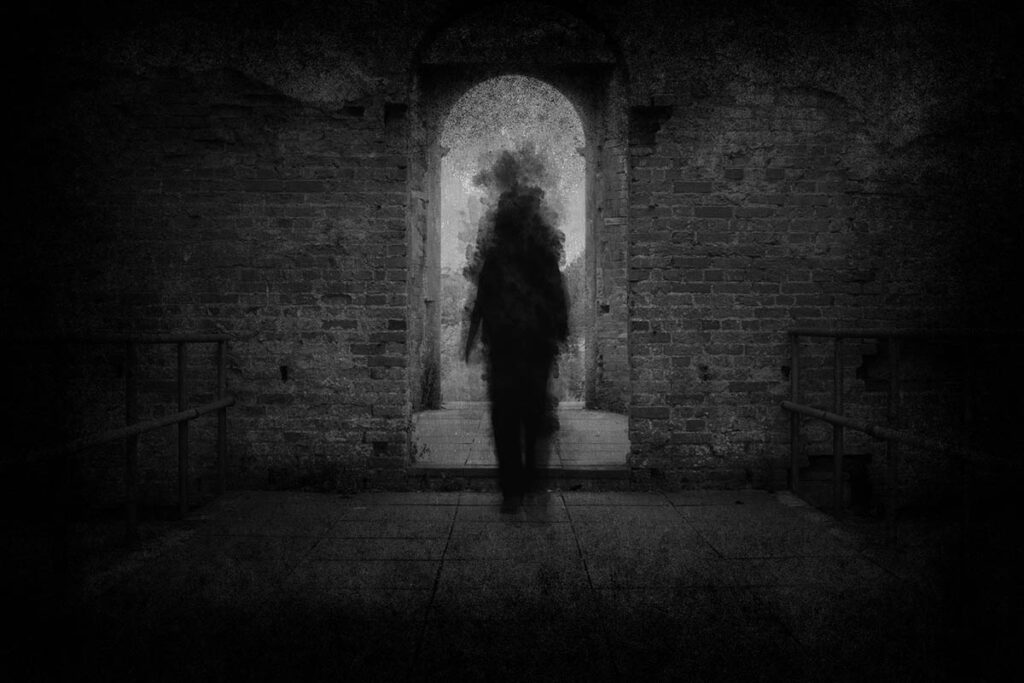 Over in Farringdon, the Screaming Spectre is said to haunt the walls of the station. Head there on a quiet evening and you might just be able to hear the bloodcurdling scream that belongs to Anne Naylor, a hat maker who was murdered by her employer in 1758.
And if you're wondering why she now haunts this station, it's because she met her grizzly end here. Her body was dumped on the site of the station… and she wants to tell everyone about it.
The Horrible History of Bethnal Green
Bethnal Green Station is no stranger to spooky sounds either, and those working at the station have reported children crying, women screaming, and plenty of panicking ghosts.
But why? Well, it's pretty sad actually. In March 1943, in the midst of WWII, Bethnal Green doubled up as an air-raid shelter.
One evening an anti-aircraft gun went off by total accident and, as they were trained to do, the Bethnal Green residents rushed towards the station to take shelter. What wasn't in the plan was that this led to a horrific stampede and 173 people lost their lives in the crush.
And that's not all – plenty more stations throughout the capital are said to be haunted, including Bank, Elephant & Castle, and Liverpool Street. Keep your eyes and ears peeled when you next visit!
The Ghost of Sarah Whitehead
London in the Victorian era was a city of many churches, and many of these church's graveyards were overflowing with the bones of the restless dead, folk who had fallen foul of the black death and were unceremoniously dumped and burned in plague pits around the city.
Bank Station happens to sit between two of these notorious holes, though it's the soul of Sarah Whitehead who gets no rest. Her brother had worked for many years in the banks that give the station its name. He was, as the story goes, an embezzler of money, and for his crimes was sentenced to hang by the neck.
Even today, many many years after his gruesome punishment, the ghost of his sister Sarah stalks Bank looking for her long-dead brother.
A Haunted Zoo
The London Zoo may be filled with a whole host of animals for you to admire, but there seems to also be a rather unexpected visitor making himself comfortable.
The Whistler is the nickname given to the ghost that is believed to haunt the aquarium area.
Nobody really knows who he is, but he was said to have been a handyman who worked in the aquarium room in the early 20th century and, you guessed it, whistled as he tinkered away.
Current workers have reported hearing a cheerful whistling or footsteps and feeling a cold draft when they've been working at the aquarium. This has even led to some volunteers refusing to work there on their own as it's just too creepy – and we don't blame them.
Although it has to be said, this little ghostie doesn't seem to be too mean… he's just doing his job and looking after the aquarium, as he did 100 years ago.
Jack The Ripper
East London's most notorious serial killer was responsible for the deaths of 5 women (though, who knows how many he really killed?) and because of this, plenty of locations around Whitechapel are reported to be haunted by his mutilated victims.
The Ten Bells in Spitalfields, which was previously called Jack the Ripper, is one of London's most haunted pubs. Two of Jack's victims had links to the pub – Mary Kelly often looked for business nearby and Annie Chapman spent the evening drinking here before she met her gruesome fate.
Whilst Jack's identity has never been completely discovered – though, there are plenty of theories you can sink your teeth into – it's believed that he scoped out his victims around this pub, before emerging out from the darkness and committing unthinkable crimes.
Chapman is said to still haunt the pub to this day, and drinkers have spotted her sporting horrific injuries as she floats around the interior, as well as plenty of other paranormal happenings.
The Face at Theatre Royal Drury Lane
Clowns are notoriously scary… but this one takes the cakes as the creepiest ever – move over, Pennywise.
Joseph Grimaldi, a.k.a the "father of the modern clown" made his debut on the stage in 1780 on Drury Lane. Throughout his life, Grimaldi performed at the Theatre Royal Drury Lane many times and has been reported to enjoy posthumously joking around with actors by giving them a little kick or shove onstage.
Before he died – allegedly after a visit from God himself – Grimaldi requested for his head to be painted clown-white and detached from his body… and it's widely believed his wish was granted.
This perhaps explains the floating face that has been known to haunt visitors at the theatre and catch performances over their shoulders.
The Phantom Hitchhiker
You might want to avoid travelling through the Blackwall Tunnel alone… or if you do, avoid picking up The Phantom Hitchhiker.
Many drivers and motorcyclists over the years have reported driving through the south entrance of Blackwall Tunnel, only to be greeted by a man with long black hair and dressed in motorcycle gear in need of a lift.
In the back of the car (or on the back of the bike) the man makes polite conversation and chats about his girlfriend…
…but promptly disappears as the vehicle passes through the tunnel.
Puzzled drivers are then left questioning what on earth just happened.
Plenty of people have reported interacting with The Phantom Hitchhiker, though in 1972 the creepiest tale occurred after a man let the hitchhiker get into his car. Though, as usual, he was left shocked when the phantom disappeared.
Seemingly annoyed by the jokester, the man decided to head to the address that the hitchhiker gave him… only to be greeted by a bewildered resident who informed him that the man in question had died in a motorcycle accident years before.
The Ghost of the Tulip Stairs
You may have heard of The Tulip Stairs, they're one of London's gorgeous hidden secrets – a winding case of stairs that spirals between floors in Greenwich's Queen's House. We've written about their Instagrammable potential here.
Though you might want to think twice about snapping a pic if you visit. Paranormal figures have appeared in photographs here before.
The story is a fairly recent one. So it goes that in 1966 a Canadian reverend and his wife, Mr. and Mrs. Hardy were taking in the sites at Queen's house when they were struck by the beauty of The Tulip stairs and stopped to take a picture.
It wasn't till they were back in Canada with photos developed (this was the era of analogue photography) that they noticed a ghostly figure in a white dress drifting up the stairs. The figure looked to be chasing another, and maybe even a third ghost up the stairs but the Hardys swear they were the only people on the stairs at the time.
The story went on to grab the attention of paranormal investigators, The Ghost Club, who actually spent the night in the house looking for ghosts. As bold of them as that was they found nothing, but the story doesn't end there.
In 2002 a gallery assistant, who insisted they be left unnamed, reported having seen a ghostly figure "gliding across a balcony, dressed in an old-fashioned, white-grey dress and passing through a wall…"
Make of that what you will.
Discover More of London's Ghost Stories on these Haunted London Tours
Ghastly Ghost Tour – Enjoy a creepy walk in the dark from the Tower of London to St. Paul's as your guide reveals plenty of ghostly secrets.
Jack The Ripper Walking Tour – Who exactly was Jack? This is an interactive tour where you'll be given suspect cards to try and crack the case as a guide leads you around Victorian London.
Ghost Walk and Boat Ride – Embark on a walk and boat ride around haunted London with an expert guide who will be sharing spooky stories.
London Ghost Stories: Map