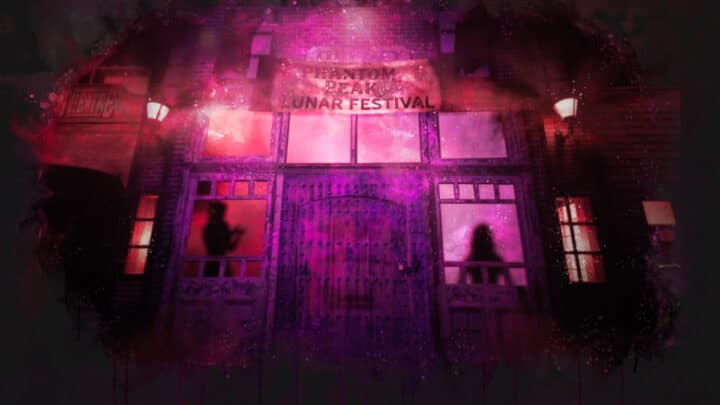 Spending Halloween in London? Don't miss this guide to the spookiest events taking place in the capital.
Do you get a kick out of being completely terror-stricken? Or perhaps you've been looking for an excuse to dress up as a zombie? Either way you're in luck – Halloween in London is going to be a big deal this year.
From Circus-themed brunches to spooky cabaret and some seriously scary immersive theatre, there's plenty of frightfully good events happening this month.
Halloween in London: The Best Things to do
Immerse Yourself in Phantom Peak's Halloween Event
Throughout October
Canada Water
The immersive Phantom Peak experience is about to get a whole lot spookier this Halloween in London, as the Lunar Festival takes over. And paranormal investigators will be roaming the town in search of ghouls.
There'll also be 13 new and exclusive trails to follow, dotted with ghosts, frightening hosts, and eerie games.
Take Part in Month of the Dead
Throughout October
Multiple Venues
Month of the Dead is an annual festival in London, celebrating the capital's spookiest secrets.
From discovering medieval mass graves to watching horror movies in churchyards, it's a no brainer that many of these events are some of the best things to do in London for Halloween.
Read Next: Month of the Dead in London.
Undertake Intense Zombie SWAT Training (Just In Case)
22nd + 29th October
A deadly virus is sweeping the planet (no, not that one) and the Government needs help from you to beat the inevitable wave of zombies. Taking place at the MOD's Bunker 51 facility, you'll undergo actual weapon training so that you're ready to face the zombie horde.
Think you've got what it takes? We sure hope so – the population is counting on you.
Boogie Monsters Halloween at BoxPark Croydon
28th October
Boxpark Croydon is once again getting in on the spooky action and, this year, they're hosting a family-friendly haunted Halloween Party. Don your creepiest gear and get ready to feast, dance, and drink.
Brace Yourself for The London Dungeons Scariest Experience Yet
From October
Waterloo
Launching this Halloween at The London Dungeon 50 Berkeley Square. Prepare to come face to face with mystery, murder, and madness in this terrifying property.
During your time in number 50, you'll learn all about the story of a young girl who was trapped in the attic and murdered by her servant, and the heartbroken woman who took her own life in those very walls.
Nab a Gourd at the Pumpkin Market in Covent Garden
Throughout October
Covent Garden
What's Halloween without a pumpkin? Covent Garden's Halloween Pumpkin Market will be selling over 200 pumpkins, squashes and gourds in a variety of shapes and sizes in the Apple Market.
Head down to also see a stunning autumnal floral display by luxury London florists Maison de Fleurs.
Take a Spooky Walking Tour at Leadenhall Market
Weds evenings in October
Bank
The beautiful Leadenhall Market has amassed some pretty spine chilling tales in its 700-year history, as the 'Burials, Bombs and Fantastic Beasts' walking tours will reveal.
With stories of witchcraft and murder, talks cover a sinister history that dates back to Roman times. And while you're there, check out the monstrous giant 6-foot tentacles snaking out of the market's Victorian windows. Perfectly standard.
Dance the Night Away at Sky Garden
28th October
Monument
Live music, ghostly themed cocktails and a breathtaking view of the London skyline. That's our kind of evening.
Tickets to the Sky Garden's London Halloween party cost £55 and include a Halloween cocktail, access to the gardens and party.
Do the Charleston at The Candlelight Club
28th – 29th October
Central London
If you'd rather don a flapper dress than a zombie costume, The Candlelight Club offers one of the most sophisticated Halloween events in London.
Expect 1920s style dancing, cabaret, live jazz bands with a spooky twist. True to the club's speakeasy credentials, the party will be held in a secret central London location.
Fright Night Cinema at The Rivoli Ballroom
26th-28th October
Crofton Park
Celebrate Halloween 1950's style at the beautiful Rivoli Ballroom in Crofton Park – one of the last remaining 1950's intact ballrooms in London. They'll be screening some Halloween classics including Carrie, The Rocky Horror Picture Show and Beetlejuice.
Stay up all Night Watching Horror Films
Throughout October
Leicester Square
October at The Prince Charles Cinema doesn't just include screenings of Halloween favourites such as Carrie and The Craft. You can watch five horror films back to back, all in one night.
Choose from Horror Movie Marathon or Teen Horror Marathon. You're going to need a lot of popcorn.
Dress Up and Grab a Bite at London's Vampire Pizza Bar
29th-31st October
Camden
Lost Boys Pizza actually claims to be the world's only vampire pizza bar. As you can imagine, they'll be putting on quite a show this Halloween.
They'll have a series of costume balls over the Halloween weekend with a competition for the best dressed. Tickets include a starter, a pizza and a cocktail. The Lost Boys – their fave 80s movie – will be on the big screen.
Scare Yourself Senseless at No Escape Halloween
Throughout October
Aldgate East, Holloway, Brixton + Oxford St
If being trapped in a room with a creepy clown is your cup of tea, No Escape Halloween is the only way to spend Halloween in London.
We can safely say that the combination of Halloween with escape rooms will be nothing but utterly terrifying. Expect professional scare actors in the creepiest of settings.
Go on a Ghost Tour of Eltham Palace
28th-31st October
Eltham
Eltham Palace and Gardens is one of south-east London's hidden gems. This Halloween you can do a special evening Ghost Tour of the Art Deco mansion, whilst listening to tales of ghosts, supernatural sightings and horrors from history.
Indulge in Sinister Circus Brunch with Rooftop Views
22nd October – 19th November
Waterloo
Roll up, roll up – there's a Sinister Circus happening at Bar Elba.
The bar will be transformed for a circus-themed spooktacular, decked out in stripes, clowns, and contortionists roaming free. Enjoy 60 minutes of bottomless booze, a tempting brunch menu and zombie flash mobs, all with a stunning view of the city.
Go on a Terrifying Ghost Walk in The City
Throughout October
City of London
Want to hear more about haunted London? Ghastly Ghosts 2-hour walking tour offers up an evening of ghostly tales and horrible histories whilst exploring this fascinating (and ancient) part of London. The tour starts at the Tower of London and ends at St. Paul's Cathedral.
Raise the Roof at The Mansion's Private Party
29th October
North-west London
For an unforgettable evening of dressing up and dancing, the London Halloween parties by The Mansion have received rave reviews.
They will be putting on a special event, Halloween Ball at the Mansion at a secret location with a DJ program of pop, mainstream, electro, house, R&B and hip hop.
Dress code? Halloween fancy dress!
Get Dolled Up For a Totes Spooky Huns Halloween
28th October
Calling all huns everywhere: Get ready for a glam ball this Halloween by Hunsnet at Colours Hoxton. The dress code? HUNS.
Think The GC, Katie Price, and Pat Butcher – don your leopard print and latex, there's even a cash prize for the best dressed.
Take a Ghost Tour of Theatre Royal Drury Lane
25th – 31st October
Covent Garden
Feeling brave? Book onto a guided late-night tour of The Lane theatre, one of the most haunted buildings in the world. You'll need nerves of steel as you wander through this Grade I building, unearthing hidden secrets, scandals, and tragedies.
This is one of the top London Halloween events, we think. Tours are one hour long and begin at 9:50pm, taking guests across the front and backstage of this iconic London theatre.
Take a Hex and the City Walking Tour
Multiple Dates
Farringdon
Get ready to discover London's sordid past of dark history and witchcraft on this spooky walking tour. You'll start the tour at Farringdon Tube Station and explore some of London's most spooky spots.
Along the way, you'll get to meet some of the women who were persecuted throughout the ages, including medieval healers and Elizabethan devil-worshippers. They're back… And they've got stories to tell.
Wander Through the Spooky Lauderdale House and Waterlow Park
31st October
Highgate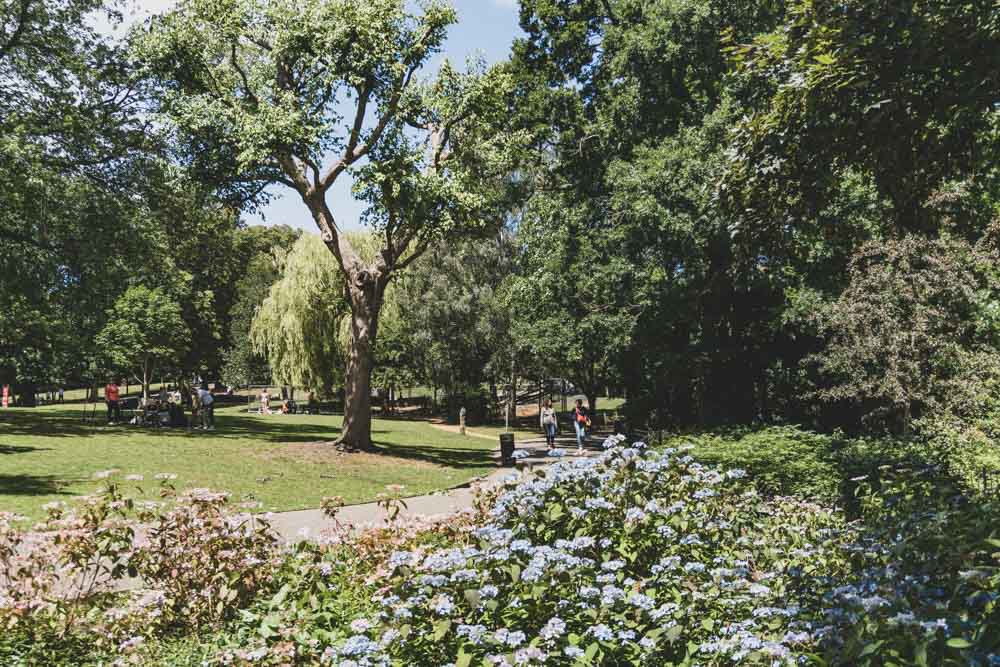 We hope you're excited, because Lauderdale House's spooky Halloween walks are returning after a two year hiatus this October in London. Prepare to explore the creepy house and gardens as the sun sets and the ghouls come out to play.
The witches, demons, and good humoured spirits of Highgate will take you on an unforgettable adventure.
Catch an Adventure Cinema Halloween Screening
29th – 31st October
Multiple Venues
The UK's largest touring cinema is hitting up London venues in October for a special season. And it looks set to be one of the best Halloween events London boasts.
Adventure Cinema will transform into a creepy wonderland on a number of country estates and National Trust sites, with screenings including Hocus Pocus, The Lost Boys, and The Shining.
Check Out London's Magnificent Seven Cemeteries (If You Dare)
Throughout October
Multiple Locations
After cheap things to do in London this Halloween? Take your own creepy tour of London's Magnificent Seven Cemeteries: Nunhead Cemetery, Highgate Cemetery, Abney Cemetery and Kensal Green Cemetery, Tower Hamlets Cemetery, West Norwood Cemetery, and Brompton Cemetery.
Get ready to discover the famous residents that have been buried there, and the fascinating histories behind each one (using our guides, of course). The best part? No ticket is required and it's totally free – happy spooking.
Celebrate Halloween at Chiswick House
14th – 31st October
Chiswick
Chiswick House and Gardens are hosting a haunted Halloween trail that's perfect for the entire family.
Wander from one ghostly space to another, keep your eyes peeled for fire artists and glowing pumpkins in the fire garden, and wind your way through the illuminated haunted woods.
Round off your experience with a hot toddy or two, before retreating to the safety of your own home.
Party Through the Witching Hour at Ministry of Sound's Halloween Rave
31st October
Ready for a devilishly good rave? Don't worry, that's not a ghost going bump in the night, Ministry of Sound is hosting an epic all-night party where house, garage, hip hop, and more will be thumping until 5am.
Oh, and don't even think about trying to attend without a costume. You're not too cool for school.
Go Pumpkin Picking
Throughout October
Multiple Venues
If you're easily spooked, perhaps skip the more hardcore Halloween London events in favour of some wholesome pumpkin picking.
But where to go in the capital? There are so many places… But we happen to know a few of the best spots. Our top picks are Copas Farm, Priory Farm, and, of course, Covent Garden Pumpkin Market.
Read Next: Where to Go Pumpkin Picking in London
Dress Up as One of the Gang at the Stranger Tings Halloween Party
29th October
After the roaring success of the latest season, it's no wonder that there's going to be a banging Stranger Things party in London this Halloween.
The theme? All things strange. The music? 70% Soca. The dress code? Whatever costume you fancy. And it's worth going all out – there are 4 prizes for best dressed!
It looks set to be one of the best Halloween parties London is hosting in 2022.
Get Zen With Some Hallowellness at Peckham Levels, then Rave it All Away.
Saturday the 29th October
Peckham
Peckham Levels, ever the organisers of fun and original activities in the city, have got a double whammy of Saturday antics for you.
Daytime from 12pm-1pm they welcome the Anti Diet Riot Club, for a Halloween themed take on their body-positive boob printing workshop.
You can grab a ticket to that here. Females only. Sorry boys.
It's followed by a full schedule of wellness activities to make you feel as wholesome as can be.
Then in the evening they kick it off with RILLA's 8th anniversary. What to expect? A lot of raving and a lot of fancy dress. If you're not in costume you can't come in.
This year's fancy dress theme: music, movies or memes. And of course you can always go in RILLA's favourite colour. That's yellow if you didn't know.
Play a Night of Spooky Bingo
Friday 28th – Sunday 30th October 2022
Shoreditch
No, bingo's not just for old people. Not when it comes like this at least…
A full-on multi sensory experience that looks more like a night at the Ministry of Sound than anything we associate with the game.
Expect this Halloween edition to be immersive, multi-sensory, and highly dystopian.
It's bingo that would give your granny a heart attack.
Hit an ABBA-Themed Halloween Party
Stratford
Saturday the 29th
What do you think of when you think of Halloween? ABBA! Oh, no wait.
Ok so maybe MJ Thriller night would have been more appropriate, but you can't beat a bit of ABBA.
And someone's got to keep the good vibes alive with all the spookiness going on.
The night includes a buffet, a performance with an ABBA tribute band, and a selection of halloween-themed cocktails. And of course a whole lot of fun.
Grab your tickets here, they come with a complimentary welcome drink.
Take a Murder Mystery Cruise Down the Thames
This is a big one folks, Lady Hortense and her husband Lord Ozwald Thornley-Cruttock are dead. Dead I tell you! You're trapped on board ship (literally) with the killer.
As you float down the Thames, and the story unfolds, you'll be tucking into a three-course dinner and hoping the killer doesn't get to you before you finish dessert.
You'll also get to see London all lit up on your not-so-pleasurable cruise.
Delve into Cocktails and Curiosities at the Last Tuesday Society
Deep inside the brilliantly quirky Viktor Wynd Museum of Curiosities, the Last Tuesday Society's Absinthe Parlour is a world of alchemy and magic… in other words, the perfect place to have some weird and wonderful Halloween-y libations.
You can also nab a ticket to the event series held in collaboration with Devil's Botany – with a Meet the Maker Absinthe Tasting and Bitters Making Workshop on the 25th and a Halloween-themed Chocolate Absinthe Launch (and costume party) on the 29th October.
Things to do in London Halloween 2022: Map
London Halloween Guides: Read More