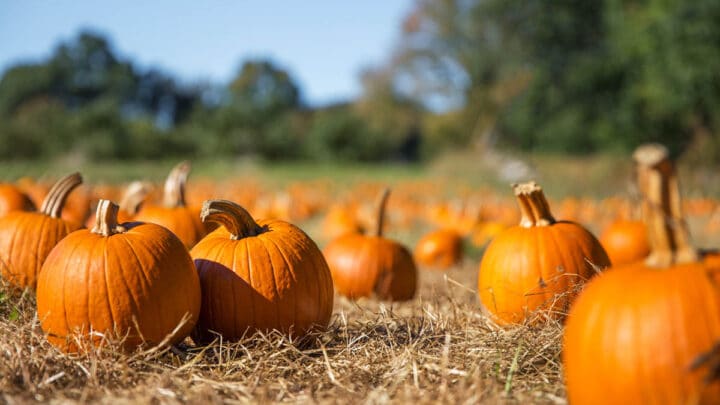 Looking to get your hands dirty for a pumpkin or two? Here are the best pumpkin patches for PYO near London.
Halloween is slowly creeping up, so to speak, which means it's time to get your pumpkin on! Sure, you can add a pumpkin to your Ocado shopping list, but where's the fun in that?
There are a surprising amount of pumpkin fields in and around London, making it the perfect choice for a family day out.
A quick tip – unless stated, all the pumpkin fields require pre-booking in advance.
Practical Tips for Pumpkin Picking in London
But first, before you get your hands dirty and perfect white pumps muddied, here are a few helpful tips:
Easy to forget, essential to have – pack your wellies and a hooded waterproof jacket for the great (unpredictable) British weather.
Wipes, wipes, wipes – bring them by the bucket load for grubby hands … and reusable bags for schlepping your pumpkins home.
Bring wellies. It goes without saying but turning up in your fancy city shoes is just asking for trouble. You'll need some hardy, mud and water proof footwear
If you're doing a spot of pumpkin carving do use the flesh you carve out. There are tonnes of pumpkin recipes online for inspiration.
Avoid, if you can, the second half of half term week (w/c 23rd October) if you can. This is when pumpkin farms near London are at their busiest and crops at their lowest.
Best Pumpkin Patches in London
Foxes Farm
Basildon and Colchester
Essex's finest pumpkin field is not just a hit with locals, but with celebs too (Stacey
Solomon, Denise Van Outen). It's time to roll up your sleeves and get involved in this large muddy field littered with pumpkins galore.
Or, you could just take the easy option and choose one of Foxes pre-selected pumpkins, all nice and clean and ready to be rehomed.
Price: £16 for a family of four
Get there: Driving is advised, see website for directions.
Covent Garden Pumpkin Market
Through select dates in October (still TBA), Covent Garden goes all New York on us, with an insta-worthy display of pumpkins.
We're talking Chelsea Flower Show standard. Granted, you're not unearthing them from the ground, but that doesn't distract from the wow factor. Plus, there's a 'Bloody Bus' serving cocktails to keep your cockles warm.
With well over 200 hundred pumpkins, squashes and gourds (whatever they are) looking for a new home. Without a doubt, it's the most central and stylish pumpkin patch in London and best of all, you can just rock up.
Price: Free
Get there: Covent Garden tube
The Pop Up Farm
Hertfordshire
For all the Instagram feels, the Pop Up Farm is a stylish pumpkin patch near London. Complete with photo-worthy wheelbarrows and beautiful backdrops of pumpkin fields, it's more pick and pose than PYO!
Still, the crowds don't seem to mind. They come in droves from all around the outskirts of London for this fun day out.
Price: From £4.95 (+ 39p booking fee)
Get there: Take the M1 Jct 9. Flamstead, AL3 8HT
Stanhill Farm
Dartford
Now in its eighth year, Stanhill Farm is a popular local pumpkin farm near London. Book in advance and come anytime in the hour slot provided to ease congestion.
Due to the challenging weather this year the yield is low, so the farm is encouraging visitors to come as early as possible, with 27th October the last day for picking. Go get 'em!
Price: From £3.50
Get there: Directions available here
Copas Farms
Iver and Cookham
On the outskirts of the capital, Copas is one of the top PYO pumpkin fields.
Bring your tiny pickers and get into the Halloween spirit with an abundance of pumpkins waiting to be plucked, packed and given pride of place in your home!
But hurry, there are limited slots between 16-17 and 23-31 October available.
Price: From £3 (+ 25p booking fee)
Get there: Directions here
Crockford Bridge Farm
Addlestone
For the almost-London brigade, Crockford Farm is one of the best pumpkin picking London locations for all the family.
As one of Surrey's largest crop growers, there's always high demand, so this year pumpkin picking is only available during the first two weekends of October.
That doesn't mean you have to miss out though, there's an ongoing pre-picked Pumpkin market, plus a very colourful and creative Pumpkin Festival to coincide with the school holidays (20th-29th).
Price: From £6 (+ £2 booking fee)
Get there: Driving is recommended, or take the train to Addlestone
Priory Farm
Redhill
There's some big pumpkin energy at Priory Farm, where the team go all-out to create a fun experience for its younger guests. This includes a family nature trail and ghoulish tractor ride around the pumpkin fields.
Fairly priced, it makes for one of the best days out, in this busy farm that grows over 10,000 pumpkins a year.
Price: From £4
Get there: Directions here
Willows Farm
St Albans
If you've got a toddler in tow, Willows is one of the top pumpkin farms near London ideal for youngsters.
Throughout October, the farm hosts a 'Pumpkin Festival' with a full roster of pumpkin-tastic activities. This ranges from a pumpkin hunt with prizes to win, as well as some super-cute Peter Rabbit shows the little ones will lap up!
There's also a Peter Rabbit Adventure Playground for younger guests to enjoy.
Price: From £24 (under twos go free) Get there: Directions here
Garson Farm
Surrey
A great place for PYO all year round, Garson Farm also get the pumpkins ready for the pumpkin-picking season. They grow plenty of them (around 10,000 per season) so you can be sure there'll always be some there when the picking time swings round again.
You need to book a farm pass to get onto the pumpkin patch but everything you pick will be charged against it, so actually you don't have to pay for the pumpkins.
The farm itself is beautiful, especially so as Autumn sets in. Oh and have no fear about the weather – they still let people pick in pouring rain should you feel brave enough.
Price £5 for adults, £2 for children.
Get there: Driving is recommended, or take the train to Esher.
Cammas Hall Farm
Essesx
Cammas Hall Farm is a lovely family-run operation that's been in business for yonks – since 1889 to be precise. It was also one of the first farms in the country to offer a pick-your-own service. That was all the way back in 1966, well before the activity became a hot London trend.
Their pumpkin patch is open all through October and offers much to get excited about. That includes a whopping 60+ varieties of pumpkin. Who even knew there were that many?
Price: £3 (+ 50p booking fee) per person.
Getting there: Your best bet is to drive. If not take a train to Chelmsford and then a bus, and then walk a bit – that option will take you about twice as long as a car journey
London Pumpkin Fields: Map