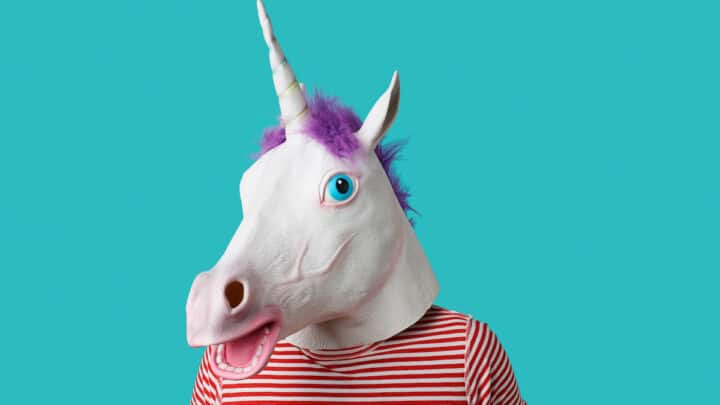 Wondering where to source your next fancy-dress outfit? Here are the best spots in London for it.
London knows how to do fancy dress right. Whether it's the all-out party vibes at carnival or Halloween, we'll take any excuse to whip on a cool costume and get all fancy dressed up.
Then again, fancy dress parties are a lark until you're hit with the flooring realisation that you have nothing to wear. There's nothing more shameful than turning up to an event in a lacklustre costume – that won't do.
Luckily, there are plenty of costume shops and fancy dress outlets in London where you can get an outfit that will make everyone's head turn at the party. Here are the spots you shouldn't miss.
The Best Fancy Dress & Costume Shops in London
Angels
Covent Garden
Many Londoners will say that Angels Costumes is the best costume shop in London, and we're inclined to agree. The five-story building on Shaftesbury Avenue in Covent Garden is packed with fancy dress opportunities.
They offer more affordable packaged costumes that cost about £30, but the real highlights are the film-quality costumes that you can rent or buy starting at £85.
Planning to grab a costume for Halloween? Prepare yourself for a madhouse — they even hire bouncers.
National Theatre Costume Store
Kennington
If you want a costume that will truly wow other attendees at your fancy dress parties, there is no better place to go than the National Theatre Costume Store in Kennington.
It's not difficult to understand why this is one of the coolest spots for a fancy dress rental in London when you could walk away with a costume used on the actual stage of the National Theatre!
We're always floored by the rows of historical costumes and the opportunities to wear a famous Londoner's fancy dress outfit. Rentals usually start at £120.
You can visit the National Theatre Costume Store on Brixton Road on weekdays, but be sure to call ahead to make an appointment.
So High
Soho
So High in Soho is our go-to whenever we need a quirky outfit to liven up a party.
The shop offers deluxe fancy dress options such as retro shirts and other signature pieces starting at £40. Some of their more upscale options include burlesque outfits and Venetian-style masks.
If you're just looking to accessorize an existing costume, this fancy dress shop in London has plenty of jewellery, accessories, and makeup to bring any outfit to life.
Visit So High on Berwick Street in SoHo every day except Sunday.
Fancy Dress Town
Bermondsey
Fancy Dress Town is a premium fancy dress shop tucked away in Bermondsey. Whether we're looking for a costume for Halloween or for a more obscure holiday such as World Book Day, we always check out this costume shop.
This is one of the best places in town for an affordable costume as most of their excellent selection will not set you back more than £30.
Visit Fancy Dress Town on Southwark Park Road in Bermondsey any day of the week.
Prangsta
New Cross
Prangsta is the place that we go to when we're looking for a costuming experience, not just an outfit.
This is one of the best places for upscale fancy dress in London as all of the pieces are either vintage or custom-made.
If you don't see what you're looking for, bring in your notes and the designers will craft an outfit for you.
What's more, you can book a session with a private stylist, and don't forget to ask about the accessories and décor if you are the party host.
The fancy dress at Prangsta is more couture than costume, and be prepared to pay appropriately—even the most affordable costumes cost hundreds of pounds.
Visit the shop in New Cross, but be sure to book an appointment beforehand.
Beyond Retro
Shoreditch
When we're feeling as if we want to get creative with our fancy dress outfits instead of letting someone else put together a costume for us, we head to a secondhand shop.
One of the best is Beyond Retro, which specialises in vintage clothing from different decades.
Their flagship store on Cheshire Street is the best fancy dress shop in East London, but the other locations are also great.
Beyond Retro is the place to go if you are planning to rock some fancy dress of times past thanks to their vintage selection, which includes clothing going back as far as the 1920s.
Mad World Fancy Dress Hire
Shoreditch
Sometimes, we don't want dozens of fancy dress outfits clogging up our closet and we've all got the memo about conscious consumerism. That's why fancy dress hire can be a lifesaver. Just hire an outfit for a few days or a week, wow everyone, then return it.
Mad World Fancy Dress Hire is one of London's best fancy dress rental options, so much so that they even do business with production companies.
Mad World's specialty is historical costuming, so if you are looking for a 1940s fancy dress hire in London, this is the place to go.
The other benefit of hiring rather than buying? You get a lot more bang for your buck. A glamorous evening gown might only cost you £50 pounds.
The massive shop has any other costume that you could think of with plenty of friendly staff on hand to help you.
Carnival Store
Kensington
For costume options for any budget, check out Carnival Store on Hammersmith Road. This is your classic place for fancy dress masks in London with plenty of scary masks, packaged costumes, and fun party accessories.
The shop even has special extended hours for when Halloween rolls around.
Costume Boutique
Ladbroke Grove
Costume Boutique is the spot to hit if you're looking to replicate Moulin Rouge for your fancy-dress outfit. They've got a truly impressive array of racy things for you to chuck together.
It doesn't stop there either. Cowboys, spacemen, 18th-century French aristocracy. You name it, they've got it. And not in anything less than the best…
Costume Boutique hire out their outfits to theatres, movie production teams and people shooting adverts, among others. If they're good enough for the big screen then no we're sure they're good enough for us.
Costume N Party
Walthamstow
Costume N Party might be out in the sticks for some of you but what you'll find there can be well worth the trek across London.
They organise their stock by theme so that it's easy to track down what you want. The only issue is there's so much of it. We suggest asking a member of staff to direct you – they're happy to help and point people in the right direction.
With everything from cavemen to elves and a dizzying array of accessories to choose from it's really one of those you name it, they got it type situations.
Their website is a good place to start, from there you can find things they have and check what's in stock. You can even order it right to your door if you don't want to leave the house.
Costume Shops in London: Practical Tips
So you've got your outfit, now you need your makeup. If the stuff you use for your regular night on the tiles won't do it, check out Screenface in Covent Garden. They specialise in professional-grade makeup, catering largely to the folks in the nearby West End theatres.
If you're looking for fancy-dress outfits around busy times of the year you'll want to get the drop on everyone else and start early, that way you can ensure the outfit you want hasn't been snapped up already.
The busiest times of the year for fancy dress shops are Halloween and New Year's Eve.
Costume Shops in London: Map