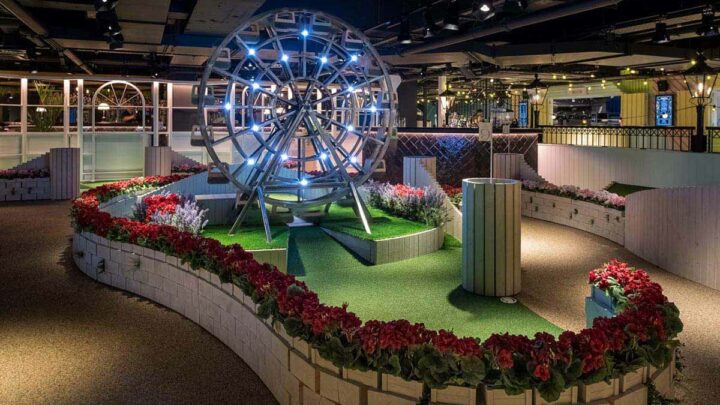 ​​Looking for the best crazy golf London has to offer? Here are ten epic places to hit a hole in on your next mini-golf adventure.
London is home to an array of fun crazy golf courses, from exotic themed spots to jazzy indoor spaces. So if you're craving a little friendly competition, visiting one of these places promises an action-packed experience for all.
Let's have a look at the top indoor and outdoor mini-golf courses throughout London.
Best Crazy Golf in London
Crazy Golf Central London
Puttshack Bank
Central London
Whether you're looking for an eventful day out or a cool date idea, Puttshack Bank is an excellent option. It is home to three tech-infused courses and quirky event spaces.
At this innovative spot, you can dine, drink, and enjoy epic vibes. One game costs around £10 to £13.50 for adults, while the price of two games is only £15.
Swingers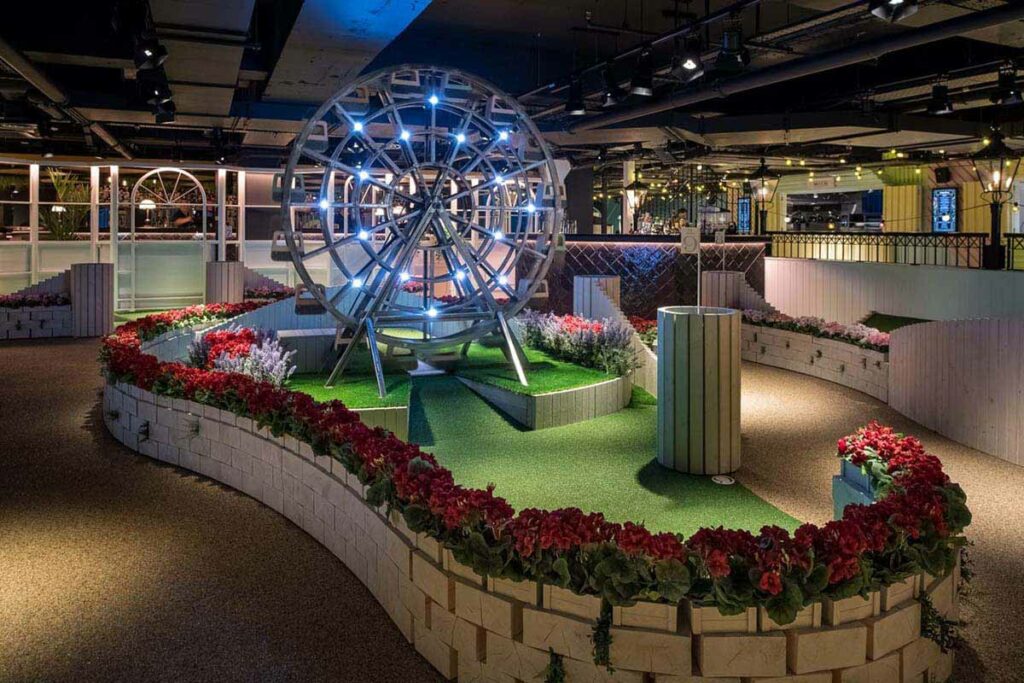 Swingers' courses in the City of London and the West End boast two nine-hole mini-golf courses and stunning 1920s countryside-inspired areas that are perfect for socialising.
The City site features three street food vendors, five cocktail bars, and private hire spaces.
You can expect to pay around £13.50 per person for a round of mini-golf. For epic experiences at a crazy golf bar in London, head to the site's sibling in the city, Siblings West End.
Crazy Golf East London
Plonk Crazy Golf – London Fields
Hackney
For a fun-filled day of crazy golf in east London, head to Plonk in the picturesque London Fields park. Plonk features a tiki-themed nine-hole course, a bar, a hot dog stand, a fun arcade, and board games. Ticket prices range from £5 to £12.50 per person.
Moby Adventure Golf
Dagenham
The legendary Moby Dick is the inspiration behind this spectacular spot. Here you'll come across an enjoyable 18-hole course, a beautiful lagoon, a cascading waterfall, and a stunning replica of the famed sperm whale.
Moby Adventure Golf is a wonderful venue for birthday celebrations and corporate parties. The prices vary based on age, but you can expect to pay around £4.20 to £9.95 per person for one round.
Junkyard Golf Club
Hackney
If you're looking for a game of mini-golf in a relaxed environment, Junkyard Golf Club would be ideal. While a rooftop crazy golf in London might sound like an exhilarating outdoor adventure, this indoor course is a super choice on colder days.
It features a nine-hole course, party music, and eye-catching graffiti on the walls. You can expect to pay around £11 to £13 for a ticket.
Crazy Golf North London
Plonk Crazy Golf – Camden Market
If you're seeking thrilling indoor crazy golf in London, check out Plonk in Camden Market. It's nestled amongst awe-inspiring Victorian architecture and features a tropical theme with a friendly atmosphere.
For a splendid experience, you can stroll through the London market before heading to the nine-hole course. The ticket prices range from £5 to £12.50 per person, and you can arrange private events in advance.
Pop Golf
Wembley Park
Pop Golf provides delightful crazy golf in north London with a vibrant neon course. Here you can enjoy killer playlists and events each day, including bottomless drinks on fresh pop Sundays.
Golf ticket prices are £17 per adult, and it includes a complimentary drink. The food and drink packages start at £35. You can also upgrade your package to have an extra round of golf, cocktails, and 30-minute virtual reality experiences.
Dinosaur Safari Adventure Golf
Barnet
This dinosaur-themed mini-golf course is one of the best places for outdoor crazy golf in London. It boasts an 18-hole course nestled amongst nine massive dinosaur statues. It's a great spot for individuals of all ages, and dogs are allowed as well.
The tickets start at £7.50 per person. There are also special packages for groups of up to five individuals.
Crazy Golf South London
Putt in the Park
Putt in the Park offers competitive fun for everyone in the heart of Battersea Park. In addition to the splendid crazy golf, you can take a scenic stroll in the park and indulge in delicious wood-fired Neapolitan pizza.
There is also a café with tasty sweet treats to keep your taste buds tingling. Tickets prices are £10 for adults.
Jurassic Encounter Adventure Golf
New Malden
Jurassic Park meets crazy golf at this breathtaking spot. Here you'll find an 18-hole course amongst lush scenery, cascading waterfalls, and prehistoric caves.
There are also nine impressive life-sized dinosaurs that move and roar on the site. A ticket costs around £13 per adult, and groups of four golfers receive discounted rates.
Practical Tips for Playing Mini Golf in London
Most venues provide walk-in tickets, but it's best to book in advance to secure your spot, particularly at Swingers.
Some games are limited to six individuals, so you'll need to split up if there are a lot of you.
Most places offer special events or large group online bookings – get in touch with them to discuss.
Most of the courses are wheelchair accessible but check ahead.
Crazy Golf in London: Map