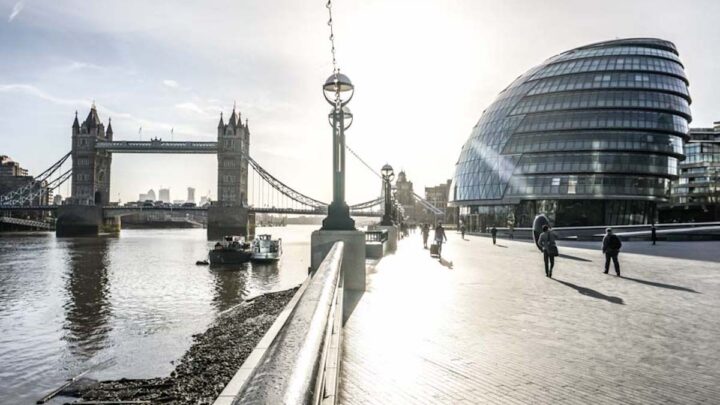 Historic landmarks, riverside walks and contemporary attractions – there's no shortage of things to do in London Bridge. Don't miss the best the area has to offer with these top tips and picks for exploring London Bridge.
Gone are the days when London Bridge was falling down, these days the area is being built up at a boggling pace.
There's The Shard, of course – the tallest building in London, complete with spectacular views, age-old Borough Market with its gaggle of traders selling fine foods, and ever more bars, pubs, cafes and restaurants packed with tourists and locals alike.
Looking for the best things to do in London Bridge? Start with these.
Things to do in London Bridge
Cross Tower Bridge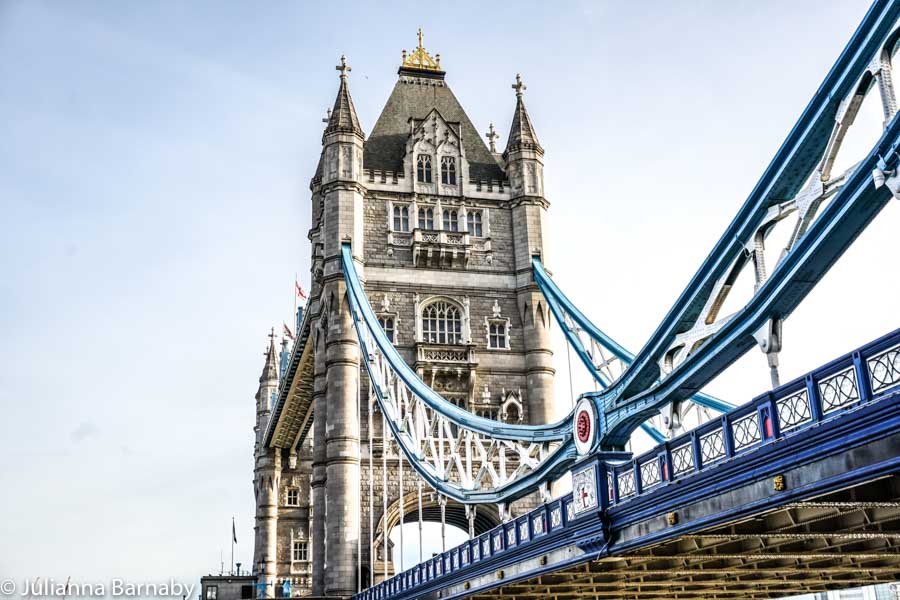 Were you ever really in London if you don't get a picture of yourself with Tower Bridge?
Well, yes, but it's still definitely worth visiting as it's one of our most instantly-recognisable landmarks and a must-visit London sight.
Built in the late 19th Century, Tower Bridge has made an enormous – and elegant – mark on the London cityscape ever since.
Spend the money and you can also head inside Tower Bridge. There's also access to the engine room, where you can learn all about how the bridge works.
Head on to the upper walkway, which has a glass floor so you can hover over the bridge and watch Londoners (and visitors) go about their day below.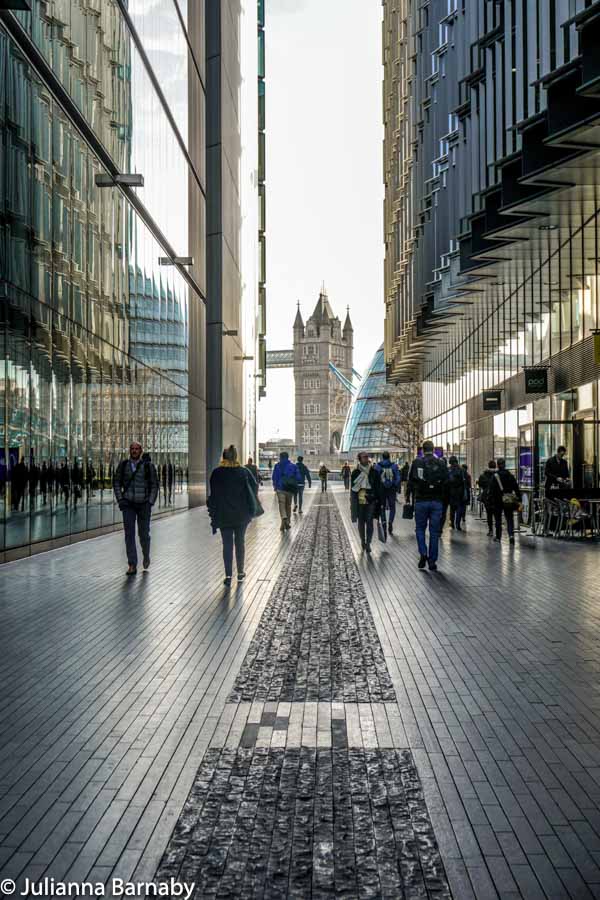 Interestingly, the walkway used to be one of London's informal red light districts before it closed to the public in the early 1900s – how things have changed right?
If you want to really see a different side of Tower Bridge, head to the giant bascule chamber that sits underneath – the chamber can only be accessed on a special tour, but they do sometimes use it for concerts too – one of the more unusual things to do in London.
Why not combine your visit to Tower Bridge with one in the Tower of London?
Read More: Cool Facts about Tower Bridge – The Iconic London Landmark
See the View from The Shard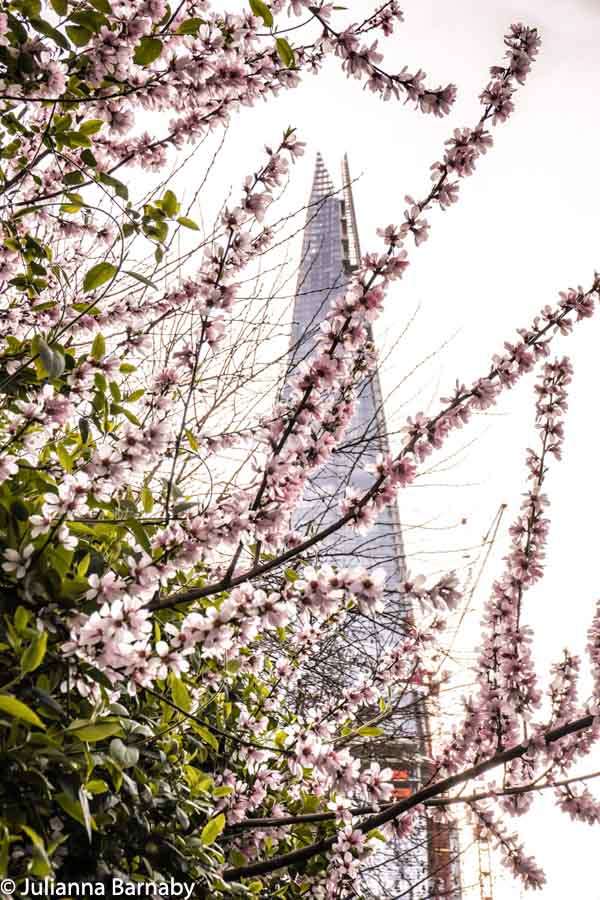 Soaring to the sky, a glass pinnacle piercing the London skyline, there's no doubt that The Shard is one of London's most recognisable icons.
The dramatic, 95 storey building was built in 2009, clinching the title of the tallest building in the United Kingdom at over 300 metres tall.
Everyone, tourist and visitor alike should head up to the dizzying heights of the View from the Shard at least once – hands down one of the best things to do in London Bridge.
As you could expect, the view is incredible. It's not actually atop the building but on the 72nd floor, with a gift shop on the 68th.
It takes a lot to make London, a city of nearly 9 million inhabitants, look small, but peeking from the top of the Shard might just do the trick.
A full-price adult ticket is £32 (£42 with fast-track entry and a guidebook), although if you're willing to book ahead, you can pick tickets up for £24 if you book more than 14 days in advance.
Eat Your Way Around Borough Market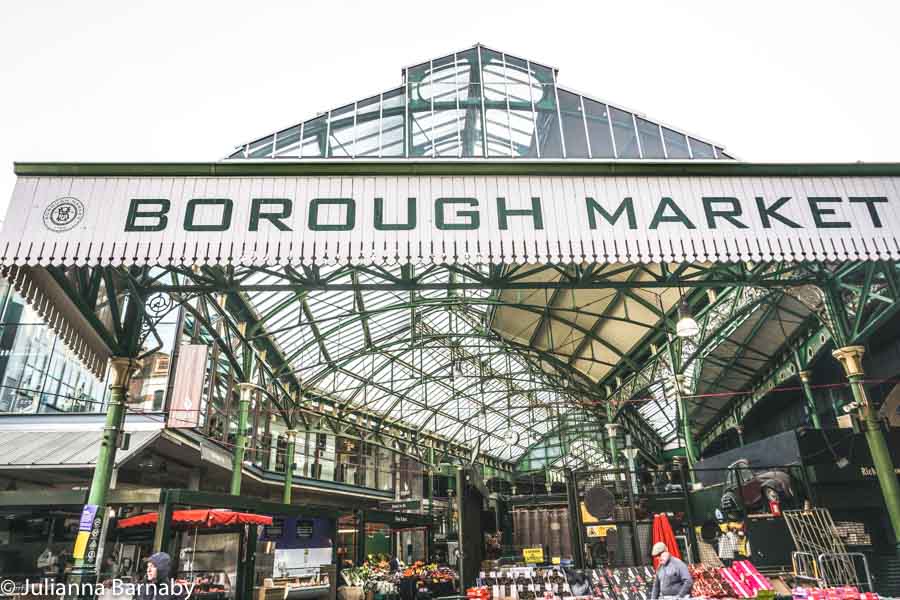 Borough Market is the best food market in London. There, we said it. Considered the best fresh produce market in all of London. It's an absolute must-visit for any foodies passing through London Bridge.
The market's credentials are impressive – the Borough Market is thought to have existed since at least the 12th century, and possibly well before that. The current buildings date from 1851, as the market had to move to bigger premises.
Today, the market offers a plethora of stalls selling all kinds of fresh produce and speciality items. Opting for a tour is a great way of discovering the hidden gems here.
You can buy fresh fruit, veg, meat and seafood, fine wine, artisanal cheese – and that's all before you head out back to the Green Market, which boasts many of London's best street food stalls.
We can never resist the raclette from Kappacasein, but there are few cuisines and dishes that you can't snuffle out in the market – enjoy.
Read More: Why You Need to Visit Borough Market – London's Foodie Haven
Explore the Ruins of Winchester Palace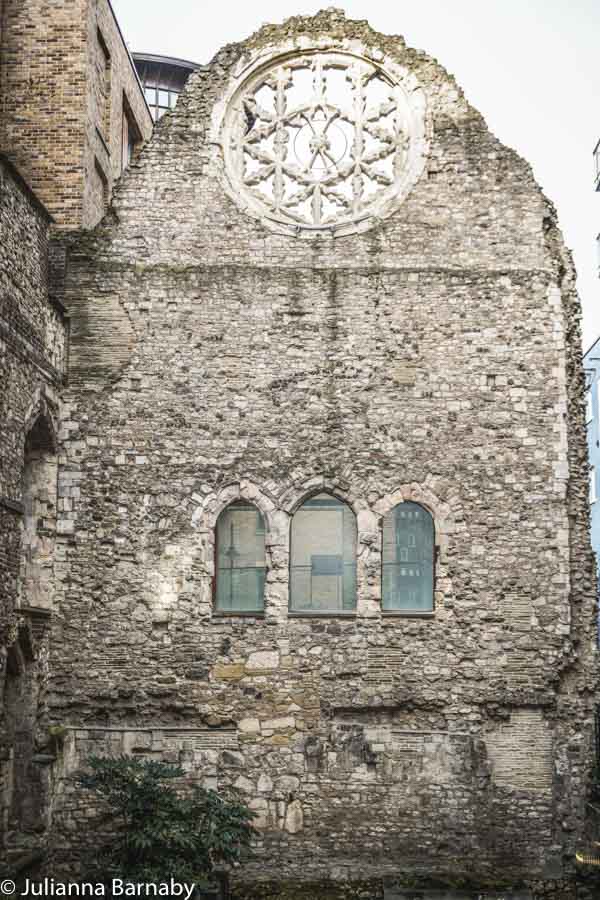 Tucked away behind Southwark Cathedral and Borough Market, the ruins of Winchester Palace are a hint of the building's former glory.
Although you might not know it looking at the ruins that exist today, Winchester Palace was once one of the grandest and most beautiful buildings in England.
Built in the 12th century, it was where most powerful bishops would stay when passing through London and even hosted some royal guests and at least one royal wedding reception.
It flourished for over 500 years, until in the 17th century it was divided up into low-cost housing.
In the early 1800s, a fire ravaged the building and it was largely forgotten about. Eventually, it was unearthed and entrusted to the care of Heritage England, as it is considered one of the last great remnants of mediaeval London.
Read More: Fun Facts About London
Have Afternoon Tea in The Shard
Looking for a classic British experience amongst the London Bridge attractions? How about a decadent afternoon tea in the city's tallest building?
London has more than its fair share of brilliant afternoon teas, but this one has the edge. Located on the 32nd floor of the Shard, Ting in the Shangri La hotel really takes the concept of a "high" tea to a new level (excuse the pun…)
Enjoy a delicious afternoon tea complete with as many cakes and sweets as you can handle. Pair it with tea (traditional) or champagne (because champagne is always a good idea).
After that, it's just a matter of sitting back and taking in the truly stupendous view out over London.
Read More: The Best Afternoon Teas in London
Sip Cocktails with a View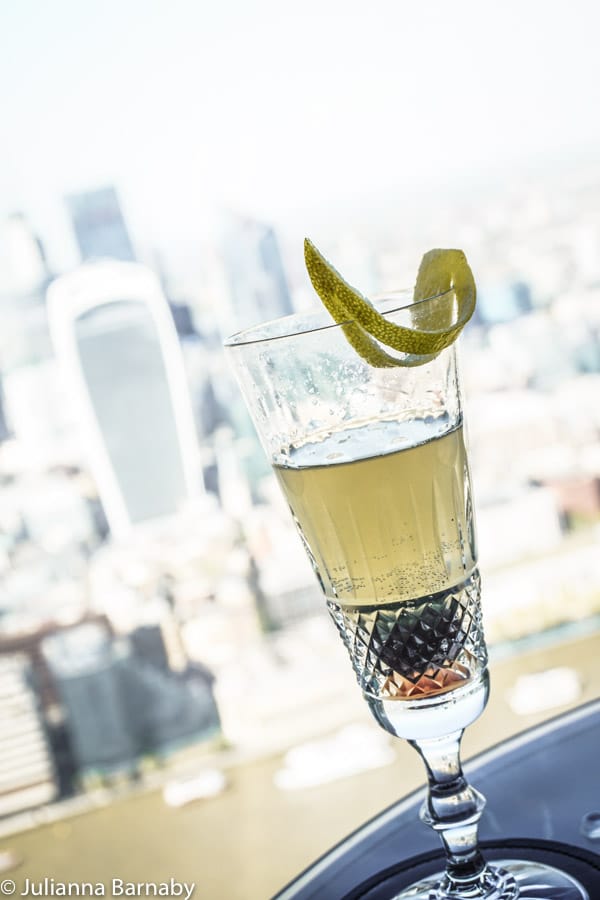 The obvious choice for cocktails with a view is Aqua Shard – sky high on the 52nd floor – but it's not just The Shard that offers up iconic (and ever so 'Grammable) views of London.
Some of our faves with a view include the SkyLounge at the Hilton, the pub The Banker and – yes, Aqua Shard.
Whichever you plump for, be sure to nab a seat early to make the most of the views.
Read More: The Best Bars in and Around London Bridge
See Something at The Bridge Theatre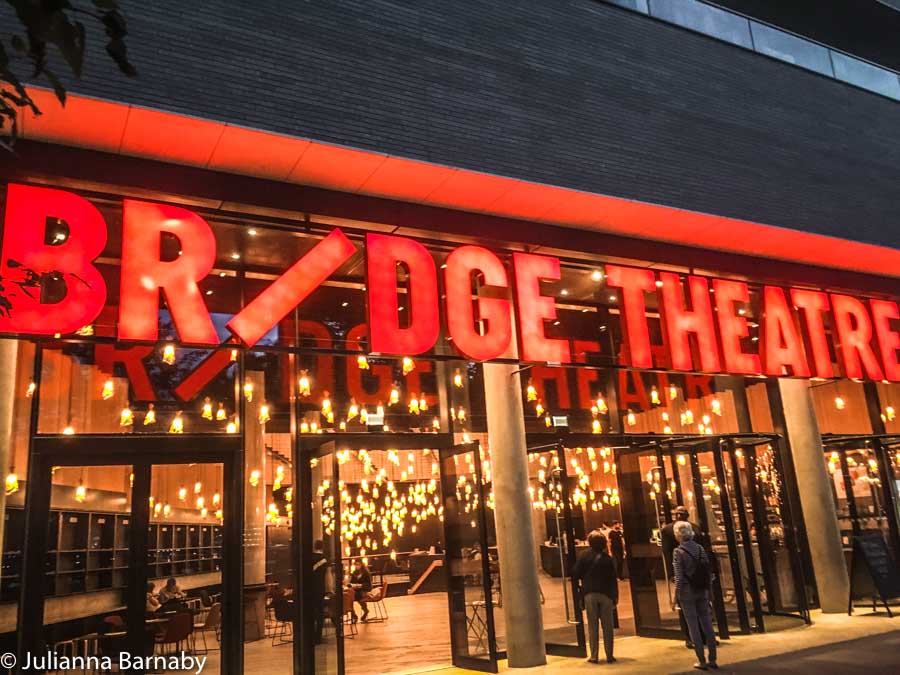 Looking for cool things to do in London Bridge at night? How about a trip to The Bridge Theatre. The Bridge Theatre is one of the newest and most innovative theatres in London.
Since opening October 2017, the theatre has presented several traditional plays, including the Shakespeare classic Julius Caesar as well as brand new offerings.
There have also been a number of interactive performances where the seats were stripped out and the audience mingled with the cast.
London isn't short of a theatre or two, but it's great to see somewhere offering a completely different perspective – book ahead, it's already made a pretty big name for itself.
Hang out in the Historic Pubs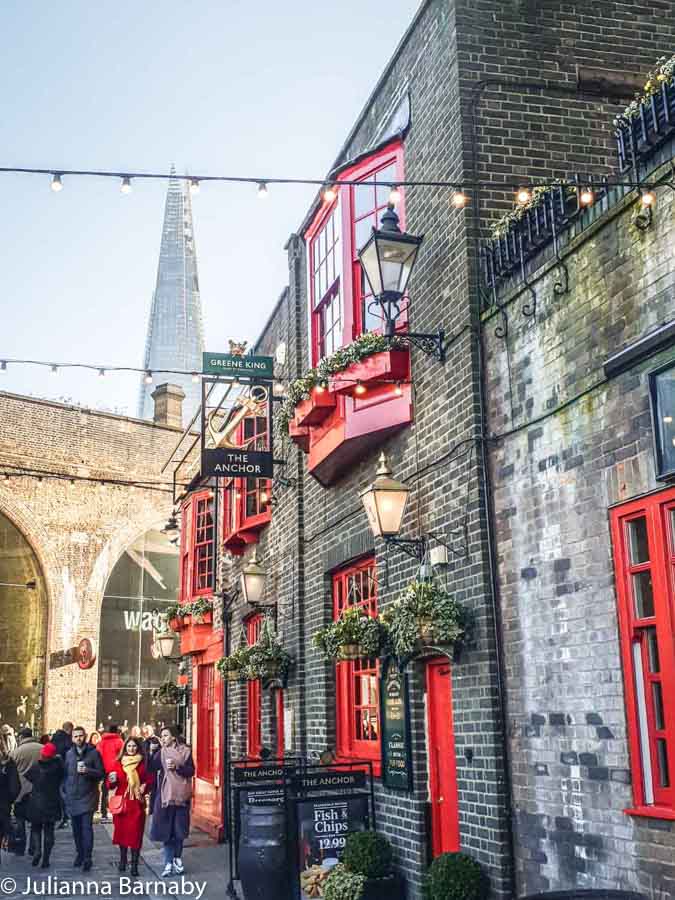 It wouldn't be a London borough without a plethora of great pubs, and London Bridge certainly delivers on this front.
Jaunt around the area throughout the day, but be sure you add a pub or two to your list of things to do in London Bridge at night.
With a rich maritime, industrial and artistic history, many of the pubs in London Bridge have amazing backstories. You never know whose footsteps you are walking in when you enter these oft-unassuming drinking holes.
Some of our favourites include the 17th century George Inn, London's only galleried coaching inn, and The Anchor Bankside, which was once a favourite of river pirates and smugglers and is one of London's oldest pubs.
You'll (probably) be glad to know that these days it's a much more sedate affair.
Read More: 14 Pubs in London Bridge for a Cheeky Drink
Spend an Evening in Quirky Bermondsey Street
Bermondsey has a long and varied history – it used to be the industrial heartland of London, thanks to the nearby docks and industry that flourished there in the 19th century.
A distinctively working-class area for centuries, Bermondsey Street has undergone quite a transformation in recent years. Sure, you can still find traditional pubs and historic buildings, but you will also find a great selection of restaurants, bars and shops.
Gin lover? Check out 214 Bermondsey, which has more than 100 gins on offer. Pasta? Head to Flour and Grape. Love tapas? Swing by cool eatery Jose… the list could go on.
Read Next: Exploring London's Cool Beer Mile in Bermondsey
Devour Maltby Street Market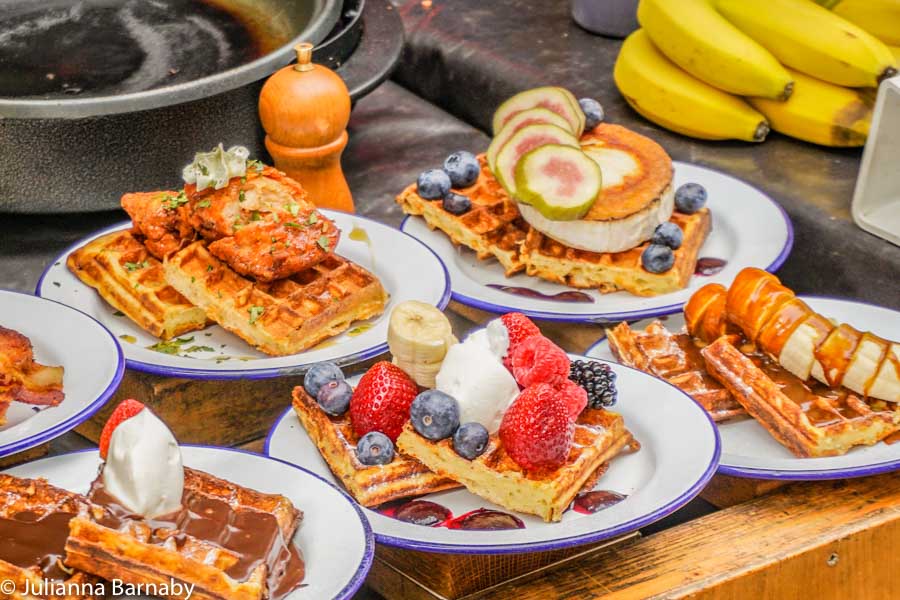 London Bridge's food scene was already banging thanks to Borough Market, but then Maltby Street Market came along in 2010 and things got a whole lot better.
Tucked away next to the railway arches a short walk away from London Bridge, this street food market is no longer the hidden secret it used to be – but you won't care when you're feasting on the amazing food served up by its stallholders.
There are more than 30 stalls serving up flavourful dishes using nothing but the best ingredients. The steak frites at The Beefsteaks and the egg waffles at Dhan Waffle need to be tasted to be believed.
Done eating? Stop off in 40 Maltby Street or Doodle Bar for a quick refreshment before you head home.
Read More: 35 Street Food Markets in London
Visit the Old Operating Theatre
Sure, London Bridge has more than its fair share of landmarks, but there are so many quirky things to do in London Bridge for you to discover too.
Take the Old Operating Theatre for example – a museum housed in Europe's oldest operating theatre.
Nothing makes you more grateful for access to modern medicine than laying eyes on the assortment of tools used in historic medicine. It's fascinating…. in a morbid and macabre kind of way.
Read More: London Off the Beaten Track – Weird and Wonderful Things to do in London
Discover Southwark Cathedral
The site of Southwark Cathedral has been a place of worship for more than 1000 years. While the building has changed considerably in that time, even the cathedral we see today has features that are more than 800 years old.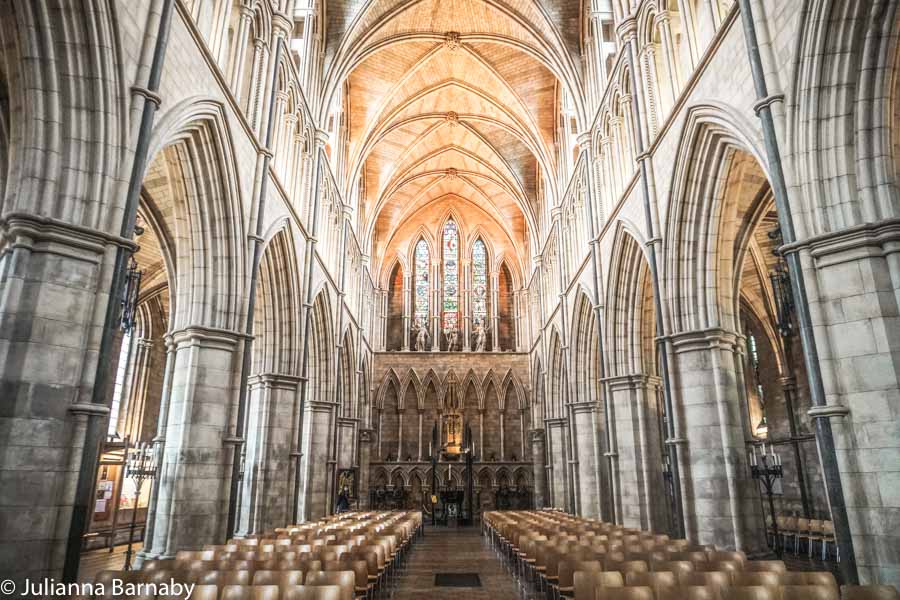 Like any important historic building, the cathedral has had a long and varied story – it's long been associated with the theatre, with William Shakespeare's brother buried at the property. More sombrely, it was the site where many were condemned to death for heresy in the 16th century.
Bloodthirsty history aside, the Southwark Cathedral is beautiful, with impressive Gothic architecture, complete with glittering stained glass windows.
Up Your Knowledge at the Fashion & Textile Museum
The Fashion and Textile Museum is one of the best museums in London Bridge and a definite must-visit.
It celebrates all things related to fashion and fabrics, with an ever-rotating selection of temporary exhibits. These often relate to periods in fashion or may hone in on particular designers, styles or fabrics.
The location of the museum on Bermondsey Street is fitting. After all, during the street's industrial heyday, it was closely associated with the textile industry. Calico, in particular, was produced around Bermondsey.
They also do lectures and short courses on elements of fashion design.
As well as what's inside, the exterior of the building is quite iconic in its own right. Featuring hot pink and striking orange, it is certainly eye-catching.
Try out the London Bridge Experience
It's apparently the scariest attraction in London – so, visit the London Bridge Experience you dare!
It's more spooktacular fun than sheer terror, and a great way to have some laughs (and shrieks). Part theatre, part history lesson and part amusement park, it's an assault on the senses.
Journey under the London Bridge to learn more about London's spooky and sordid past. The London Bridge is said to be one of the most haunted places in the UK, so keep an eye out for any otherworldly apparitions.
If you make it through the first part alive, you'll be set loose in a scary maze filled with spooky characters around every corner.
Board HMS Belfast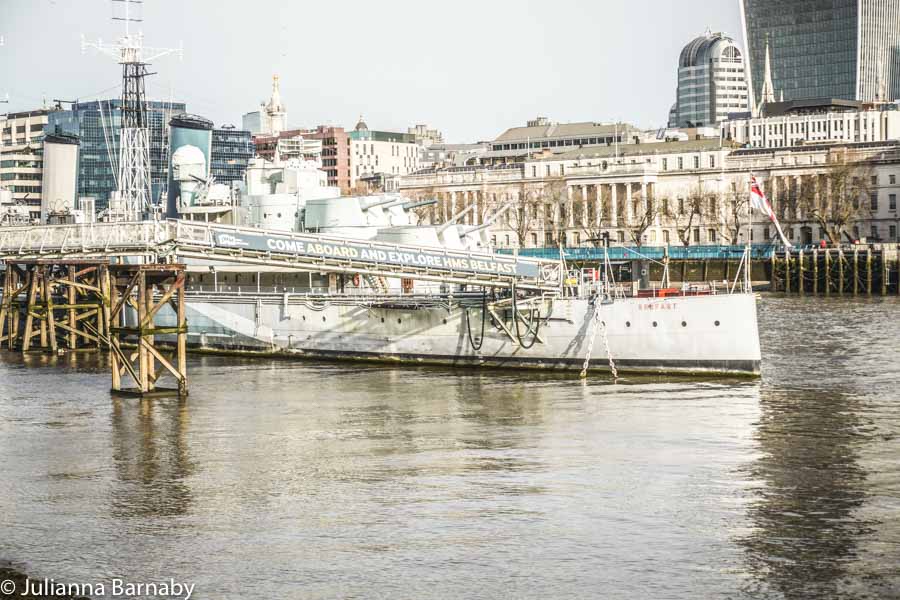 Walking down the riverside, you may be surprised to spy a large ship floating in the Thames. She's the HMS Belfast, a retired navy ship that is today on display as part of the Imperial War Museum.
The HMS Belfast was built in 1936, shortly before the beginning of World War II. In her lifetime, she was involved in various conflicts including the First World War and the Korean War.
Today, the HMS Belfast is one of the most popular things to do near London Bridge. Every year over a quarter of a million visitors board the ship to get an idea of what life is like on such a huge navy vessel.
Check What's Happening at The Scoop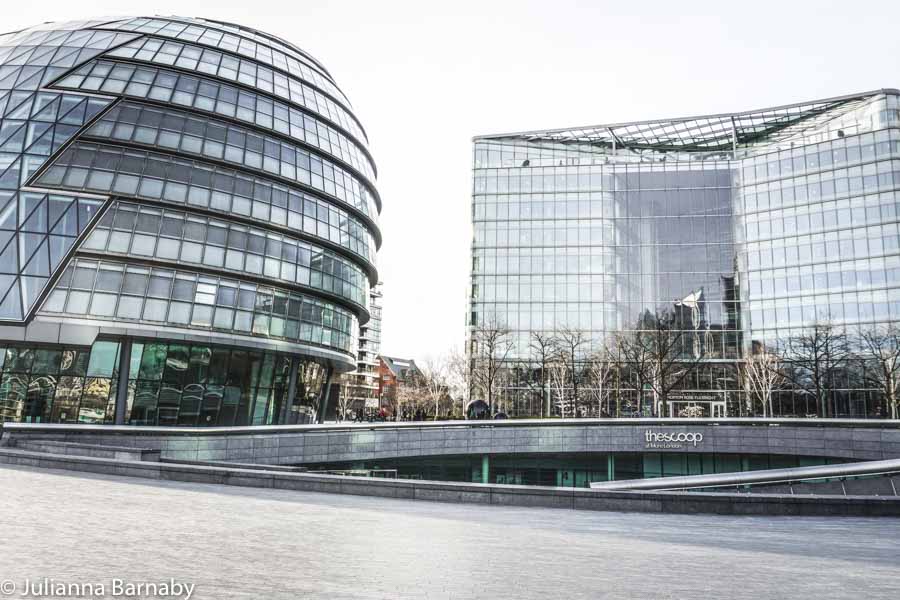 Every city needs places for the community to gather, quite often in the pursuit of yelling at sports stars on the big screen.
London Bridge delivers this with The Scoop, an 800-seat outdoor amphitheatre right in its centre. Throughout the year (and especially summer), the Scoop plays host to all kinds of free movie screenings, concerts and other live performances.
The atmosphere is probably at its loudest and most exuberant when there's a sporting game on – especially if a local team is involved. Get your scarf and banner at the ready.
Sail The Golden Hinde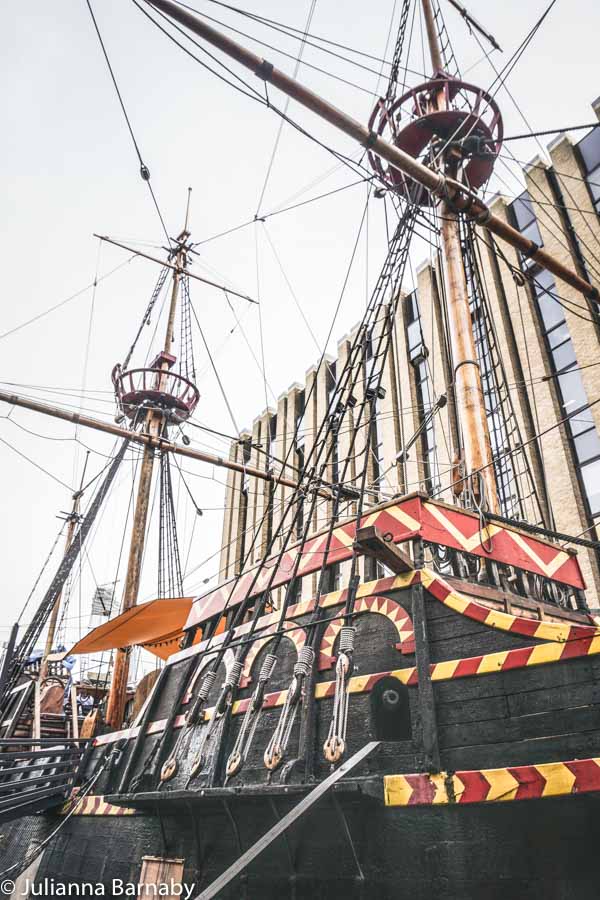 It's hard not to be intrigued by the stories of people circumnavigating the globe in years gone by, in creaky old ships and with barely a map for direction.
The Golden Hinde was one of the most famous ships that set sail from England. Sir Francis Drake sailed the ship around the globe in the 16th century at the behest of Queen Elizabeth, plundering precious metals as he went.
He returned to England with enough to pay off all of the debts of the monarchy and then some. Thrilled, Queen Elizabeth ordered the ship be preserved as a museum vessel.
Unfortunately, its life was short-lived. However, in 1975, a plan was devised to reconstruct the ship using pieces of the original vessel (although much had long since been repurposed, including being made into chairs at Oxford University).
The result is the Golden Hinde, an impressive, full-size model of the famous ship.
Pop onboard and have a nose – it's a fascinating glimpse into the past.
Get Artsy at the White Cube Gallery
If you're looking for some fancy new artwork to add to your walls, you'll find plenty to choose from at the White Cube Gallery. When it launched in 2011, it was the largest commercial art gallery in Europe and is still one of London's most important cultural spots today.
Of course, if the works on show are a bit out of your price range, you're welcome just to go and wander through the exhibitions.
It's not just the size of the White Cube Gallery that makes it a standout amongst the many galleries in London. It's also been a huge supporter of young and upcoming artists, and established British artists such as Tracey Emin.
Take a Boat Tour from London Bridge Pier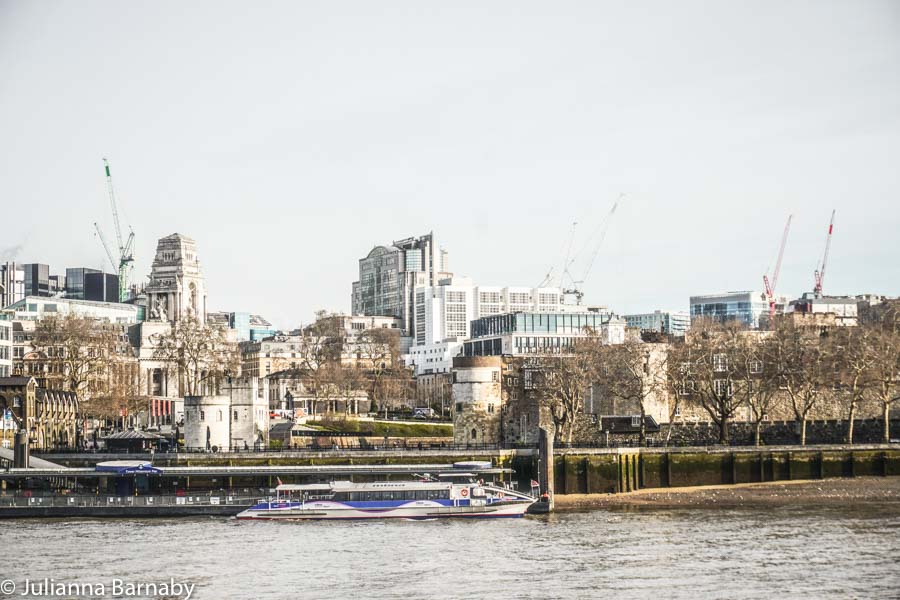 Once you've seen London Bridge from the ground and from the sky (with a cocktail in hand) there's only one more way to take it in – from the river itself.
Undoubtedly, taking a boat cruise down the Thames is one of the most popular things to do around London Bridge. And why wouldn't it be? It's great fun, and you can take in all the sites as you float serenely down the river.
Feeling indulgent? Opt for a river cruise, it's what you deserve.
Go Dining and Drinking at Flat Iron Square
Flat Iron Square is one of our favourite places to visit near London Bridge… but what is it exactly?
We would best describe it as a street food market, meets bar, meets live-music venue, all in a sprawling location in the railway arches near to London Bridge.
The wine bar, Tap & Bottle is the perfect spot for some organic and biodynamic wine too. Winning all round.
Flat Iron recently moved locations, though you don't need to worry – it's only 200m down the road! 45 Southwark Street is the location of the new and improved Flat Iron Square.
Get Locked Up at The Clink Prison Museum
If you have time, make sure to visit The Clink – one of London's weirdest museums. And we say this in the most loving way possible.
Boring history museum this is very much not. Between 1144 and 1780, The Clink Prison was one of Britain's most notorious. Today, history is brought to life in an experience similar to that of the London Dungeons.
Expect an ensemble of weird and wonderful characters guiding you around the gruesome prison.
Book your tickets online in advance.
Check out Vinegar Yard
Flat Iron Square's sister market, Vinegar Yard, is a buzzy outdoor venue in London Bridge – head here for Summer drinks.
Grab a drink and peruse the market stalls Vinegar Yard also boasts, you might just pick yourself up a unique trinket.
Not content on just hosting fabulous drinks and cool indie stalls, VY is also home to brilliant street food. If you try one thing, make it Sugo's arancini – any variation will do, but the ragu versions are *chefs kiss*.
Try Shuffleboard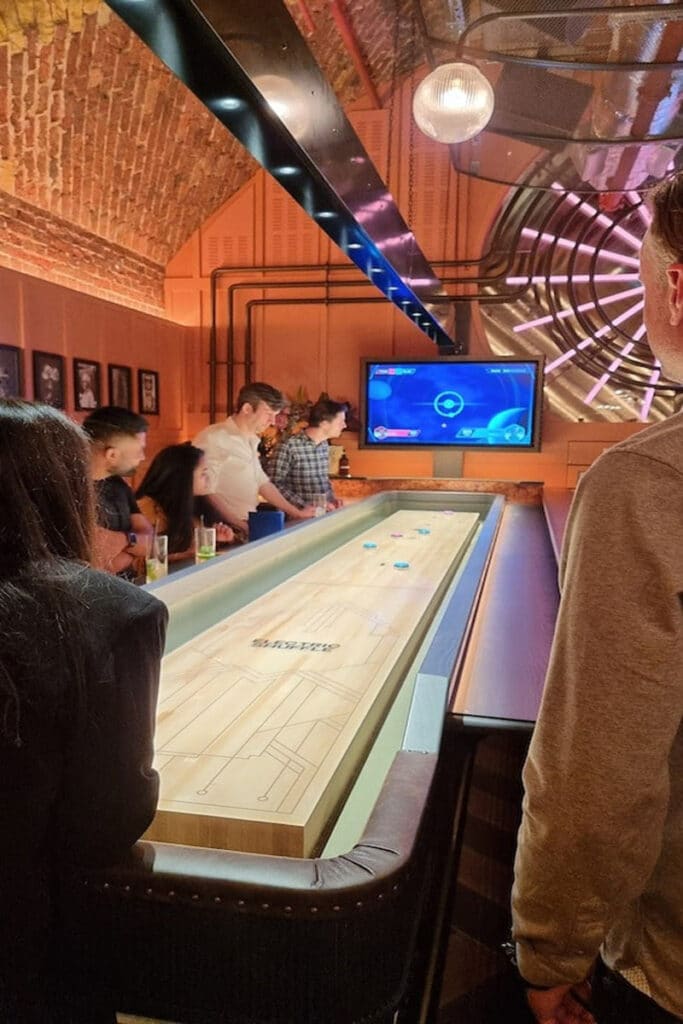 Ever Tried shuffleboarding? No, that's not some new type of extreme sport. It's actually a game that dates back to the middle ages. In fact Henry VIII himself is said to have played and gambled over it.
The game is seeing quite the resurgence in London of late. These days you can find whole venues given over to shuffleboard. One such place is Electric Shuffle, slap bang next to London Bridge.
They've got heaps of boards for you and your pals to have a spin on, as well as a full kitchen and bar set up (we're glad to see King Henry's gastronomic traditions stayed with the game all those years later).
Mooch about in Borough Yards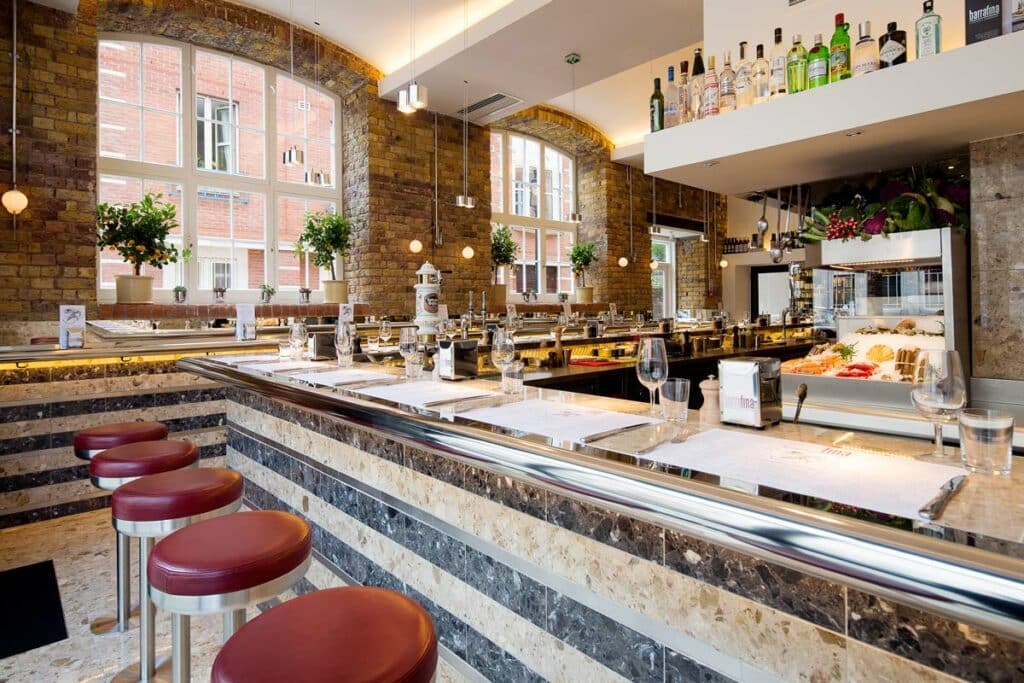 Borough Yards used to be a bunch of warehouses that sat empty off from the main action in London Bridge. Now, thanks to a recent renovation, they've been brought back to life.
In amongst this semi-mall space you'll find a bunch of great places to eat like the London Bridge Outpost of Burger and Beyond, as well as another location of London-famous tapas joint Barrafina.
They've also got an Everyman cinema (that's one of the nicer brands) if you fancy a bit of entertainment. If you happen to find yourself in this neck of the woods at the weekend you'll likely find the courtyard space filled with pop-up stands selling drinks and ice creams, or maybe even a temporary market for your perusal.
See What's on at the Science Gallery
London's got its fair share of art galleries, but there's only one Science Gallery in this city. What's a science gallery we hear you ask? Well it's a space that displays art, but art with the aim of education.
That's because the gallery is closely linked with King's College, but also because that's the kind of thing they want us to be doing: thinking a little harder about the problems of science and health.
They have some very interesting exhibitions on. They rotate regularly so no two though-provoking visits will be the same.
Things to do in London Bridge: Practical Tips + Map
How Do I Get to London Bridge?
London Bridge is easily accessed by underground, rail and bus – it's on the Northern and Jubilee lines on the tube (grey and black on the map).
You can (and should) book ahead for the bigger attractions such as The Shard and Tower Bridge. We tend to use Get Your Guide as you can track and manage bookings using their handy app as well as the site – book here.
If you are planning to go to several attractions in one day, check out the London Pass to see if it's worth buying. The pass costs £75 per day but offers free access to The View from the Shard, Tower Bridge and the HMS Belfast, among many other attractions as well as Thames River Cruises, a Travelcard and guidebook. Check the full list of attractions covered and book here.
Worried about going to The Shard on a cloudy day? Don't be. They offer the London landmark guarantee – so if you can't see three of London's big landmarks on the day of your visit, you can return for a repeat visit free of charge.
If you're planning to visit Borough Market or Maltby Street, be sure to leave some space in your bag for goodies to bring home. You'll need it.