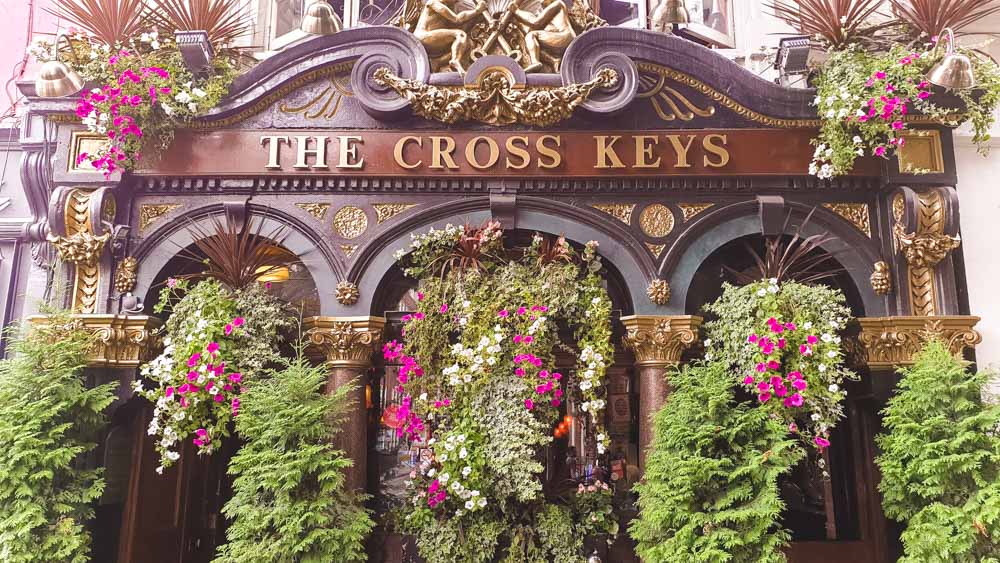 London is full of quaint old boozers – historic spots that are perfect for sinking a pint or three. Discover the oldest pubs in London with this handy guide.
Aren't you just gasping to get back into a pub? Me too. In the absence of being able to go to the real thing, these are the oldest pubs in London I can't wait to head to once the world is back to normal again.
Which is the Oldest Pub in London?
The Oldest Pub in London is the Seven Stars in Holborn.
The Seven Stars is a beautiful historic pub is one of the few buildings that escaped the Great Fire of London in 1666. While the fire ravaged the city and destroyed most of the buildings in the London area, a few escaped.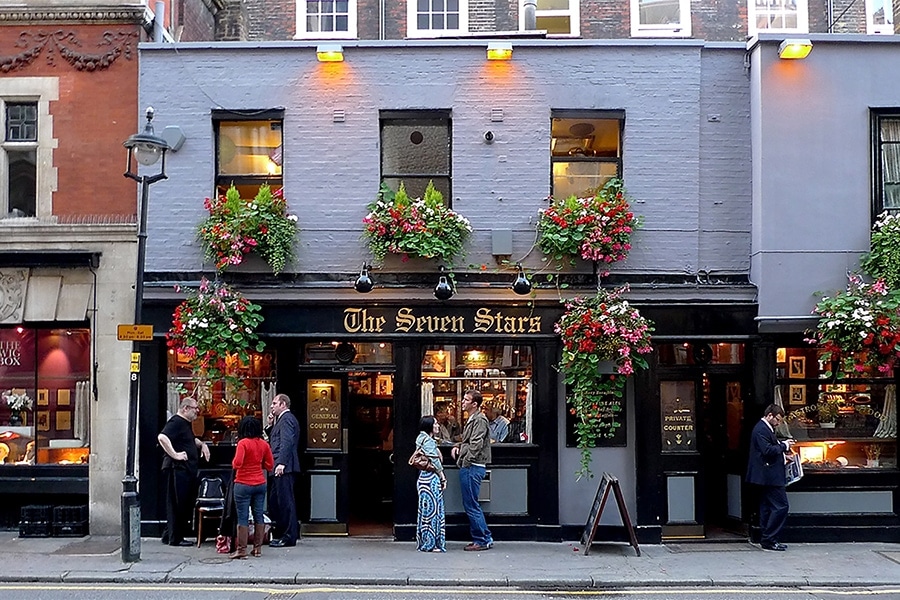 One of those was the Seven Stars, behind the Royal Courts of Justice, which was built in 1602. This makes it the oldest pub in London – and certainly one of the most atmospheric.
It's particularly popular with the city's silks who can often be found celebrating or commiserating after a trial at the Palace of Justice.
20 of London's Oldest Pubs
Planning to visit some of London's oldest pubs? These are the ones you shouldn't miss.

Want to delve deep into the history and tales of London's oldest pubs? Book a spot on this cool historic pub crawl.
Ye Olde Mitre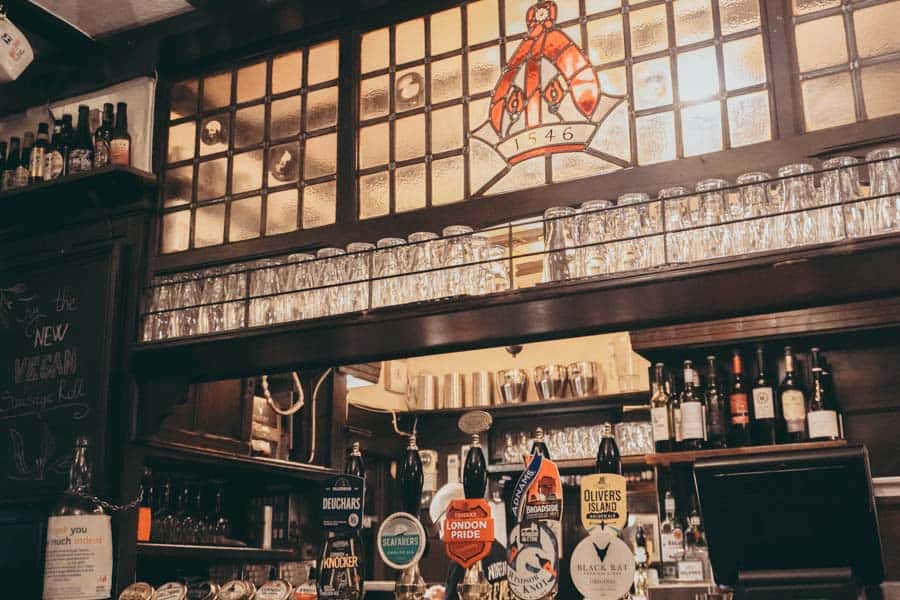 Set in the heart of historic London, Ye Old Mitre is another of the most charming and historic old pubs in London. It's renowned as being one of the toughest pubs to find in London, thanks to its rather hidden location – but it's worth ferreting it out.
It's fitting that one of the beers on tap is "London Pride" – as you're sure to be feeling it after spending a few hours in this gorgeous pub, amongst the wood panelling.
They also serve honest and simple food, with pub snacks like pasties and toasted sandwiches.
There's a little bit of controversy over when exactly it was built – the pub itself claims it was 1546, while English Heritage records suggest it was built in 1773. Either way, it's certainly a very historic London pub!

Read Next: The Best Pubs in Farringdon & Clerkenwell
The Old Bell Fleet Street
If you sink a pint at the Old Bell Fleet Street, you'll be joining a long list of drinkers in the City of London – it's been a licensed pub for some 300 years.
It's believed that it was first built by Christopher Wren, the famed astronomer and mathematician. It was the local haunt of his stone masons, and then later became the preferred hangout of those in the printing industry.
Today this Nicholson's Pub is an understated charmer, with a light exterior covered in plants and flowers.
Inside, you'll find a good selection of local ales on tap, and an honest menu including fish and chips, burgers and mac 'n' cheese.
The George, Borough
Dickens is synonymous with London, so dropping by one of his old haunts is a definite must while you're in the city.
The George was not only one of the inns said to be frequented by Dickens back in the day, but it even gets a mention in his book Little Dorrit.
Today, you'll find this cute pub – one of the best old pubs in London along the Borough High Street serving up a range of pub classics like scotch eggs, chicken wings and devilled whitebait.
Of course, they also have a generous selection of local ales, craft beers and gin.

Read Next: Brilliant Pubs in and around London Bridge
Ye Olde Cheshire Cheese
While a pub has been at 145 Fleet Street for some 500 years, the building itself was rebuilt shortly after the Great Fire of London.
It grew to be one of the most famous pubs in London, nourishing the likes of Charles Dickens, Alfred Tennyson, Sir Arthur Conan Doyle and Mark Twain.
While it's the literary connections that draw most people in, there's also a good selection of local ales and pub classics on the menu.
The Spaniards Inn
Standing near Hampstead Heath, the Spaniards Inn is a grand old pub that dates back from the 1500s. Being a part of Greater London, it managed to escape the Great Fire of 1666.
Its location also means it is a tad away from the usual tourist trail, meaning it has a little more of an authentic feel as one of the more traditional pubs in London.
That's not to say the pub is without its claim to fame – by contrast, Dickens wrote about it and its thought that it as where Keats wrote 'An Ode to Nightingale'.
In addition to the many local ales, there's also a tasty menu including a delicious Sunday roast.
Lamb & Flag Covent Garden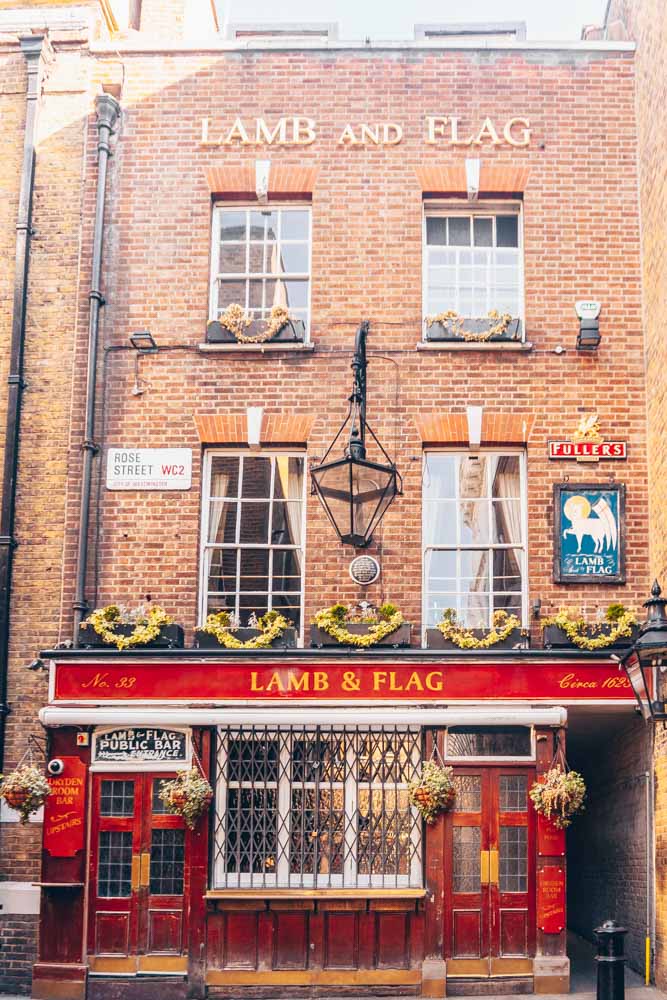 Another traditional pub in London with a strong literary connection is the Lamb & Flag in Covent Garden.
The Grade II listed building dates from the 17th century, although it is believed there was a pub on the site from at least 1623.
Over the years, its had a chequered history. It served for many years as the venue for bare-knuckled fights, leading to the nickname "the bucket of blood". This reputation was not helped when Charles II ordered an attack on a poet who'd written poorly of his mistress nearby.

Read Next: The Covent Garden Guide – What to See and Where to Drink
Prospect of Whitby
Originally known as The Pelican, this old London pub soon became known as The Devil's Tavern, thanks to its debaucherous reputation.
In particular, it was a well-known haunt of smugglers and sailors.
It was also the favourite pub of Judge Jeffreys, who earned himself a reputation as the "hanging judge" in honour of his favourite type of sentence.
Things have settled down a little nowadays, and the name has become the Prospect of Whitby. It offers an honest menu and a selection of beer and wine, as well as a generous menu of gin.
Cittie of Yorke
Offering up a little bit of Yorkshire in the midst of London, the Cittie of Yorke is one of the city's most popular historic pubs. There's crowds to match, especially on the weekends.
While the pub looks every inch the Medieval tavern, the building mainly dates from 1920. That said, it's been a drinking haunt far longer – since at least the 15th century.
Owned by Sam Smith Breweries, there's a list of Yorkshire ales as well as wine and spirits. There's also an honest pub menu.
The Guinea
Incredibly, this Mayfair haunt was once in the middle of farmland, back before the sprawl of London well and truly embraced it.
Although the current building is more modern, it's believed in the 15th century the Guinea was a pub frequented by farmhands and labourers.
After the fire of London, it was rebuilt. By then, Mayfair was a popular and up-and-coming area.
Nowadays, the cozy pub is best known for its exceptional steaks – a nod perhaps to its farming history. They truly are delicious.
Hoop & Grapes Aldgate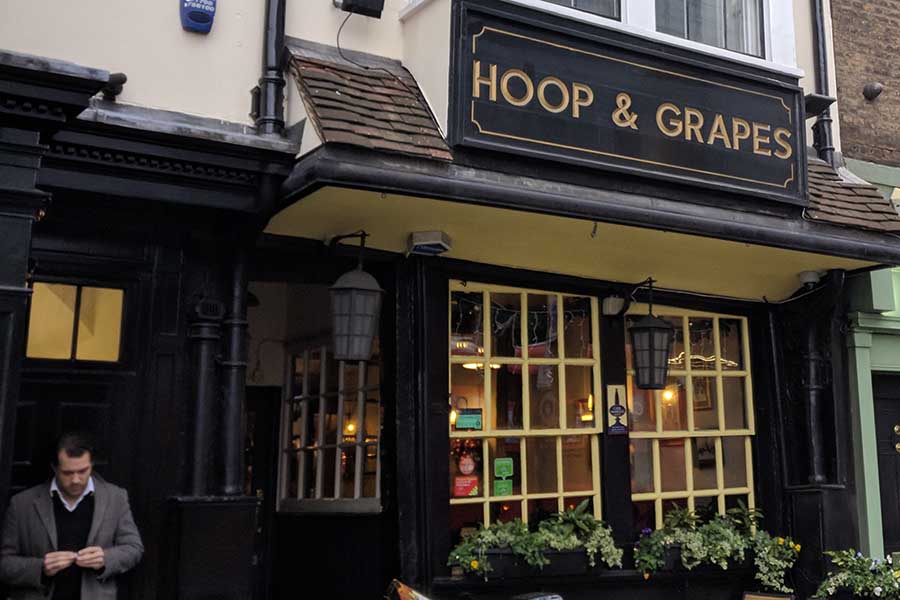 Another of the historic London pubs that managed to escape the Great Fire of London is the Hoop & Grapes Aldgate.
It was just barely, though – the flames are said to have come within 50 feet of the pub.
Thankfully, the character of this 17th century pub was preserved for us to enjoy today. Fittingly, it serves up a traditional British menu with classics like fish and chips and burgers.
There's also a range of beer, wine and spirits.
Seven Stars Aldwych
I've already mentioned this fabulously old pub in London city that's a favourite amongst the legal highfliers of London.
As one of the few buildings that survived the Great Fire of London, the Seven Stars dates back to 1602.
You can really feel the history as you enter the door, and join the long list of drinkers at the Seven Stars. If you're lucky, you might also meet the resident pub cat!
The Mayflower
There are a number of beautiful old pubs in London, but The Mayflower's setting along the Thames is a particular delight.
It's also particularly historic, dating back to the 1550s. Its low beams and dark seating area is certainly evidence of this history.
Perhaps the pub's largest claim to fame is its namesake, one of the earliest ships to the USA.
Over the years, I suspect the food has become a little fancier – today it's a wonderful gastropub, with a particularly excellent cheese selection.
The Grapes, Limehouse
For almost 500 years, the Grapes has stood proudly on its Limehouse street, initially under the name The Bunch of Grapes.
Like many of the old pubs in London, it has seen its fair share of writers over the years. Many have been particularly inspired, with the Grapes featuring in Oscar Wilde's The Picture of Dorian Gray and Sir Arthur Conan Doyle's Sherlock.
As you'd expect from the name, there is a generous wine list, as well as delicious pub classics like fried haddock and shepherd's pie.
The Tipperary
The charming The Tipperary is a small and inviting pub with an authentic green exterior covered in flowers and plants.
Situated along ever-popular Fleet Street, it sprung up just after the Great Fire of London in 1667.
Since then, it has become one of the most popular of London's oldest pubs. It offers a simple yet delicious menu with classics like fried scampi, while there are plenty of local ales on tap.
They also do a great Sunday Roast if you're looking for a traditional English lunch.
The Nag's Head
You don't have to go far from London to experience the quaint local village pub in England. The Nag's Head may be a part of greater London, but it feels a whole world away.
The free-standing exterior is absolutely gorgeous, with red brick and flowers tumbling down the front.
Inside, the pub has been carefully restored to keep all the charm but to offer a comfortable and modern dining experience.
I'm particularly fond of the Anglo-French menu, which serves up unique dishes such as Devonshire crab thermidor.
The Grenadier
Located in Belgravia, the Grenadier was built in 1720 to keep the nearby army regiment well-hydrated.
As well as its stark white exterior, the pub is perhaps best known for its alleged haunting. It is said that one September (no-one knows exactly when) a young man was executed for cheating at cards. His voice can still be heard in the pub.
This haunting seems not to have scared of the pub's rich and famous clientele – both Prince William and Madonna are known to have frequented.
No wonder the menu is a little bit fancy, with options like roast guinea fowl.
The French House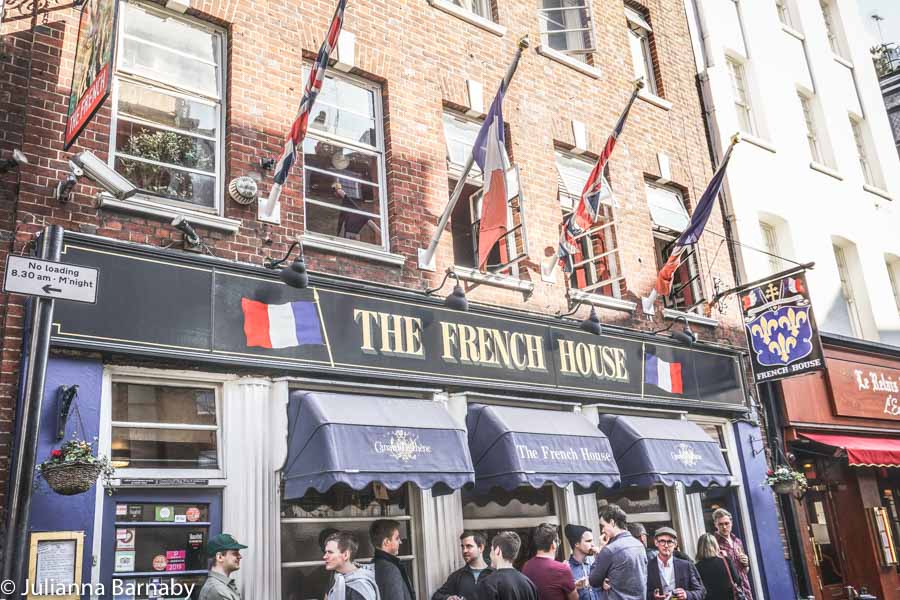 Have you ever mourned the days before mobile phones, when there were no notifications to distract you from good conversation?
If so, you'll love the French House, one of the oldest and most famous pubs in Soho.
This grade II listed pub is well-known for its no electronics policy, as well as having been a favourite amongst authors, politicians, actors and more.
Plus, they have more than 30 wines by the glass – a win in my book.

Read Next: Cool Little Pubs in Soho you Have to Try
The Cross Keys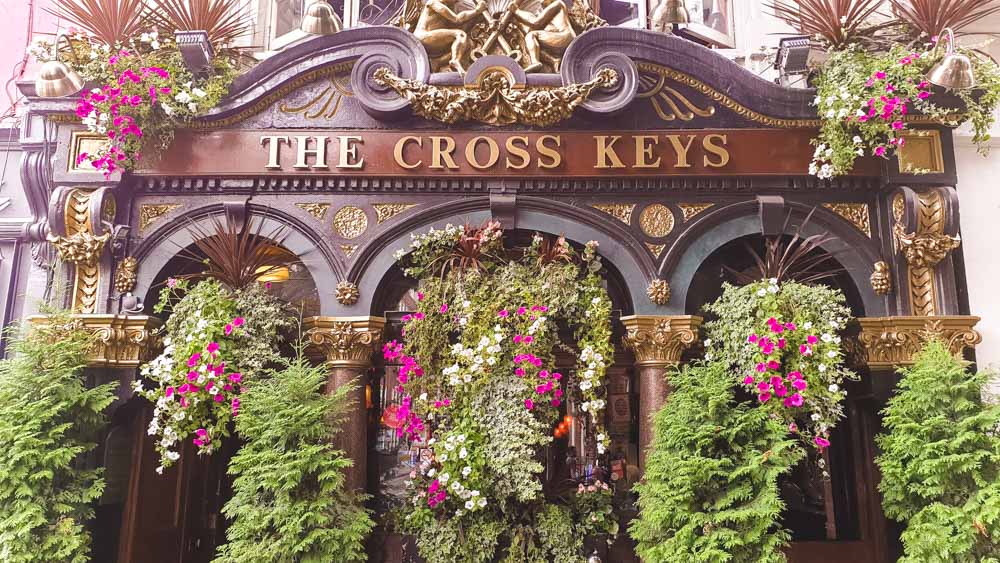 It's hard not to fall in love the moment you set eyes on the Cross Keys' flower-laden exterior. It's surely one of the best historic pubs in London.
For well over a century, the Cross Keys has been a Covent Garden stalwart, serving up the classic London pub experience.
With firmly working class roots, everyone is welcome at this friendly – and spectacular – gem of a London pub.
There's a simple menu with plenty of local beers, but my personal favourite is the £5.95 Sunday roast dinner. It doesn't get much better value than that.

Read Next: The Covent Garden Pub Guide
The Viaduct
This Grade II listed pub is certainly one of the most impressive of the historic inns in London.
With a unique rounded exterior and an incredibly ornate interior, The Viaduct is widely considered one of the most beautiful drinking haunts in the city.
Perhaps less inviting is the alleged ghost sightings – who knows if they're true, but if you fancy adding some ghost-spotting to your old pub tour in London, it's the place to go. It's built above the old Newgate Prison – London's notoriously horrible clink. If you ask nicely, they might even let you peek downstairs at one of the old, dank little cells.
On a much brighter note, The Viaduct also serves up excellent food and drink, including many local ales such as Black Cab stout and imported brews like Amstel.
The Black Friar
This unique historic London pub was just barely saved from demolition in the 1960s, and I'm sure glad about it.
Its narrow exterior makes The Black Friar one of the more unique pubs in London. Then there's the fact that it was built on the site of an old Dominican friary (monastery).
The pub is Grade II listed for good reason, with a number of traditional elements that add to the overall charm and atmosphere.
Another Nicholson's pub, they offer an honest menu of British pub classics as well as drinks with an emphasis on whiskey and gin. You'll find all the top-shelf classics as well as some up-and-coming labels, like local gin Opihr.
Historic London Pub Crawl
You can put together your own London historic pub crawl using the map linked to below. If you really want to delve into the history of London's drinking spots and hear the tales that have fuelled the pubs over the centuries, I'd recommend booking onto this pub crawl, which takes you to some of the oldest pubs in London featured in this guide.
Map of Historic London Pubs
Click here for a map of the old pubs in London featured in this guide (perfect for putting together your own oldest pubs in London crawl).

Looking for more London tips and guides? Check these out…
Love this? Save and Share on Pinterest.