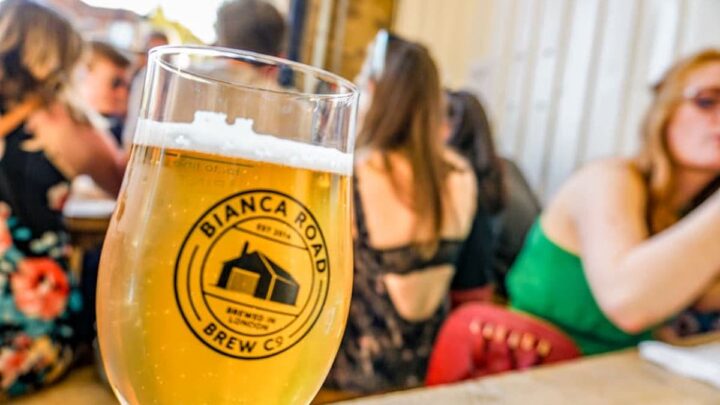 The Bermondsey beer mile is a must for beer lovers in search of some of London's coolest craft brews. Planning a trip? Here's what you need to know before you go.
London's craft beer scene has exploded in the past decade – transforming itself from a niche market only sought out by aficionados to pretty much everywhere in the city.
Independent breweries have popped up all over London – much to the delight of the city's beer drinkers and those in search of more offbeat things to do in London.
Bermondsey sits at the heart of that action.
What started out as a couple of breweries has mushroomed into a cool collection of craft beer makers (and a gin distillery thrown in for good measure). And so Bermondsey Beer Mile was born.
What is the Bermondsey Beer Mile?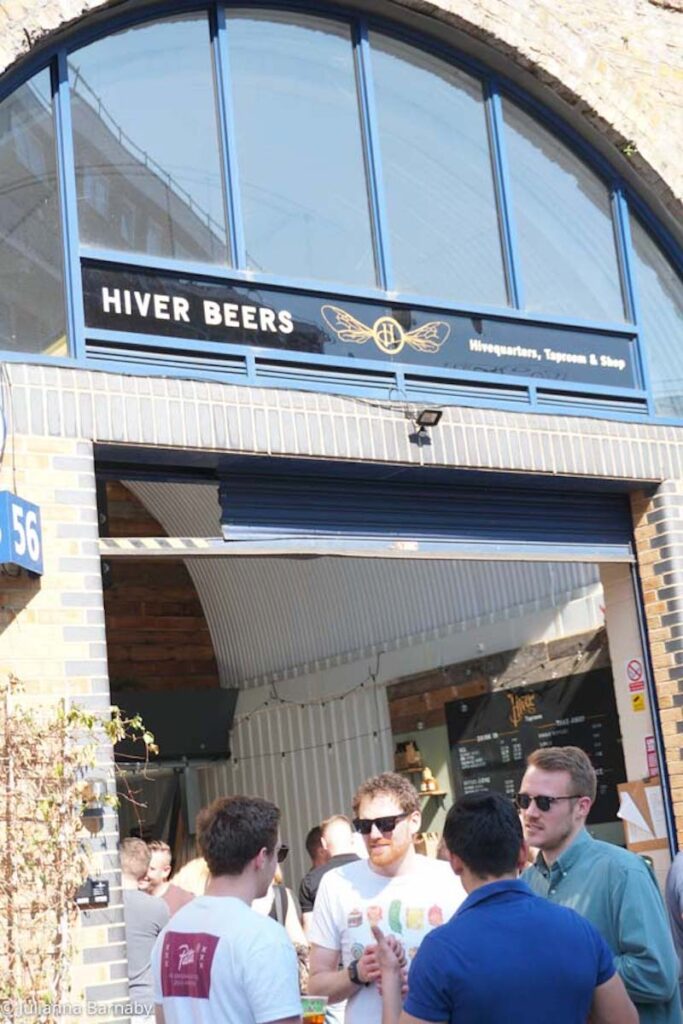 The Bermondsey Beer Mile is roughly a mile and a half long stretch of railway arches and warehouses containing over fifteen breweries and two gin distilleries.
The Bermondsey mile started small – first one brewery (The Kernel), then two, then six – these days it's more like 19 (with a bit of contention).
It used to be that you could stage a bar crawl having a pint at each of the Bermondsey beer mile breweries and not end up dead.
Those days are gone (well, for all but the most seasoned drinkers anyway). So a word of advice – stick to the smaller measures or choose which breweries you're going to tackle in advance rather than trying to work your way through all of them.
How do I Visit Bermondsey Beer Mile?
The best time to visit Bermondsey Beer Mile is on a Saturday when all of the breweries open their taprooms to the public.
It's a brilliant way to spend an afternoon – hopping from brewery to brewery and sampling the stellar craft beers on offer.
Some breweries also open on Friday evenings and Sundays but it varies a lot so you will need to check ahead.
Where Should I Start the Bermondsey Beer Mile?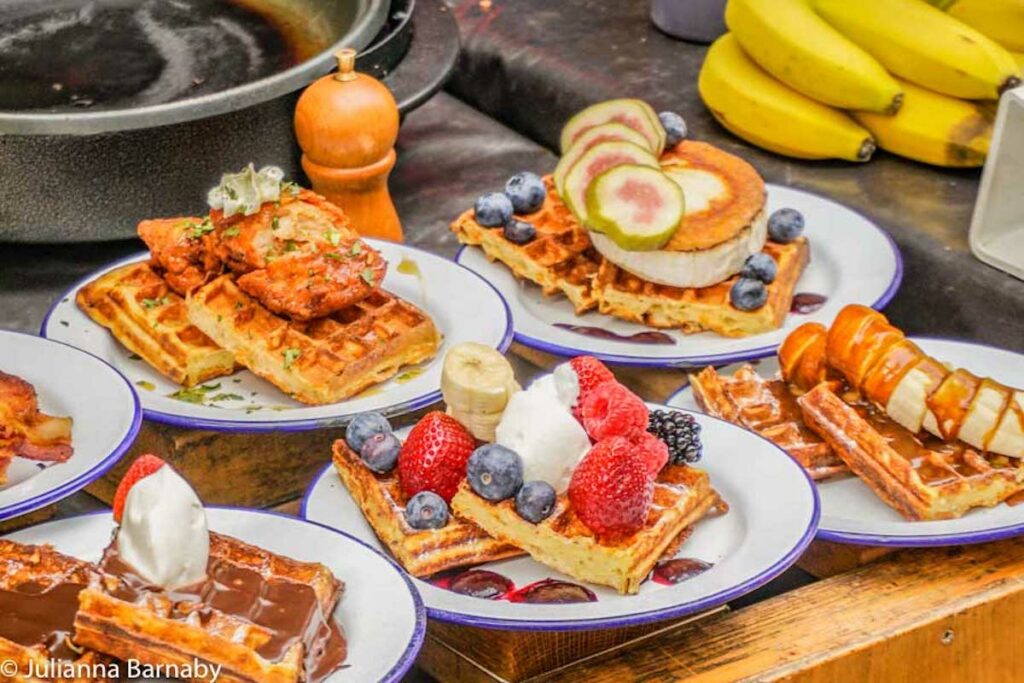 You can start the beer mile at either end of the Bermondsey arches.
We prefer to start it with Southwark Brewing Company, which is closest to London Bridge Station (easy to get to by bus, tube and National Rail) as the breweries are closer together at this end and you can fill up with tasty food from Maltby Street Market before you go.
Read Next: Maltby Street – London's Coolest Food Market?
As an added bonus, Fourpure, which is at the other end of the beer mile, opens until 8pm so you have plenty of time to get down there – if you have the stamina!
At the other end, you would start with Fourpure, which is close to South Bermondsey train station and Surrey Quays overground station.
Ok, so now you kind of know what to expect, let's get down to the nitty-gritty of the different breweries. We've listed them working your way away from London Bridge and towards South Bermondsey – just reverse the order if you're doing it the other way round.
Read Next: Cool Things to do in and Around London Bridge
Breweries on the Bermondsey Beer Mile
Southwark Brewing Company
Start the odyssey at Southwark Brewing Company – a craft brewery that largely focuses on cask ales.
It's very different to the crisp beers and lagers that pop up along the beer mile and a nice way to get going with something that really stands out.
Try the Routemaster Red – a gentle red ale with a fruity and hoppy finish.
Address: 46 Druid Street, London SE1 2EZ
The Barrel Project
You'll want to hit up The Barrel Project next. Experimental beers are brewed in a barrel-lined railway arch, with the company's fruity efforts topping the vast selection.
Boasting 24 taps – many of these devoted to their own beers – and a cracking rotation of street food pop ups to pair with, this is one of our favourite spots on Bermondsey Beer Mile.
Address: 80 Druid St, London SE1 2HQ
Hawkes Cidery & Taproom
Cider? In the beer mile? It's true.
Hawkes Cidery opened their taproom a couple of years ago and it's been pulling in the crowds ever since.
The first urban cidery in London, the ciders range from the excellent Urban Orchard cider to the Elephants on Ice winter cider which is nicely spiced to keep you warm during the colder months.
Address: 86-92 Druid St, Bermondsey, London SE1 2HQ
Billy Franks Craft Beer & Snack Shack
What started out as a tiny shop to grab bar snacks has transformed into one of the best places to drink on the Bermondsey Mile.
Billy Franks do jerky really, really well, and in recent years have introduced a wide selection of craft beers to wash everything down with.
Pop in, grab a beer or two and head outside to one of the tables for your next drink. Oh, and snag a bag of Vegan jerky to take away with you. Trust us.
Address: 104 Druid St, London SE1 2HQ
Hiver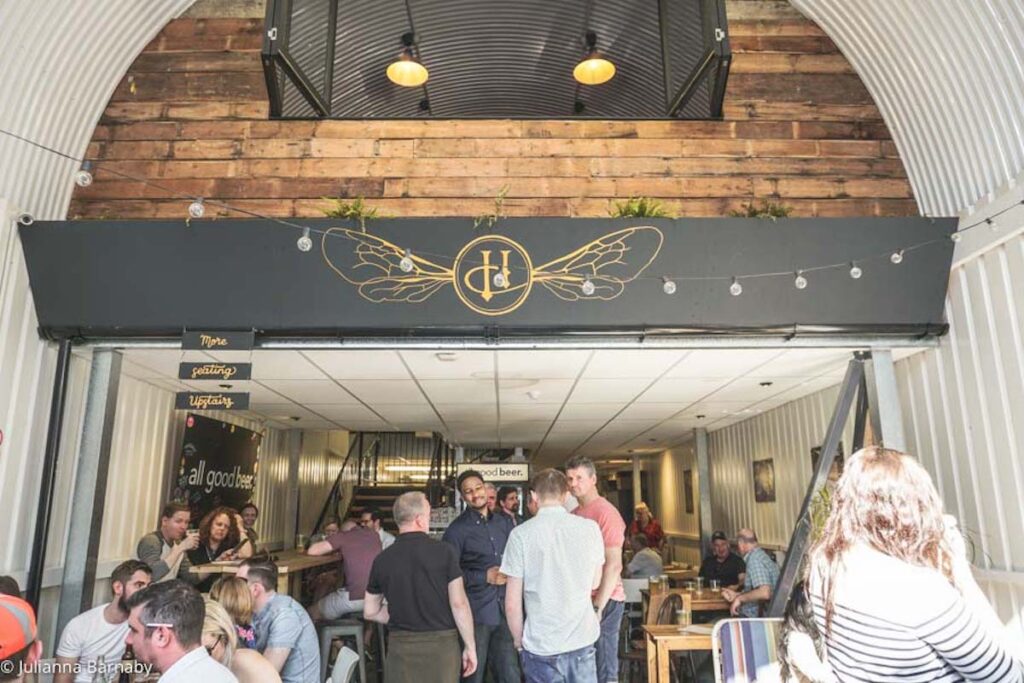 Hiver is one of the more unusual Bermondsey breweries along the beer mile. Why? Their beers are made with a special ingredient… honey.
Craft beer near London Bridge made using urban honey? Sign us up.
The honey is sourced from beekeepers in London and Sussex, with different varieties used in different beers to bring out individual flavours. Start with the golden, rich Honey Blonde and go from there.
Address: Arch 56 Stanworth Street, London, SE1 3NY.
Anspach & Hobday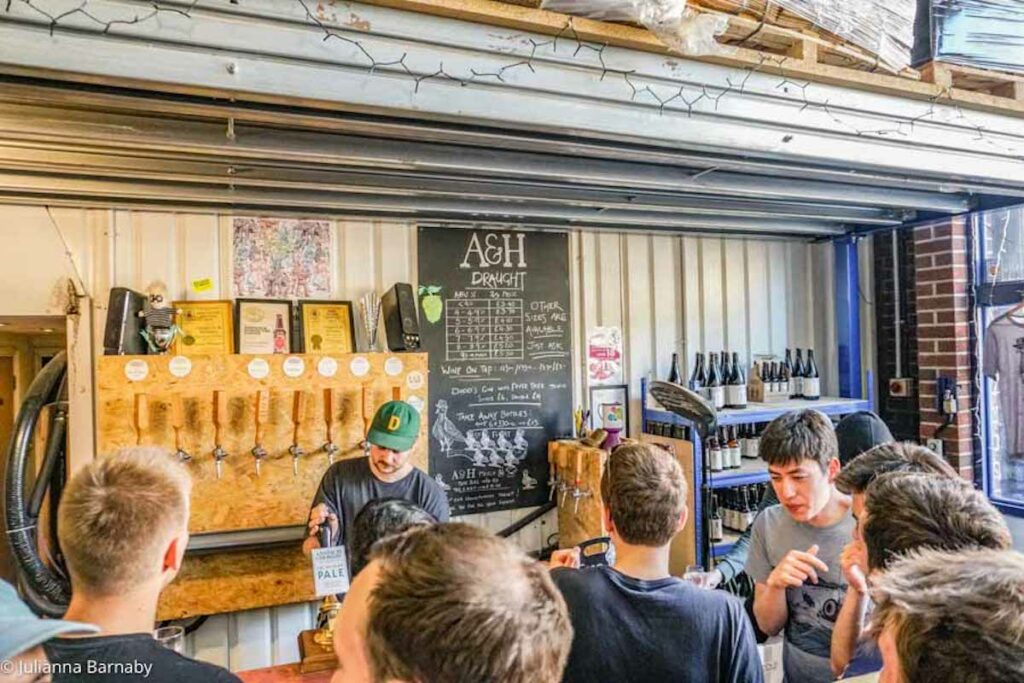 One of the bigger names on the mile, Anspach & Hobday's beers are unusual – but not as unusual as how they got started. The brewery was the first crowdfunded brewery in the UK.
The beers range from the standard (albeit very well done) Porter and Pale Ale to some that sound too bizarre to work but somehow do. Mango & Chilli Gose anyone? It's really busy, so you may end up having to stand outside.
Address: 118 Druid St, Bermondsey, London SE1 2HH
Gosnells Meadery Taproom
When you get to Gosnells it's time to take a break from the beer. Here you'll be drinking mead. That's a very old school type of brew made from fermenting honey and mixing it with a bit of water for good measure.
Gosnells are bringing the practice into the 21st century and doing so with 21st century values. They do all sorts to ensure the protection of the creatures that make mead possible: bees. That involves charity work, raising awareness and throwing gigs to get extra cash together.
So what about the mead? It's definitely worth a try, but you have been warned. The stuff is strong. Don't be surprised if you find it going to your head faster than the other beverages you've put down on the mile.
Address: Arch 72 Enid St, London SE16 3RA
BB No. (Brew By Numbers)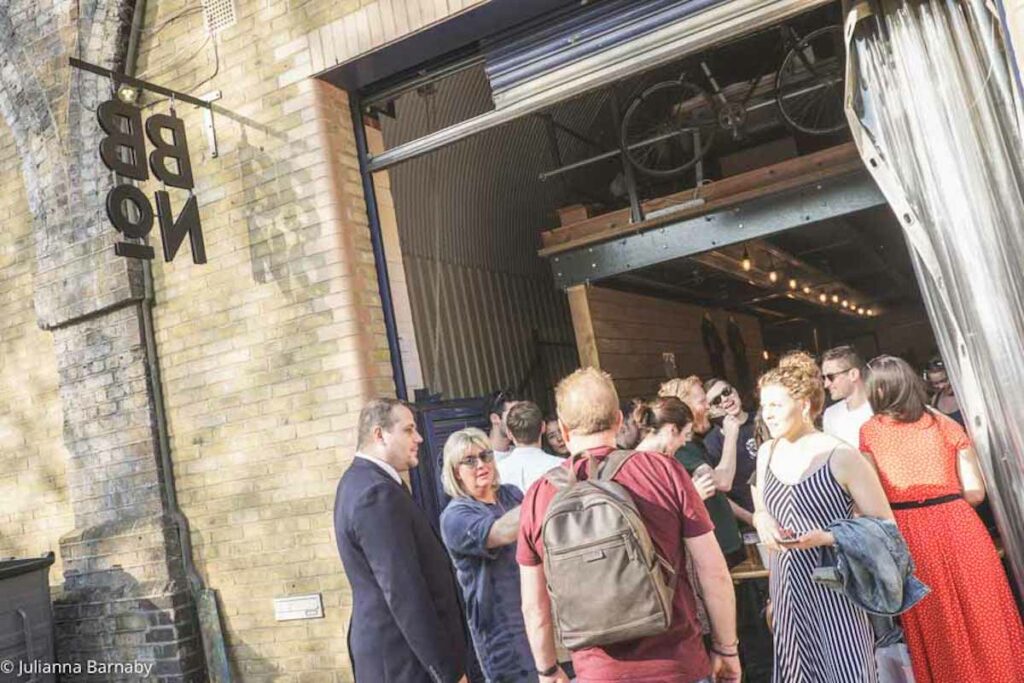 Brew by Numbers is always packed, a testament to their very drinkable beers.
You know that things are serious when craft-beer success story Brewdog get behind a brewery, which is exactly what has happened with Brew by Numbers.
It can be a bit confusing at first – each beer is given a four-digit identifier. The first two numbers refer to the style of beer (i.e. witbier or farmhouse), while the second two mark the recipe. Don't worry – all will become clear once you're in there.
Address: 79 Enid Street, London SE16 3RA
Moor Beer Co.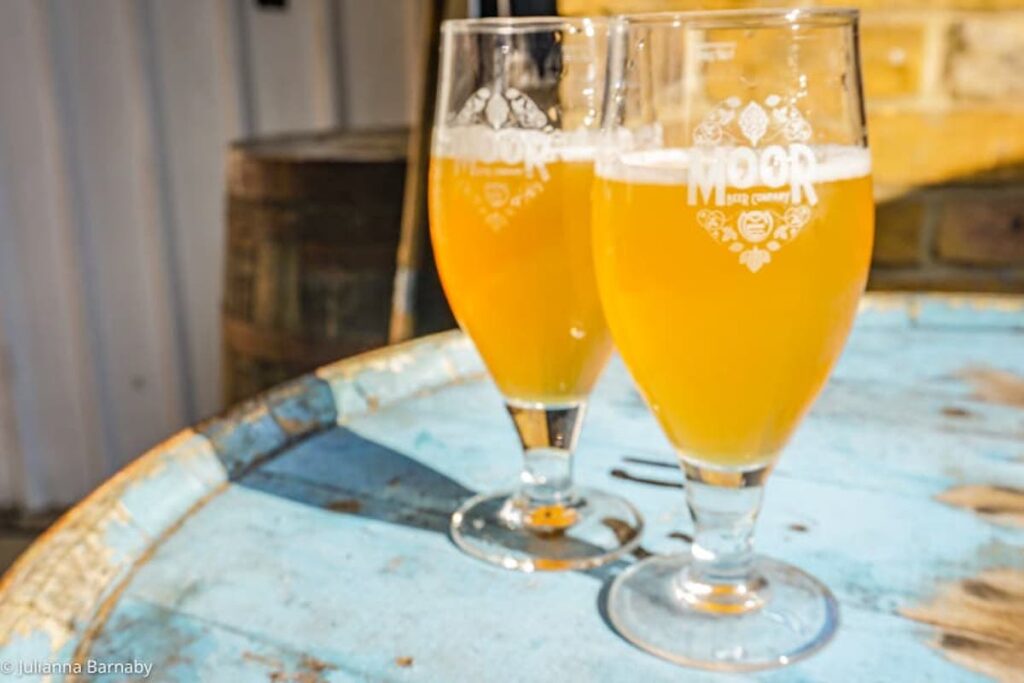 Moor has a pretty large choice of Keg and Cask pours. From the cask, the All Dayer 3.5% session IPA is probably a wise choice if you're attempting to take a decent stab at the mile in one day.
It is accompanied by a few traditional picks like Stout and a couple of wild cards including the Slovenia Hop – an ultra pale ale made with Slovenian hops.
On the keg side, there are the old faces: a London Lager and Pils as well as a couple of unusual takes – the B Moor Mosaic Porter for example.
Address: 71 Enid St, Bermondsey, London SE16 3RA
Cloudwater Brew Co.
Is it wrong to go to a brewery because its cans look so cool?
We don't care – the striking cans at Manchester brewery Cloudwater are pretty eye-catching. Luckily, they have the goods (or the beer) to back it up – the selection is small but good.
Keep an eye out for the Hoppy Little Lager – a refreshingly light drink that sits between an IPA and a lager. We can't think of anything I'd rather be drinking on a hot summer's day; especially as it's only 3.9%.
Address: 73 Enid Street, London, SE16 3RA
Bianca Road Brew Co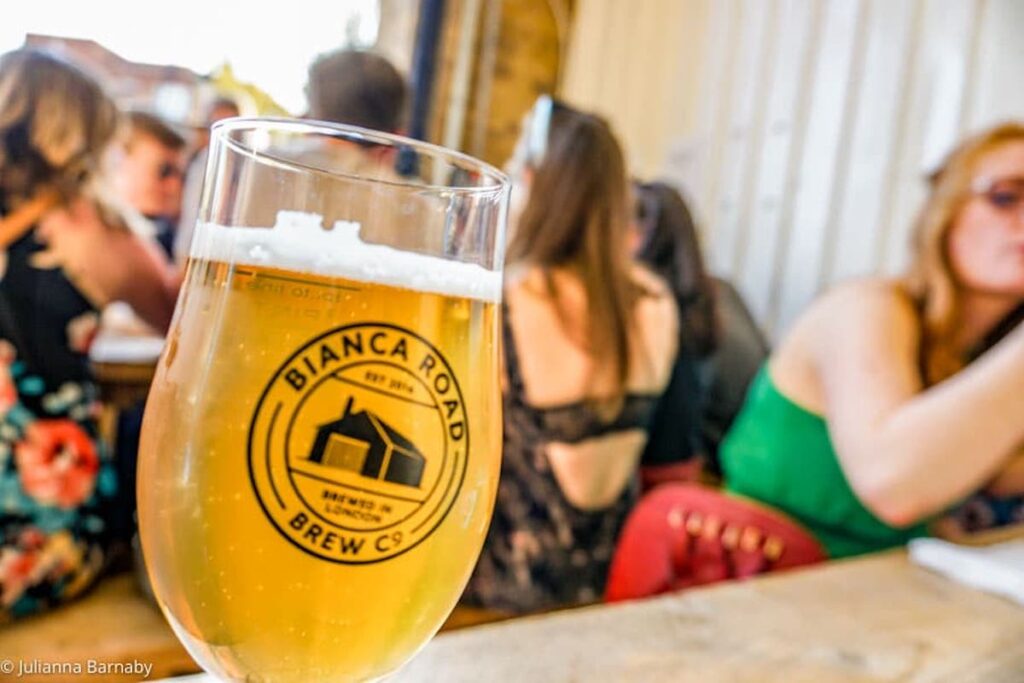 Bianca Road Brew Co. founder Reese Woods took his inspiration for the beers created at this cool brewery from a cycling road trip he took from San Francisco to Miami in 2014.
The diverse range of brews at Bianca Road Brew Co. includes the LA Bloods, a Blood Orange IPA, the bright and zingy Long Play (perfectly refreshing for hot sunny days) the Tropicali – a tropical summer IPA and a nicely drinkable London Lager that's long, crisp and delicious.
Address: 83 Enid St, Bermondsey, London SE16 3RA
Craft Beer Junction
Having successfully introduced 9 breweries into the UK market and distributing beers around the world, it's safe to say that this is not Craft Beer Junction's first rodeo.
Their Bermondsey Mile shop offers some of the most exciting craft beers in the world right now, including the likes of Hidden Springs vanilla ale and Arkane Aleworks' Fat Clouds offering. Try something new!
Address: 86 Enid St, London SE16 3RA
The Kernel
The Kernel was the first microbrewery to set up in Bermondsey (evidently, a rather brilliant decision) – founded by Evin O'Riordain, a cheesemonger turned craft brewer.
They've done so well that they no longer brew in their Bermondsey railway arch – that magic happens elsewhere – but the bottle room still opens each Saturday for you to buy a few of their beers (take away only).
Address: Arch 11, Dockley Road Industrial Estate, London SE16 3SF.
The Outpost
A.K.A Three Hills Brewing, The Outpost is up next on the Bermondsey Beer Mile.
Small batches are the name of the game here. With the taproom home to 20 different taps, as well as impressive Aperol spritz and gin options available, there's something for everyone to enjoy.
The Outpost has indoor and outdoor seating with plenty of board games and, if you're feeling brave (read: 8 beers in), a piano to tinker about on.
Address: 7 Almond Rd, London SE16 3LR
Spartan
Taking over Partizan Brewing's previous home (more on them later), Spartan's tiny premises is almost entirely filled up with barrels and taps. Seating is outside only and shared with next door, but hey – you're bound to be plenty of drinks in at this point, right?
Pale ales, lagers, fruity offerings – you'll find a little bit of everything here.
It's also rumoured that the folks at Spartan often serve beer straight out of the brew tank, so if you like things fresh, make sure you head on over.
Address: 8 Almond Rd, London SE16 3LR
EeBria
Although EeBria isn't a brewery, it's worth popping in there as they distribute a number of craft beers from independent breweries from across the UK.
They bill themselves as an online marketplace for buying craft beers straight from producers (we know where we can stock up when we can't make it to the beer mile then).
There are several draughts on tap and countless bottles to choose from – the selection changes constantly, pop in to see what they have on the day. There's also a beer garden for catching a few rays when the sun is out.
15 Almond Rd, Bermondsey, London SE16 3LR
Partizan Brewing
Partizan's been making fine craft beer from its (very small) microbrewery for a while now.
Partizan may be small but its beers are mighty good – which is why so many beer lovers cram into its standing-room-only space, snuggling themselves between kegs.
Founder Andy Smith cut his teeth at north London's Redemption Brewing before starting Partizan in 2012.
The beer ranges from traditional sips to more experimental flavours – the Brett IPA is a big favourite.
Address: 34 Raymouth Rd, Bermondsey, London SE16 2DB
Fourpure
Started by two brothers in 2013, Fourpure has gone from strength to strength since opening – mainly due to their focus and respect for the four core ingredients in beer – grain, yeast, hops and water.
The beers themselves range from easy-drinking beers such as the Session IPA and American Pale Ale to smaller batches of more experimental brews (We're currently loving their Castaway, which cheekily bills itself as bringing Tahiti to Bermondsey in drinking form).
Address: 22 Bermondsey Trading Estate, Rotherhithe New Road, London SE16 3LL
Small Beer Taproom
Historically Fourpure was always thought of as the final stop on the Bermondsey Beer Mile, that is until Small Beer came along.
Originally they were just a brewery and therefore didn't create any controversy. That all started when they opened their taprooms to the public and people started debating whether or not it should be considered the final stop.
Small Beer actually specialises in low ABV beers – you won't find anything on their taps above 3%. If you like to ease yourself out of a day's drinking there's no reason not to include this spot on your crawl.
Address: 70-72 Verney Rd, London SE16 3DH
Don't Miss the Distilleries in Bermondsey Either
Jensen's Gin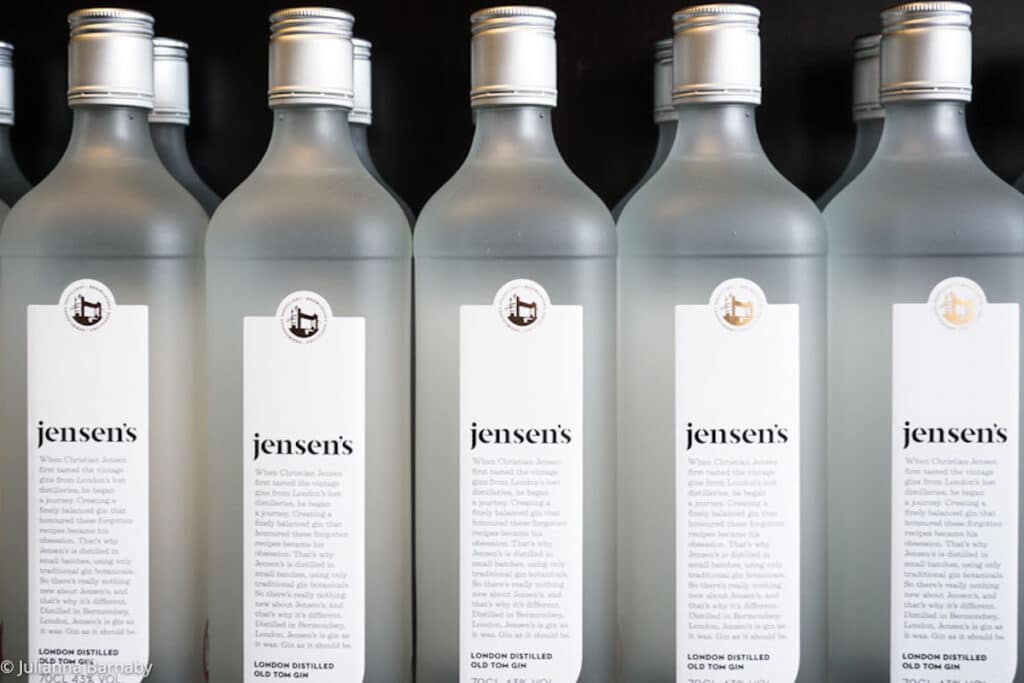 Jensen's Gin has been creating stellar gin in London since 2003 – remember those long gone days when small batch distilleries weren't even a twinkle in London's eye.
The Danish founder Christian Jensen just really wanted to drink some nice, really dry gin but the UK was too busy smashing Gordon's to be doing that kind of thing, so he went off and made his own.
At first the laws meant the gin had to be distilled by a larger distillery but they relocated to Bermondsey a couple of years ago and have been going strong ever since.
Address: 55 Stanworth St, London SE1 3NY
Practical Tips for Visiting the Bermondsey Beer Mile
Wrap up warm in the winter. The arches are cool in more than one sense of the word during the chillier months.
Don't overdo it. Be sure to eat a good meal before you start and fuel up at lunchtime too. There are a growing number of food stalls and eateries popping up along the mile – you have plenty of choice.
Saturday is the best day to visit, but some of the breweries open on Friday and Sunday. Check the opening times carefully though as they change at short notice (particularly in the winter months).
Bermondsey Beer Mile Map
Looking For More Bermondsey Guides?