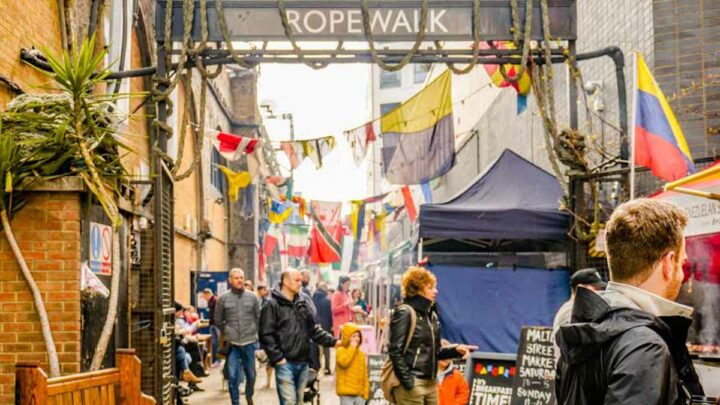 Maltby Street Market in Bermondsey is one of London's coolest food markets. Planning your trip? Here's what you need to know.
We're about to commit London blasphemy with our next words. Forget about Borough Market, Maltby Street Market is the foodie market that we're LOVING these days.
It's not the biggest market, but what it lacks in size makes up for glorious food in food. A tightly curated set of some of the city's best street food vendors is all it takes to make your tastebuds sing.
Want a few words of advice (warning: you're going to get them whether you want them or not). Go very, very hungry.
Here's why.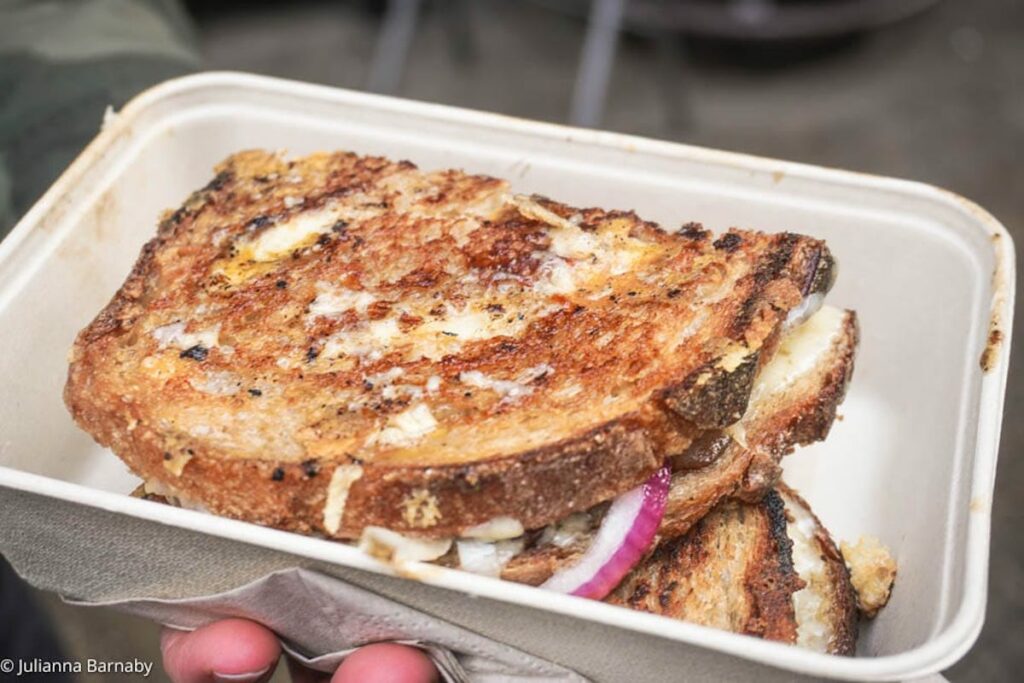 Why Should I Visit Maltby Street Market? What's the Big Deal Anyway?
Frequenting London's food markets is pretty much a city-wide obsession, for both visitors and locals to the capital.
There's nothing we love more than waking up at the weekend and planning our day around gorging on some of the city's tastiest (and most affordable) dishes.
There's something about unleashing your inner Jamie Oliver and heading off in search of fantastical ingredients that just delight Londoners and we're guessing that you're no exception either.
Add in a healthy mix of street food stalls, delectable restaurants, and a festive atmosphere, and there are few better ways to spend a weekend.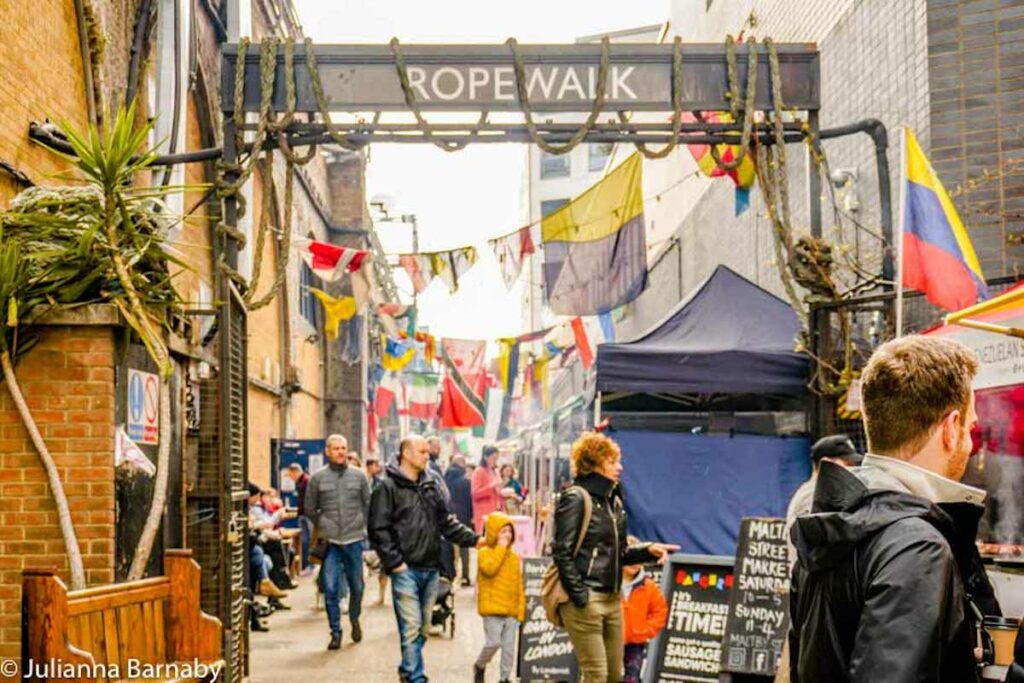 Of all of London's markets, Maltby Street Market is one of our favourites. If you love to make or eat delicious food (and really, who doesn't) – you just can't miss it.
You will have heard of Borough Market, London's most famous food market. We love it too, but even for an experienced Londoner, the crowds can be pretty overwhelming. So too can be the choice of weird and wonderful produce.
So imagine a version of Borough Market that focuses on street food stalls, has a super-cute location and only has a fraction of the crowds. That would sound pretty dreamy right? Welcome to Maltby Street Market.
It's the kind of market where you're rubbing shoulders with other Londoners – rather than every tourist in the city.
Plus, there are fewer food stalls than at Borough (if you've ever been struck with the crippling indecision of trying to work out which of 900 food stalls to eat from, you can only understand why this is a good thing) – but no less quality. Sounding good.
We also love the look of the Maltby Street Market, also known as Ropewalk Market. Nestled next to the Victorian railway arches, it's got a quirky yet beautiful look that's very London.
Read Next: The Best Food Markets in London
Where is Maltby Street Market?
As the name suggests, Maltby Street Market is located on, well, Maltby Street.
You'll find it in Bermondsey, an up-and-coming area in southeast London. This is an area that is on the rise, and it gets more and more lively week on week.
This is in no small thanks to Maltby Street and Bermondsey's epic Beer Mile, which is packed with craft breweries with a few indie distilleries thrown in for good measure.
Read Next: Why You Need to Visit the Bermondsey Beer Mile
Maltby Street Market Food Guide – Top 12 Stalls You Shouldn't Miss in the Bermondsey Market
Bad Brownie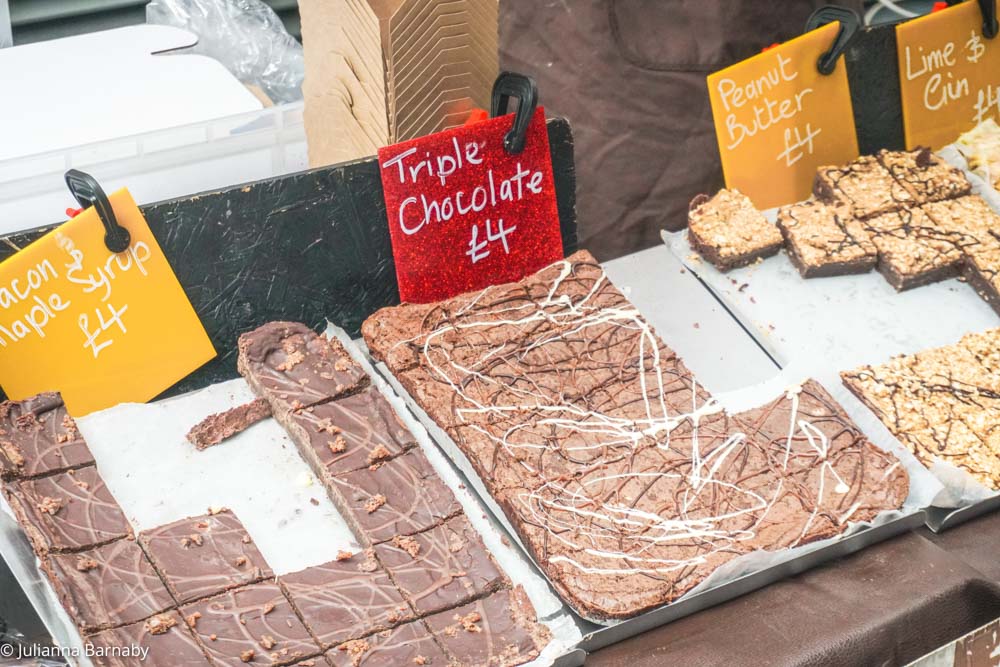 Nothing that tastes this good can be bad, right?
At least that's what you'll be telling yourself after one bite of these delicious, gooey brownies.
The culinary geniuses behind this Maltby Street Market icon are definitely fans of the "more is more" approach. Think chocolate, caramel, wafers and everything else delicious all crammed into one seriously amazing brownie.
Bad Brownie leaves behind the perfect Instagram aesthetic and instead goes for a full-on assault of sugar.
They may not look the best but they are seriously delicious. And we seriously approve.
Waffle On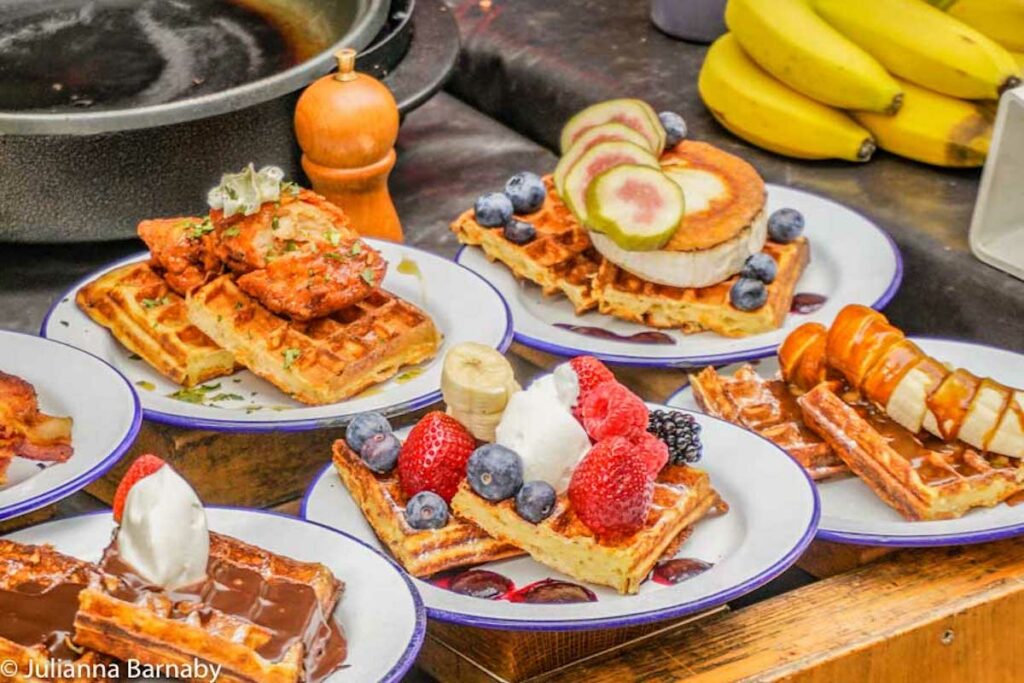 What's the best way to tempt yourself out of bed for an early morning trip to the Maltby Street Market?
The prospect of some delicious waffles, that's what.
Luckily, Maltby Street Market stalwart Waffle On more than fits the bill. For more than seven years, they've been serving up deliciously indulgent waffles to market-goers.
While Dorset cream is a staple in their homemade recipe, they also serve up delicious vegan waffles as well.
The Cheese Truck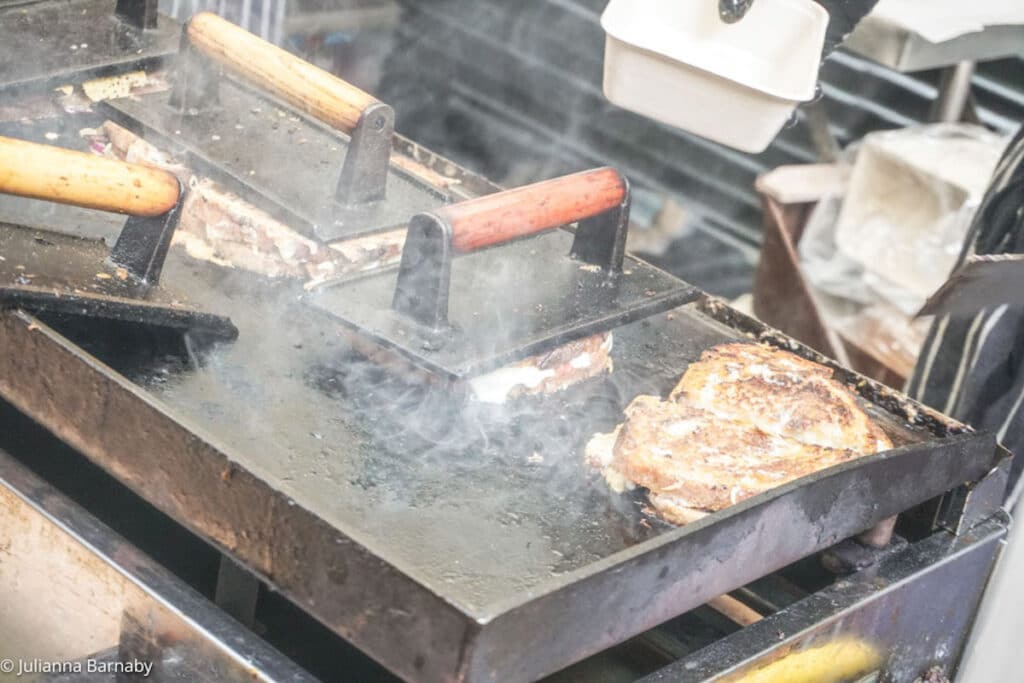 The humble cheese toastie has come a long way, from modest comfort food your ma used to shut you up when you were a kid to genuine foodie favourite.
The Cheese Truck is undoubtedly at the forefront of toastie excellence, serving up mouthwatering toasties from their vintage truck. They're true Bermondsey street food legends.
After conquering London, they explored the rest of the UK, stopping in at festivals including the world-famous Glastonbury. Not content with conquering Britain, they took their delicious toasties international, getting as far as Dubai and Abu Dhabi.
Really, who in the world doesn't like toasties?
Find out what all the fuss is about and check it out at the Maltby Street Market.
Devi's
Devi's describes itself as "a plant-focused, female-led food concept, honouring flavours of the Silk Road."
Ah, yes please!
Paying tribute to her Indo-Persian heritage, the brains behind Devi's, Tanya Gohil, serves up incredible dishes using flavours and spices from North Africa, the Middle East, Persia and India.
The result is not only absolutely delicious but also a fitting tribute to the women who taught her to make and love amazing food.
Devi's also pays it forward by employing a majority female team and reinvesting profits into female empowerment projects. Now that's guilt-free dining.
La Pepiá
When you see a really big queue around a fairly humble red marquee tent, chances are you've found La Pepiá.
This Maltby Street Market favourite is a Venezuelan street food kitchen serving up Arepas that are truly to die for.
For an extra London edge, go for the brightly-coloured rainbow Arepas… they look great on the 'gram.
There's also a hidden meaning behind the brightly coloured Venezuelan classics. Owner Joel Ferrera pioneered them out of a desire to spread positivity about Venezuela, after fleeing the economic crisis in 2016.
As if you needed anything more to love about this Maltby Street fave, they also do plenty of vegan and vegetarian options, and all ingredients are gluten free.
Gyoza Guys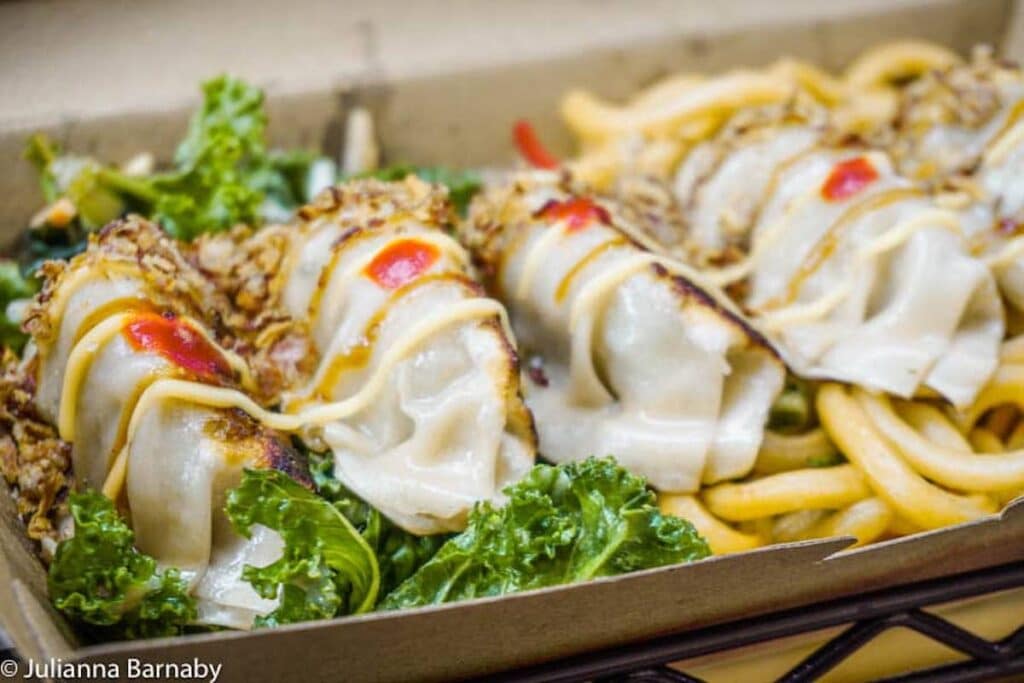 Gyoza Guys' dumplings are so delicious, they've had to introduce a "no sharing" rule to stop disputes.
It's no wonder… one taste of these mouthwatering gyoza and you'll certainly be wanting to keep them all to yourself.
They're classic gyoza with a bit of a twist, employing delicious sauces and sides to take these dumplings to the next level.
If gyoza aren't your thing (shock horror), then perhaps you can be tempted by some alternatives like pho, bibimbap or bun cha salad.
Finest Fayre
If you're looking to experience a true British culinary icon, you've just got to try the scotch eggs from Finest Fayre.
For the uninitiated, a scotch egg is a hard-boiled egg, rolled in sausage meat and bread crumbs before being deep-fried. Delicious.
No, seriously – you've got to try one.
There's no better place to meet this true icon than at Finest Fayre, Maltby Street Market stall that's been serving up British classics for years.
For those looking to branch out, there are also other comfort foods like breakfast muffins and salads… but really, the scotch eggs are where it's at.
The Beefsteaks
It's a steak sandwich, but it's no ordinary steak sandwich on offer from The Beefsteaks.
Founder Alex Pashby has taken the idea of the humble steak sandwich and turned it gourmet, using only the best cuts of meat and delectable herbs and sauces.
The result is the quality you'd expect from a restaurant… at prices you'd expect from a street market stall. Yep, carnivores will love this one – and so will your wallet.
It's not just the steak that's quality is impeccable – the hand-cut, never frozen chips are also delish.
Return to Shashamane
Return to Shashamane's signature vegan Ethiopian/Romanian is up there in unusual food combinations.
Proving just because it's not done often doesn't mean it shouldn't be done, it's absolutely scrumptious.
The result is tasty, filling vegan meals that have an emphasis on simple flavours and preparation.
Vegans will love it and carnivores may just be converted – make sure you don't miss this one.
Amen Ethiopian
Who knew London had a little Ethiopian gem hidden within Maltby Street Market? We did. And now you do, too. You're welcome.
Hearty meets spicy with sautéed meat, vegetables, and lentils all cooked in giant woks before your eyes. Mop up with Kocho bread for an explosion of flavour.
La Criolla
Indulge in a La Criolla Spanish-style empanada or two (or three). Savoury and sweet combinations are enveloped in flaky pastry. The result? A parcel of dreams that melts in the mouth.
We love the simple Caprese option (tomato and cheese), but if we're feeling spicy the jalapeno beef one goes down a treat. With the caramel empanada to finish, obvs.
The Snapery Bakery
The Snapery Bakery exploded onto the scene after a passion for sourdough snowballed into an entire business. And we're so glad it did.
Not only is it the place to pick up a fresh loaf over the weekend – the 50/50 field loaf is our choice – but the cardamom bun is a real treat.
Slightly sweet and slightly spicy marries perfectly into a fluffy pastry perfect with a coffee. Or, if you can't wait, for scoffing as you wander around the market.
Eating at Maltby Street's Restaurants
Bar Tozino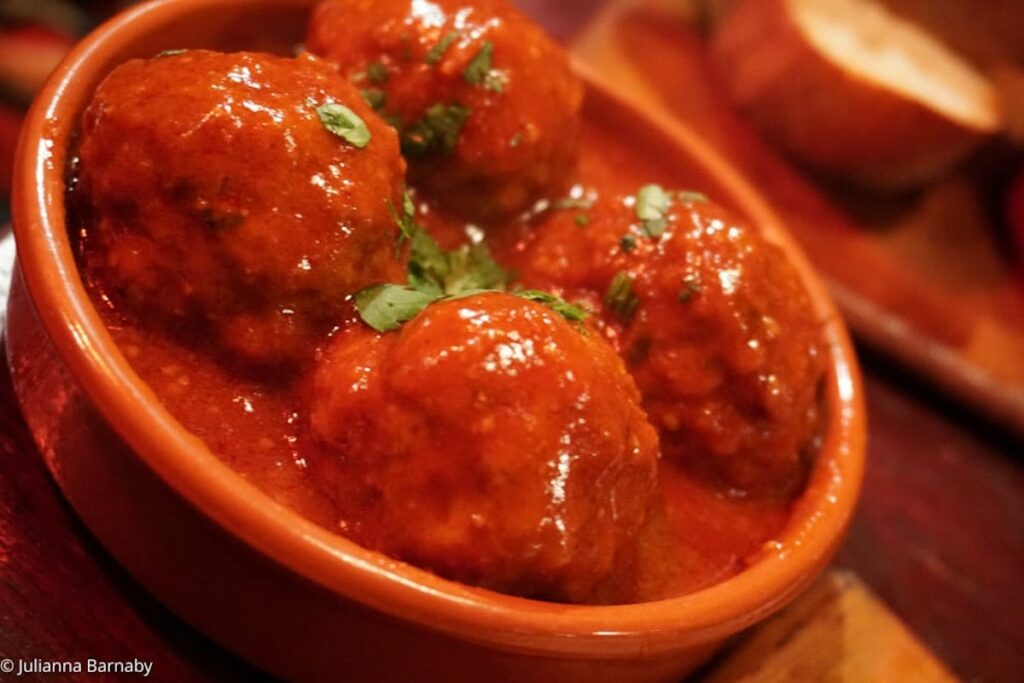 Step out of the hustle and bustle of South East London and into a tucked-away Spanish bodega.
As you'd expect, Bar Tozino offers exceptional wine and mouth-wateringly good jamón – that's the dried ham that's one of Spain's most beloved exports.
This little bar oozes charm and charisma, so pull up a chair and settle in to enjoy the finest things in life.
40 Maltby Street
It's not easy to stand out amongst dozens of street food stalls and restaurants, but 40 Maltby Street achieves it.
We'd like to make a recommendation for you – but there's literally no menu here. The meals on offer are made up and scribbled on the chalkboard depending on what ingredients are available daily.
The result is an ever-changing but always awesome menu that's full of surprises.
They're also seriously into their wine (you'd expect so – it's in the warehouse of Gergovie Wines), so you can expect a fabulous list that pairs beautifully with the food.
Constancia
This charming Argentinian restaurant was a Bermondsey hotspot well before Bermondsey was cool. In fact, it even predates the Maltby Street Market.
Constancia has been serving up delicious Argentinian fare using authentic family recipes and approaches for over a decade.
It's a carnivore's delight, with an emphasis on delicious steaks cooked in the traditional Argentinian parilla (barbecue). If you can't decide on a meal, try the mixed meat platter for a little taste of the best on offer.
Don't forget to pair it with a Malbec from Mendoza.
Omoide
If your visit to the Maltby Street Market has got you seeking even more culinary inspiration, head over for lunch at Omoide on nearby Bermondsey Street.
The menu is heavily inspired by Japanese cuisine, with chirashi sushi bowls and dashi. The ingredients are incredibly fresh, and you can watch it come to life right in front of your eyes.
The food is delicious and the prices are very reasonable. Even more surprising considering that head chef Angelo Sato comes from working at a string of Michelin-starred restaurants.
Well worth the walk.
Practical Tips and Information for Visiting Maltby Street
Maltby Street Opening Hours
For now, the Maltby Street Market opening hours are only on weekends. On Saturdays, it's open from 10am to 5pm, and on Sundays it is open from 11am to 4pm.
How to Get to Maltby Street
The easiest way to get to the market is by the tube or bus. The Maltby Street Market's nearest tube stations are London Bridge (10 minutes' walk) and Bermondsey (11 minutes' walk).
Maltby Street: Address and Map
37 Maltby St, London SE1 3PA
Looking for More London Bridge and Bermondsey Guides? Check these out…