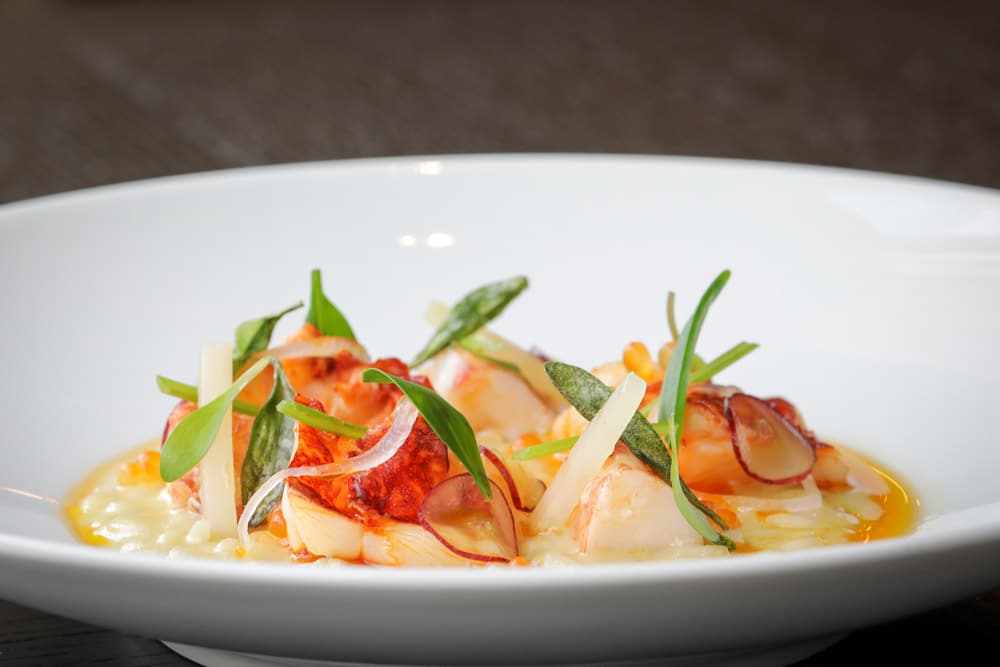 Looking for fabulous London Bridge restaurants for your next great meal? Here's where to start.
The area around London Bridge is packed with restaurants and fabulous food markets. There's no shortage of exceptional eateries – from laidback haunts to Michelin-starred delights.
Only question is… where do you start?
You know the scenario. You want to go for a great meal – but when faced with lists of the best restaurants in London Bridge that are long enough to warrant a book deal – decision overwhelm sets in and you end up eating dinner in your local KFC.
I'm here to save you from that fate. This guide walks you through 13 of the best restaurants in London Bridge plus five food hotspots in the area. Let's go.
Best Restaurants in London Bridge
Padella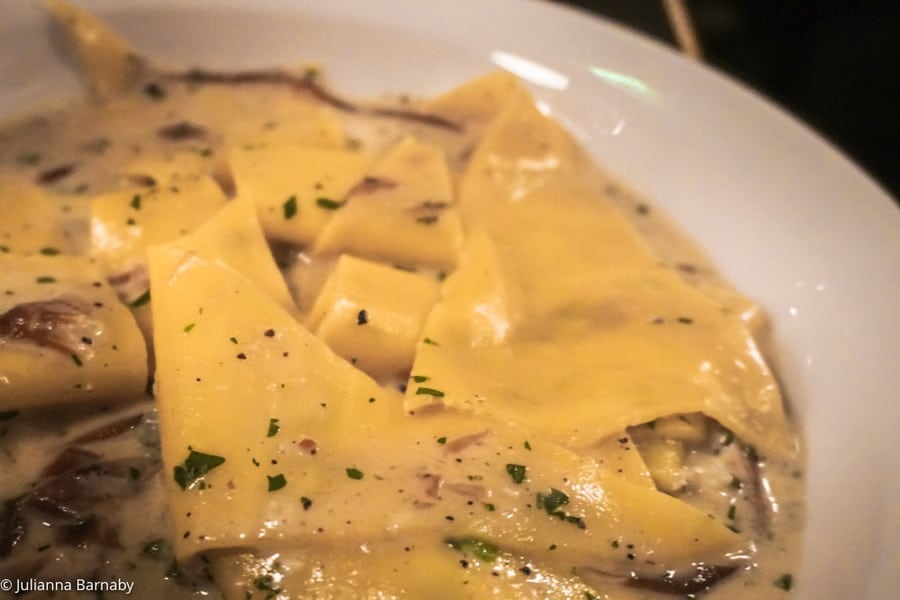 Prepare to do a double take at the prices on this menu – in a good way.
In a city that's not afraid to charge double digits for cereal, incredible pasta from £4 (yes, you read that right) is a serious delight.
Even Padella's more lavish options like ravioli with ricotta and sage butter will still see you get change from a tenner. Winning.
As you'd probably expect, great food + great prices = serious popularity. Padella is one of the best restaurants near London Bridge, and commands the crowds to match. They also don't take bookings, so be prepared for a wait.
Get there after 7.30pm and your chances of snagging a table for that evening are pretty much nil. Good news is that once they take your name and number and put you on the waiting list, you're free to go and get a drink and come back when your table is ready.
Flour & Grape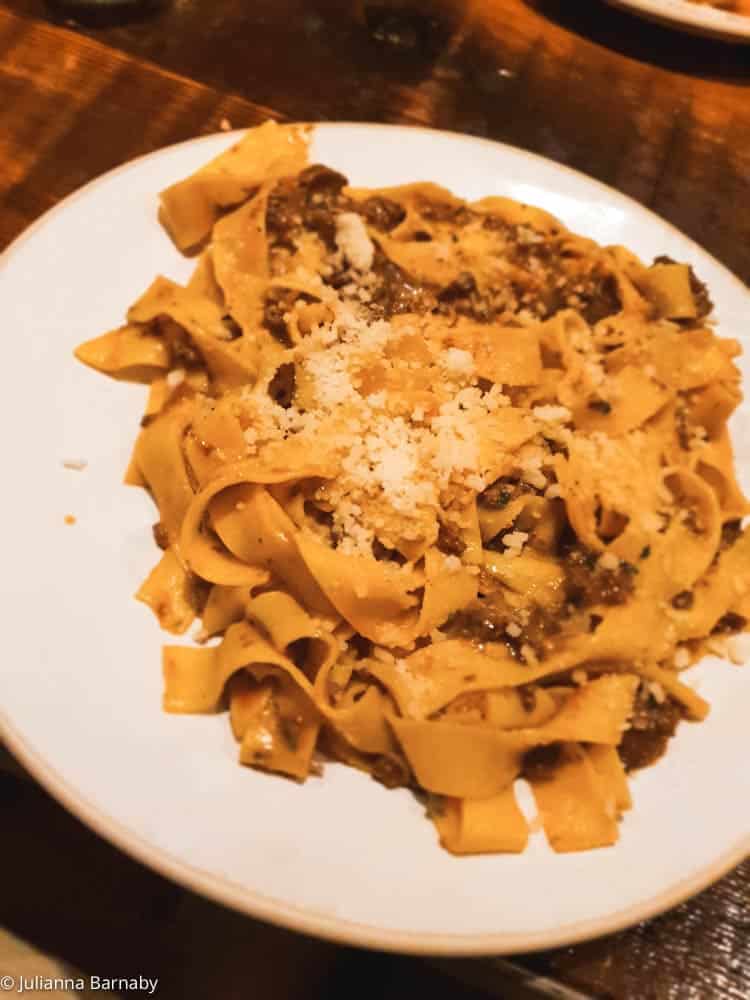 Fabulous Flour & Grape features a simple offering: great pasta and great wine. I mean, it is a pretty excellent pairing.
This bustling Bermondsey Street restaurant is famous for their handcrafted pasta. If you're used to the pre-bagged stuff you buy from the supermarket – prepare your tastebuds.
Here, the emphasis is on fresh, simple food where the quality of the produce speaks for itself.
The only thing that's better than delicious, fresh pasta is delish, fresh pasta paired with amazing Italian wine. If you're not confident doing your own pairing, the wait staff will be more than happy to help out. It's another one that gets busy though.
Read Next: Exploring Bermondsey Street
El Pastor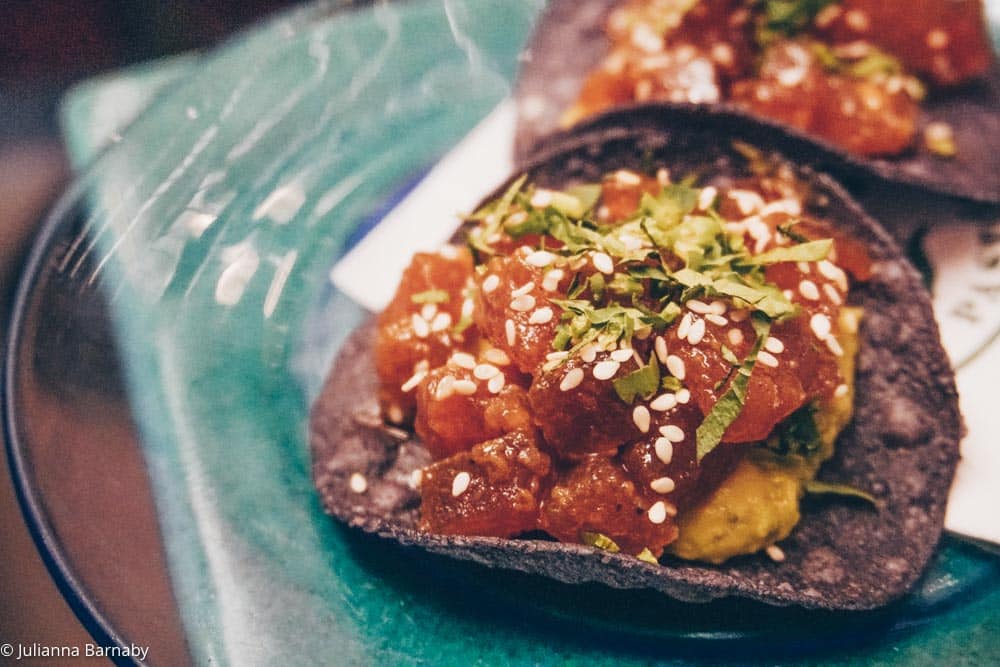 If you've ever been to Mexico, you'll know all about the deliciousness that is a perfectly prepared taco or quesadilla.
Want to savour some authentic Mesican flavours? Pay a visit to El Pastor, an authentic Mexican taqueria in the heart of London Bridge.
After ten years living in Mexico City, the owner has brought delicious Mexican to the heart of London Bridge – in a big way.
There's a mouthwatering selection of tacos and quesadillas. Can't make a decision? They also do share plates so you can sample a few dishes.
I'm all about the delicious Cochinita Pibil, a Yucatan classic that's almost too good to share. It's a definite favourite amongst the many London Bridge places to eat.
Jose
Step off of lively Bermondsey Street and into a Barcelona-esque tapas bar, Jose. Turns out, you don't even need to cross the Channel to sample some amazing Spanish delights.
As you sit down at the super-stylish bar (no reservations here – it's walk-in only), a menu full of Spanish classics appears. Think patatas bravas, Jamon Iberico and deep-fried baby squid. Yum.
It comes as no surprise that head chef Jose Pizarro was inspired by his hometown of Barcelona when opening his first Bermondsey Street restaurant.
The result is an amazing, authentic eatery that is one of my favourite places to eat near London Bridge.
Tapas Brindisa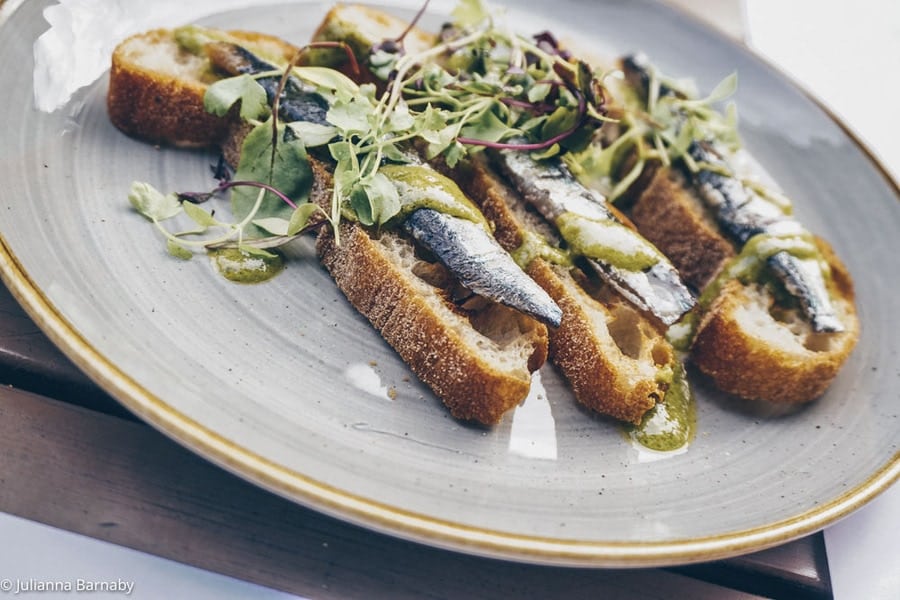 Because you can never have enough tapas, right?
Another of my favourite restaurants around London Bridge, Tapas Brindisa is nestled in the heart of Borough Market.
When it opened in 2004, it was the first traditional, no-reservations tapas bar in London. Today, it's still going strong in its original market location.
It's no wonder – their simple commitment to delicious food (and sherry) keeps you returning again and again.
Preferably in the company of good friends, to enjoy a little too much cheese and jamon, and maybe a little too much sherry to boot.

Read Next: The Borough Market Food Guide
Bar Douro
Yet another destination on the culinary adventure that is London Bridge is Portuguese-inspired Bar Douro.
It has all the ingredients (pun intended) for a perfect Portuguese meal. Firstly, there's the gorgeous decor complete with blue tiles – very Pinterest worthy.
Then there's the amazing food, of course. Drawing on his Portuguese heritage, owner Max Graham has created a menu that pays homage to the best tastes of his homeland, like octopus with sweet potato.
It wouldn't be an exceptional Portuguese meal without some fabulous wine to accompany it. There's plenty on offer at Bar Douro – from the region of Douro and further afar.
As well as the cute and cosy thirty-seat bar area, bigger groups can even dine in the wine cellar. Yes, please.
Casa do Frango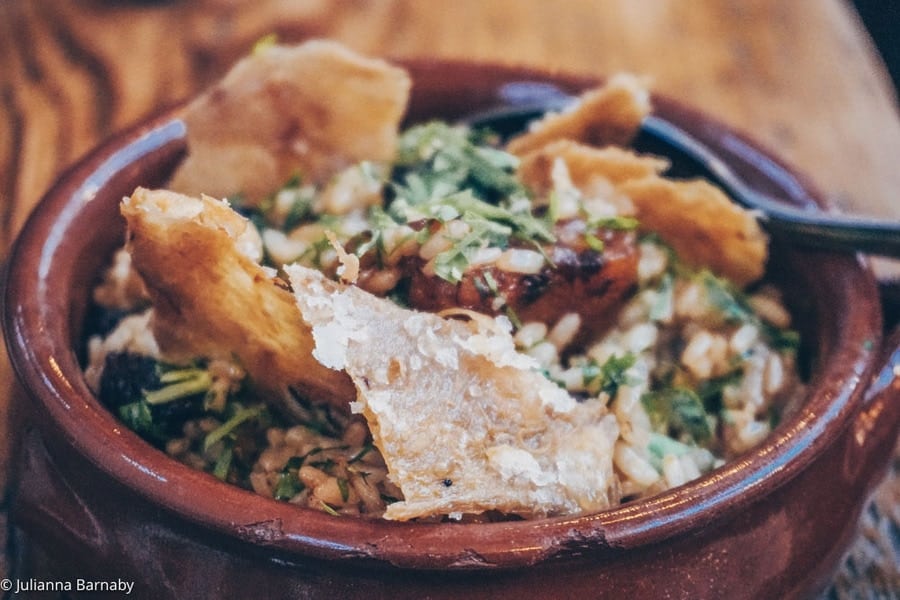 If the mere mention of 'piri piri chicken' makes you think 'Nandos', you and I need to talk.
Hey, I love the occasional cheeky Nandos as much as the rest of us – but you really need to experience the magic that is real Portuguese piri piri chicken.
I'm talking slow roasted over wood charcoal with a closely-guarded secret blend of spices. Let me guess, your mouth is watering, right? If so, you'd better head over to one of my favourite London Bridge restaurants.
It doesn't get much better than the Algarvian delights of Casa de Frango. The piri piri chicken is unmissable, obviously, but there's even more to try as well. This includes amazing Portuguese wine (of course) and Portuguese tarts (of course). Not to mention a 'Grammable interior and buzzy atmosphere.
You can thank me later.
Champor Champor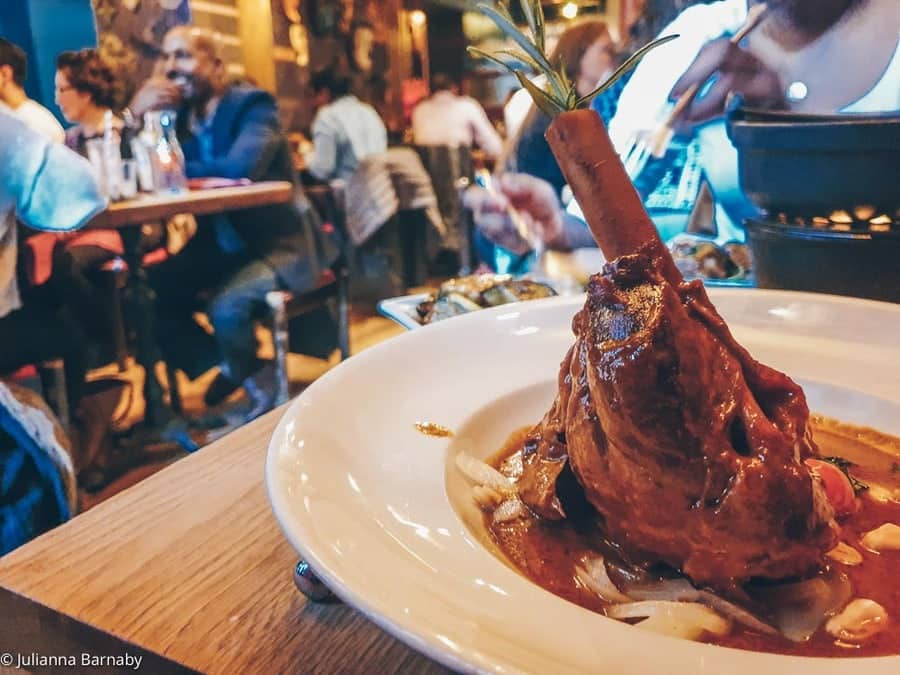 This quirky restaurant in London Bridge describes itself as 'a total dining experience.' And, I'm happy to report – it's not just a hipster marketing slogan.
Serving up traditional Malay and Thai dishes, you can't talk about Champor Champor without mentioning the stellar food. It really is delicious.
The food alone would have me coming back time and again, however, it is true – there's even more to it. From the friendly service to the beautiful, handpicked decor, it's unique without trying too hard.
The menu changes often, and while you might miss your faves occasionally – there is always something new and amazing to discover in its place. Book ahead.
Lobos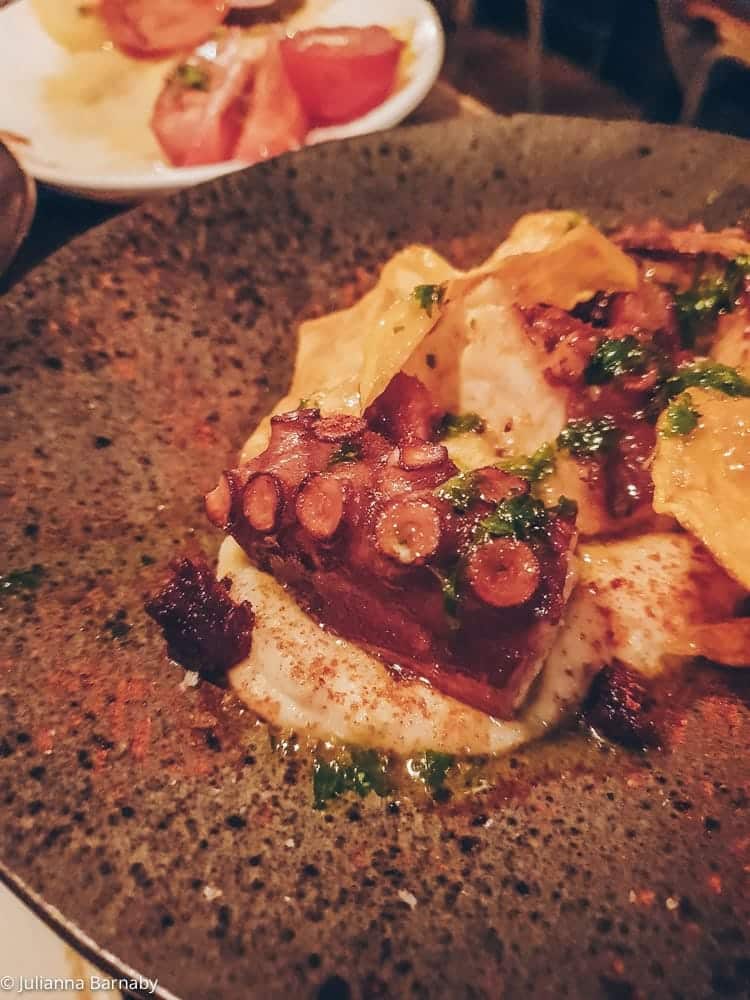 Have you ever chatted with your co-workers about running away and setting up your own business? Well, that's exactly what happened for the team behind Lobos Tapas.
After seven years of working together, the 'dream team' decided it was high time to set up their own venture. And boy am I glad they did.
The end result is Lobos, a fabulous tapas bar in the arches next to Borough Market inspired by their love of wine, food, Spain and London. All great things in my book.
The food is excellent, and with an open bar and kitchen area you can even watch it being expertly prepared. It's all good, but the Iberico Pork Selection is pretty much to die for.
If you're looking for a fabulous place to eat around London Bridge, you really can't go wrong here.
Ting at The Shard
If you're after an iconic or showstopping restaurant in the London Bridge area, it doesn't get much better than Ting at the Shard.
Located inside one of London's most iconic buildings, the emphasis here is on glamour and luxury.
Even still, however, there's a warmth about it. It's perhaps no surprise given its name is inspired by the Chinese word for 'living room'.
On offer is an incredible British/Asian fusion menu, all served up in eyeshot of some of London's most spectacular views.
If you're looking to treat yourself or someone else to dinner in London Bridge – this is sure to be a winner.
Casse Croute
Despite our cross-Channel rivalry, even us Londoners have to admit the French know a thing or two about food. And by that I mean that French food is totally and utterly divine.
If you're looking to sample authentic French fare in the British capital, you'd better make for Casse Croute, one of the best places to eat in London Bridge.
The menu here is proudly French – and I don't mean just the food on offer, which changes regularly.
No, the menu is literally written in French – so you'd better whip out Google Translate, or just take a chance. Everything is delicious, so you're unlikely to be disappointed.
Of course, it wouldn't be a proper French meal without a delicious vin – the wine list here is as great as you'd expect, so don't forget to order a glass (or a bottle).
Bar Tozino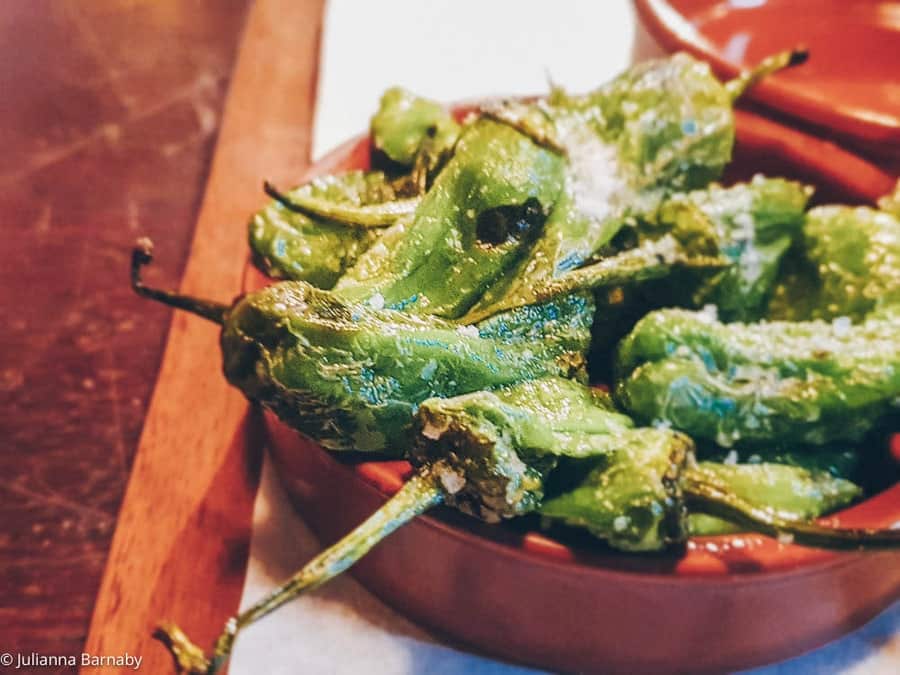 Underneath the iconic arches of Maltby Street you'll find Bar Tozino, a humble little tapas bar that's well on its way to becoming an icon of its own.
I love a bar that makes you forget the outside world for awhile, and Bar Tozino is that kind of place. Think dimly lit lighting and hardwood furniture.
While London is full of places offering all kinds of crazy and complicated dishes, Bar Tozino keeps things simple. Wine, and jamon.
I mean, what more do you need, really? Add in some decent company and you've got the recipe for a great evening if you ask me. Or any of the fans of this picturesque little Bermondsey bar and tapas joint.

Read Next: Why You Need to Visit Maltby Street Market
The Coal Shed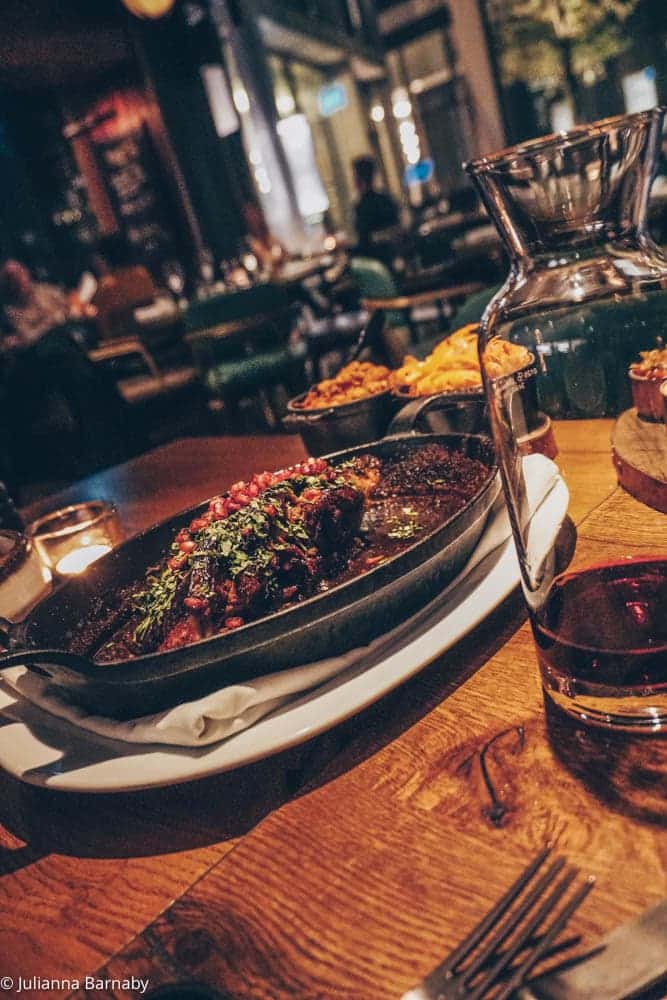 Meat, fish, fire.
One thing is for sure – The Coal Shed is straight the point, serving up uncomplicated yet delicious dishes. Of meat and fish cooked over the fire, of course.
When it comes to preparing amazing food, the Coal Shed doesn't rely on an abundance of flavours or ingredients. Instead, it allows the quality of their hand selected steak and seafood to shine through.
The result is some of the best steak you'll ever eat in your life (fact) as well as absolutely scrumptious seafood as well.
The menu changes often to take advantage of the season's best produce, so don't be fooled into thinking the choices might get repetitive.
Their midday menu is one of the best lunches in London Bridge, offering up great flavour and value for money. They're also a great choice if you're off to the theatre nearby.
Where to Eat in London Bridge: Must-Try Food Markets
Food markets in London Bridge are kind of legendary. Of course there's the ultra-iconic Borough Market, but there's even more if you're looking for a great place to eat in London Bridge.
Borough Market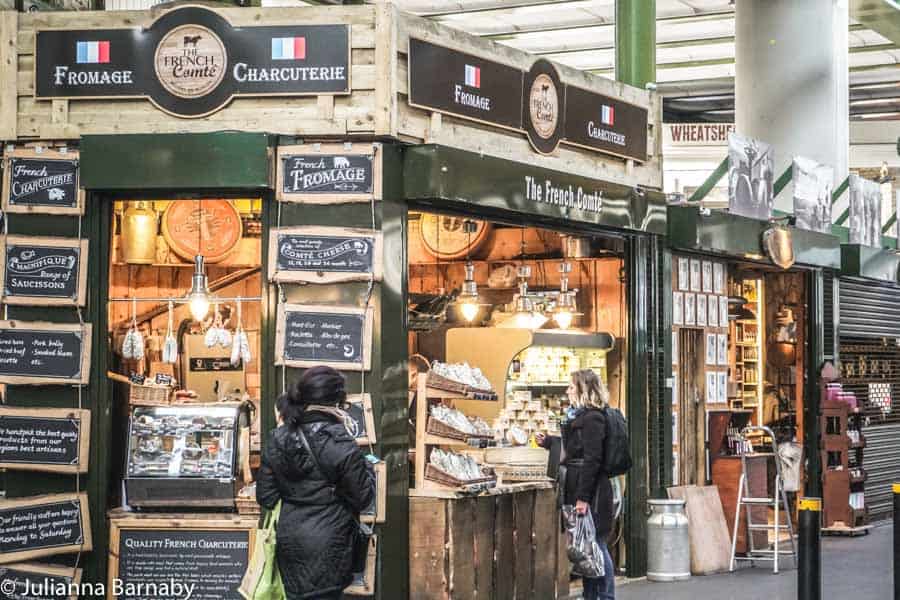 If you've got a food-loving bone in your body, chances are you've heard a thing or two about Borough Market.
It's an absolute London institution with an incredible history. With origins that can be traced back to the 12th century, it's been the go-to for retail and wholesale food for literally centuries.
Even after all this time, what's on offer is still delighting Londoners. As well as picking up some amazing ingredients for your own dishes, there's also plenty of ready-made deliciousness on offer.
No doubt, if you're looking for the best places to eat in London Bridge then you can't miss the market.
From the Levantine-inspired dishes of Arabica Kitchen to the British classic of a scotch egg served up at Scotchtails, there's pretty much no better place for lunch near London Bridge.

Read my Borough Market Guide
Flat Iron Square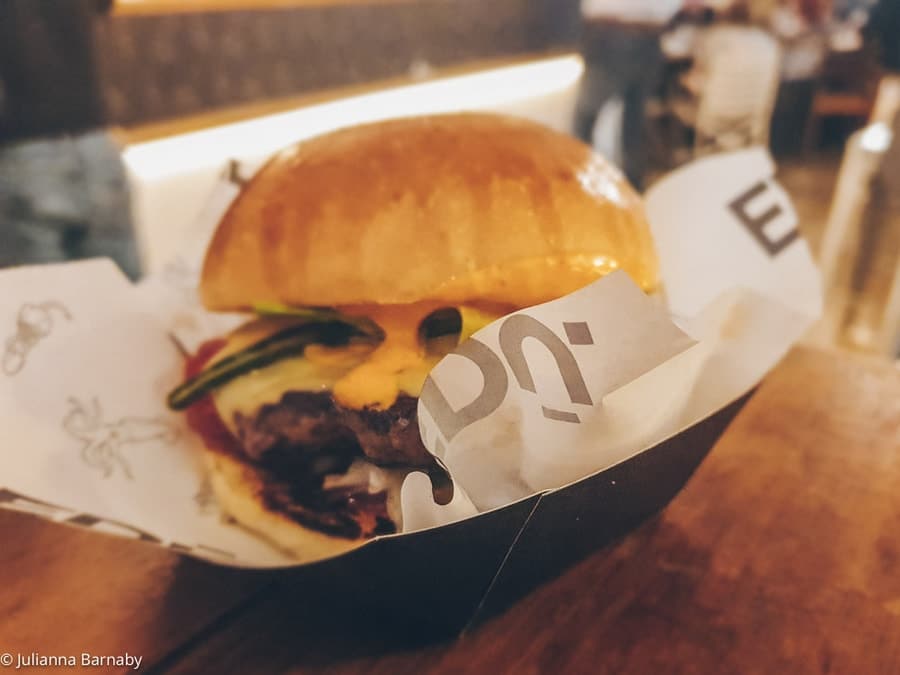 Life around London Bridge can get pretty hectic, so it's nice to have a spot to stop and feel some quirky London community spirit.
That's what's on offer at Flat Iron Square, the self-declared "loveliest cultural hub" in London.
First and foremost it's a street food market, meaning it's one of the best spots for affordable and delicious food near London Bridge. There's a great selection of stalls, like the amazing Tatami Ramen (no prizes for guessing what's on offer there).
There's more than just great food, however. There's also frequent live events including music and performance art, and there are also a number of pop-up bars too.
Read my guide to visiting Flat Iron Square
Vinegar Yard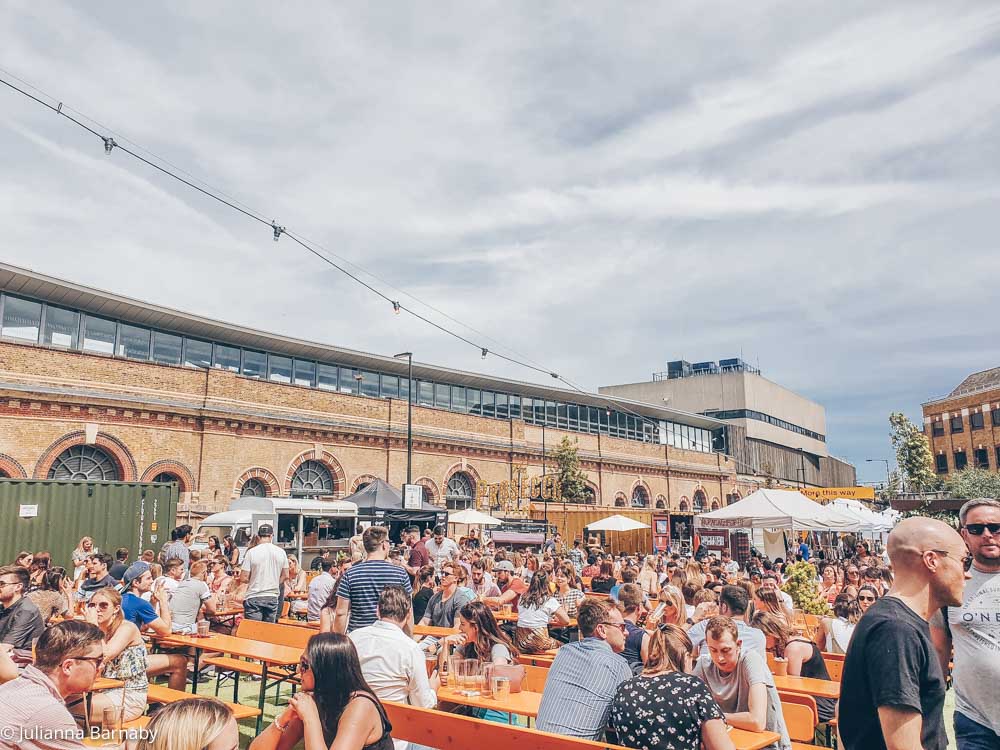 If you love the vibes at funky Flat Iron Square then you're sure to be thrilled at their sister market, Vinegar Yard.
Not far away, this space has been converted into another fabulous food/drink/more market. Amongst the sea of tasty offerings, I've got to admit I'm kind of obsessed with the Indian-inspired burgers of Baba G's.
While you enjoy your food, chances are you'll be able to catch some live music, or at least just soak in the buzzing atmosphere.
It's also just two minutes from the tube and train stops, making it a great choice if you're looking for restaurants near London Bridge station.
London Bridge Farmer's Market
It seems the entire world has gone a little mad for farmer's markets, and London Bridge is no exception.
Held every Tuesday between 9am and 2pm, you'll find the London Bridge Farmer's Market at Memorial Arch Square.
While this is a great place to shop for fruit and veg, there are also plenty of food stalls if you're not keen on the "DIY" route.
You can always grab a bite to eat – I recommend 'I love Moussaka' (indeed I do) – and sit yourself down for a picnic in the park.
Although some traders accept card, I recommend bringing some cash so there are no food-related disappointments or mad dashes to a cash machine.
Mercato Metropolitano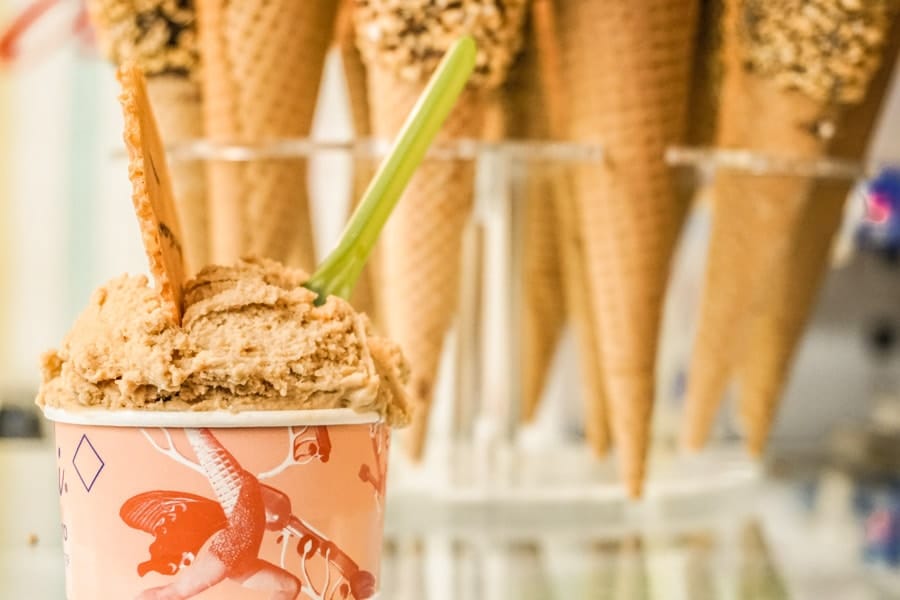 If there's one thing I know about London, it's that a building doesn't stay crumbling and disused for long. It's only a matter of time before a dynamic Londoner cooks up something amazing to fill it with.
In the case of an old paper factory on Newington Causeway, that amazing thing is Mercato Metropolitano.
This venture saw the factory converted into an amazing space offering food stalls, microbreweries, distilleries and more.
The food on offer here is described as "glocal" – globally inspired, locally sourced. The result is amazing flavours from all over the world and one of the best places to eat near London Bridge.
As well as food, Mercato Metropolitano also hosts regular events from live music concerts to cooking classes.
It is a bit further from London Bridge (10 minute walk) from London Bridge than some of the other spots in this guide, but it is worth the effort.
Best Places to Eat in London Bridge: Practical Tips
Many of the area's most popular restaurants including Padella don't take reservations. If you've set your heart on visiting, your best bet is to go early, get your name on the list then go off for a pre-dinner aperitif until they text you to tell you the table is ready.
Eating out in London Bridge tends to be on the more expensive side – no surprise given its central location. Padella, Flour & Grape, Casa do Frango and Bar Tozino are the best-value options on the list.
What are the Best Restaurants Near London Bridge Station?
If you're looking for the best restaurants near London Bridge station then Padella, El Pastor, Tapas Brindisa, Champor Champor, Lobos and Ting at The Shard are all within five minutes walk of the station.
London Bridge Food Guide: Map
Click here for a map of the London Bridge eateries featured in this guide.
Read More London Bridge Guides