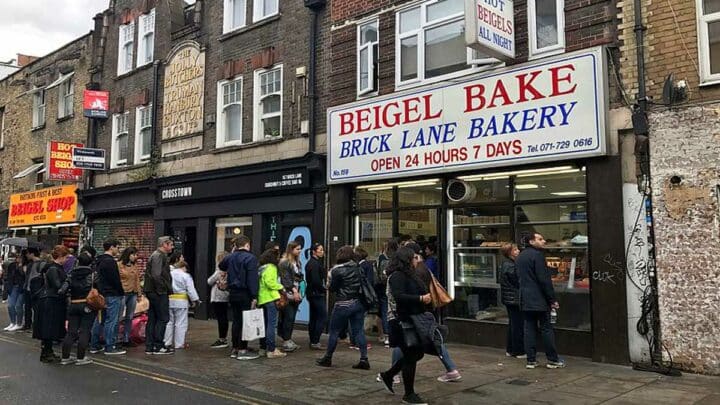 When it comes to sandwiches in London, you've got plenty of choices. These are the best places to grab a sarnie in the capital.
Ok, we're gonna come out and say it. There are a million fancy restaurants in London, and there are so many delicious things to eat in the world. But you can keep them all if we can't have our sandwiches.
Truly the champion of foods, the simple formula of things between bread never fails. It also regularly goes above and beyond.
London's got heaps of places for a killer sarnie, almost too many to choose from. We narrowed it down to ten of our fav spots.
Read on for our guide to all the best sandwiches London has to offer. It's sandwich time.
London's Best Sandwiches
The Dusty Knuckle
Dalston, Harringay
££
You'll have to act fast to get your hands on something at the Dusty Knuckle, their sandwiches almost literally fly off the shelf. For that reason, stake your lunch on this place at your own risk.
We will add that it's a risk worth taking. The Dusty Knuckle is one of the best sandwich shops in London. A large part of that is down to the knock-out focaccia that forms the bread for their delicious creations – none of which will let you down.
Another part of that is because they employ at-risk youth to staff their ever-busy shops, giving back to the community in more ways than just serving up the best lunch of the week.
Dom's Subs
££
Looking something like what the head honchos at Subway imagine their "sandwich artists" are creating, the subs at Dom's Subs are as beautiful as they are dangerous (you're at major risk of a food coma putting away a whole one of these).
You won't find space to sit down in this shop. You'll barely find space to squeeze up to the till if there are other people in the room. But what you'll be eating perched on a wall or park bench somewhere round the corner is a king among men of London sandwiches.
Our choice: the Cold Cuts. A classic American sandwich filled with mountains of ham and smoked cheese, lettuce, tomato, and served between a wedge of a sub – no messing around, it's one of the best sandwiches in London.
Beigel Bake or the Beigel Shop
£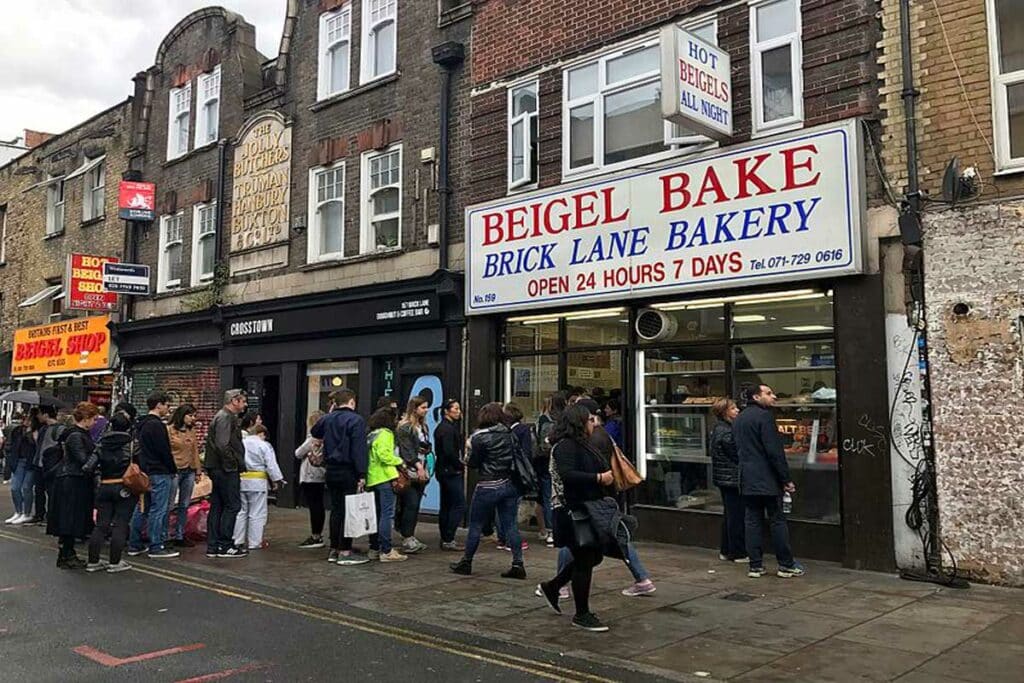 So much conversation about these places gets spent discussing which side you or your friends take in the great beigel debate that often the main point gets entirely overlooked.
Both of these spots do excellent salt beef bagels.
Ignore the fact that choosing which one you like best is sort of a London rite of passage, and that you're eating at two of the city's finest food institutions for under a tenner. These things are just straight-up delish.
If you've managed to visit Beigel Bake or The Beigel Shop and resist the urge to go for salt beef, you might have noticed they do salmon and cream cheese bagels that deserve a discussion of their own too.
Max's Sandwich Shop
Crouch Hill
££
Perhaps the most charismatic location in our guide comes in the form of Max's Sandwich Shop. A bit of a North London institution, the sandwiches here take inspiration from various global cuisines and deliver in down-to-earth, stick-to-your-ribs fashion.
You might call this basic, but our go-to sandwich here is the one Max's is known for best: the Ham, Egg 'n' Chips. Bits of slow-cooked ham hock sit clumsily together with a fried egg and come finished with what makes this sarnie so special – the precarious stuffing of handfuls of shoestring fries.
It's not a tidy eat, but boy is it delicious.
Hai Cafe
Lower Clapton
£
When it comes to sandwiches it's impossible not to take into consideration the lofty banh mi. Crunchy French baguette, funky liver pate, your choice of filling kept in check by the sour sweet crunch of daikon and carrot. We get hungry just thinking about it.
In London you've got more choice than you need for banh mi, so we'll give you a solid recommendation. It comes in the form of Hai Cafe, a little family-fun place in Clapton that does super-fresh, super-tasty Vietnamese food across the board.
That includes their banh mi that, to put it simply, is everything you'd want it to be.
Sons and Daughters
££
Quite literally the definition of a door stopper, the sarnies at Sons and Daughters are frankly monstrous. Getting your mouth around one of them can be a bit of a big job, but once you take that first bite you'll know you're in the presence of sandwich greatness.
They rotate varieties on a semi-regular basis but also run a menu of regular classics. The chicken is the bomb, as is merguez – that one comes with fries loading out the sandwich. You'll need an appetite, but you won't walk away disappointed.
The location in Coal Drops yard is a short walk from the faux-grass terraced by the canal, a nice spot for lunch on a sunny day. They also serve beers. Just sayin'.
The Black Pig
££
You may know The Black Pig as Borough Market's best sandwich joint, and from the fact that they regularly have the longest queue in a place where nearly every food stall has pretty long queues.
You may also know it for the array of ciabatta sandwiches they do so well.
Famed for beasts like 'The Best One' a hunk of slow-roasted pork shoulder, honey truffle mayo, salsa verde, and fennel and apple slaw, it's not easy to see why people are queuing around the block.
We assure you the sandwich is worth the wait.
I Camisa & Son
££
A staple on the Soho lunch scene since its opening back in 1961, I Camisa is a proper Italian deli.
Having survived near-closure during the cost of living crisis, they managed to pull the business back from the brink and have even managed to keep their London-famous sandwiches at the very reasonable price of a fiver.
What that five quid gets you is your choice, but expect to find selections of imported Italian hams and salamis, the kind of deli-counter delights that have foodies drooling, and some beautifully fluffy focaccia to hold it all together. Bellissimo!
Quo Vadis
Soho
£££
Once home to Karl Marx, and before that a brothel, now a swanky Soho restaurant and members club that makes one of the finest sandwiches in the city.
It's not the rustic, packed-out staples like some of the other numbers in this guide, but Quo Vadis' nod to the sandwich world is exquisite.
It comes in the form of hunks of smoked eel, dollops of horseradish held between two golden-brown slices of toasted sourdough, and a little pile of pickled onion that brings the whole thing together.
You can't grab it to go, it's probably not an option for a quick work-day lunch, but it is simply spectacular.
Bodega Rita's
Clerkenwell
££
This deli does sandwiches that will keep you coming back for more.
Served in a basket to be eaten in, perhaps alongside a beer or a glass of wine, watching the fools that order from the menu of tacos instead of opting for what comes between bread at Bodega Rita's they don't get much better than this.
We respect anyone who knows what they like off the menu here, but you're scoring major points with us if you go for the Tony. An Italian sub down to the very salami in its filling, this beast could just as easily come from the menu at Satrielli's Pork Store as it did from Rita's.
Sopranos fans will find much to love.
Practical Tips for Eating Your Way Around the Best Sandwiches in London
Some of these places, Dom's and the Dusty Knuckle for two, offer click-and-collect services so you can ensure you won't be disappointed if you turn up and your fav sarnie is already sold out.
No need to restrict yourself to eating indoors on a sunny day. Some of these spots are perfectly located for a grab-and-go type situation, and sandwiches are the ultimate grab-and-go food. How about lunch in the park? Anybody?
London's Best Sandwich: Map
London Sandwich Guide: Read Next