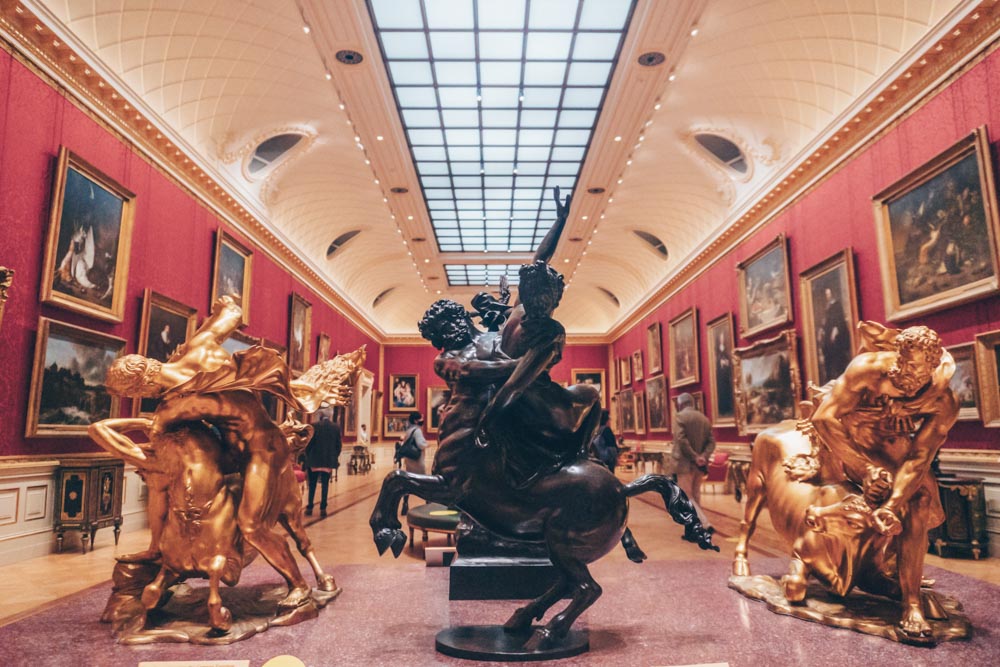 Your guide to all the best art galleries London has to offer.
When it comes to art galleries, London has more than its fair share. There are the big hitters of course – but others are quieter affairs, a sedate stomping ground for seasoned art enthusiasts or in-the-know locals.
Of course, there's a good reason why galleries like Tate Modern and The National Gallery are among the most-visited in the world; they display some of the most influential artworks to ever exist. Must-see paintings like Van Gogh's sunflowers, Claude Monet's lily pond, and Pablo Picasso's nude woman all feature on London's brag list.
That said, some of the best art galleries London has to offer are perhaps its less conventional ones. They are, after all, often the most progressive and thought-provoking.
Looking for the best art galleries in London? Discover both the city's most prestigious galleries and its most unconventional ones, passing a crypt, tunnel, veneer factory, and even a 'Nudie Booth' along the way.
The Best Art Galleries in London
The National Gallery
Central London
At almost 200 years old, not only does the UK's most-visited gallery hold one of the most valuable European art collections in the world, The National Gallery also holds a position as one of London's most treasured pieces of architecture.
Priceless artworks, like 'Vase with Fifteen Sunflowers' by Van Gogh and 'Virgin of the Rocks' by di Vinci, are surrounded by impressive marble pillars, golf-leaf arches, frescoed ceilings, and Victorian glass roofing.
With over 2,300 paintings dating from the 13th to the 19th century, it is an Eden for history buffs and art enthusiasts alike.
The King's Cross Tunnel
King's Cross
Although a station tunnel might not be the first place you think of for an art display, it feels pretty fitting for London, a city in thrall with its Underground system.
Rather than displaying physical art works, The King's Cross Light Tunnel is defined by its LED light display wall which runs along the tunnel's entire 90 metre length.
As artists are frequently commissioned to produce site-specific light installations, the tunnel is repeatedly being reconceptualised, completely transforming its energy each time.
Saatchi Gallery
Chelsea
The Saatchi Gallery is best known for its Young British Artists exhibit, which focuses on undiscovered talent.
The exhibit was first held in the late 1980s, when owner Charles Saatchi sold his original collection of US art and replaced it with work from completely unknown artists. These artists included Damien Hirst and Tracey Emin, both of whom are now world-renowned.
The Saatchi Gallery may have only opened in 1985, but this unapologetically controversial move made it a staple on the map of best art galleries in London.
Sophie Tea Art Gallery
Soho
Having risen to art-fame entirely through Instagram, Sophie Tea now has her very own Barbie-pink conceptual contemporary art gallery on London's Carnaby Street.
With her signature bold and colourful brush strokes and splatters, Sophie immortalises her female followers' nude photos in protest of beauty standards to prove that all shapes and sizes are beautiful.
Head to the gallery to admire unapologetically painted boobs, bums, and tums – not only that but you can help yourself to a cup of tea, play a game of Pac-Man, and even take creative selfies in the mirrored 'Nudie Booth'.
Brick Lane Gallery
Shoreditch
Decorated head to toe in street art, Brick Lane is like a gallery in itself (and well-worth taking the time to view).
The Brick Lane Gallery spotlights the distinctive character of the street's painted bricks by focusing on contemporary and street art. Though they've worked with legendary street artists like Banksy, Faile, and Bortusk Leer, their focus remains on emerging and mid-career artists and – as a result – is quickly becoming known as one of the coolest art galleries London has to offer.
Royal Academy of Arts
Mayfair
Head to the Royal Academy of Arts to see the evolution of contemporary art unfold before your very eyes. It's no accident that this is known as the spot for finding London's hottest talents.
The academy is led by its Royal Academicians, a group of peer-elected artists, the works of whom are displayed in their defiant exhibits. Add to this industry-shaking exhibitions from the world's most closely watched artists including David Hockney and Tracey Emin and there's a lot to love.
The academy's most anticipated event, the Summer Exhibition is the world's largest and longest-running open-submission exhibition displaying works by emerging and established artists.
The Vaults
Waterloo
Occupying disused bare-brick railway arches in Waterloo underground station, The Vaults is a striking space for alternative arts and immersive theatre.
As well as jazz sets, indie plays, and alien-themed musicals, you can discover a continual rotation of art in its tunnels.
This unique contemporary art gallery is said to feature artists who 'have a natural affinity for the unusual, the daring, and the unknown', and that is easy to see.
P.S. don't miss the Leake Street graffiti tunnel founded by underground artist Banksy.
The V&A
South Kensington
While most London art galleries focus on the medium of painting, The V&A is crowned as the world's largest museum of applied and decorative arts. In fact, it exhibits a 2.27 million-piece-collection of textiles, jewellery, costumes, furniture, ceramics, sculptures, and more, spanning 5,000 years from all corners of the Earth.
The diversity of The V&A serves as a beautiful (and sometimes much-needed) reminder that art is everywhere you look, intrinsically entwined with history and culture.
The Crypt Gallery
King's Cross
The prize for the most surreal gallery experience in London goes to The Crypt Gallery, which operates from the hauntingly beautiful 200-year-old crypts beneath St Pancras Parish Church.
The gallery specialises in exhibiting contemporary art, which creates a striking juxtaposition to the historic arching walls that encase visitors.
Its exhibitions and events are so well-curated, you almost forget you're walking beside 557 bodies, all of whom were buried there between 1822 and 1854.
Tate Modern
South Bank
Housing the UK's national collection of international modern and contemporary art, the Tate Modern is undoubtedly London's most iconic modern art gallery. The gallery has been considered the mover and shaker of the contemporary art world ever since it opened in 2000.
Why? Well, one reason is instead of displaying works chronologically, it displays them by theme. Controversially, this allowed it to group pieces from opposite ends of the artistic spectrum together fluidly, allowing its exhibitions to tell a story.
Tate Britain
Pimlico
Want to see the best of British art in London? There's nowhere more fitting to go than the Tate Britain.
Also known as the National Gallery of British Art, it holds the country's most extensive collections of national historic art, as well as contemporary.
The gallery is also known for holding the prestigious and career-defining Turner Prize exhibition, which features the work of its four winning British visual artists each year. Catch it if you can to be among the first to see the next national treasure of the art world.
Chisenhale Gallery
Bow
Despite being located within an unassuming former veneer factory and brewery warehouse in the East End, the Chisenhale Gallery is perhaps one of the most progressive London art galleries.
Its mission is simple: to create a cultural impact by working with new alternative talent and learning from its neighbours.
Not limited by a certain medium, the gallery's artists (from diverse backgrounds) cleverly address important issues relating to our cultural, political, and natural environment.
Go for thought-provoking exhibitions such as 'Yellow Peril: New World Asians' and 'Essential Black Art'.
Wallace Collection
Marylebone
Held in the Marquesses of Hertford's former townhouse, the Wallace Collection is one of the world's finest collections of French 18th century paintings and decorative art.
Once owned by Edward Seymour, nephew of Queen Jane Seymour, the noble 17th century townhouse is a thing of beauty in itself. However, it's the paintings, sculptures, furniture, mediaeval objects, and armour that undoubtedly take centre stage.
Among this collection are some of the world's finest examples of Baroque art with names like Titian, Velazquez, Rubens, and Van Dyck featuring heavily.
Arcadia Missa
Mayfair
Tapping into the 21st century, Arcadia Missa is a South London contemporary art gallery in Peckham and publishing house that centres around digital culture and the struggles of the contemporary world.
While it mostly focuses on giving rise to young emerging artists, you can also expect the odd Turner Prize winner to be featured too.
Although its digitally-inspired artwork is somewhat unconventional compared to classic oil paintings by 17th century Baroque artists, the gallery's exhibitions are disarmingly relatable and undeniably captivating.
Expect to leave feeling both inspired and seen.
National Portrait Gallery
Central London
In art, there's nothing more intimate than a portrait, and at this landmark London art gallery, you can get intimate with some very famous faces.
From Queen Elizabeth I to Queen Elizabeth II, The National Portrait Gallery displays portraits of the United Kingdom's most important monarchs. It also highlights portraits of global historic icons like Frida Kahlo and Isabella Blow, and current influential faces like Nobel Prize laureate Malala Yousafzai.
As well as paintings and photographs, the National Portrait Gallery celebrates portraits through digital mediums like augmented reality.
South London Gallery
Peckham
What we love about South London Gallery (SLG), a contemporary yet historic art space in Peckham, is that it endeavours to 'bring art to the people of South London'.
Not only does it do this by showing work from never-before-exhibited artists; it hosts educational and immersive art workshops for young people and adults too.
Although the gallery is based in its original Peckham Road building, SLG has spread its wings into the old Peckham fire station, and Sceaux Gardens estate, a local artist-designed garden called Art Block for families to enjoy.
Courtauld Gallery
Covent Garden
Another brilliant London art gallery is the Courtauld Gallery in Somerset House. The gallery slash prestigious art school has had a recent multi-million-pound renovation, and the new facelift has led to this gallery being one of the prettiest in the UK.
The exhibition rooms have been totally transformed and are home to some impressive names – Manet, Van Gogh, and Botticelli, to name a few. The Blavatnik Fine Rooms boast artwork spanning the Renaissance to the 18th-century, whilst other rooms display Medieval and 20th-century work in bright and airy spaces.
Book yourself a ticket here.
The Whitechapel Gallery
Whitechapel
The Whitechapel Gallery is an east London art institution and has been for over a century. It's not as spacious as places like the Tate Modern or the National Gallery, but that doesn't mean its history doesn't pack a similar punch.
Many notable artists have hung their work on the Whitechapel's walls: Rothko and Pollock, Freida Kahlo and David Hockney too. It was the site of Gilbert and George's first major show and has even played home to Picasso's Guernica.
Today the artist exhibiting are no less prestigious. Cornelia Parker and Alice Neel are just a couple of the names that have slid into the gallery's excellent collection of modern and contemporary art.
The Hayward Gallery
The Southbank
Resident art space for the Southbank Centre, The Hayward Gallery is another of London's best art galleries, and if you want to hear something that will divide opinion, its beautiful brutalist home is a bit of a work of art in its own right. King Charles disagrees though, apparently.
The gallery never houses a permanent exhibition, choosing instead to host three or four major exhibitions each year. These exhibitions change on a rotating basis so that two visits to the Hayward Gallery are only ever the same if you want them to be.
The Hayward are great at mixing artists that are breaking through with artists already well established. Often the work on show is usually very contemporary, always relevant and never dull.
The White Cube
Bermondsey
Probably the coolest gallery in London, The White Cube is the epitome of everything you think of when you imagine the cool side of the London art scene: wildly dressed hipsters in paint-peppered clothes hobnobbing with the creme de la creme of the art collecting world, dawning careers and shattered dreams.
Some big artists have come through the gallery's iconic paired-back spaces: Tracy Emin and Damien Hirst to name a few. Needless to say, the rest of the art is always up-beat and right on the cutting edge of contemporary.
The Serpentine
Set across two sites in Hyde Park's Kensington Gardens, the Serpentine Galleries are another London art hotspot that needs to be on your radar. The south gallery is a Grade II listed ex tea room and the north is an old powder magazine, as in a place to store gunpowder.
The latter was expanded by Zaha Hadid and linked to the bridge crossing the Serpentine Lake that gives the galleries their name.
Given the buildings' colourful history, you might expect their walls would be hung with portraits of old imperialists and offshoots of the royal family. You'd be wrong. The Serpentine champions contemporary art, and is well renowned for doing so.
Jean-Michel Basquiat and Andy Warhol are just two of a long list of names that've shown work here.
Art Galleries in London: Map
Here's a map of the locations featured in this guide to the Best Art Galleries in London:
Looking for More Arts and Culture Guides?