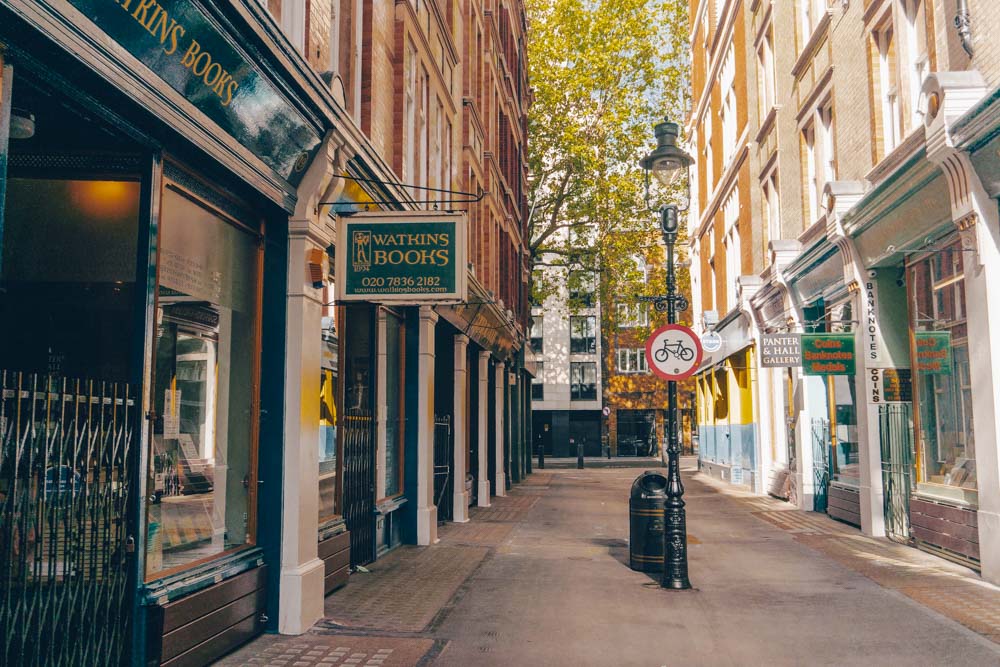 Wands and cauldrons ahoy! It's one of the city's worst kept secrets that there are a few locations claiming to be the real Diagon Alley in London.
Remember the magic in Harry Potter and the Philosopher's Stone when Hagrid first takes Harry through the Leaky Cauldron to discover the magical shopping lane of Diagon Alley beyond?
Harry can't even take it all in – to the point where he wishes he had eight more eyes to soak up the magic on display. Apothecaries, owl emporiums, Gringotts, Madam Malkin's Robes – we discover so much about Diagon Alley during the course of the books. It's little wonder that people have made it their quest to find the real inspiration for Diagon Alley in London.
Where are they? How much of their claims to being Diagon Alley is the work of befuddled brains turned to mush (perhaps a memory charm that's backfired?) and how much of it is true? Let's discover.
PS, Wanna really discover the world of Harry Potter in London? Take this brilliant guided tour.
Where to Find the Real Diagon Alley in London
Cecil Court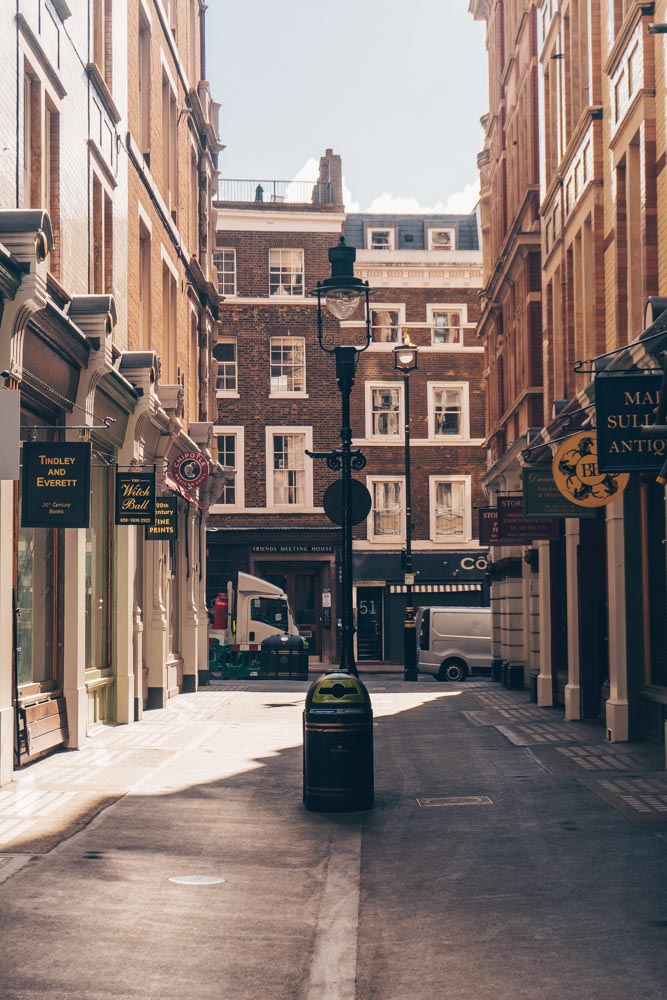 On the face of it, Cecil Court ticks all the right boxes for Diagon Alley. This curiously well-preserved court running between St Martins Lane and Charing Cross is… (wait for it) a hub for bookshops focused on the occult and magic.
Lined with ye olde shops that look like they've been plucked straight from the 18th century, Cecil Court's history is a jaunt through some pretty hair-raising tales – including a landlady who attempted to burn down the court in an insurance fraud scam.
Still, gossip aside, there are some particularly interesting points that come up when you look at Rowling's description of the location of Diagon Alley.
"They were thundering along Charing Cross Road. Harry sat up and watched buildings and benches squeezing themselves out of the Knight Bus's way….
Ern slammed on the brakes and the Knight Bus skidded to a halt in front of a small and shabby-looking pub, the Leaky Cauldron, behind which lay the magical entrance to Diagon Alley." Harry Potter and the Prisoner of Azkaban, Chapter Three – The Knight Bus
It's not the only time that Rowling describes the Leaky Cauldron as being on the Charing Cross Road and Diagon Alley just behind it either. The eagle-eyed among you may have spotted this section in Harry Potter and the Deathly Hallows.
"Harry turned on the spot with Griphook on his shoulders, concentrating with all his might on the Leaky Cauldron, the inn that was the entrance to Diagon Alley… seconds later Harry's feet found pavement and he opened his eyes on Charing Cross Road. Muggles bustled past wearing the hangdog expressions of early morning, quite unconscious of the little inn's existence." Harry Potter and the Deathly Hallows, Chapter 26 – Gringotts.
Remember that bit where I said that Cecil Court is just off the Charing Cross Road? You know where this is going. Unfortunately there's no Leaky Cauldron pub at the end of Cecil Court – that would be too easy, but its location and appearance make it a solid favourite for being the real Diagon Alley in London.
Goodwin's Court
You're pretty convinced that you know where Diagon Alley is now right? Well hold your horses because there's another spot just around the corner that other Potterheads swear is the real inspiration for Diagon Alley… Goodwin's Court.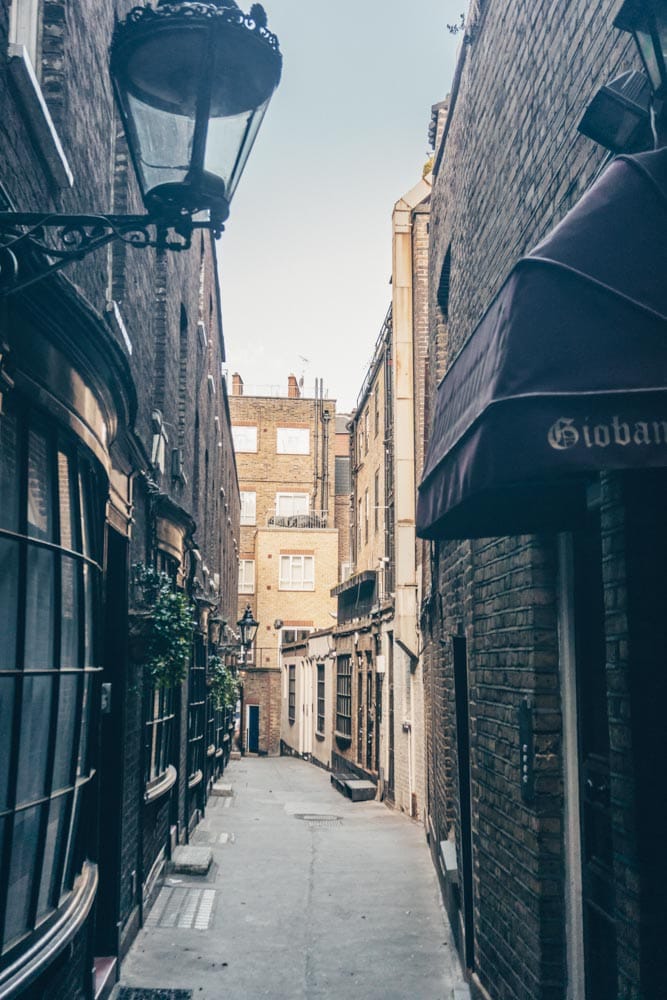 Now, I have to be honest, Goodwin's Court is not located just off the Charing Cross Road – but it is only one road back, just off St Martin's Lane so it's not far off either.
So, the location's a bit off – but take one look at Goodwin's Court and you'll see why so many people are convinced this is the right place. You see, Goodwin's Court was first built in in the 17th century and has been pretty much perfectly preserved ever since.
You can just imagine the higgledy-piggledy bow-fronted buildings along the court housing shops like Ollivander's and (later anyway) Weasley's Wizard Wheezes inside, mere metres away from the unsuspecting eyes of the muggles bustling along some of London's busiest roads.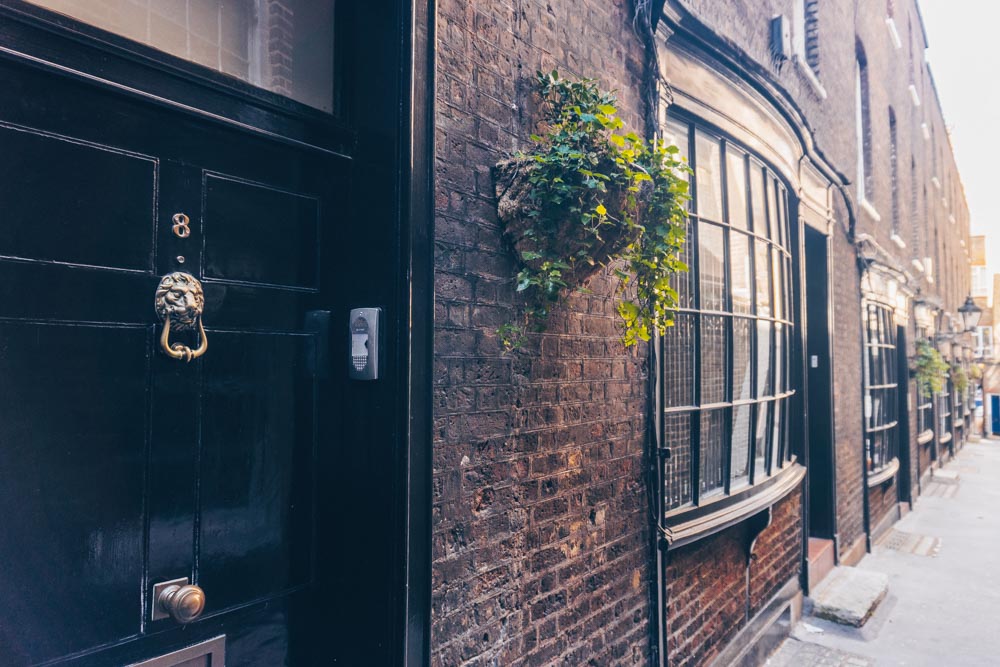 In fact, Rowling describes the entrance to the Leaky Cauldron as mostly unobserved by muggles and that's very much true for the entrance to Goodwin's Court – despite its super-central location, very few Londoners even know it's there.
Although there are plenty of people who think Goodwin's Court is the real Diagon Alley, others argue it's actually Knockturn Alley – the shopping area devoted to the Dark Arts where you find Borgin and Burkes. It is quite gloomy and mysterious…
Warner Bros Studio Tour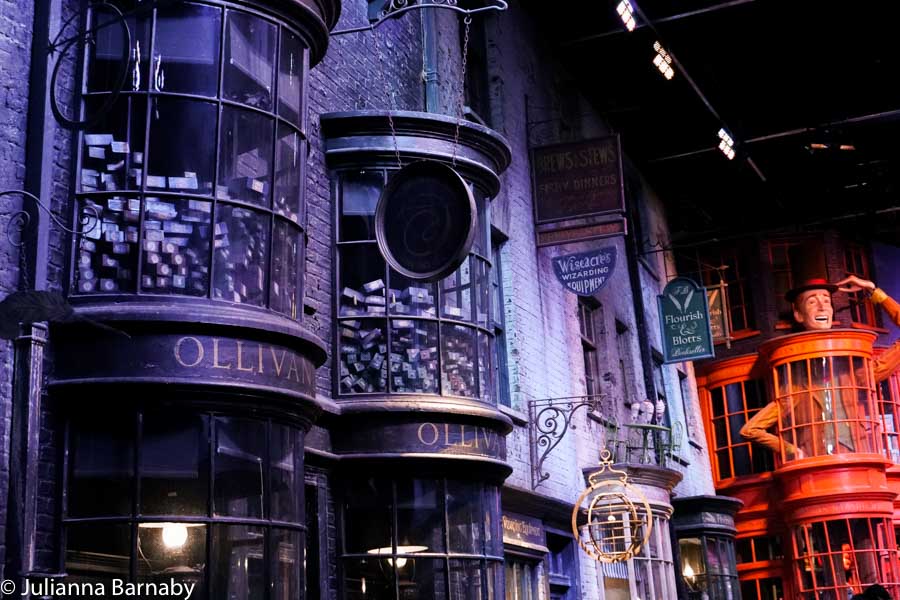 It's impossible for the Warner Bros Studio Tour to have served as the inspiration for Diagon Alley but, if you want to see the best representation of Diagon Alley in London, it's hands down the place to go.
There's nothing quite like the magic of wandering down the very same set where the incredible films brought the books to life – even so, Diagon Alley is the point where I remember getting so excited my mind almost melted.
No, it didn't serve as the inspiration but it is the place where the set designers got to pore over every description of Diagon Alley in all the books and meticulously recreate them IRL. Seriously, why wouldn't you want to flounce around in your house robes frantically trying to tick everything off on this year's school shopping list.
Practical Information and Map for Discovering Diagon Alley in London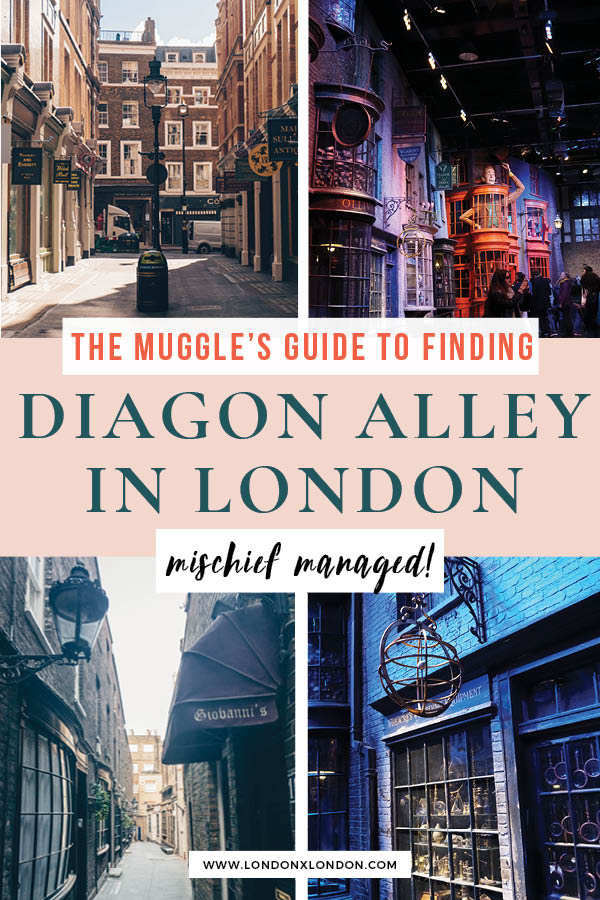 Ready to Discover More of Harry Potter's London?
Check these out…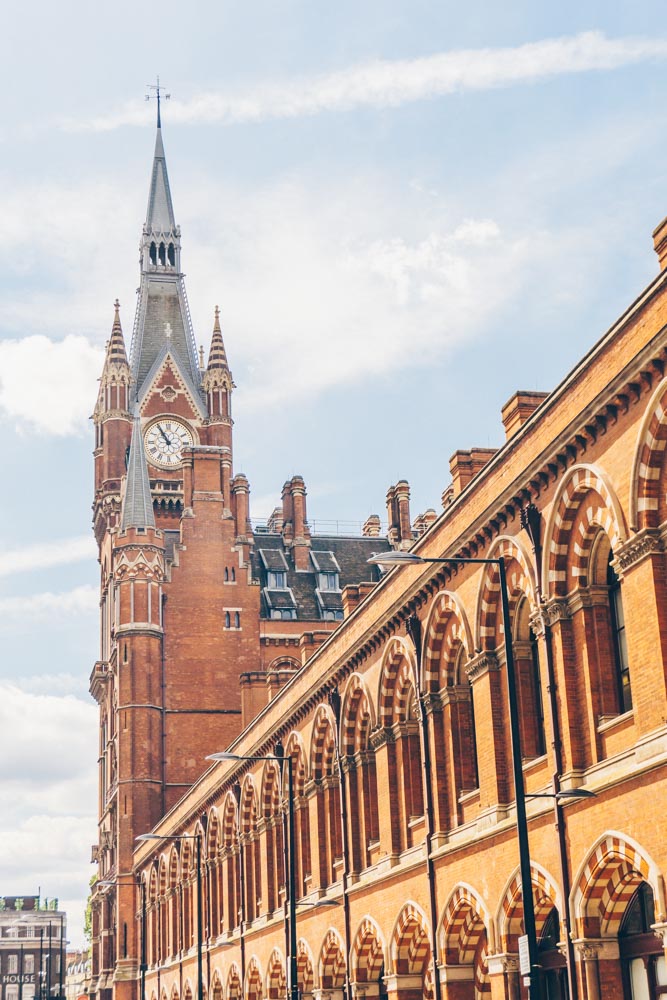 Self-Guided Harry Potter Walking Tour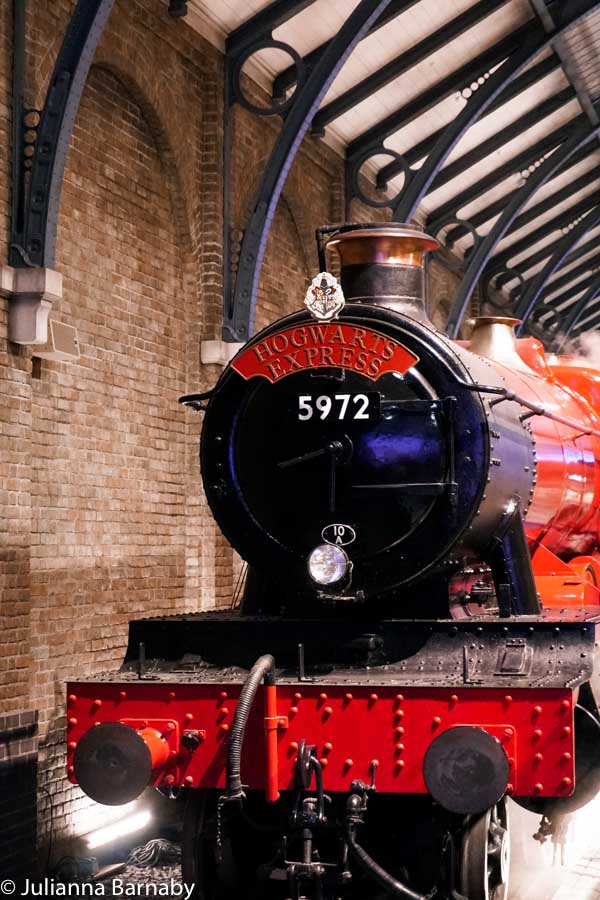 Visiting the Warner Bros Studio Tour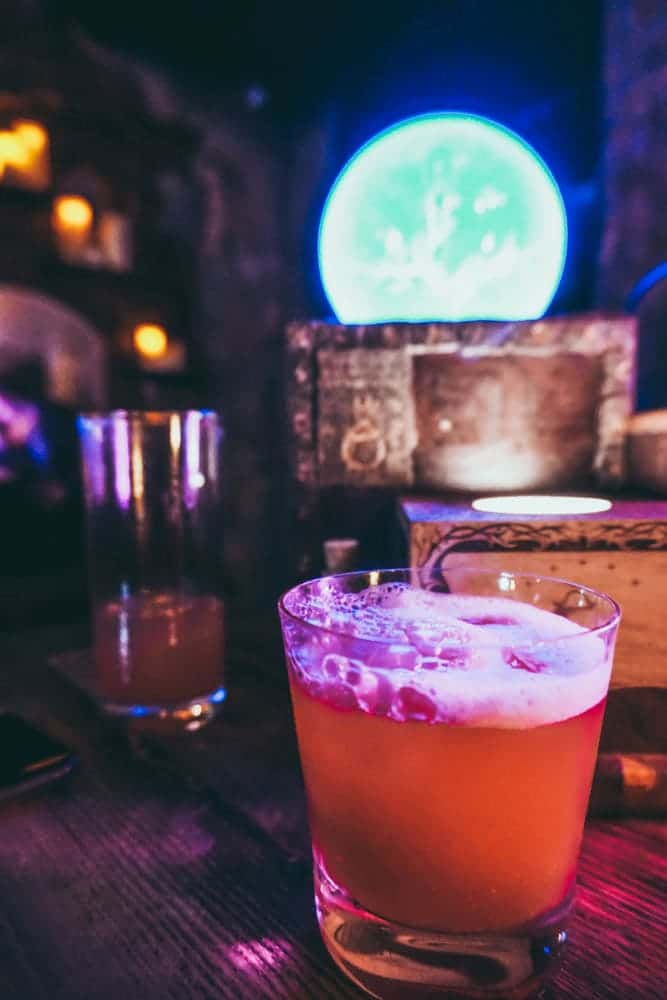 The Cauldron: London's Potter-Themed Bar