The Christmas lights are on, the winter terraces are in full swing and we're still managing to scrape our way through in tier two (for now). Seize the opportunity to explore the city with these cool things to do in London this weekend.
Best Things to do in London This Weekend 
See a Jolly Christmas Panto at The National Theatre 
11th December to 23rd January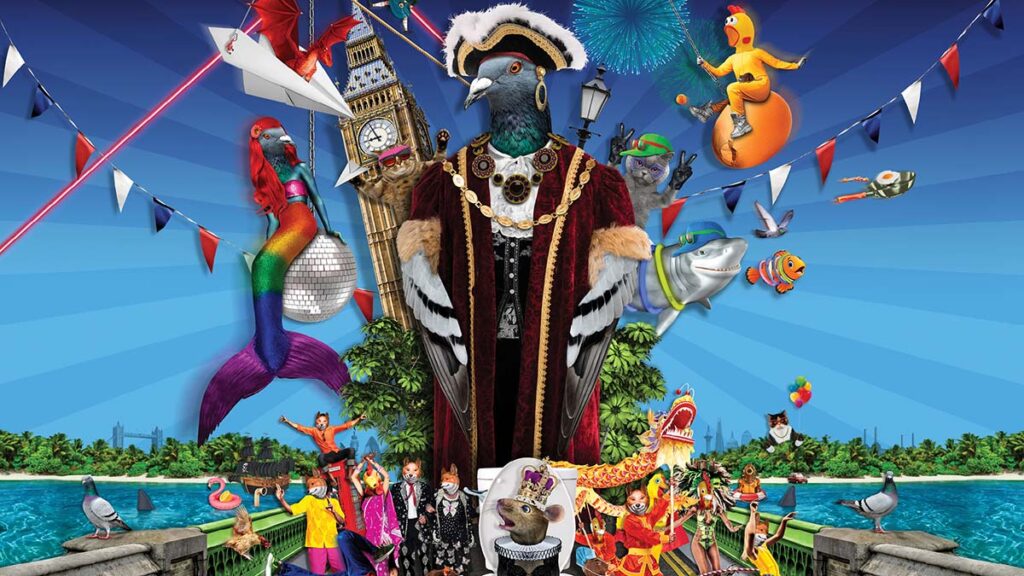 London's most-awaited panto Dick Whittington opens tomorrow at The National Theatre, bringing with it all the festive vibes – not to mention a few political pigeons (!) and a fresh take on a panto classic. 
It's only the second time in its history that The National has staged a panto – grab this rare opportunity to see this family fave in socially-distanced style at The Olivier. 
PS, not going to be able to make it in person? They'll be streaming it for free on The National Theatre and The Shows Must Go On YouTube channels from 23rd December at 3pm to midnight on the 27th December. 
Bags Inside Out at the V&A 
12th December – September 2021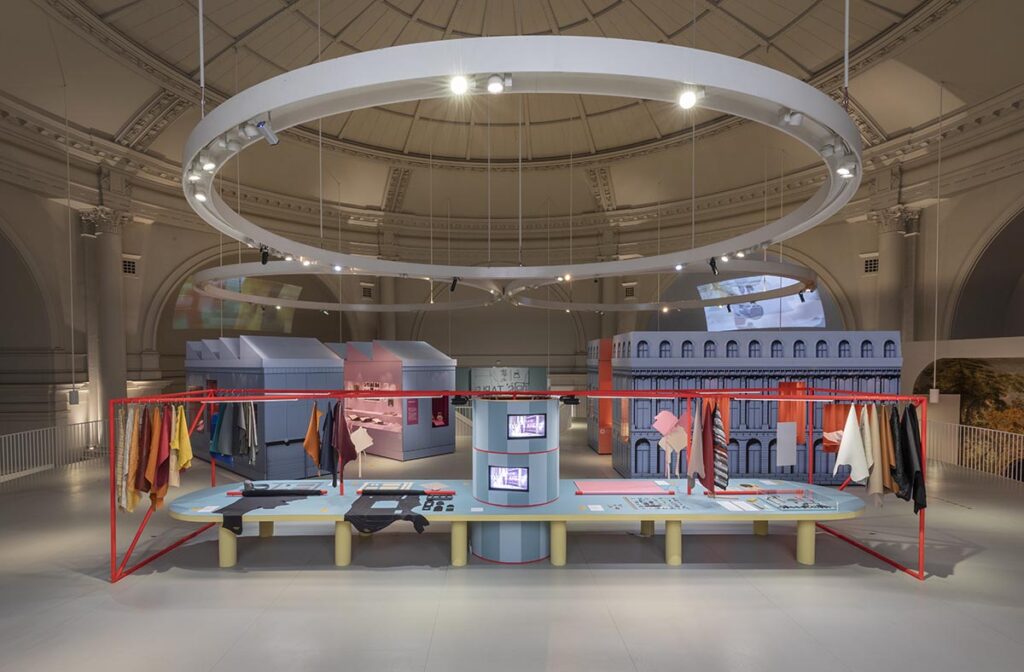 Nab the opportunity to see the V&A's exhibition Bags Inside Out – the most comprehensive exhibition dedicated to the humble bag shown in the UK to date. From Jane Birkin's iconic bag and Winston Churchill's red despatch box to innovative designs from Mulberry, the exhibition charts the evolution of the accessory from a practical object to a fashion statement in three sections Function and Utility, Status and Identity and Design and Making. 
Hear the Stories of the True Heroes of 2020 
From 10th December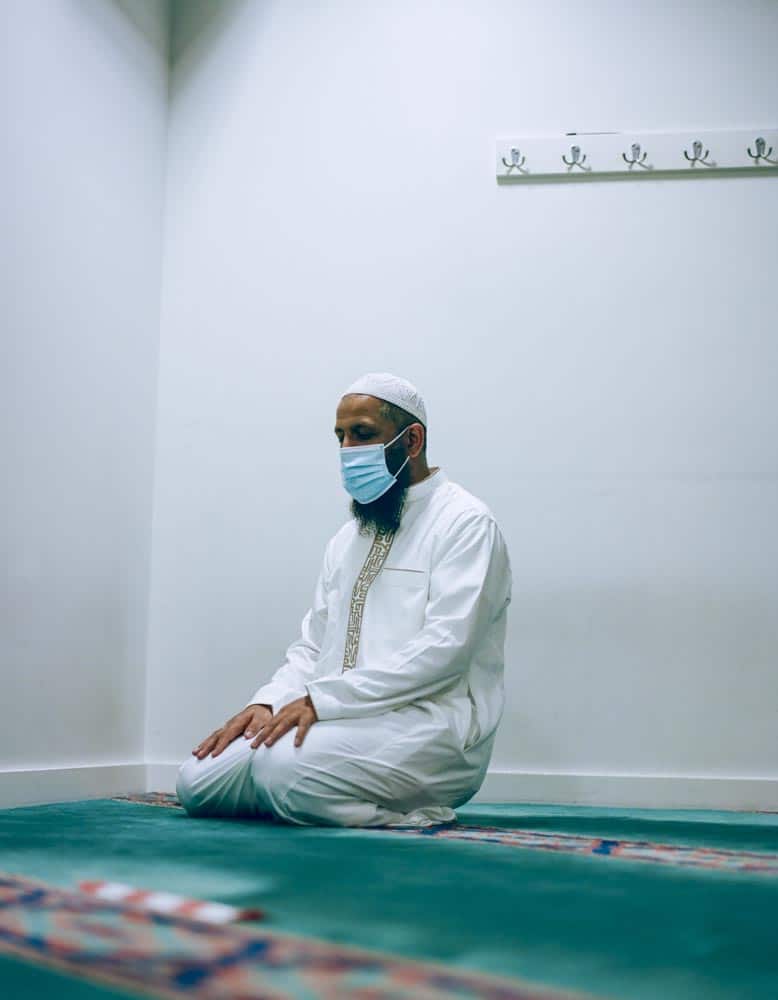 Celebrating the everyday heroes that have held society together in 2020, the Empathy Museum's new photography and audio installation From Where I'm Standing tells the stories of 34 individuals from across the country who've all contributed to something bigger than themselves during the past year. 
Taking two guises – online and in the form of a series of photographic installations along Dalberg Road in Brixton, the project invites viewers to engage with the unique stories that have emerged this year. 
Get Cultured AF With The Royal Opera House at Home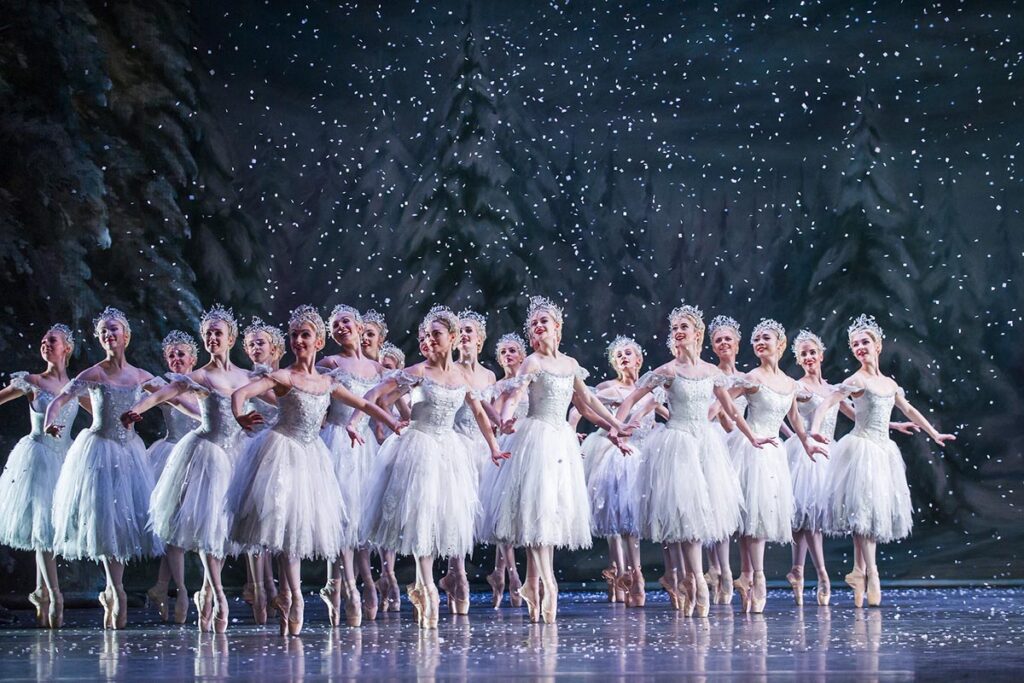 Get cosy on the sofa and take your pick from the Royal Opera House's vast offering of ballet and opera broadcasts – available for streaming for the first time as part of their #ourhousetoyourhouse programme. 
The programme features a selection of free broadcasts from the archives, live pay per view performances and cultural highlights appearing on the Opera House's own platform, as well as additional appearances on Netflix, the BBC, YouTube and more. 
With family favourites such as Christopher Wheedon's production of Alice's Adventures in Wonderland, classics including Puccini's La Boheme and The Nutcracker (of course) – it promises to be a very cultured Christmas.
Christmas Market on the Mews
2 December – 3 January, 4–9pm on weekdays and 12–9pm at weekends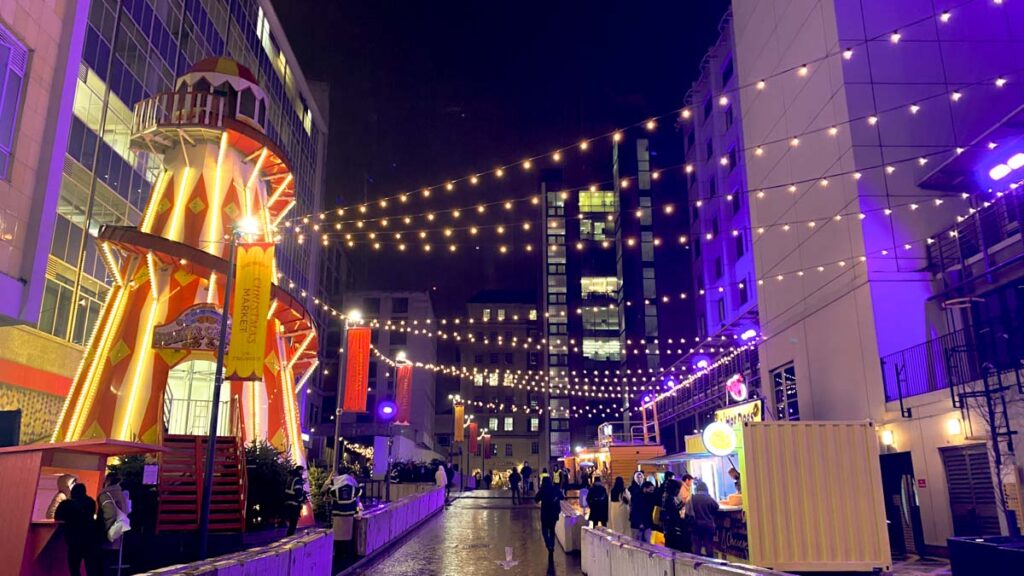 Just when it looked like all hope was fading and the cancellation of many of London's best Christmas markets was starting to look like a bloodbath, Selfridges stepped up to save the day by announcing their new market – Christmas Market on the Mews. 
You'll find it just behind Selfridges on Edward Mews, sporting street food vendors, fair rides and cute stalls where you can stock up on your Christmas purchases – they'll even be selling trees! 
Food-wise, the vendors are from street-food stalwarts Street Feast. If the line up, which includes burgers from Tramshed Project and decadent pasta by Cheese Wheel is anything to go by, you should go hungry. 
Shop Small South London Style at Pexmas
12th and 13th, 19th and 20th December, 11am-6pm 
Big up to the south London Christmas crew who will be  sprinkling the Christmas vibes around like confetti at Pexmas, Copeland Park's Christmas market in Peckham. 
In fact, they're feeling so Christmassy that they've got not one but three Christmas offerings: an emporium, the Christmas market and an online market. 
You'll need to nab a ticket to the emporium (open on the 16, 17 & 18 December, 2-5pm or 6-9pm) but you can just rock up to the actual market socially-distanced market to browse gorgeous gifts from over 50 hand picked independent designers and makers. Or shop online and have the market come to you. 
Bagsy a Spot in Brick Lane's New Taproom 
2020 has been understandably light on new openings in the hospitality industry – but there's one spot in East London that's bucking the trend – The Brick Lane Tap Room. A small slice of Brooklyn hidden away in the Truman Brewery, you'll find craft beers from Brooklyn Brewery and New York-inspired eats like NYC style pizza and some pimped out hot dogs. Say hello to your newest socially-distanced drinking spot.
Hang Out in the Magical Igloos in Somerset House 
Until 1st January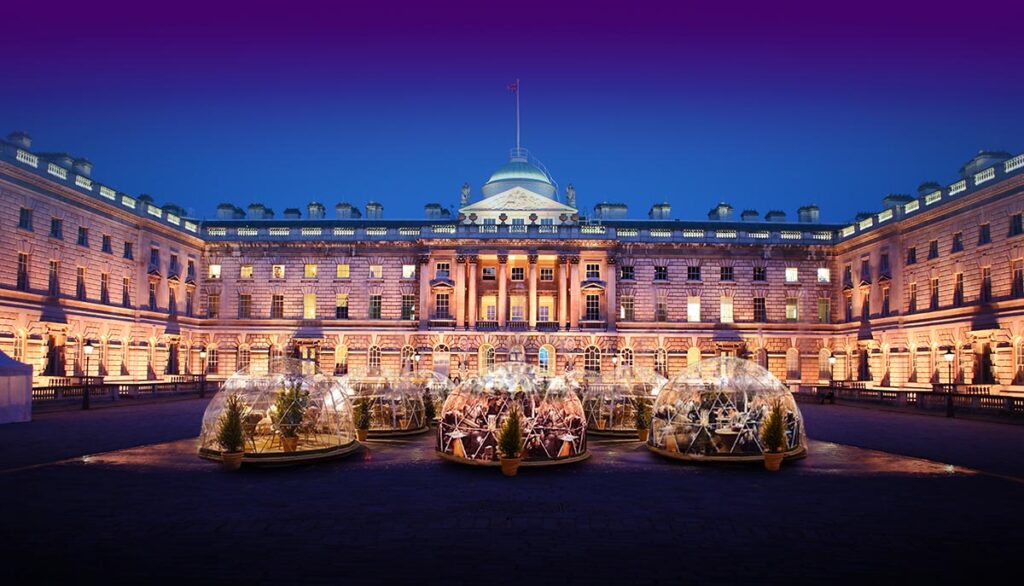 Somerset House – the former riverside palace turned cultural hub – always brings the Christmas magic. In normal years, that's with the stunning ice rink we all know so well. 
The ice-rink isn't happening this year, but refusing to let the team down, they've brought something just as magical – a series of beautiful winter domes set in their beautiful courtyard. 
Nab a reservation for a household bubble / business meeting private dining experience set against the backdrop of one of the city's most iconic spaces. 
Skating at the Queen's House Ice Rink
5 December 2020 – 24 January 2021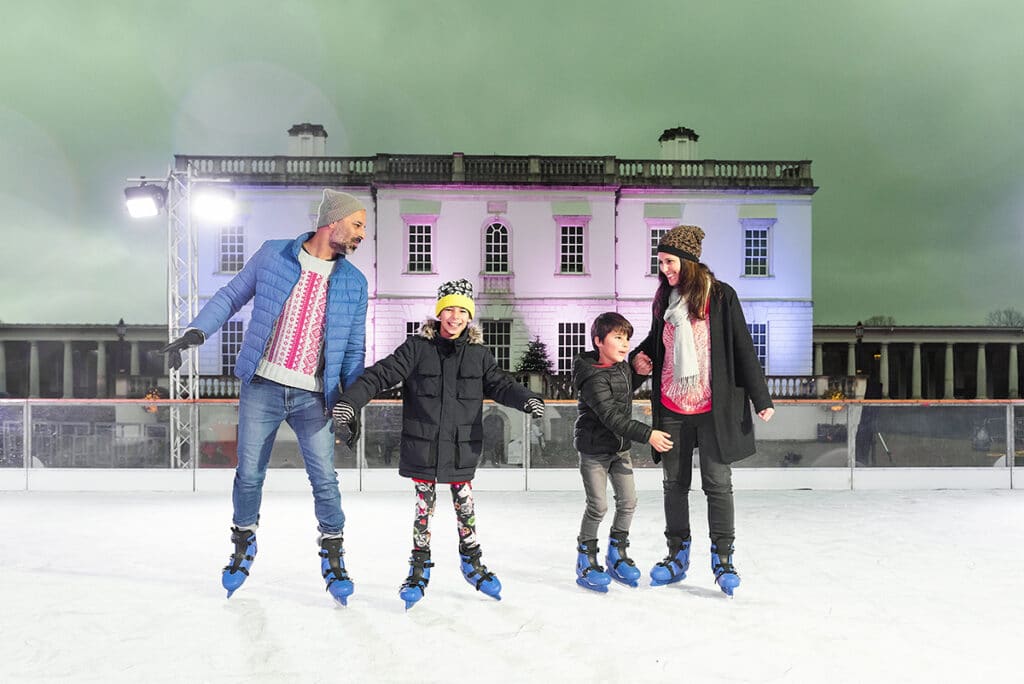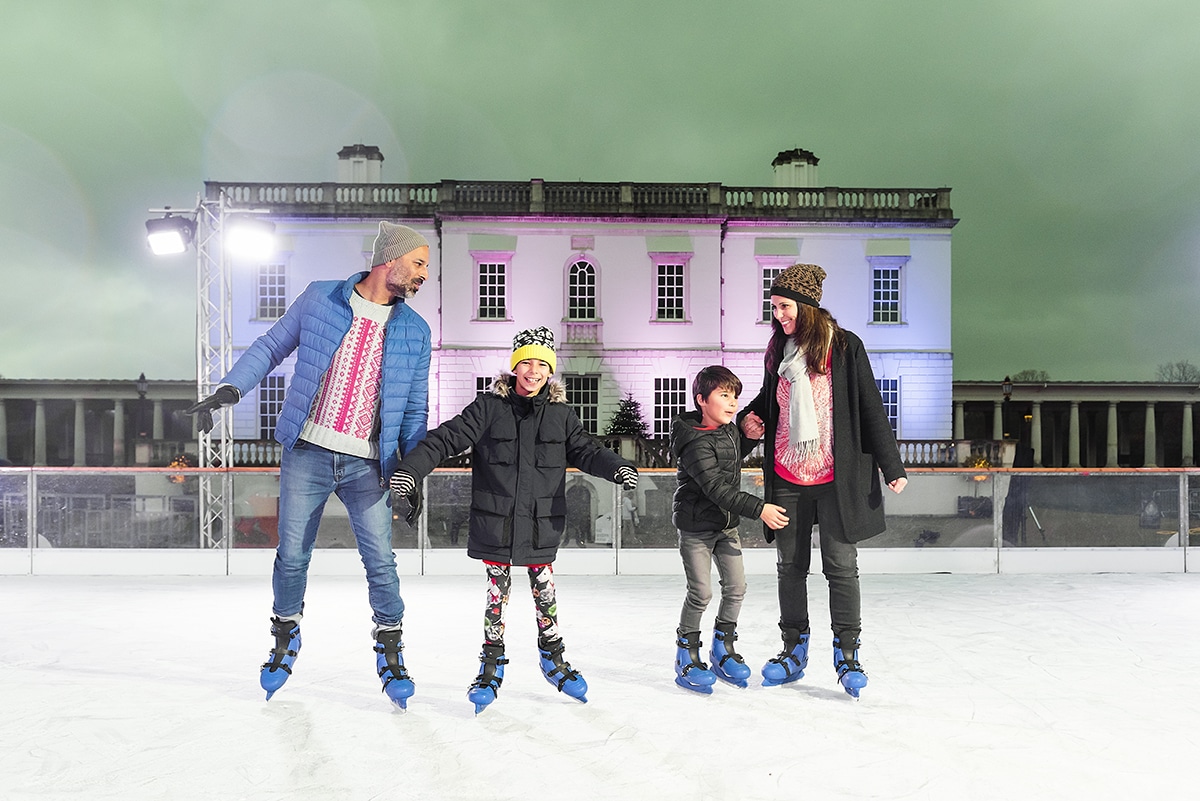 Though Londoners days of skating on the Thames are long gone (as in last time it really happened was the early 19th century long gone) but the Queen's House has created the next best thing – a drop dead gorgeous ice rink with views of the Thames in Greenwich.
With so many ice rinks cancelled this year, it's going to be even more popular than ever – grab your tickets early. 
Check out The Christmas Lights at Churchill Arms 
Throughout December
London's most Christmassy pub and personal fave boozing spot, The Churchill Arms went live with its big festive light switch-on yesterday. 
Blinged up with 80 Christmas trees and over 22,000 lights, it always bags the title of the city's most OTT display and this year's no different, though the Christmas decs are also joined by blue flags to remember the NHS. Swing by and have a gawp. 
Pop Up Screens Cinema in the Snow, Peckham
3rd – 20th December
Not content with hosting one of the city's biggest Christmas markets, Peckham's buzzing Bussey Building is also kicking off their festive-themed cinema Pop Up Screens Cinema in the Snow. Expect all the Christmas Classics – Home Alone (natch), Elf, Love Actually – all in a snowy wonderland that wouldn't look amiss in the North Pole.
National Theatre at Home Membership
Ongoing 
I don't know about you but the National Theatre pretty much single-handedly brightened up my lockdown part I Thursdays earlier this year – just part of the reason why their new National Theatre at Home platform is so exciting. 
For £9.98 a month or £99 a year, you get unfettered access to their vast roster of plays to watch from the comfort of your sofa. The current lineup includes the brilliant production of Othello with Adrian Lester and Rory Kinnear, Corialanus with Tom Hiddleston and a bold reimagining of Chekov's Three Sisters set in Nigeria.  
Take a Tour of the Christmas Lights 
Throughout December
London does a bit of twinkly lights incredibly well and this year they're in spectacularly fine form. Obviously Oxford Street and Regent Street are the biggies – between them they're two of the most-visited Christmas attractions in the city. 
That's not where it ends though, obvs. Put on some warm clothing, wait for the five minutes of daylight to dissipate and tramp between Oxford Street, Regent's Street, Carnaby Street, Covent Garden, Seven Dials and Bond Street for starters, then trek out to Kew, where the Christmas lights are something else. 
Catch Brand New Releases in an Actual Cinema
2020 has been an abysmal year for cinema – with many of the biggest releases pushed back to next year or quietly released on various streaming services. 
So when not one but two of the year's most anticipated releases – the exuberant Ma Rainey's Black Bottom featuring the late Chadwick Boseman and David Fincher's Mank – hit the big screens tomorrow, it's time to pay attention. 
Both are screening at The Barbican Cinema, Screen on the Green, Curzon Soho, and Electric Portobello and White City among others. 

See the Enigmatic Portraits of Lynette Yiadom-Boakye at the Tate Britain
Until 9 May 2021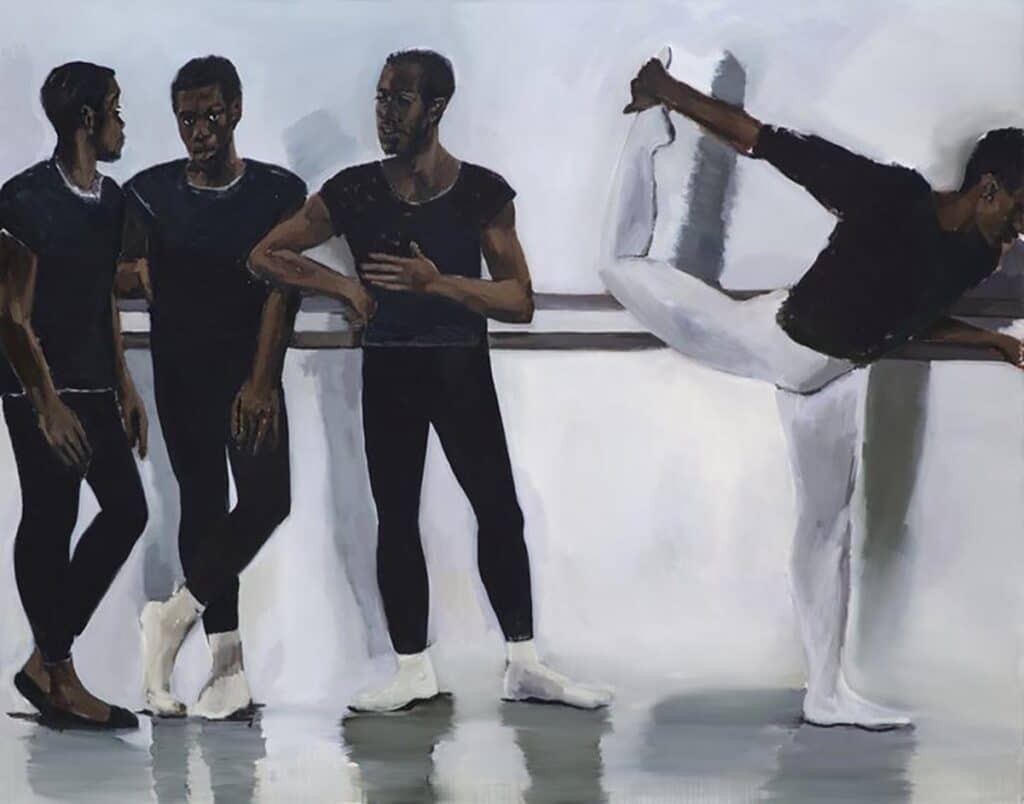 Known for her enigmatic portraits of fictitious subjects, the much-anticipated exhibition Fly in League with the Night from British artist Lynette Yiadom-Boakye opened yesterday at the Tate Britain. 
Yiadom-Boakye, who won the prestigious Carnegie Prize in 2018, paints her imagined subjects in such a manner as to raise questions of identity and representation in the minds of the viewer. This exhibition of around 80 works is the biggest display of her works to date – grab the rare opportunity to see one of the country's most powerful artists at her zenith.

Astronomy Photographer of the Year Exhibition
Until 8 August 2021
I already made a joke last month about this year being a good time to escape the planet Earth so I guess I shouldn't do that again (le grand sigh). 
Maybe we can just settle on the jaw-dropping photography and dreamy spacescapes as reason enough to go and see the Astronomy Photographer of the Year Exhibition at the National Maritime Museum. 
There are over 100 photographs on display charting distant galaxies, colourful aurorae and generally some of the most incredible sights in the universe. 
Watch the Grimly Funny Return of This is Going to Hurt 
Until 16th December
You've no doubt stumbled across Adam Kay's best-selling memoir This is Going to Hurt – a grimly funny walk through the life of a junior doctor. Having hung up his scrubs in favour of full time writing and comedy, he's bringing his sell-out show of the same name back to the stage post-lockdown for a three week stint at the Apollo Theatre.
Outdoor Drinking and Eating at London's Winter Terraces 
Until this is all over
So indoor eating and drinking outside of our household bubble is off but you know what that means? Outdoors is very much go, go, go. 
I'm talking rooftop bars with gorgeous views, canalside taprooms and apres-ski themed popups with open fires. Or how about pretty restaurant gardens with those all-important heaters and canopies. 
So put on your snuggliest jumper and your warmest boots and hang out at London's best outdoor bars and the best spots to dine al fresco in London – a.k.a the very same locations where you can still catch up in groups of six. 
London, it's on.
PS: Looking for more inspiration and ideas? Check out the Unusual London Book.
Turner's Modern World at the Tate Britain 
28th October to 7th March 2021
The Tate Britain's landmark exhibition dedicated to JMW Turner puts a new spin on one of Britain's most famous painters. Fuddy duddy as we may see Turner today, he was actually one of the most socially-engaged painters of his time – simultaneously pushing the boundaries of modern art and social discourse in the 18th century. 
Through the course of over 150 key works from the painter's canon, the exhibition shows his engagement with contemporary events of the day, such as The Burning of the Houses of Lords and Commons and The Battle of Trafalgar. 
See The British Museum's New Exhibition on Climate Change 
22nd October 2020 – 21st February 2021 
Climate change is real and happening now.  Rather than framing the conversation as something we need to prevent happening in the future, the British Museum's new exhibition Arctic: Culture and Climate focuses on the debilitating effects climate change is already causing in the Arctic – at the fastest rate in human history.
Objects from the British Museum's Arctic collection, accounts from indigenous peoples, tools, clothing and other exhibits are brought together to tell how Arctic peoples have adapted to changing temperatures in the past and the mounting difficulties of confronting the extreme weather caused by change. 
It's a compelling look at what it actually means to deal with the ever-closer future of an ice-free Arctic through the eyes of the people who live there.
Miracle @ 34 Mayfair 
Until Christmas
It's the most magical time of the year and we really (really) need some Christmas cheer… At least that's what the peeps at 34 Mayfair have reckoned on in opening their completely OTT Christmas pop-up Miracle @ 34 Mayfair. 
That's not where the madness ends either – the restaurant's Christmassy transformation used a whopping 14,000 baubles and decorations. Word on the street is that even Santa is pretty impressed.
Inside Out at The Southbank Centre
Until 30th December 
The Southbank Centre has gone digital with its newest season of music, literature and comedy Inside Out. Get over your digital fatigue because the line-up is brilliant – ranging from Bernadine Evaristo chatting to 2020 Booker Prize Winner Douglas Stuart about his book Shuggie Bain and an inspired performance from The Cinematic Orchestra at Royal Festival Hall.
Royal Academy's Summer Exhibition 
Until 3rd January 2021 
No, I haven't made a mistake and yes, I know it's December. The Royal Academy's annual exhibition is a bit late this year but they decided to still call it the Summer Exhibition (because they thought that would be less confusing for us?). 
Anyway, questionable naming aside, like most things in life, it's better late than never. Head to the Royal Academy of Arts for the 252nd Summer Edition featuring the usual lineup of household names alongside emerging artists. 
Michael Clark's Cosmic Dancer
Until 3rd January 2021 
The impressive scope of choreographer Michael Clark is showcased in a comprehensive exhibition Cosmic Dancer at The Barbican. The exhibition, which started earlier this year, displays the beauty of Clark's work through a display of film, photography and other materials from Clark's practice. 
Practical Tips to Make the Most of What's on in London This Weekend 
Now we're back in Tier 2 in London, don't forget that there's no mixing with other households indoor save for in Covid-secure locations (like theatres and galleries). Even in those locations, you can only go with people from your own household bubble.. Unless you're having a business meeting, because the virus is too scared to bother buisnatch people (*sarcasm*). You can meet in groups of six outdoors with distancing. 
Restrict use of public transport during peak hours and walk / cycle as much as possible instead. 
Hospitality really is on its knees – even if you don't feel comfortable going to your fave bar or restaurant right now, buying a voucher for later will really help.
Looking for More Things to do in London This Weekend?
Check these out…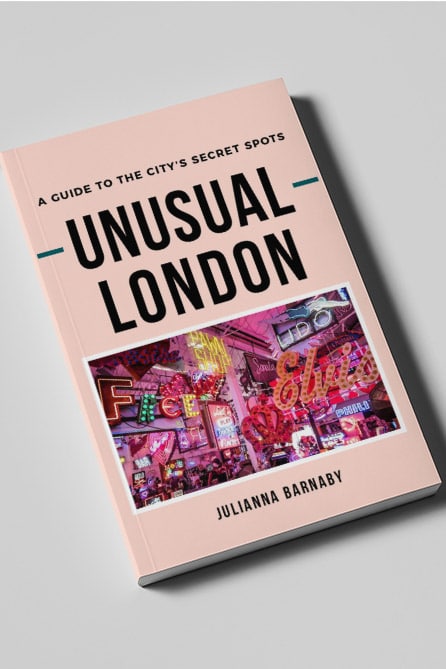 Explore With The Unusual London Book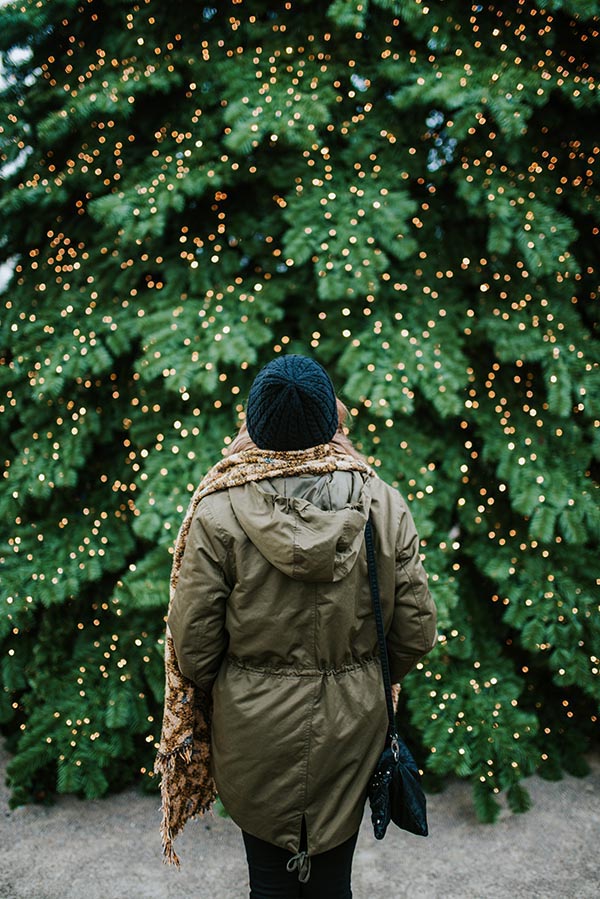 Brilliant Things to do at Christmas in London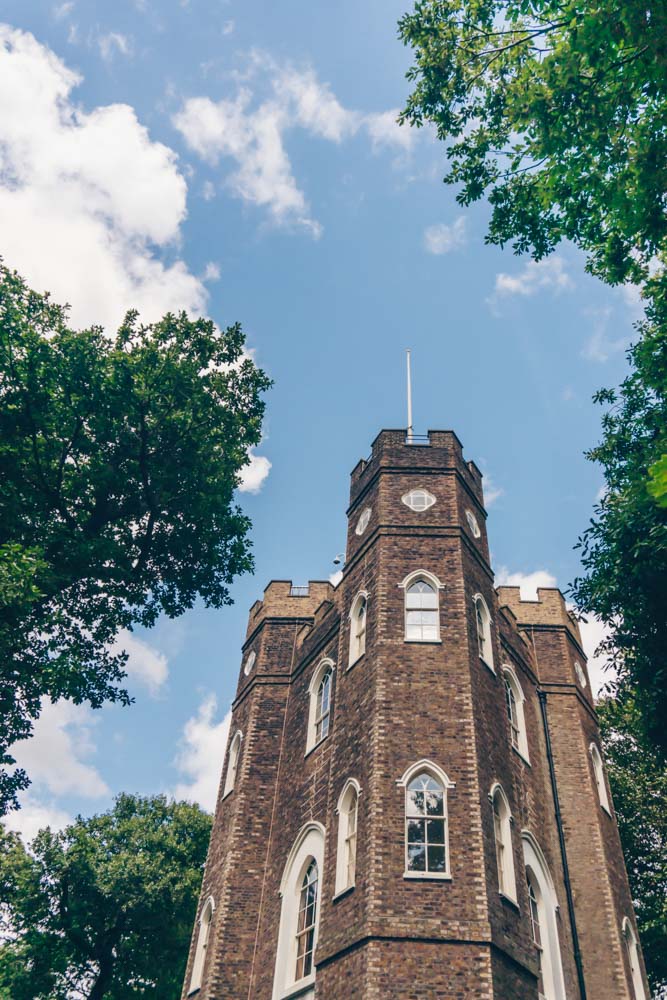 Discover the City's Hidden Gems