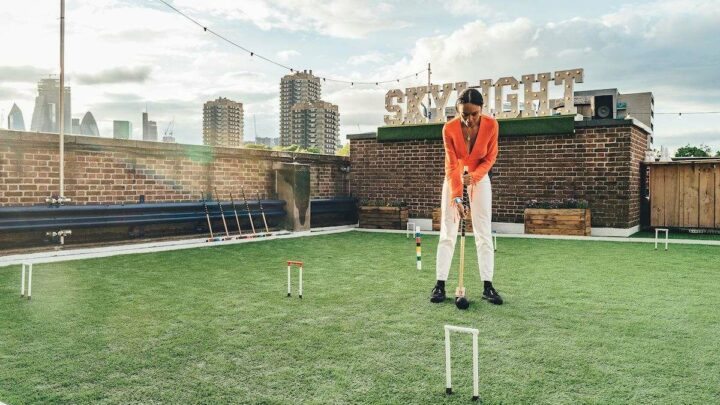 Looking for the best things to do in London in April? Look no further.
Spring has well and truly sprung, while summer is so close we can almost taste it. In other words, April is a wonderful time of year to visit the capital.
From Disney art exhibitions and Easter celebrations to the highly anticipated Oxford vs Cambridge boat race, these are the things that should be on your radar this month.
Things to do in London in April
London Coffee Festival
31st March – 3rd April
London's annual Coffee Festival has returned and will be running until the 3rd April – it's a must if you're a fan of the good stuff.
Join the leading manufacturers of coffee and equipment – including Faemina and Slayer – for a buzzy weekend of sampling, workshops, and demonstrations.
Whether you're looking to pick up a top-of-the-range machine for your home, or just want to drink your way around the world (the jitters will kick in around Brazil, FYI), this is a festival not to be missed.
Somerset House Studios Introduces Piece of Mind
From 1st April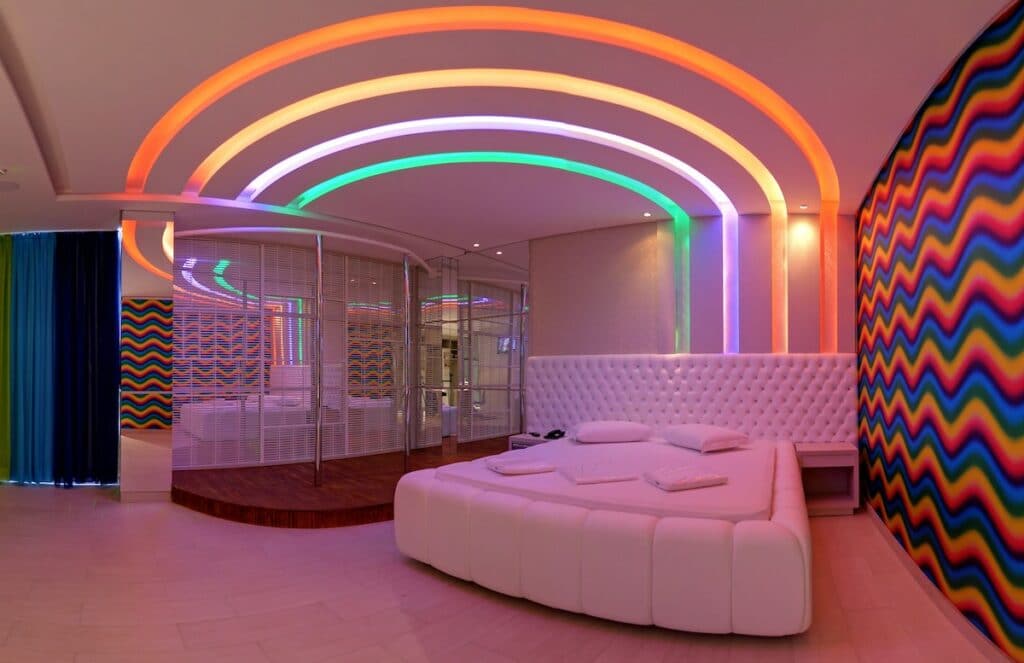 Running until the summer, Piece of Mind is a fascinating (and very relevant!) exhibition that has been curated by Harlesden High Street. Art from the likes of Ocean Baulcombe-Toppin, 雅 YA + Casandra Burrell, and Farrah Riley Gray will be on display, in a range of multimedia formats spanning everything from video to photography.
The exhibition will explore how our domestic spaces have changed and the impact this has had on our minds – particularly in the bedroom, a place that has become somewhere to work, sleep, and be social.
The best bit? It's free to enter and you don't need to book.
Canaletto's Venice Revisited
From 1st April
Head to The National Maritime Museum this April for one of the most special exhibitions gracing the capital in 2022.
Canaletto's complete set of 24 Venetian views, which were painted in the 1730s, will be on display in an attempt to explore his life and the techniques he used within his work.
South Social Film Festival's Nordic Focus
2nd April
South Social Film Festival is bringing a touch of Scandinavia to London with their latest offering, which focuses on films with Nordic roots.
Kicking off at 3:30pm, the likes of Brother Troll and the Skal Documentary will be shown on the big screen, served alongside Nordic snacks and drinks of course.
Tickets are £23 and grant you entry to the entire programme of events.
Pssst… a portion of each ticket sold will be donated to Ukrainian relief fundraising, which is a well-worthy cause if you ask us.
Oxford vs Cambridge Boat Race
3rd April
After taking a short hiatus thanks to you know what, the highly anticipated Oxford vs Cambridge boat race returns to London in April. The two teams from the respective universities battle it out once more to see who's faster.
One thing's for sure: whether you fancy watching it live from the banks of the Thames or if you choose to relax in the comfort (and warmth!) of a local pub, the atmosphere is guaranteed to be electric.
Read More: Our Guide to the Oxford vs Cambridge Boat Race
The Wallace Collection – Inspiring Walt Disney
From 6th April
Disney fans will absolutely adore this brand new exhibition opening at The Wallace Collection in London this April. The magic of Disney has been brought to life thanks to the New York Metropolitan Museum of Art and their collection Inspiring Walt Disney: The Animation of French Decorative Arts.
On display are the innovative works by both Disney animators and 18th Century French artists who shared one bold vision – to breathe life into inanimate objects. This exhibition looks at the similarities between the two groups and illustrates the way in which Disney drew inspiration from these artists.
Tickets are £14 and can be booked here.
Nightjar Opens in Soho
8th April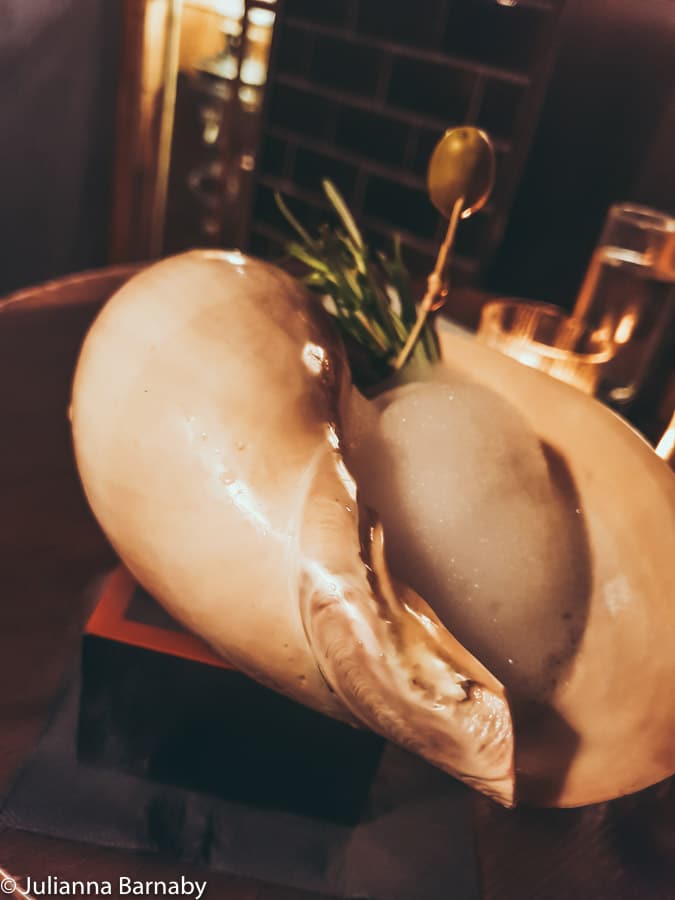 It's no secret that we absolutely adore the quirky speakeasy Nightjar, and so we were ecstatic to hear that a brand-spanking new version is opening in Soho in April.
If its Shoreditch sister is anything to go by, this looks set to be one of the most exciting openings of 2022. But be warned, you'll need to get your elbows out if you want to be within a chance of securing a table – the bar's reputation makes it notoriously difficult to get a booking.
Innovative cocktails, a backdrop of jazz, and ultra-cool yet lowkey interior – what more could you possibly want?
The Guildhall Art Gallery's Latest Exhibition
From 8th April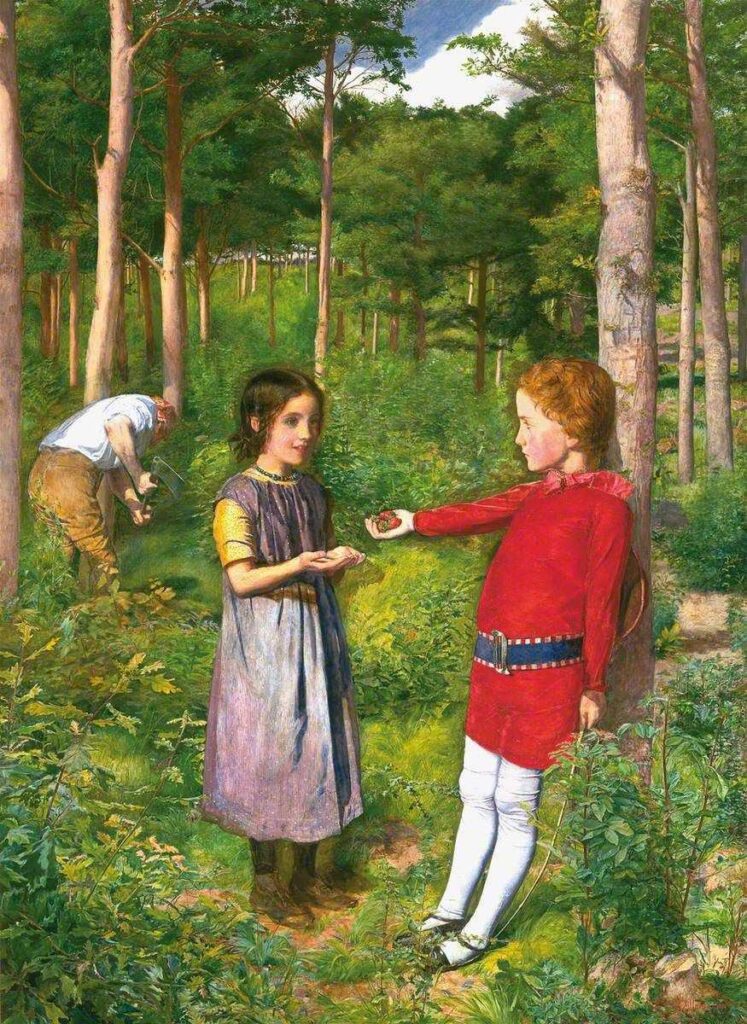 Looking for a fascinating exhibition this April in London? The Guildhall Art Gallery presents Inspired: Art inspired by theatre, literature and music – an exhibition that delves into the way artists throughout the centuries have been inspired by those in literature.
From 17th century portraits to Pre-Raphaelite masterpieces, the exhibition will also document parts of London's history by looking at the way in which Victorians valued Romanticism within art and literature, to the huge influence that Greek myths have had on artists.
Visual Noise at Maryland Studio
9th + 10th April
Famed British photographer Rankin is presenting a wonderful exhibition in London this April, giving 40 graduates the opportunity to display their work in the capital's Maryland Studio.
Visual Noise will champion the photographers who were disrupted during the pandemic, giving them a chance to display their work to the public. A wide range of subjects has been covered, from an unapologetic love of art and fashion to dysphoric approaches to culture.
Sony World Photography Awards
13th April – 2nd May
Somerset House is once again home to one of the best events in London April 2022 – and this time it's with Sony's World Photography Awards.
The exhibition will showcase the outstanding work by the winners and shortlisted photographers in a number of categories – everything from landscape and portraiture to architecture is covered.
Bar and Block Opens in Paddington
Offer until 14th April
Looking for somewhere new to dine this month in London? Bar and Block have just launched their brand new restaurant in Paddington and, better yet, they're offering 40% off food until 14th April.
What to order? Go for the steak sampler and try a little bit of everything. Though the Dinosaur Short Rib is a delicious new addition that will have you trying to get every ounce of meat off the bone.
Whatever you do, make sure you get the mac and cheese bites on the side, or face ultimate regrets.
Hidden London Tours by the London Transport Museum
Throughout April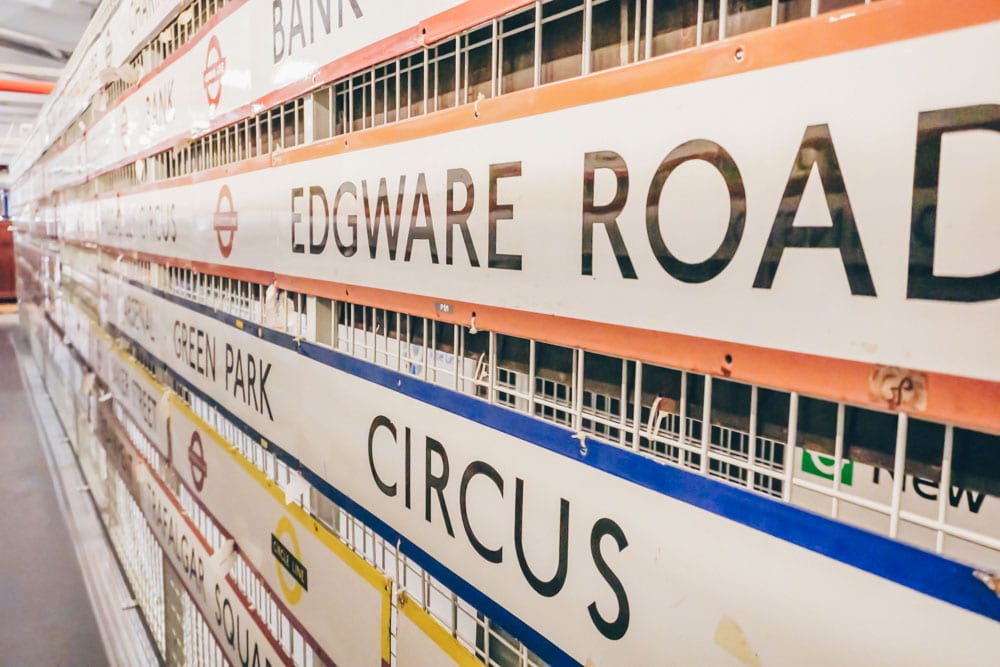 London Transport Museum's Hidden London Tours have proved to be a success time and time again – it turns out that us folk love having a nosy around some of London's most secretive spots with the help of a handy guide to give us all the juicy deets.
Luckily for you there are plenty of Hidden London tours taking place throughout April in London.
So whether you fancy exploring Piccadilly Circus and the Secrets of Central London, or if you would prefer to delve into Churchill's Secret Station or Clapham's Subterranean Shelter, there's plenty to get involved with.
The slots book up quickly, so get your skates on!
Easter in London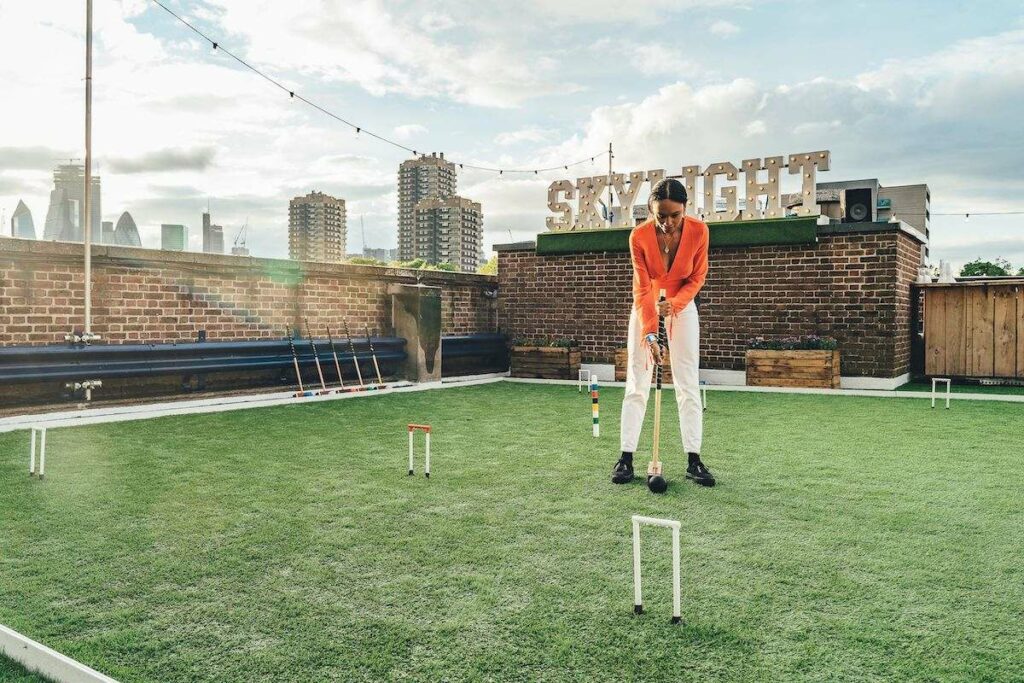 Hooray – the Easter holidays means that there are always plenty of fun things to do in London April 2022.
First of all, you don't want to miss the Dog Day event taking place at Skylight Rooftop in Tobacco Dock on the 10th. Bring your pooch along for an afternoon of delicious food, drink, and fun activities – the likes of Hilary's Hounds and Nibble & Nosh will be supplying the goods for the four-legged ones.
Leadenhall Market is also getting in on the action, with The Great Leadenhall Market Wild Goose Chase running across the entire month. Expect over 100 challenges, clue hunting, and dressing-up challenges. Get involved and you could win Old Tom's Golden Egg trophy alongside a £500 prize.
In the mood for a party? Devonshire Terrace is hosting an Easter Disco Bottomless Brunch on the 16th, and it's safe to say that you should expect smoke machines, disco balls, cheesy tunes, and plenty of glitter accompanying your 90 minutes of bottomless booze.
Celebrate National Tea Day with Afternoon Tea
21st April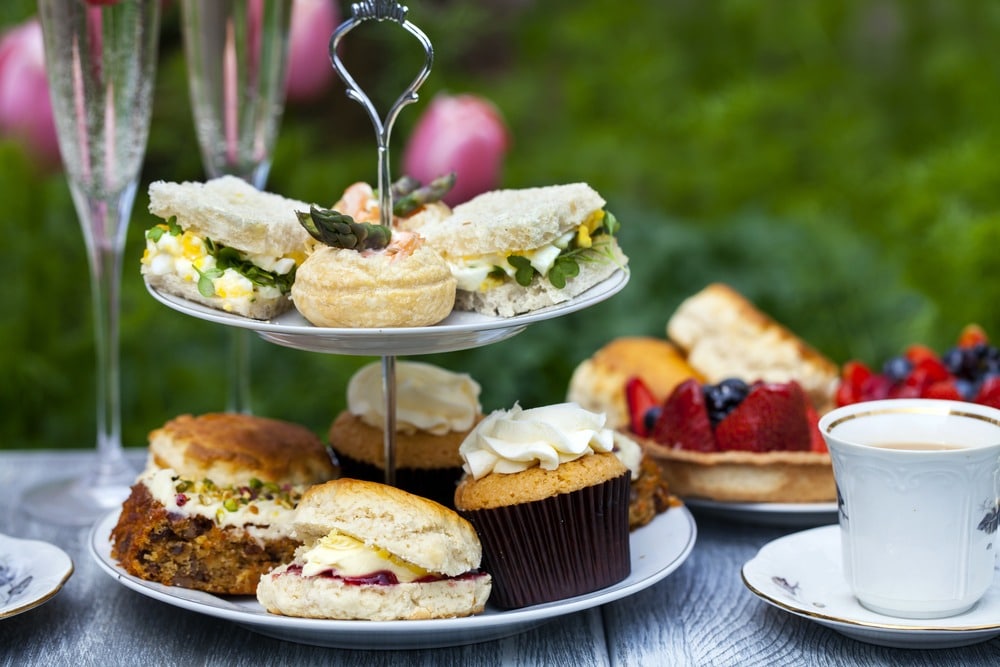 There's nothing we Brits love more than a good 'ol cuppa Rosie Lee (tea). And what better way to celebrate a day dedicated to our drink of choice than with cake and sarnies?
We've written a complete guide to our favourite high tea spots in the capital, and it covers everything from a sophisticated offering at The Ritz to a Harry Potter-themed afternoon tea inside Cutter & Squidge's very own potion room (muggles are very much allowed).
Oh, and don't worry – London's Vegan afternoon tea game is just as strong. Gone are the days of subpar sandwiches and dry biscuits, plant-based folk have got plenty to choose from.
Read More: Our Guide to Afternoon Tea in London
V&A Performance Festival
23rd April – 1st May
The V&A Performance Festival makes its highly anticipated return to the capital in April 2022. From traditional to contemporary, this festival will be exploring dance in all its forms.
Highlights include performances by the likes of FUBUNATION and the Yorke Dance Project, as well as an introductory workshop courtesy of Benesh Movement Notation.
Ready for rousing performances to music in London in April?
Botanical Gin Terrace at The Gantry
From 22nd April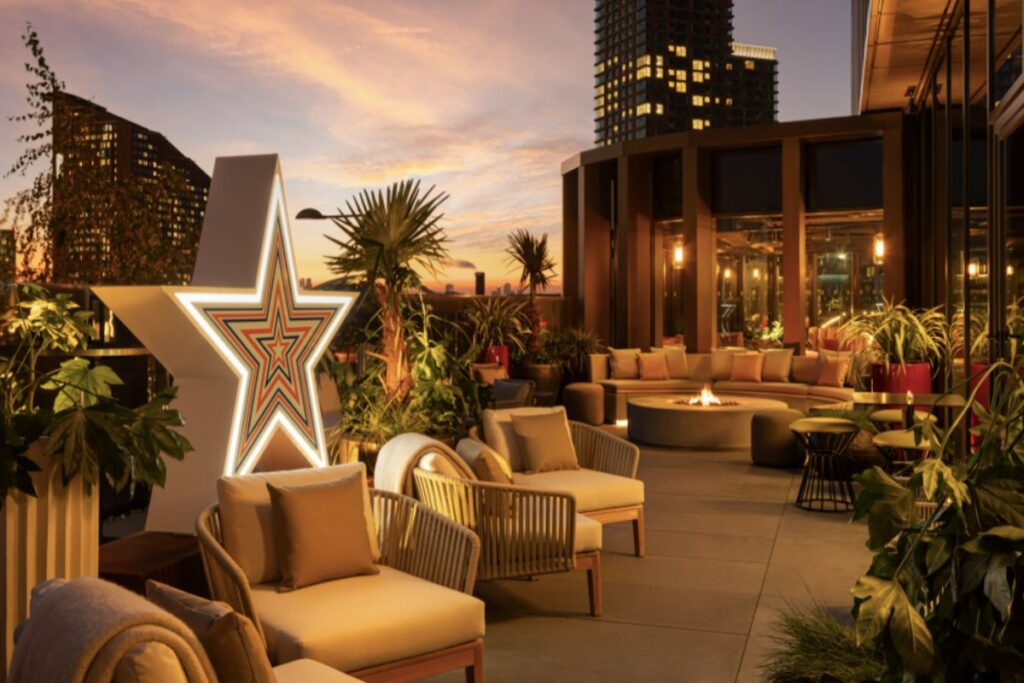 Gin lover? You won't want to miss this exciting collaboration this month in London. South African gin company Inverroche is partnering with The Gantry hotel to bring a sustainable G&T menu to the capital – there's no better excuse to get boozing!
From the 22nd April (which just so happens to be Earth Day, FYI), the limited edition menu will be presented on plantable paper menus, coasters, and tags, which you can take home to create your very own bee-friendly garden. Adorable.
Drinks-wise, the menu features a selection of refreshing cocktails (dare we mention summer yet?) made from their Classic, Verdant, and Amber gins.
Classic Car Boot Sale in King's Cross
23rd + 24th April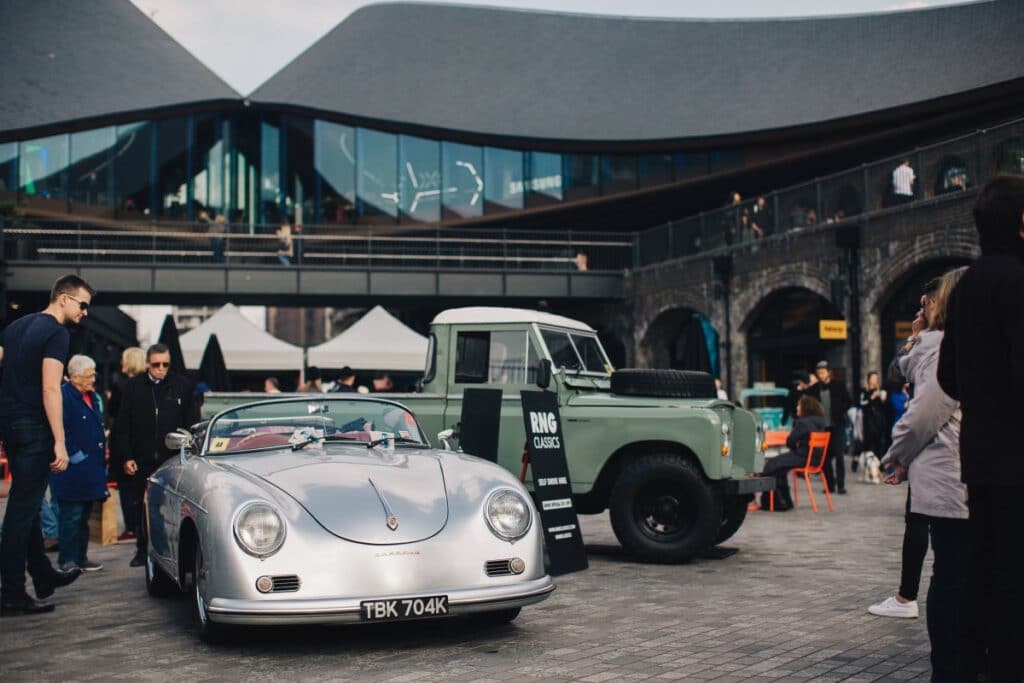 King's Cross looks set to be jam-packed with vintage goods, retro homeware, and second-hand fashion this month, with the return of the Classic Car Boot Sale taking place in Granary Square and Coal Drops Yard between 10am and 6pm.
Alongside an array of antiquities for you to peruse, expect a showcase of classic cars and tunes courtesy of live DJ's, alongside plenty of street food and craft beer to really kick things off in style.
Half Six Fix with LSO
27th April
Looking for the best April gigs in London? How does a slow-moving performance, that usually spans hours, condensed into a vibrant one hour extravaganza sound? Pretty cool, we think.
The London Symphony Orchestra will be performing this firecracker show at Barbican Hall, with Conductor Sir Simon Rattle working his magic once more. This one is The Seven Deadly Sins and it looks set to be 60 minutes filled with drama.
Don't miss out on one of the best shows in April London has to offer.
Cicchetti Opens in Knightsbridge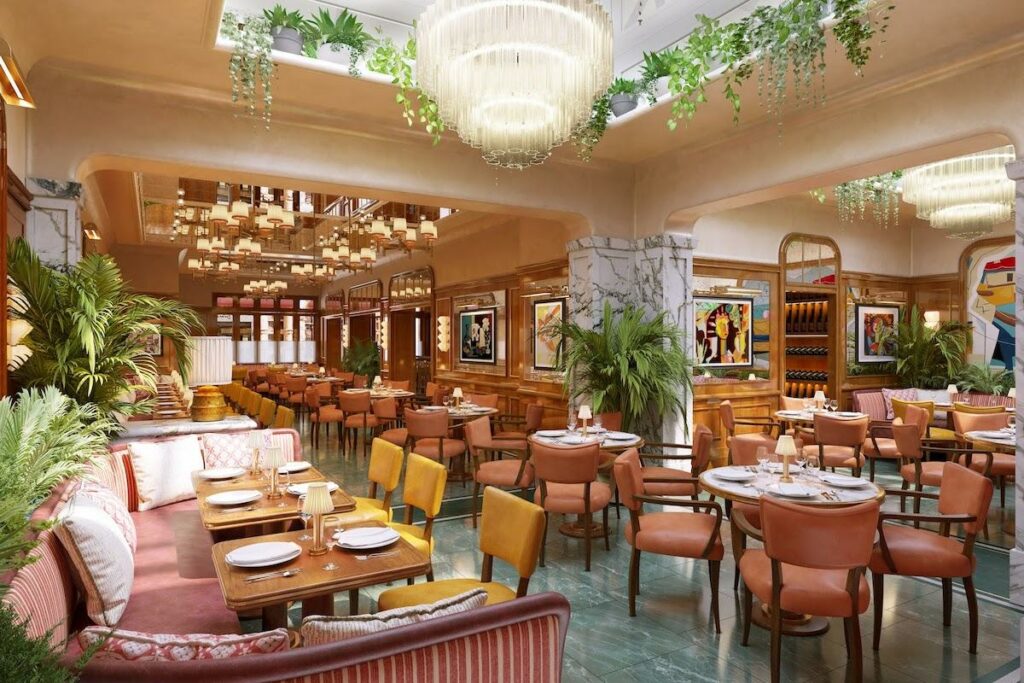 One of the most highly anticipated restaurants is set to open its doors in London this month – and you'll want to be among the first to eat at Cicchetti.
This brand new London restaurant comes courtesy of the San Carlo group (who already have a couple of locations dotted across the capital) and promises Venetian glamour and a menu bursting with Italian classics.
Practical Tips for Exploring London in April
The weather may be slightly less cold than previous months but there's still a high chance of rain in April, so pack an umbrella and bring a jacket. Thank us later.
It's worth booking in advance for new restaurant and bar openings, as they fill up very quickly when they first open. Nobody wants their evening spoiled because they've been turned away from Nightjar (which will very likely happen – it's a popular spot!).
London in April: Map
London in April: Explore More