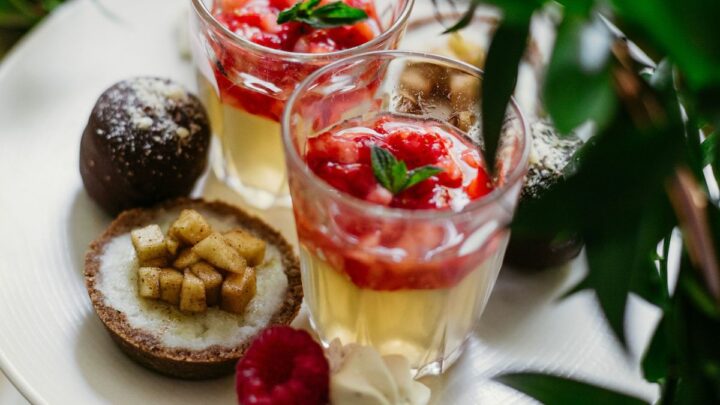 Looking to indulge in vegan afternoon tea in London? We've got you covered.
Luckily, the days of high tea offering strictly dairy-laden cakes and meaty sandwiches are over, and now the capital is brimming with vegan spots where you can chow down on totally plant-based treats. Guilt-free.
Ready for our favourites?
Best Vegan Afternoon Teas in London
Ampersand Hotel
Science nerds will absolutely adore the cream tea offering at Ampersand Hotel.
Drawing inspiration from the nearby science museum, expect petri dish condiments, chocolate spacemen, and solar system mousse among a whole bunch of other fun goodies. Whoever said you shouldn't play with your food was very wrong indeed.
In fact, this afternoon tea is so good that it previously won awards for being the best in London – the vegan menu is equally as spectacular. Go on, add the champagne for an extra-special experience.
Brigit's Bakery Bus Tour with Vegan High Tea
It's true – the most affordable vegan afternoon tea London has to offer just so happens to be one of the very best.
There's no better place to enjoy a quintessentially British experience than onboard a classic bus tour. Chow down on the likes of mixed roasted vegetables on ciabatta, vegan quiche, and blueberry macarons as you whizz past London's top sights.
Farmacy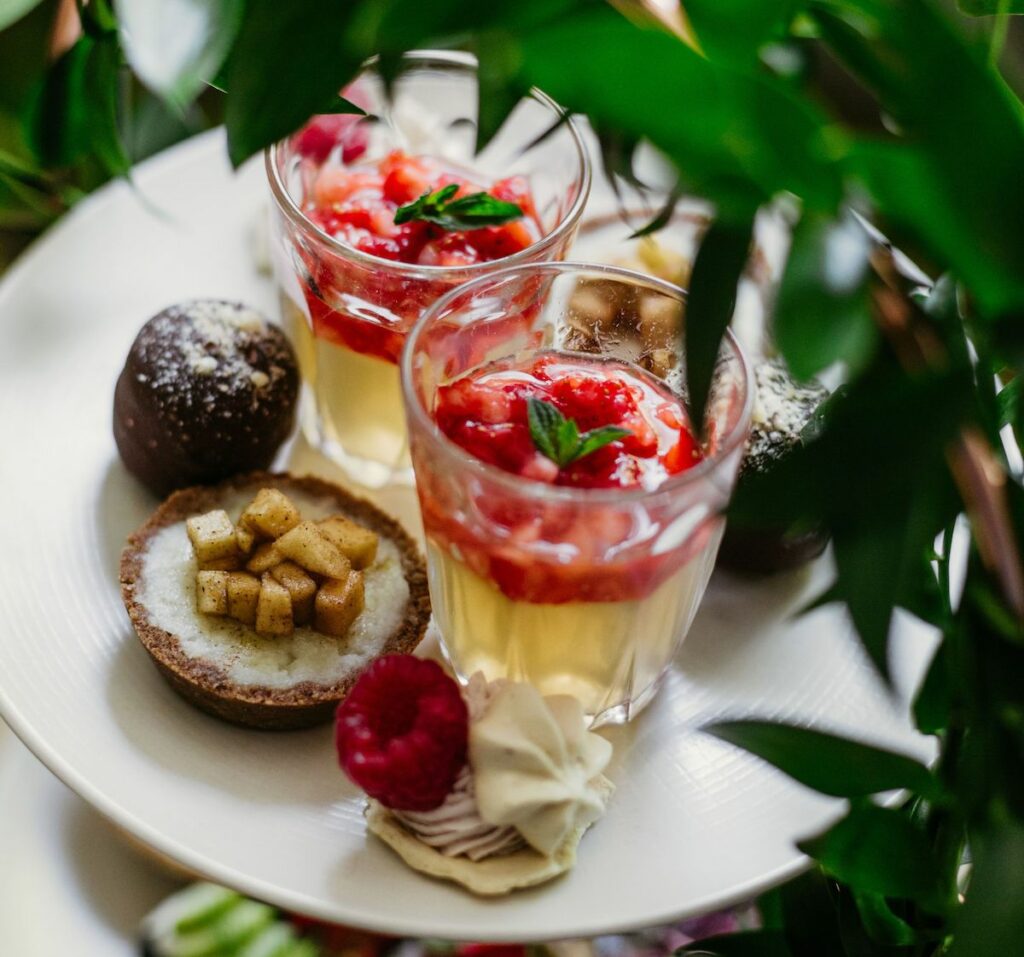 If we could give awards out, Farmacy in Notting Hill would certainly be winning a prize for the most gorgeous vegan high tea in London.
The Afternoon Tea includes a delicious array of treats, as well as a choice of regular or spiritual tea containing Hemp. Each sandwich and cake is a work of art – balanced delicately on a foliage-adorned caddy.
Though it's not all style and no substance – the Mediterranean quiche and coconut macaroons with naturella (a cheeky take on Nutella, FYI) are firm favourites, though the scone selection seems to disappear all-too-quickly.
Cutter & Squidge
Tucked away in Soho, Cutter & Squidge not only serve up one of the best vegan afternoon teas in London, but they cater to all dietary needs – there's also dedicated menus for those who are wheat-free and wheat-free vegan.
The high tea itself is potion themed: prepare to live out your wildest dreams of attending Hogwarts with Harry and the gang as you mix your own drinks (in a cauldron, of course) and receive plenty of surprises along the way.
Oh, and if you love the Wizarding world, make sure to check out the House of Minalima just around the corner.
The Savoy
Strand
There's very few afternoon tea experiences more luxurious than the one offered at The Savoy. You'll be welcomed into the Thames Foyer, which sits under a huge glass dome and is known for being the very heart of the hotel.
Over 30 teas are available, followed by plant-based takes on traditional sandwiches and sweets. Wash down with a glass of Laurent-Perrier if you're feeling extra fancy. We recommend it.
Lady Dinah's Cat Emporium
Bethnal Green
If you're looking for the best cheap vegan afternoon tea London has to offer, look no further than Lady Dinah's Cat Emporium.
Not only do you get to cuddle with some of the most precious felines we've ever seen – you'll need to resist scooping up Irie and taking her home – but the treats on offer are delicious. Take the chocolate raspberry cupcake for example.
Charlie and the Chocolate Factory Afternoon Tea at One Aldwych
Covent Garden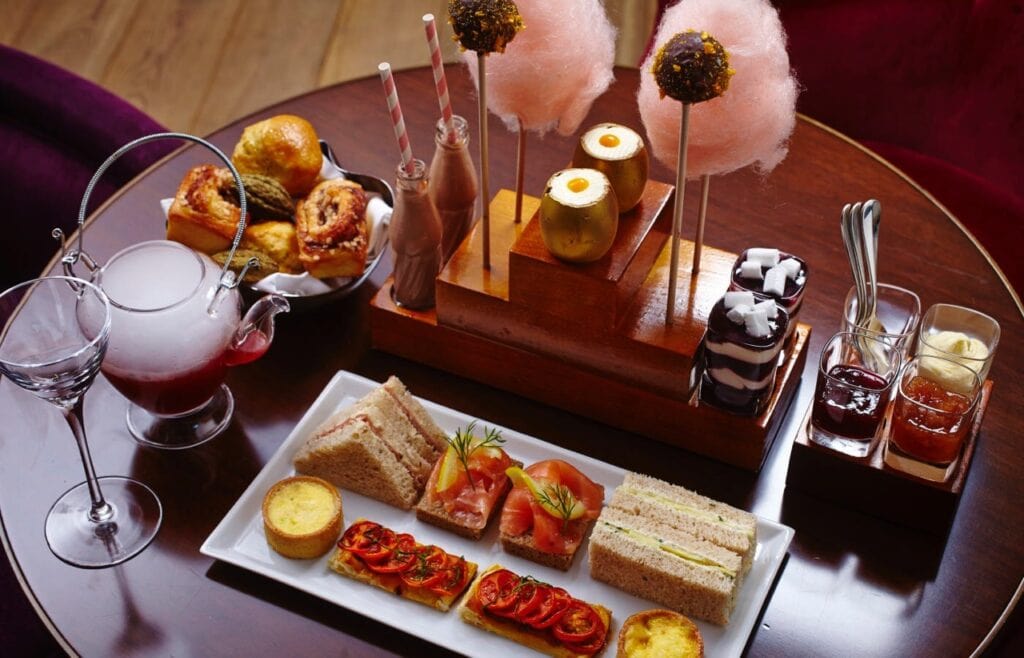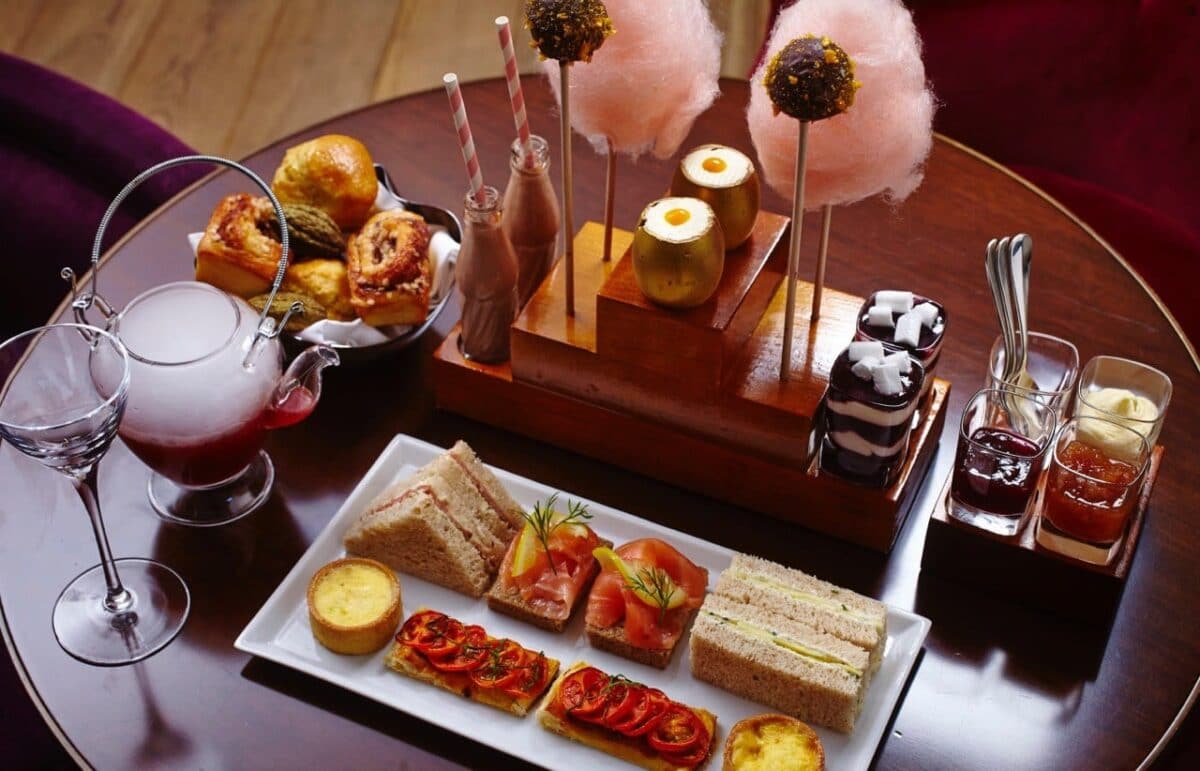 One for all the family to enjoy: the Charlie and the Chocolate Factory afternoon tea at One Aldwych.
Remember the days of longing to try snozzberries and fizzy lifting juice (which, it turns out, are cocktails and champagne)? Stepping into the weird and wonderful world of Roald Dahl allows you to experience just that.
The food really looks the part, arriving on grass-laden trays looking something akin to Willy Wonka's magical garden. Vegan savouries, sweet treats, and even a lemon sherbet candy floss await.
The Athenaeum
It's safe to say that the folks at The Athenaeum were on a mission to prove that vegan does not equal boring. And boy did they deliver with their cream tea offering.
With a selection of sandwiches rivalling the most indulgent of regular afternoon teas (the hummus, piquillo pepper, and rocket, and spiced sweet potato and 'feta' options are the standouts) there's really no need to even glance at the non-vegan options.
The pastries – a strawberry and chocolate cup, banana tart, and black forest gateau, among others – are equally enticing.
Looking for the best vegan gluten free afternoon tea London has to offer? The Athenaeum's got that covered, too.
Dukes Hotel
Mayfair
The afternoon tea at Dukes Hotel is a rather classy affair – not to mention it's handily located just five minutes walk from Buckingham Palace.
Retreat to the Drawing Room and you'll get to scoff finger food whilst being treated to pretty courtyard views. The caddy arrives filled with the likes of cucumber and cress-filled oatcakes, sultana scones, and pretty pastries in abundance.
It's no wonder Dukes has won plenty of awards for its vegan high tea offerings over the last few years.
Palm Court at The Langham Hotel
Fitzrovia
Palm Court's afternoon tea at The Langham Hotel is a slice of art deco paradise in Central London. Complimentary sparkling wine or Champagne kick things off in style, before the vegan treats just keep on coming.
Cucumber and vegan cream cheese, Paprika-roasted sweet potato on caraway bread, and a vegan cheese scone are the oh-so-tempting savoury options. While scones served with lemon curd and seasonal pastries are the sweets piled in front of you.
We bet you've heard of a wine sommelier, but have you heard of a tea sommelier? That's right – an expert in all things tea is on hand to help you find your perfect pairing.
Cake Boy
Battersea
Vegan cream tea doesn't get much better than the one on offer at Cake Boy in Battersea.
This ultra-garish cafe is unapologetically pink – and the King of Cakes himself, Eric Lanlard, is the mastermind behind the extravagant affair.
Eric has shunned scones in favour of a more Parisian affair – think cream cakes, speciality bread, and, of course, sparkling champagne.
Practical Tips for Choosing a Vegan Afternoon Tea
London Vegan Afternoon Tea: Map
Looking for More London Guides?