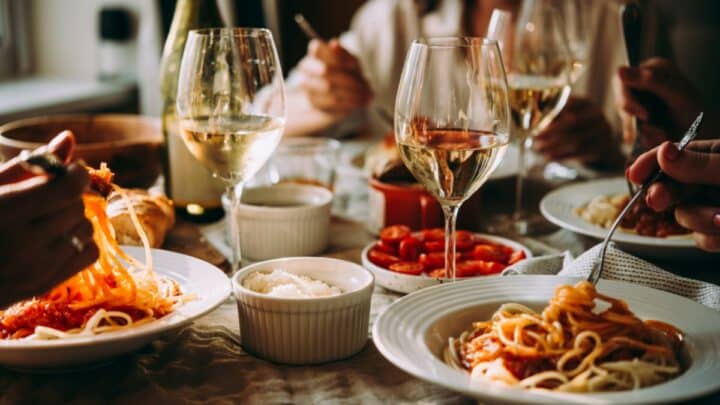 Looking for the best pasta in London? These are the places serving up the best bowls in the city.
Can you ever really go wrong with a good old plate of pasta? No, we don't think you can.
Let's be honest here, we are living in the golden age of pasta – fresh pasta joints are oprepening up all over London. There's nothing quite as comforting as pasta, and it's also the best hangover cure (as well as heartbreak cure).
Luckily for you, London has some of the best pasta restaurants in the world – we know you're looking over at Italy, but we promise you that London gives Italy a run for its money when it comes to pasta.
Don't believe us? Get ready to discover our mouthwatering list of some of the best pasta restaurants in London.
Where to Tap Up the Best Pasta in London
Bancone
We'll take a punt and say that this is the best pasta spot in Covent Garden – and potentially in all of London. The pasta at Bancone really does live up to the hype. Each pasta dish is offered with Prosecco and espresso in a chic setting with three dining counters – we're sold.
The flagship is in Covent Garden but they also have another restaurant nearby in Soho. We recommend booking Bacone beforehand and sitting at the bar area for the most ambient experience.
We'll warn you, you might want to share a few different pastas between the group, but make sure you go for the handkerchief pasta. It's simple (just egg, butter and walnut) but wow is it delicious.
Our other favourite is the spicy pork ragu if you're a meat eater, but in all truthfulness, you can't go wrong with this restaurant. It's incredible.
Cicchetti
Knightsbridge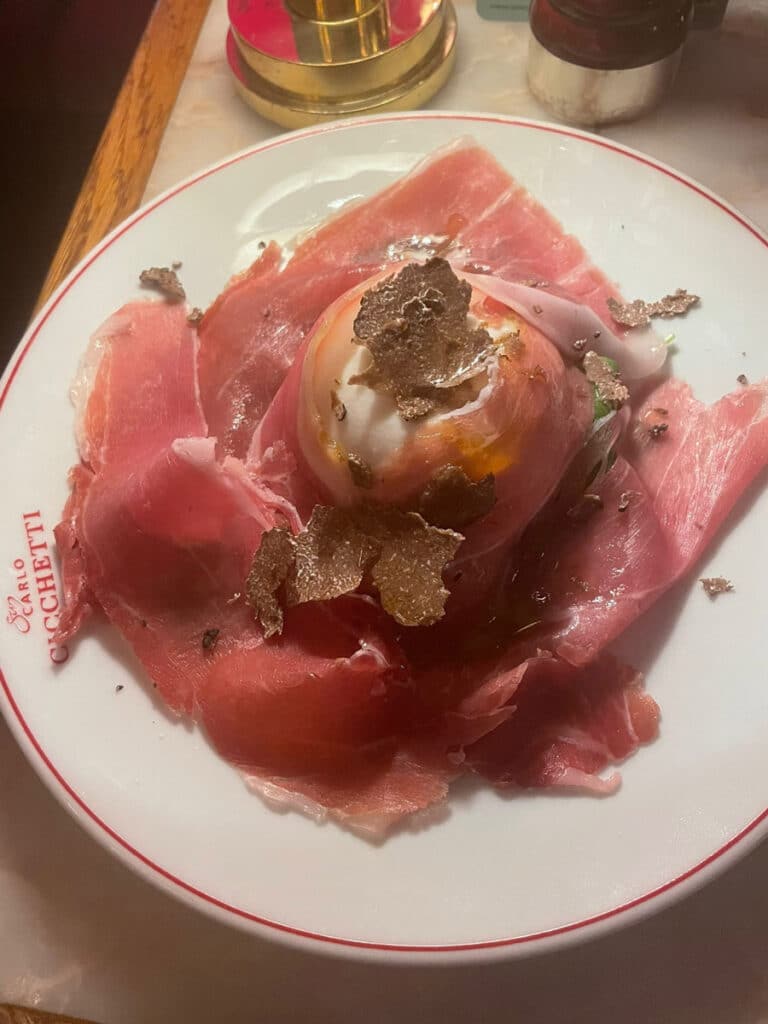 Gold flakes over seafood risotto anybody? You're in for a classy night if you go out for pasta at Cicchetti. That's in part due to dishes like the above, and also because of a great selection of indulgent, often truffle-topped varieties of pasta served in the midst of the old-world charm of a very atmospheric restaurant.
While we know you're here for the pasta, we feel that we must at least mention the small plates of Venetian tapas, or cicchetti that gives the restaurant its name. These small plates make a perfect sharing course before diving headlong into the pasta menu. They're delicious and worthy of a meal to themselves – you'd be wrong not to order a few.
Flour and Grape
Bermondsey
An incredible pasta restaurant in groovy Bermondsey for the perfect casual dining Italian experience. Think pasta and wine, just a 10 minute walk from London Bridge.
The first thing to note about Flour and Grape is that they do not take bookings, but you can check the WalkUp app to see availability and wait times from your phone (clever, ey?). If you see "No Queue", then they've got a table for you. If there are no tables, you can add yourself to the virtual waiting list.
Right, that's enough housekeeping, now back to pasta.
This place well and truly could be the best pasta restaurant in London. The pappardelle is a 11/10 and the truffle tagliarini is as mouth watering as it sounds. This restaurant is always buzzing and busy but absolutely worth it.
Padella
Multiple Locations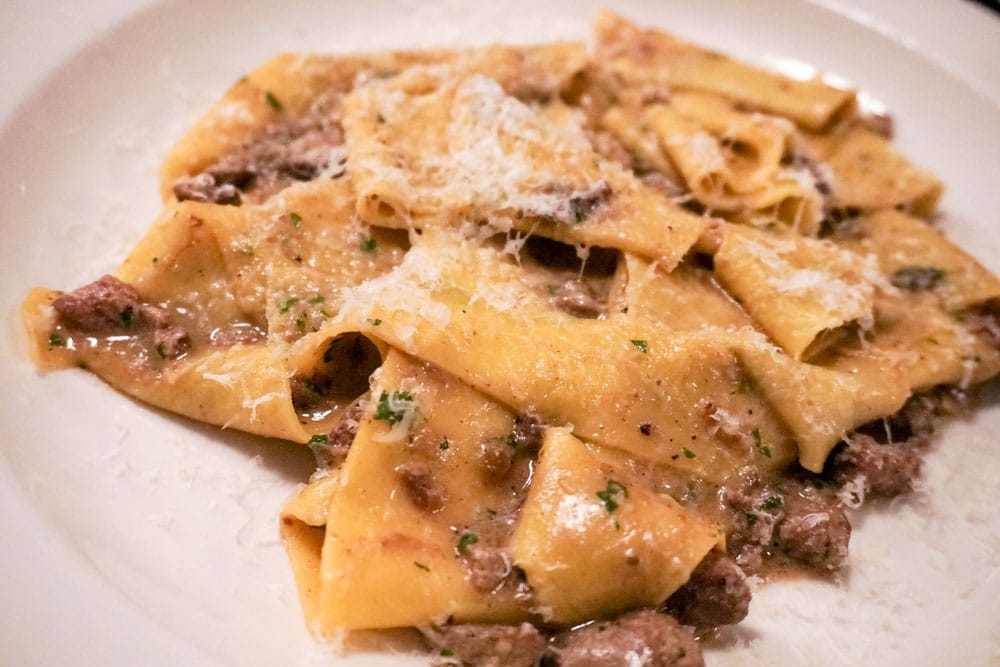 Padella is the lovechild of owners Tim and Jordan's dream to open a pasta restaurant serving fresh, hand rolled pasta with ever changing delicious sauces and fillings inspired by their trips to Italy.
Again, there's no booking here so make sure you get there early or cue virtually using the QR code outside the restaurant.
We recommend signing up to queue virtually and then going for a drink at some of the wonderful pubs in Borough Market, work up an appetite and head back to be filled up with incredible pasta.
The menu is extremely well-priced with big portions of pure deliciousness. We recommend going for the ravioli of westcombe ricotta with slow cooked tomato sauce and the stracci with sweet onion, thyme and gorgonzola fonduta.
Brutto
Farringdon
Brutto is the new kid on the block and has already made a big name for itself, proving to be one of the best new pasta spots in London. It doesn't just serve pasta, it's a real authentic Italian gem and a foodie hotspot.
The booking system is a little tricky for Brutto, you might have to wake up at 9am on a Sunday morning and tables sell out faster than Glastonbury… but, it sure is worth it.
Brutto is all about simplicity and good ingredients. Less is more in this restaurant, they let the ingredients speak for themselves. The vodka pasta is the real show stopper but to be honest, whatever you order, you can't go wrong.
The River Café
Fulham
Sitting on the banks of the Thames, The River Café is one for special occasions.
Whilst it's not always easy to get a table at this riverside restaurant, it's always worth calling up to see if there's any last minute cancellations.
The seasonal menus are light and varied – the truffle pasta is something of a dream, though it's worth paying a visit in Spring alone for the fresh pasta with wild asparagus, hops, herbs and pecorino. Delish.
The ravioli with ricotta and mint is equally as incredible, as well as the fresh nettle pasta with butter and parmesan. These guys know what they're doing when it comes to pasta and Italian food in general, and you'll leave feeling satisfied in every sense of the word.
Locanda Locatelli
One of the best Michelin star restaurants in London, and it's easy to see why – Locatelli's has earned it's spot with the best of the best. Not only is the hospitality incredible, but the pasta rivals the top trattorias in Rome.
The daily menu uses the freshest of ingredients and spans ravioli and cappellacci to ribbons of pappardelle. If the Fagottini di borragine, ricotta e salsa di noci (ricotta and walnut parcels) is on the menu, it would be criminal not to order. And enjoy with a glass of deep red.
Pastaio
Affordable and pasta are two words we love to see together. For the best pasta in Soho, head down to Pastaio.
British Chef, Stevie Parle, and the team are on a mission to bring you excellent value pasta that's both nourishing and considerate to nature. As well as being seriously tasty. The pasta is made fresh every single morning and the produce is chosen seasonally.
The white bolognese is a no brainer, because where else can you get white bolognese? Though, their foccacias are equally delicious so order plenty and share with your friends.
Bocco di Lupo
Bocco di Lupo is something of an institution and one of the best pasta places in London. Opened in 2008 by Jacob Kenedy and Victor Hugo, the restaurant has gained quite the reputation for its well-priced menu.
As a family-run restaurant it feels like the most authentic Italian restaurant in London with the capital's best pasta.
We recommend eating at the chef's counter. The menus change daily, twice a day so you know you'll be getting the freshest ingredients. All wines are Italian with over 500 varieties of grape, so ask your lovely waiter if you're feeling a little lost.
We loved the spaghetti with raw tomato, black olive and basil – but with the ever changing menu we can't guarantee you'll have the same. Though, we can guarantee it'll be equally as delicious.
Lina Stores
Multiple Locations
Lina Stores knows how to make pasta. With locations in Soho, King's Cross, the City, and more, they are slowly taking over London with some of the freshest pasta the capital has to offer. We recommend the Soho restaurant on Greek Street as it's the OG one.
Think truffle linguine, nduja and fennel sausage pasta to fried artichokes pasta and everything in between.
The ground floor features a 12-seater bar with open-plan kitchen while the downstairs has more of a cosy restaurant experience. Great for a pre-theatre dinner, drink at the bar or a quick lunch.
Although booking isn't necessary, it's probably wise as it gets busy. The worst feeling is thinking about pasta all day to then get turned away by the pasta gods. Book. Be wise.
Luca
Clerkenwell
Without a doubt, Luca serves up the best pasta in East London. The restaurant is vintage, warm, brick-lined with a gorgeous terrace and even better pasta. The outside seating area is great if you're in a big group.
Luca manages to feel like a hidden gem, though it's impressive menu is no secret.Although it's not predominantly a pasta restaurant, the pasta is always our first choice and you'll soon see why.
The gnocchi cacio e pepe with manjimup black truffle is simply divine, while the rigatoni with pork sausage ragù, tomato, anchovy and mint is an equally tempting option.
Practical Tips for Booking (Or Not Booking) London's Best Pasta Restaurants
Make sure you check each website for bookings and book where possible. In the age of tech, a lot of places you can queue virtually – do so where possible and explore the area in the meantime
If you can't get a table, it's always worth calling up and either putting yourself on the waiting list for cancellations or seeing if you can slip in and sit at the bar. Please and thank you's go a long way…
Best Pasta in London: Map
Discover More London Food Guides
Brilliant Italian Restaurants in London
The Best Pizza Restaurants in London
Unmissable London Restaurants – Where to Dine in the Capital
Love this? Save and share on Pinterest.