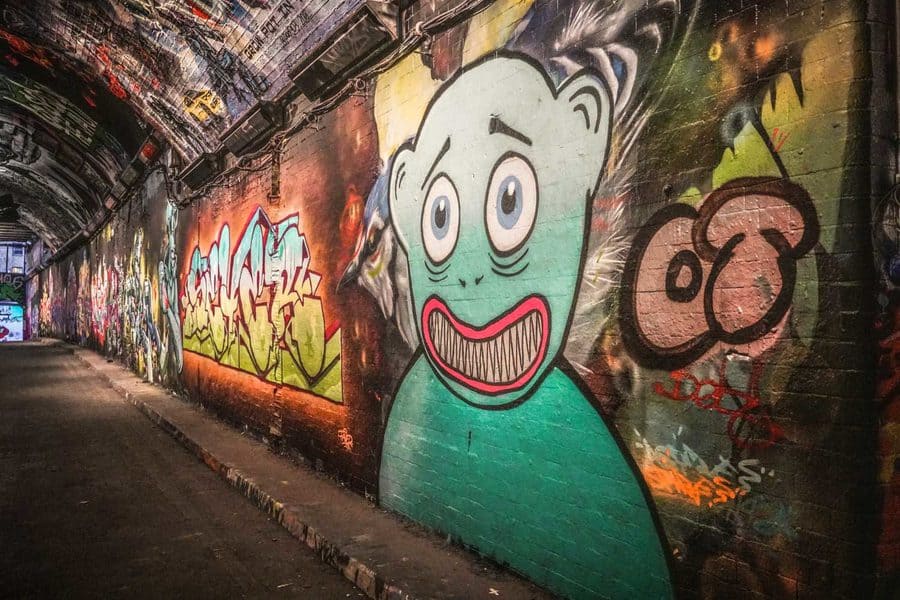 Leake Street Tunnel is one of London's coolest street art spots. Tucked away underneath Waterloo station, it's an ever-changing canvas of colourful murals. Planning to visit? Here's what you need to know.
Leake Street graffiti tunnel is one of London's not-so-hidden gems. This 300 metre tunnel is the city's largest legal wall and has been a bastion of London's street art scene since 2008.
I've visited the tunnel several times since it opened. Each time, I've been struck by the sheer number of pieces you can see here. If you're looking to see some of the freshest street art in town, Leake Street Tunnel is the place to go.
What's so Special about the Graffiti Tunnel in London?
Let's face it – London isn't short on street art hubs – Shoreditch, Camden, Brixton, Walthamstow and recently Croydon have made a name for themselves as cool places to see an ever-changing variety of work.
What makes the graffiti tunnel in London so special then?
First up, there's its history. Leake Street Tunnel wasn't always a legal wall. Before 2008 it was just a dank and grimy tunnel squirreled beneath Kings Cross Station.
That all changed when British street art superstar Banksy (yes, the Banksy) decided to hold a street art festival called Cans Festival down in the tunnel.
Banksy invited the biggest and brightest names on the international street art scene to come down and put up a piece of work in the tunnel. And that was it – Leake Street was no longer dank and grimy, but instead a bold, colourful and cool place where artists could showcase their work.
Since then, Leake Street graffiti tunnel has been flying the flag for the London street art scene. The fact that this is a legal wall means that artists can work in peace and that no two visits are ever the same.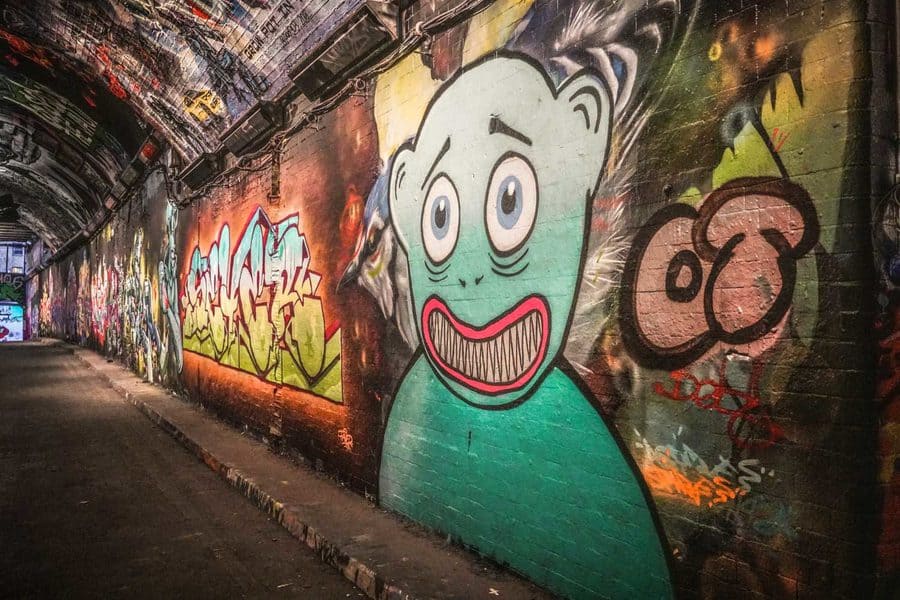 The sheer number of artists who work on the tunnel means that there is always something new to see. Sometimes it's sad to say farewell to old favourites, but the upside is a dynamic series of pieces that draw artists from around the world.
Now, I'm not going to say that Leake Street is at all off-the-beaten track – but somehow, many of the hoards who trample their way from Waterloo to the Southbank Centre, London Eye and other nearby attractions never make it down here.
There will be other people in the tunnel, but it's not full of pose-crazed 'Grammers trying to get their next shot like other places (cough, Shoreditch, cough).
Read more: Street Art in Camden
Tips for Visiting Leake Street Tunnel
There are a few reports about artists being bothered in the tunnel. Some people would advise you not to walk in there alone or after dark. To be honest, I think that's complete overkill – particularly in light of the fact that there are also bars and restaurants down there.
As with any part of London (or just generally), it never hurts to be aware of your surroundings. I've been down there time after time and never felt at all unsafe but you can never guarantee anything.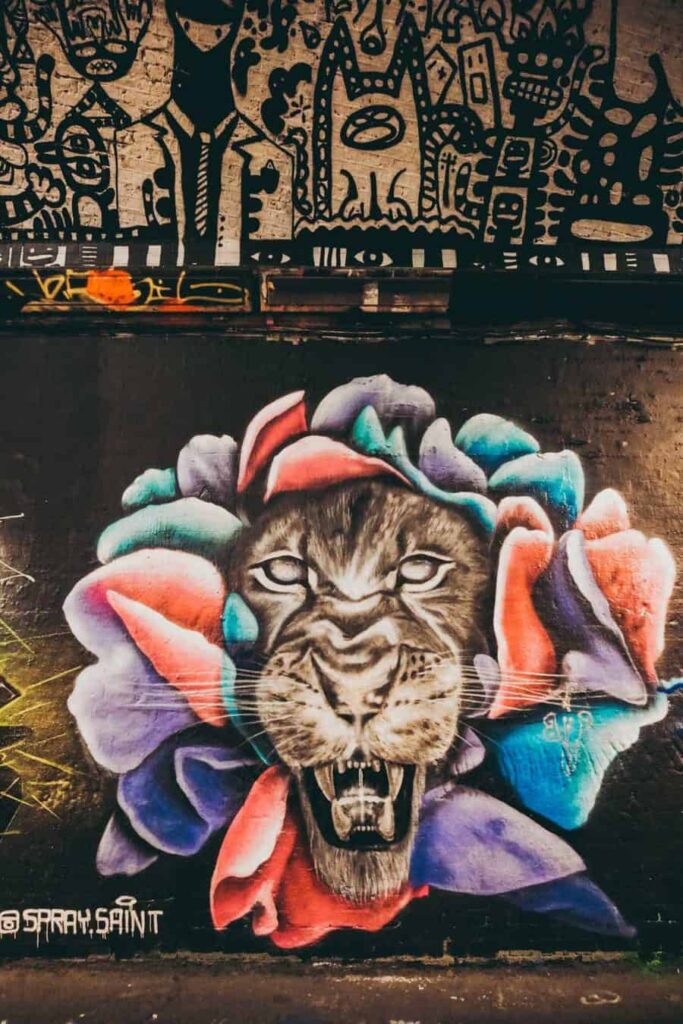 If you're into street art – bring a camera – sure, it's great for taking pictures of the pieces (duh really), but actually it means you can look up the artists when you get home and find out a little more about them and where you might be able to see more of their work.
As I said, the tunnel has a really high turnover rate, so chances are that the next time you visit, that piece you really liked will have gone.
I basically spend about ¼ of my life stalking street artists on Instagram and it's always cool to see new pieces I can find around town.
As I mentioned above, there are quite a few new bars and restaurants opening up down in the tunnel – they're a bit off the beaten track at the moment as they're so new – you might want to pop in before everyone finds out about them.
Read More: Things to do Solo in London
Where is Leake Street Tunnel?
Leake Street Tunnel is a short walk away from Waterloo Station. It takes about five minutes to walk it from the station via York Road.
Alternatively, you can access the tunnel from Lower Marsh Street – a cool little street with loads of cute independent shops, restaurants and cafes. Lower Marsh Street also has a weekday street food market that turns into a handmade and flea market on a Saturday.
London Graffiti Tunnel: Map
Click here to view a map of Leake Street Graffiti Tunnel
Love this? Save and Share on Social!
Want to read more about street art in London? Check out these guides: