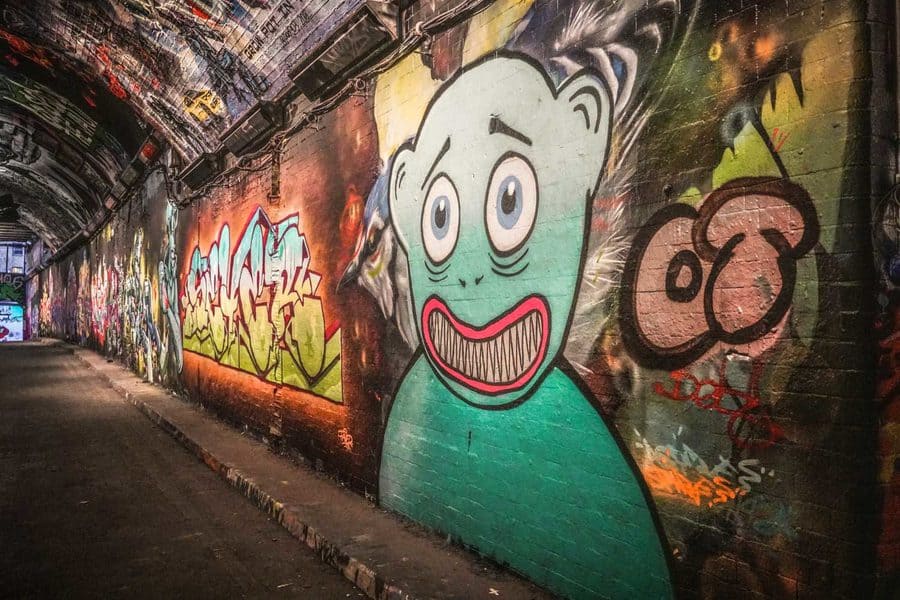 Leake Street Tunnel is one of London's coolest street art spots. Tucked away underneath Waterloo station, it's an ever-changing canvas of colourful murals. Planning to visit? Here's what you need to know.
Leake Street graffiti tunnel is one of London's not-so-hidden gems. This 300 metre tunnel is the city's largest legal graffiti wall and has been a bastion of London's street art scene since 2008.
We've visited the tunnel several times since it opened. Each time, being struck by the sheer number of pieces you can see here. If you're looking to see some of the freshest street art in town, Leake Street Tunnel is the place to go.
What's so Special about the Graffiti Tunnel in London?
Let's face it – London isn't short on street art hubs. Shoreditch, Camden, Brixton, Walthamstow and recently Croydon have made a name for themselves as cool places to see an ever-changing variety of work.
What makes the graffiti tunnel in London so special then?
First up, there's its history. Leake Street Tunnel wasn't always a legal wall. Before 2008 it was just a dank and grimy tunnel squirrelled beneath Waterloo Station.
That all changed when British street art superstar Banksy (yes, the Banksy) decided to hold a street art festival called Cans Festival down in the tunnel.
Banksy invited the biggest and brightest names on the international street art scene to come down and put up a piece of work in the tunnel. And that was it – Leake Street was no longer dank and grimy, but instead a bold, colourful and cool place where artists could showcase their work.
Since then, Leake Street graffiti tunnel has been flying the flag for the London street art scene. The fact that this is a legal wall means that artists can work in peace and that no two visits are ever the same.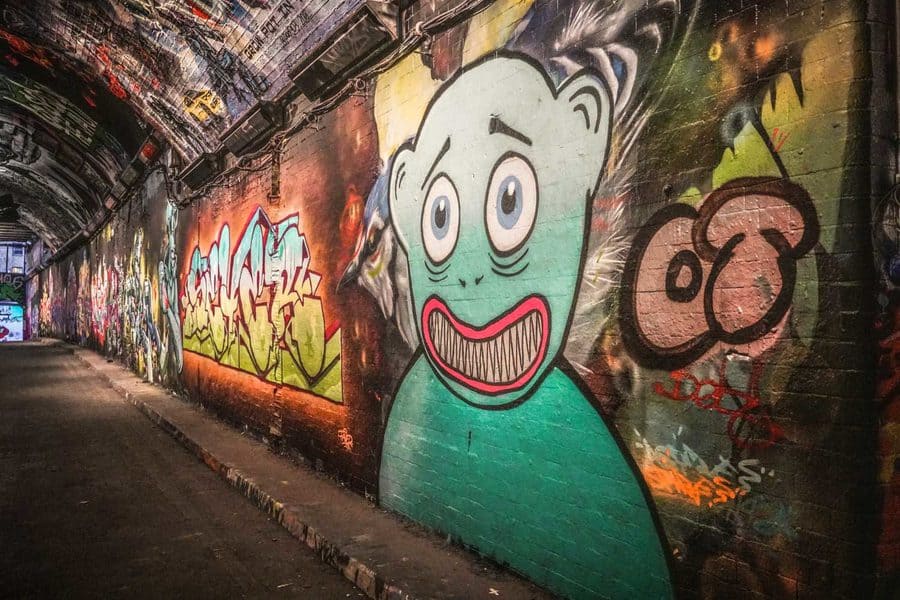 The sheer number of artists who work on the tunnel means that there is always something new to see. Sometimes it's sad to say farewell to old favourites, but the upside is a dynamic series of pieces that draw artists from around the world.
Now, we won't say that Leake Street is at all off-the-beaten-track – but somehow, many of the hoards who trample their way from Waterloo to the Southbank Centre, London Eye and other nearby attractions never make it down here.
There will be other people in the tunnel, but it's not full of pose-crazed 'Grammers trying to get their next shot like other places (cough, Shoreditch, cough).
Read More: Street Art in Camden
Tips for Visiting Leake Street Tunnel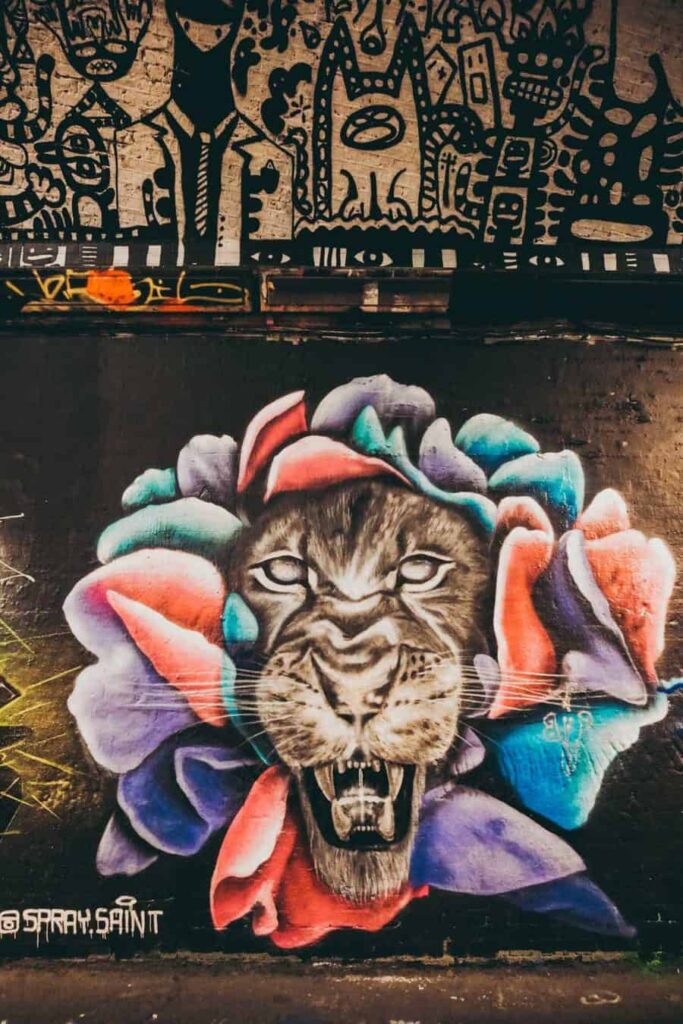 There are a few reports about artists being bothered in the tunnel. Some people would advise you not to walk in there alone or after dark. To be honest, we think that's complete overkill – particularly in light of the fact that there are also bars and restaurants down there.
As with any part of London (or just generally), it never hurts to be aware of your surroundings. We've been down there time after time and never felt at all unsafe but you can never guarantee anything.
If you're into street art, bring a camera – sure, it's great for taking pictures of the pieces (duh really), but actually it means you can look up the artists when you get home and find out a little more about them and where you might be able to see more of their work.
As we said, the tunnel has a really high turnover rate, so chances are that the next time you visit, that piece you really liked will have gone. We basically spend about ¼ of our lives hunting down street artists on Instagram and it's always cool to see new pieces around town.
As mentioned above, there are quite a few new bars and restaurants opening up down in the tunnel. They're a bit off the beaten track at the moment as they're so new – you might want to pop in before everyone finds out about them.
Where to Eat in Leake Street
Banh Bao Club Risen
Tucked away under the curving arches and lit up in a pretty way, it'd be hard not to miss Banh Bao Club Risen if you walked past it. You'd not be remiss for wanting to stick your head through the door either.
What you'd find on the other side is a little Asian restaurant serving predominantly Vietnamese food, though they do take a few cues from the Chinese cook book as you might have noticed by the 'bao' in their name.
The food is a little more 'modern' than the stuff you might find in some of Dalston's Vietnamese joints, but that pretty much just means they've presented it a little differently and mixed in a few fusion notes. At the end of the day all that matters is it's tasty.
Draughts
Draughts is a right laugh. They're a board game restaurant/bar and also do some pretty decent food. They also take the whole board game element pretty seriously.
Their website says they have over a thousand games on their shelves – they do have one more location in Hackney, but even between them that'd still be 500 games each.
The bar does all the usual beers, lagers and IPAs you'll find in a London watering hole these days, and the kitchen turns out food to match in the form of Korean fried chicken, burgers, and nachos.
Passyunk Avenue
What better location to house a dive bar than under the railway arches of a graffiti-ridden tunnel? We guess the people at Passyunk Avenue knew what they were doing.
This place packs out after dark with drinkers of every ilk. They do a bunch of different events centred around a day of the week: beeramid Wednesdays, beer pong Thursdays, bourbon Fridays – which can turn wild.
Hungry? They also have a menu of American classics to line the stomach after a whole pyramid's worth of Pabst Blue Ribbon.
Mamuśka!
Ok, so this one isn't technically in the Leake Street tunnel, but it is right around the corner and we love Mamuśka! so much we'd thought we'd sneak it in.
The restaurant was formed after a Canadian dude fell in love with a girl from Poland, and the girl's friends decided they had to get this guy into the food from their home country. He must have loved it because here we are, talking about the restaurant he opened in its honour.
The food is totally affordable and of great quality. There's small things ideal for sharing and larger classic Polish mains if you need to fill a hole after all that graffiti hunting.
Of course, there's a good selection of Polish beer on offer too. You just can't go wrong.
Where is Leake Street Tunnel?
Leake Street Tunnel is a short walk away from Waterloo Station. It takes about five minutes to walk it from the station via York Road.
Alternatively, you can access the tunnel from Lower Marsh Street – a cool little street with loads of cute independent shops, restaurants and cafes. Lower Marsh Street also has a weekday street food market that turns into a handmade and flea market on Saturdays.
Read More: Things to do Solo in London
London Graffiti Tunnel: Map
London Graffiti Tunnel: Read Next