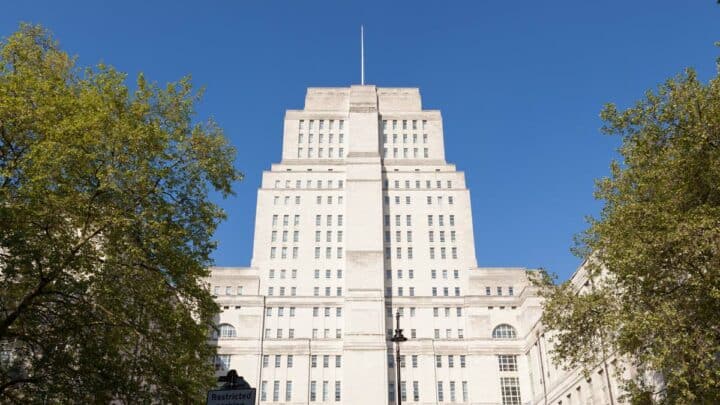 Have you heard about Senate House? This peculiar London building is home to many secrets – here's why you need to visit.
Sitting pretty behind the British Museum, this Bloomsbury gem is one of the finest examples of Art Deco architecture in the capital – and if you didn't already know how much we adore this architectural style, now you do.
But Senate House is more than just a pretty face.
In fact, this building has played a huge role in society – from being a crucial outpost in World War II to influencing iconic dystopian novels.
Ready to discover the hidden secrets of London's Senate House?
Why Visit Senate House?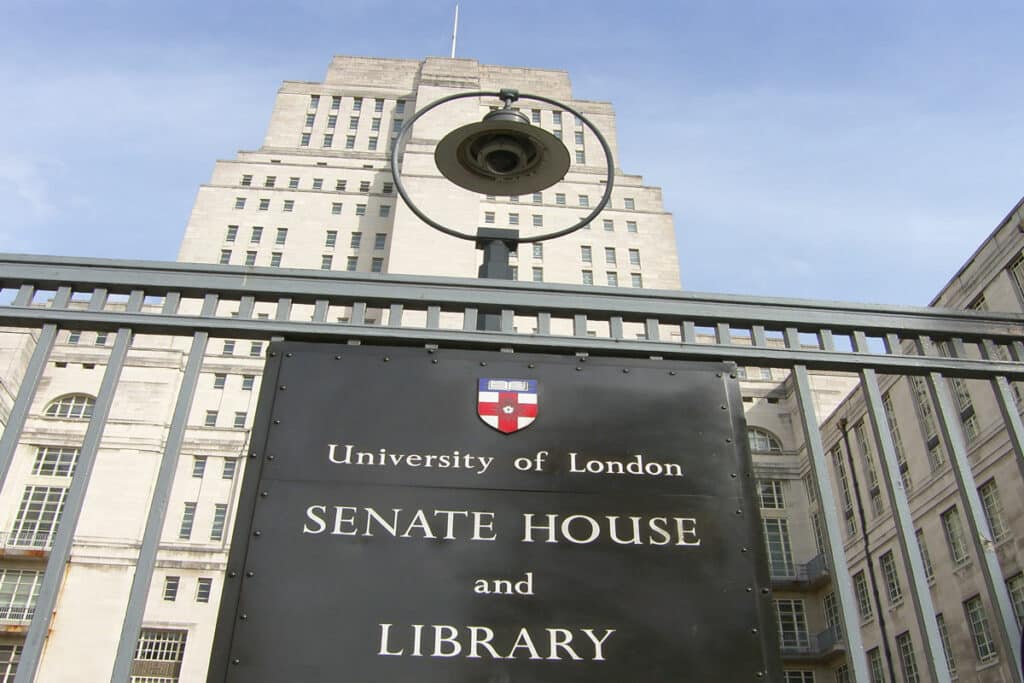 Why should you visit one of the most influential buildings in the capital, we hear you ask? Allow us to explain.
Popular Influences
First of all, the building's unique design has led to a myriad of Hollywood blockbusters being filmed there – Batman Begins, The Dark Knight Rises, The Theory of Everything, and Dr Who (alright, not a Hollywood blockbuster, but impressive nonetheless) among plenty of other movies.
And, who doesn't want to walk in the footsteps of Christian Bale?
Oh, and if you're a bookworm like us, you'll have no doubt read George Orwell's Nineteen Eighty-Four – the dystopian novel that famously coined the phrase 'Big Brother'.
It's believed that Senate House inspired the Ministry of Truth in the novel – the government department that watched over everyone – particularly because Orwell's wife previously worked in the building during the war (more on that later).
Architectural Significance
Upon completion, Senate House was the tallest non-religious building in Britain.
It also managed to become one of the first large buildings in the world to be fully heated by electricity. In 1969, it was listed as a Grade II property and declared a structure of great architectural significance.
Also, in recent years, the University of London undertook a £55 million refurbishment, which meant that the original Art Deco features and grand halls were overhauled into impressive events spaces. But don't worry, the building still retains all of its authentic charm.
New tech was also installed – we're sure Orwell would be brimming with new novel ideas.
The History of Senate House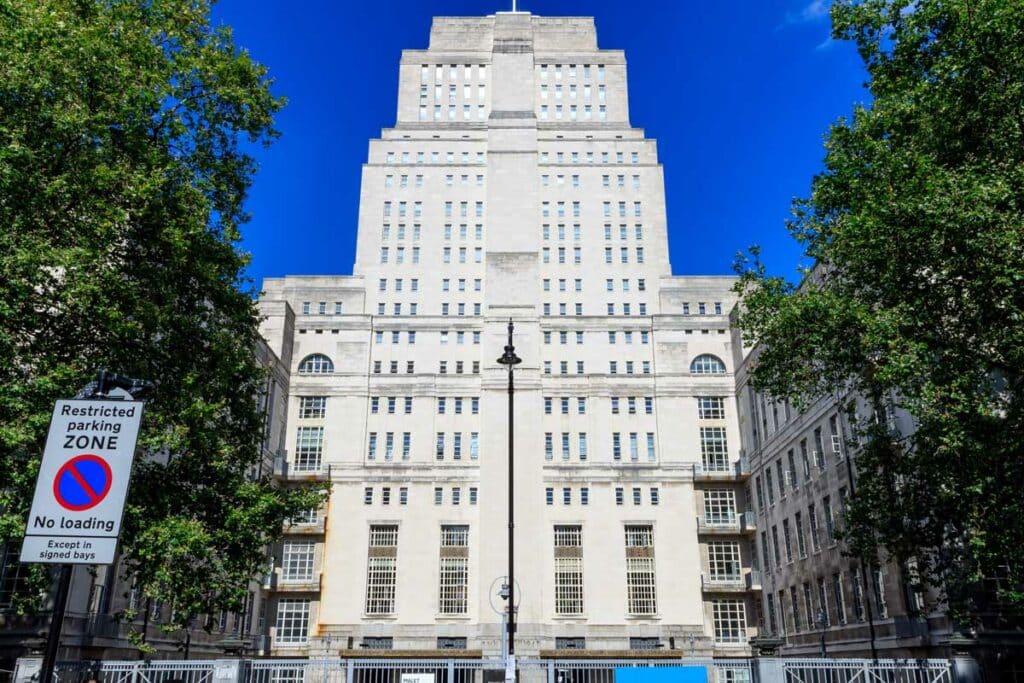 Sir William Beveridge is responsible for this striking building – he had a vision for a new home for the University of London, which had begun to outgrow its other campuses around the city, and was very keen for the new location to be a great architectural feature of the city.
Beveridge convinced the Rockefeller Foundation to donate £400,000 so that they could build a new site behind the British Museum in Bloomsbury.
Senate house was constructed by Charles Holden between the years of 1932 and 1937 as part of an uncompleted scheme for the University of London. It sits at 210 feet tall (that's a knee-wobbling 19 floors).
The design originally stretched from Montague Place, though Holden had to rethink this completely because World War II was brewing. In the end, only the main building and the library were finished.
When World War II began in 1939, Senate House was utilised by a brand new government department: The Ministry of Information.
This department was responsible for censorship and propaganda during the war, and so the roof of Senate House acted as an observation post for the Royal Observer Corps.
Inside Senate House, campaigns such as the famous 'Keep Calm and Carry On' poster were being thought up, and a press room for every London newspaper was set up in Beveridge Hall.
Today, Senate House is a conference centre, London Fashion Week venue, and home to a range of university classes. It's one of the most versatile (and interesting) buildings in the capital.
By Design: Peeking Behind the Architecture of Senate House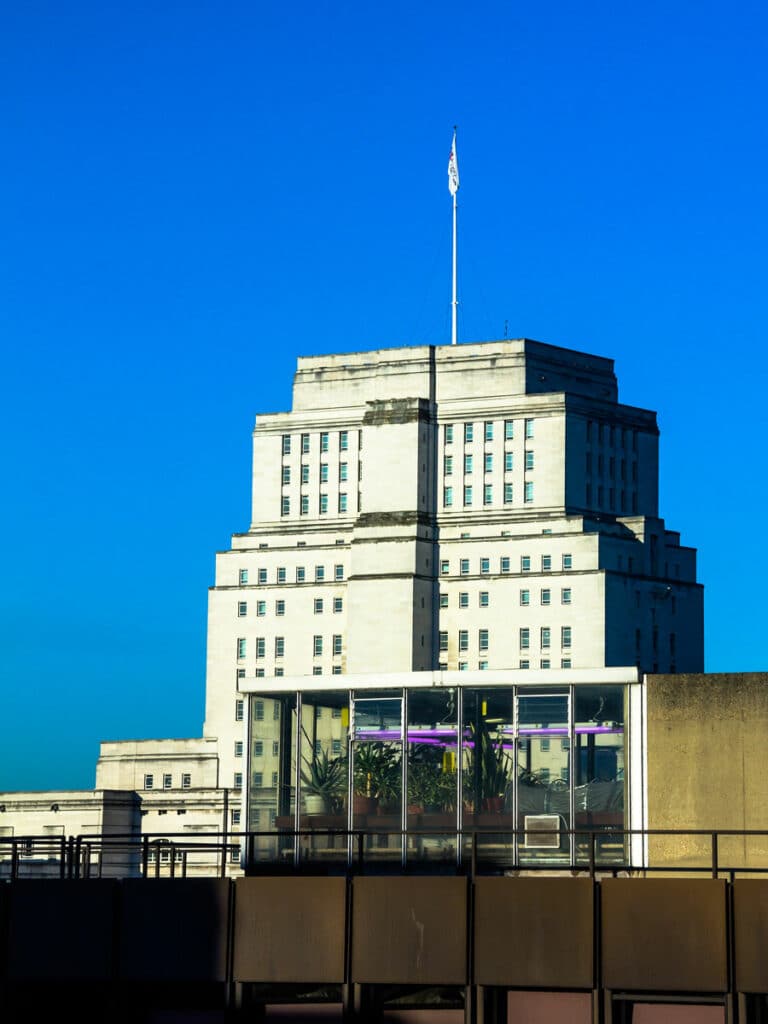 It's hard to miss Senate House, and we've got Charles Holden to thank – he was responsible for this Art Deco beauty.
In fact, he had already helped design many of the London Underground stations, so they knew they were in good hands. Holden was required to design a building that would blend in with the British Museum and UCL.
Though, you can't please everyone, and this building was rather controversial at the time, gathering quite a crowd of haters.
Whilst Art Deco style was incredibly popular at the time – hailing from Paris in the 1920s, it was seen as an incredibly opulent and wealthy architecture – Holden was unsure and questioned whether this building was too modern… or too traditional.
We're glad he stuck it out, because the end result was incredible.
But what was this impressive building made from? Senate House was constructed of Portland stone, Travertine marble, English walnut, and South American cypress – A.K.A some of the finest materials available at the time.
Inside, you'll be able to spot that even the most intricate of details had been well-thought out – embellished ceilings, ironwork, and bespoke furniture that coherently matched the design of the building. No wonder it's so bloomin' gorgeous.
Practical Information for Visiting Senate House London
The public is more than welcome to visit the library situated on the 4th floor of Senate House. Note that the library closes during the summer holidays. Senate House holds tours of the building throughout the year – keep your eyes peeled here for upcoming dates.
Senate House is smack bang in the middle of Goodge Street and Russell Square Tube Stations – it's a five minute walk from either.
Senate House: Map
London's Senate House: Read More History Guides