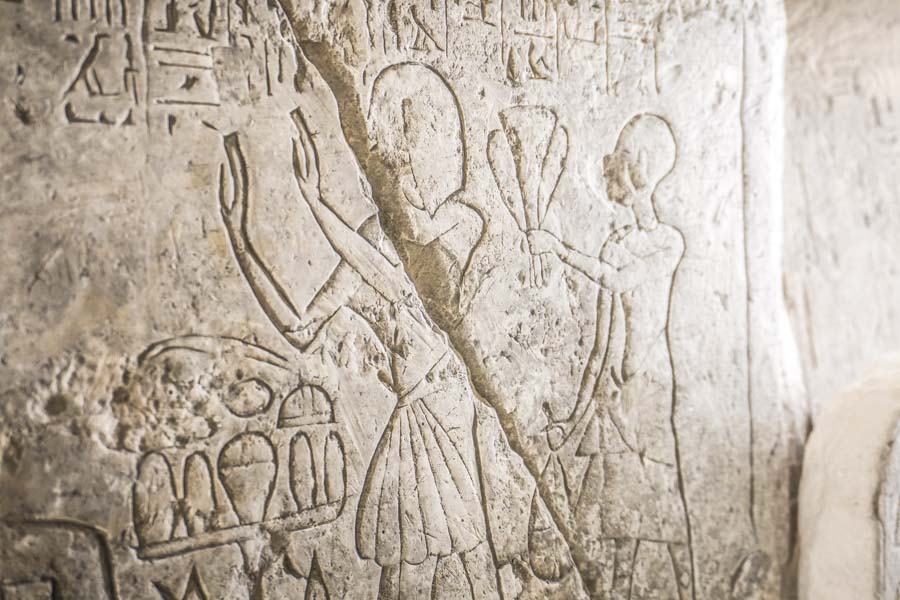 The Petrie Museum of Egyptian Archaeology is packed with treasures of the ancient world. Here's what you need to know to plan your trip.
London has no shortage of free museums for you to choose from – but sometimes the smaller gems get overlooked in the stampede to see big names.
Forget the packed Egyptian collection at the nearby British Museum – the Petrie Museum is London's only museum dedicated solely to Egyptian and Sudanese archaeology and one of the capital's quirkier finds.
What is the Petrie Museum?
The Petrie Museum was named after Flinders Petrie – UCL's first Professor of Egyptology and an ardent excavator. In fact, Petrie himself excavated a large proportion of the 80,000+ objects that form the museum's collection.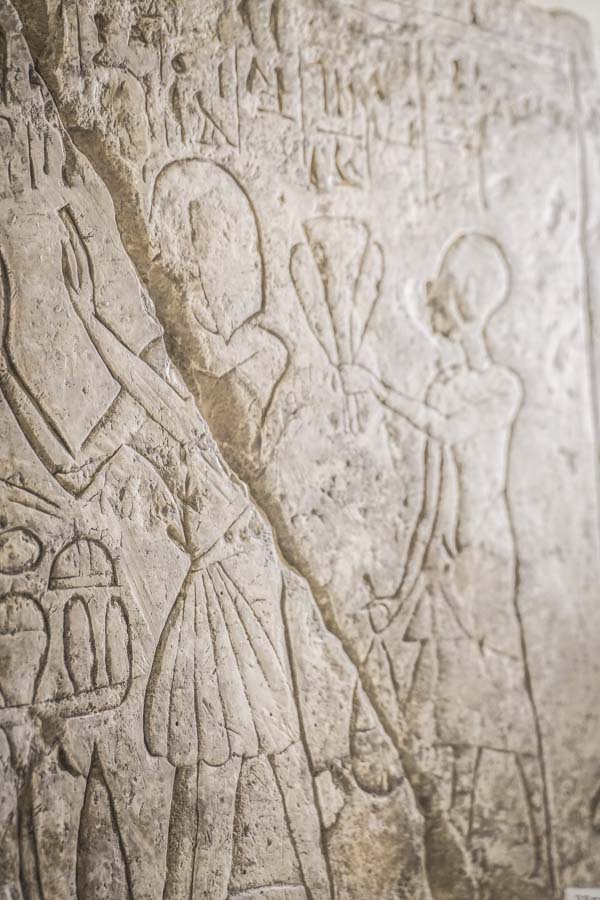 The Petrie Museum charts the development of Egyptian culture from Palaeolithic times to the Islamic Period.
While there are many impressive exhibits, the museum's greatest feat is bringing a civilization about which we know so many facts but have so little knowledge, to life.
It does this through a boggling display of everyday objects – rat traps, hair decorations – things that people would have used in their day to day lives, alongside more the big-ticket items you traditionally associate with archaeological finds.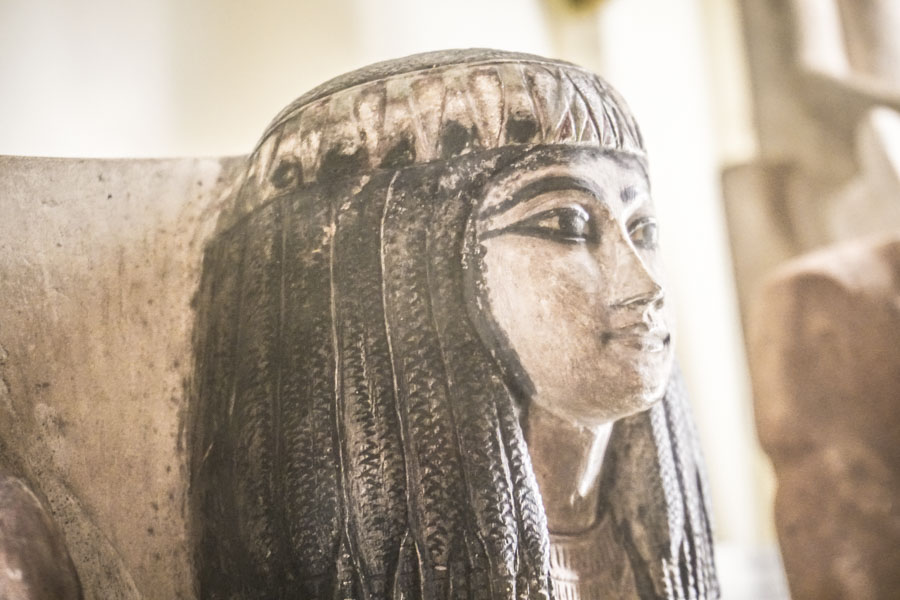 Why Should I Visit?
The Petrie Museum itself might be small – but it's absolutely packed with Ancient Egyptian and Sudanese artefacts. It's hands down one of the best places in London to really take a good look at these civilisations of times gone by.
There are two main rooms: one crammed with artefacts of all shapes and sizes – ranging from a pair of ancient tweezers to a rat trap, slabs of hieroglyphics to mummy coffins.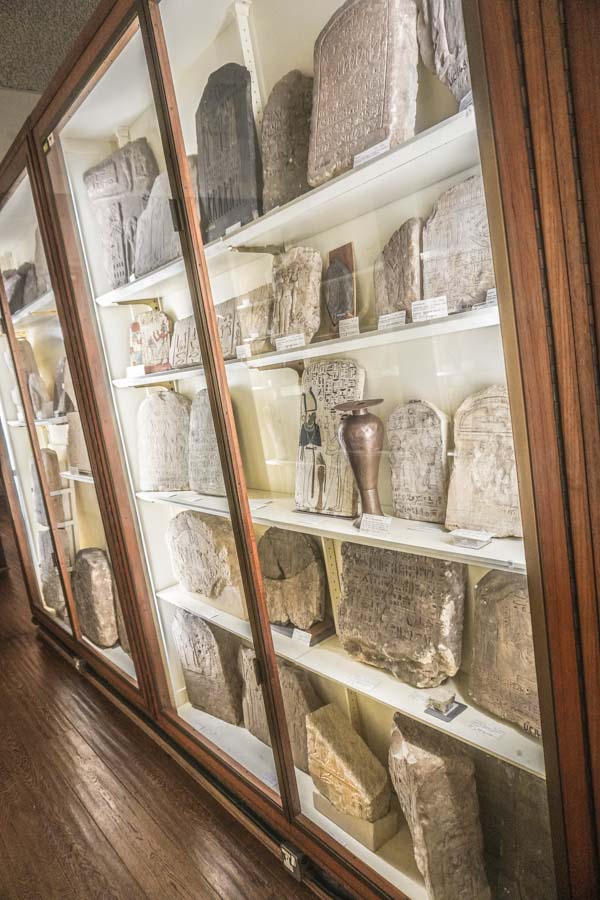 On the face of it, the second room is less exciting – it's mainly dedicated to pottery. But even the pottery tells a story: Petrie was one of the first people to recognise the important role pottery could play in archaeological dating – hence why the collection is set out in chronological order.
There are so many exhibits that the museum simply doesn't have enough space to put everything on show – they've even requisitioned one of the staircases to display part of the collection. It's one of the more unique exhibition spaces in London for sure.

What Shouldn't I Miss?
Pretty much everything! It's a small museum – so you won't need a whole day to explore. But there are a few things you should keep your eyes open for.
Min's Penis
Stop giggling guys, I'm completely serious.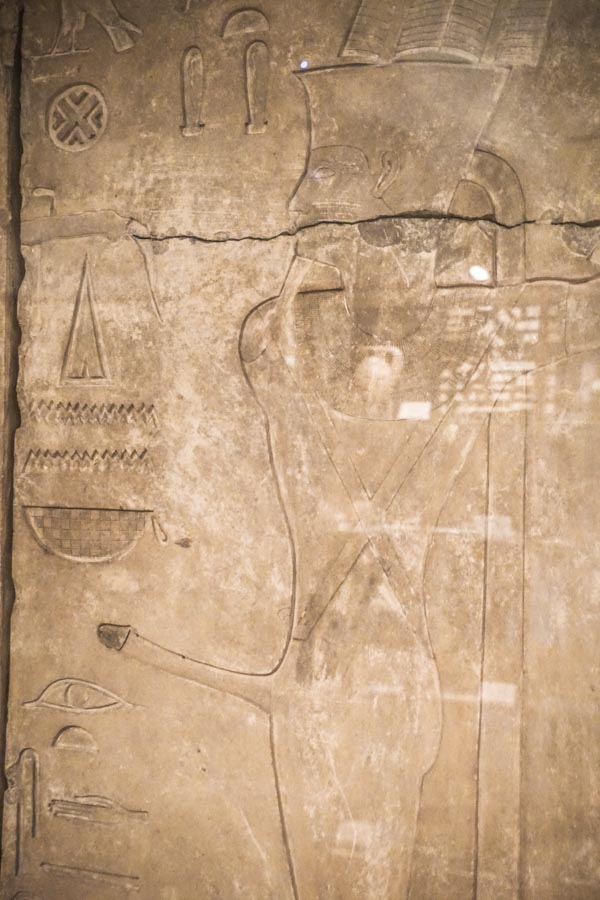 Stop giggling guys, we're completely serious.
One of the museum's best-known pieces is a large relief of the fertility god Min – who is predictably shown with a rather alarming-sized penis (when the piece was first shown, the penis was covered with a label so it didn't offend the uptight Victorians).
Min's shown with a leaf of lettuce, which Egyptians believed helped with fertility because it secreted juice when you rubbed it.
Totes saucy.
Bead Net Dress
Another exhibit that would certainly raise a few eyebrows today – the bead net dress dates from c 2,400 BC and was designed so that it rattled when it moved.
It's thought that the wearer would have worn it over a linen undergarment – but we can't be sure.
Tarkhan Dress
Another item of clothing – this time, the oldest piece of clothing in the world… it's more than 5,000 years old.
Shabtis
These figurines may look cute but they're a actually very practical objects.
These figurines may look cute but they're actually very practical objects.
Egyptians believed that they had to do manual labour in the afterlife but were pretty unimpressed with the idea of spending eternity doing things like polishing the silver. So they created these shabtis, which were buried in the tomb with them.
The idea was that the shabtis would perform the menial tasks and the deceased could just live it up in paradise. Tres savvy.

How Did This Egyptian Museum in London Come into Existence?
The museum was founded to provide a practical resource for Archaeology students in the newly established department at UCL.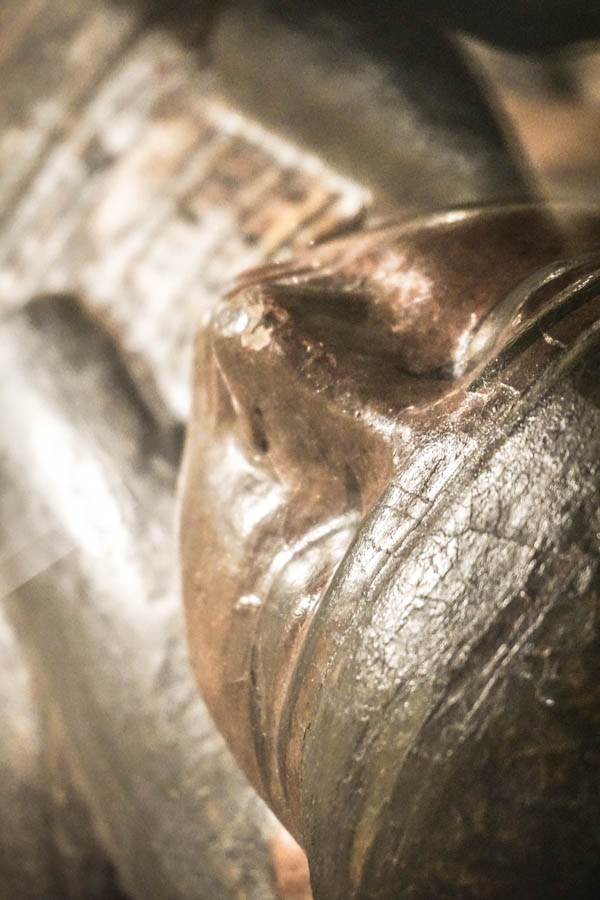 The museum's first objects were provided by a bequest by pioneering writer and Egyptologist Amelia Edwards, who also funded the Edwards Chair of Egyptology – a UCL professorial chair that still exists today.
The collection was then expanded by the first Edwards Professor – none other than Flinders Petrie himself, who sold his collection of artefacts to the museum – making it one of the largest collections of Egyptian antiquities in the world.
It moved into its current premises (a former stable) in the 1950s.
Read Next: London on a Budget – Free Places to Visit in the British Capital
Is the Petrie Museum Ethical?
There's a lot of talk these days about just how ethical London's museums are. People are demanding that the Elgin Marbles be returned to Greece and not long ago the Horniman Museum broke rank by committing to send its collection of Benin Bronzes back to Nigeria.
This discussion is happening because many of the objects in London's museums were looted during colonial invasions, or otherwise acquired by nefarious means. Is that the case for the Petrie Museum?
The short answer is no, but as with many of these things it's not that simple. Most of the museum's collection was donated by Flinders Petrie who had acquired the items in accordance with the Egyptian law of the time.
The export laws around archeological items have now changed meaning that what Petrie did by taking them to England would be illegal now, but wasn't then. Other than that it's all above board. Well almost…
Who was Flinders Petrie?
Flinders Petrie was a complex man. On the one hand he's one of archeology's greatest minds, on the other, he had some questionable views about eugenics – namely that he believed in the superiority of his race.
In spite of this Petrie spent much time travelling Egypt and the Middle East uncovering parts of the ancient civilisations that once called the regions home. He's credited with such major discoveries as the Merneptah Stele and multiple key ancient Egyptian sites.
He was also the first person to correctly identify the Proto-Sinaitic script, considered to be the earliest evidence of alphabetical writing and, in a roundabout way, the grandfather of the language you're reading now.
His unsavoury views are said to have seeped into his theoretical work in places – work which has long since been disregarded. What hasn't been disregarded are the fascinating and important discoveries the man made – many of which are on display at the Petrie Museum.
Visiting the Petrie Museum of Egyptian Archaeology: Practical Tips
The Petrie Museum is free to visit – and there's no need to book ahead. It is worth checking their events calendar to see if there are any special tours or exhibitions running.
Researchers can book individual visits to the museum on Mondays (when it is closed to the public) – they advise that you book well ahead (at least three months) as spots fill up quickly.
Want to know what to see? Check out UCL's handy self-guided tour of the museum.
Petrie Museum Opening Hours
1 – 5pm Tuesday to Saturday.
Petrie Museum: Map
Click here for a Google Map with the Petrie Museum's location.
Looking for More London Arts & Culture Guides?