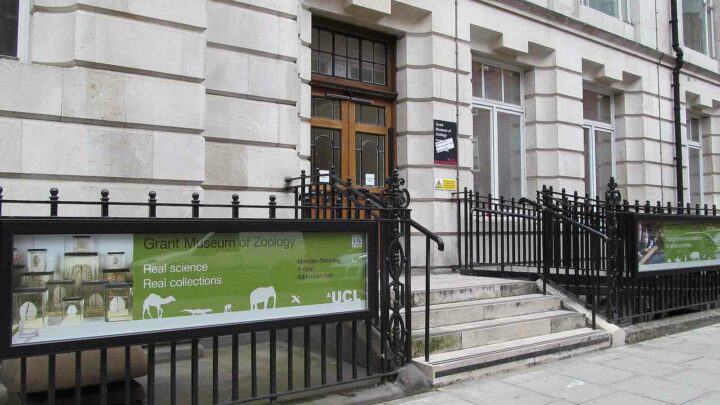 Planning a visit to the Grant Museum of Zoology? Here's what you need to know before you go.
Get ready to discover the Grant Museum of Zoology– where rare species, brains and giant elk antlers live.
You'll have heard of University College London before no doubt, but did you know that there's a natural history museum with lots of weird and interesting exhibits to discover there?
Grant Museum of Zoology is housed in the Rockfeller building at UCL and it's been around since 1827, founded by Robert Edmond Grant– be prepared to uncover some of London's creepiest and strangest artefacts.
It opened its doors to the public in 1996 and has held events and exhibitions throughout, as well as its weird permanent collection.
Ready to uncover London's weirdest museum?
Wait, What is the Grant Museum of Zoology and Why Should I Visit?
The Grant Museum of Zoology is home to an intriguing collection of 68,000 specimens and preserved animals spanning more than 200 years– sounds cool, right?
The other thing to know about this peculiar museum is, exhibits aren't perfectly placed like you would normally expect. Instead, as many specimens as possible are crammed into dozens of glass cases and they're piled high. The space here is very small and compact considering how many unique specimens there are.
There's plenty to learn at this London zoology museum, you'll want to pay close attention to the remains of several extinct species.
Keep your eyes peeled for the skeleton of the extinct South African Zebra known as the quagga– you really do learn something new every day. The last quagga died in 1883 and this museum houses one of only seven skeletons in existence, you won't want to miss the rarest specimen in the world.
What Weird Exhibits Will I See?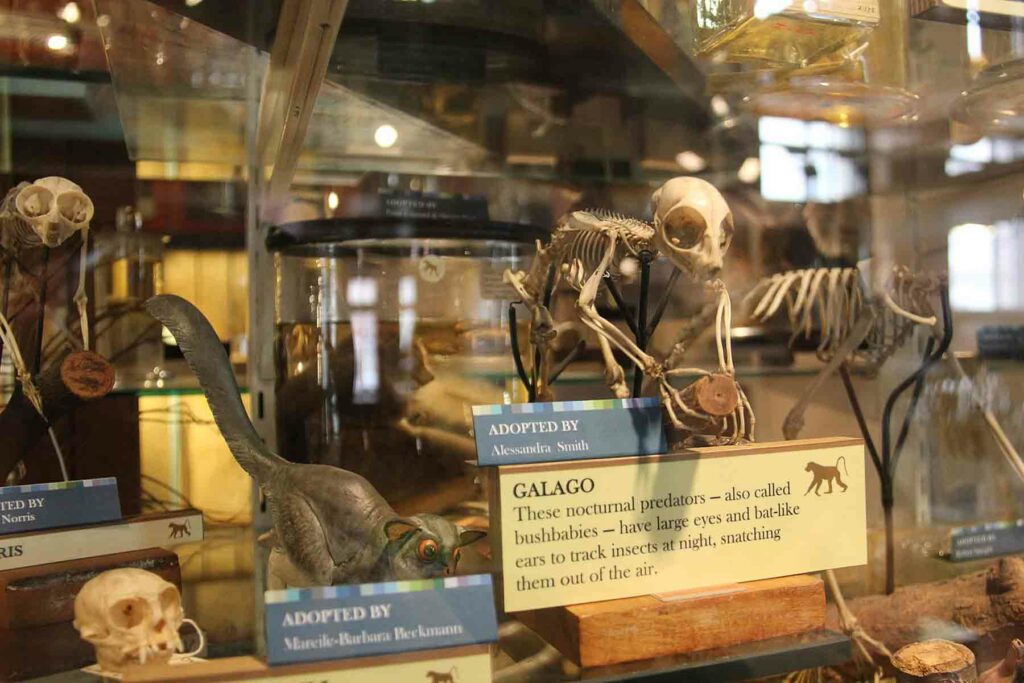 The specimens only get stranger from here. Look for the thylacine. What's that you ask? It's a Tasmanian Tiger which looks like a dog-like creature that's been extinct since the 1930s. There's also the bones of a dodo, a flightless bird that was last sighted in 1662.
The fun continues when you learn about the 99-inch wide antlers of a giant elk. When Grant once visited an Irish pub he spotted them mounted on a wall and offered to buy them– he was always on the lookout for new and interesting artefacts to add to the museum.
The Blaschka collection is an array of glass models of jellyfish, sea anemones, gastropods, sea cucumbers and cephalopods. Turns out, it is extremely difficult to preserve the soft bodies of marine invertebrates so Lepold Blaschka and his son made these incredibly cool and downright weird glass models that look distinctly like the real thing.
The Famous Mole Jar
The museum's most popular exhibit is a tightly packed jar full of moles– what?
Yes, you heard that right. There's a large jar full of whole preserved moles, eighteen to be exact. Be prepared for it to be the most bizarre thing you've ever seen. Apparently this is the most efficient way to store such a large number of specimens, but why would you want to do that in the first place?
It's believed that students may have used them for dissection purposes during classes. Or, they may have belonged to a researcher studying the anatomy of moles, we'll never know for sure.
Aside from perusing the exhibits with your mouth agape in shock, the Grant Zoology Museum has some interactive features for you to enjoy. Attached to some displays, you'll discover iPads – you can use these to get involved in conversations about the role of science in society and how museums should be run.
The History of the Grant Museum of Zoology
The Grant Museum of Zoology is home to London's quirkiest artefacts, founded in 1827 by Robert Edmond Grant– hence the name.
But why did Grant start a museum? It was first used as a teaching collection for UCL – after all, he was the professor of zoology and comparative anatomy. Grant was best known during his time for his work on marine invertebrates, in particular sponges, sea pens and molluscs.
Aged 35, Edinburgh-born Grant moved down to London and accepted a teaching position at the University of London and he stayed there until his death in 1874. He was the first Professor of Zoology and Comparative Anatomy in England.
When Grant first arrived at UCL he found that there were no teaching materials with which to teach his course. So, he began collecting specimens, diagrams and lecture notes and material for dissection– these make up the basis of the museum today.
On his death in 1874, Grant was persuaded to leave his library and collection of specimens to UCL.
What is the Museum Like Today?
The Grant Museum was not always housed in Rockefeller building, it has a colourful past. The museum has in fact survived wartime bombing and multiple ceiling collapses, as well as flooding and threats of closure. Grant museum champions on and in 2011 found its forever home in the Rockefeller building which used to be UCL's Hospital Medical School.
Now occupying the school's former library, the museum is actually in a famous filming location. It turns out that this location was used as a Gotham City courtroom in Batman Begins, directed by Christopher Nolan, a former UCL student– now you really have to visit UCL's zoology museum.
Today, the zoology museum in London is a resource for university groups and school groups who use the collection for teaching as well as artists and researchers– Grant would have loved that his collection is being used to inspire a new generation.
The museum runs a lively events program throughout the year that includes special exhibitions, and it's also open to the public year round.
Practical Tips for Visiting the Grant Museum of Zoology
Tickets for the Grant Museum of Zoology are free. The museum is open to the public on Tuesday to Friday from 1pm to 5pm and on Saturdays from 11am to 5pm.
The museum is located near Warren Street, Euston Square and Goodge street stations and is no more than 10 minutes walk from any of the stations.
Grant Museum of Zoology: Map
Discover More Quirky Things to do in London