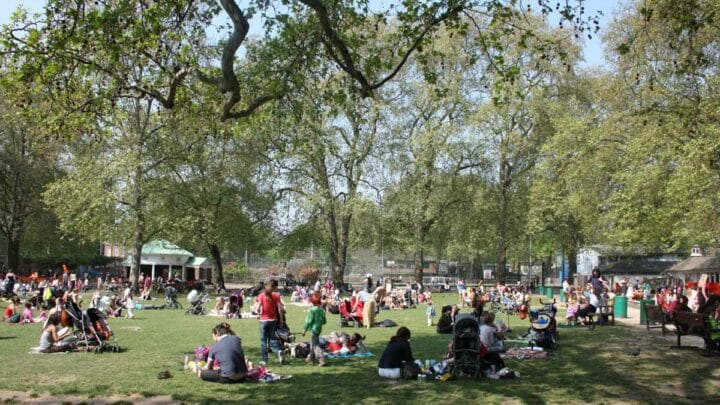 Coram's Fields: An exciting playground in Bloomsbury that you need to visit. Here's what you need to know before you go.
Whether you're looking for a kids playground with London's longest slide, to play in sandpits or on the hunt for small creatures, Coram's Fields has lots to explore.
Coram's Fields is Bloomsbury's best open green space to stretch your legs in and the wildlife park has lots of creatures to discover.
Here's everything you need to know about Coram's Fields before you visit.
Coram's Fields – The Kid's Playground in Bloomsbury You Need to Discover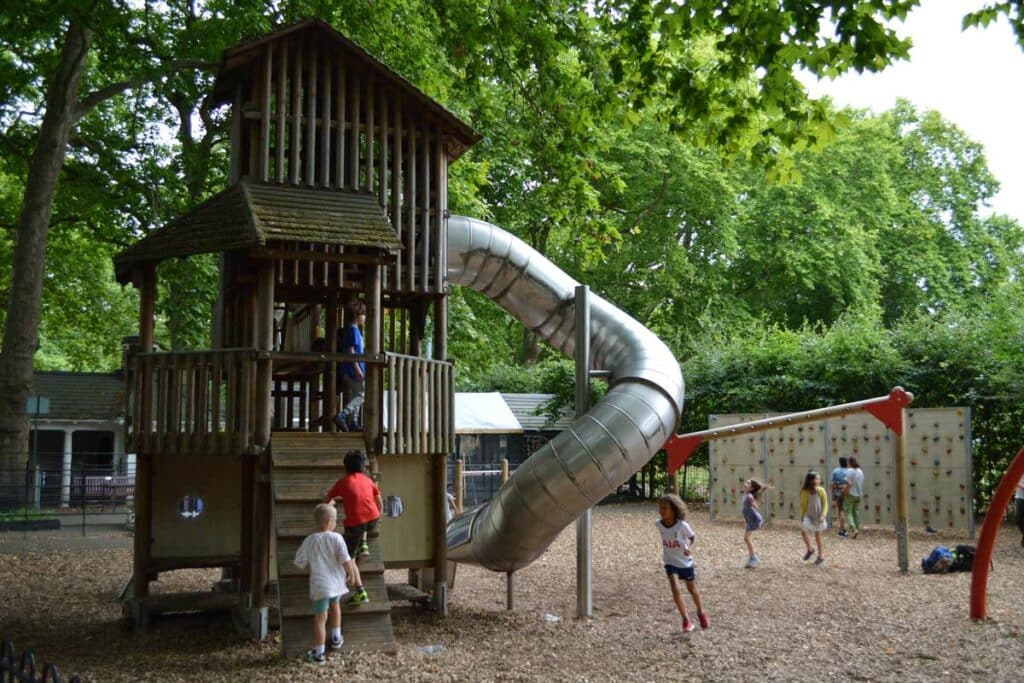 Did you know that there's a large urban space in Bloomsbury spanning seven acres? Well, there is, and it's a brilliant breath of fresh air in the busy city. And it's just waiting for you to discover it.
With a strict rule that adults are only allowed if accompanied by a child, Coram's Fields' main attraction is the children's play area with sand pits, a sensory playground, paddling pool and adventure playground.
The park's accessible playground is all free to visit, so kids (and big kids) can have hours of fun at Coram's Fields.
Why Should You Visit Coram's Fields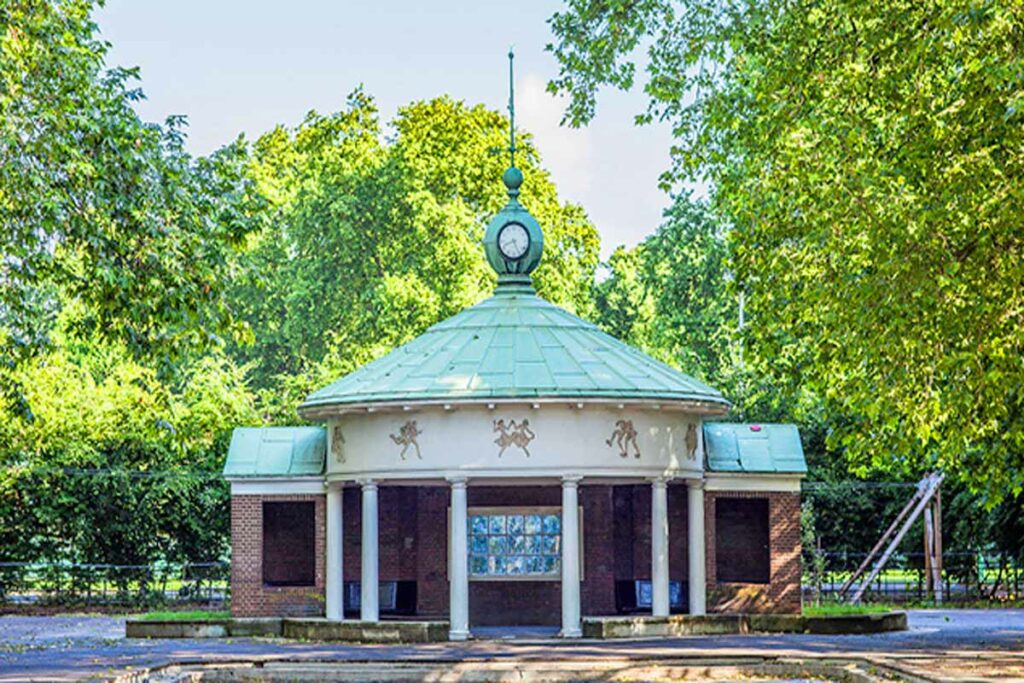 The kids' playground at Coram's Fields is everything kids dream of, rolled up into one. Don't forget your bucket and spade because you will want to build a mandatory sand castle in the sand pit.
There's even a paddling pool open during the warmer months of the year. Which, frankly, we're glad of. Because who wants to go for a dip in December? Brrr.
The best part about Coram Fields' playground is the slide– it's the longest slide in the city. Oh, and we also love the multi-sensory music zone is not usually part of your average playground.
The adventure playground has a fun zip wire to zoom down on and a climbing wall to test your fear of heights. We love that there's a wheelchair friendly play area too – no kids are left out in the Coram's Fields playground.
Green spaces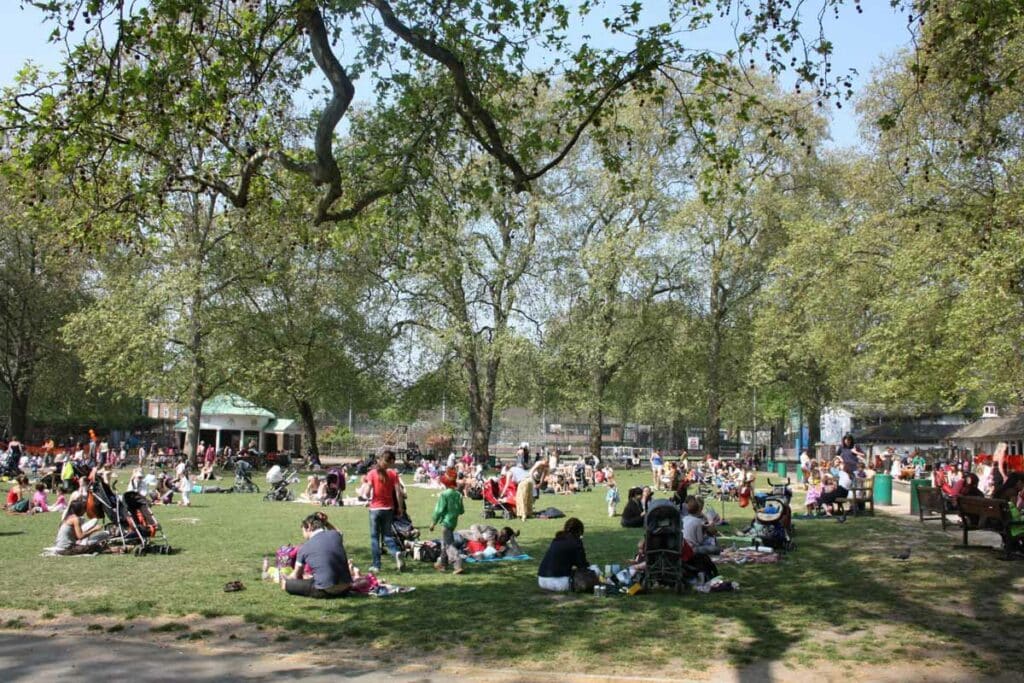 Alright, so the little ones are covered – but what about the adults? There's plenty more to explore than just the playground at Coram's Fields. With an abundance of green spaces, you're spoilt for choice.
The East and West Lawns make for a perfect picnic setting. Bring a book and chill out.
Another highlight of Coram's Fields in Bloomsbury is the Tim Seward Wildlife Garden which opened in 2018. It's one of few of its kind in Camden and it's free to visit. You'll find the entrance at the black gate by the painted mural.
The wildlife garden features some new micro-habitats, consisting of two ponds, a log pile, wormery and compost area rockeries and beehives towards the back of the garden. These micro-habitats are still in the early stages of development so keep your eyes peeled for small creatures moving.
Whilst at the wildlife park be sure to pick up some activity worksheets and take part in the mini-beast hunting, explore the log piles and ponds and see what you can discover.
Coram's Fields Cafe
Coram's Fields cafe is run as a social enterprise which, in turn, raises funds that help to run the park and services. It also provides employment services for young people and works alongside other local businesses in the community.
After you've spent the day exploring the wildlife (and inevitably having a go on the monkey bars), you'll have worked up a sweat no doubt.
Not to worry, there's coffee, hot drinks, a selection of sandwiches, drinks, cakes and snacks at the cafe. There's also ice cream – because what's a trip to the park without ice cream?
A Brief History of Coram's Fields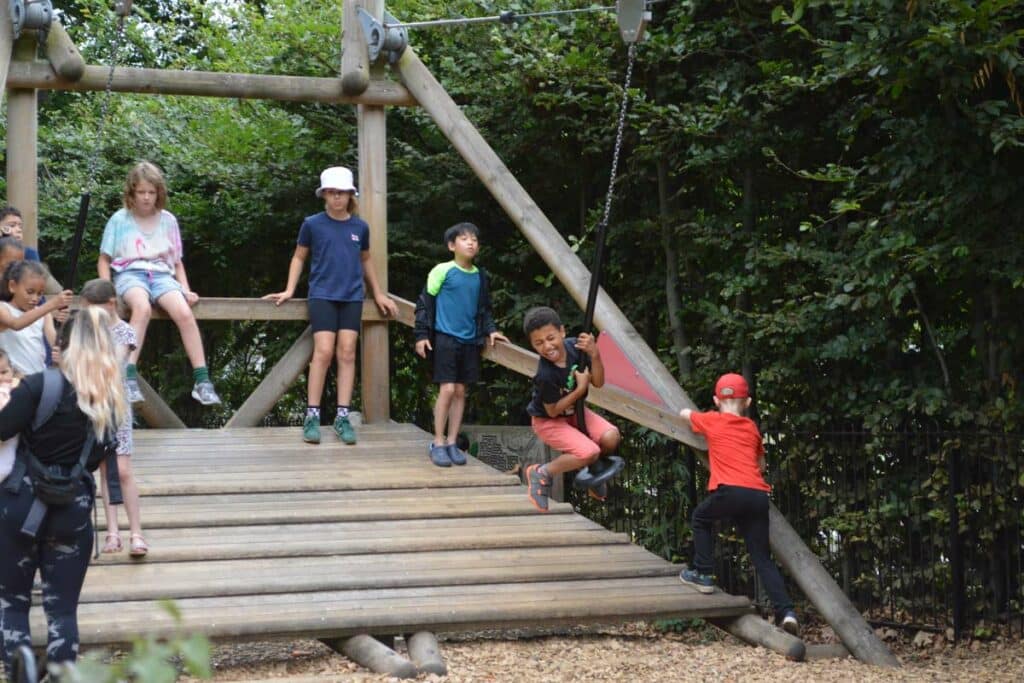 Captain Thomas Coram was a philanthropist who created the London Foundling Hospital to look after Lamb's Conduit Fields– it's said to be the world's first incorporated charity.
Appalled by the many homeless children, Coram obtained a Royal Charter in 1739 – ensuring a hospital for education of deserted children.In 1920, the hospital was relocated outside of London and the land was sold to a developer who demolished the hospital leaving only the single storey colanned Georgian buildings.
Years of campaigning and fundraising followed, and eventually the people won (yay!) and the land was turned into London's first public children's playground.
Coram's Fields has been a haven for play since 1936. Since then, the playground has continued to flourish and celebrate diversity and promote a safe and fun playground for all children to enjoy.
Practical Tips for Visiting Coram's Fields Playground
The park is a safe space for children, so no alcohol or smoking is permitted anywhere in Coram's Fields. And, with the exception of guide dogs, no dogs are allowed in the park.
The cafe is open 10am to 5pm. The paddling pool only opens in spring and summer.
Getting to Coram's Fields could not be simpler – the nearest tube stations are Russell Square, Holborn and Chancery Lane.
Coram's Fields: Map
Coram's Fields London: Read Next