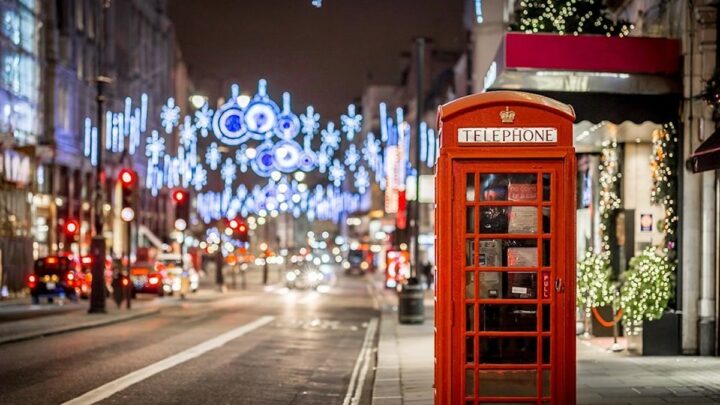 Christmas in London is a blast, from pop-up Christmas markets to Christmas carols and festive films – here are the best things to do in London at Christmas.
The Christmas season in London is hands down one of our favourite times of the year.
What's not to love? There are more Christmas markets than you could possibly visit, parties, pantos, Christmas lights – it's like everyone forgets that winter in London can be kind of bleak and decides to roll with the festive flow.
Add to that the excuse to drink Christmas cocktails (for the record, these are like normal cocktails but better and come with zero guilt because: Christmas), eat festive afternoon teas, dress up in ugly jumpers, and you're onto a winner.
All that before we get to the real stuff, like…mulled wine and Christmas carols.
So here it is: the best things to do in London at Christmas – 25 Christmas in London ideas for your festive December bucket list. Ho ho ho!
The Best Things to do to Celebrate Christmas in London
Board a Festive City Cruise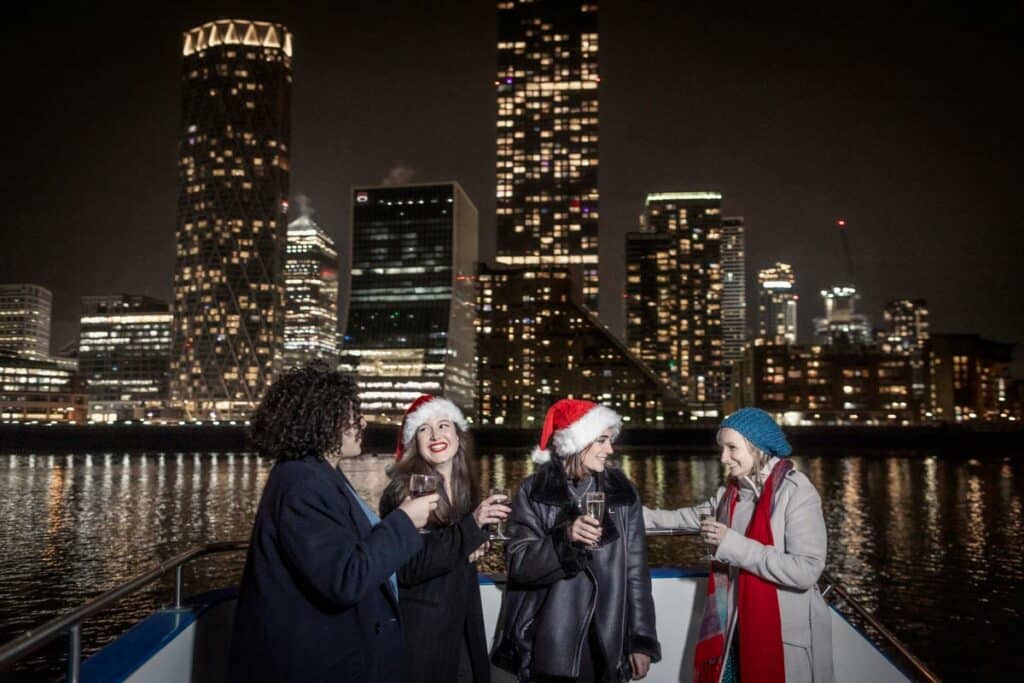 We can't quite think of anything more magical than a Christmas cruise. Well, City Cruises has got you more than covered with their array of festive offerings for 2022.
Between the 1st and 18th of December, City Cruises is hosting a whole bunch of fun Christmas Lunch and Dinner Party cruises. No need to worry about washing a single plate.
Enjoy a Christmas tour of London's top landmarks – opt for the evening cruise and you'll get to scoff a traditional Christmas dinner as you admire the city's twinkling lights.
And, if this wasn't enough, the Christmas Day events are sure to impress.
Fancy a Christmas Day Lunch Cruise, complete with a four-course dinner, carols, and music? We thought so. Or, how about the Christmas Day Sightseeing Cruise that treats you to mince pies and mulled wine as you spot London's most famous attractions?
Merry bloomin' Christmas.
Take a Jaunt to one of London's Christmas Markets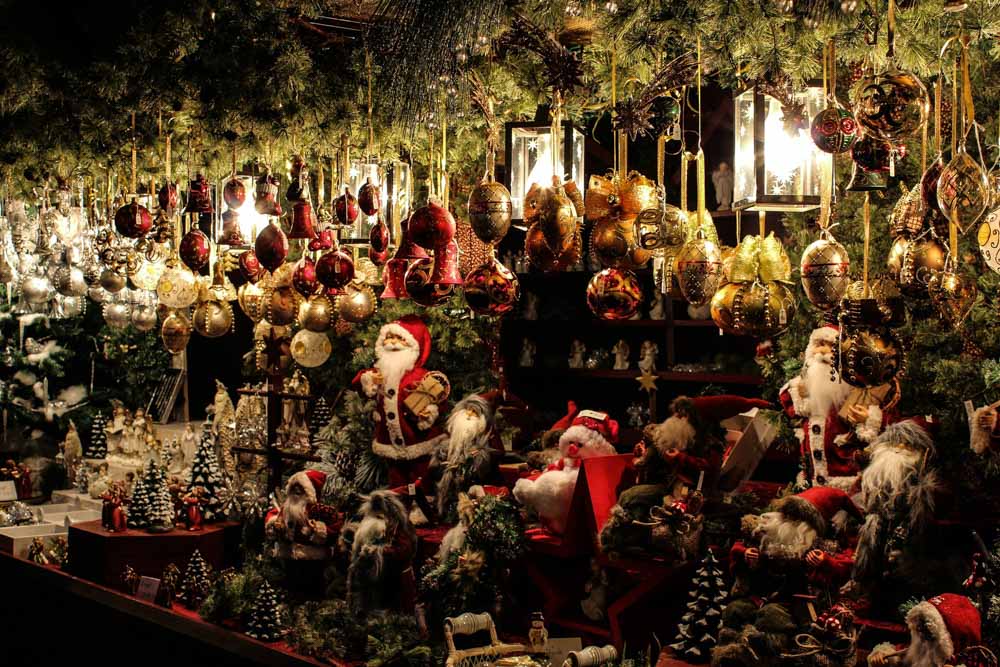 Remember the sad old days when there weren't any Christmas markets? When you had to drink your mulled wine at home and do your Christmas shopping in boring old shopping centres.
Thankfully, those days are over.
This year hasn't exactly been the easiest…And if that isn't an excuse to scoff mince pies and down Baileys hot chocolate, we don't know what is.
First of all: King's Cross' Alpine Wonderland will be taking over the area from the 9th of November, bringing with it 8 Christmas markets over 6 weeks, Club Curling, and an Apres-Ski bar serving hot toddies to warm you right up.
Other returnees include Christmas by the River at London Bridge and Pexmas in Peckham's Copeland Park. The latter will run on the 3rd and 4th December, and you'll be able to snap up gifts from their carefully curated range of indie boutiques and makers.
Rich Mix's DIY Christmas Art Market promises a similar vibe – but with over 100 stallholders, it might just pip the others for the range of goodies on offer.
Alternatively Greenwich Christmas Market is another great choice if you want to stray from the centre – pop along to their Lantern Parade on 16th November for a magical evening.
Feast at London's Christmas Afternoon Teas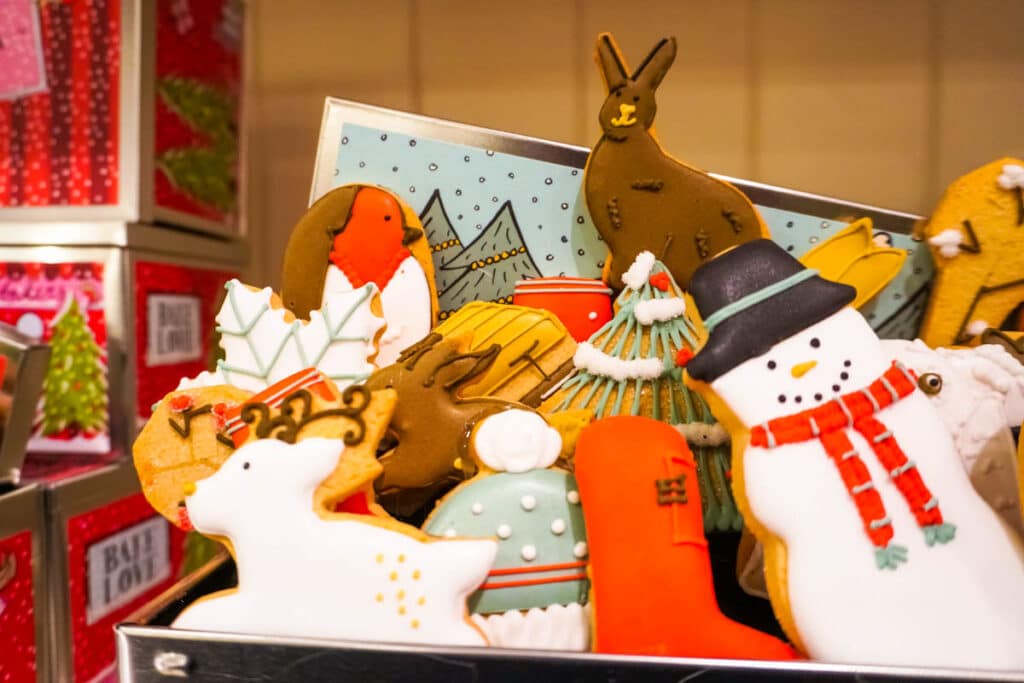 Afternoon tea in London is a year-round must. It's a well-known truth that nowhere does afternoon teas quite like London – but in the run up to Christmas, they really step it up a notch.
Of course, you can go for a blow-out festive London afternoon tea somewhere incredibly fancy like Claridges, The Connaught or The Ritz.
The famous Ritz Palm Court is festooned with decorations, transforming it into a winter wonderland – plus the tea itself is pimped by the addition of mince pies, festive cakes and a glass of bubbly.
If that's a little on the expensive side – the Biscuiteers festive afternoon tea is a (slightly) more wallet-friendly alternative. Feast on their signature biscuits (complete with Christmas decorations obviously) and a selection of other sweet treats – £48 per adult.
Follow an Immersive Christmas Lights Hunt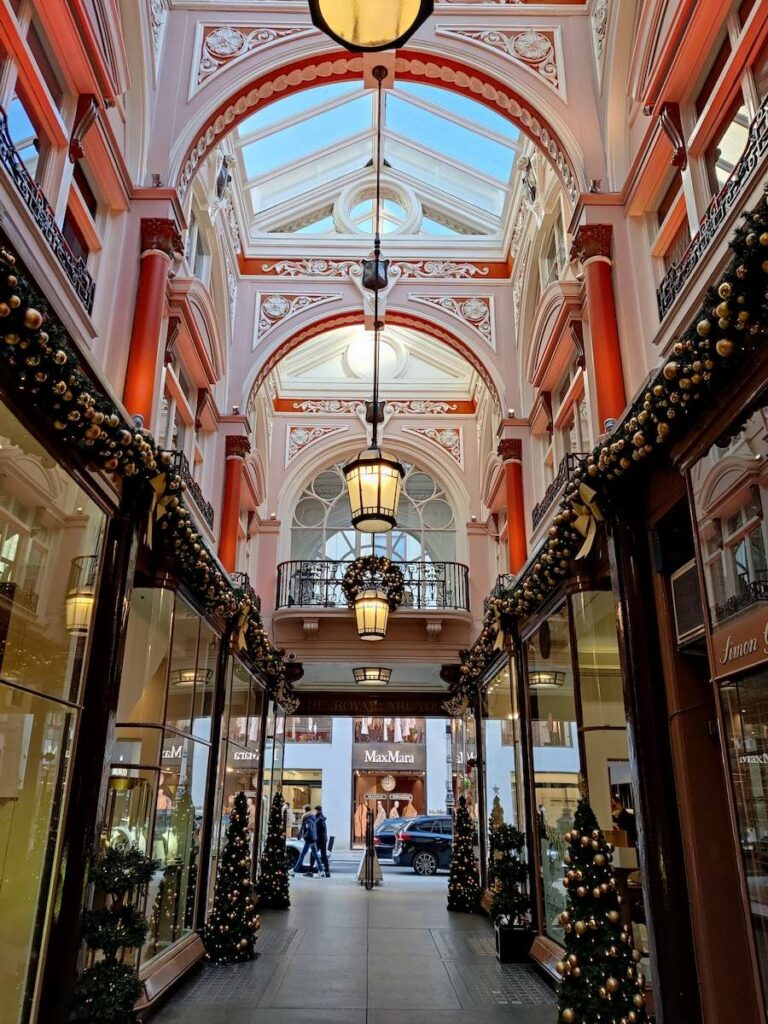 We think the best part of spending Christmas in London is admiring the capital's magical lights. And we can't quite think of a better way to marvel at them than during an immersive scavenger hunt.
Enter CityDays: They've curated a stellar Christmas lights hunt that takes you around London's sparkling streets.
Starting at Oxford Circus and ending in Covent Garden, A Rift in Time challenges you to a ridiculously fun wild goose chase as you explore the city hot on the tails of a mystery man.
If that doesn't evoke all the festive feels, you might be delighted to discover that this particular route is inspired by Charles Dickens, so it's guaranteed to bring all the A Christmas Carol feels to London's streets.
Ready to take on the role of a Dickensian detective and put your sleuthing skills to the test?
Better yet, there's a banging 20% discount on food and drinks at recommended pubs along the way – because nothing screams Christmas more than a festive tipple or three with your mates.
Don't spend too long in the pub, though; there are clues to crack.
Watch a Film at one of London's Christmas Winter Cinemas
Tempting as it is to bury yourself under covers and watch a few well-chosen festive classics from the safety of your bed, there are better options at hand.
The Luna Winter Cinema at Kensington Palace will be showing Elf, Die Hard (don't start that old debate about whether it's a Christmas film – it just is), Home Alone, Love Actually – expect all the classics.
Plus old favourites like the Prince Charles Cinema and the Curzon at One Aldwych add some Christmassy cheer to their lineup of screenings.
The perfect excuse to binge-watch all the Christmas films you could ever want.
Go Fully Festive with the London Transport Museum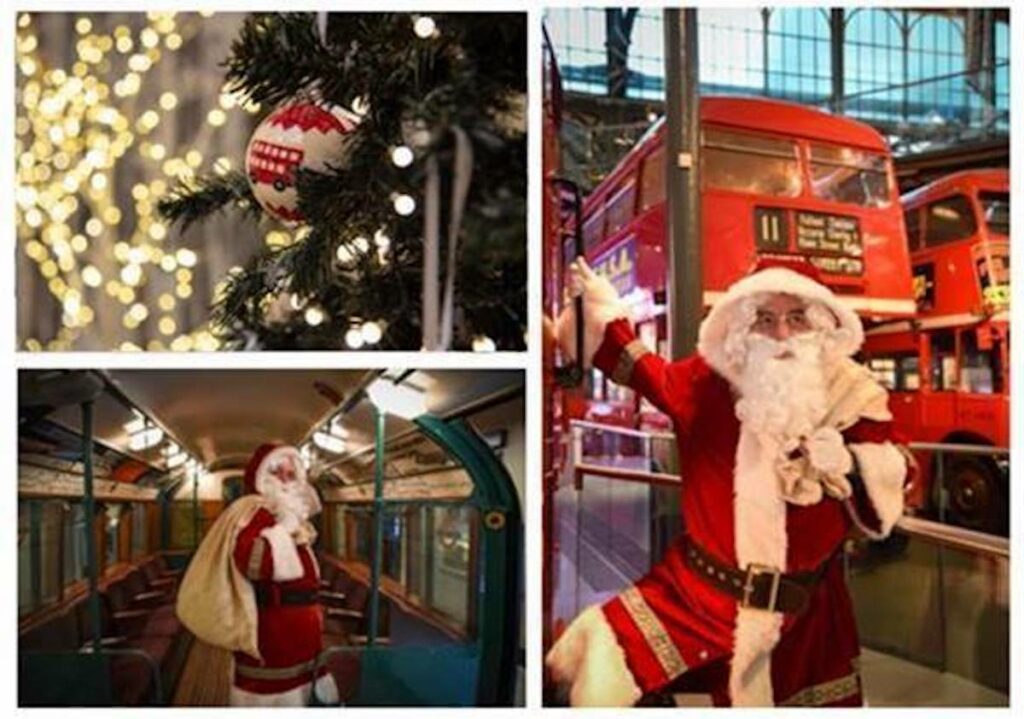 A visit to London Transport Museum might not be at the top of your Christmas list this year, but bear with us. The museum is easily one of the most underrated in the capital and is helping visitors get in the festive season in 2022.
Lights and Sights is the museum's Christmas series this year, so get ready to embark on a tour through London's top Christmas light displays on a classic red Routemaster bus. Of course, there'll be festive music and a traditional conductor on hand to check your souvenir tickets and provide some holiday cheer.
Enjoy Backyard Cinema's Magical Movie Showings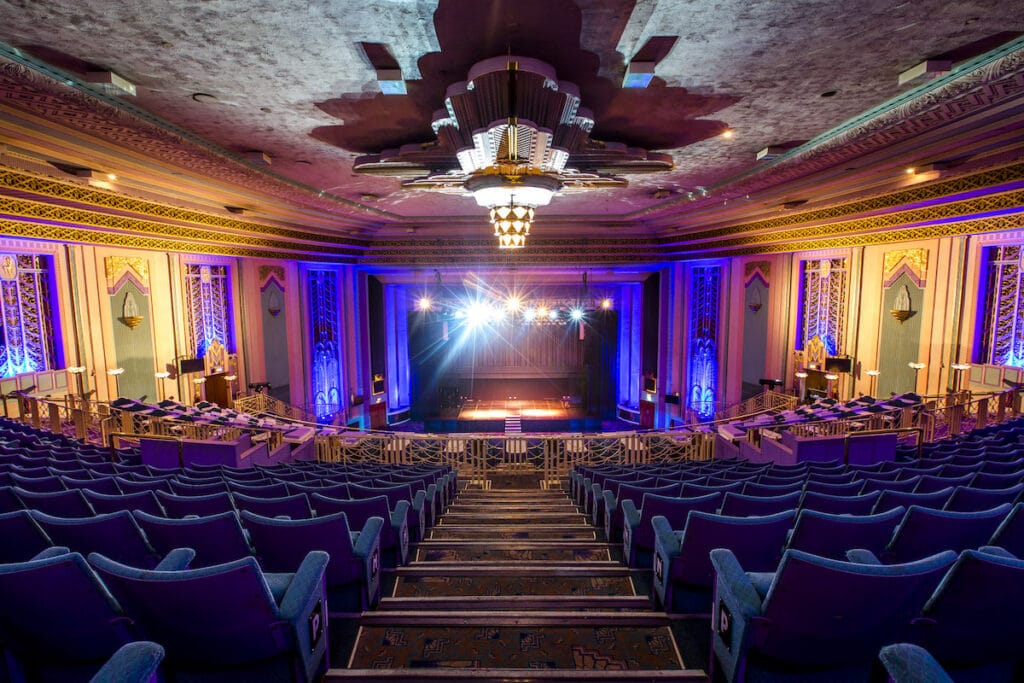 Backyard Cinema is another of our favourite spots to watch festive flicks in London.
Step into a winter wonderland and cosy up as the classics play out in front of you.
If there's one thing the folks over at Backyard Cinema are the kings of, it's beautiful settings – so expect twinkling lights, huge trees, and enough festive tipples to warm you right up.
Mulled wine and mince pies are non-negotiable.
Make sure to book in advance as these screenings sell out fast.
Drink Christmas Cocktails at London's Best Bars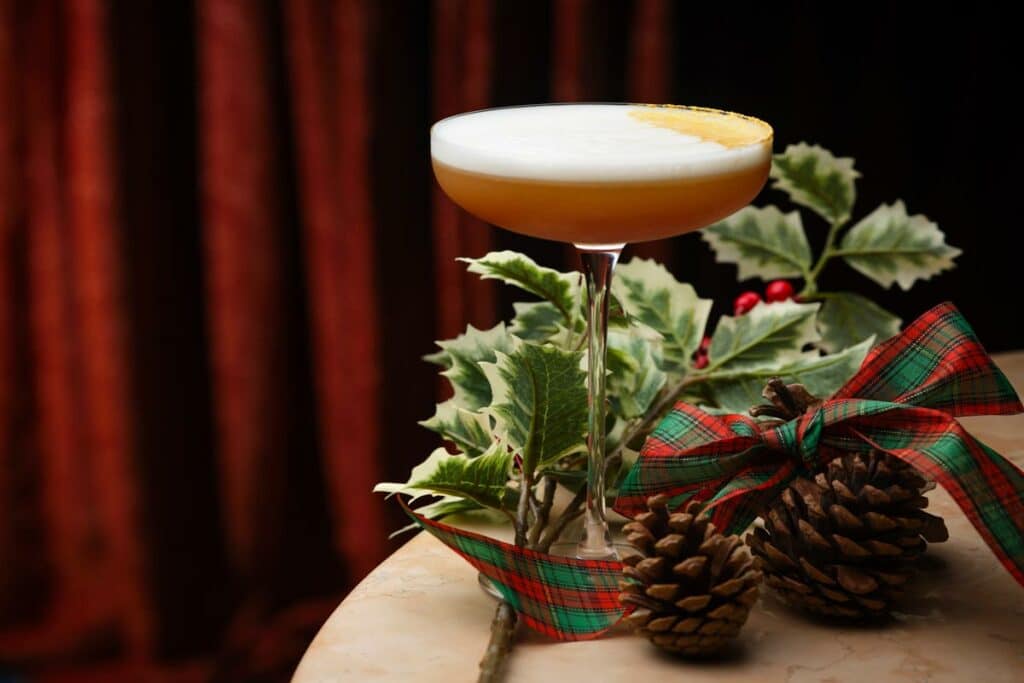 Don't you just love how things that are pretty fabulous anyway get even better in London at Christmas? The humble cocktail being a case in point.
Now clearly, we all love a good cocktail at any time of year – and London's packed with bars that just so happen to excel at making them (like ahem, these ones in Shoreditch).
But at Christmas? The gloves are off.
The NoMad's newest hotel bar Common Decency's holiday makeover looks set to be one of the most magical of the season. Immersive decor + festive booze + banging soundtrack = a winner.
We'll take five Scrooge Sours, please and thank you.
Want to go all out? Grab a drink at Pergola Paddington's underneath their beautiful 'On the Piste' decor. Sip mulled wine and get a taste of true apres ski inside log cabins and Christmassy wreaths.
Or, for a stunning Christmas date night, head to The Corinthia London for a drink or two on the bar's courtyard, surrounded by twinkling lights. Opt for the heady negroni or the boozy hot chocolate and you won't go wrong.
Participate in a Long-Standing Tradition with the Christmas Auction at Smithfield Meat Market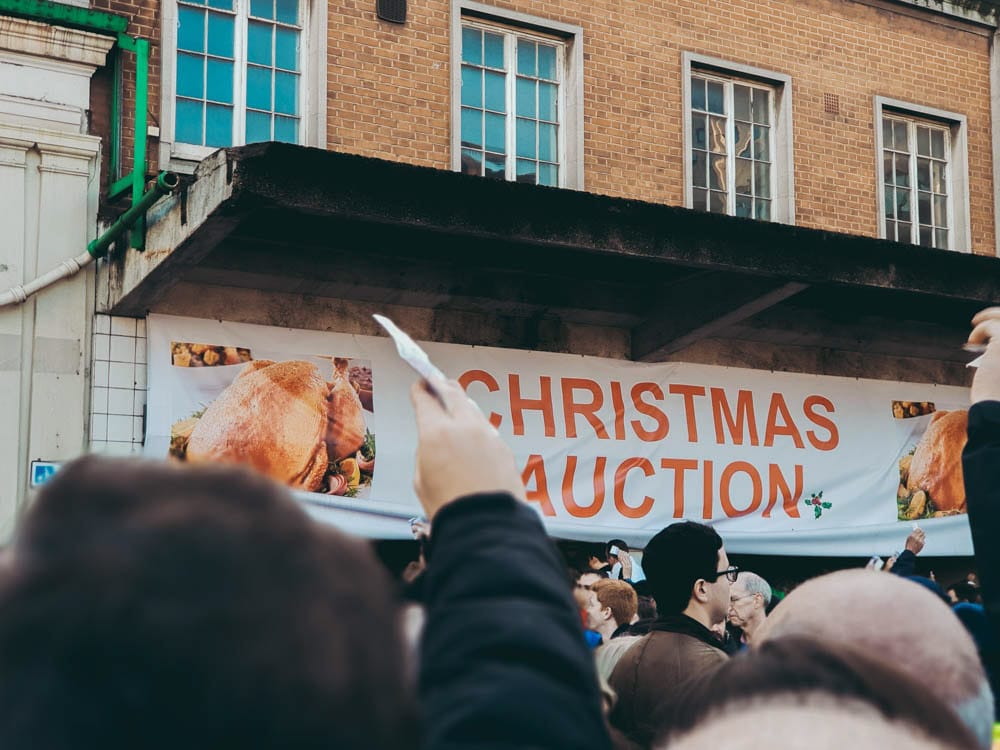 We've really tried to keep the Christmas Eve auction at Smithfield Meat Market a secret as it's such a cool little festive London event and we're not quite ready for it to be ruined… Oh fine, we'll share.
Smithfield is the UK's largest meat market and one of the city's oldest markets.
Great, great. But what's that got to do with Xmas in London?
Every Christmas Eve, one butcher shop, Hart of Smithfield's hosts a Christmas Auction on the street outside of the market. There are Christmas carols and a jovial crowd turn up to bid on a selection of cuts for the Christmas table.
Not only is it excellent value, but the cheeky quips, festive atmosphere and frenetic pace make it one of the quirkier things to do in London at Christmas.
Tuck Into a Christmas Meal with a Difference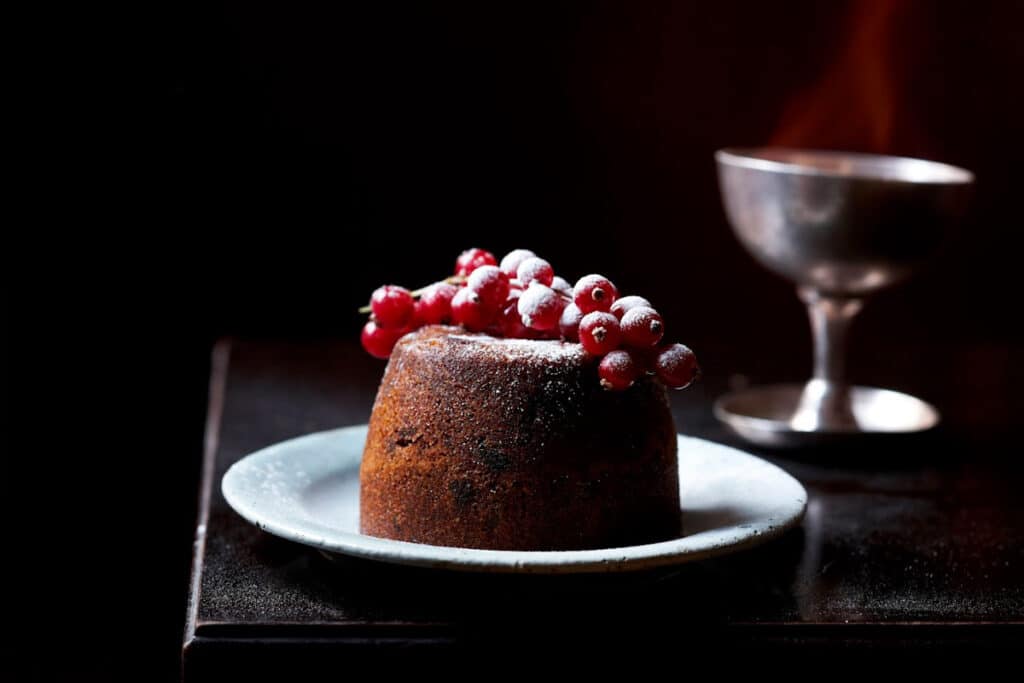 It's great to have the family over on Christmas Day isn't it?
You get to spend all day (and probably a lot of the night before) slaving away over the stove, only to have your mum complain that the brussels sprouts are overcooked, your dad tell you that the turkey's dry and then have them all mince away, leaving you with a gargantuan pile of washing up and congealed food to get on with on Boxing Day.
Fun right?
It's no wonder that so many people choose to sack the whole cooking malarkey off and treat themselves to a blow out Christmas meal instead.
If that sounds tempting, The Dorchester's decadent five-course Christmas menu with paired wines hits all the right spots: if you can't trust The Dorchester to get Christmas right then who can you trust?
They can blimmin' well deal with the dishes too.
Take a Self-Guided Tour of the London Christmas Lights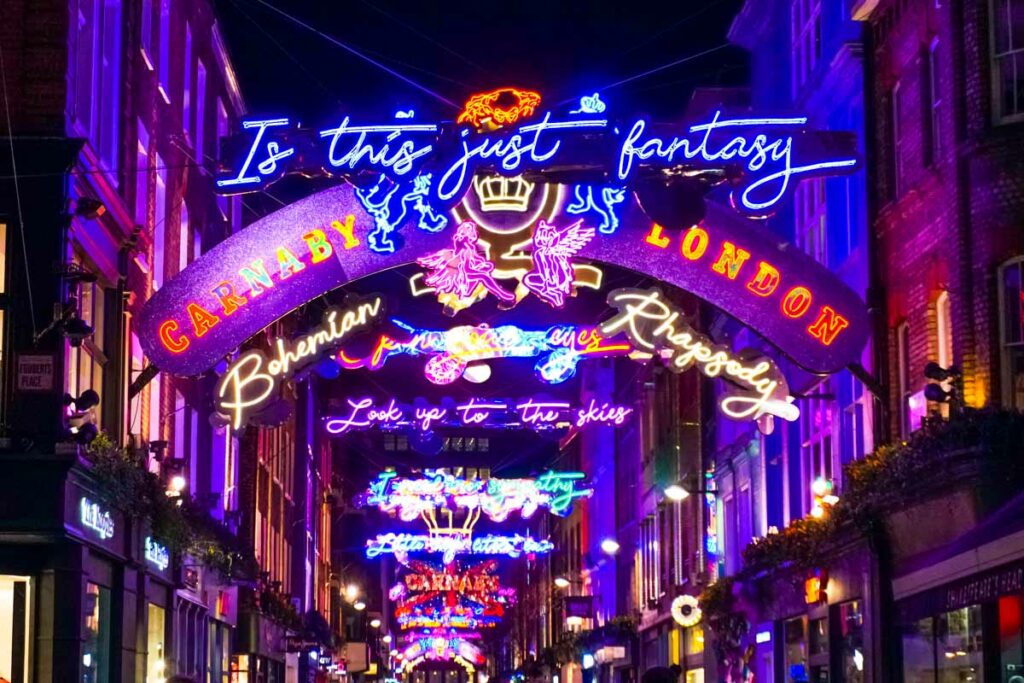 Is there anything more magical than Christmas lights in London? Nah.
Obviously Oxford Street and Regent Street are the biggies – their lights are two of the most-visited Christmas attractions in London.
There really are so many London Christmas lights that it's best to put on a warm winter coat and walk to as many as possible once it gets dark (who are we kidding, it's winter, it's pretty much always dark).
Hit up Oxford Street, Regent's Street, Carnaby Street, Covent Garden, Seven Dials and Bond Street for starters, then trek out to Kew, where the Christmas lights are something else.
Book Tickets for a Christmas Panto in London
"Who's that behind you?"
Who said that panto is just for kids? Whoever it was, they were incorrect.
Now, we don't know about you but the costumes, the drama, the cheering, the booing – there's nothing like a London Christmastime panto to awaken that sense of childish glee that is just so Christmas.
A trip to the panto is what Christmas fun in London is all about. Most of the pantos are back this year (hurray!) – Jack and the Beanstalk at The Palladium is a biggie, as is Snow White at Wimbledon Theatre.
Looking for something a little more highbrow? There's A Christmas Carol at The Old Vic with Owen Teale as Scrooge to check out too.
Unleash Your Inner Child at Hamleys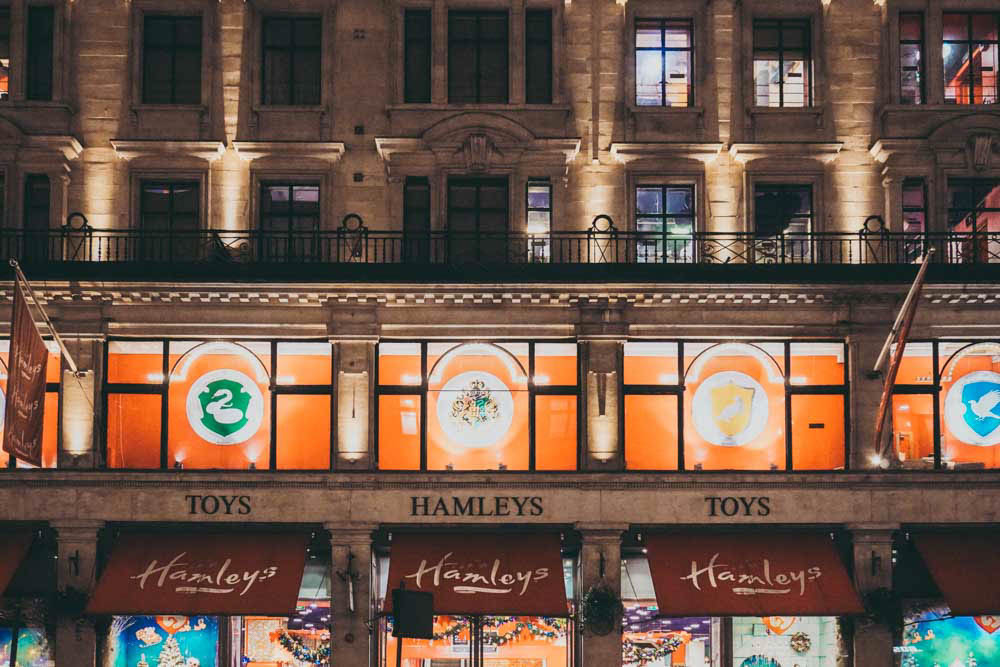 Hamleys is the oldest and the largest toy shop in the world, so it makes sense that they're going to put on quite a show for Christmas.
Now, you can pretend that you're just popping in to Hamleys because you need to pick up a present for your eight year old niece but we all know the truth…
It's OK, your secret is safe with us.
Make Like Harry Potter and Visit Hogwarts in the Snow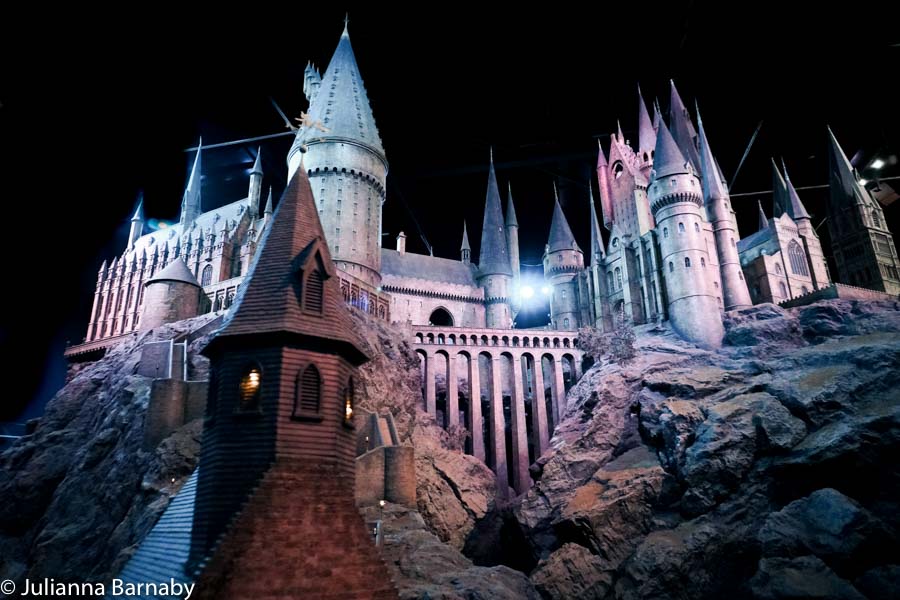 Hands up if you start re-watching all of the Harry Potter movies on repeat the moment that it hits December. Just us then? You're missing out. It's a real Christmas treat.
You can visit the Harry Potter film set throughout the year, but it takes on an extra-special atmosphere at Christmas for Hogwarts in the Snow.
The Great Hall is decorated for the Yule Ball from Goblet of Fire (you know, the one in the Triwizard Tournament when Hermione turns up with Viktor Krum and shizz goes down big time).
In fact many of the sets are given a festive makeover – and if you're quick, you can snap up tickets to have dinner in the great hall.
Try Some Christmas Activities in London – Like Ice Skating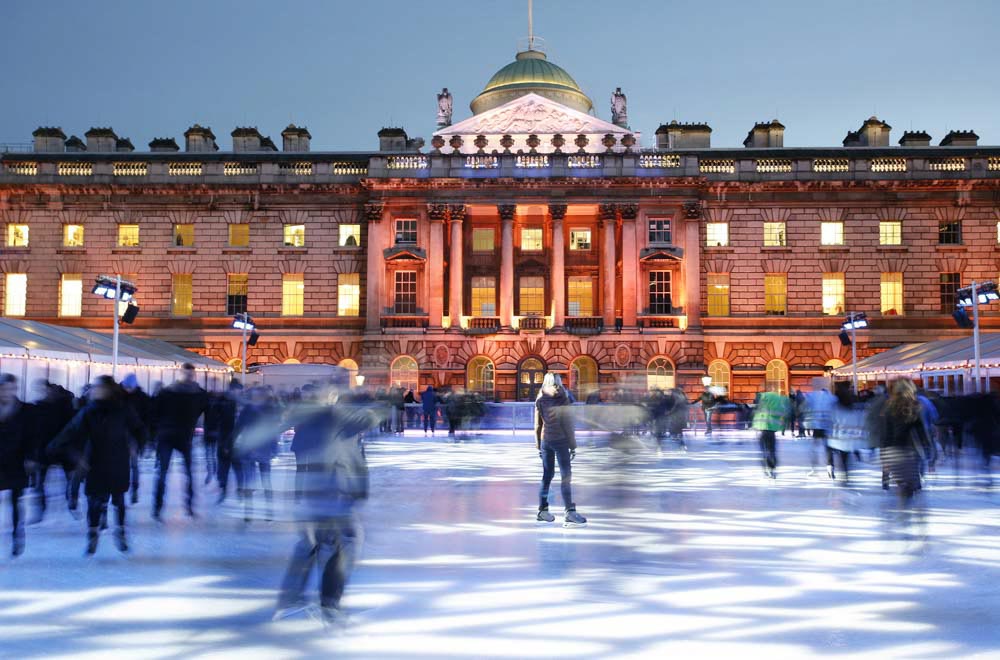 You either love or hate ice skating – here at London x London we're not too keen, but you should definitely visit one of London's pop up rinks if you're feeling brave enough.
Alexandra Palace's rink is beautiful, the Queen's House rink in Greenwich is a stunner too, as is the iconic skating rink at Somerset House.
Canary Wharf's is another popular option and, if you're willing to hop on the train, Hampton Court Palace is magical.
Sing Along to Some Festive London Christmas Carols
Which is your favourite Christmas carol? Low key O Little Town of Bethlehem? No, let us guess… the all out DRAMA of Hark the Herald Angels Sing – we knew it.
Not all carol concerts are created equal. Obviously having a choir that can sing helps, a magical setting is a big bonus – most important of all? A gung ho crowd willing to bob along with the old classics.
Go for carols at St Paul's Cathedral or Westminster Abbey if you want the full on London Christmas carol experience, they won't let you down.
Visit the Christmas Tree at Trafalgar Square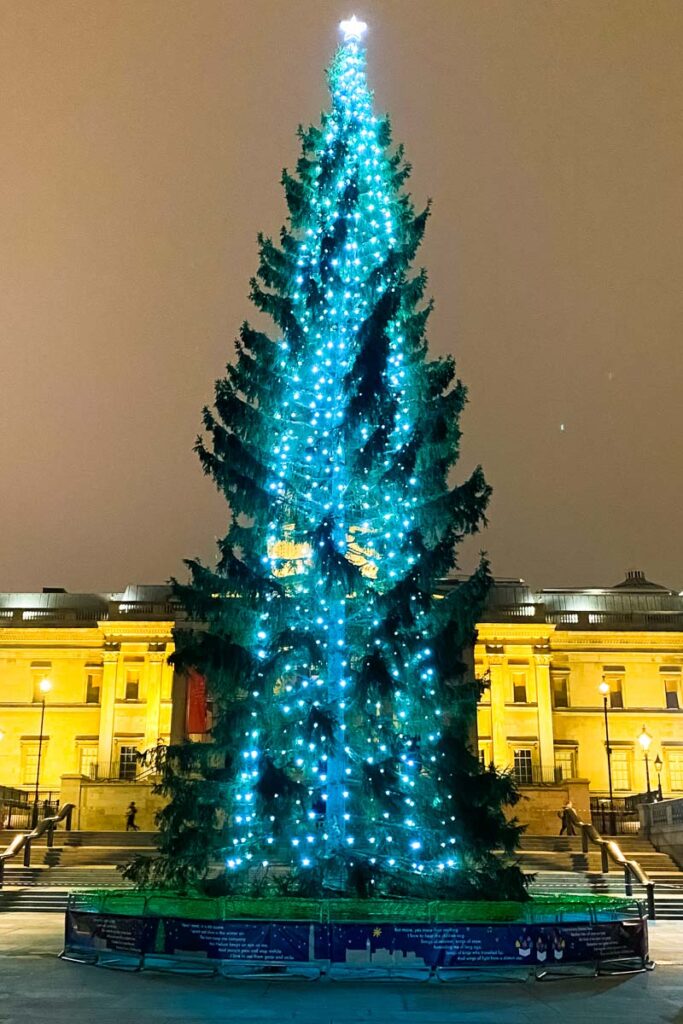 The good people of Norway have been sending us Brits a Christmas tree to put in Trafalgar Square every year since 1947 as a remembrance of British support during WWII.
Let's face it, Trafalgar Square is one of the places to visit in London during Christmas that seems to slip onto everyone's festive calendar.
Seeing as they've gone to all the effort of sending over a huge Norwegian spruce, it feels like it's only the polite thing to go and check it out as a small way of saying thanks. The 25 metre-tall tree sits in the middle of the square, festooned with lights and looking ever so Christmassy.
And Check out the Other Christmas Trees Dotted around London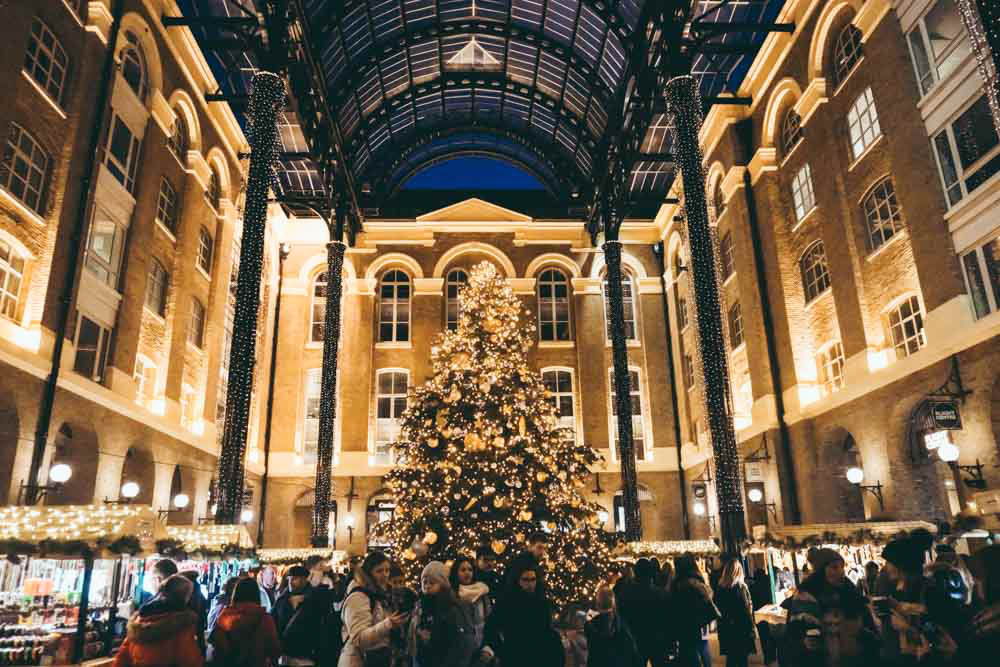 Believe it or not, Trafalgar Square isn't the only Christmas tree that brings the spirit of festive cheer in London. Oh ho ho no (sorry, couldn't resist) – there are gorgeous trees dotted all over the city.
A train station might feel like an unlikely place to start your Christmas tree odyssey but there we are – the tree at St Pancras is always on everyone's lips when it comes to choosing their favourite.
Luxury hotel Claridges has a more contemporary (but no less wow-worthy) take on things… and if that's not enough, you should also swing by Hays Galleria (pictured), The Connaught, Somerset House and Wembley Park for more Christmas Tree fabulousness.
Head to Christmas at Kew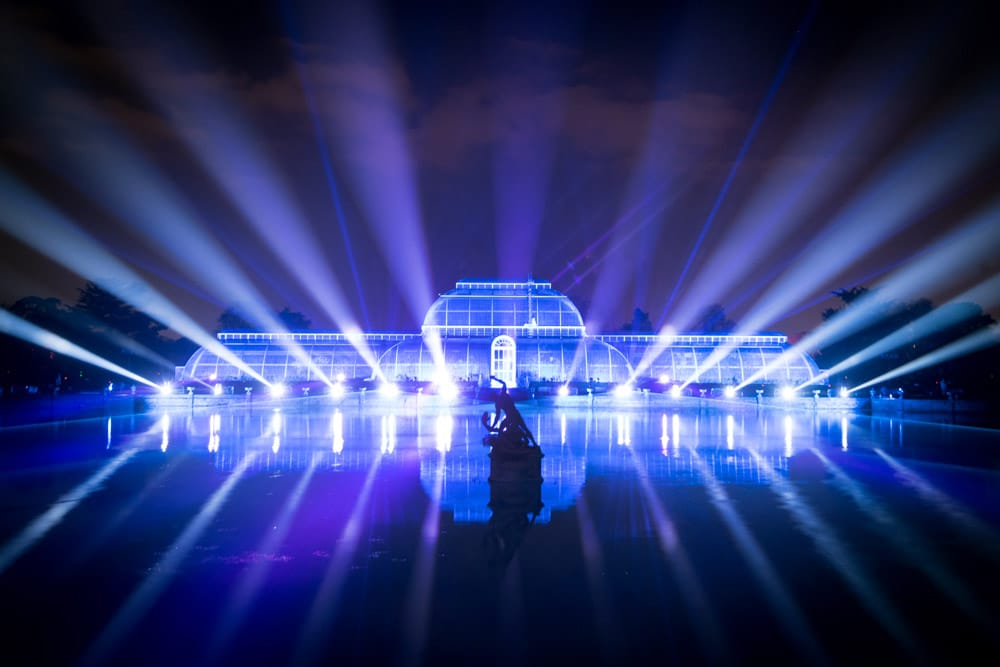 Kew Gardens is one of London's prettiest spots all year round but when it comes to Christmas, they really pull out the stops. Christmas at Kew is a dazzling display of lights, sounds and art that just gets better each year.
Let us put this into perspective for you. The extensive grounds of the Royal Botanic Gardens are lit up by over 1 million lights each night for the Christmas at Kew season.
In other words, festive doesn't even begin to cover it – this place is magical.
Enjoy a Christmas Concert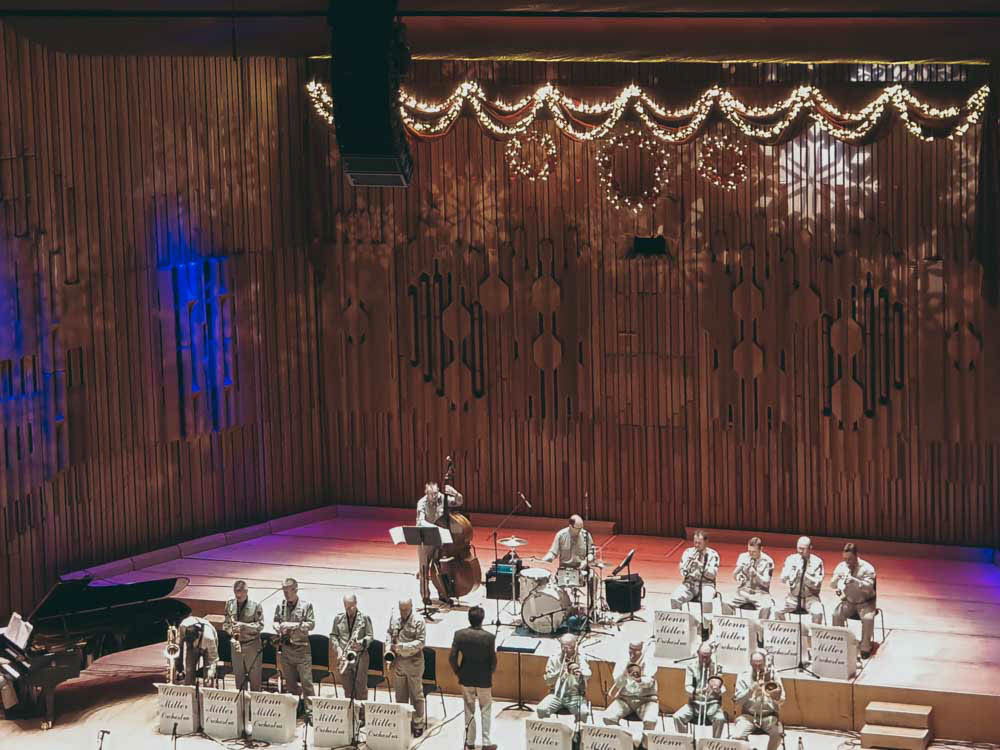 Much as a carol concert is Christmassier than eating mince pies and dancing badly in ugly jumpers, there's a whole world more to explore when it comes to festive music.
Hunting out the city's best Christmas concerts has become one of our favourite things to do during the Christmas season in London.
The Royal Albert Hall is the natural place to start. They've been celebrating Christmas for quite a long time now and have really worked out how to totally nail it (clue: it includes lotsa carols, swing Christmas concerts and Handel's Messiah).
Another cool spot and long-time favourite, The Barbican has a couple of Christmassy events to throw in the mix, including a Choral Christmas.
Wrap Up Warm and Go for a Winter Walk around a Stately Home
You might not know it, but London is dotted with gorgeous stately homes that are open to the public. They're interesting enough the rest of the year round but many take Christmas as their time to shine (literally – there are often a LOT of fairy lights involved).
Chiswick House will be hosting Christmas market weekends where you can wend your way through the 18th-century stately home gardens and scoff mince pies as the Rock Choir sings. It's all slightly ethereal and rather wonderful.
Spend an Evening at Winter Wonderland
Love it or hate it, Winter Wonderland is the ultimate festive hotspot in London.
Filled with overpriced drinks, huge queues, and the sounds of crying children in the air, we understand that it's very much a Marmite situation, but there's also nowhere as iconic to spend an evening.
Fairground rides, the smell of mulled wine, and the iconic ice bar, this is one of the best Christmas things to do in London. Grab yourself a sausage and get merry!
You'll need to book tickets in advance, with many slots available for free. Though, you'll need to shell out a fiver if you want to visit during weekends. Well worth it, we think.
Head to Westfield for Winter Celebrations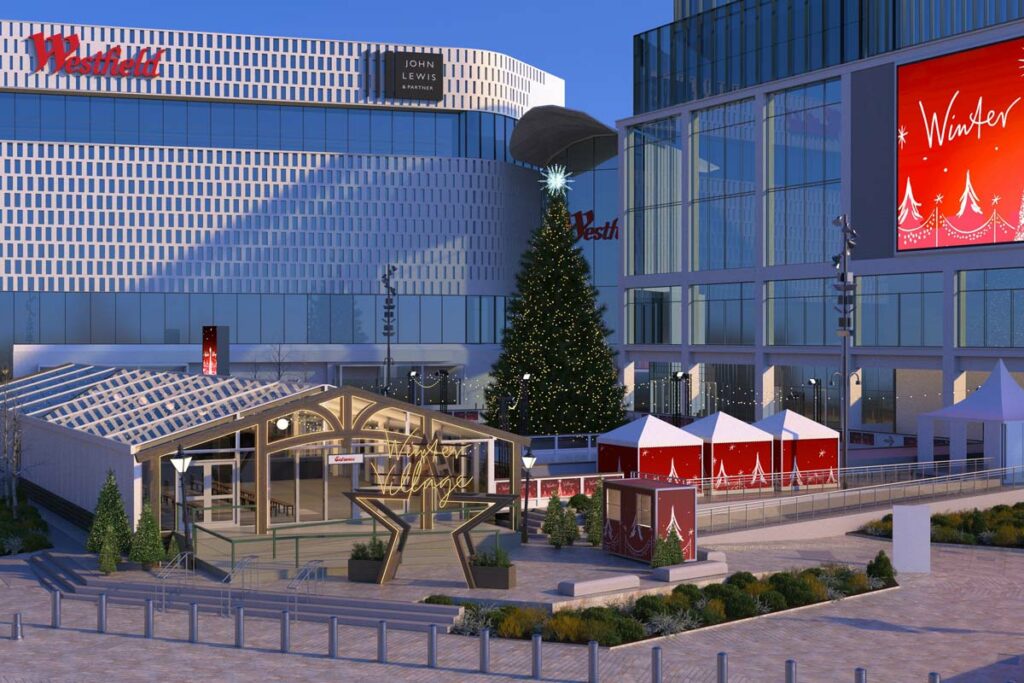 Westfield is giving Winter Wonderland a run for its money this year when it comes to festivities – the two locations (Stratford and White City) will be a hub for all things Xmas in London.
From the 17th of November, the shopping centres will be completely festooned in Christmas gear – get your cameras at the ready, your Insta feed will thank you.
Westfield London will be home to a gargantuan 1000m2 outdoor Ice Rink, and there's even a breakfast with Santa option for those looking to treat their little ones.
As well as this, expect to spot Europe's largest Christmas tree, be serenaded by Christmas Choirs, get involved with crafty workshops, and plenty more throughout the festive season.
Admire Lightopia
As much as we think Christmas is all about mince pies, presents, and booze, we admit that we do love a good Christmas light show. Lightopia has got it covered… And then some.
Returning from the 17th of November, Lightopia is one of the top Christmas activities London has to offer. Situated in Crystal Palace Park, winding trails of mesmerising light sculptures decorate the area – it truly encapsulates the magic of Christmas.
Phantom Peak's Wintermas Extravaganza
Even if you have already visited Phantom Peak in Canada Water, you might want to book yourself another ticket. Phantom Peak's Wintermas looks set to be a highlight of London at Christmas 2022.
If you haven't got a clue as to what Phantom Peak is, it's an immersive experience that sees you thrown into a Victoriana-esque village, meeting with characters and completing quests.
This time, step into the immersive steampunk world – which has been given a suitably festive makeover – and enjoy brand new trails, secrets, and an uber-cool winter grotto. Oh, and there'll be plenty of treats to devour after you've completed your quests. What's not to love?
Catch The Nightmare Before Christmas Live
An alternative to panto, you ask? Some will argue that it's strictly a spooky season movie only, but we strongly disagree. We could not be more excited for this festive event: The Nightmare Before Christmas Live, featuring Danny Elfman's ghostly vocals IRL.
The Disney classic will play on the big screen, as a live orchestra helps to create the ultimate Christmas atmosphere – we can't wait to hear What's This? echo through the OVO Arena.
Get your tickets before they sell out here
Practical Tips for Making the Most of London at Christmas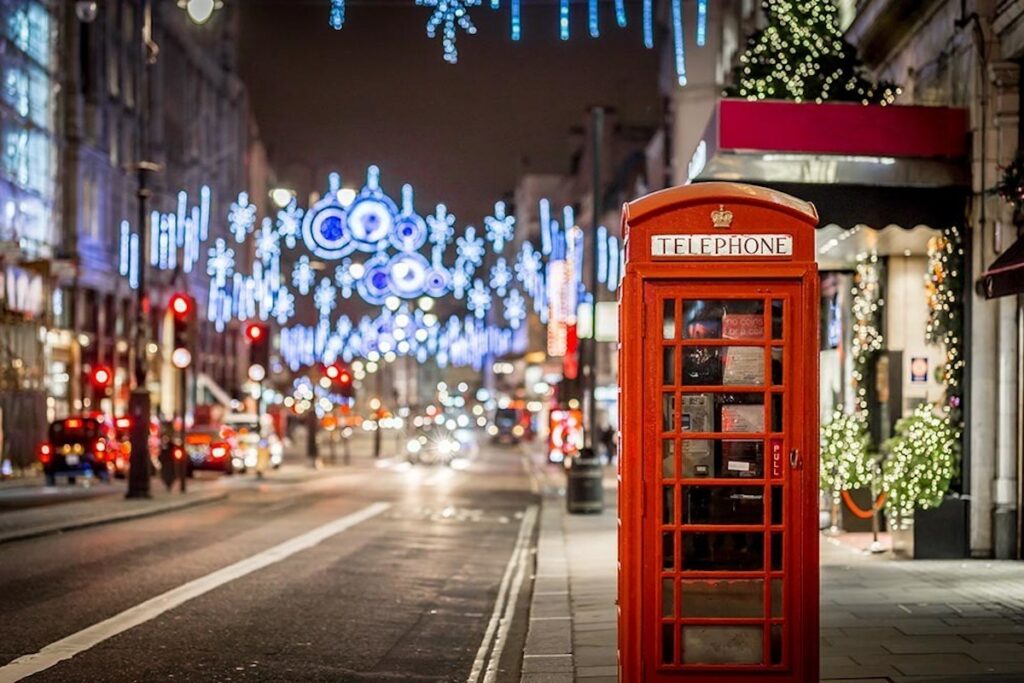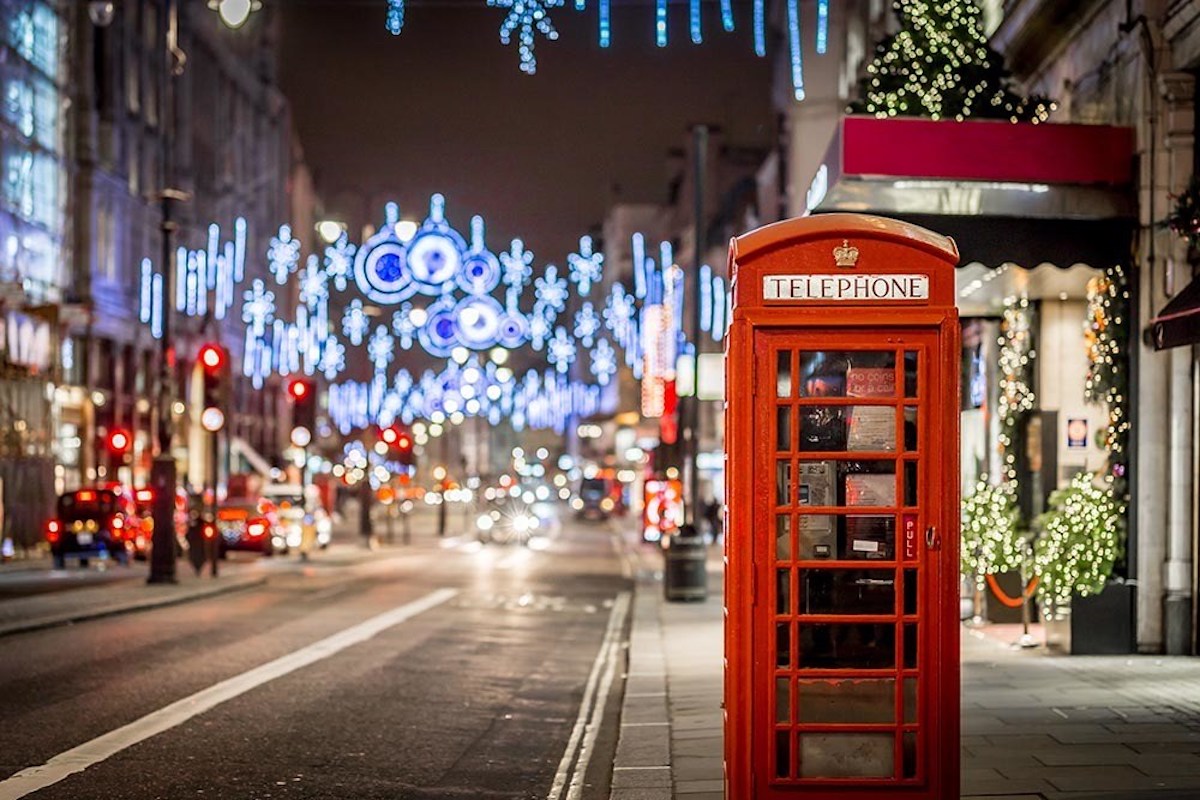 Make the Most of all the Free Activities
London can be a brutally expensive city – but one of our favourite things about the Christmas season in London is that it brings with it a whole host of free activities and things to do.
Seeing the lights, spying out the Christmas trees, Christmas carol concerts – so many of these things are free, meaning you can save your pennies for pressies and Christmas cocktails instead.
Book Ahead for the More Popular Christmas Attractions in London
We hate to be the voice of reason here but this is Xmas in London. Stuff gets booked up. People get disappointed. Children start crying into their hot chocolate.
Christmas isn't about bad feels so make sure you book tickets for some of the more popular pantos and events (cough Christmas in Kew cough) well in advance to avoid disappointment.
Wear warm clothes – though London rarely gets below freezing, it's cold enough that you should make sure you wrap up warm!
The best way to explore London is on foot – the central attractions are in a surprisingly small area and easily walkable.
Christmas is a peak period for London's hotels so it takes a bit of insider info to find something reasonable. Find the best places to stay in London in our guide to the best areas and hotels to stay in London.
Coming from out of town? Check out our winter city break packing list.
So, there we are – the most fun things to do in London at Christmas. Go forth and eat all the mince pies, washed down with lashings of mulled wine.
Merry Christmas!
Looking for More London Christmas Guides?