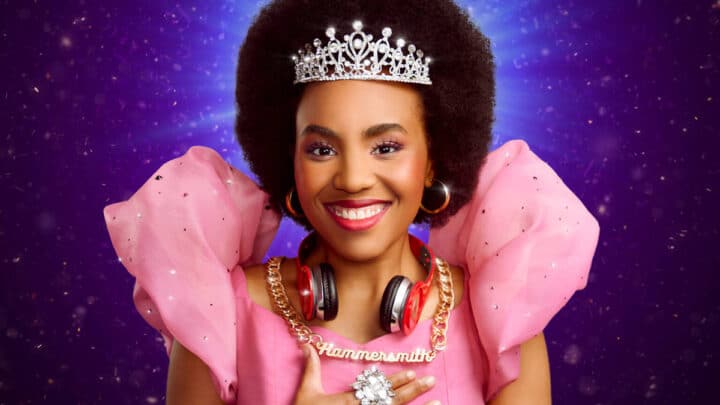 It's that time of year again… oh no it isn't! Yes, it really is. The London pantomime season is upon us.
The panto is a cornerstone of Christmas entertainment. Love 'em or hate 'em there's no denying they hold a special place in the festive season.
London being the theatre-obsessed city that it is, leans into the tradition with gusto. Crowds pour out for a good bit of oh no she didn't and oh yes she did, and the stages are filled with famous faces for the occasions.
This year Paul Merton is getting pantomimed up at The Richmond Theatre and the fabulous Jennifer Saunders will be taking centre stage of the ever-enormous production at the London Palladium.
Of course there are the smaller, closer-to-home productions that the smaller theatres do so well too, and this year we've included a few wildcards in our guide (scroll to the bottom to find them). Happy pantomas everyone!
Christmas Pantos in London 2023
Jack and the Beanstalk
Broadway Theatre, Catford
15th – 31st December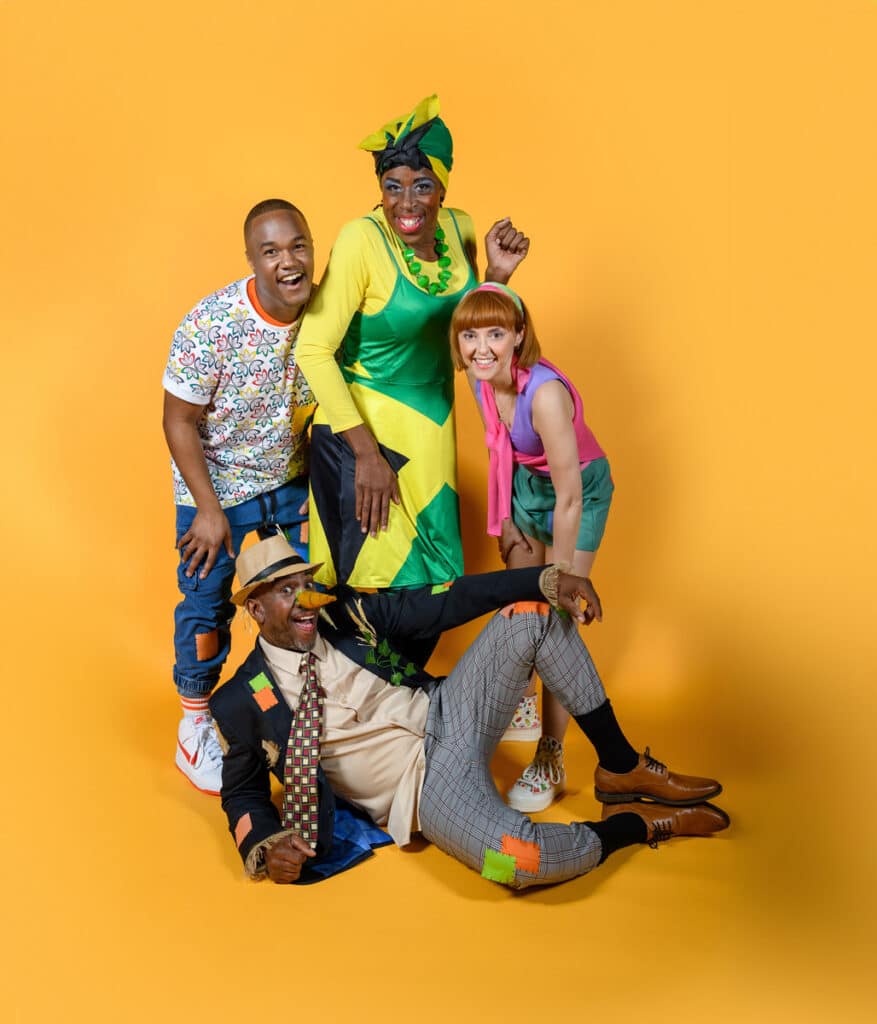 There's a new kid on the block this year. It comes in the form of recently formed theatre company Joy Productions. They've just entered into a five-year partnership with The Broadway theatre in Catford – a gorgeous Grade II Listed backdrop for your Christmas panto – so you can expect to see a lot more of them in the coming years.
Their first performance? Jack and the Beanstalk but with a touch of modern London life to give it some extra sparkle. Jack and his mum now live in Lewishfarm, and their cow harbours dreams to become a TikTok star.
Of course there's no small amount of traditional slapstick and silliness to go along with it…
Cinderella at The Lyric Hammersmith
The Lyric Hammersmith
18th November – 6th January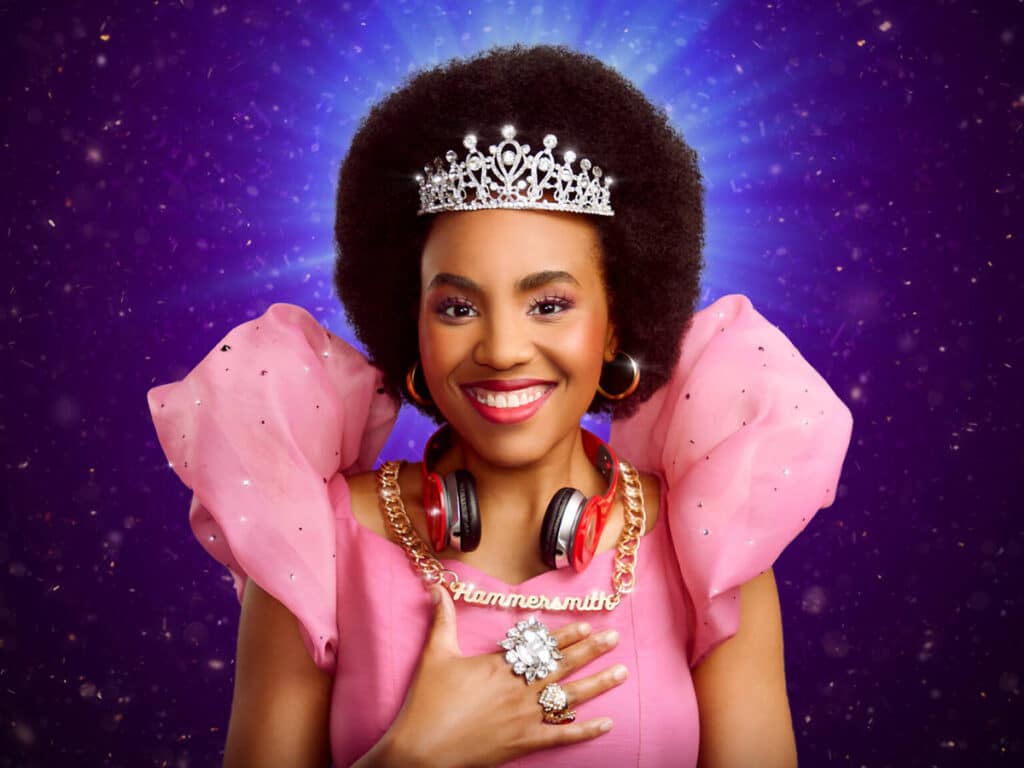 Always a great theatre, even when you're not looking for an unhealthy dose of innuendo and audience participation, The Lyric Hammersmith is running Cinderella for their 2023/24 season.
Award-winning writer Vikki Stone returns after her very well-loved 2021 run of Aladdin on this stage. She won the British Panto Award for that script so you best believe this one's going to be a corker too. Oh no it isn't…. Oh yes it is!
Dust off those shiny shoes, it's time to go to the ball…
Dick Whittington
The Richmond Theatre
9th December – 7th January
Last year The Richmond Theatre split our sides with their production of Goldilocks, this year they're back to do the same with a very London tale – Dick Whittington.
As usual the cast features a few star-studded names from British pop culture. Top of that list is Have I got News for You's Paul Merton. He's joined on stage by none other than his wife Suki Webster and stage-star Wendy Mae Brown.
We have been assured that there's plenty of smut, but done in a way that only the grownups will understand.
Rapunzel
Theatre Peckham
5th – 24th December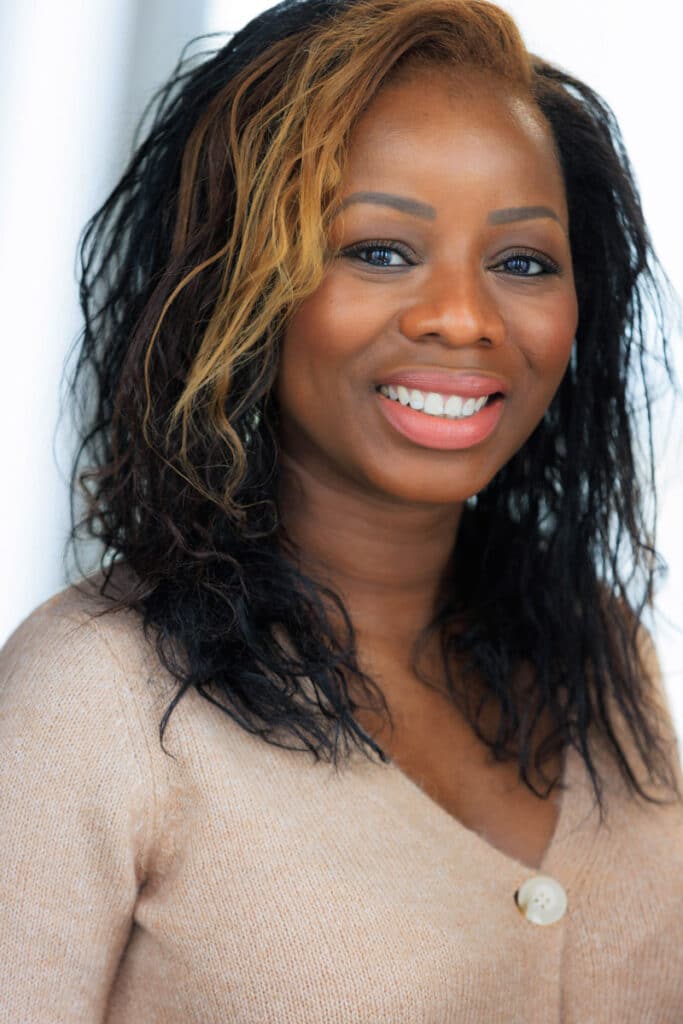 This year the ever-wonderful Theatre Peckham are laying on what could be described as a 'hairy tale' for the panto season. We're talking about Rapunzel of course.
Their retelling of the classic fairytale pokes a bit of fun at our consumerist society (that's obviously in full swing at this time of the year) with a reminder that true happiness comes from within.
The cast features some names from the West End stages, Scarlet Gabriel for one has been in Mama Mia! and Marcus Ayton featured in Shrek the Musical.
This little theatre company may not have the flash of the bigger, more established theatres but they hold a special place in our hearts (or at least those of our team that can't get enough of panto).
Jack and His Giant Bigstalk
The Prince of Wales Theatre
8th – 22nd December
If it is the smut and double entendre that you're looking for in your panto, you can't do much better than the annual filth parade they throw at the Prince of Wales Theatre. Before you read on, know that this production is strictly for adults – no kids allowed.
Last year their staging of Sindefella got wildly good reviews. This year their back with a retelling of Jack and the Beanstalk where Jack gets all camped up for his adventure (winks and nudges expected in abundance).
The show is packed full of modern musical numbers you'll be singing your heart out to, Never Going To Give You Up and I Will Survive being two that might give you an idea of how this panto shapes up.
Peter Pan
London Palladium
9th December – 14th January
The London Palladium's pantos are always blockbuster events that draw in heaps of excited punters and generate near-frantic levels of excitement. They always line up the cast with big stars and lay on excellent special effects which makes the shows a big hit with adults as well as kids.
This year they're doing Peter Pan and who should be playing Captain Hook? None other than Jennifer Saunders. She's joined up front by Julian Clary, Rob Madge, Paul Zerdin and heaps more.
If you want your panto to be an epic experience, this is the one to go for.
Tossed
The Royal Vauxhall Tavern
28th November – 5th January
Here's another panto you certainly won't want to bring your kids to. Each year the Royal Vauxhall Tavern lay on an extremely lewd production. Last year it was called Cracked and this year it's called Tossed. That should tell you all you need to know…
The venue is one of London's most popular gay bars and the talent reflects that. Drag queens and camped-up visions of your classic characters are the name of the game. This year they're taking inspiration from Jack and the Beanstalk and things look set to get filthy.
Potted Panto
Wilton's Music Hall
29th November – 30th December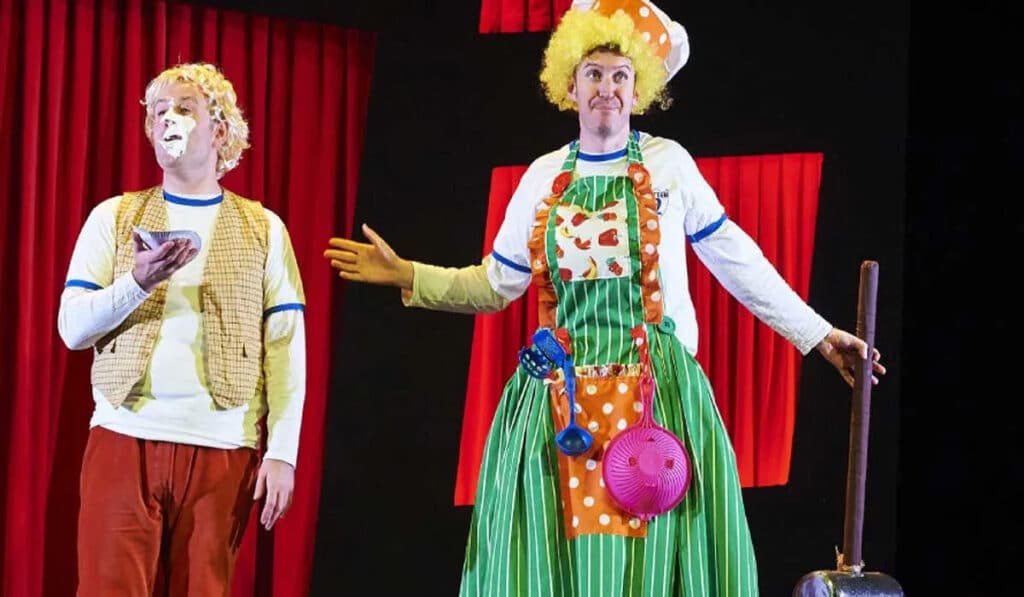 With all this choice it's difficult to know quite which panto to see. Well here's an option for the indecisive among you…
Potted Panto crams seven classic pantomimes into one feature-length performance. It's always a great one to see because, as you can probably imagine, trying to pull off that ambitious feat of storytelling leaves plenty of room for laughs.
This year Alladin is cosying up to Cinderella and Dick Whittington is on the scene somehow, as is his era of London. It's a mishmash that's won its creators heaps of praise from the critics. It also might just be our low-key fav, but don't tell the other pantos.
Red Riding Hood and The Big Bad Pig
JW3
10th December – 7th January
Here's one that has us curious. It's London's first ever Jewish pantomime. They're holding true to all the traditional elements of the panto, the screaming, shouting and singing along, but infusing it with some traditional Jewish storytelling.
The vehicle they've chosen for this is the story of Red Riding Hood, but this time the story starts on Chanukah and the big bad wolf is replaced by an evil pig. Sounds intriguing to say the least…
Snow White
Greenwich Theatre
23rd November – 7th January
Greenwich Theatre has thrown a couple of pantomimes we've loved in recent years. Their 2019 staging of Sleeping Beauty was a big hit, but don't just take our word for it. The production swept up an Offie Award the same year.
In recent years their productions have also been in the nominations so we're expecting them to keep up a good roll for their staging of Snow White. The script is written by Anthony Spargo, a playwright and actor that you might know from playing the voice of the Dalek in Dr. Who – we can assure you there will be no extermination at Greenwich Theatre though.
Aladdin
Hackney Empire
18th November – 31st December
Always a classic tale for panto season to revive, Aladdin gets his stage time at the Hackney Empire this season with Olivier Award-winning actor Clive Rowe taking the role of Widow Twankey alongside Eastenders star Natasha Lewis as Abby-na-zaaar.
The Hackney Empire has a great reputation in the panto world, always throwing rip-roaringly funny productions. They also have a penchant for (no scrap that, they absolutely love) a singalong so prepare your pipes before the show.
Cinderella at The New Wimbledon Theatre
The New Wimbledon Theatre
8th December – 7th January
Proving herself to be a popular subject for the panto this year, Cinderella is also getting a chance to lose her glass shoes on the stage of The New Wimbledon Theatre.
They too can pack in the stars: Strictly Come Dancing's Craig Revel Horwood will be taking to the stage as none other than the Wicked Stepmother, Alison Jear – nominee of the coveted Olivier Award and Daniel Norford who wowed us in Small Island at the National Theatre back in 2019 will be Dandini.
The New Wimbledon Theatre is a pretty fabulous building in its own right, but we're most looking forward to seeing Norford camp it right up for Christmas…
The Little Mermaid
Hoxton Hall
21st – 29th December
Hoxton Hall will be offering a nice and cosy, community option for panto season. They're staging a very short run of The Little Mermaid spiced up with all the usual panto silliness.
This performance won't be as over the top as some of the other ones in our guide but it will guarantee a wholesome evening or afternoon of fun that will put the smiles on the faces of the little ones. It's a great shout for anyone living close by too.
Peter Pan at the Kenneth More Theatre
The Kenneth More Theatre
1st December – 7th January
The Kenneth More Theatre is another great choice if you're looking for a slightly smaller scale performance that might suit some of the much younger kids.
They still make a stellar effort with the special effects and staging so even though they don't stand toe to toe with the giants of the panto game (no, we're not talking about Jack and the Beanstalk) they still deliver on the wow factor.
This year they're doing Peter Pan, hammed up with no end of dance routines and slapstick comedy. They've also promised a special surprise…
A Couple of Seasonal Wild Cards
Throughout the festive season in London there are plenty of great things hitting the stage. Here are a couple of annual productions that aren't pantomimes, but are well worth having on your radar.
A Christmas Carol
The Old Vic
11th November – 6th Jan
Back with a classic, the Old Vic put on a yearly staging of Dickens' A Christmas Carol. They don't struggle to fill the role of Scrooge with some big-time actors – this year Christopher Eccleston will be taking the lead.
Even the production itself is world-class. Jack Thorne is on the script. He's been the mind behind TV adaptations of His Dark Materials and, in a more London-based accolade, the stage version of Harry Potter and the Cursed Child.
The performance is set to be something special – your kids will love it too, but maybe don't bring the little little ones. Things can get creepy in Dickensian London.
The Snowman
Sadler's Wells
18th November – 30th December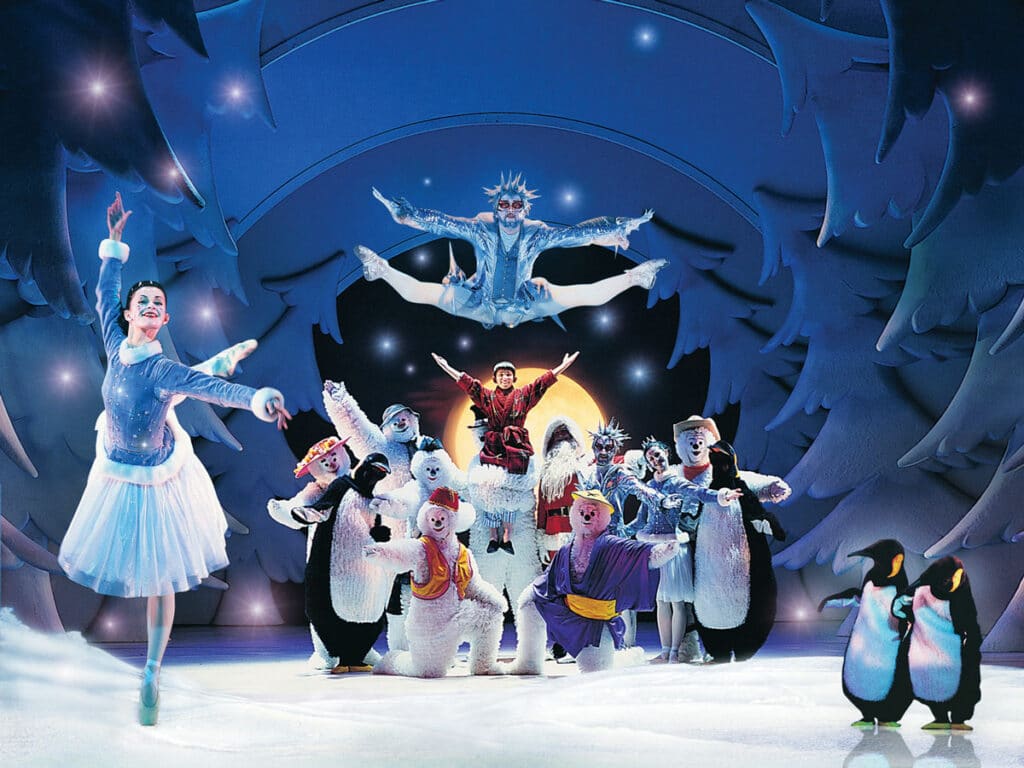 Back for its 26th year in a row, The Snowman is one of our absolute favourite performances to catch in London at Christmas time.
If you grew up on these rainy shores then no doubt the music from this will instantly summon memories of childhood Christmases. The book and animation are brought to life at one of London's theatre institutions in stunning detail with stage design from the fabled Ruari Murchison.
They also offer family bundles so you can take the nippers and give them a taste of what Christmas is all about when you were their age.
Christmas Pantos in London: Map