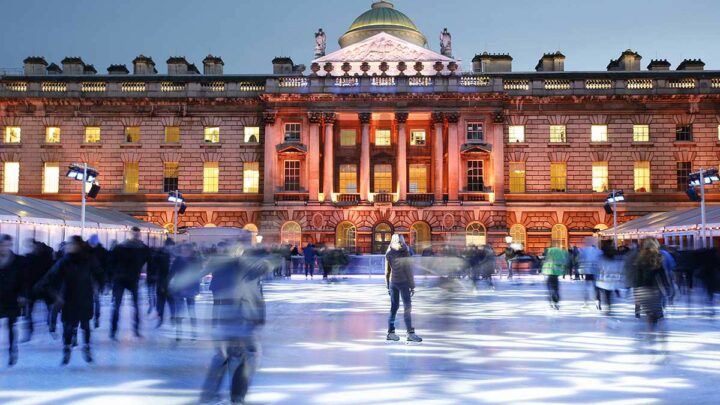 Ready to discover London's ice rinks? When the winter months set in and Christmas looms large in the calendar, there are two things we find ourselves saying: where's the mulled wine? And pass the skates.
It's time to wrap up warm and make your way to one of London's many ice skating rinks for a truly magical winter experience.
Whether you know your axel jumps from your toe loops, or just want to shuffle slowly with the help of the handrail – ice skating in London is great fun and the perfect way to work on your skills when the winter months hit.
Some of these rinks are year-round, some magically appear in the runup to Christmas – either way, we've chosen eleven of the city's best ice skating rinks for you to show off your skills.
Where to go Ice Skating in London
Somerset House
Covent Garden
Located on the south side of the Strand and overlooking the iconic River Thames – Somerset House is amongst the city's most iconic outdoor ice skating rinks in London.
Their popular evening sessions known as Skate Lates, which feature curated music playlists, are making a return this year and boast a partnership with Moët & Chandon.
This means you can warm up post-skate with some fancy bubbles and chocolate fondue at their popular Skate Lodge, and indulge in some festive treats over at the Christmas Arcade. Sounds like perfection, yes?
Somerset House ice skating rink opens between November 16th – January 15th 2023. It's just a short walk away from Temple tube station. Adult tickets can be purchased here.
Battersea Power Station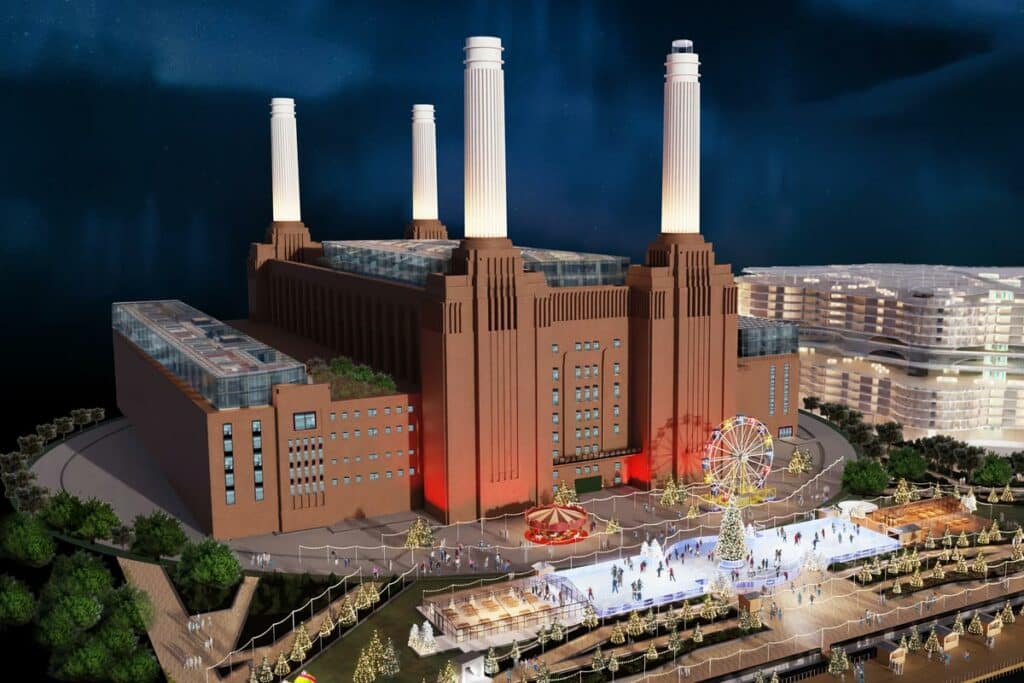 Newest-comer to the list is Glide at Battersea Power Station. They're throwing their hat into the ring (or should that be rink) with a three-part skate arena featuring a giant 30ft christmas tree centrepiece.
Sounds like they're not messing around.
The rink is suspiciously well timed for the grand opening of the refurbished powerstation, which has heaps of excellent food and drink choices.
There'll also be food and drink stands in full winter-wonderland esque style around the rink itself.
As well as beautiful views of the power station all lit up, and lights shining off the river…
Sounds like an ideal spot for a date
We wrote all about it here.
To book your skating tickets check their website.
Queen's House Ice Rink
Greenwich
Go ice skating in one of South-East London's most beautiful locations. Take in some of the capital's best landscapes as you glide around the smooth ice of Queen's House Ice Rink, set on the grounds of Royal Museums Greenwich.
Based in a UNESCO World Heritage Site and surrounded by stunning architecture, this London ice skating rink is the place to go for stunning views of Greenwich Park to the south, and Canary Wharf to the North.
The rink is open from the 17th November this year – the 8th January 2023 (Christmas Day excluded). Please note tickets are necessary.
Streatham Ice Rink
Streatham
Boasting a full size 60x30m ice pad and seating for over 900 spectators, the Olympic-sized ice skating rink at Streatham is a great option for those wanting a larger, more open space to practice their skating on.
This is another year-round rink and offers lessons, ice hockey and even a membership option for people who want to go more regularly.
For ice skating in south London – Streatham Ice and Leisure Centre is the place to be.
Canary Wharf Ice Rink
Open for a whopping 18 weeks, Canary Wharf's big sell is that you can skate around under the twinkling lights of all those tall buildings.
The lights are refracted (and added to for good measure) by the rink's translucent ceiling and mirror disco ball.
Plus all that roofing means your skate sessions can't get rained off. Not bad eh.
The rink's open from the 22nd of October to the 25th of February 2023. Grab tickets here.
Skylight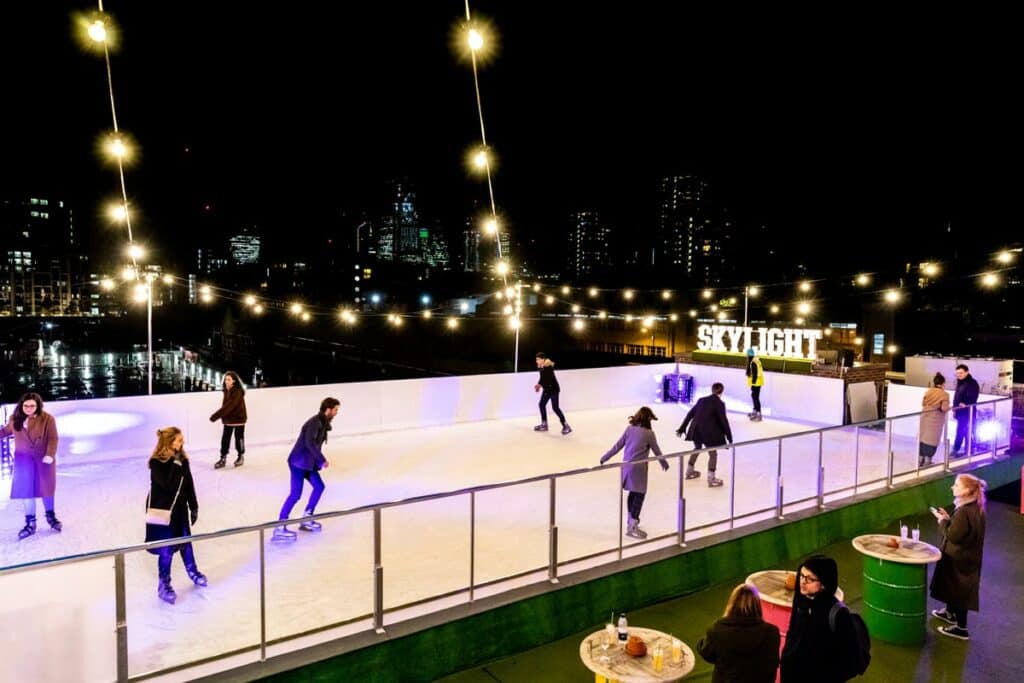 Nestled into the rooftops of the excellent little food and drink hub Skylight at Tobacco Dock is a small but mighty ice rink.
What it lacks in size, it makes up for in style. Think views of London and a full spread of shacks turning out warming food and mulled wines within arms reach.
Not cool enough for you? Well they're Europe's only rooftop ice skating rink, and they have heated igloos for you to chill out in après skate. How's that?
Hampton Court Palace
Hampton
The Tower of London ice rink has long had a reputation as one of the most exciting locations to skate at.
But unfortunately it will not be going ahead this year due to exciting plans for a major event at the tower. (No word on what that exciting event actually is yet.)
Luckily, they are offering an alternative skate experience at Hampton Court Place, where you can enjoy seasonable skating at Henry VIII's historic home.
Go in the daytime to enjoy a visit to the place itself afterwards, or attend one of their ambient evening skate sessions to witness the palace as it is illuminated in multi-coloured lights.
Alexandra Palace
Alexandra Palace
Also known as the "Ally Pally Ice Rink", this indoor ice skating rink in London is open all year, so you can get your skates on whatever the season!
The large size of this rink means that it is suitable for first-timers through to seasoned pros – and provides the perfect space to practice the feeling of flying as you skate around the beautiful Grade II listed venue.
Festive skating season (skating to your fav Xmas tunes) is from the 28th November – 8th January. Book tickets here.
Hyde Park Winter Wonderland
Kensington
Ice skating in London at Christmas is the best activity to get you in the holiday spirit. Hyde Park offers the full festive experience at their renowned Winter Wonderland – a Christmas market, amusement park, circus and ice skating rink all in one easy to reach location.
Enjoy the twinkling fairy lights as you glide around the park's beautiful rink, and reward your skating efforts with a snack from one of the venue's many food stalls offering mulled wine and more.
This year it runs from the 18th of November and ends on the 2nd of January 2023
Westfield Shepherd's Bush Rink
Westfield, ever on a mission to provide you with almost everything you'd need to practically live in the mall, are opening an outdoor ice rink this year.
And never ones to let mediocrity get in the way of a good time, they've also got Europe's tallest Christmas tree. What a way to get into the Christmas spirit.
The rink is open from the 19th of November 2022 to the 8th of January 2023.
Queens Skate Dine Bowl
Queensway
Many ice skating rinks in London are seasonal, but Queens Skate provides the opportunity to skate all year round.
Whether you want to practice building your speed, or would like a few lessons from a pro – Queens Ice Skating rink is the place to go.
It even offers the party experience on certain weekends, helping you get that Friday feeling as you skate to the beat of big tunes and multicoloured lights.
Ice Skating in London: Practical Tips
London has a wide range of indoor and outdoor ice skating rinks suitable for all levels.
Before you hit the ice, it's worth planning your visit to avoid disappointment. Most – if not all – of London's rinks operate on a ticket policy, so book in advance to make sure that you'll get in.
If you fancy learning from a pro, some rinks do offer lessons – but please note this is likely to be the rinks that are open all year, rather than the seasonal.
Ice Rinks London: Map