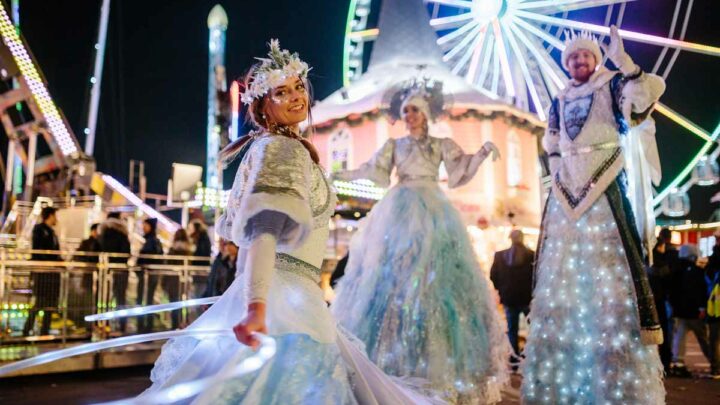 Hyde Park's Winter Wonderland – AKA the festive event of the season – returns. Here's everything you need to know.
We might be biased, but we think London at Christmas is absolutely unbeatable. The Christmas lights go up. The big shopping spaces begin competing to see who can erect the biggest tree. And Hyde Park opens its Winter Wonderland.
It's basically an all-singing, all-dancing festive festival, with fairground rides, an ice rink, plenty of food and winter warming drinks.
This year it is open from the 18th November 2022 – 2nd January 2023. Read on to find out exactly what's going down.
What Can You Expect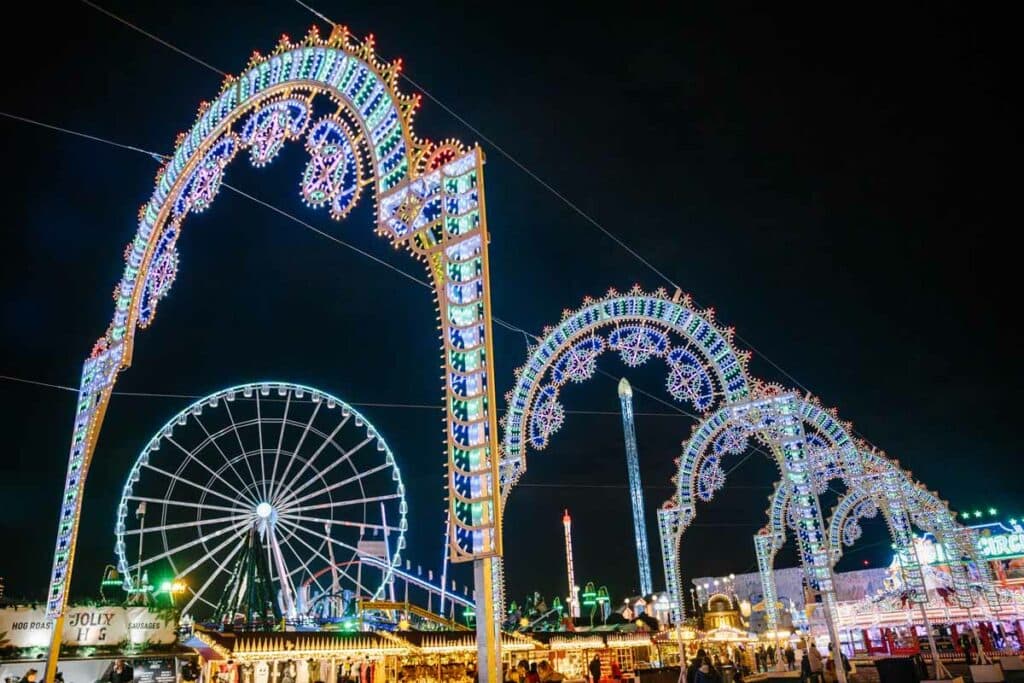 Where to begin? Expect Hyde Park to be completely pimped up in festive decorations.
We actually went up Battersea Power Station's new Lift 109 viewing station the other evening, and we could see the Winter Wonderland from all the way south of the river. Which has gotten us super excited, if you couldn't tell.
Food and Drink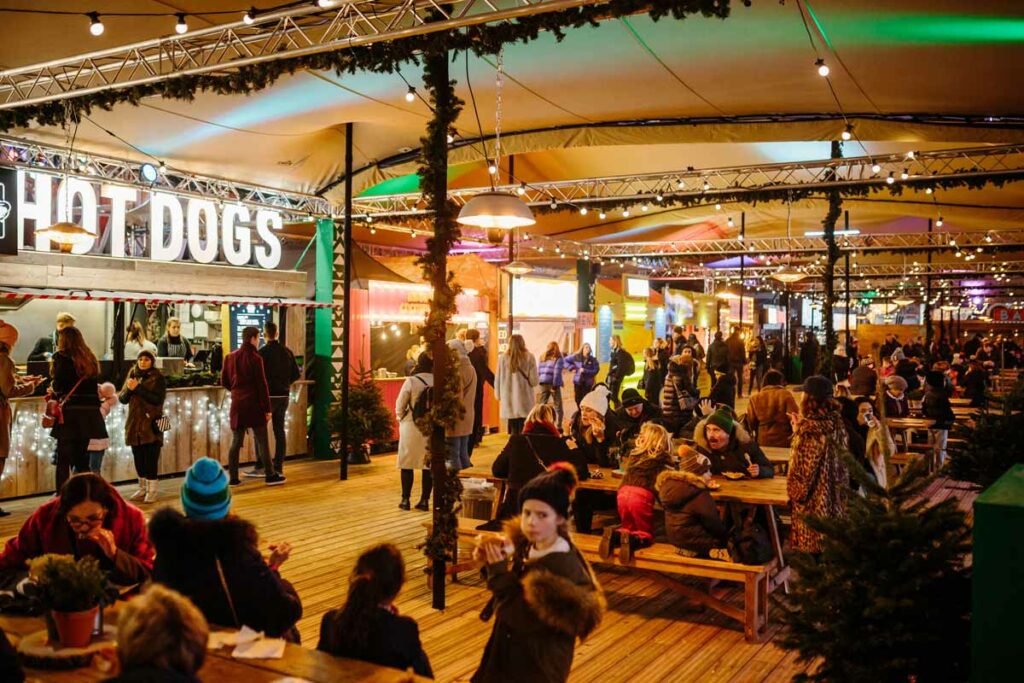 Maybe the coolest (see what we did there) place to grab a drink at the event is the Ice Bar, This insta-perfect spot is built out of giant cubes of ice, and rocks an 80's Après-ski theme.
There's a carousel bar too. That one gently spins you around while you sip on winter-warmers.
But, we'll be honest: Christmas at Winter Wonderland is a street food affair, with whole tents given over to pop-up food stalls and much-loved London names like Doughnut Time and Edgy Veggie making appearances. And, of course, bratwurst for days.
Fairground Rides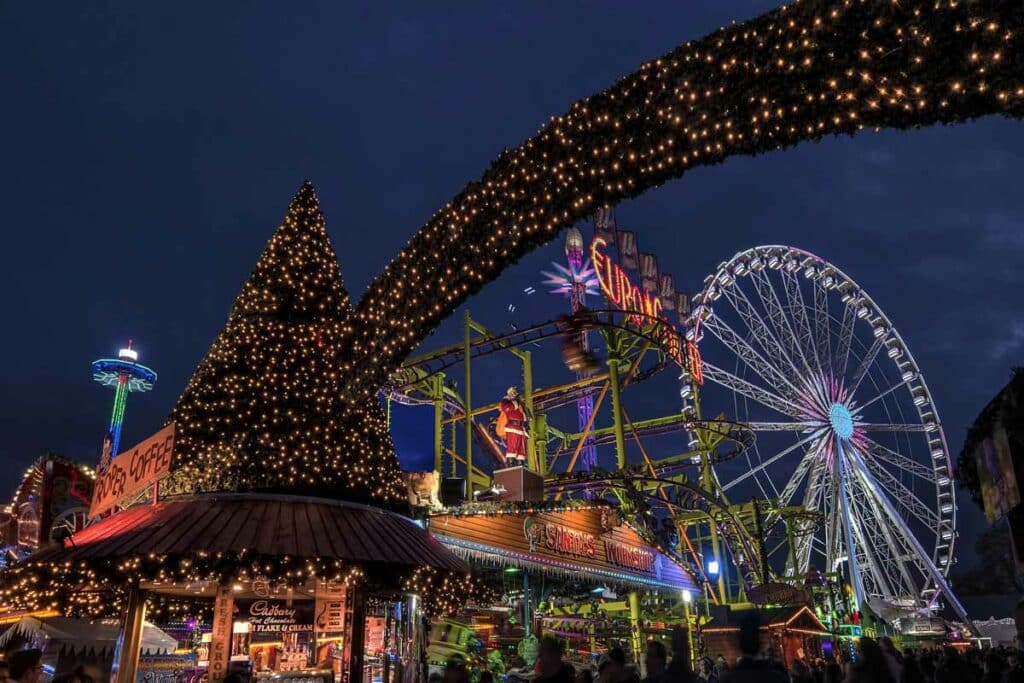 There'll be the usual spread of fairground rides, including more than their fair share of roller coasters, one of which – Munich Looping – has been shipped in from Oktoberfest.
The giant ferris wheel makes a return. That's a bit of a WW institution – the party wouldn't be quite right without it. From its pinnacle, 70m up, you'll have views of London and the ant-like Wonderlanders way down below you.
If heights like that are your thing, you'll wanna get yourself on the Hangover. That's one of those vertical drop rides that hangs you at 85m up, lets you enjoy the sights for a few seconds, and then plunges you stomach-turningly fast towards the ground.
This year sees the introduction of a bonkers-looking ride called Discovery that rotates 360 degrees on a twin axis while flipping through the air. What exactly you discover on that ride is beyond us, but we imagine it might have something to do with the contents of your stomach.
Other Bits of Fun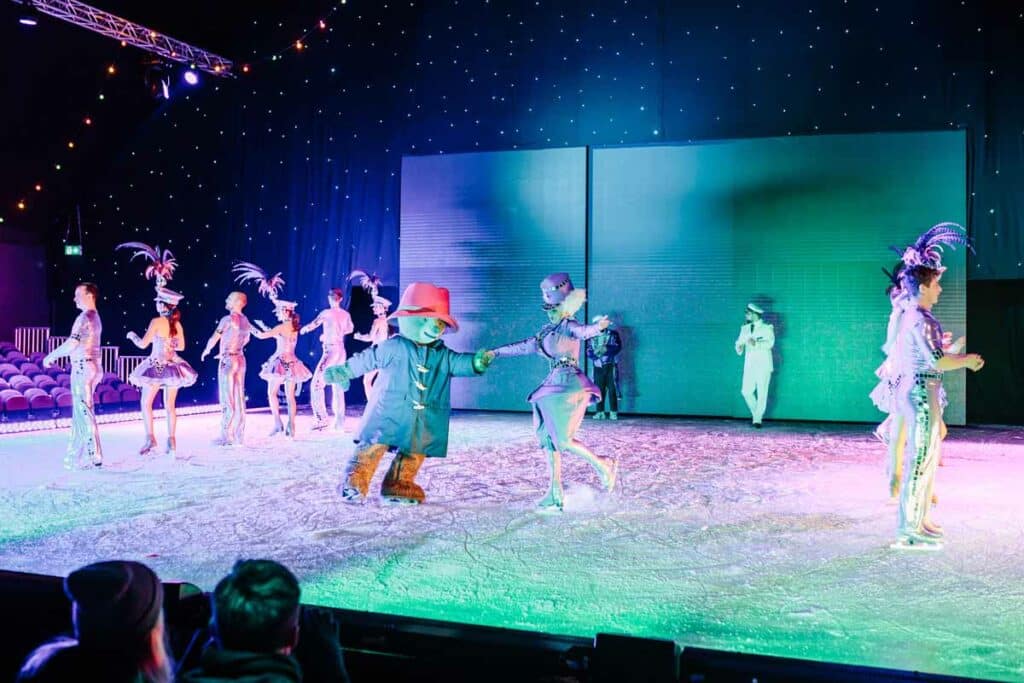 We're really excited for the Christmas Circus. Zippos is a returning feature from previous Winter Wonderlands, bringing a Christmas/winter-themed show with actual world class performers and crazy giant dancing polar bears. Need we say more?
No festive period would be complete without some embarrassing slip-and-slide moments on an ice rink. Winter Wonderland knows that full well, and has one of its own that's also a bit of a London institution.
For the Christmas shoppers among you, there's a Christmas market selling all sorts of trinkets and hand-crafted goodies that would make excellent stocking fillers for the big day.
Know that the above are just highlights, and that Winter Wonderland has too much to do than we could reproduce here. Besides, you should probably have a little of the excitement of the unexpected when you go.
All in all, if you want the full-magical Christmas package. Winter Wonderland is the place to get it.
Winter Wonderland 2022: Practical Information
When?
Winter Wonderland is open from 10am – 10pm from the 18th November 2022 – 2nd January 2023.
Where?
Winter Wonderland is held in Hyde Park – the nearest tube stations are Hyde Park Corner and Marble Arch.
Tickets?
The tickets work on a staggered price depending on when you want to visit. Off peak slots are free, standard tickets are £5, and peak tickets are £7.50.
You'll need to book ahead before you go – you can do that here – and when you do you'll see the slots and pricing available. It's pretty straightforward.
Of course, once you're in, you'll have to fork out a bit more to get on the rides, eat, and see the attractions.
Winter Wonderland 2022: Map