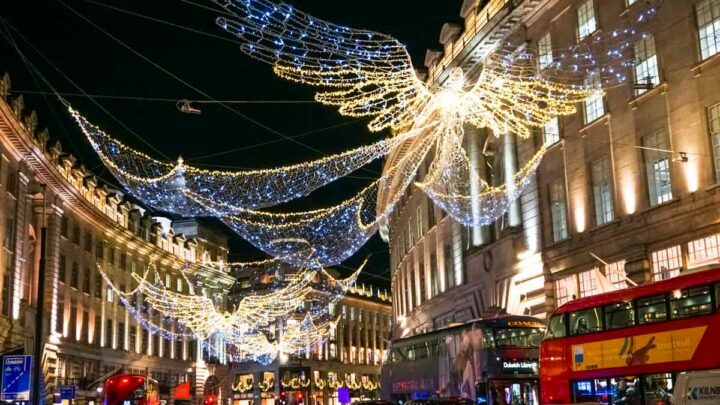 London has featured in plenty of festive flicks. Explore the London Christmas movie locations you can visit in the city.
With the festive season fast approaching, we snuggled up on the London x London sofa and poured through hours of Christmas classics, one-upping each other wherever possible. The result? Our pick of London Christmas movie locations you really should visit.
Before you get all Grinch-y on us, it's not all snow and reindeers, just films that put us in the festive spirit. And you've been warned: there's a lot of Hugh Grant.
He pops up in Love Actually, the mews from which you can go and visit, and in About a Boy at Hakkasan – a location you really should visit. But let's not spoil the surprise, here are our top picks for Xmas film spots around the capital.
Take a Jaunt Around London's Christmas Film Locations
St. Luke's Mews
Notting Hill
Love Actually (2003)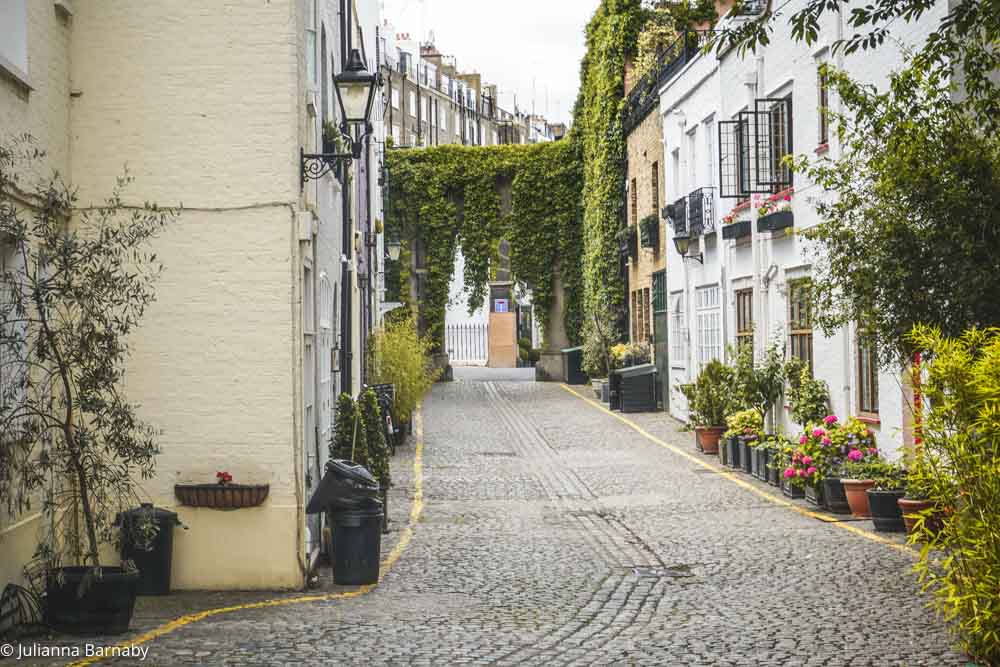 This Christmas Classic couldn't be missed. It features a whopping number of London locations including Somerset house and exterior shots of 10 Downing Street itself (the interiors were shot in a studio).
Our favourite location? The lovely multi-coloured houses of St Luke's Mews in Notting Hill.
They appear in the Movie in the iconic scene where Mark silently professes his love for Juliet (and tugs at our heart strings) showing her a series of cards on her doorstep.
St Luke's Mews is still a fully residential street, one of many mews in London. Mews were originally designed as stables for horses, with a servant's quarters above, but have since become remodelled into quaint rows of housing.
They're now some of the most desirable properties in London – a cottage in a sleepy street, in the middle of a bustling city.
Watch the clip
Alice's Antiques
Portobello Road
Paddington (2014)
Honourable mention here must go to the station after where this bear (and his film) are named. If you're a fan of the movie you'll want to check out his very swee bronze statue in the side entrance to Paddington Station.
A little known and arguably way cooler location from that film, though, was Alice's Antiques on Portobello Road.
It was the set for Mr. Gruber's antique store where Paddignton helps catch a thief and meets his eccentric best friend.
Alice's is a must-hit for a poke around if you're on Portobello Road. The stacks of vintage toys, trinkets and furniture are a marvel to look at even if you don't intend to buy – though it is one of those places you can leave with something you never even knew you wanted.
Watch the clip
Buckingham Palace
Westminster
The BFG (2016)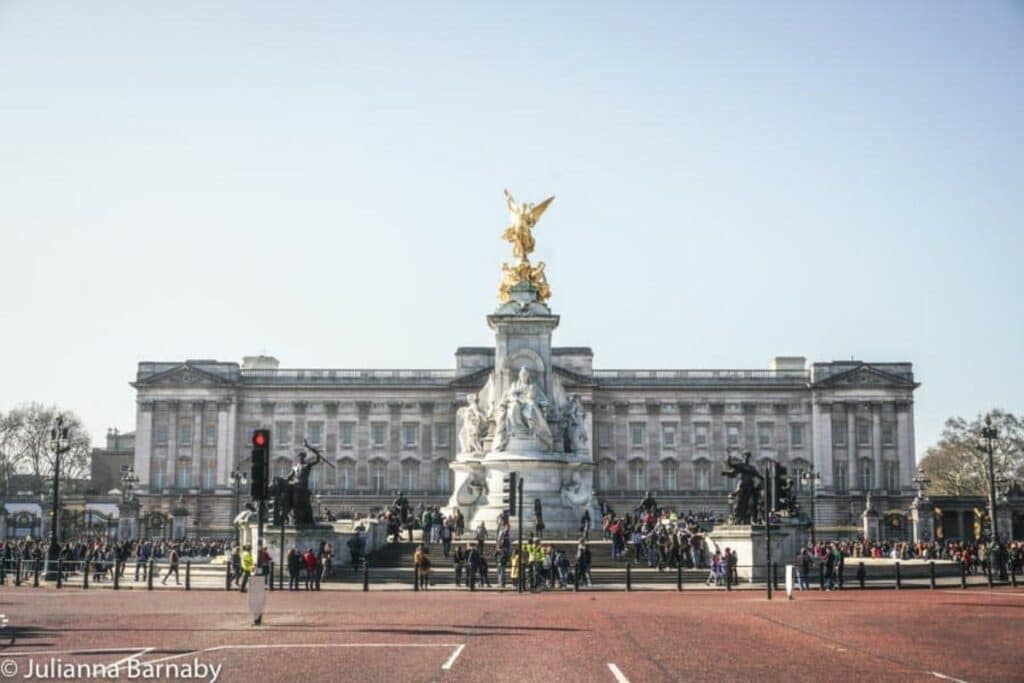 This family-friendly film adaption of the Roald Dahl classic makes for some cosy Christmas
Watching and a good opportunity to point out some of the tricks directors can play without us realising.
As the BFG is fumbling around London he stumbles into the grounds of Buckingham Palace. Clearly, being the home of the royal family, Speilberg couldn't get permission to film in the gardens of the palace where the giant later goes.
Instead he uses easily-recognisable exterior shots of the front of Buck Pal to establish where the giant is, then switches to shots of Blenheim Palace in Oxfordshire for the parts of Buckingham Palace he couldn't film. Clever
The Globe Pub
Borough
Bridget Jones's Diary (2001)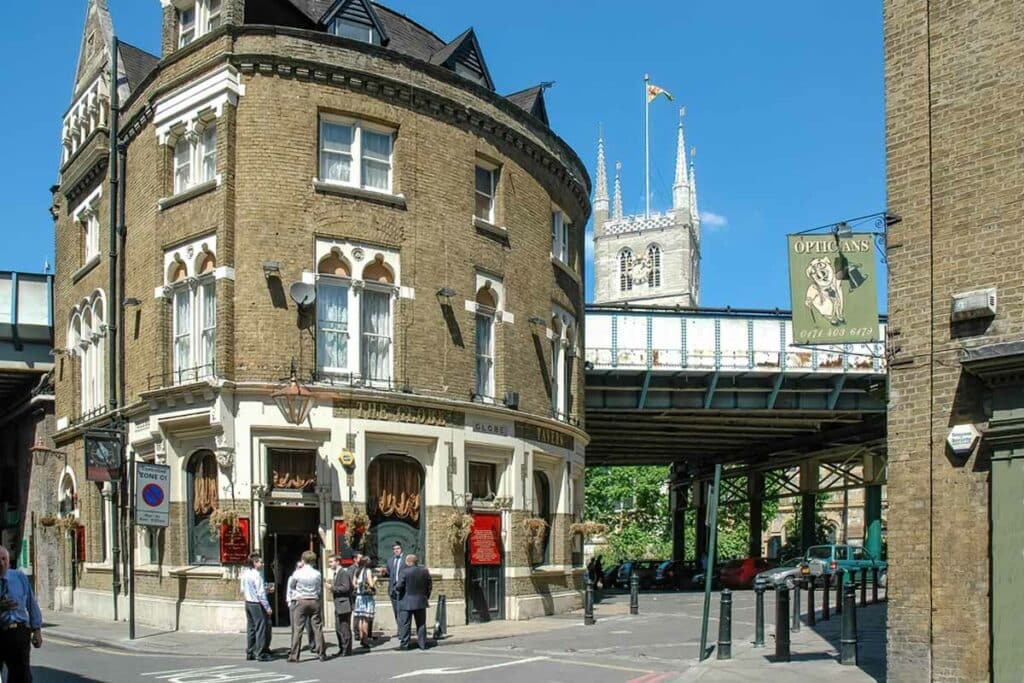 Hugh Grant makes another entry on to this list (he really plays a type) with Bridget Jones' Diary. In the film Bridget lives in a single bed flat in a lovely curving building in Borough.
In real life the building actually has three bedrooms (and a price tag way out of Bridget's budget) and is home to The Globe Tavern, a charming local pub that provides you with a perfect opportunity: track down a few movie locations and reward yourself with a pint.
Film Tidbit: Interestingly enough, this location is just around the corner from the gang's hangout in Lock, Stock and Two Smoking Barrels – Not so Christmassy, but a London classic nonetheless.
Watch the clip
Alexandra Palace
Muswell Hill
Last Christmas (2019)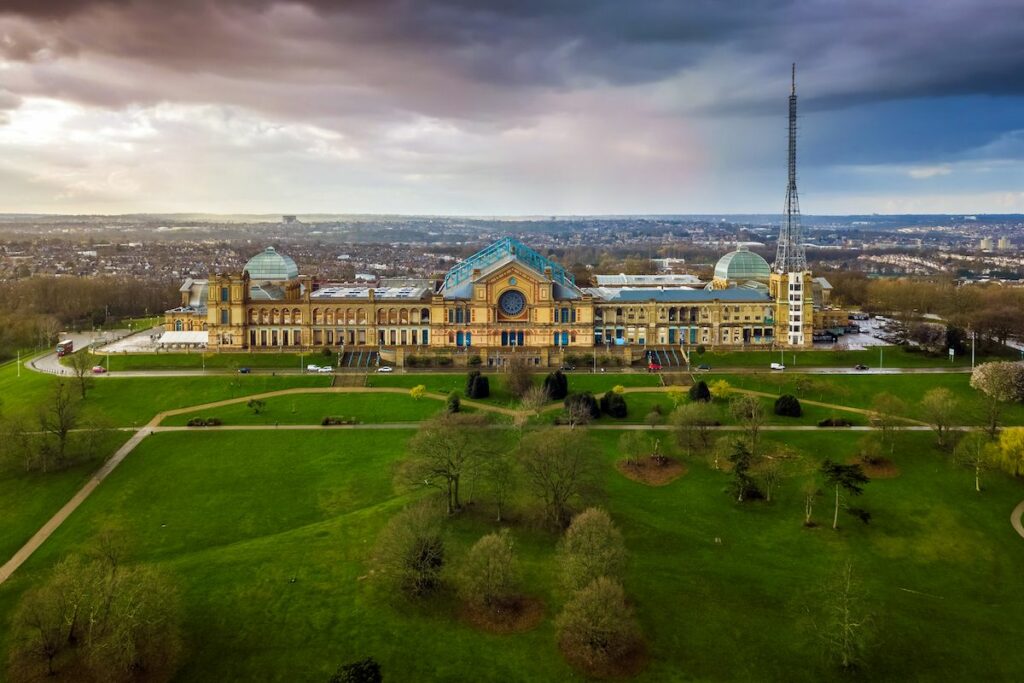 This recent(ish) Christmas number is about as much a celebration of London as it is Christmas. They manage to tick off a decent number of London set locations including Covent Garden, The Strand, Piccadilly Circus, and Regent street.
But if you ask us the location put to best use is the Alexandra palace. It comes into the movie as Tom sneaks the young version of Kate into an ice rink for a romantic after-hours skate.
The coolest part about it? You can actually go skate there yourself. It's open to the public all year round with festive skate sessions around Christmas time. Though we don't condone any sneaking in after dark.
Watch the clip
Platform 9 and 3/4
Harry Potter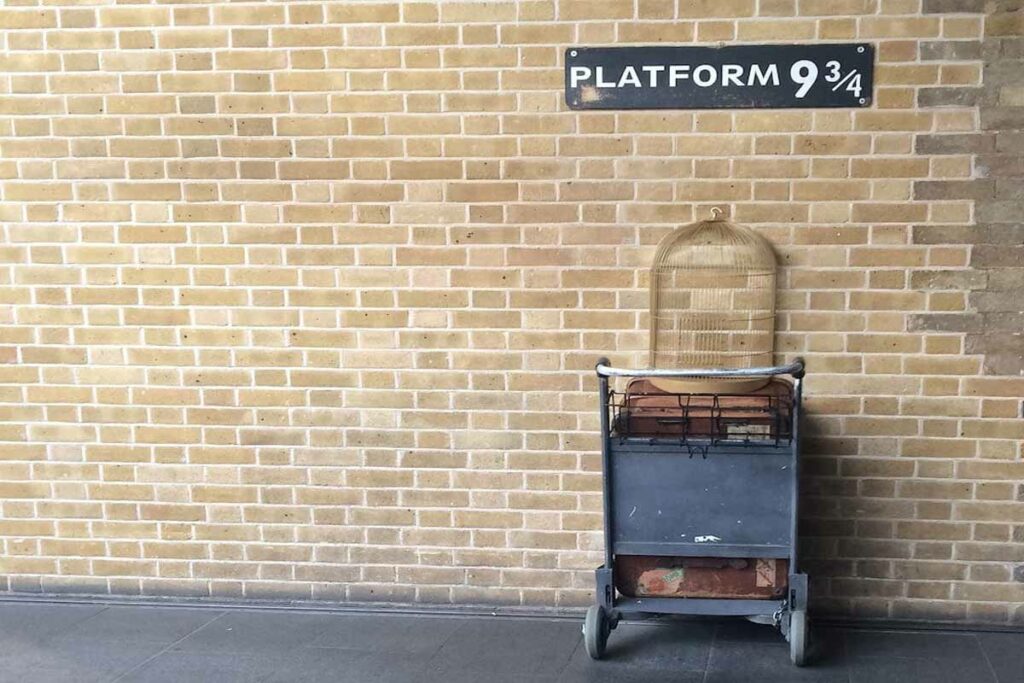 Always a family favourite when the festive season comes around, Harry Potter features so many London locations we could write a whole article about them. Oh no, wait. We have!
You can visit heaps of them, but we love the addition of an actual platform 9¾ at King's Cross Station. The location even has a trolley of wizardesque luggage disappearing into the wall, and a wand you can wave as your friends snap pictures for your 'gram.
The scene appears in Harry Potter and the Philosopher's Stone as an unsure Harry has to rush at a solid brick wall in order to make the train to Hogwarts. Classic.
Watch the clip
Hakkasan / Acton Town Hall
Tottenham Court Road/Acton
About a Boy (2002)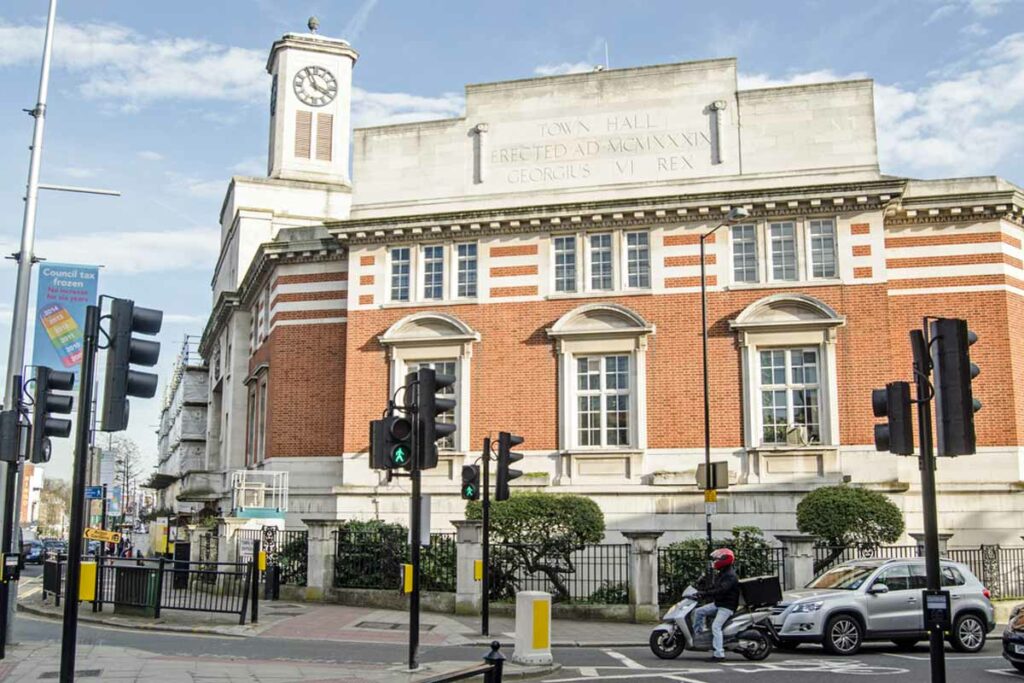 Hugh Grant, back again – this time breaking convention by playing a habitually single, charming but slightly bumbling Englishman. Oh wait.
We have to admit, About a Boy is another one of those not-technically-a-christmas-film Christmas film, but one we've stuck on over the festive period more times than we can remember.
About a Boy does the London rounds stopping off at Acton Town Hall for the classic Killing Me Softly Scene, and up-market Chinese restaurant Hakkasan for the scene where Will comes clean to Rachel about his deceit.
Another area featured heavily in the film is Clerkenwell. Will, swanky bachelor pad is on St James' Walk, not hard to spot either.
Clerkenwell is now a swanky neighbourhood, home to a slew of Michelin star restaurants and boutique stores, but that wasn't always the case. It used to be die-hard working class, to the extent Lenin used to live there
He also used to edit the Bolshevik newspaper Iskra at 37a Clerkenwell Green. The time, they may change but Hugh Grant's castings will always be the same.
Watch the clip
Dulwich College
Dulwich
The Nutcracker and the Four Realms (2018)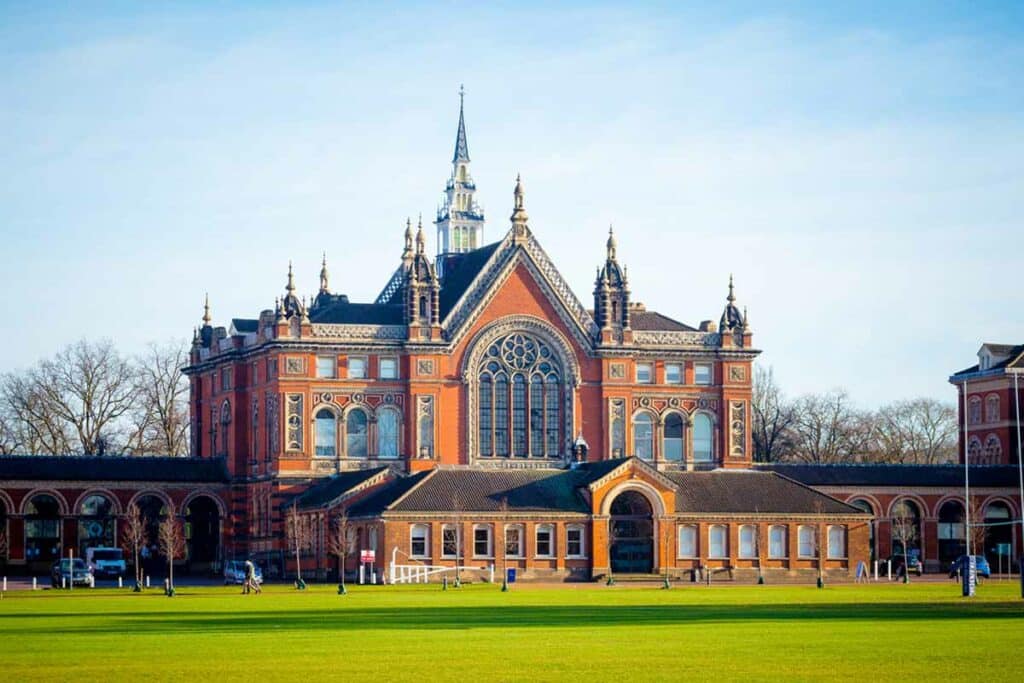 This fantasy romp that sees a young girl transported into a fantasy world of walking toy soldiers and talking gingerbread men features shots of Dulwich College.
It's not the only London location to make it into this film. Syon House Great Conservatory in west London, and a highly digitised version of Kensignton Gore also appear on the screen.
Dulwich College was actually founded way back in 1619 by Elizabethan actor Edward Alleyn, with the original purpose of educating 12 poor scholars. The school lived on and had additional buildings – the grand palatial ones you can see in this film – added in 1870.
The Bank of England
City of London
Mary Poppins (1964)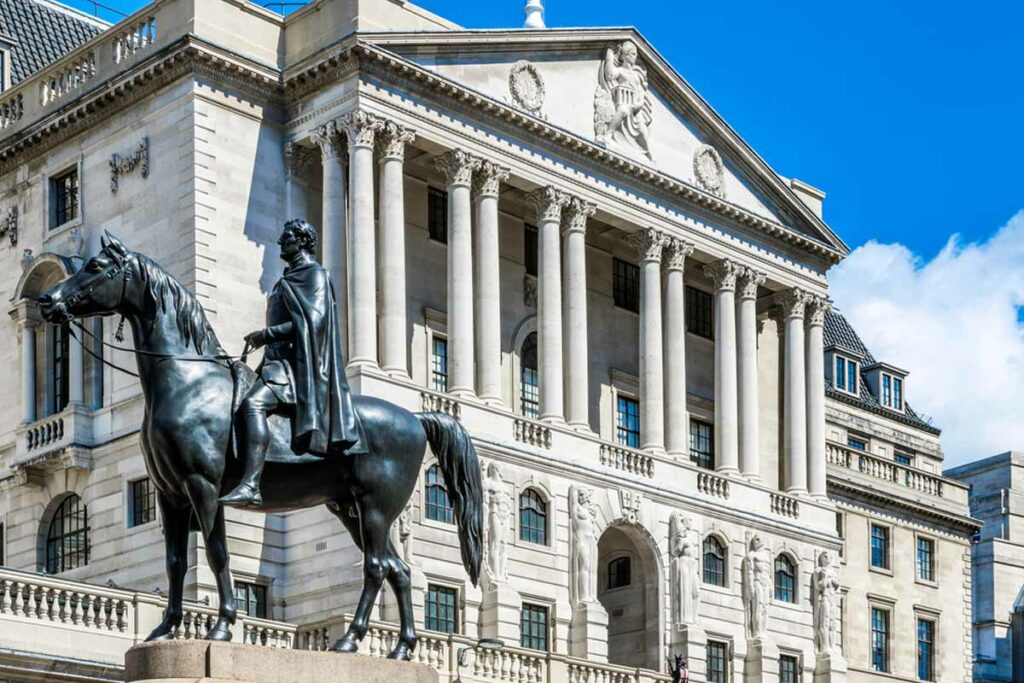 Of course this isn't a film that has much to do with the festive period, but its wholesome vibe and reputation as a family classic puts it firmly on our festive filming list.
Actually, we're sort of double cheating here. This original version of Mary Poppins was actually filmed at Walt Disney Studios in California, and used cardboard cutouts to create a backdrop of London.
But St Paul's clearly pops up and the bank where the family's father, the appropriately named Mr. Banks, works is unmistakably the Bank of England on Threadneedle Street.
The building has been home to the UK's central bank since 1734, and is sometimes known as "the old lady of Threadneedle Street " after a satirical cartoon published in 1797.
Watch the clip
The Strand
Westminster
Last Christmas (2019)
Last Christmas gets a second appearance in our Xmas filming locations guide. It is a pretty Christmassy film after all, and London basically plays the role of a character, providing a heavenly backdrop to the film throughout (and just generally looking super magical)
At various points in the film Tom and Kate can be seen walking along The Strand – an iconic road in the capital. They are sat outside Simpsons on The Strand as they take off their ice skates, which is actually a bit of a trick played on the viewer.
As we've mentioned before, they're skating on the rink at the Alexandra Palace but it's down near Covent Garden that they're filmed taking off their skates…
That doesn't stack up to us, but this is the magic of cinema.
The pair also end up close by at Covent Garden during Christmas time which just happens to be one of our favourite places to soak up the Xmas cheer. The place comes alive at Christmas with heaps of decorations, festive pop-ups and happy late-night shoppers. We'd say it's well worth a visit.
Wild Cards
That Famous Cottage
Surrey
The Holiday (2006)
We're going to count this one as a wild card because it's not technically in London. It is however pretty close, and the village it's in, Shere, is really quite pretty – especially if you can catch it under a light dusting of snow like Cameron Diaz does when her character, Amanda arrives in England.
The cottage, and the town around it, are clearly visions of how Americans think most of this country looks but we're not complaining about it if that's the image we give off. It's super warm and cosy and has that quintessential country side look (is the roof slightly crooked, how did they manage to squeeze more than a single floor in there?).
Funnily enough this cottage was, for a time, on AirBnB. Yes, you could actually rent it out. Kinda wild. We checked back though and it doesn't seem to be available anymore. Perhaps the owners got tired of people trying to emulate Amanda's story arc and land a hottie like Jude Law…
London
Errrr… London
A Christmas Carol
Countless iterations of A Christmas Carol have been made for the big screen over the years, so it would be rude not to give this Dickens classic a mention
Between shots of Jim Carey's digitally rendered face pulling, and the silent 1901 short Scrooge, or, Marley's Ghost, people have been coming back to this story for its compelling characters and backdrop of Victorian London.
A few places that feature in the novella are Mansion House where sumptuous feasts are laid down at Christmas: "The Lord Mayor, in the stronghold of the mighty Mansion House, gave orders to his fifty cooks and butlers to keep Christmas as a Lord Mayor's Household should…"
And St Paul's Graveyard, where Scrooge mentions encountering ghosts before he's visited by one of his own.
Interesting tidbit: The sight of a particularly ugly door knocker on Craven Street is said to have inspired Dickens to write the scene where Scrooge, groping his way home in the dark, sees Marley's ghostly face.
We wonder if it's still there.
London's Christmas Filming Locations: Mapped