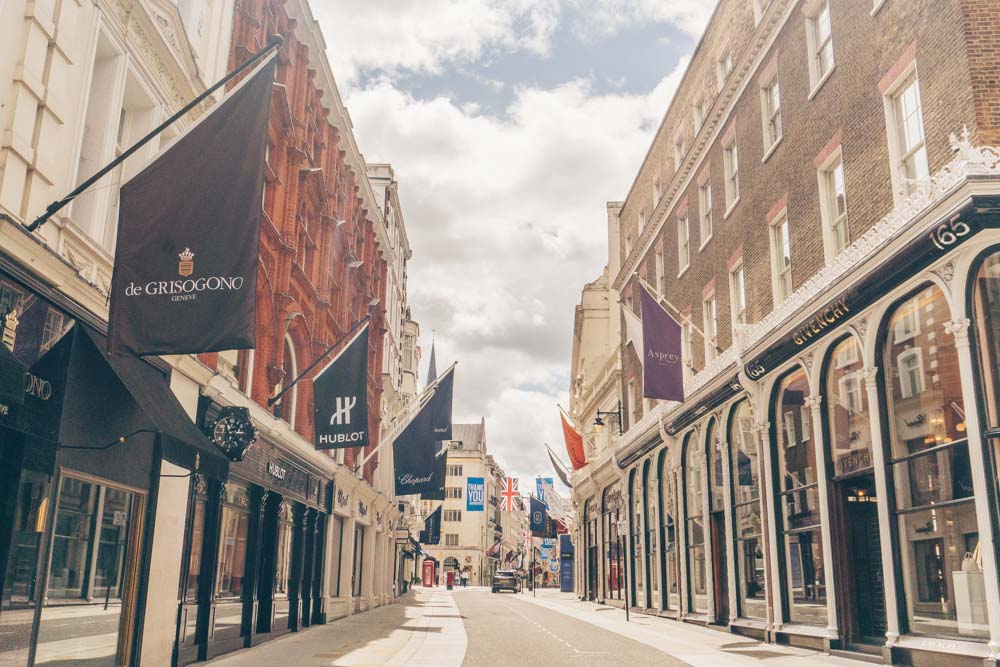 Located in Mayfair, world-renowned Bond Street is a street like no other. Best-known for its elegant stores with exclusive brands, luxury goods, fine art, and antiques, it's an unashamedly swanky spot.
Discover the best of Bond Street and its surrounds with this insider's guide.
Things to Do on Bond Street
The Royal Academy of Arts
Spend a morning browsing through the world-class exhibitions on display at the Royal Academy of Arts. This institute leads the way in both art and architecture and offers a space for up-and-coming artists.
There's almost always something going on, but the Summer Exhibition tops the list. Check out their website to see what's happening during your visit, and make sure you set time aside to visit one of the cafes or the restaurant on the property.
Bonhams
Bonhams is a privately-owned auction house that sells the world's most renowned fine arts, antiques, and motor cars. This can be an intimidating place, with bids going back and forth with large numbers attached to them…but it's also kind of fun to watch too.
There are several auction dates throughout the year.
Sotheby's
Sotheby's set up shop in Bond Street in 1917, and that's where the London location has stayed. Each year, collectors are drawn to this auction house by the vast array of high-end art pieces.
The auction house boasts a collection of luxury items – from handbags to fine art – and provides a space for people looking to sell their valuable items. Visit for some shopping or browsing and then stop for a bite to eat at the Sotheby's Restaurant to refuel.
Bond Street Shops
Alexander McQueen
Who doesn't enjoy a chance to add to their growing Alexander McQueen collection? This top designer store is a must-visit while in Bond Street. And for those keen on learning a bit more about the brand, there's something extra special on offer.
The top floor of the building has opened up as a museum of sorts, showcasing the full story of Alexander McQueen. This includes the brilliant designs by Lee Alexander McQueen as well as Sarah Burton's creative process.
Chanel
Have you ever wondered what three floors of French fashion look like? Look no further than this monumental Chanel flagship store. This is one of the largest Chanel stores in the world, and it oozes sophisticated luxury out of every corner.
You'll find an entire collection of Chanel clothing and accessories and can enjoy their VIP changing rooms to try on before you purchase.
Louis Vuitton
This store screams for attention as soon as you see it. The iconic Louis Vuitton has been producing some of the most fantastic leather pieces since 1854.
The Bond Street LV store has a beautiful design, and it's well-stocked. There is typically a wait to enter. But if there's a LV item on your wishlist, this is a great stop.
Burberry
Burberry has been in existence since 1856 and has always been a big name in luxury fashion. This is a flagship store, clearly marked by the two British flags at the entrance. Although it's not as famous as the Regent Street store, it still has the newest collections.
Expect complimentary drinks and friendly smiles as you browse through the striking designs in this store.
Cartier
Now that we've sorted the fancy dresses and classy suits, you need a few elegant jewellery pieces to make the outfit pop. Cartier is a world-renowned luxury jewellery store, spoiling their customers with a choice of two stores located in Bond Street.
Although they have two stores, they still encourage visitors to book ahead of time for a better shopping experience.
The Best Bond Street Restaurants
Sketch
Sketch does it all and so much more. The Michelin-starred restaurant is a joint effort from Pierre Gagnaire and Mourad Mazouz. The restaurant has an ever-changing menu both for their lunchtime and late afternoon menus.
The designs and furniture are all over the place but fits the room. There is also a bar and an afternoon tea area to enjoy.
Hakkasan
With over 20 years in the business, Hakkasan is a Michelin-starred restaurant celebrating Chinese cuisine. Using traditional techniques and the finest ingredients, Hakkasan is a must-try.
You'll need to book long in advance to get an opening at this fine dining establishment. Executive head chef Tong Chee Hwee oversees this well-established kitchen where they serve unique dishes daily.
Isabel
Isabel is an excellent place for lunchtime or late-night dining, with its combination of Latin and Mediterranean cuisine but not limited by it. Isabel has an amazing cocktail menu that adds even more to the restaurant. With a great interior and exterior, Isabel is a great dining experience.
Hush Mayfair
Hush is a well-loved local dining destination in the heart of Mayfair. The restaurant has two excellent dining areas and an award-winning cocktail lounge with a great selection of drinks. The outdoor courtyard is another spot to enjoy while indulging in a cocktail.
The menu has various options of meat and seafood, and there's a separate menu for private events. The atmosphere here is welcoming yet luxurious.
Cool Bond Street Bars
Mr Fogg's
Mr Fogg's brand comes from Phileas Fogg, who was a Victorian traveller. The bar looks and feels like an elegant bar made for watching croquet and not football.
There is an obvious fun-loving feeling to this bar. It is also an award-winning bar that makes innovative drinks. Prepare to stay here for a while since they make food as well.
The Running Horse Mayfair
The oldest public house and kitchen in Mayfair, The Running Horse, is an award-winning pub with a rustic look. Although the menu isn't as large as others, the pub's menu can give off a very homey feel.
They do offer great drinks, and ordering a nice pub-inspired side dish is a must. One of the best pubs in Mayfair and one we highly recommend you try.
Must-Try Cafés on Bond Street
Feya Bond Street
Not just a regular Bond Street café, they also serve all-day brunch here. Zahra Khan, a graduate of Gordon Ramsay's culinary academy, launched Feya in 2018.
Classified as an elegant and contemporary café, Feya's is a blend of art and food. The menu has a selection of salads, sandwiches, cakes, and patisseries. There is also a breakfast menu, designed by cookbook author Virpi Mikkonen.
Drunch
Situated between Oxford and Bond Street is Drunch, a café-style eatery. They serve everything from breakfast and brunch to lunch and dinner and have a tasty range of non-alcoholic drinks. Their menu has a good variety of cuisine, from tasteful bite-sized food to their naughty menu, for the less health-conscious people.
Practical Tips and Map for Visiting Bond Street
Before heading to Bond Street, try to map out your stops since the street gets very busy.
If you plan on shopping, make a booking with the stores. This allows for a much more relaxed shopping experience.
If you plan on staying close to Bond Street, choose a hotel close to your favourite store or restaurant.
Visit during Christmas to view all the amazing window displays – this is especially great at night.
Exploring Bond Street: Map
Looking for More Mayfair Guides?