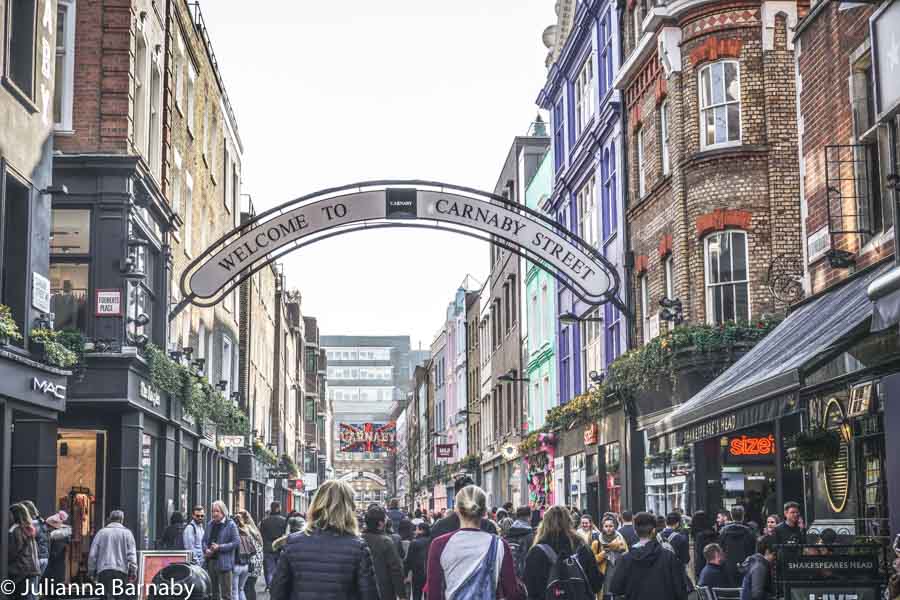 Heading to Carnaby Street? Check out our guide to exploring the best restaurants, bars and shops on historic shopping street.
Carnaby Street is colourful, pedestrianised, and perfect for selfies. It's also home to some of the best quirky boutiques, pubs and restaurants in London. But it wasn't always that way.
The history of Carnaby Street is full of surprises.
It was the birthplace of William Blake, a plague pit in the 1500s and 1600s, and home to some of Shakespeare's relatives (in fact, they ran a pub on the street).
And that's all before Carnaby Street became an icon of the swinging '60s, when it was a favourite haunt of mods and celebrities alike. If you visited the one of the many taylors on Carnaby Street in the mid-60s you might have rubbed shoulders with Jimi Hendrix, The Beatles, The Kinks, or maybe Elizabeth Taylor.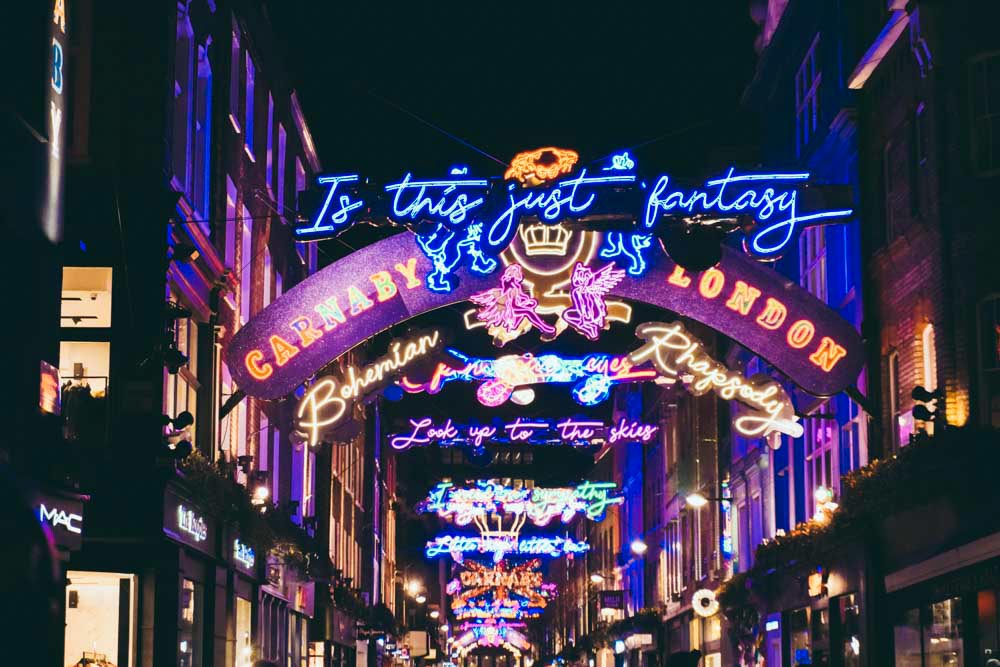 Basically, Carnaby Street manages to sum up much of the story of London in its 200 metres. Which raises the question, where should you go on Carnaby street?
This guide to Carnaby Street has got you covered. Read on for the best pubs, restaurants, shops, bars, and more on Carnaby Street.
Cool Things to do on Carnaby Street
Sophie Tea
This bright-pink building is hard to miss amongst the Carnaby Street shops. Fittingly, it's a great spot to take a picture for Instagram. That's probably by design: Sophie Tea is a self-taught artist who got her big break on the app and is now in demand worldwide, with studios in London and Sydney.
In the Sophie Tea shop you'll find a nudie selfie booth, a compliments mirror, and a free vending machine (?!) amongst other delights. It's all about empowering women and making art accessible, which is very Carnaby Street.
Wander the Newburgh Quarter
The Newburgh Quarter just off Carnaby Street is a cute little area of cobbled streets and historic buildings. Originally built as houses way back in the 18th Century, Newburgh Street has been a shopping spot since the early 1900s.
Of course, retailers have changed over the last 120 years. Just like most Carnaby Street shops, stores in the Newburgh Quarter tend towards quirky fashion with brands like The Great Frog, and modern luxury at Skin Laundry (where you can get a laser facial) and Muhle (the place to go for a wet shave).
You don't need to be looking for a beauty treatment or new outfit to visit the Newburgh Quarter, though. It's a great place to just stroll around, taking in the atmosphere of Carnaby.
Check out the Street Art
Carnaby Street and the surrounding area is home to a ton of street art.
Whether you're an avowed art lover, or just want some great instagram opportunities, you should check out the Giant Plug on Ganton Street (it lights up at night), Julian Opie's 'Walking portrait', Shaida Walking, which is displayed at the top of Broadwick Street, and the Spirit of Soho mural and clock. Time your visit to that last on carefully; on the hour, opera star Teresa Cornelys winks at her lover, Casanova.
Carnaby street itself also features several arches, as well as a suspended, shimmering Union Jack, so remember to look up as you enjoy your walk down the pedestrianised street.
Must-Visit Carnaby Street Shops
Dr Martens
Dr Martens on Carnaby Street is a must-visit if you want a pure London street-style experience. Carnaby Street has always been a fashion hotspot. In the 70s it was a favourite hangout of mods, and in the '70s it became a stomping ground for Skinheads. Both subcultures loved Doctor Martens.
Somehow, these boots, once built for factory work, are still cool. You'll see chunky Doc Marten sandals with ankle socks all over the place in London, as well as their classic boots and cute lace up shoes.
Earthly Matters
Since the 1960s, Carnaby Street has been at the forefront of new trends and bursting with independent boutiques. Earthly Matters (just round the corner on Newburgh Street) brings a new movement to the area. It's the first zero waste refill shop in the neighbourhood!
Okay, it's not as glamorous as a tailor cutting suits for London's first mods, but it's interesting to see somewhere as iconic and historical as Carnaby Street moving into an age of sustainability. And it makes sense that it's doing so. After all, it was home to pioneering vegetarian restaurant, Cranks, way back in the '60s.
At Earthly Matters you can stock up on organic produce and essentials, either with your own container or a glass jar bought in-store.
Liberty London
Liberty is an iconic department store. Particularly beloved for its wild floral fabrics, Liberty London opened in 1852 and has been going strong since. In fact, it has long been a central hub for London's fashion scene – which makes sense, given that it's so close to Carnaby Street.
The mock-Tudor building that houses Liberty is a sight in itself
Carnaby Street Restaurants
Flat Iron London
Flat Iron Soho is part of a small chain of London steak restaurants. That might sound pretty run of the mill, but Charlie Carroll, Flat Iron's founder, spent months researching butchery and cuts of meat before he opened the first branch in 2012.
This resulted in Flat Iron serving not only the best restaurant steaks possible, but also a full menu that is innovative whilst maintaining food traditions, and affordable while feeling decadent. Everything, from the flat iron steak to roast cauliflower with parsley, mint, and lemon is cooked with incredible attention to detail.
If you haven't tried Flat Iron, their King Street location is a great place to start.
Senor Ceviche
This Carnaby restaurant brings the flavours of Peru to London. Set up after a long series of pop ups and supper clubs around the capital, Senor Ceviche is now located in Kingly Court, just off Carnaby Street.
The menu includes ceviche, obviously, in several forms, along with Peruvian BBQ ranging from Super Pollo to papaya marinated flat iron steak, to asparagus and sweet potatoes. And all that can be washed down with pisco cocktails. It's like walking straight out of Soho and into Lima.
Myung Ga
This Korean restaurant is an institution.
It has been in the same spot, on Beak Street about a five-minute walk from Carnaby Street, for an amazing thirty years. Myung Ga used to just serve Koreans living in London, but these days draws a much wider crowd, all looking for authentic, affordable Korean dishes that go a little beyond kimchi and bulgogi. Don't worry though, both are represented!
You can get a set lunch including a main like bibimbap, an ox tail or tofu stew, or Korean BBQ, along with a soup and side for £12. Perfect to fuel an afternoon of shopping on Carnaby Street.
Zahter
There are plenty of options within walking distance of Carnaby Street, but you don't have to walk very far at all to find one of the best of them. At the top of the road and tucked away in a side street, you'll find Zahter.
This Turkish kitchen does some mean cooking. Much of it happens over a charcoal grill that's in full view of anyone taking up the counter seating. Some of the rest, including some truly divine flatbreads, come from a wood-fired pizza oven.
Go wild with the menu – none of it will disappoint – but save room for some baklava. We'd say exactly how good it is but words wouldn't do it justice.
Read More: Dining At: Zahter, Soho's Top Turkish Kitchen
Kingly Court
So you're hanging out on Carnaby Street, a crew of you, and it comes time to eat but there's that one person (always is) who won't eat what the rest of you suggest. It's time to head to Kingly Court.
This foodie hub is just off Carnaby Street and in it you'll find enough variety to feed everyone in your group. There's Korean, Peruvian, burgers, cocktail bars, regular bars, even the aforementioned Senor Ceviche.
You can take a wander around the multiple floors for inspiration and settle on what looks best. It's a solid way to settle that age-old dispute over dinner choices.
The Best Carnaby Street Bars
Disrepute
Opened in 2016, the Carnaby Street bar Disrepute brings the exclusivity of an out-of-hours drinking club back to the street it all started on.
Well, it's on King's Court, but close enough!
Applying for membership might sound daunting, but it's a process of moments (and you can do it online). Just make sure you have a code word in mind, as you'll be asked to provide one for yourself.
Cocktails are innovative and delicious – and some (like the Holy Smoke, a mescal-based delight) come in a smoke-filled bell jar! The decor is very roaring 20s, so wear appropriate flapper attire.
Read More: Disrepute Soho: The Glamorous Cocktail Bar You Need to Visit
Cahoots
Cahoots is another King's Court offering playing on the speakeasy, but taken to a new level of gimmicky. The bar is spread across an old underground station, the ticket hall, and the upscale control room.
They put on loads of 1940s-themed events, and a half-decent menu of creative cocktails The Top Dog is a prime example: a slug of whisky mixed with clarified muscovado yoghurt, liquorice bitters, topped with sparkling apple juice.
We will say this though: we've had some very mixed experiences of Cahoots, including a pretty terrible one you can read about here. However, if you love bars with quirky twists we won't stop you from checking this place out. It is a totally unique spot.
Brilliant Pubs on Carnaby Street
Shakespeare's Head
Located on the corner of Great Marlborough Street and Carnaby Street, this London pub pays homage to the Bard with a head and shoulders statue of the great man staring extremely creepily out of a 'window' on its side.
Built in the 1700s, this Greene King pub is bursting with traditional features, and also with stories. This is the pub that Will's relatives apparently owned way back when, although the actual provenance of that tale is unknown (and it sounds like great marketing to us).
The Clachan
The Clachan isn't on Carnaby Street. This pub is instead located seconds away on King Street, just off Carnaby's main drag.
Famous for being the local for central-London firemen and coppers for many years, this 1898-built pub retains plenty of original carvings, fireplaces and ironwork.
Like most Nicholson's pubs, they serve really decent meat-and-two-veg style food, as well as a wide selection of wines, beers and spirits.
The John Snow
Walk off Carnaby Street for about five minutes, winding your way towards Broadwick Street and you'll find a solid boozer in The John Snow. The pub gets its name from a very monumental slice of London history that happened right on this corner.
That's because right outside the pub you'll find the Broad Street Pump – the site where John Snow identified the transmission of cholera on water, saving many lives and contributing much to the germ theory of disease.
The pub itself is run by Sam Smith, so you know what you'll be getting. A solid range of beers served in a setting that feels unaged and welcoming, and a menu of pub food you can't knock.
Must-Try Cafes on Carnaby Street
Department of Coffee and Social Affairs
Yeah, the name of this espresso bar is… a lot. But don't let that put you off.
The Department of Coffee and Social Affairs makes amazing coffee in a chic, industrial-inspired space in Lowndes Court just off Carnaby Street. They source amazing single-origin coffees, and are passionate about making the best cups of the stuff possible. Definitely one to hit if you need a pick-me-up while exploring Carnaby Street.
Soho Grind
It was hard to work out whether to put Soho Grind under bars or Carnaby Street coffee shops. In the end, coffee won out, but mostly just because the coffee shop is on top of the bar.
Soho Grind is an espresso bar with a basement cocktail bar, so you can grab a coffee or a fresh cold-pressed juice before work, a quick grilled cheese for lunch, and a pink negroni (the pink is peach) after work on a Friday. The all in one experience!
Crumbs & Doilies
This Kingly Court favourite, located seconds from Carnaby Street, is more a full-on cake shop than just a cafe. But how could that be anything but a good thing?
They serve incredible New York style cookies in a whole range of flavours (they differ day to day as they're fresh baked), as well as treats like Biscoff cake and the ever-popular unicorn cake.
All their baking can be enjoyed in-store (we recommend sitting at the window with a coffee), bought to take away, and even shipped throughout the UK.
Practical Tips for Visiting Carnaby Street
First off, you'll probably notice that not all of these things to do, places to see, and places to eat and drink are on Carnaby Street. That's because the street itself is pretty tiny, and the larger area it is in the middle of on the edge of Soho is often referred to as 'Carnaby' as a whole.
Give yourself permission to explore all of it – there's no way The Beatles stuck strictly to Carnaby Street.
How to Get to Carnaby Street
Tottenham Court Road Station, Oxford Street Station, and Piccadilly Circus are all 5-10 minutes from Carnaby Street.
If you're getting an overground, Charing Cross and Euston are 15 and 20 minutes away respectively.
By bus, hop on any of the many, many London buses that are heading to Oxford Street or Tottenham Court Road and you'll alight close to Carnaby.
Carnaby Street: Map