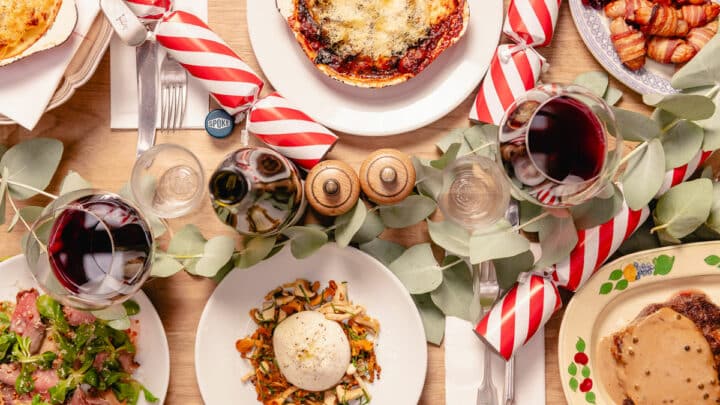 When it comes to a good Christmas dinner, London has more than its fair share of offerings. Here are all our top pics in one festive guide.
London's restaurant scene is always buzzing, but with the advent of Christmas they put things into hyperdrive, dishing out festive menus like Santa dishes out prezzies.
Among them are some real gems. Old favourites of ours like Bokan 37 and The Laundry both have a horse in the race, as well as a few new openings from the year that have garnered more than their fair share of attention.
If you're ready to add a few inches to your waistline then read on, bountiful Christmas feasts await.
London Christmas Restaurant Guide: Best Lunches and Dinners
Rick Stein Barnes
Barnes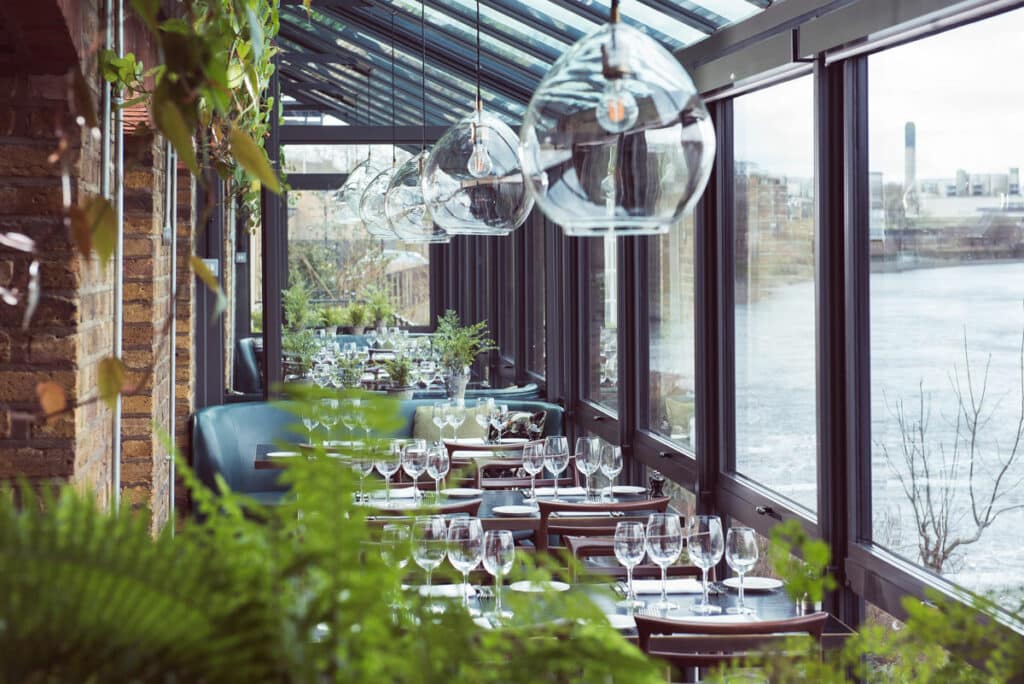 With a proud Cornishman on our team we don't hear the end of it when it comes to Rick Stein. His restaurant in Barnes is a delightful waterside spot on the Thames (about as close as he could get to invoking the coastlines of Padstow we imagine).
He's got a great spread lined up for you hungry folks this season. We don't need to mention that it's full of great seafood, but we will say that his take on a rarebit with Davidstow Cheddar and the red mullet spaghettini are on our Christmas wish lists this year.
Ganymede
Belgravia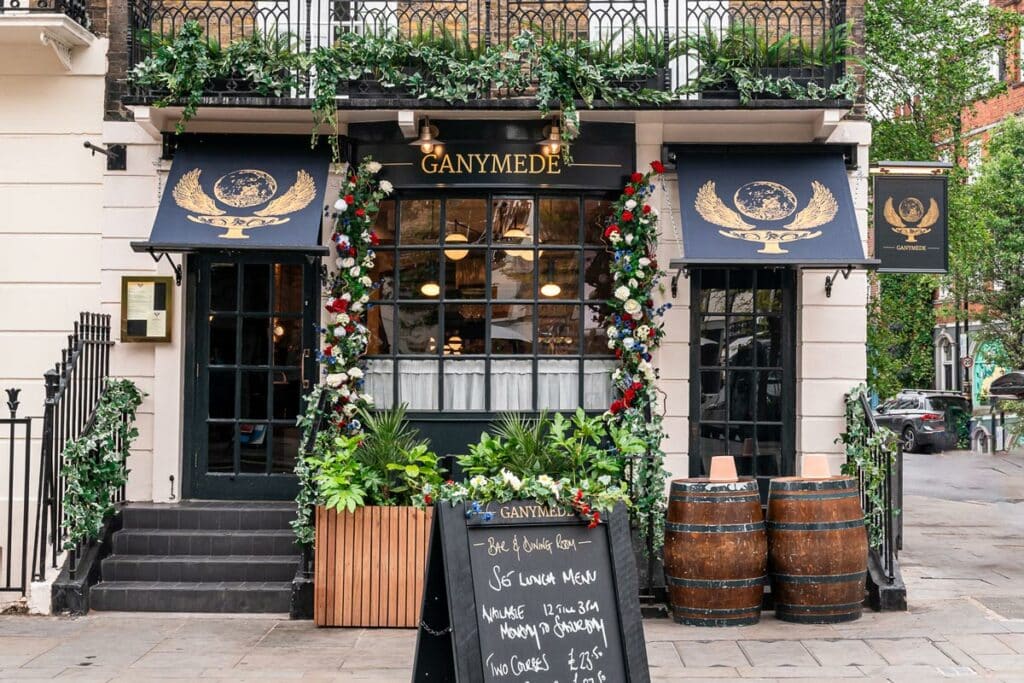 If you want something a bit more traditional, Ganymede in Belgravia might do you just fine. They've put together a special festive menu with a choice of two or three courses at £50 and £60 respectively.
It's only available Monday to Friday but carries items like roast monkfish and ham hock terrines alongside the traditional offerings of turkey, salmon and a hefty stilton cheese board.
We'd be opting for the latter but they're doing a hot chocolate mouse that's got our names all over it.
Straits Kitchen
The City of London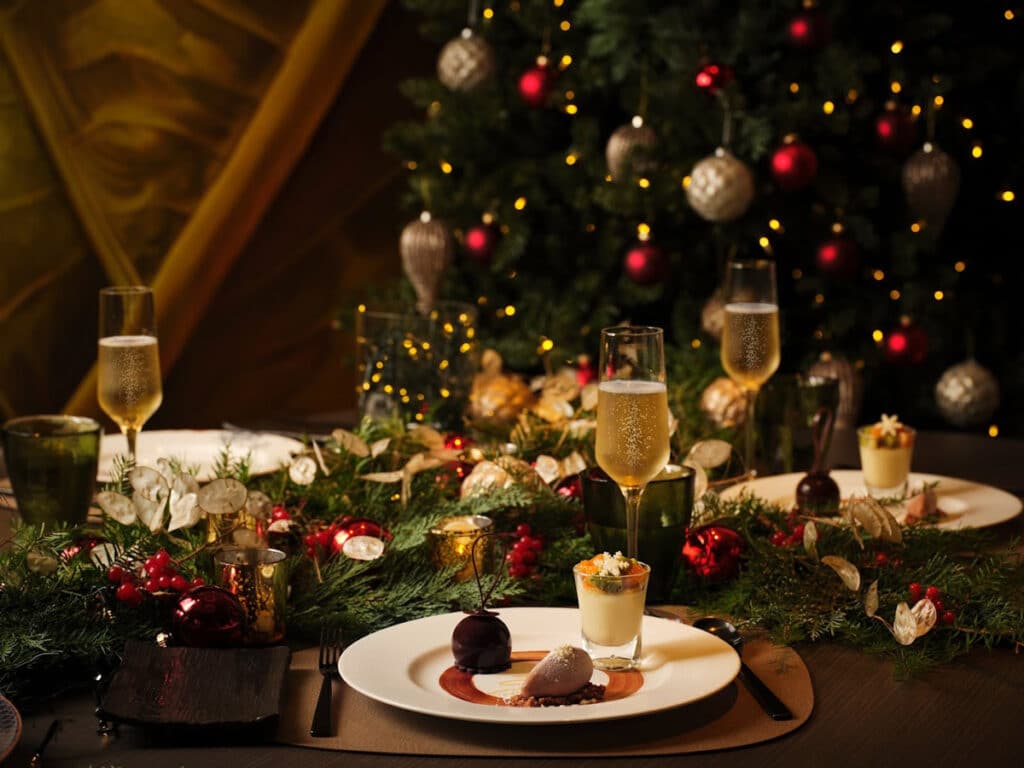 Not every Christmas dinner has to be about the usual spread. Branching out this year? What about the feast on offer at Straits Kitchen? That is, by the way, the kitchen of the grand Pan Pacific Hotel – a beacon of good hospitality in this fine city.
Running from the 13th of November until the 6th of January, Jun Yung Ng is plating up a four-course assortment of Singaporean delights.
These include a roast duck, Peking style, which precedes a peppered flank steak and festive mocha moose. Sounds good right? Well the snow crab cup to kick the meal sounds pretty nice too, and all this will only set you back £85.
Mauro Colagreco
Westminster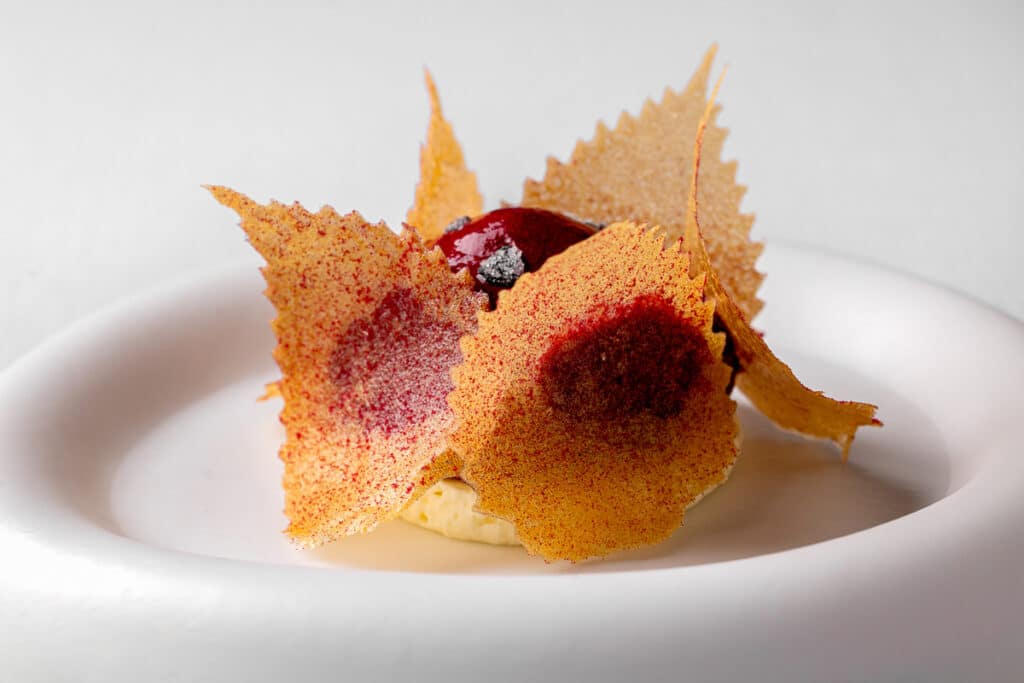 Another new opening that's hot on the festive menus is Mauro Colagreco at the OWO. This spot is the namesake restaurant of an Argentine chef whose other major venture holds three Michelin stars (in France no less).
Available on Christmas day only the £295 tasting menu will set you back a bit, but it should be the way to make it an Xmas to remember. The exact details haven't been released yet but you can see a sample menu here.
It looks finicky and fine-dining-esque, which is what this Colagreco fella is all about. Just the works of duck, spiced-apple agnolotti have us reaching for our wallets.
Nessa
Soho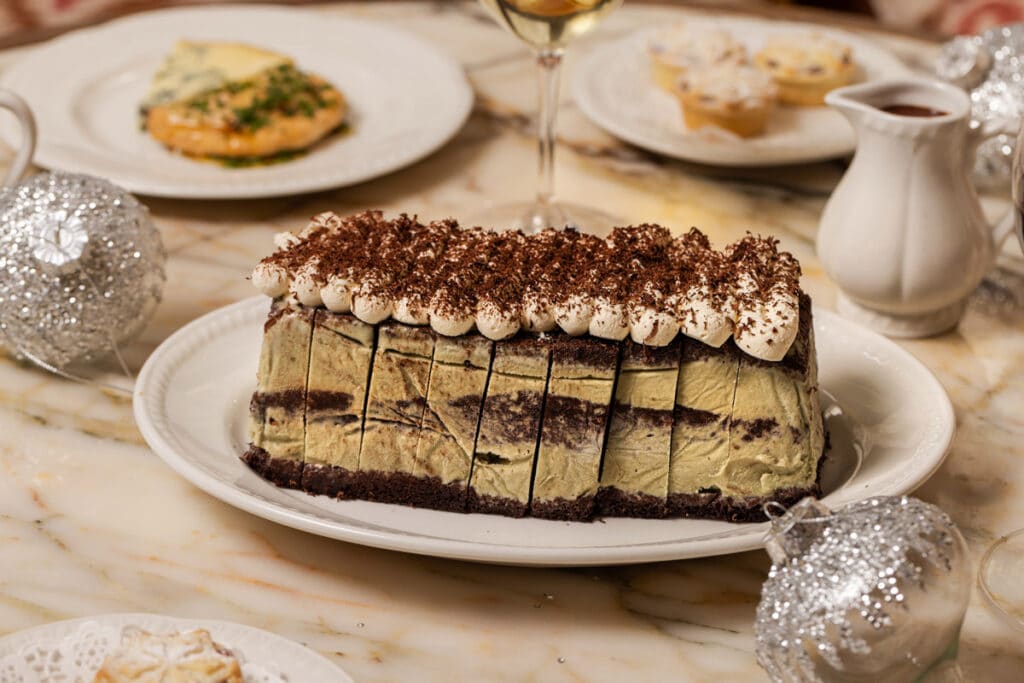 This charming Soho bistro is a place we regularly hit when we need a fix of well-cooked red meat and up-market comfort eating. From the 27th November Nessa will be serving up a sharing menu that's worth rounding up a few loved ones for.
Cheese and onion croquettes are among the starters (and Nessa's croquettes are always fire) and mains of their classic Grandma's Roast Chicken with all the trimmings. Those trimmings do include the all-important pigs in blankets in case you were wondering.
The star of the show though, might just be the Viennessa cake that finishes the meal off. Gaze at that picture above longingly and try to tell us you could refuse it. We won't believe you.
The Laundry
Brixton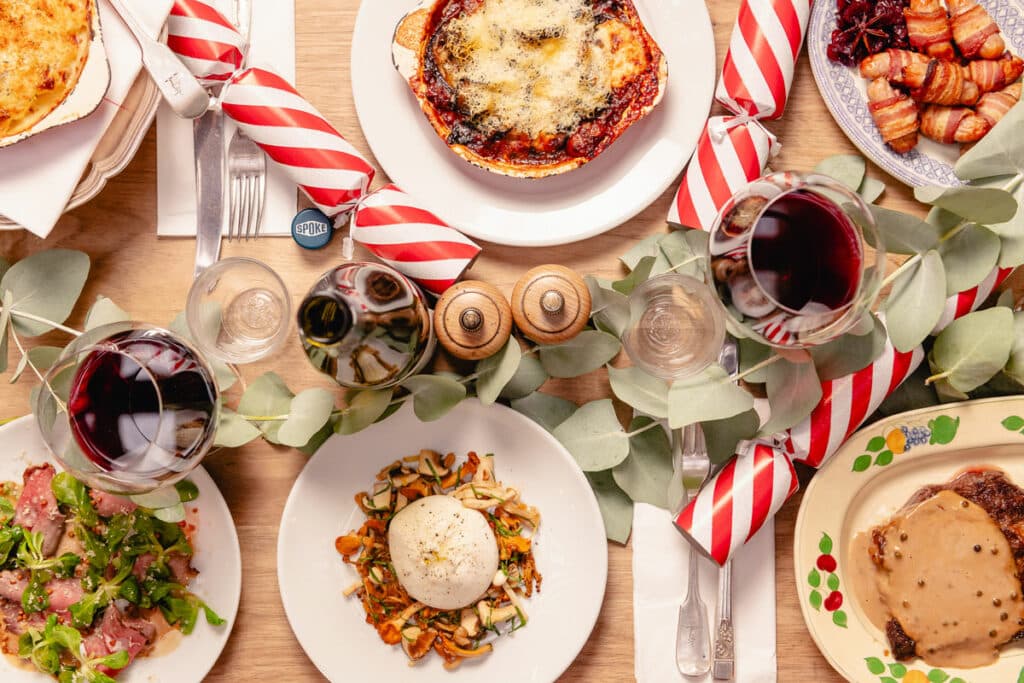 This is another spot we love to hit if we're brunching in Brixton. The Laundry is a charming place. You can feel classy here but not have to worry about appearing so – a balance that sits pretty well with us.
It looks like their Christmas dinner might be sitting pretty well with us too, and by that we mean in our bellies. The set menu features a few choices that'll make us pause for thought though, cod provencal or confit duck leg? Mini prawn cocktail or burrata on toast? These decisions keep us up at night.
You may look at those dishes and remark that they're not very festive. You'd be right, but sides of sprouts, pigs in blankets and cauliflower cheese will set that right.
Gaucho
London-wide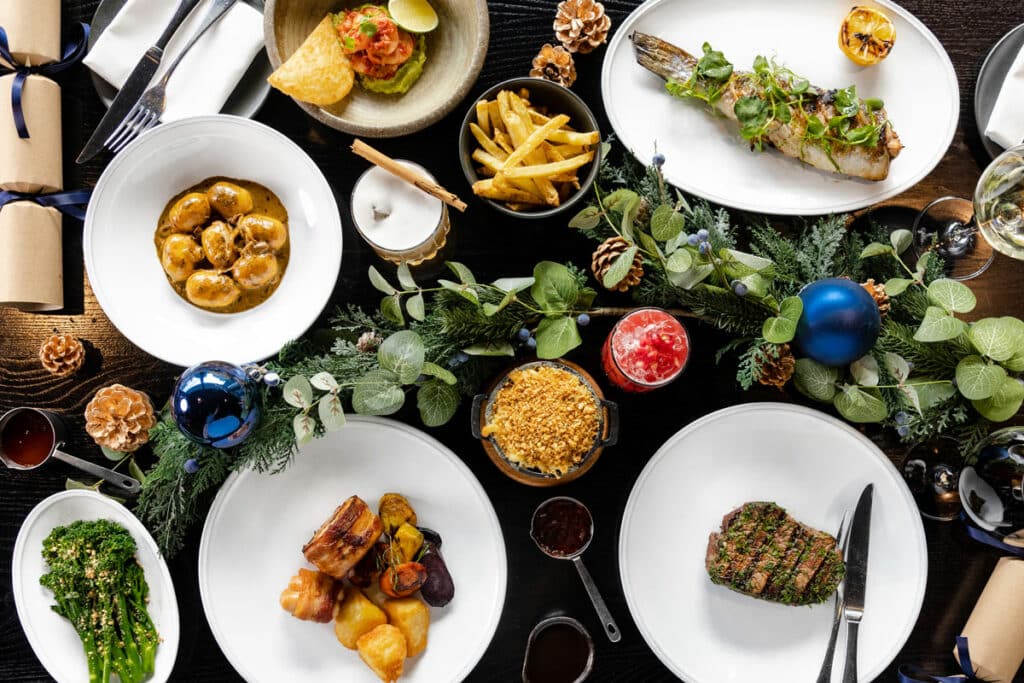 Lovers of hefty steak and sumptuous dinners will want to consider Gaucho among their potential spots for dining over the festive season.
This year their festive menu even flirts with a dish we tend to associate most with summer, ceviche, but we're not complaining.
It also comes with a chimichurri-butter-roasted turkey with Poncho Criollo Malbec and cranberry stuffing. The mouth is already watering.
Bill's Soho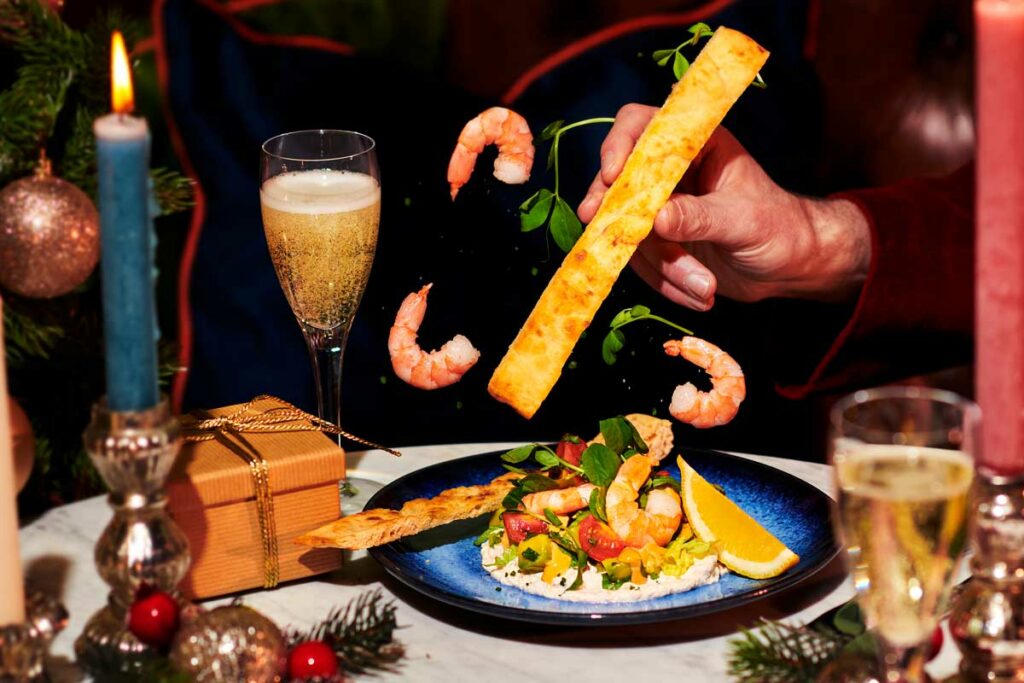 Bill's is running a feast of a festive menu this Christmas and it starts at a very reasonable price of £32.95 per head. It includes three courses and a range of choice too lengthy for us to wade fully into here.
We will mention the pancetta-wrapped turkey though, and that Santa's Burger Stack – both big hitters from our memories of last Christmas.
All this and an assurance that Bill's is probably one of the more reasonably priced places to go for a Christmas Lunch in this guide.
Covent Garden Christmas Village
Covent Garden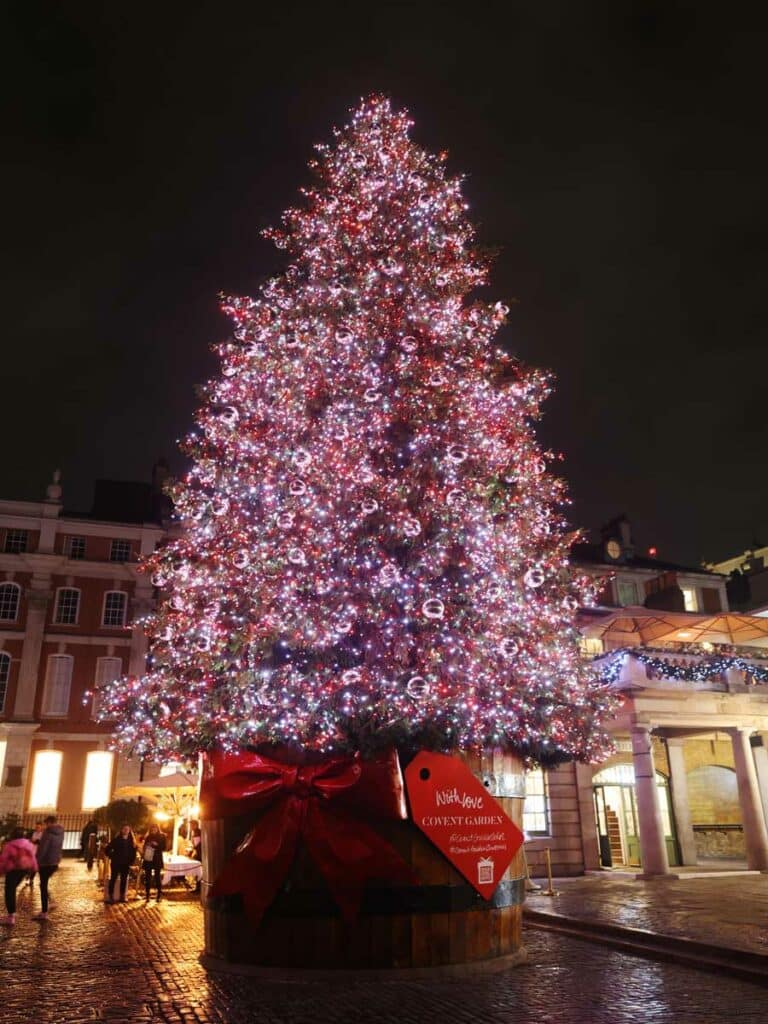 Christmas in Covent Garden is always a spectacular sight to behold. Unsurprisingly, it's also home to some of the most festive restaurants in London throughout winter. They've also got a hang of this hospitality thing…
Last year they threw a Winter Warmer Festival where you can get a bunch of deals and freebies on warm drinks. This year it's back from the 7th – 26th of November. Head to Neal's Yard Remedies for free cups of organic herbal tea or Dolce VyTA where the hot chocolates will make your eyes bulge.
Also back is their Christmas Sandwich Festival. That sees restaurants in the area coming together to create their own takes on the legendary Xmas sarnie (Joey from Friends would be proud). You can catch that from the 7th – 17th of December.
Bokan 37
Canary Wharf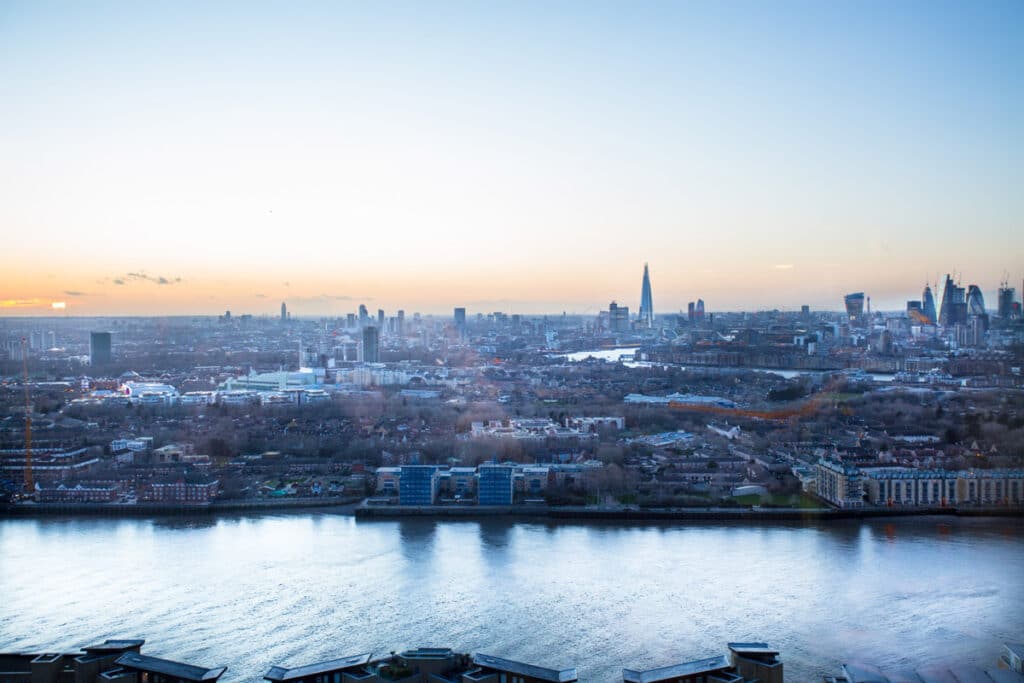 Sometimes you need to make it a Christmas to remember. Perhaps just you and someone special, leaving the kids (or your housemates) out of it and dining in style. Bokan 37 offers that style in spades.
The place boasts some truly wonderful views from atop a skyscraper in Canary Wharf and menus of creative European- inspired fare. We ate here last year and didn't have much bad to say about the place. This year they've got two, three and seven-course options, the latter coming in at a reasonable £99 (well, reasonable for sky-high dining at least).
Lilly's Cafe
Covent Garden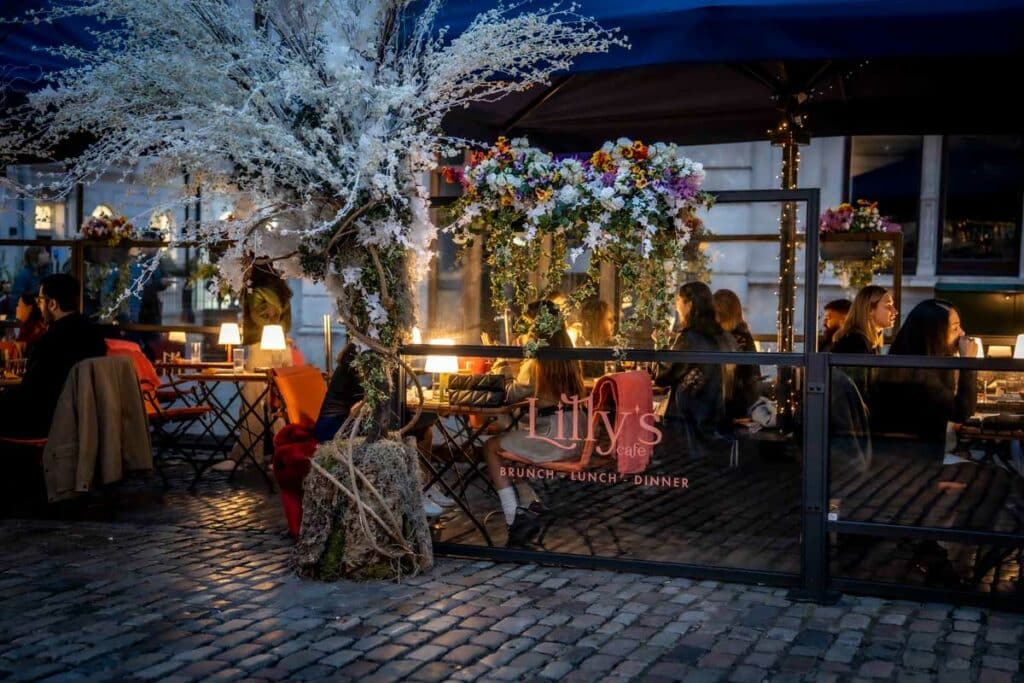 Lilly's Cafe in Covent Garden might make the perfect spot to treat yourself to a few festive courses.
They've got a two or three course menu and some delicious-sounding food all over it. Coronation turkey pie, roasted cauliflower flatbread and even a Swiss cheese fondue for two are just some of the offerings.
They come at £42 and £49 respectively and are probably best enjoyed on Lilly's winter terrace where you can watch the rest of Covent Garden's festive life go by as you dine.
Cinnamon Club
Westminster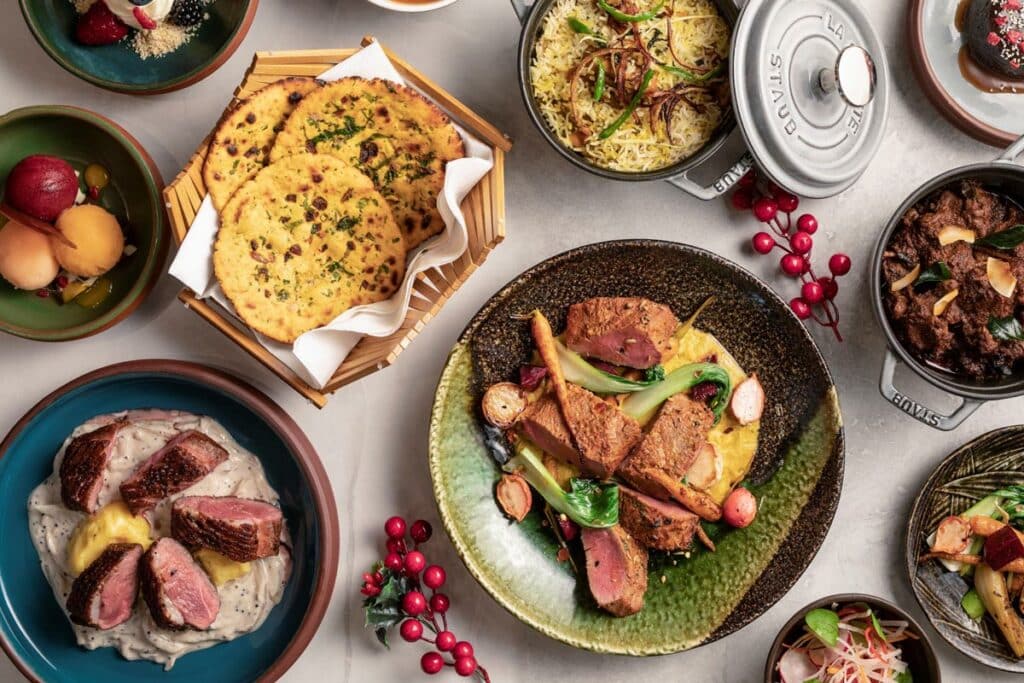 Stuffed yourself on turkey and stuffing one too many times? Maybe you ought to branch out. The absolutely splendid Cinnamon Club is offering an Indian take on the traditional Christmas feast.
It's fine dining at a very high level so you know you're going to be treated like royalty. What will you be eating? A 5-course tasting menu that takes grilled meat to a whole new level. Unfortunately it won't be great for the vegetarians, but with a saddle of Kentish lamb to be had, who's going to fight it – not us when it all comes in at £75 a head.
The location is right in the heart of Westminster so you'll be within a short walk of plenty of Christmas lights to lay the festive spirit on thick with your post-dinner walk.
Brook Green Hotel
Hammersmith
Christmas food by a roaring fire, a pint of bitter or a glass of red to accompany, that's the scene you'll find at the Brook Green Hotel.
Their traditional dinner is a hearty three-course feast with heaps of options for anyone that wants to go a little further than turkey and sprouts. The pan-roast sea bass is tickling our fancy for one, though a rump of west country beef is also doing the same.
What do we love about this place the most? Well apart from the cosy vibes and great cooking, the price. That festive menu will only set you back a cheeky £41 – not bad in London.
The Dorchester
It's festivities galore this year at The Dorchester, but our eyes are on what Tom Booton has cooked up this season. The menus themselves aren't yet announced but he will be doing special feast menus for the festive period.
The Dorchester's other restaurant – three-Michelin star Allain Ducasse at The Dorchester – is also laying down dinner on Christmas eve, lunch on the big day and a NYE menu set to live music to bring in the new year in style. It's a hefty £450 quid for the Xmas lunch menu but you probably couldn't be in better hands.
Festive afternoon tea sittings will happen throughout the season here too, some accompanied by a whole choir singing Christmas carols. That's definitely one of the best ways to celebrate.
The Apollo Arms
Clapham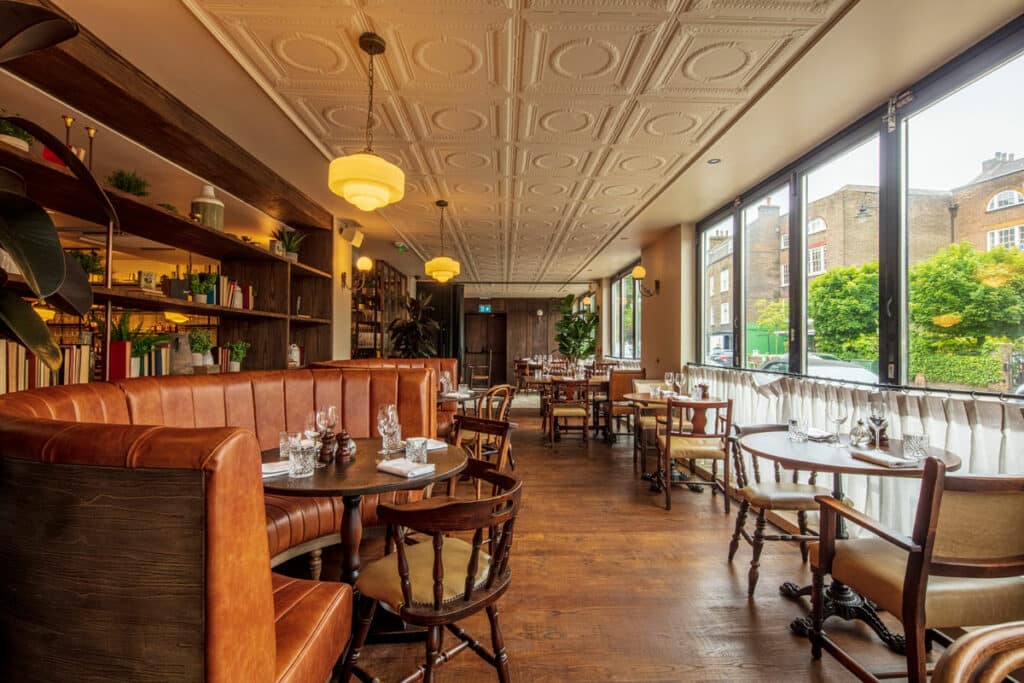 Another nice option for a traditional dinner, and one that comes at a much-talked-about new opening from 2023, is the Apollo Arms.
They bill themselves as a pub but they're way up on the fancier end of things if that's what they are. You probably won't find too many old boys propping up the bar is what we mean.
What you will find though, is a plate of homemade tagliatelle of celeriac and truffle for your veggie option and turkey for your carnivores. There's also a delightful sticky toffee pudding to be had on your choice of desserts. Two courses are £50, three are £60.
The Guinea
Mayfair
If you can look somewhere for a reliable Christmas dinner, surely it's a gastropub. In that respect put The Guinea on your list when thinking about Christmas dinner. They're pretty well renowned on the scene for doing top pub grub.
Their Festive Fayre menu is a traditional three-course affair (£120pp) with all the classics tarted up to match the mood of the place.
Choices include sirloin steak from the grill and turkey from Norfolk, both served with all the trimmings of course.
Norma
Fitzrovia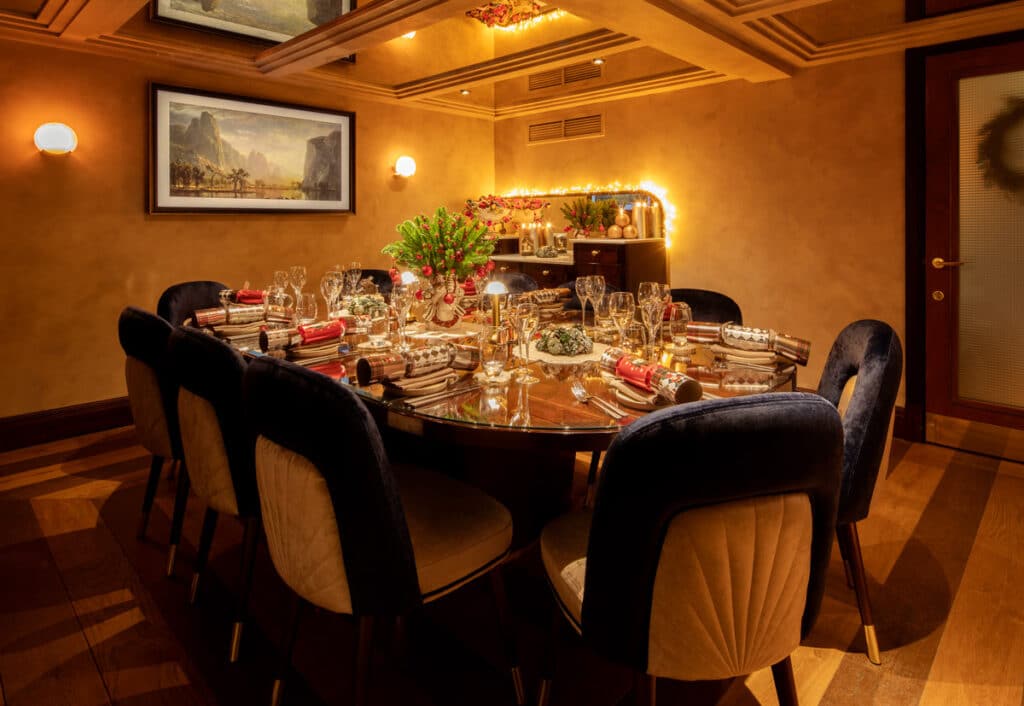 Norma is an option we like to keep up our sleeve at this time of the year. If you're looking for somewhere for a bit of private dining they've got you covered, with a great festive menu to boot.
It's only for groups of 6 or more, but you can make it a special gathering by booking out 'Etna', the private dining room.
They offer two menus, one coming in at £80 and the other at £110 per person. They're both feasts of hearty Italian cooking and feature delicacies like crab and lobster tortellini, wild boar ragu and winter caponata. Consider our interests piqued.
Ronnie Scotts
Soho
The iconic jazz club Ronnie Scotts are once again putting on their Christmas lunches, a tradition now in its 13th year. Throughout December lunches are held in front of a killer lineup of live jazz.
The band? Only the legendary Ronnie Scott's All Stars covering the Christmas classics (a bit of Ella Fitzgerald is what we're after from them). You can even challenge the band in musical games.
Your £95 ticket gets you all the above fun, three courses and a glass of bubbles on arrival.
M Threadneedle Street
The City of London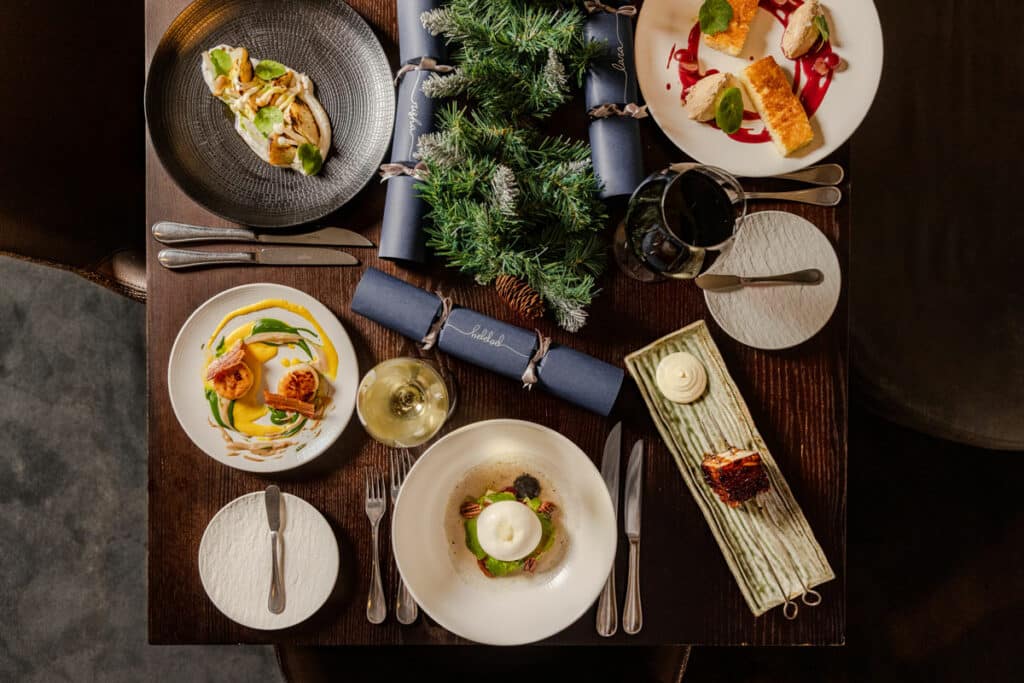 The folks in the City know how to dine, we'll give them that. M Restaurants always lay on a feast and it's no different around Xmas time. This year at the Threadneedle Street location you can find a festive menu for £60 a head.
It features chimichurri-butter-roasted Turkey (yes, you did just read chimichurri-butter-roasted) and wagyu beef sausage. Look not everyone needs to be as classy as this for Christmas, but we're well on side with both of those items. Table for two please…
Le Pont de la Tour
Borough
For the big day and the big day only, Le Pont de la Tour are offering a tantalising Christmas menu.
It's a three-course take on the traditional dinner with inflections of French charm springles throughout. Where? Like in the Alsace bacon they're covering your turkey in, that's where.
We should throw in the fact that the view from their restaurant is pretty top notch and features a well-framed, and at this time of year, lit up Tower of London. We challenge you to beat that.
The Petersham Nurseries
Richmond
If unique settings and ambience is what you want to define your seasonal dinners, look no further than The Petersham Nurseries. Plants hang from the ceiling, adorn walls, and create cosy dining spaces perfect for a romantic christmas dinner, or a big family affair.
They've got festive lunches and seasonal takes on the traditional Sunday roasts running throughout December, plus a big spread of dinners for the days around Christmas, with vegan and vegetarian options to boot (nope, these folks don't just decorate with plants)
We wonder if they'll need to put up a Christmas tree…
Madera at Treehouse
Marylebone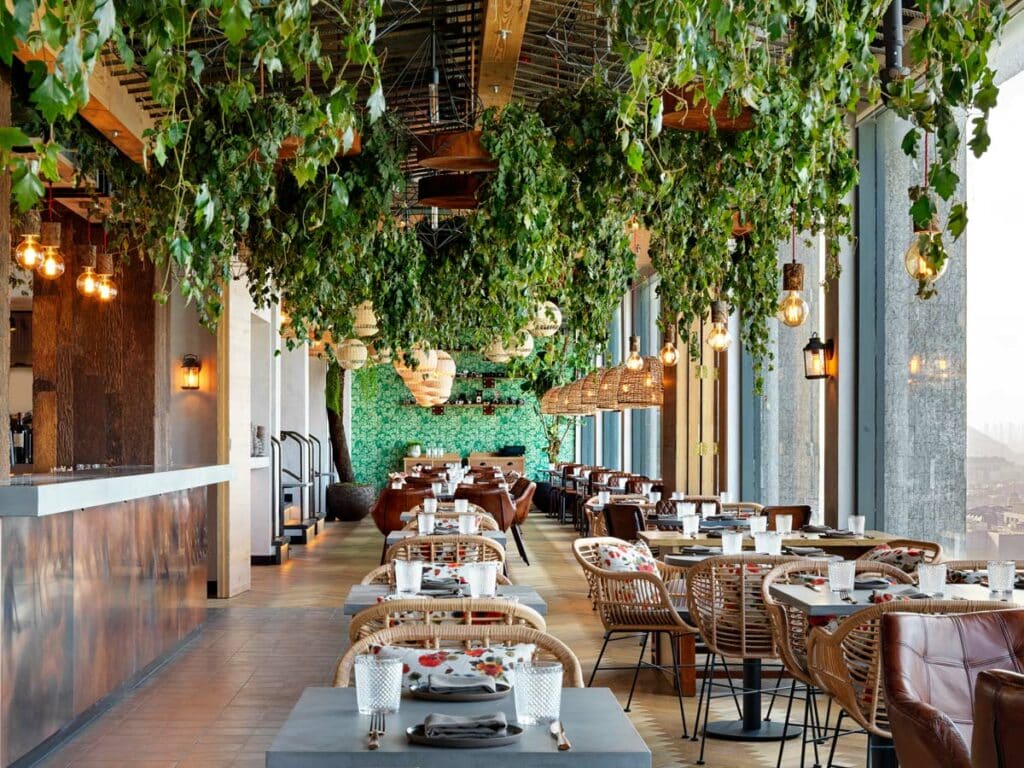 Open for Christmas day dinner and lunch (£160pp and a children's menu for £55pp), the stunning views at The Treehouse Hotel could be the backdrop to your big day.
We've been to this spot a fair few times and the views never fail to impress. From the sounds of it, the Mexican takes on the traditional dinner won't either. Roast Norfolk turkey served with red rice, sprouts, beans, salsa, and (get this) a beef tamarind jus is what we're eyeing up.
And while we're eating it we'll be eyeing up the sights of Oxford Street all lit up in the distance. Can you beat that?
Swingers
City + Oxford Circus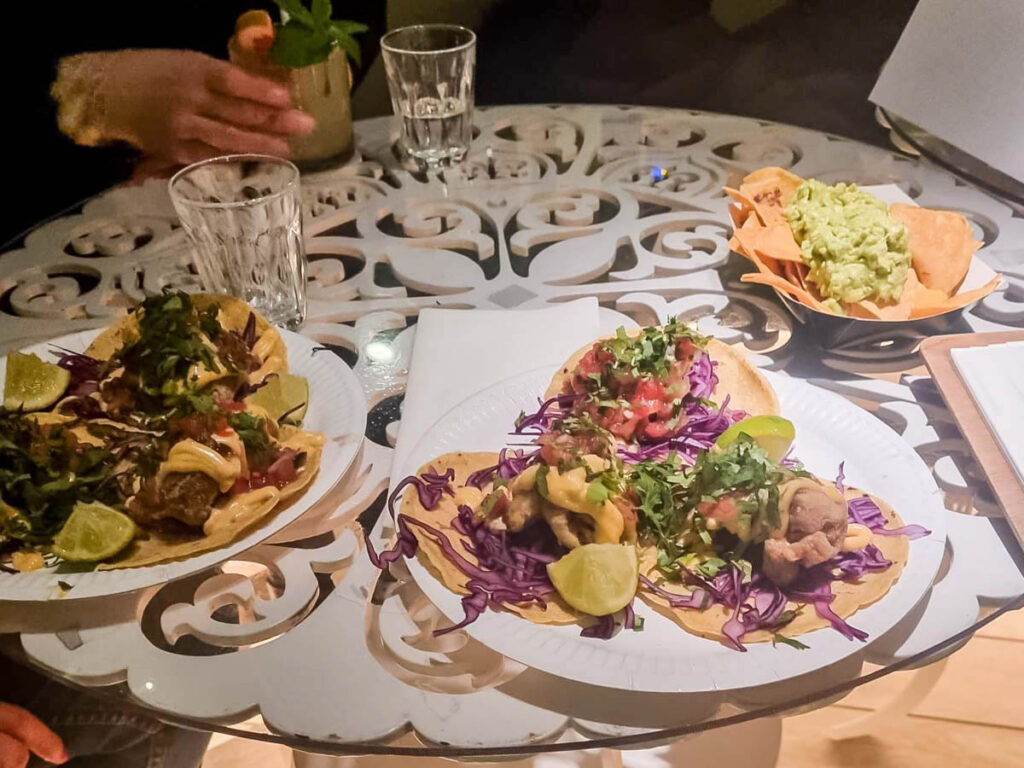 There are fun times ahead at Swingers crazy golf this Christmas. Sure, golf can be Christmassy if you want it to be. Their spots around London have a smashing selection of street foods to get you fuelled up for the big game.
They then follow that up with a selection of seasonal desserts and of course more than enough Christmas cocktails that sink a lot easier than that pesky golf ball does on the ninth hole.
Remember you don't have to play crazy golf to enter, so come as a spectator and make the most of the tasty food and drink.
Christmas Restaurants in London: Map
Looking for More London Christmas Guides?