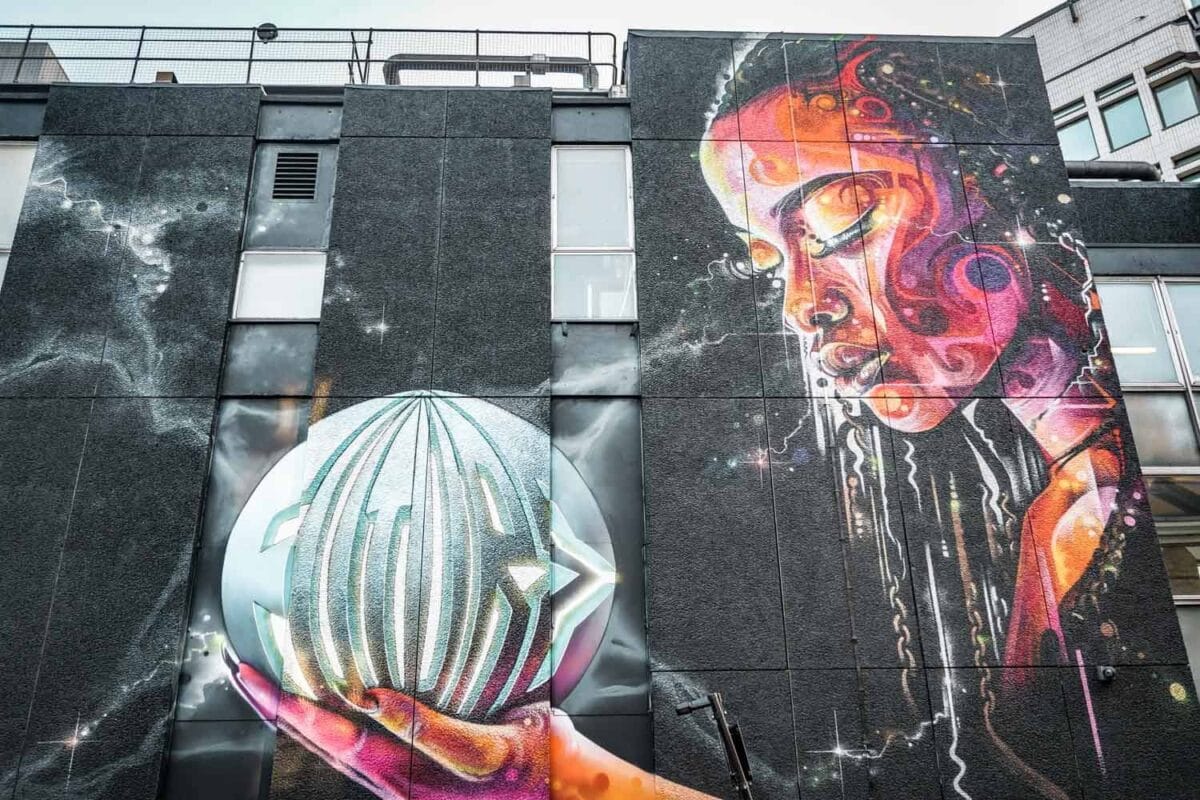 Looking for things to do in East London? Discover the area's best attractions and activities with this handy guide.
East London has been the melting pot of many religions, cultures and ethnicities since the 19th century and, as a result, it's diverse, brimming with history and cool things to do.
Want to spend some time in East London but not sure where to start? I've picked my favourite East London spots for you to discover.
Fun Things to do in East London
Today, East London is an energetic area with a brimming creative and alternative community.
Admire Shoreditch's Street Art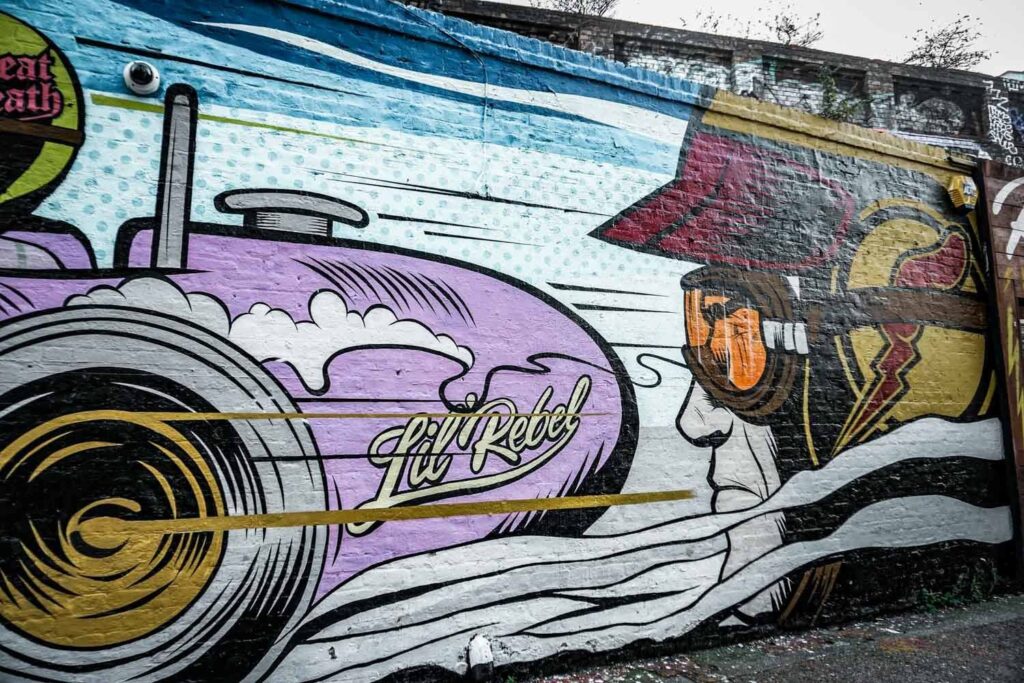 Shoreditch is easily one of my favourite neighbourhoods in London.
It's known as 'Hipster Heaven' because there are just so many artistic spaces here. Love it or hate it, there's no denying that there's a TONNE of stuff going on in Shoreditch that you can't resist a visit… and its street art is one of them.
The neighbourhood is also famous for being the temporary home of Shakespeare. He worked for some time in Shoreditch, drawing inspiration from the surroundings.
Shakespeare isn't the only artist that was inspired by this area. Many local and international artists have graced the industrial setting with surreal urban art and graffiti.
Leading local and international artists have come to show their skills on Shoreditch's many walls – the result is an absolute riot of colour.
Searching for things to do in East London today? Why not spend some time with a learned guide and understand the motifs behind the artworks, that you could spend hours analysing.
Check out a guided tour of the fascinating street art through East London's Bohemian district.
Eat Everything at Victoria Park's Sunday Market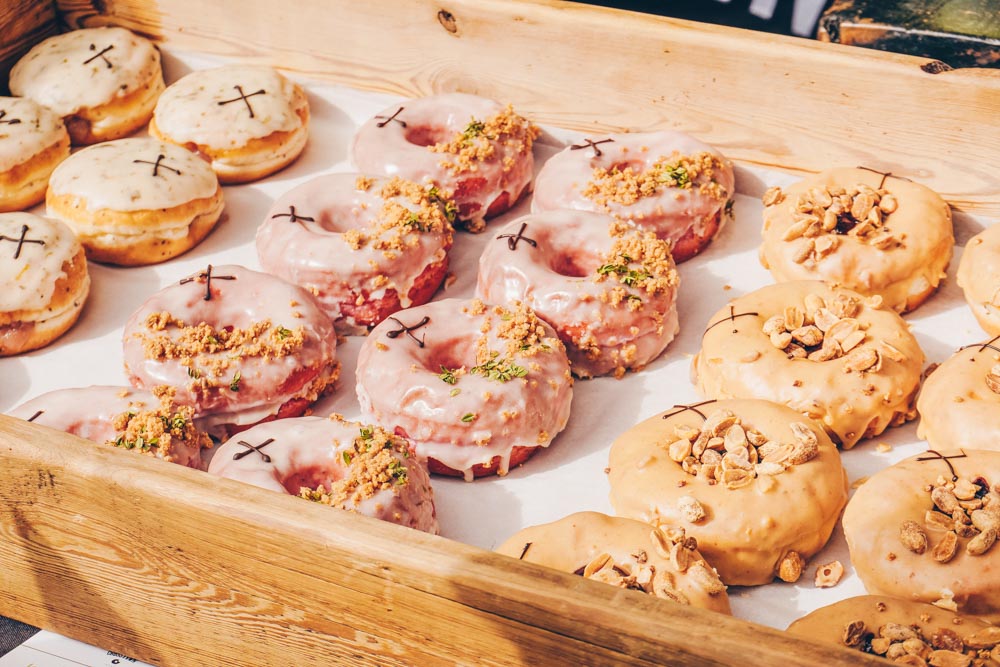 Victoria Park is Eastern London's most popular park and referred to as the 'People's Park' by locals. It was actually the first park in this part of London.
The communities give back to this 86 hectare park every Sunday, with an organic street food market. Oh god, I've been a couple of times and the only advice that I can give you is go hungry, you're going to want to try at least a couple of things while you're there.
It also has live music, so you can expect a day full of fun. Oh, and don't expect basic street food – these are award-winning dishes!
In the area? Hackney has tonnes of cool restaurants like this one.
Stroll Through the Iconic Brick Lane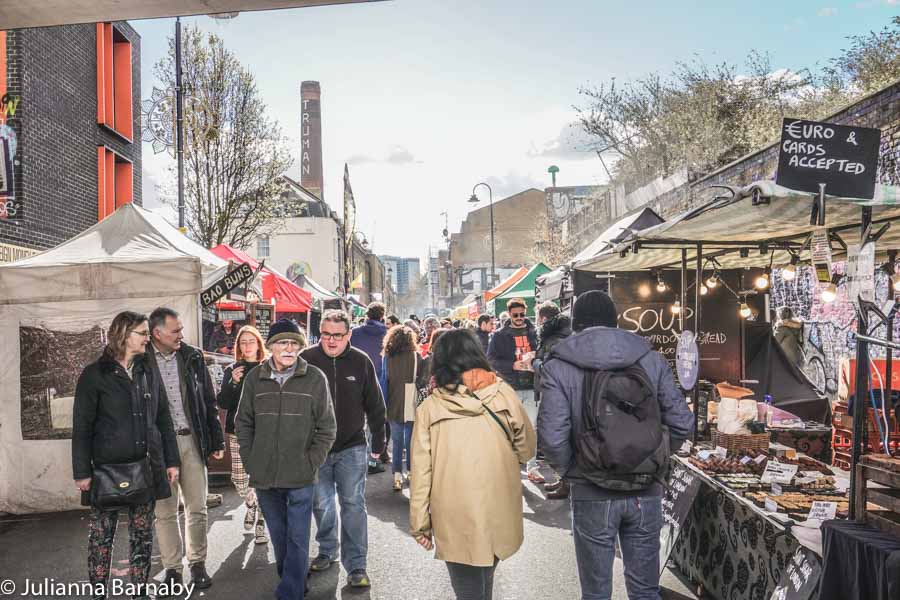 I've talked about how multicultural East London is, and Brick Lane is probably the biggest testament to this. For example, the beautiful religious building, which at first operated as a church, then a synagogue, then finally… a mosque.
So, I think it's safe to say that Brick Lane was and is home to a number of different cultures. In the past, this area was the immigration hub of London, which has now expanded into flourishing communities.
Brick Lane is also well-known for its many foodie attractions. I'll be honest – I don't think the standard of the curries from the curry houses it's famed for are quite as good anymore, but there are plenty of other foodie options scattered along and around Brick Lane, including the 'insta-famous' Cereal Killer and the 24-hour heaven that is Beigel Bake.
Read Next: Brick Lane – The Insider's Guide
Drink Cocktails at the Slick Speakeasies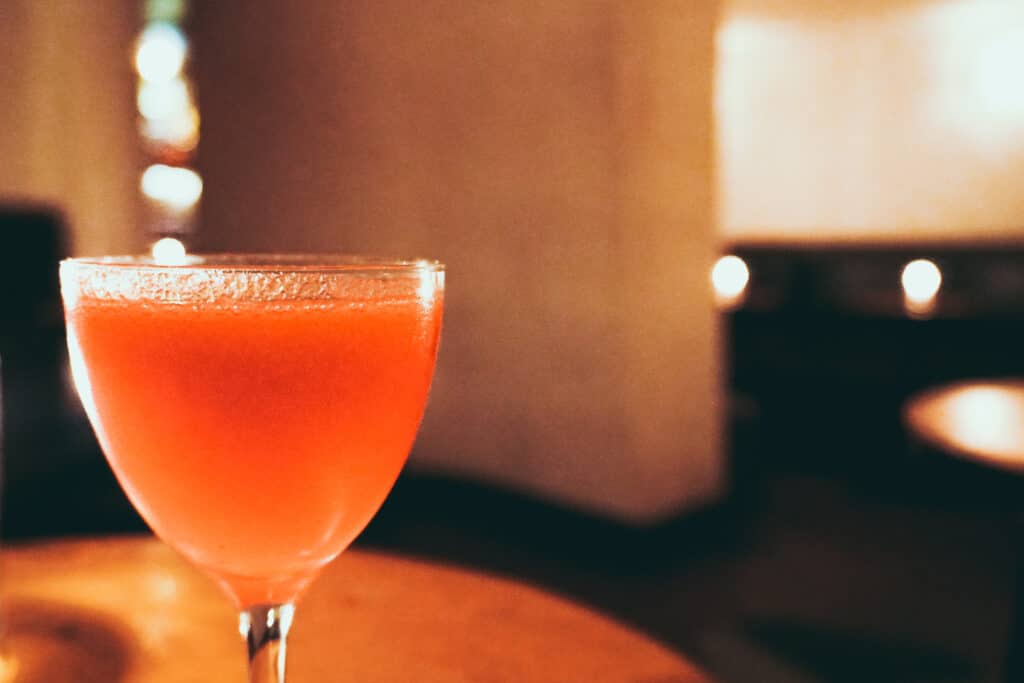 It's no secret that I'm a sucker for a good cocktail and, having sipped my way around the city, I can attest to the fact that some of London's best secret bars are in the Eastside. Why? Because they fit right into the retro and edgy setting.
Speakeasies are quirky and cleverly hidden bars that are dimly lit and very relaxing. Personally, I would recommend Found Shoreditch, Nightjar, Callooh Callay and Happiness Forgets. Together they're the perfect recipe for a cocktail-fuelled and rather messy night out.
Read Next: The Best Bars in Shoreditch
Time Travel to the 1700s at the Dennis Severs House
Ever wanted to know what East London life was like 300 years ago? Well, that's actually possible.
At 18 Folgate Street, Spitalfields, you'll find the Dennis Severs House – an 18th-century 5-storey house that's been reconstructed to look exactly the same as the day it was built and one of my favourite places to visit in East London.
Leave the 21st century behind as you experience the candle-lit chambers. You'll be part of a still-life drama that's almost like walking through a time machine. I mean, Dennis Severs did want it to have a 3D Baroque interior.
Brighten Your Day at Columbia Road Flower Market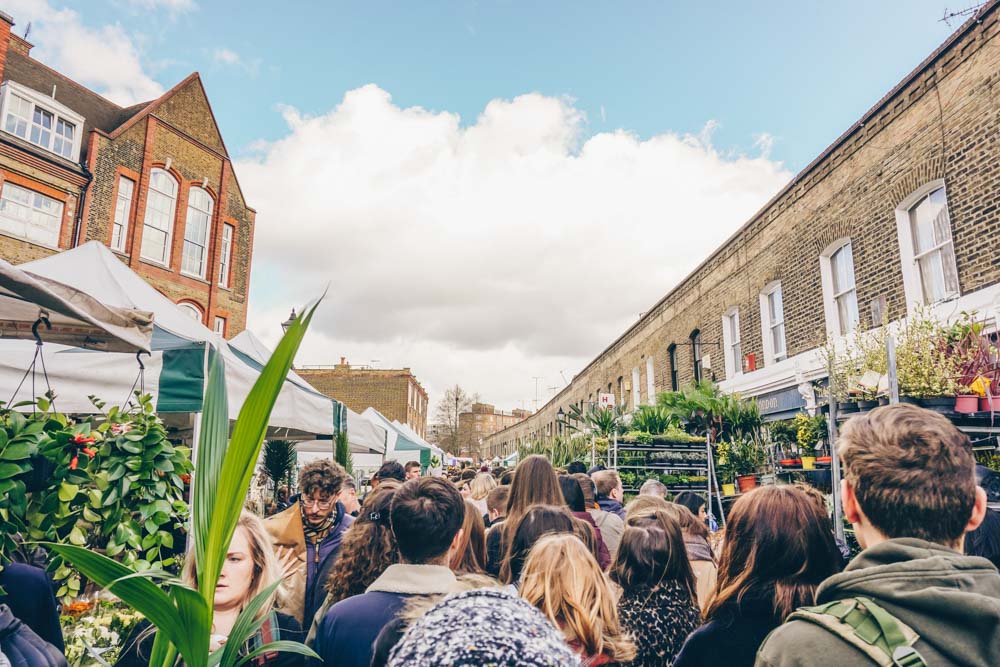 You haven't lived until you've been to Columbia Road Market.
OK, maybe that's the tiniest bit of an overstatement, but it really is one of the spots I recommend everyone visiting East London go to at least once.
What's the big deal then? How do you feel about a street that's absolutely brimming with stalls selling a variety of plants and flowers every Sunday? Thought so.
Whatever the time of year, the market is guaranteed to brighten up your day.
Read Next: Why You Need to Visit Columbia Road Market
Unleash your Inner-Child in a Boozy Adult Ball Pit
Who could say no to an adult ball pit attached with a cocktail bar? Sorry, I mean two giant ball pits (filled with more than 1 million balls in total). Add to that Baillie Ballerson's banging cocktail menu and you have the recipe for a rather fun night out.
It's located in Shoreditch and combines childhood fun with booze. On weekends, you can also book a 'Bottomless Brunch' experience, where you get unlimited martinis and pizzas. Need I say more?
Where to Stay When You Visit East London
East London has ample places for you to stay while enjoying your time here. You'll find some of the trendiest boutique hotels here. And it's still cheaper than other parts of London.
The Ace Hotel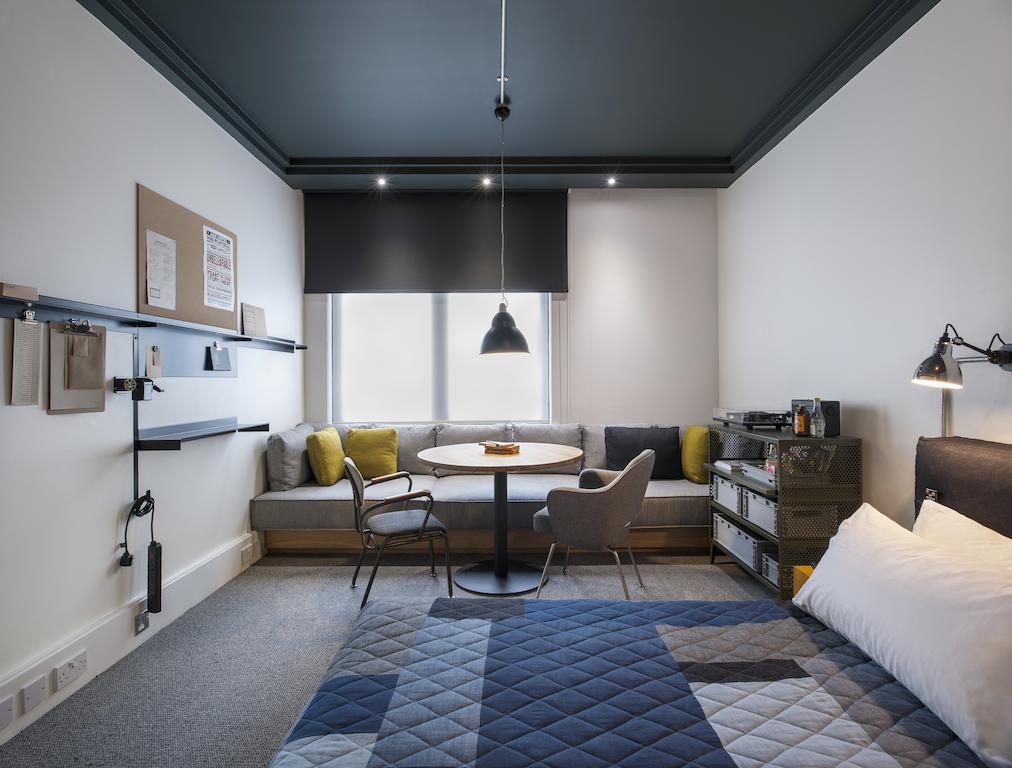 The Ace Hotel is a trendy hotel that treats you as if you were a member of the Royal Family. Its amenities include an underground bar, gym and restaurant. It's also really close to the major East London attractions, like Brick Lane.
Check prices for the Ace Hotel here.
Point A Hotel
If you're willing to spend a bit more, you can stay centrally in the hip and happening area of Shoreditch. Point A Hotel is spacious, modern and has an incredible continental breakfast every morning. You'll also be in the most exciting part of the city.
Check prices for Point A Hotel here.
The Curtain Hotel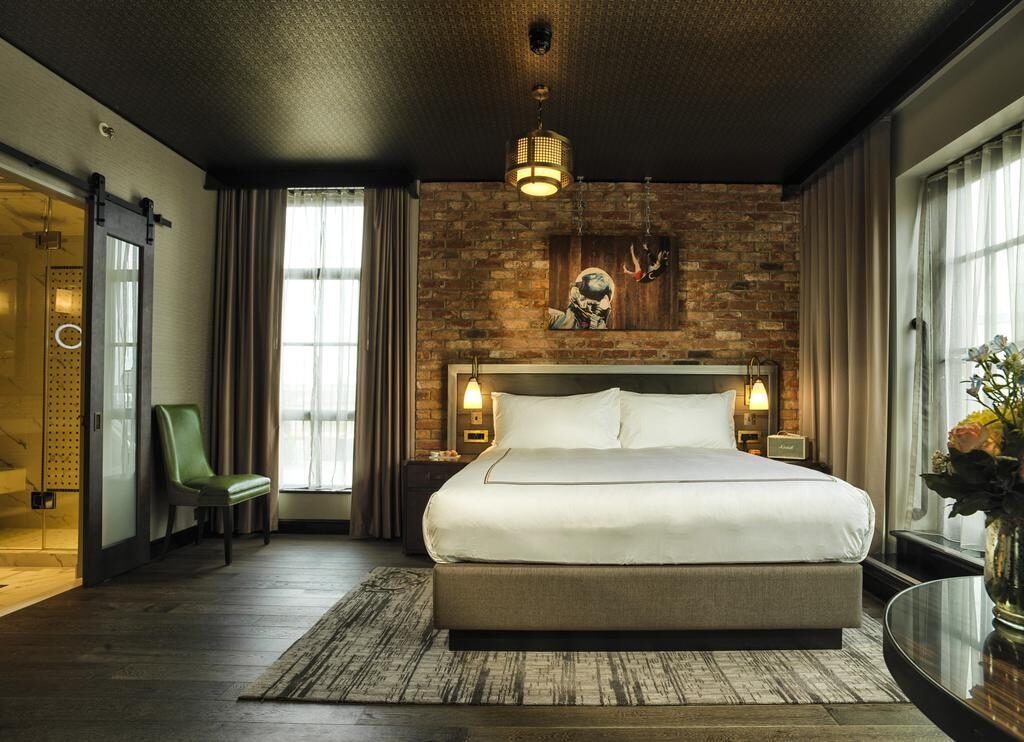 The Curtain Hotel is a high-end hotel in the gentrified area of Hackney. It boasts an outdoor pool, a close distance from Hoxton Square and a colourful interior. And while it's adorned with luxury finishes, there's still a homey, spacious feel.
Check prices for The Curtain Hotel here.
Getting Around East London
Getting around this part of the city is quite easy and affordable.
First of all, you can walk between many of East London's attractions, e.g. it's a 5-minute walk from Shoreditch to Spitalfields.
For rainy days, or longer distances (e.g. Shoreditch to Bethnal Green), you can catch the 8 Bus. There's also the Central tube line which connects parts of East London including Liverpool Street, Bethnal Green and Mile End.
And, for other trips (e.g. Hackney, Homerton and Dalston) you'll even have the London Overground to aid you.
I'd suggest you download CityMapper on your phone. It tells you the quickest route to the destination and you can also see the accurate time schedules for these different transport modes.
Facts About the Eastern Areas of London
East London has some pretty cool facts:
Tower Hamlets, a borough in East London, has one of the highest ethnic minority populations in the country.
East London is famous for producing Cockney rhyming slang.
It's been the filming location for countless world-renowned movies like Sherlock Holmes.
Final Thoughts on What to do in East London
All in all, East London is an inclusive area that embraces diversity, different cultures and ethnicities.
Other than being a cultural hub, there are actually plenty of fun things to do in East London. You could be shopping in the sensational markets, or be jumping into an adult ball pit. Either way, I guarantee that you'll feel right at home.
Love This? Save and Share on Pinterest
Looking for More Things to do in East London?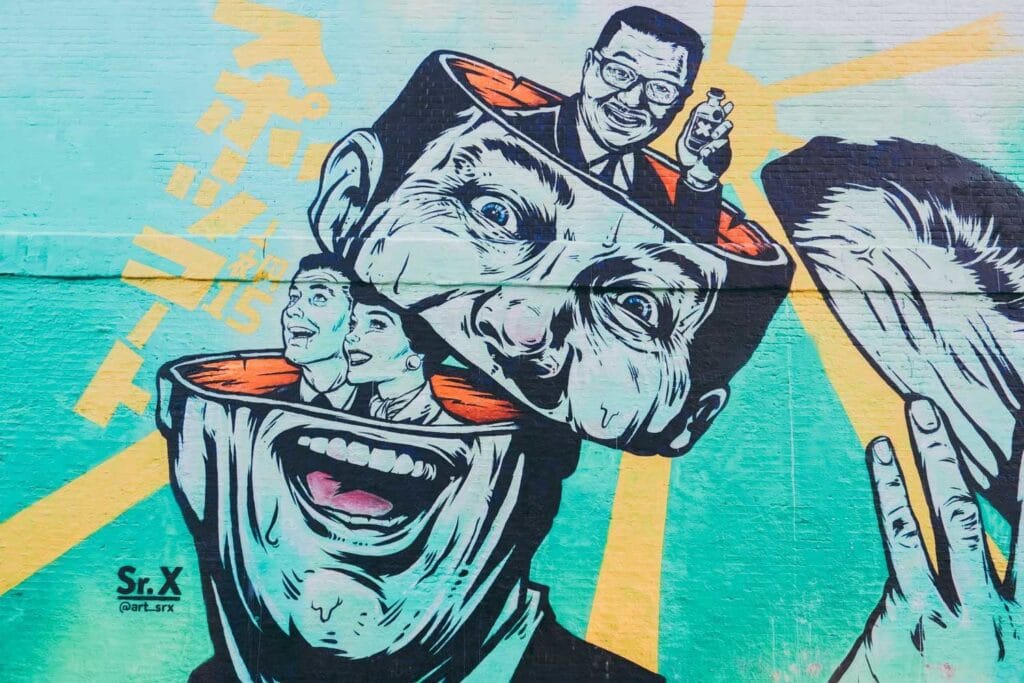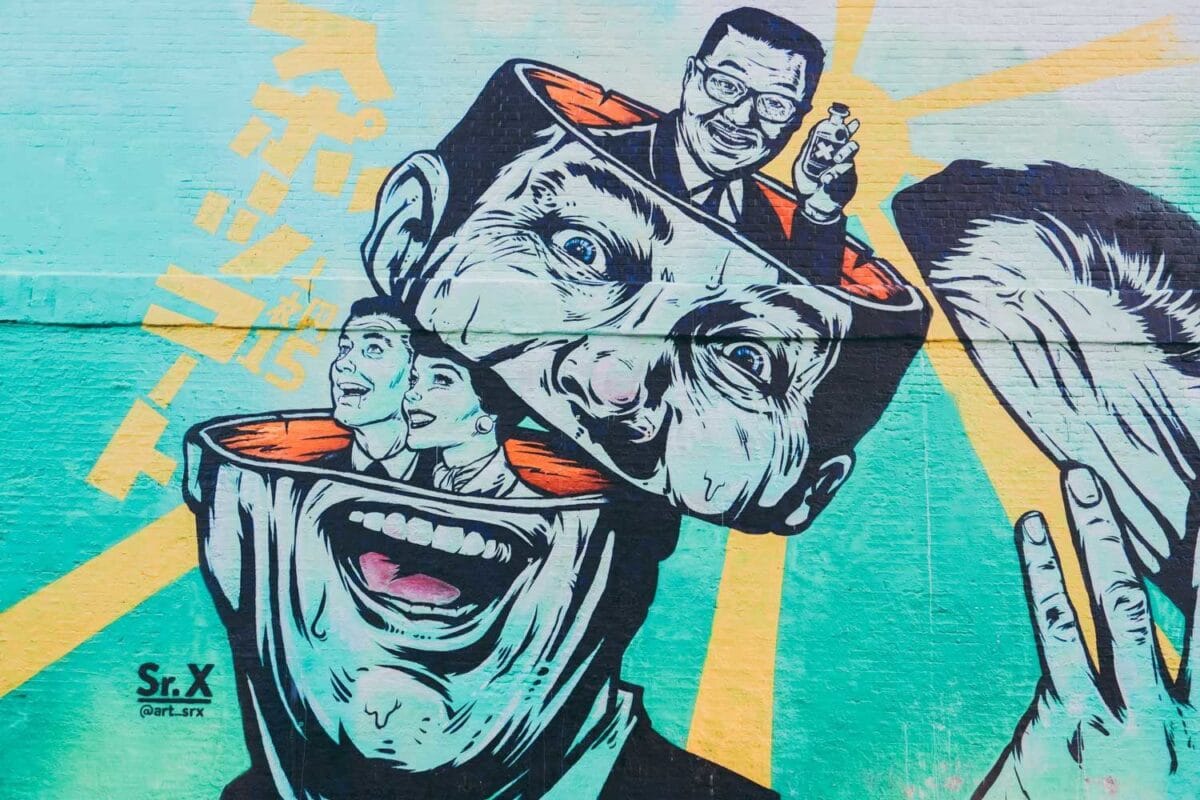 The Best Things to do in Shoreditch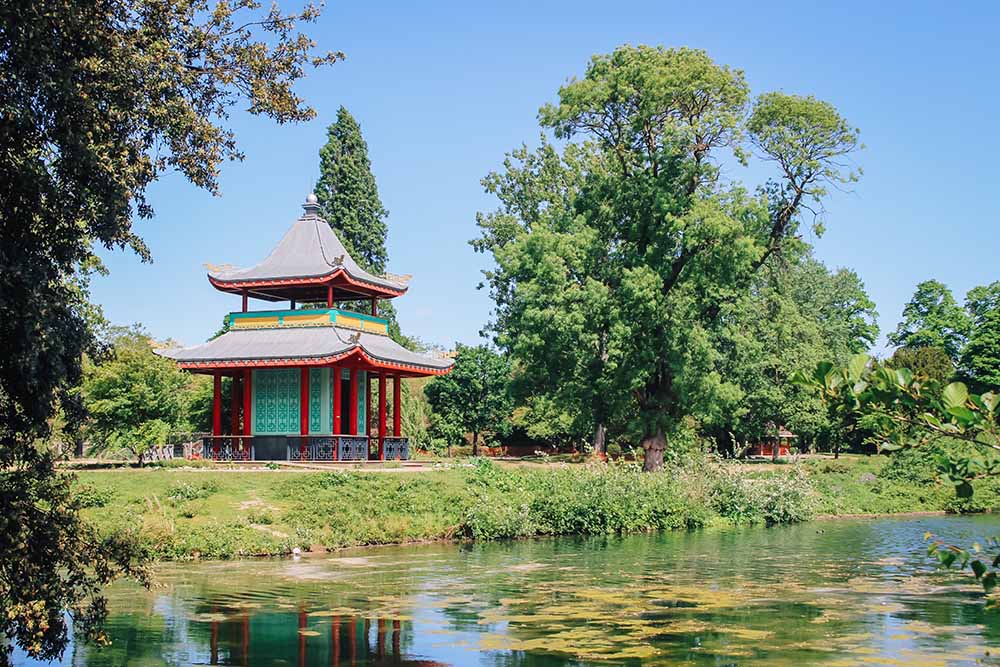 Cool Parks in East London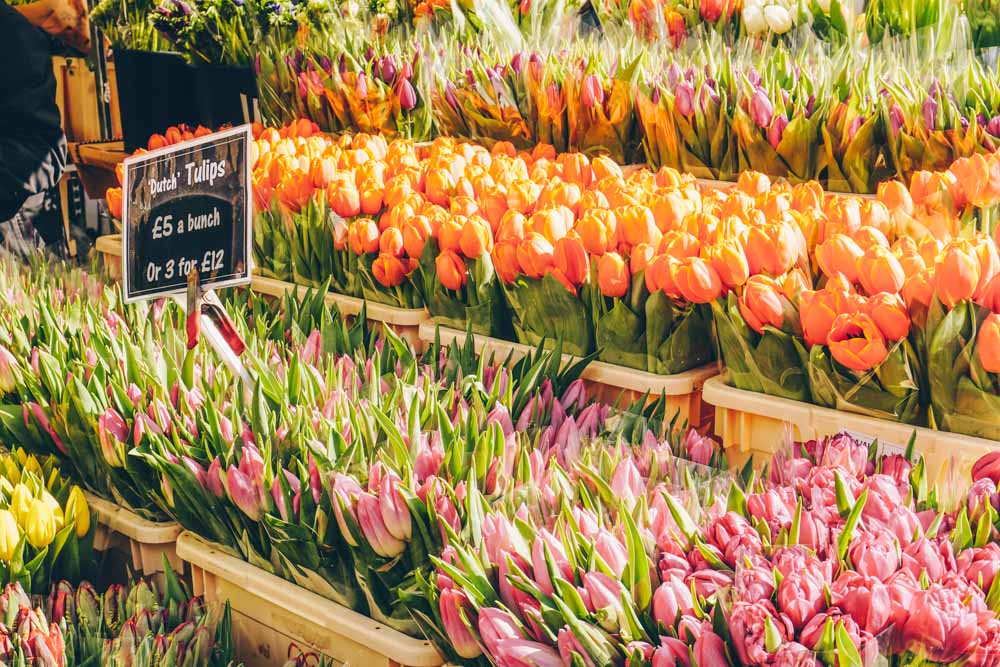 Visiting Columbia Road Flower Market