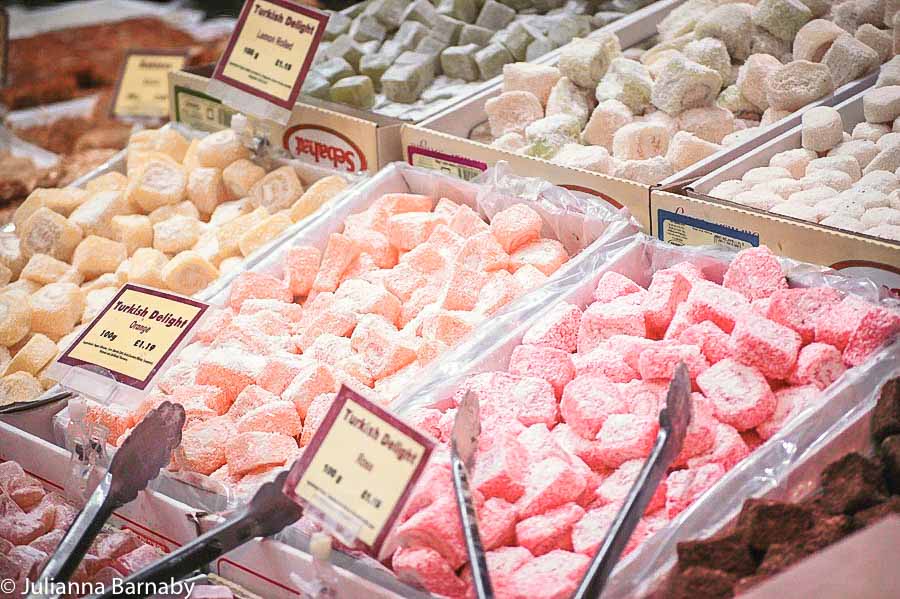 Looking for the best Sunday Markets in London? Luckily, the city is packed with them. From gastronomic food markets to vintage treasure troves, don't miss these cool little spots to spend your Sunday.
It's no secret that we're always out to big up the capital, but we really do think that when it comes to Sunday markets, London is pretty much unbeatable.
Where other cities fall into a comatose slumber on the Sabbath, London bursts into life – from food traders touting scrumptious meals to indie makers selling cool trinkets – you name it, you're pretty much guaranteed to find a stall for it at one of the many markets that pop up around the city.
There's nothing we love more than rummaging around a Sunday market in London, but some of them just aren't worth the effort it takes to drag your carcass out of bed on the day of rest (we know, the struggle is real right). Here are 24 markets that are very much worth your time.
The Best Sunday Markets in London
Maltby Street Market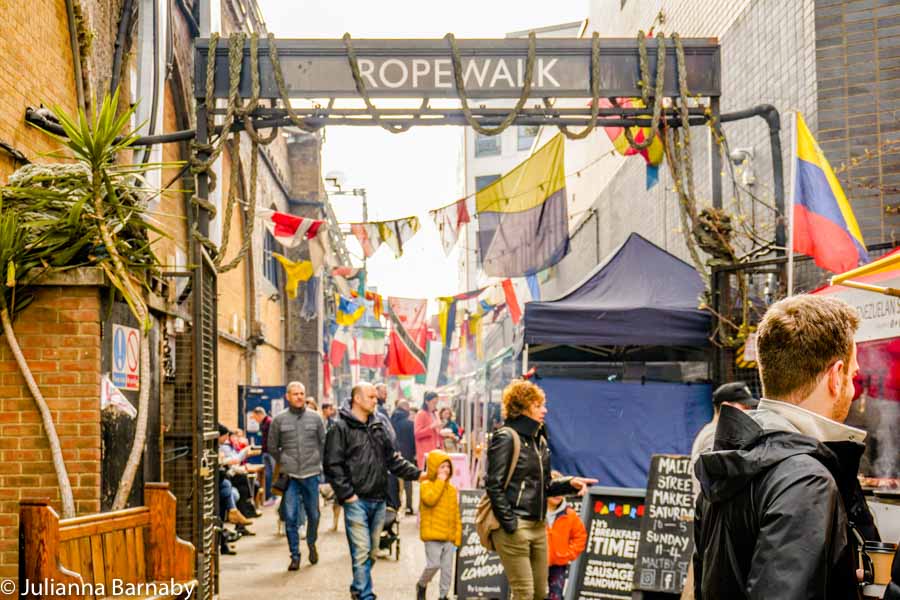 Everyone loves feeling like they've discovered a real local gem and that's what's on offer at the Maltby Street Market (at least for now).
Although it is one of the smaller Sunday markets in London, it is one of my favourites. It has been described as the pint-sized version of the Borough Market, thanks to its great foodie stalls and proximity to London Bridge.
Some particular highlights include Little Bird gin, who have a cocktail bar on the weekends, and Fattie's Bakery, offering terribly indulgent hot chocolates.
Although it's bustling, Maltby Street Market isn't quite as frenetic as some other weekend markets in London – so be sure to check it out while it's at its best.
Columbia Road Flower Market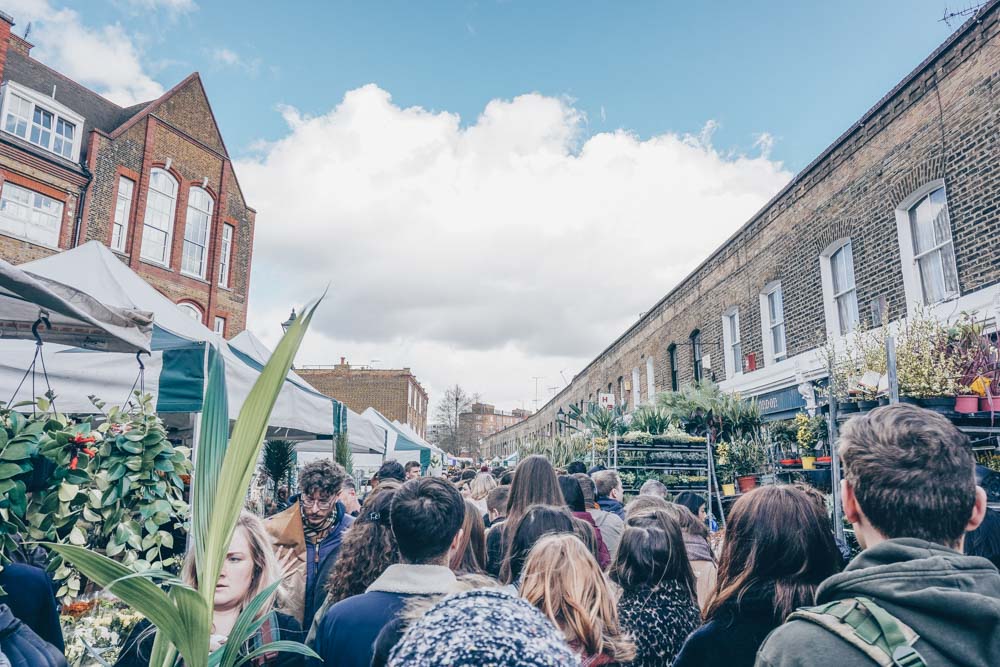 Who doesn't love the sight of colourful blooms, as far as the eye can see? Start your day with a smile by visiting Columbia Road, the famous flower market in London on Sunday.
The dramatic colours and beautiful fragrance of the spectacular variety of flowers are sure to impress, and it has a well-deserved reputation as one of London's most beautiful markets.
Nearly all of the sellers here are independent, so why not grab a bouquet to beautify your home and give some pounds to local small businesses?
Get here early to snag yourself some of the prettiest blooms, as this is a popular market that fills up very quickly with tourists and locals alike.
Camden Market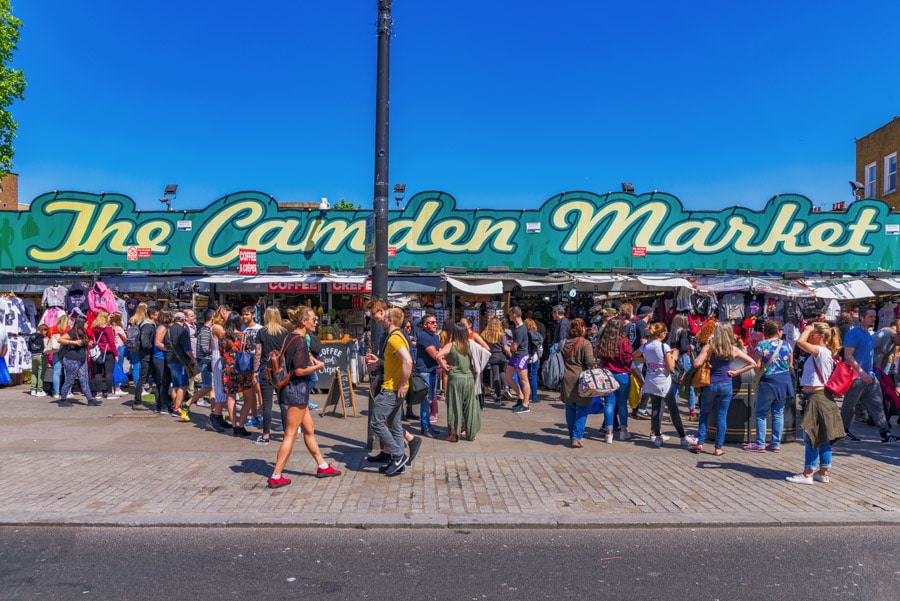 Famous the world over, Camden Market is more pop culture icon than a simple market, and totally unmissable. If you're in Camden on a weekend, it's a must-do.
Although it's often referred to as Camden Market – it's actually five separate markets dotted around central Camden – Camden Lock Market, Buck Street Market, The Stables, Camden Lock Market and Inverness Street Market.
Despite its mega-famous reputation and the fact that you'll be dodging the crowds, it's still got an authenticity about it. There are plenty of quirky shops and stalls like the 5 pound clothing stall, creatively named, Everything 5 Pounds.
You'll also find some incredible food stalls at Camden Market near the water, with everything from ice creams and burgers to vegan grub on offer – you can't go wrong with a pit stop at Honest Burgers.
In addition, there's the brilliant entertainment complex that is FEST in the Stables (so named after the former horse hospital). With a nightclub, cabaret hall and laidback diner for brunch, Camden Market is a must visit spot in Camden.
Read Next: 35 Places You'll Find Awesome Street Food in London
Flea at Flat Iron Square
Visiting a flea market in London on a Sunday is a rite of passage for any visitor or resident of the capital, and Flea at Flat Iron Square is one of the best.
There are about 30 stalls that regularly attend Flea at Flat Iron Square, meaning there's enough variety without being totally overwhelming.
The stalls heavily focus on retro and vintage items – mostly clothing, jewellery and records, with a few extras (like cameras and home decor) thrown in for good measure. Live music adds to the festive and friendly atmosphere.
Spitalfields Market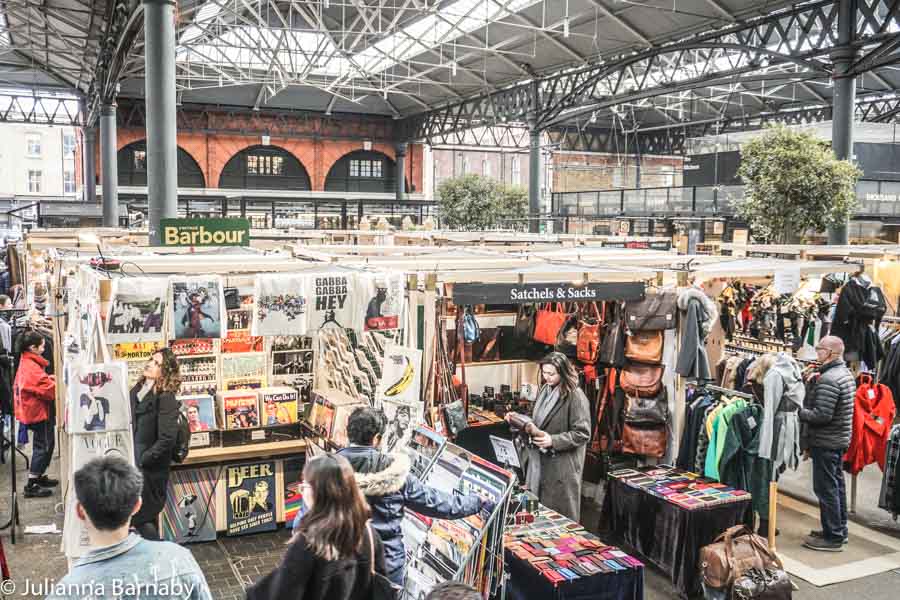 There are a number of great Sunday markets in East London, but Spitalfields is arguably the best.
It boasts a great variety of mainly independent stallholders, selling all kinds of quirky and handmade items including jewellery and art. It's also a great place to go to find retro items such as clothing, records and cameras.
While the market is open 7 days, there are a number of sellers who only attend on the weekend, such as the incredible UK designer Kiwisumo. So it is the perfect London market to visit on Sunday and find some unique pieces.
Read More: Unmissable Things to do in Shoreditch
Greenwich Market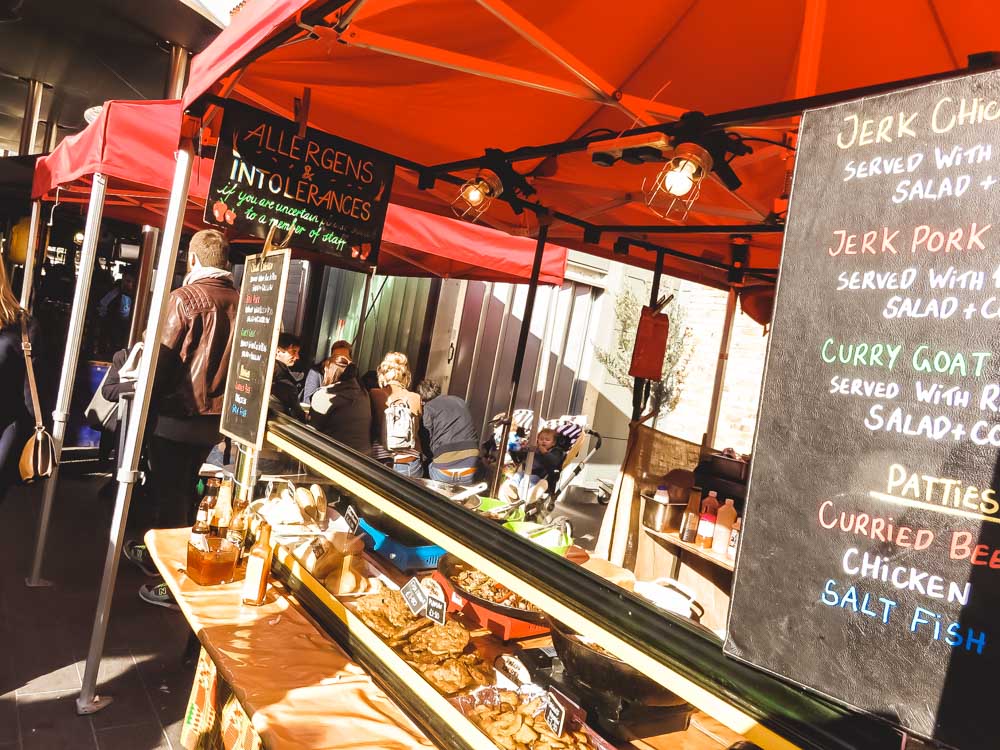 If you're looking for a London market with a charming historic atmosphere, then you'll love Greenwich Market nestled amongst a World Heritage Site.
This charming market in south-east London is historic, yet it's far from stuffy – instead, it's full of quirky stalls and bright colours. I especially love the independent jewellery stores, such as Laura Lees Morgan Jeweller.
Every good London street market on a Sunday needs some great food, and Greenwich Market doesn't disappoint. There's a good selection, including Munchies, who do awesome Cuban sandwiches.
Or, recent addition Chai Junction serves up a delicious selection of Asian tea, including an insane chocolate chai and of course, your classic masala offering.
Tooting Market
If you're looking for a fabulous market in London on Sunday, then look no further than Tooting Market.
It's one of the best markets in south London, offering up an eclectic selection of goods including antique furniture, clothing, books and more. There are also more general items like haberdashery and artworks.
As the market is indoors, it's a perfect option if the weather is grey – the delicious food options, from Guyanese to Mauritian and everything in between, are sure to warm you up as well!
Covent Garden's Markets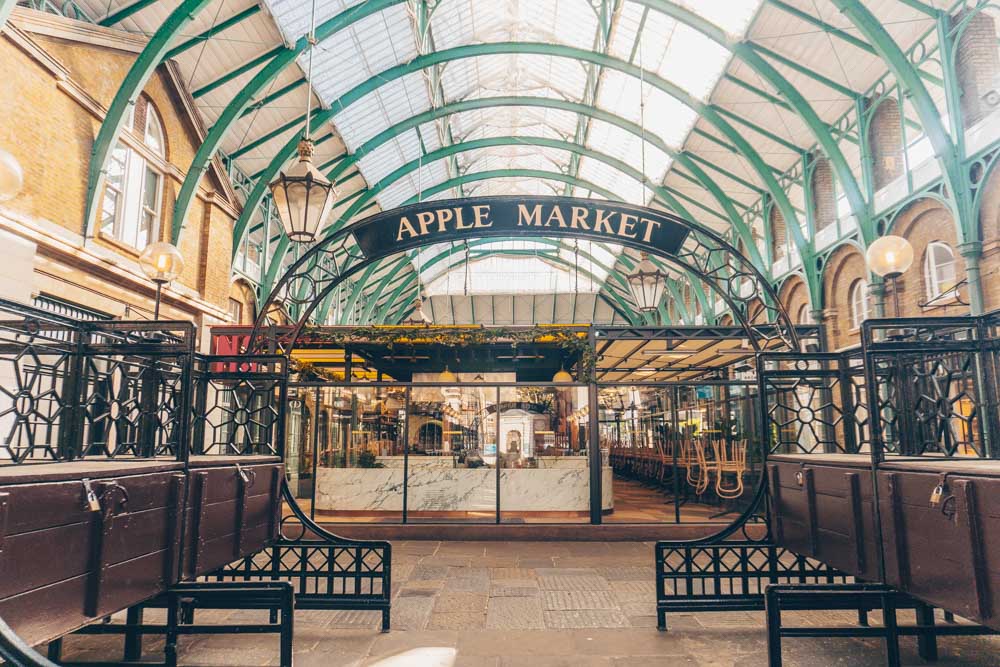 Why settle for one market when you can enjoy three in one? That's what you'll find at Covent Garden.
First up, there's the Apple Market which, despite its name, sells mainly jewellery and artworks, while the East Colonnade Market sells everything from magician's accessories to children's clothing, and everything in between.
Finally, there's the Jubilee Market, focusing on arts and crafts – this is probably my favourite as you can find some really unique pieces and activities for the whole family to get involved with.
As you can see, there's plenty to see at the Covent Garden market.
Southbank Food Market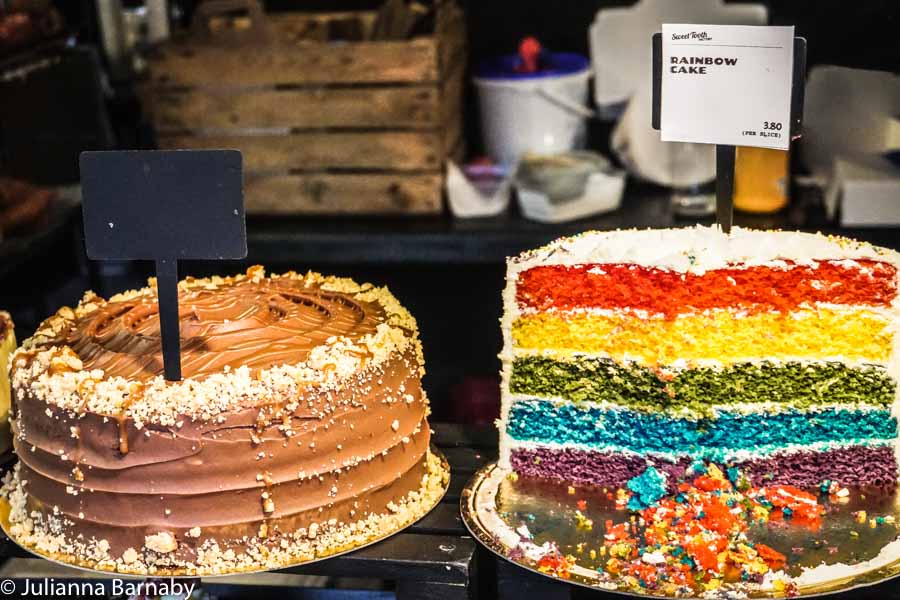 If you enjoy the finer things in life (erm, who doesn't?), then you'll love the Southbank Food Market. It's one of the best London street markets on Sunday if you're looking for delicious food.
Just some of the temptations on offer include local and international wine, perfectly roasted coffee and yummy baked goods. There's also fresh produce on offer – all in a central South Bank location.
An ever-changing roster of multicultural street food completes the experience, with everything from Polish sausages to Ethiopian-inspired vegan dishes.
If you're feeling very hungry, head to Street Pig BBQ for giant hunks of barbequed meat served with creamy slaw and potato salad.
Canopy at Kings Cross
The combination of food, design and music makes the Canopy Kings Cross market one of the best in London.
The producers here are all high-quality, offering beautiful designer goods as well as scrumptious smallgoods, preserves and cheeses.
As the stallholders are nearly all independent creators, you can feel great about splurging here, as the money goes to supporting up and coming artisans in London.
Brick Lane's Many Markets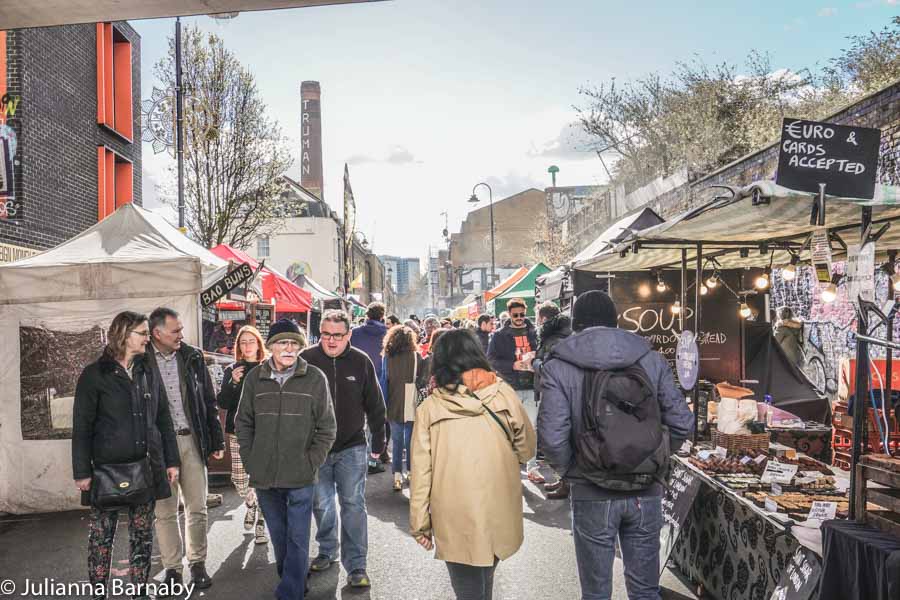 If you're looking to spend a whole day exploring some of the best London markets open on Sunday, without having to go too far, Brick Lane is a great choice.
There's a total of five excellent markets in the area, each with its own theme: the Sunday Upmarket or the Vintage Market for fashion, the Backyard Market for art (including the wearable kind) and the Tea Rooms for vintage furniture.
Then you have the Boiler House Hall, offering more than 30 delicious multicultural food stalls. In particular, the Jewish bagels and Bangladeshi curries are absolutely scrumptious.
Chatsworth Road Market
Many of the Sunday markets in London have a distinctly vintage feel, and Chatsworth Road Market has the history to go along with it.
In the 1930s, it was one of the most popular markets in London, with more than 200 stallholders selling their wares to fashionable Londoners.
Despite a hiatus back in the 90s, the market is now back. It sells a great range of products, with an emphasis on vintage clothing and scrumptious food – head over to the Pie Cart for some classic British grub.
Petticoat Lane Market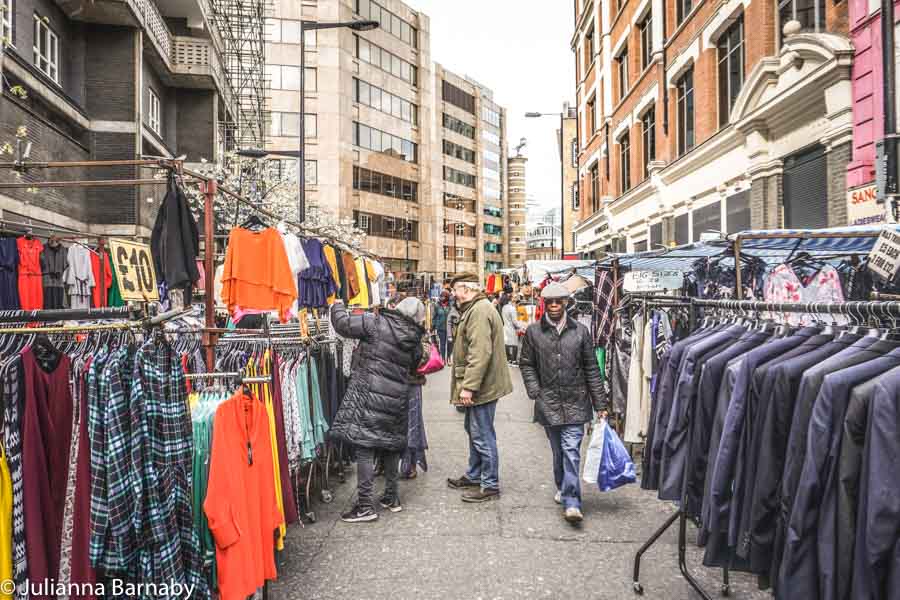 Petticoat Lane Market is a fashion market with an even longer history, dating back more than 400 years.
It gets its name from when its location of Middlesex Street was the place to pick up petticoats and lace, important Victorian undergarments. Today, it's a little more eclectic.
Sunday is by far the best day to visit the market, and there are often more than 1,000 stalls selling all kinds of things.
There's an emphasis on fashion and leather goods (ranging from the fabulous to the distinctly tacky), but there's also general bric-a-brac such as books, records and homewares.
Northcote Road Market
Looking to fill your fridge with some delicious delicatessen items as well as fresh and healthy fruit and veg? If so, Northcote Road Market is a great choice.
It sells all your farmer's market favourites, as well as other items like clothing, arts, books and even furniture.
Obviously, there's quite the variety, so you can easily make a day out of visiting this great Sunday market in London. It goes without saying, but get here early to enjoy the freshest produce (as well as having the biggest selection).
Victoria Park Market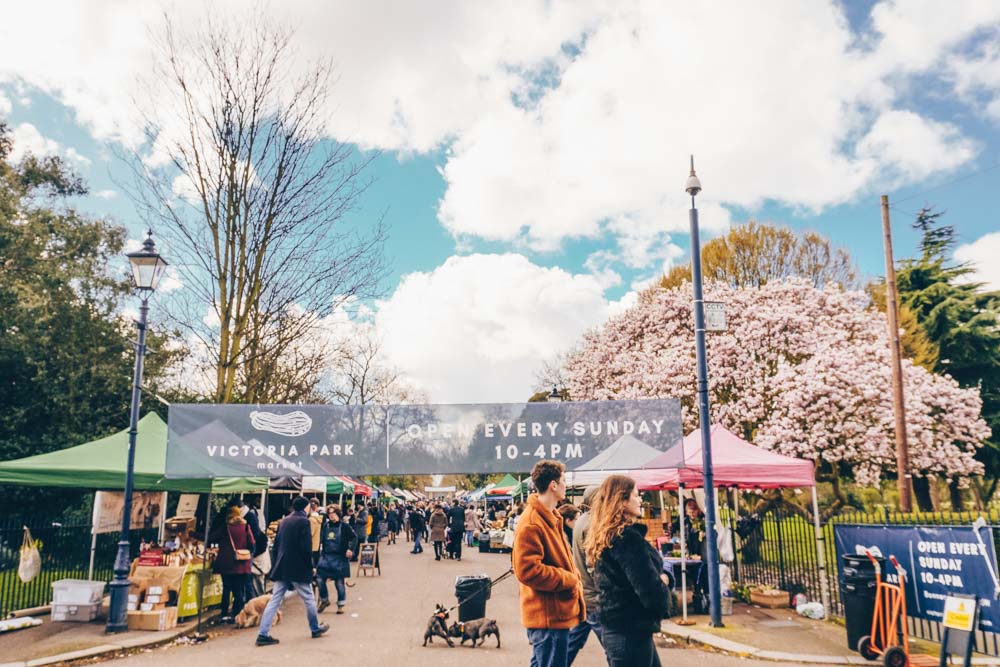 The charming Victoria Park Market is just as much about the beautiful setting as the great wares for sale from the stalls.
Nestled in Victoria Park, the market is surrounded by trees and green grass, making it a beautiful place to do some shopping.
As for the stalls, you'll find a great selection of produce from fresh fruit and veg, to locally brewed beer and spirits, as well as preserves and spreads. You can also grab yourself a very naughty (but very tasty) burger from Mother Flipper (it's one of the best burgers in the city) or head over to Crosstown for a donut or two.
There's also frequent live music to add to the overall atmosphere.
Alexandra Palace Farmers Market
With a mouthwatering variety of fresh produce, smallgoods and deli items, Alexandra Palace Farmers Market is one of the best Sunday food markets in London.
It's a taste of a real country farmers market, but with a London twist. As well as the fresh and local fresh fruit and vegetables, you can find many multicultural goods such as Mediterranean olives.
If the sight of it has your tummy rumbling, there's a great selection of street food stalls as well. The cheese toasties are a particular delight.
Brixton Farmers Market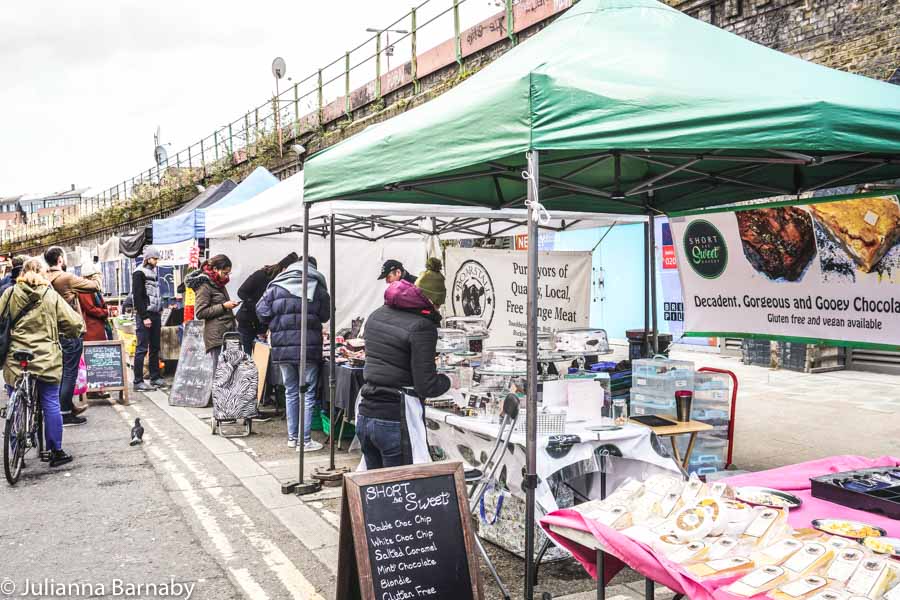 Brixton Farmers Market is a friendly fresh produce market with a small but scrumptious selection of stalls. Open from 9:30am-2pm, get there early before any crowds to nab yourself some goods.
Some of the highlights include raw honey, freshly baked pastries and herbal teas. It's also a great place to pick up organic and sustainable meat and dairy.
Should you get hungry, I highly recommend grabbing a bite from Zinglefoods, serving up North African-inspired vegan falafel wraps. Or head to the Old Post Office Bakery for a lighter pastry snack.
Broadway Market
Broadway Market sets up over in London Fields every Sunday and provides a range of things that pretty much tick every box you'd want from a good market.
You'll find the north end of the road dedicated to food with stalls slinging everything from katsu curries to monstrously-sized pork pies. If you're hungry we recommend the Jewish deli – that guy's salt beef bagels are on point.
There's all sorts of artisanal stuff for you to peruse, from handcrafted bowls and vases to jewellery and clothing. You can even pick up a new potted plant or two.
Marylebone Farmers Market
This charming market has an ever-rotating selection of stallholders selling seasonal fruit, vegetables and herbs.
You can stock your whole fridge and pantry from the charming Marylebone Farmers Market, so long as you don't mind shopping with an open mind! Some of the most popular include The Potato Shop and Riverdale Organic Farm.
The market is only open from 10 am to 2 pm on Sundays, so you'll want to plan your visit carefully!
Read More: The Insider's Guide to Exploring Marylebone
Horniman Museum and Gardens Farmers Market
Although the Horniman's Sunday market is small, it's certainly mighty. Mainly because of the spectacular view you get from the top of the hill.
So, you'll be browsing the wares – a little of everything from body care products to art and design works, and of course plenty of artisanal foods (as you'd expect from any farmers market worth its salt).
Then after you work up an appetite you can grab a bite to eat, perhaps a bowl of pasta from Gustosissima or some Mexican food from Route 66 Burritos, pitch up on the hillside and enjoy lunch with a view of London.
Eccleston Yards Sunday Market
Eccleston Yards' market is only small – about 10-15 stalls – but what they lack in choice they more than make up for in atmosphere.
Most of that comes from the stage with live musicians that play as you peruse the wares on offer. Those are usually handicraft goods and the sort of things like scented candles and artisanal jams that you often see at a Sunday market.
Due to the size there's rarely anything to eat in the market itself, but the square dows have plenty of restaurants and bars with food that you can drop into once you're done at the stalls.
Herne Hill Farmers Market
A great Sunday market is friendly and approachable, just like the Herne Hill Farmers Market.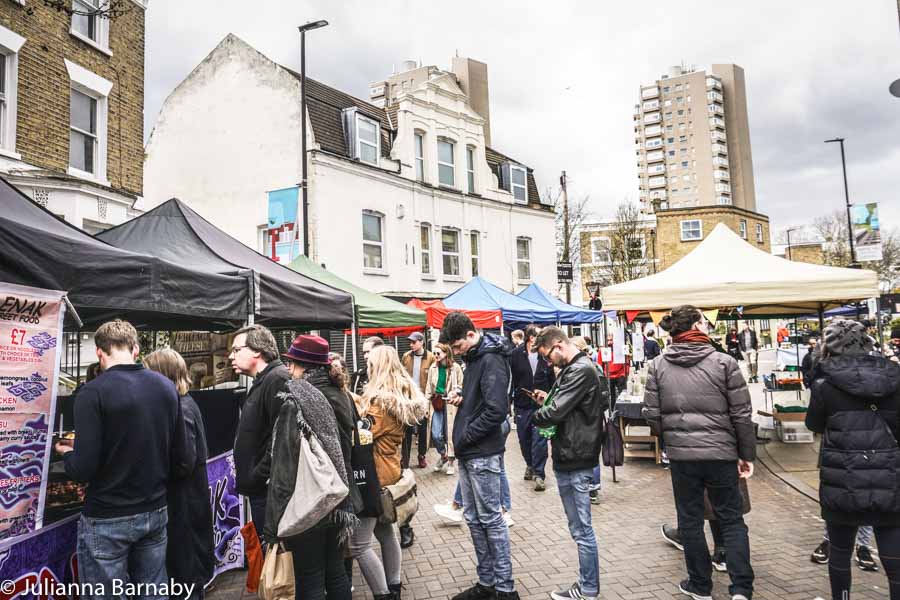 One of the newer of the Sunday markets in London, it nonetheless quickly established itself as a local favourite.
With more than 50 stalls selling delicious local produce as well as other arts and crafts, it's certainly well-deserved. Head to Blowing Dandelion for some delicious chocolate treats – get the chocolate solar system for the ultimate indulgent snack (or it makes a great gift).
Nine Elms Market
Sometimes also known as the Vauxhall Sunday Market, the inexorable rise of Nine Elms as a place of yuppied gentrification has caused a bit of confusion over the naming of this Sunday market.
It's neither here nor there. The quality of the market is what's important, and this one has plenty to offer.
It takes over the space of New Covent Garden Fruit and Veg Market close to Battersea Power Station and turns it into a 400-stall-strong market that blurs another line between car boot and market in the classic sense.
You'll find pretty much anything at this one – the car boot element means that the items on display vary widely each week so you'll want to keep going back.
Walthamstow Farmers Market
Walthamstow Farmers Market has been offering delicious fresh produce and smallgoods from 10am to 2pm on Sundays since 2007.
There's a good variety of stallholders, with a few favourites including handmade pasta from Seriously Italian and unpasteurised milk from Happy Cow. Ted's Veg also recently won an award for fan-favourite at the market, so head there to get your veggie fix.
The market is located along the high street, so you can also shop at the bricks-and-mortar stores afterwards, to make a day out of it.
Best Sunday Markets in London: Map
Practical Tips for Visiting London's Sunday Markets
While a lot of traders have started taking card payments, there are some that are still cash only – bring some cash with you just in case.
It's always easier to get to a market using public transport rather than driving as parking can be scarce and expensive.
Go early if you want to avoid the crowds – especially in the more popular markets.
Not content with just popping into a market for a browse? Why not take a market tour? From tasting traditional British foods to exploring Camden Market, there are lots of cool market tours that let you glimpse a different side of London's markets. Have a look.
Looking for More London Market Guides?