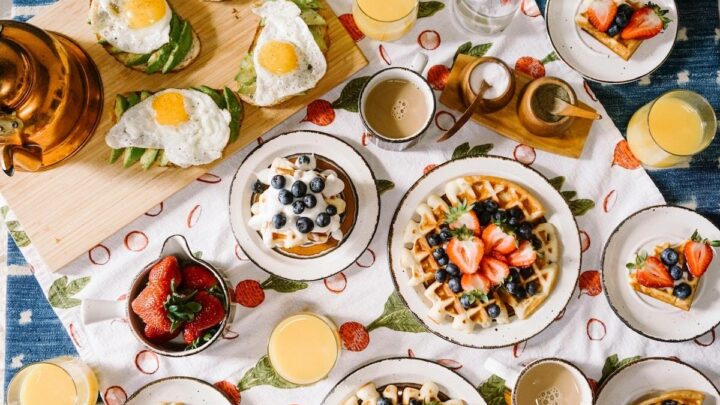 Get your forks out – time to discover the best brunches in Shoreditch.
When it comes to brunch places, Shoreditch has got them in abundance.
This buzzy area of East London is a cultural melting pot, and so it's only right that the area is filled with restaurants and cafes taking inspiration from around the world – from crispy chicken and waffles inspired by New York to elegant Filipino fine dining.
Whether you're after bottomless bubbles or are tempted by a serious case of meat sweats, these are the brunch spots in Shoreditch you need to check out…
Best Brunches in Shoreditch
Gloria
Italian style brunch in East London doesn't come much better than the cheeky offering at Gloria.
Since the 70's-style trattoria opened last year, it's been a bit of a mission to snag yourself a booking – but it's well worth the effort. Hint: Bookings are released at 7am a month before your chosen date.
The brunch menu is served until 11:30am on weekends, and consists of classic dishes with a little Mediterranean pizzazz – think scrambled eggs with bruschetta and a mountain of parmesan with, of course, truffle to kick things up a notch.
Rapsa @ 100 Hoxton
Our favourite bottomless brunch Shoreditch offers can be found at Rapsa.
This cosy Filipino restaurant inside 100 Hoxton comes courtesy of Francis Puyat, who previously cut his teeth working at Yotam Ottolenghi's NOPI, and makes a refreshing change from the abundance of American and European-style brunches dotted about the capital.
Alongside 100 minutes of bottomless drinks (Aperol Spritz, Prosecco, or slushies, FYI – we'll take two of each), you can opt for any main brunch dish.
There's a mix of more traditional brunch options, as well as some that nod heavily towards Puyat's heritage – order the halloumi sandwich and you won't be disappointed.
The Breakfast Club
Oh, The Breakfast Club – it wouldn't be a London brunch guide without one of their cool restaurants popping up, now would it?
Not only is this one of the best brunch spots Shoreditch boasts, but they've got a few locations across London – from Soho to Canary Wharf – so you're never too far from a TBC.
Whether you're after totally indulgent pancakes (buried underneath cream and syrup, obvs) or prefer a savoury dish, there'll be something to satisfy everyone in your group.
We love the chorizo disco hash, which is a mix of chorizo, potatoes, and cabbage drizzled in a spicy cheese sauce – or the cornflake chicken and bacon club sandwich goes down a treat, especially if you've had a particularly big night out beforehand.
Cocotte
Delicious food, beautiful decor, and cracking drinks: Cocotte has figured out the winning formula for brunch dates.
Frankly, if you go for anything other than the Truffled Croque Monsieur, you're doing it wrong. Though, we might understand if you've been drawn in by the croissant waffles.
Add on bottomless Prosecco for £20 and you can't complain. Although, we also recommend the raspberry bellini.
Duo
We've got two words for you: bottomless waffles.
Need a moment to calm down? We thought so.
Waffles and bubbles are the name of the game at Duo, so pick your poison in the form of toppings: berry compote, banana, biscoff, walnut, toffee sauce, chocolate and marshmallow, or maple and bacon, and prepare to scoff until you can scoff no more.
Head to Duo for arguably the best bottomless brunch Shoreditch has to offer.
Find events and book tickets here
Dirty Bones
If you're looking for a very naughty brunch that will leave you wishing you had worn your stretchiest trousers (don't worry, we've all been there), look no further than Dirty Bones.
DB's East London venue sits inside a Grade II-listed heritage building on Club Row, and the historic interior is just as impressive as the food. Of which, there is a lot to choose from.
Steak and eggs, chicken and waffles, and even short rib crumpets are available on this meaty NYC-inspired menu. Though don't fret if you're plant-based; their buttermilk pancakes are equally as delish.
Add on bottomless drinks for £22 – we love that there are a couple of unique options in the form of a Grapefruit Mimosa and a rum-based Hip Monkey. Don't get us wrong – we love Prosecco and an Aperol Spritz, but it's nice to change things up a little bit.
Dishoom
Served until 11:45 everyday, Dishoom is another fail-safe when it comes to Shoreditch brunches.
The Iranian breakfast menu includes the likes of kejriwal (fried eggs on a chilli cheese toast) and akuri, scrambled eggs with tomato and fluffy buns. Or if you would rather opt for something a little bit more familiar, the bacon naan is divine.
Swap Prosecco for chai, as theirs is something of a dream – a perfect balance of sweetly spiced and creamy that goes down oh so smoothly.
Lantana Cafe
Boy, do the Aussie's know a thing or two about brunch. Lantana Cafe being a case in point.
The menu is eclectic: corn fritters with halloumi, five bean chilli and courgette bread, duck hash, and an avocado poke bowl being just a couple of the standout dishes.
Trust us when we say you'll want to indulge in the banoffee banana bread on the side for the ultimate brunch treat.
The drink menu is where we start to struggle – how can we possibly pick between a pb smoothie, a matcha latte, and an elderflower fizz?
Shoreditch Grind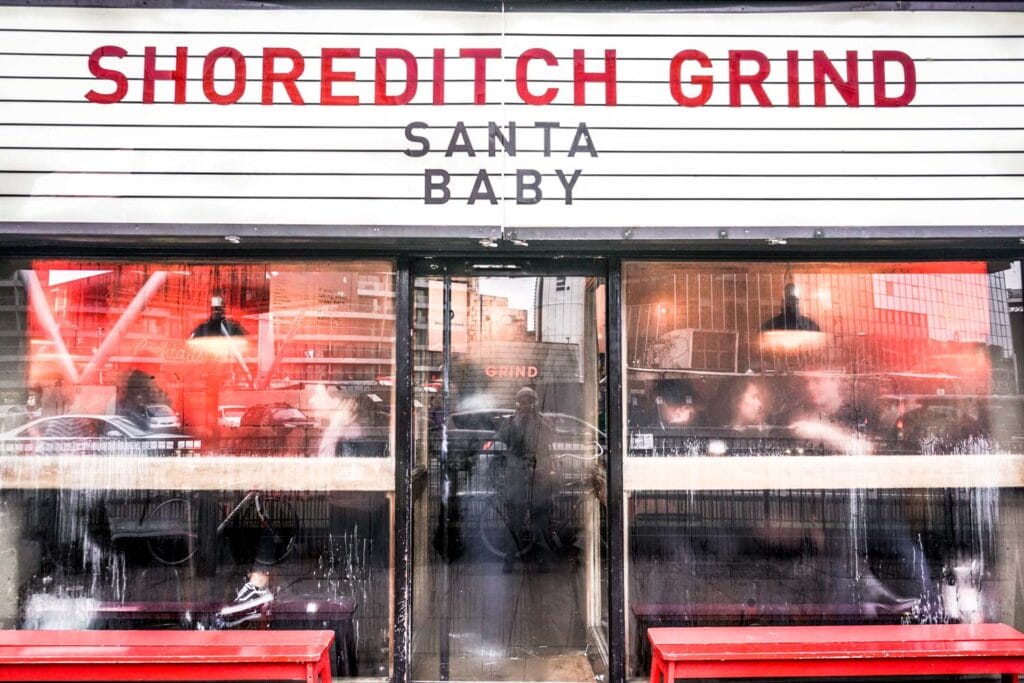 We've hyped up Grind plenty – it's even in our Shoreditch coffee shop guide – but it's true that they offer one of the best brunches in Shoreditch, even if it does get very busy at times.
The options here are a little bit lighter – think banana bread to snack on as you sip your brew, or hearty porridge with seasonal toppings, but you'll also have no problem ordering yourself eggs and toast.
We can't discuss Grind without touching on the coffee, of course – choose between a house blend and the punchier black blend. Or opt for their hot chocolate, which is also pretty darn good.
Read More: Shoreditch Coffee Shop Guide
Barrio
In need of a little escape? Head to Barrio Shoreditch on Saturdays for a brunch inspired by all things tropical.
Outside on the paradise terrace, Barrio's La Isla Bonita Brunch combines 80's musical bingo with bottomless booze – a recipe for a cracking time, if you ask us.
Drinks are in the form of Prosecco by the glass, Sol Mexican lager, or a Spiced Rum Sangaree, while the food menu boasts an array of burgers, including a rather tempting vegan option with vegan bacon and jalapeno mayo.
Andina
When it comes to the best brunch places in Shoreditch, it would be completely criminal of us to leave out Andina. Who knew that this Peruvian pisco bar also served up an impressive weekend brunch feast?
The menu includes the likes of a melt in the mouth Chicharron Sandwich (pork belly in a soft bun with salsa and sweet potato ketchup), spicy eggs on sourdough, and a delicious corn cake with fluffy poached eggs. While the Andean Granola is perfect if you're looking for something a little bit lighter.
If you can't quite handle a Pisco Sour at 11am on a Sunday (go on… we dare you), there's plenty of soft drinks and beer available.
Swift
We adore Swift – you can check out our review of their Soho location here – so when we find out that they offered brunch, you best believe that we practically dropped everything to try it.
Okay, so it's not blessed with the most extensive brunch menu – but what it does, it does well.
The three-cheese toastie with house kimchi (ordered separately) is the perfect concoction – the kimchi cuts through the fat of the cheese oh so well, leaving you with a slightly spicy cheese pull of dreams.
And, of course, you've got the iconic Swift cocktail menu that we all know and love to sip alongside. Though, where there's an Irish Coffee on the menu, we simply cannot refuse.
The Book Club
Shoreditch bottomless brunch has never been as wild as the one available at The Book Club.
Saturdays between 12pm and 4pm mean one thing only: Not Another Drag Brunch. So dress to impress and prepare for an afternoon filled with bingo, booze, and brilliant Drag Queens.
You'll also get a two course pizza brunch, which includes a savoury option followed by a devilish dessert pizza.
Events usually sell out a couple of weeks in advance, so be quick and snag yourself tickets here to the quirkiest bottomless brunch Spitalfields boasts.
Queen of Hoxton
If you're celebrating a special birthday, or just looking for an outrageously fun bottomless brunch in Shoreditch, Queen of Hoxton has got you covered.
This is another spot where the waffles and drinks are bottomless (what a time to be alive!) so come hungry and get ready to FEAST… and inevitably regret eating just one more waffle.
Tickets are £50 and include a welcome drink, two courses of waffles (savoury and bottomless sweet), unlimited prosecco and mimosas, and the ultimate party with lip syncs and bingo all very much on the cards.
Morito
Clerkenwell's popular Morito has got a little brother in Shoreditch and it serves up what could potentially be crowned the best Turkish breakfast in the capital.
The seasonal menu boasts the likes of breakfast labneh with flat bread and crudités, menemen eggs, and a Middle Eastern granola if you fancy something a little bit lighter.
Breakfast is available on weekends until midday, so it's the perfect way to fuel up before a day of exploring Shoreditch's cool street art.
Flight Club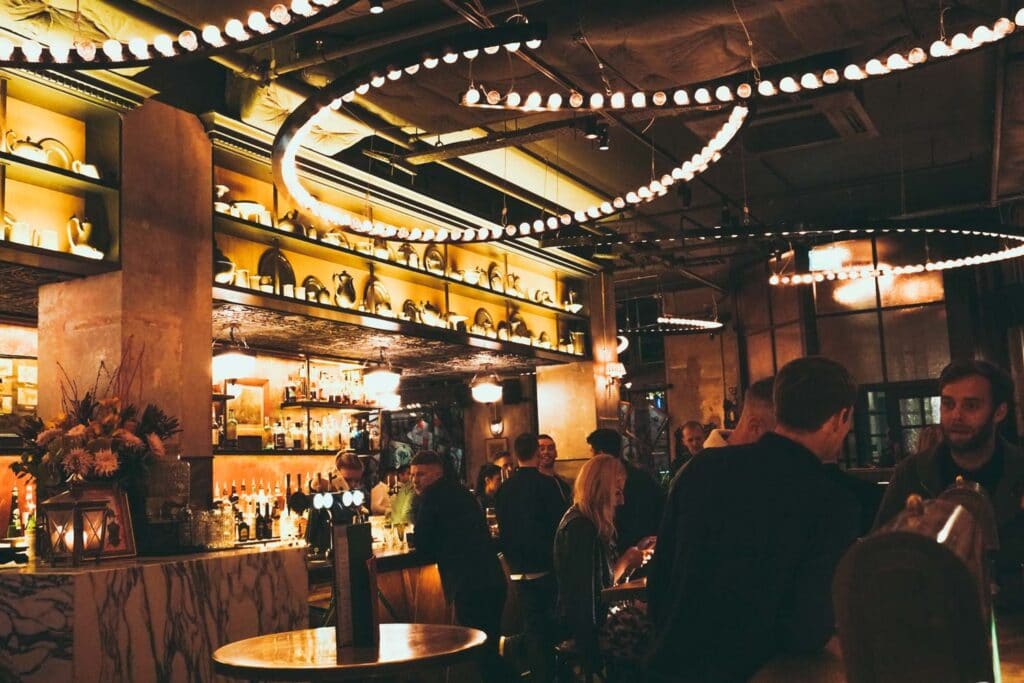 Head to Flight Club between Thursday to Sunday for a stellar brunch offering with a side of social darts.
You'll spend two hours chowing down on unlimited pizza, and each guest will get a whole bottle of prosecco to themselves… Yes, really.
After, head to the dart board where you and your pals will battle it out. Get ready to channel your inner Phil 'The Power' Taylor and score the perfect bullseye.
Keep your eyes peeled throughout the year for their themed brunches too – the Spooky Socials in October are a highlight on the brunch calendar.
Where to Find the Best Brunch in Shoreditch: Map