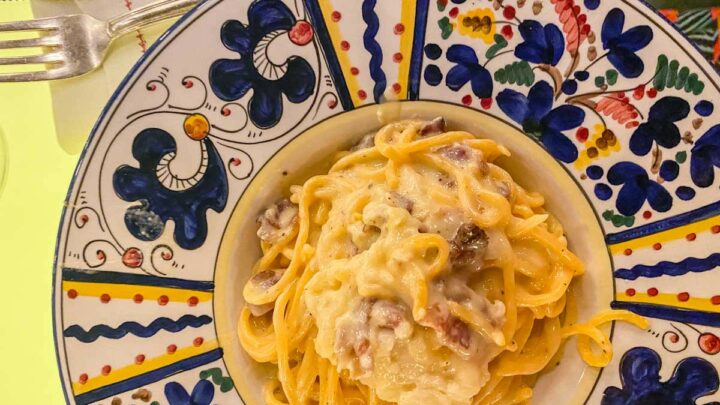 When it comes to restaurants in East London we are spoilt for choice. New and ever-cool eateries just keep on popping up all over the East End.
Let's face it – there are so many, choosing just one can be a tad overwhelming.
From the stylish and casual eats to the Michelin starred, here are 15 of our favourite East London restaurants that you should at least try once.
Price guide:
£ – Under £20 for a meal
££ – Between £20-£30 for a meal
£££ – Over £30 for a meal
Best Restaurants in East London
Lyles
Shoreditch
£££
When you know a restaurant has a Michelin star and made it to the world's 50 best restaurants, let's just say you come in with high expectations. And we think Lyle's offers a pretty flawless gastronomic experience.
You enter a space that's quite understated – white walls, concrete floors, high ceilings and industrial lighting. It's serene, yet not lacking in atmosphere. The simple message being: it's all about the food.
Your taste buds will be treated to seasonal British dishes such as 'Cheviot mutton, Jerusalem artichoke and walnut' followed by 'ricotta ice cream with black fig'. Lyle's is a great place to go for a special occasion.
Angler
Liverpool Street
£££
Five minutes from Liverpool Street station, atop the cool East London stay South Place Hotel is a smart and modern restaurant with a view. Angler is a classic fine dining alternative to the edgy hipster eateries of East London, but certainly not exclusively for city folk in suits.
As you can guess from the name, Angler caters for seafood lovers – and it does it extremely well. Under head chef Gary Foulkes, the theme is sustainable fish from British waters and carefully sourced seasonal produce.
There's also a great selection of wines. If you're not much of a fish lover, a few meat options are available, though there's not a huge choice for vegetarians.
It's a bright space with big windows, a rooftop terrace with heaters and a retractable roof. A great spot to enjoy a drink, not to mention a lengthy cocktail menu.
Dishoom Shoreditch
Shoreditch
££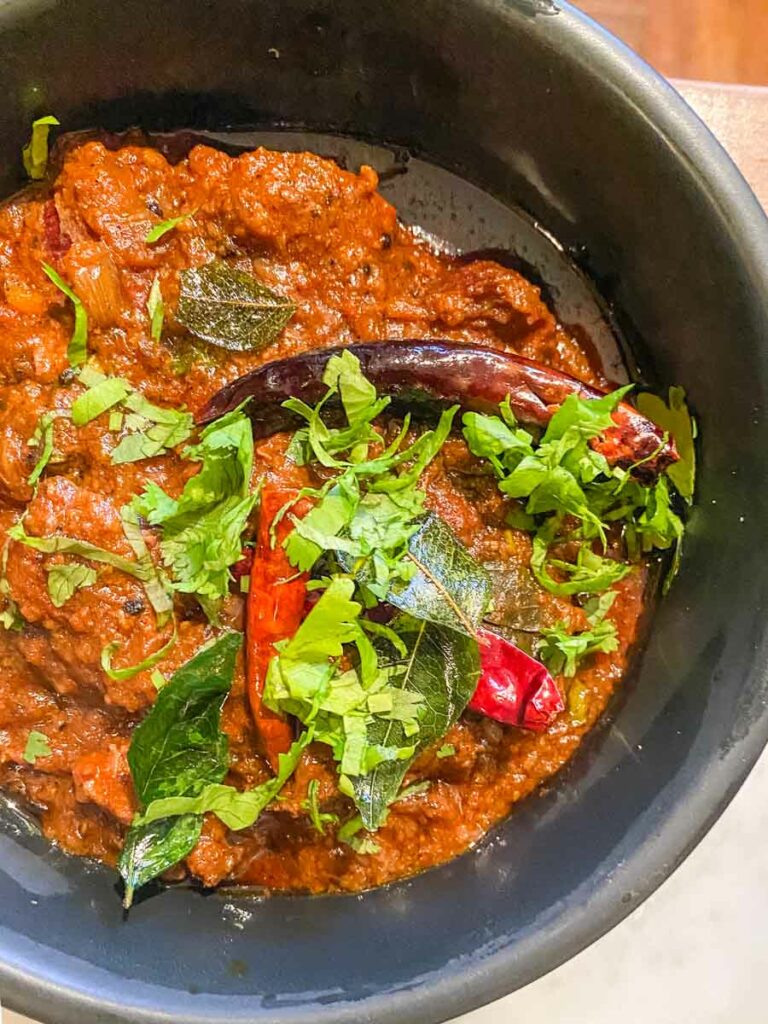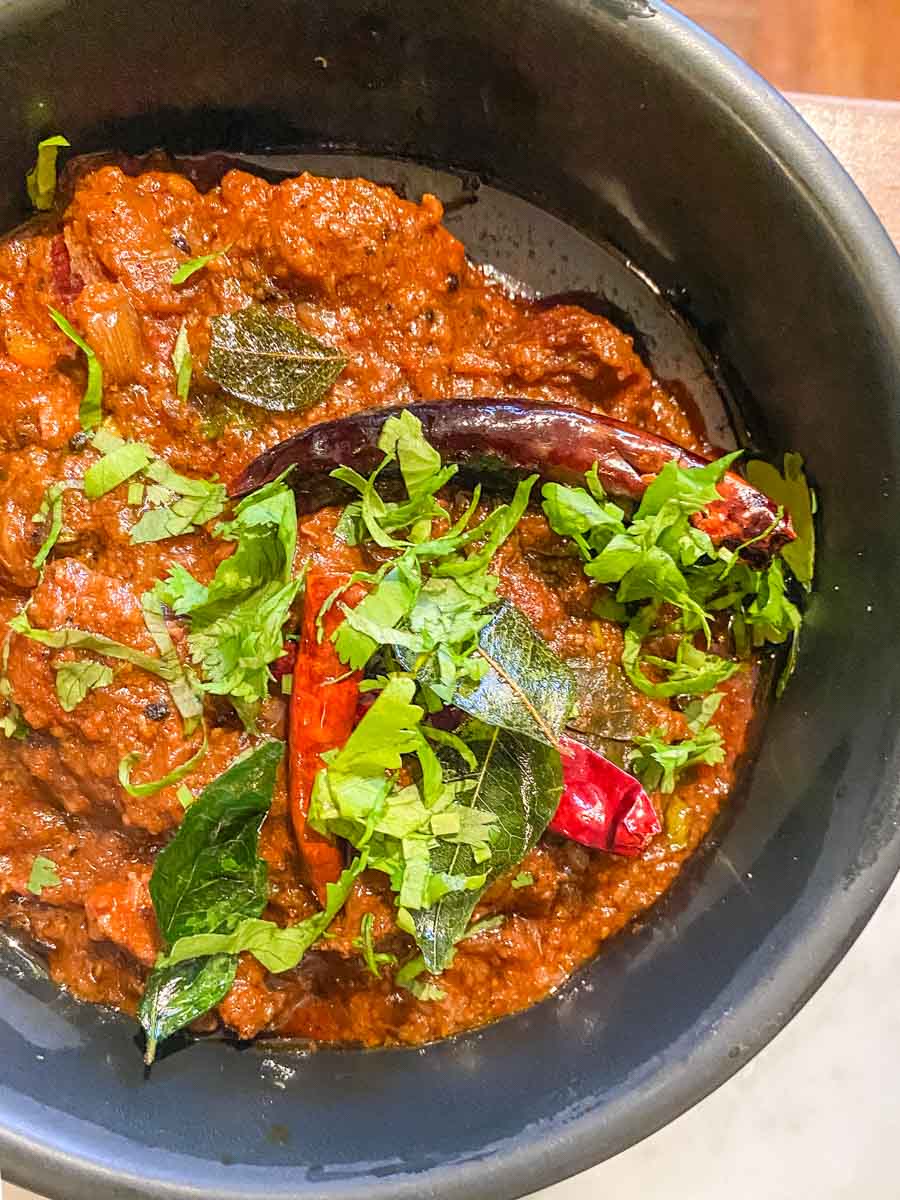 At Dishoom, you'll find next-level Indo-Persian food. There are now five Dishooms in London (Shoreditch opened theirs in 2012) and there are more popping up around the UK.
The concept is modelled on an Irani, Persian-style cafe from 1930s Bombay. Irani cafes were opened by Zoroastrian Irani immigrants to British India in the 19th century and a few still remain in Mumbai today.
Gorge on Irani cafe classics like Keema Pau – spiced minced lamb and peas with toasted buttered homemade buns. There's an unbeatable brunch menu with dishes like Bacon Naan Roll and Kejriwal – two fried eggs on chilli cheese toasts. The all-day menu is halal too – little wonder that Dishoom's Shoreditch spot has bagsied a reputation as being one of the best halal restaurants in East London.
If you like it hot, go for the Spicy Lamb Chops, Sheekh Kebab, Chicken or Chaap Pineapple Tikka or Mutton Pepper Fry. They also have a good selection of gluten-free, dairy-free and vegan dishes.
Gloria Shoreditch
Shoreditch
£££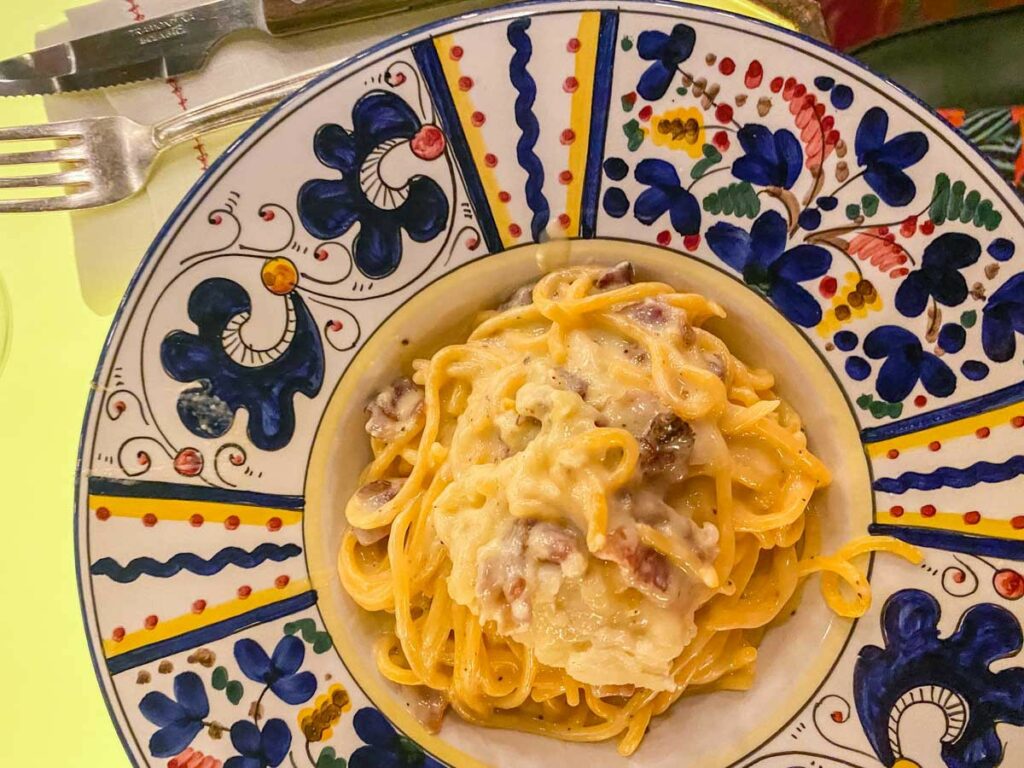 At Gloria Shoreditch, you'll be treated to all the Italian classics, with bells on. It's a place to indulge.
You might go for a playfully named pizza (Hamela Anderson) or the house special pasta – Mafaldine al Tartufo, 'fresh Mafalda, black Molise truffle and mascarpone cream.
We bet you'll also struggle to say no to the dessert menu with the likes of Chocolate al Porno, 'oozy chocolate fondant base with airy praline mousse
The restaurant decor is part of its charm, modelled on a 1970s trattoria on the Italian island of Capri. Think faux flowers, wicker furniture with lots of marble and mirrors.
There's a great selection of cocktails and Barolo wines from the Piedmont region.
Everything is 100% fresh and homemade and they are also open for brunch on weekends.
Berber & Q Grill House
Haggerston
£££
In 2015, ex-Ottolenghi chef Josh Katz set up Berber & Q in a converted railway arch (previously a taxi repair shop), a fusion of smoky BBQ with far-reaching North African, Middle Eastern and Ottoman flavours. In fact, you may already have come across their Shawarma bar in Exmouth market.
In true East London style, it's an exposed brick, low lit and intimate haunt where groups sit together on benches, share mouth-watering mezze and drink natural wines.
From the chicken to the aubergine, everything is cooked on a live fire, which only adds to the ambience.
From the 'low-and-slow lamb mechoui' to the 'burnt aubergine, rose harissa, yoghurt, amba, fried capers', you'll simply want to try everything on the menu.
Rochelle Canteen
Shoreditch
£££
You may walk past this place several times before you find it, as you have to enter via a buzzer. Rochelle Canteen is located in the courtyard of an old Victorian Shoreditch school, now converted into a hub of creative studios.
Beyond the school walls, there are some outside tables (with heaters) and indoor seating in the old bike shed.
Beyond the school walls, there are some outside tables (with heaters) and indoor seating in the old bike shed. With 'canteen' in the name, you might imagine this is a street food kind of set-up. Far from it, Rochelle has a short and considered classic and modern British-European seasonal menu that changes daily, with high attention to detail.
Expect supper mains such as 'braised rabbit, potato and anchovy' or 'Dexter beef and carrot pie.' It's open Mon-Sun for lunch and Weds-Sat for supper.
Silo London
Hackney Wick
£££
Silo has made a reputation for itself as one of the most eco-conscious places to eat in East London.
Douglas McMaster's zero-waste restaurant was based in Brighton for five years before moving to its Hackney Wick home.
The radical concept aims to change the future of dining, with every detail made as sustainable as possible.
Using locally sourced ingredients, they find ways to make use of every last apple pip or lemon peel and all food waste is put into their onsite state-of-the-art aerobic digester.
This makes for a very creative menu (projected onto the wall to save paper), with dishes such as King Oyster Mushroom with Koji Porridge or Pumpkin Seed Ice Cream.
The high-ceilinged interior is also a great talking point, with almost everything made from recycled materials and even lighting made from mushrooms.
Lahpet
Shoreditch
££
If you've yet to try authentic Burmese cuisine, Lahpet (Burmese for tea) should get straight onto your radar.
Lahpet started as a food truck in Maltby Street. It then became a pop-up before opening in Shoreditch in 2018.
The duo behind it is Dan Anton and head chef Zaw Mahesh, both of Burmese heritage.
The traditional Lahpet Thohk (tea leaf salad) is made with pickled tea leaves, double-fried beans, cabbage, tomato chilli, dried shrimp, sesame seeds, garlic oil and peanuts. Other tempting dishes include the classic Burmese Mohinga catfish soup and a pork and mustard green curry.
Tummy rumbling yet? Us too.
Tonkotsu East
Haggerston
££
There are countless exciting new restaurants to try in East London, but after a heavy night on the town, a comforting bowl of ramen might be just what you're craving. When that's the case, Tonkotsu is our first port of call.
Tonkotsu was born in Soho in 2012 before another branch opened in Haggerston's railway arches in 2013.
Everything here is made from scratch so you can even watch your noodles being made from the comfort of your table.
Their speciality Tonkotsu ramen comes from the southern Japanese island of Kyushu. It's made with an 18-hour pork broth enriched with lardo and sea salt. Thin-cut homemade noodles are topped with roast pork belly, bamboo shoots, spring onions, burnt garlic oil and seasoned egg. Yum.
Casa Fofó
£££
Hackney Downs
Foodies will love Casa Fofó by former Pidgin head chef Adolfo De Cecco.
He's Italian (and the restaurant named after his grandfather) but culinary influences here come from all over.
Combine that with a set menu that changes daily and you're guaranteed some surprises. Anything from 'potato, fermented tom yum, seaweed' to 'ex dairy cow, sourdough miso, friggitelli'. You can be safe in the knowledge, however, that whatever you're getting will be good, thanks to its Michelin star.
The tasting menu makes the most of seasonal, local produce. There's also a selection of low-intervention wines.
Exposed brick walls, industrial wood tables and bistro chairs make for a cosy setting. There's also a small garden out the back – but really, this place is all about the food.
Little Duck – The Picklery
Dalston
££
Everything at Little Duck – The Picklery revolves around a fermenting kitchen and wine bar, whilst also being a small and intimate restaurant.
Pull up a seat at the kitchen counter and see the whole process in action as you sample dishes such as 'Roasted partridge, pancetta, pickled pears with watercress', perhaps followed by 'Honey + sheep's milk panna cotta with poached figs'.
It will open up your world to the potential of pickling. You can buy their seasonal ferments ready jarred too.
The drinks are equally as interesting, all made and fermented in-house.
In the mood for a 'sage and Mountain tea kombucha?
We're in a right pickle over this place.
The Clove Club
Shoreditch
£££
For high-end dining in a relaxed but elegant Shoreditch setting, The Clove Club promises an unforgettable meal.
Located in Shoreditch Town Hall and lined with kingfisher blue tiles, The Clove Club was opened by Scottish chef Isaac McHale in 2013. It's now on the World's 50 Best Restaurants list.
There's both a short and long tasting menu, serving up tantalizing dishes such as ​​'Hazelwood grilled lobster with Corsican pomelo and sage' and 'Strawberries and cream with Antica Formula, sake lees and blackcurrant wine.' There's a good vegetarian tasting menu too.
With each dish looking like a work of contemporary art, you'll just want to photograph them all.
Lardo
London Fields
££
Lardo has all the stylish yet casual attributes you'd expect from a cool restaurant in East London – a lofty warehouse space with an open kitchen, huge industrial windows, wood, concrete and vintage chairs, all offset by a 'disco ball' pizza oven, of course.
This is very much a local Hackney hang-out with a great drinks selection. The menu offers Neopolitan-style pizzas, homemade pasta of the day and tempting small plates too.
Despite the name 'Lardo' deriving from the cured back fat of a pig, the restaurant has been consciously phasing out more of its meat-based dishes.
In a sustainability statement, they say their menu is now 75% vegetarian. The start of a new trend amongst East London eateries? Watch this space.
Oren
Dalston
££
Oren was opened off the Kingsland Road in 2019 by Israeli chef Oded Oren.
This is the place to come for a smorgasbord of irresistible Eastern Mediterranean-style sharing plates, all cooked on a charcoal grill.
It's all about simple, good-quality ingredients. Dishes such as 'monkfish in Chraime sauce' and 'charcoal-grilled cauliflower with raw tahini and hazelnuts' can be paired with low-intervention wines and warm homemade flatbreads, straight from the oven.
You'll be coming back for more.
El Ganso Cafe
London Fields
££
In the thriving hipster hub of Broadway Market, you'll find El Ganso (the goose). This is a little slice of Spain with a relaxed, buzzy atmosphere and some unbeatable authentic tapas.
It opened in 2014 under Valencia-born chef Marcelo Sánchez Cabrera and the place is as popular for an East London brunch as it is for evening meals.
With distressed furniture and Spanish tiles for decor, doors open out onto the street where you can sit back with a glass of Rioja, feast on some 'croquetas de jamón' and watch the world go by.
Nest
Hackney
£££
Nest is one of London's most unique restaurants. That's mainly down to the revolutionary concept the restaurant is built around. At Nest they only buy meat one animal at a time, and prepare dishes using all (and we mean all) of it.
This forces them to get super creative and push the boundaries of the nose-to-tail cooking movement. The food is superb. If you have any qualms about eating the off-cuts, leave them at the door. Even something as hard to stomach as an actual stomach is transformed into something excellent by the team of talented chefs.
Because of the way they do things, menus are organised around seasons: game season, veg season, seafood season etc. Getting tables for any of them can be tough, but once you're in it's worth the trouble.
The Smoking Goat
Shoreditch
££
A classic Shoreditch eatery that should really be on everyone's radar, The Smoking Goat does Thai food east-London style. They hit a nice balance between the authentic flavours and spices (and oh boy is the food spicy) and being contemporary.
The vibe in the place is always buzzing and when you start to wash down the zinging plates of Thai-spiced minced pork with some of their signature cocktails the night can go anywhere.
Food here is made to share, so try and go with a group if you can. That way you can sample as much of their delicious cooking as possible.
East London Restaurants: Practical Tips
East London is a big place, and as London goes is especially packed with great places to eat. If you're looking to delve into a specific area for its great restaurants, we'd recommend starting with Shoreditch or Hackney Wick.
These are some of the best places to eat in London and as such you'll sometimes have to wait months just to get a table. Check websites and book ahead with the expectation that you probably won't be eating the same week.
East London Restaurants: Map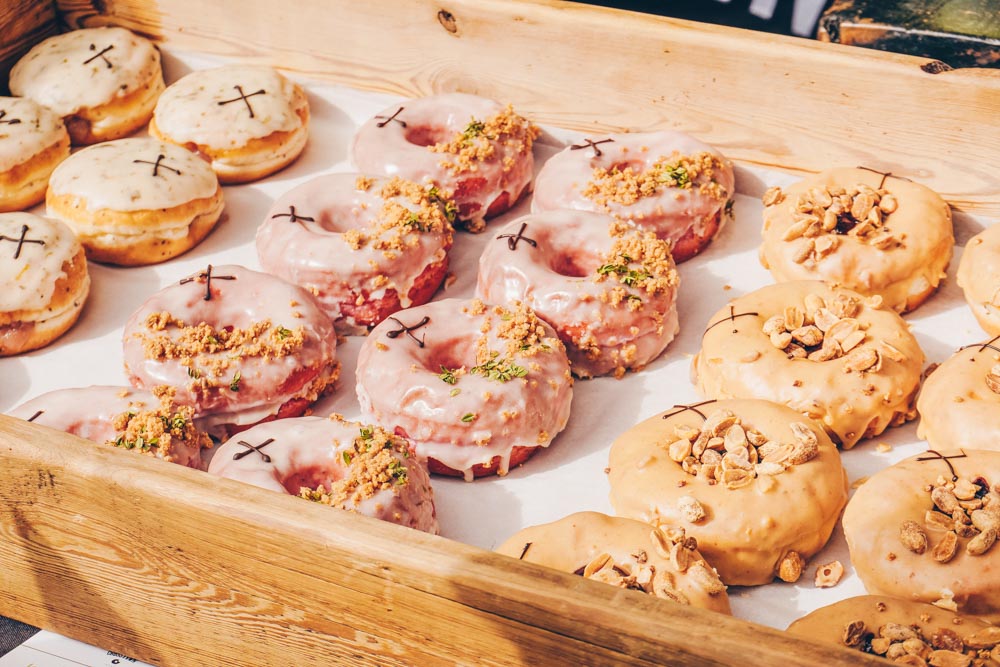 London's Best Street Food Spots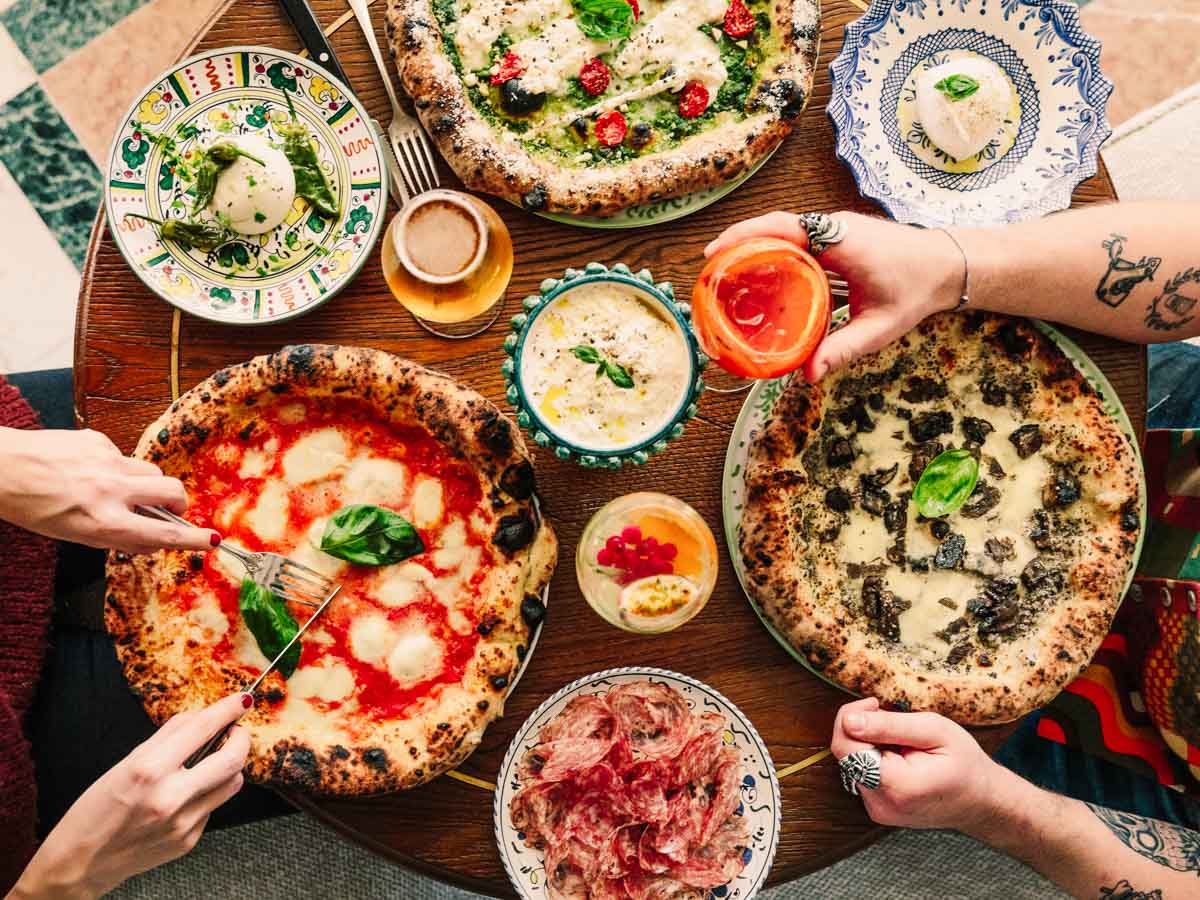 The Best Restaurants in London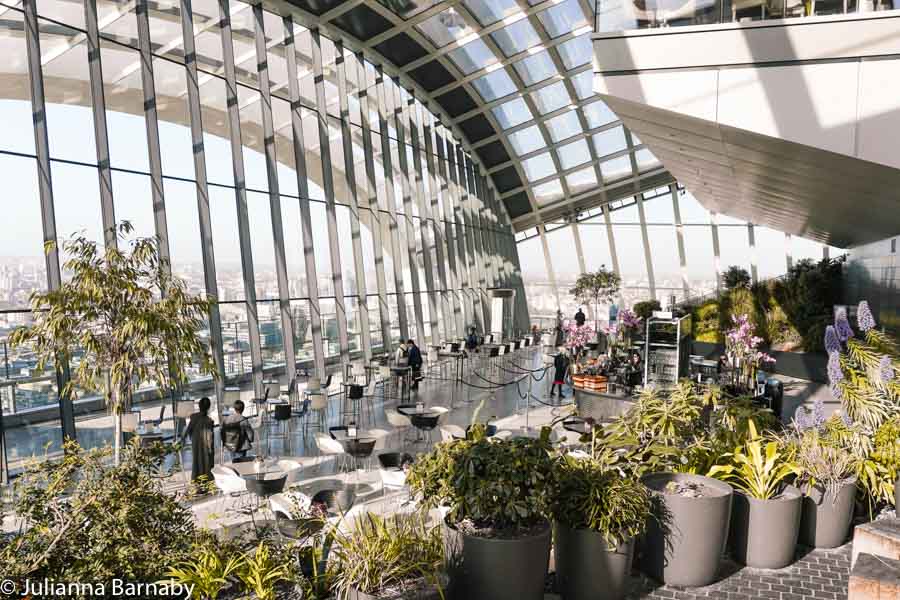 Fabulous Restaurants with a View