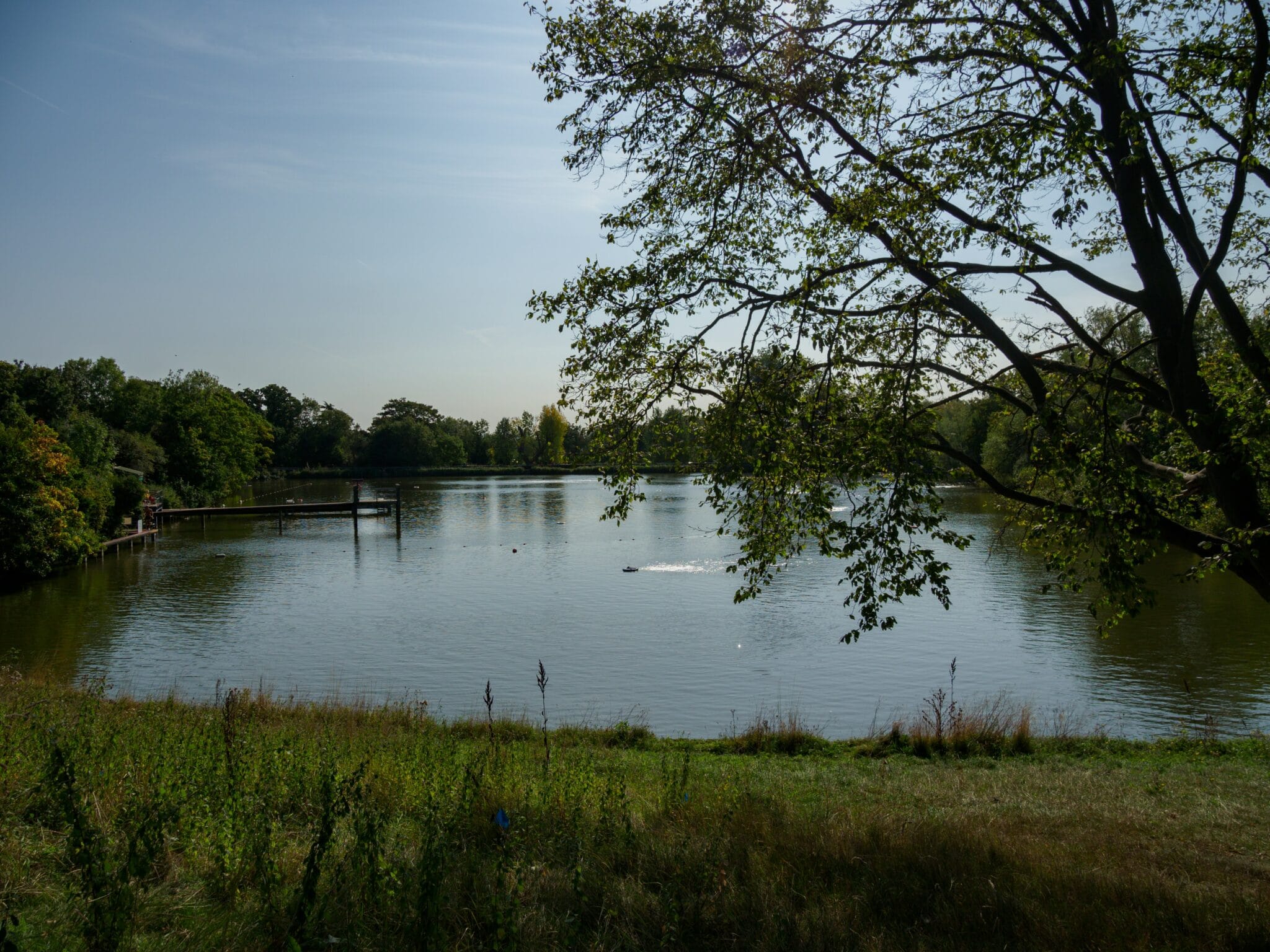 London's lidos and outdoor swimming spots are the perfect places to get wet and wild(ish).
After all, what's better than a refreshing dip when the sun's blazing?
Answer: practically nothing.
Whether you're looking to relax in a heated pool, take a few leisurely strokes in a lido or dip your toes on cold water adventures, London has plenty of options.
So don your fanciest swimsuit and take a plunge at these brilliant outdoor swimming spots in London.
PS: Want something a little different? Try these wild swimming spots in London.
Best Outdoor Swimming and Lidos in London
Brockwell Lido
Herne Hill, Dulwich Village
Price: £5.95 for adults, £3.40 for children
One of the oldest Lidos in the UK, Brockwell Lido was first opened in 1937 to the general public and has been one of London's favourite outdoor swimming spots ever since.
Today, Brockwell Lido has Grade II listed heritage and is the perfect pool to spend an afternoon splashing about in the sun.
Want to swim in the lane section? Feel like relaxing in the outdoor sauna (which handily is open in the winter)? There's something for the whole family to enjoy.
If that all sounds a bit too much like hard work, grab an artisan pizza from 400 Rabbits and chow down whilst you observe from the outdoor seating overlooking the pool.
London Fields Lido
Hackney
Price: £5.25 for adults, £3.05 for children
If it's a giant outdoor pool you're after, London Fields Lido is an Olympic-sized 50m and open all year round. Can't swim? This lido offers swimming lessons for both adults and children, as well as lane swimming sessions, so get ready to perfect your front crawl.
With brightly coloured changing rooms and a large sundeck area, this pool feels a million miles away from Hackney, where it's nestled in the corner of London Fields park.
Did I mention it's heated? No need to freeze, this lido provides the perfect escape from the cold weather. Top tip: for a refreshing post-swim pint, head to the Pub on the Park nearby.
The Hampstead Swimming Ponds
Hampstead Heath
Price: £4.05 for adults
It's no secret that people flock to Hampstead Heath when the weather's nice (yes, it's rare but it happens!), and the Hampstead Swimming Ponds offer the perfect place to cool off. With a Ladies', Men's, and mixed pond, you've got plenty of options available to you if you're looking for somewhere with great views to go outdoor swimming in London.
Now, be warned that in the winter these ponds get cold, so you may want to get familiar with the concept of coldwater swimming before you dive in – the benefits are said to include a natural high from the endorphins released, as well as being a great way to reduce stress and improve circulation. With that said… What are you waiting for?
Serpentine Lido
Hyde Park
Price: £4.80 for adults, £1.80 for children
Inside the iconic Hyde Park you'll find Serpentine Lido, a 40-acre recreational lake. Got kids? No problem – if the lake sounds too scary, you can find a smaller paddling pool nearby.
You may be familiar with the lakes' own Serpentine Swimming Club, the oldest in the UK and renowned for their swimming race on Christmas day – but don't worry, you don't have to be in the club to swim here.
The Lido is open on weekends and bank holidays in May, and then daily throughout June, July, and August – head down this summer for the ultimate day of relaxation in Hyde Park.
Hillingdon Lido
Uxbridge
Price: £5.60 for adults
With its art deco-esque pavilion and fountain, Hillingdon Lido was once a very popular spot loved by locals who wanted to chill out, splash around, and cool off. Though it closed in 1998, it was revived in 2010 and has since regained its former status of one of the best outdoor pools in London.
Whilst the 1930's Lido has been renovated, its original retro vibe is still clear, including the unheated water which can be a bit cold in the winter – but, have no fear, as the centre also has an indoor pool perfect for taking a dip in the colder months.
Parliament Hill Lido
Hampstead Heath
Price: £4.05 for adults, £1.21 for children
Open to the public all year round, Parliament Hill Lido is another outdoor swimming area that Hampstead Heath boasts.
While the pool's free-flow sessions are only open to those over 16, there are special family sessions regularly updated on their website so you can all get involved. It is strongly advised to pre-book your visit through this link to avoid being turned away!
For unparalleled sunset views, I highly recommend taking a swim in the afternoon and then climbing to the top of Parliament Hill. Pack a picnic and make a day of it!
Pools on the Park
Richmond
Price: £4.40 for adults, £3.10 for children
Pools on the Park in Richmond is a family leisure centre with a great outdoor pool. Though, with the best lane-swimming system on the list, I'd say that this pool is better for a strict swim rather than a relaxing day out.
With the outdoor pool heated to 24 degrees, it's a great spot to swim in all year round.
The centre advises that you arrive "beach ready", as there are no changing rooms for the outdoor pool right now, and hour swim slots must be booked in advance through their website. A top choice for those wanting a peaceful, early-morning swim.
Beckenham Place Park Swimming Lake
Beckenham
Price: £3 for adults, £2 for children
Whether you fancy training for a big event or just want a casual swim, Beckenham Place Park Swimming Lake is a large natural lake open to the public, and it's no secret that this is one of our favourites in London.
Situated in an often-overlooked park, this outdoor swimming spot is less busy than some of the others on this list, but Beckenham Place Park is one of the prettiest parks in the capital.
The swimming pool is open Monday, Wednesday, and Friday from 7am-3pm, and 8am-3pm on weekends. If you're planning on taking the plunge at Beckenham Place, make sure you arrive on time as swimming slots are currently only 1 hour long, and available to book online here.
Charlton Lido
Greenwich
Price: £10 for adults, £5 for children
For a nostalgia-inducing outdoor swim in south London, pay a visit to Charlton Lido.
The lido is reminiscent of a holiday camp with its colourful changing rooms, although it's actually one of London's newest refurbished lidos. Think: classic British holiday vibes, but with the comfort of modern facilities.
The pool is heated 25 degrees all year round, and its Greenwich location means that it's the perfect place for a few laps before exploring the local area filled with independent markets and hip cafes.
Hampton Pool
Hampton
Price: £5.40 for adults, £3.30 for children
Located in Bushy Park, near to the stunning Hampton Court Palace, Hampton Pool is a heated outdoor pool in London, open 365 days a year. The pool is smaller than some of the others on this list, at just 36 metres long, but there is also a learning pool dedicated for children and parents to practice their swimming skills.
Don't know how to swim? Hampton Pool also offers adult and children swimming lessons, exciting family swim sessions, as well as midnight swim events throughout the year – keep your eyes peeled on their website for updates!
FYI, the pool's changing facilities are currently unavailable, so this is another where you'll need to turn up beach ready.
Park Road Leisure Centre
Hornsey
Price: £8 for adults, £4.10 for children
Located in the North London area of Hornsey, Park Road Leisure Centre offers a variety of fun activities open to the public all year round. The centre has an outdoor lido, gym, fitness studio, as well as a cafe where you can grab a bite to eat after a swim.
For a leisure centre, the outdoor pool is generous and well-kept, set against the pretty backdrop of the Crouch End Playing Fields. With plenty of outdoor seating, this is a really tranquil spot whether you enjoy a swim or not.
Tooting Bec Lido
Tooting Bec Common
Price: £8 for adults, £5 for children
Tooting Bec Lido is an outdoor freshwater swimming pool in South London, and at over 90 metres long, it's the largest of its kind in the UK.
Sitting on Tooting Bec Common, the lido was originally designed to be concealed from the view of those in the park – though after visiting, you'll wonder why they tried to hide this quirky pool.
Whilst the lido is reserved during winter for the South London Swimming Club, it's open to the general public from May until the end of September. For a well-deserved cuppa after a swim, head to the onsite Lido Cafe to relax.
Fun fact: The colourful changing cubicles have been featured in a number of tv adverts, and Brad Pitt's boxing pool scene in Snatch was actually filmed here!
Oasis Swimming Pool
Covent Garden
Price: £6.15 for adults, £2.05 for children
As central London's only heated pool, Oasis Swimming Pool is perhaps the most conveniently located outdoor pool in London. Although you're surrounded by the London skyline here, meaning that the view is less beautiful than the likes of Parliament Hill Lido or Charlton Lido, the sun terrace is a great spot to soak up the afternoon sun.
The centre also offers an indoor pool, large gym with a fitness training zone, exercise classes, as well as three squash courts and a sauna – perfect whether you're a local or if you're in the city on a trip!
Ruislip Lido Beach
Ruislip
Price: Free
There's no way you can find a beach inside of London, right? Wrong! You may be confused at the idea of a beach in the capital, but take the tube to Ruislip and you'll find the hidden oasis of Ruislip Lido.
Nestled inside a nature reserve that's twice the size of Hyde Park, the beach was previously a haven of happiness in the 1950's before becoming deserted in the 1970's.
Today, the beach and lido have been completely transformed and restored to their ultimate tropical glory. Although currently boating and swimming are not permitted due to Covid, Ruislip Lido Beach is the perfect place to spend a sunny bank holiday in London.
Lido at The Curtain
Shoreditch
Price: Members and hotel guests only
I just had to include this dreamy rooftop pool on the list. Whilst the Lido at The Curtain is only open to members and hotel guests, this Mediterranean-Moroccan inspired rooftop offers complete paradise to cool off on a hot day, all with incredible views of the Shoreditch area.
You can also dine at the Lido Cafe, with dishes including crab bisque and caramelised fig flatbread, accompanied by a vast selection of wines to wash it down.
The Curtain Hotel is a new, boutique hotel, and the air of exclusivity makes this pool all the more enticing. It's well worth considering a stay here just for the outdoor pool if you're looking for a hotel in London.
London Outdoor Swimming Map
Looking for More Outdoor London Guides?
Check these out…