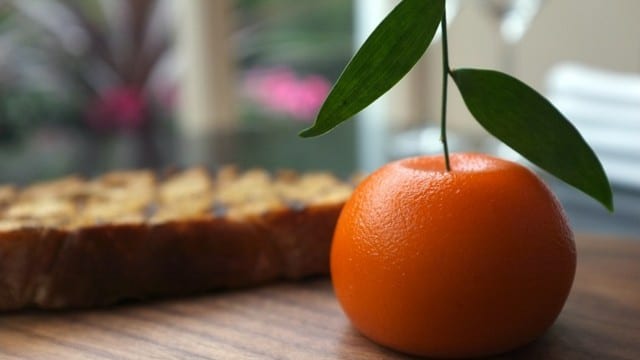 Ever get that feeling like going a la carte might not cut it? These tasting menus in London have got your back.
Sometimes you're sitting in front of a menu as time drags on and you struggle to make a decision, the eyes of your friends burning into you from across the table. Sometimes you're just ballin'. On either of those occasions, don't mess around: get the tasting menu.
Showcasing some of the best food a chef can put out, they're a great way to get the most out of your restaurant experience and London has 'em by the bougie bucketful.
From ultra high-end Michelin-decorated dining to creative East London kitchens, here are our top picks for the best-tasting menus in London.
Brilliant Tasting Menus in London
Evelyn's Table
Price: £125pp
Tucked down an alley in Chinatown, and then down a conspicuous flight of stairs you'll find Evelyn's Table – the ex-beer-cellar of an 18th-century pub turned personal, 12-seater restaurant.
You can find that flight of stairs by looking for the pub they belong to, or keeping an eye out for the Michelin star they've got proudly affixed to the wall of the alley.
Once inside you'll be treated to an ever-changing five-course menu that fuses Chef James Goodyear's influences of French and Japanese techniques and applies them to seasonal British produce.
Angler
Price: £135pp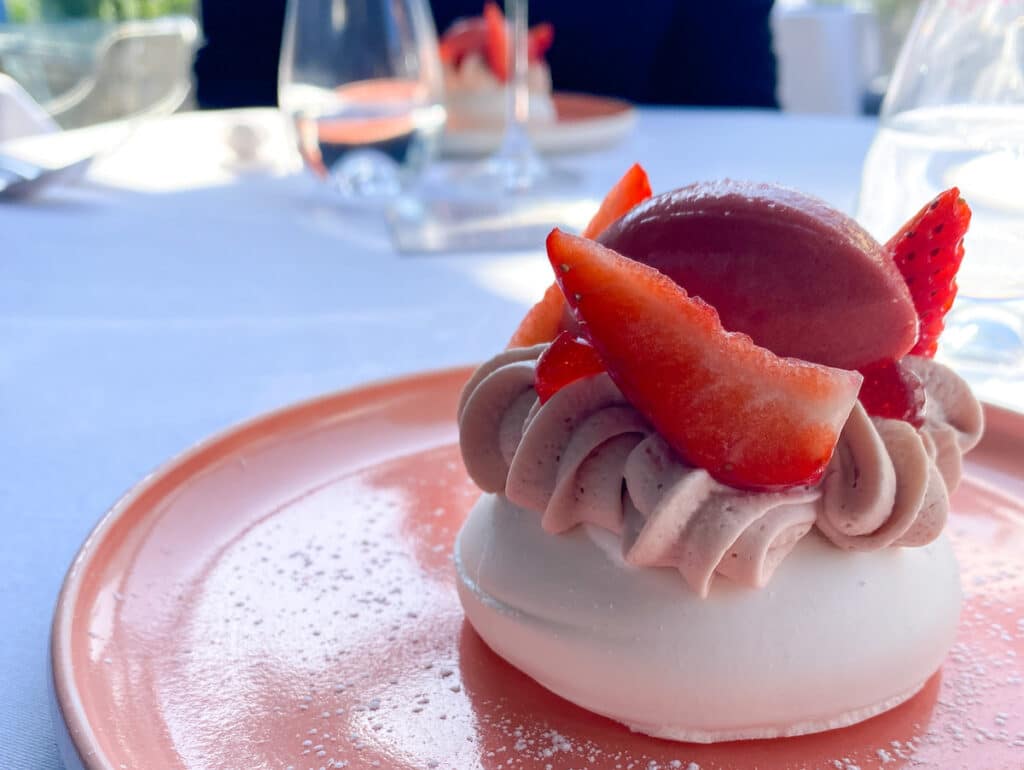 We continue our tour of amazing tasting menus with another Michelin Guide entry: Angler.
They were awarded their star for their excellent menu of sustainable seafood all sourced from British waters. Of course, the tip-top service and beautiful rooftop setting can't have hurt their chances with the Michelin Man either.
You can sample a spread of what they do best on their tasting menu. It's a tour of things from the land, air and (mostly) sea that will set you back a few quid but is undoubtedly worth the money if you've got it to blow.
Barge East
Hackney Wick
Price: £55pp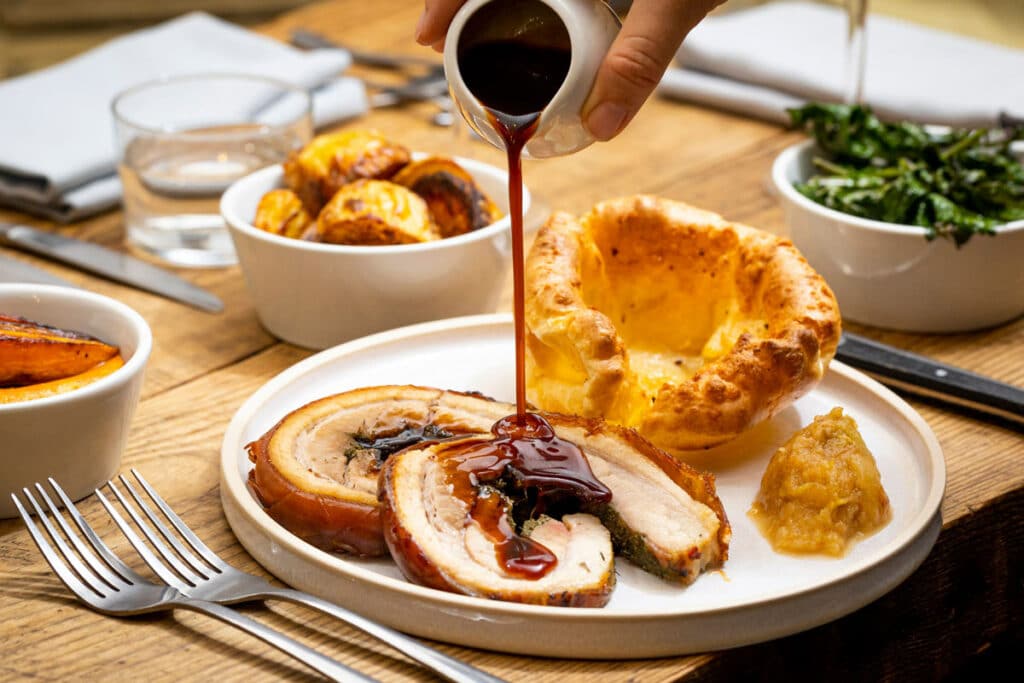 London never misses a chance for a good bit of waterside dining. If that's what you're looking for, Barge East should be on your radar.
The owners sailed this barge all the way over to Hackney, now in the shadow of the Olympic Stadium, from Holland. Now they run a restaurant out of it, growing the produce they use in the kitchen on the canal banks and adhering to a strict ethic of sustainability.
Their 6-course Taste of the Barge menu is a homage to some of the classic dishes that have been served aboard ship in the restaurant's short-but-mighty history. If you want to enjoy the curated wine pairing, it's well worth the additional £44 per person.
Dinner By Heston
Price: Six courses £195pp, eight courses £230pp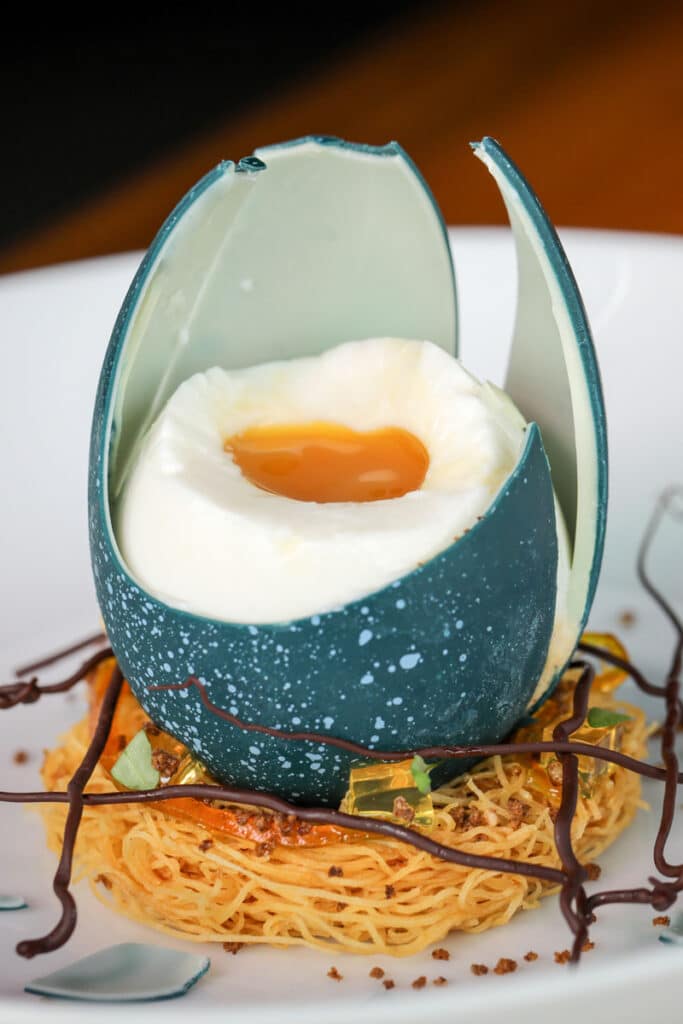 We had to include this one – not only is Dinner By Heston one of the most famous restaurants in London, it also tops the list of many global rankings for best places to eat.
Though Heston – as in Heston Blumenthal – doesn't offer a regular, dinner-time tasting menu at Dinner, he does have a very special option. That comes in the form of a six or eight-course tasting menu served at his chef's table. Could you ask for something more exclusive? Not likely.
If your pocket won't stretch that far you could always try the three-course set menu for lunch. That's a more affordable £59 per person.
Perilla
Green Lanes
Price: £66pp
If you know where to look you can find more casual options with food that's just as exciting as high-end Michelin star restaurants.
One of those spots is Perilla. They've made themselves a cornerstone of the North London dining scene with a stunning menu of seasonally changing dishes.
Though two visits are unlikely to be the same here, you can guarantee that what you're eating will be fresh and prepared in a way that allows the ingredients to do the talking.
The food takes that concept and works on a theme of modern European cuisine that you can sample the best of on their five-course tasting menu.
Trishna
Price: £90
Looking for vegan tasting menus? You can't do much better for a touch of the class and some good, vegan cooking than at up-market Indian restaurant Trishna.
They elevate the humble Indian curry to new levels, putting it on par with some of the best Indian restaurants in the city. You can experience their tasting menus in three forms: meaty, veggie and vegan.
Each menu has its charms. Guinea Fowl Pepper Fry seems to call our name from the meaty card, but cubes of smoked pineapple tandoori-style seems too good to miss from the vegan. What to do?
Restaurant Gordon Ramsey
Price: £210
Gordon Ramsey is mostly known for his shouty TV personality, and these days even more for the series of TikTok videos he made with his daughter that show an unknown cutesy side. Let's not forget that the man came to fame for being the UK's most promising chef.
Though you won't find him at his flagship kitchen much, his fingerprints are still all over Restaurant Gordon Ramsey. Noticeable by the fact it still retains the three Michelin stars it claimed back in 2001 – no small feat.
You can try the best of what this place is all about with its Menu Prestige, an eight-course showcase of a chef at the top of his game.
If you want to really splash out, £260 will get you Carte Blanche, an omakase dining option where you put your faith entirely in the chef's hands and let him curate a unique tasting menu just for you.
Sushi on Jones
Price: £48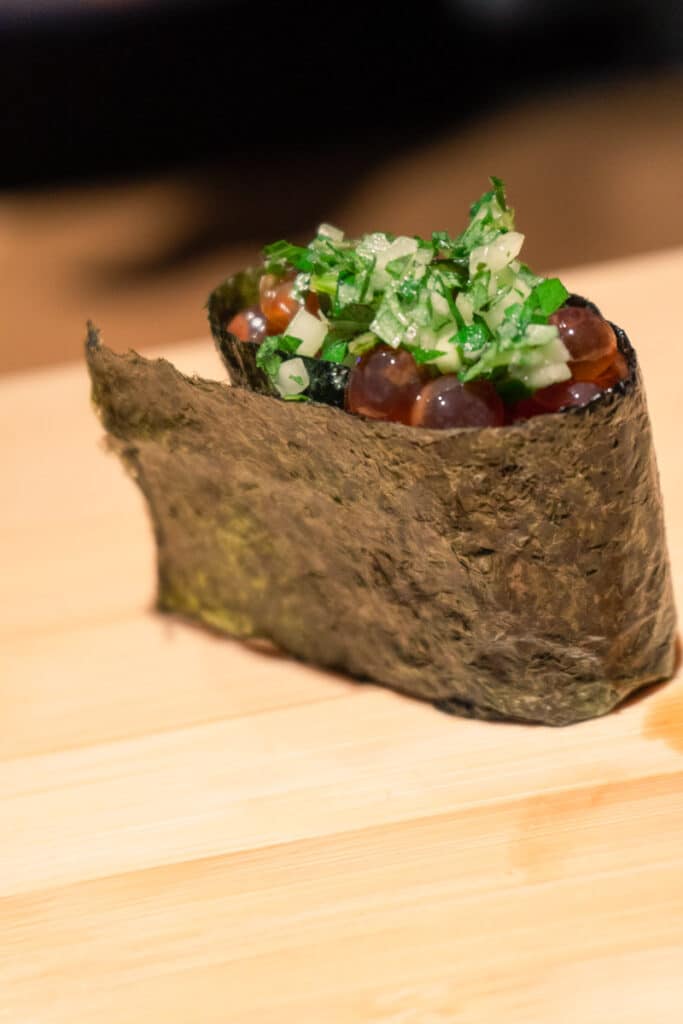 Omakase sushi is probably one of the finest ways to rid yourself of the worrisome burden of choosing food. What if you get your order wrong? What if your friend's dish looks better than yours?! Who'd want to deal with any of that?
Instead, let the chef decide. At Sushi on Jones, they'll run you through a delicious 12-course taster of what they do best: dishing up nigiri that is modern, playful and delicious.
Don't expect the type of stiff dining you might have seen at sushi restaurants on things like Chef's Table or Jiro Dreams of Sushi. This is casual dining. Keep it relaxed, enjoy your food and get on the move: the meal probably won't take longer than 45 minutes to finish. Such is the way with sushi.
Read More: Sushi on Jones Review
Nest
Hackney
Price: £65pp
One of East London's hidden culinary gems, Nest does things a little differently. They chase a sustainable approach to cuisine by building regularly changing menus around only one type of meat.
Once ordered they'll go through their stock, making the most of every bit of an animal so that none of it goes to waste. Animals are changed every couple of months depending on what's in season.
Their food only comes served as a tasting menu, but differs depending on the season. £65pp for what is usually a nine-course spread during beef season, increasing to £75 for seafood, duck, veg, and lamb season with optional wine pairings for £52pp. It's one you should really try.
12:51
Islington
Price: £49
12:51 is run by Chef James Cochran who used to work the kitchen at the Ledbury and has found his way onto the Great British Menu for his excellent cooking.
They offer two menus, both five courses but one with meat and the other a veggie option. The latter might just be one of the best vegetarian tasting menus London has to offer.
Both courses run on the same theme. Cochran's homespun takes on modern cooking using the best ingredients from around the country and letting them shine in simple, delicious ways. You can also enjoy drinks pairing for an additional £45 with curated wines from around the world.
Akoko
Fitzrovia
Price: £120
One of the most exciting things about waiting in a city as diverse as London is all the ways regional cooking gets to shine. Akoko is the epitome of this. West African food is seen through the lens of fine dining.
They up that by using quality, seasonal ingredients from around the British isles to artfully prepare a tasting menu that hits notes of spice, umami and smoke from live-fire cooking.
The price is steep but it gets you nine courses that work with ingredients from mussels to monkfish, and prized-cuts of Lake District beef – even making use of the tongue.
To complement this incredibly tasty menu of treats comes a wine pairing at £105.
Hide
Price: Five courses £160pp
Hide has long established itself as one of the coolest restaurants in London. Split across three floors there's plenty of space for dining and a hidden cocktail bar – very sleek – in the basement.
They've got two options for tasting menus, both as appetising as the other. The decision will have to come down to just how much of their top-notch contemporary cooking you've got space for.
There are two menus, each with nine courses. One is vegetarian, the other meaty where the highlight is the Venison cooked over flaming juniper. Wine pairings are available at four levels, Classic, Iconic, Epic, and Hedonistic, the latter of which will set you back £1,795!
Pollen Street Social
Price: £165
You might have noticed that a lot of restaurants in this guide use their tasting menus to showcase typically produce-led cooking, making the most of the seasons to dish up fresh, sustainable ingredients.
Nowhere is that truer than in the kitchens of Jason Atherton. After learning the tricks of the trade from Ramsey he's gone on to take on a restaurant empire of his own – one that stretches from London to Shanghai.
To get a flavour of what he's all about you'll want to be at Pollen Street Social, ordering the tasting menu, probably adding the wine pairing and tucking into such delicacies as Devon crab and 65-day aged beef fillet topped with duck liver.
A. Wong
Pimlico
Price: £200
If it's a broad selection you want from your tasting menu, then you won't beat those available at A. Wong's. As Wong is quick to point out, China is far from a homogenous country. It shares 14 borders and is a veritable melting pot of cuisine.
These many types of cooking are on display on A. Wong's Collections of China menu – a menu so long and extensive that we can't even count how many courses it involves. The fact that the restaurant recommends setting aside three and a half hours to get through it should be some indication of its length.
As to its quality. We'll let the Michelin star speak to that.
Core by Clare Smyth
Price: Core Classics – £215, Core Seasons – £235
One of London's most iconic restaurants has a tasting menu that's up there with the best of the rest. Core by Clare Smyth grabbed two Michelin stars the year it opened and snuck the third in the year after. That move made Clare Smyth the first and only woman to hold three Michelin stars in Britain.
The menus are slightly more playful than you might find at the other Michelin-star-studded venues around the city and therefore a nice entry point for people who aren't used to the world of fine dining.
No doubt they'll find much to love about Isle of Harris scallop tartare and the Lamb carrot of braised lamb and sheep's milk yoghurt.
Pidgin
Price: £72
Here's a restaurant that truly belongs in this guide. Pidgin was built around the very concept of the tasting menu. The idea being that a restaurant could serve up a new tasting menu every week, and nothing else.
They opened in 2015 and have been doing a roaring trade ever since, filling the restaurant up nightly with diners seeking their menu of highly original, creative dishes that are never the same.
That's right, never. Chefs James Ramsden and Sam Herlihy have never cooked the same dish on more than one menu, meaning they've created over 1000 new dishes since Pidgin opened.
Hunan
Pimlico
Price: £92.80pp
You can't overlook Hunan on your search for great tasting menus. Though we have to say we're a bit iffy about including it in our tasting menu guide. That's because it's sort of the anti-tasting menu – there is no menu at all.
You just hand over your cash, tell the chefs how spicy you like your food and any flavours you particularly love and they'll come up with something entirely unique to you. In spite of numerous courses, no two meals will be the same.
Chef Peng has, over the years, come to develop his own style of Chinese cooking. It's heavily rooted in the food of Taiwan, though it still holds strong to the Hunanese style he was trained in.
Sollip
Price: £135
Looking for something original? A tasting menu that will likely do things you never expected from a cuisine. Try Sollip. Woong Chul Park and Bomee Ki run a tasting menu-only restaurant that blends modern European and Korean cooking to a fine art.
The menu is a nine-course affair that flits between the two cuisines like a ballet dancer. You'll be eating steak tartare one minute, and the next be dished up slices of Daikon Tarte Tatin so beautiful you almost don't want to touch it.
Fusion food gets a lot of schtick. Not here.
London Shell Co.
Price: £75
In our view, the only thing that beats a tasting menu is a tasting menu on a moving boat. The London Shell Co. begins a 2.5 hour cruise along the Regent's Canal, beginning in the beautiful surroundings of Little Venice and ending up at Camden Lock before sedately turning around.
As you'd expect given the restaurant name, the menu is heavily seafood orientated, with Trout Crudo served with pickled mushrooms, celeriac and Granny Smith apple the highlight.
You can add platters of oysters for £25, Caviar for £25 and a wine pairing for £65 to really make the most of your cruise along North London's famous waterway.
SUSHISAMBA
Price: from £75pp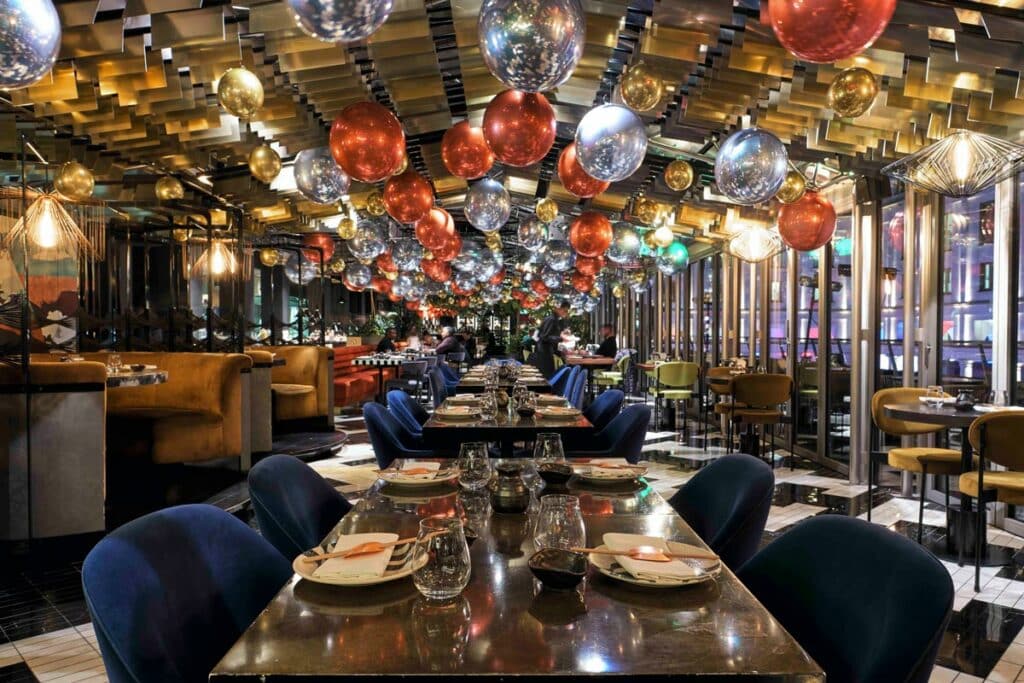 See the name Sushi Samba and your mind will probably go off on unimaginable tangents at the prospect of Latin American cuisine fusing with Sushi. Yet, trust us, nothing will prepare you for the incredible taste sensation this unbelievable tasting menu provides.
The well-paced six-course Taste of Samba menu (£120pp) contains between 10 and 13 dishes, beginning with edamame and crunchy plantain chips to set the scene, before taking you on a culinary journey across the Far East and Central and Southern America that has to be tasted to be believed.
The highlights? The Tiger Maki and Robata black cod served with Peruvian asparagus and miso. Sounds ridiculous. Tastes incredible!
Los Mochis
Price: £85pp
In the heart of the trendy and culturally diverse hotspot that is Notting Hill, Los Mochis is another restaurant that seamlessly fuses delicate Japanese cuisine with the stunning flavours of Mexican food.
Using the best seasonal products, the menu does evolve with the seasons, yet Los Mochis also has sustainability at the forefront of everything they do. Not only that, but their menus is 100% gluten, nut, and celery free, with minimal traces of dairy produce.
There are two 10-course menus, one of which is vegan friendly, and at just £85 per person, the value for money is outstanding. The Yakiniku Taco, combining grass-fed sesame-soy steak with chilli-ginger honey is divine, while the Falafelito containing fried chickpeas on the vegan menu is arguably even better.
Gauthier
Price: £95pp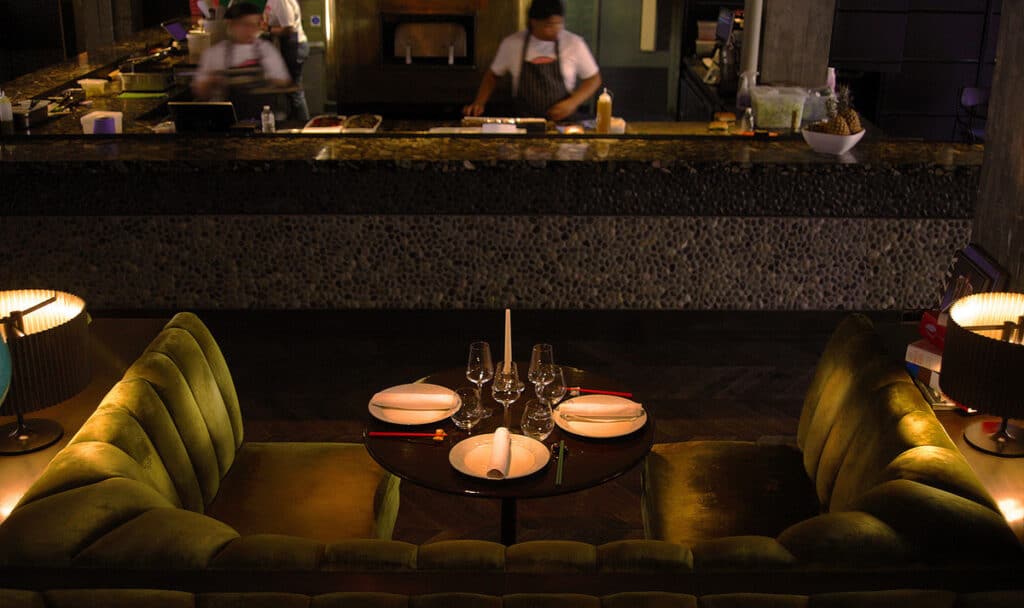 You may have scanned this list so far and thought it's nigh-on impossible to get a genuinely brilliant vegan-friendly tasting menu. Well, you'd be wrong, we've simply been saving one of the best until last.
Gauthier in Soho has a beautiful 10-course vegan taster menu that changes seasonally but includes some of the most imaginative taste sensations you'll find anywhere. The Butternut Rose on the autumn menu includes sauteed mushrooms, and quinoa and is seasoned with a moreish light turmeric sauce.
Yum!
London Tasting Menus: Map