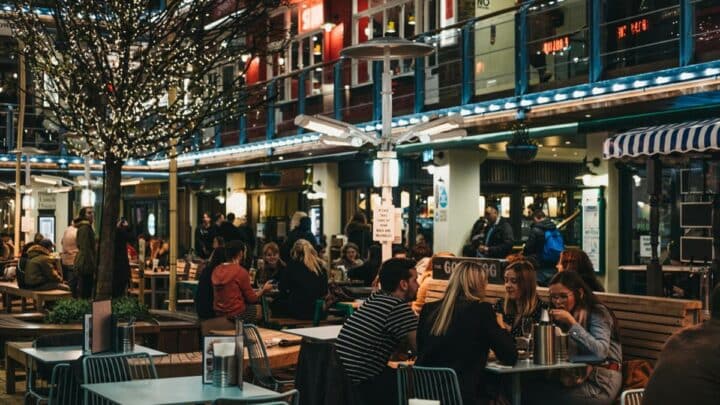 We asked… And you delivered. These are our reader's favourite restaurants in London.
There are so many great restaurants in London – and we're not just talking about the high-end.
Every neighbourhood has some great local spots to be proud of. We love talking about them and we love writing about them, but we wanted to know what you think.
We put out a questionnaire to pick our reader's brains for the places that they thought everyone should know about. Here's what they said.
Reader's Favourite Restaurants
Lemonia
"Lemonia is a family-run, traditional Greek/Cypriot restaurant. Casual vibes with loads of families dining there. Real neighbourhood vibes and great value for money. I feel like I'm abroad when I step inside!" – Milly, Primrose Hill
Our take: Milly's choice is a cornerstone of the Primrose Hill dining scene – and that's not one to turn your nose up at. Lemonia combines all the best of Greek cooking and London hospitality into a killer restaurant for big Greek feasts.
Stem & Glory
"A completely vegan restaurant! Their attitude to vegan food and cuisine is amazing. They're also net zero, take a sustainable approach to their food sourcing and the staff are wonderful." – Matthew, Ruislip
Our take: Stem and Glory is a solid shout for sustainable food in central London. You can't eat a meal here without leaving reinvigorated and ready to take on the day, or whatever is left of it.
Benihana
"Amazing chefs cook food on your table – great atmosphere and novelty aspects." – Amber, West London
Our take: International teppanyaki brand, Benihana, has been plying its playful, food-theatric trade across the world for nearly 50 years and is still going strong. That speaks for itself. There are two branches in London, one in Chelsea, the other in Covent Garden. You can't go wrong with either.
ROVI
"Ottolenghi – Every dish is amazing." – Anthony
Our take: Anthony said it. Ottolenghi never misses a beat. ROVI takes what's at the core of his cooking philosophy – good-quality, fresh ingredient-led cooking – and puts it under the microscope of a few new techniques, namely fermentation and a coal-fired grill. The results do not disappoint.
Bari Bari
Whitechapel
"The Korean BBQ and fried chicken is insane and it's such good vibes." – Marina, Hampstead
Our take: Simple, honest Korean cooking without any bells or whistles – rightly so, this food doesn't need them. Bari Bari's cooking is traditional and best enjoyed with a big group of friends, a few bottles of Cass and probably some soju for good measure.
The Freak Scene
Parson's Green
"The most amazing food in an intimate neighbourhood setting – you don't need to travel all the way into central for good food!" – Jessica, Fulham
Our take: An ex-Nobu head chef takes his cooking from pop-up to bricks and mortar restaurant and the result is the vibrant and exciting Freak Scene. The Parson's Green location is the third iteration of Scott Hallsworth's pan-Asian kitchen, and one we hope is here to stay.
Tofu Vegan
"Incredible food, the wontons in house special sauce are absolutely divine! The staff are friendly and welcoming and I have only ever had fantastic food here." – Sarah, Bow
Our take: Tofu Vegan does dishes of vegetarian and vegan Chinese food that draws on the cooking of Guangdong, Sichuan and Dongbei to create an eclectic range of flavours. Exciting enough you might swear you could go without meat for life if all veggie food tasted this good.
Nest
"Delicious tasting menu, creative and beautiful dishes with great wine." – Niclas, Stoke Newington
Our take: Nest takes a produce-driven look at how cooking can be done with minimal waste by only focusing on one meat at a time. They work closely with suppliers and small farms to get the best ingredients and turn it into a meal of expert cooking with a charming agricultural feel.
Sofra
"Nostalgia, consistently-tasty food, great and versatile menu. Their lamb and hummus dish is my personal favourite." Josh, Paddington
Our take: A restaurant that has been serving Mayfair, and London's diners, for longer than we can remember. Their cooking is traditional Turkish, but given the flare and white table cloths that you'd want from a dinner in this part of town.
King Rooster
"For the chicken burger meal. King Rooster is a reliable place to eat once having consumed alcohol or hungry for a late night bite." – Rod Ewan, King's Cross
Our take: Clearly a man who knows what he likes, King Rooster is King's Cross' local chicken shop. Open into the very early hours they serve up everything you'd want on a styrofoam tray come the end of the night.
Reader-Recommended Restaurants: Practical Tips and Map
We've got a pretty eclectic range of recommendations here, all of them solid. You should figure out which one best suits you and head over. Alternatively, pick one at random and commit.
Make sure you're booking ahead, especially for the more up-market places like Nest and Freak Scene. You don't wanna get all the way there and not have a table.
Reader-Recommended Restaurants: Map