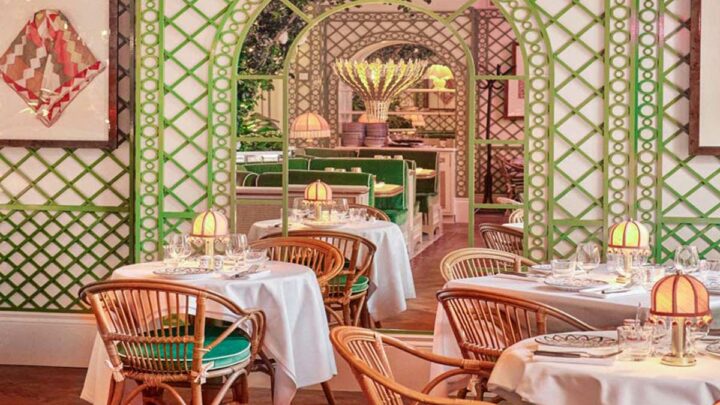 All the best from the boot-shaped nation – these are the top Italian restaurants in London.
London has a giant community of Italians – and they love to eat. Which is only ever a good thing… because we love to eat their food.
There's nothing better than the simplicity of Italian cooking when you're in the mood for it, and in London, you're spoilt for choice.
That said, there are a lot of bad places out there. Places where you'll fork over 20 quid for a bowl of pasta that couldn't pass in any trattoria worth it's salt. In order to save you from the dangers of the London dining scene, we've put together this guide of all the best Italian restaurants London has to offer.
Best Italian Restaurants in London
Manteca
We're mad about the pasta at Manteca. But half of London is too. For that reason, getting a table here can be a bit of a nightmare, but boy is it worth the hassle.
Our favourite dish has to be the brown crab cacio e pepe, a playful twist on a classic that should be ordered with a bowl of bread – you'll want to be mopping up every drop of that sauce.
The dishes here are small though, meaning you'll have to order a few little things to share.
A quick glance at the menu might cause alarm; being a nose-to-tail restaurant, Manteca doesn't shy away from unusual ingredients. Don't worry, you really can't go wrong.
Jacuzzi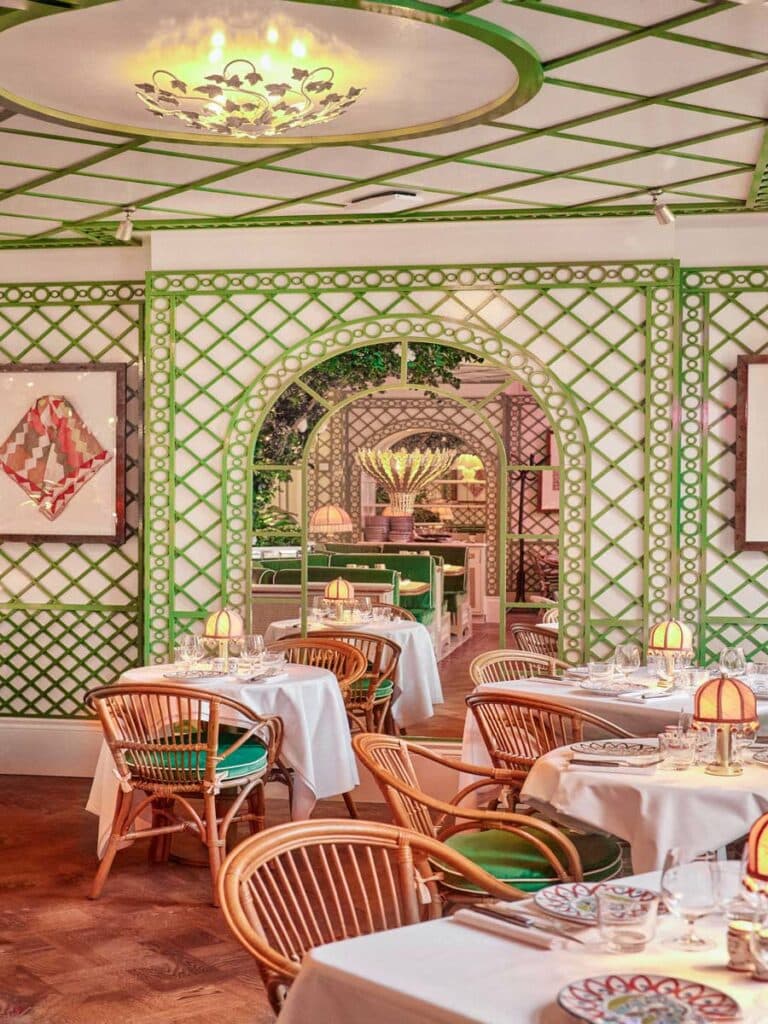 Jacuzzi seems to embody all that is the Big Mamma Group. It's over the top, bombastic, as much for the pre-party vibes as it is dinner, and underpinned by an excellent menu of Italian food.
This, their Kensington outpost, took things a step further than they had gone before by taking over four floors of a townhouse and turning them into a self-professed 'pleasure palace'.
You'll be dining out among baroque decoration that seems to drip from every wall and cornice, on dishes that are just as flamboyant. It's not the one for that quiet Italian meal for two, but if you've got something to celebrate, you can't do much better in this guide than Jacuzzi.
Cicchetti
Knightsbridge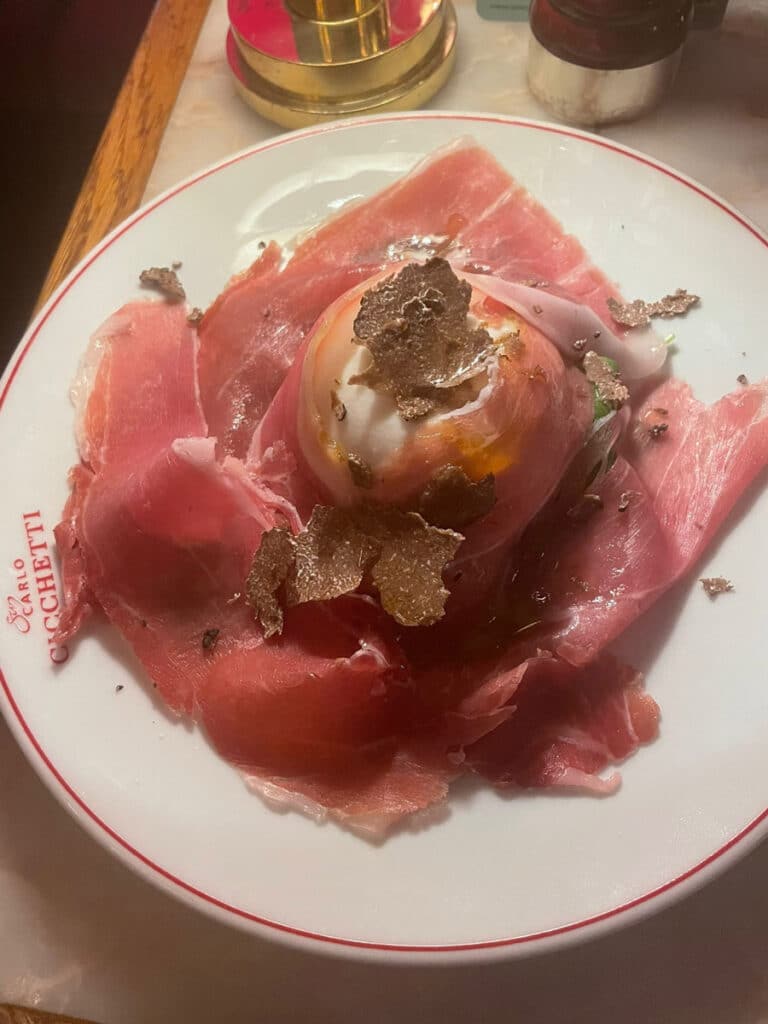 At Cicchetti Italian elegance plays the setting to some pretty superb cooking. You'll be dining from a menu of Cicchetti – Venetian small plates enjoyed kind of like tapas – before making your way onto some killer pasta dishes and meat and fish done in classic italian styles.
The food hits the spot and the menu is big enough to warrant a return trip. While on the subject of extensive menus, Cicchetti also has a selection of wines that will impress and a bar that mixes excellent cocktails should you prefer.
The cherry on top of the cake is that the place looks grand, having the kind of class and charm that you might expect from an old Manhattan Hotel or a fancy establishment on the Riviera. You really can't go wrong.
Trullo
Sweeping up with ease the Michelin Guide's Bib Gourmand award for great-value cooking, Trullo is a solid option when you want to get maximum bang for your buck.
The cooking is simple, to-the-root Italian and has all the rustic charm you'd expect to find in a village in the Dolomites, not the bustling streets of north London.
You don't want to miss the meat and fish they cook over their charcoal grill, or the pasta that they prepare fresh, by hand, before each service.
Berbere Pizzeria
Berbere Pizzeria brings sourdough pizza from Italy to London – literally. The pizzeria was founded in the motherland of the 'za and opened 12 locations in the country before bringing the business over to our fair city.
They've got two locations, one in north London and another in the south. Either spot is good for a bit of what they do best: thick crusty Neapolitan pizza loaded with stringy cheeses that are just begging to be pulled apart (and probably snapped on your Instagram).
You'd be a fool not to indulge in some of Berbere's desserts too. But truthfully, who could see sweet dough balls deep fried with gelato and peanut butter on a menu and resist?
Trattoria Brutto
Faringdon
Serial London restauranteur, Russell Norman, strikes again with Trattoria Brutto, a foodie hotspot to join the ranks setting a very high bar for cooking in the Farringdon/Clerkenwell area.
The food is experimental, but deeply rooted in the tradition of Italian cooking to an almost obsessive level – and it tells. You'll be dining out on dishes that take the biggest pointer from the Italian cookbook and run a mile with it: simplicity and good ingredients
We love their vodka pasta, but it's hard to find anything on the menu here that you won't enjoy.
Murano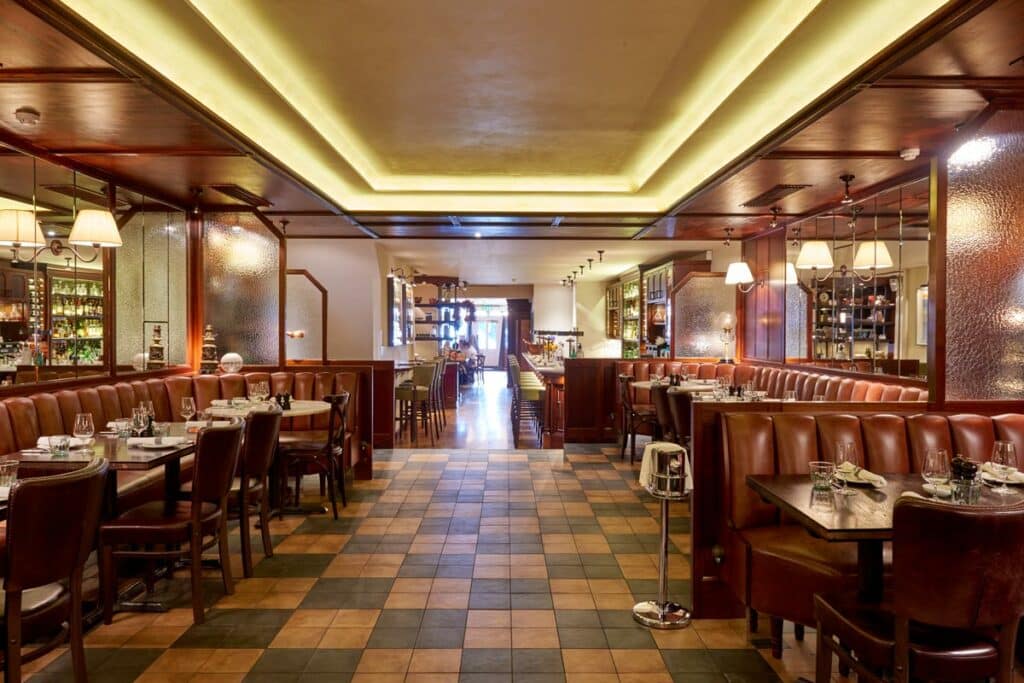 If you're after for a more up-market Italian dinner, look no further than Murano – a suave and sophisticated eatery with a Michelin star and a reputation as one of the best Italian restaurants central London has to offer.
The chef behind the project is Angela Hartnett, a well-known protégée of Gordon Ramsay who's also appeared on TV but like her mentor, owes her fame mainly to her excellent skills in the kitchen.
The food is generally northern Italian but does offer a few very, very well-made pasta dishes. Generally, though, you'll be eating Italian food seeking out the edge of what the cuisine has to offer, and doing so with a glass of very nice Italian wine in hand.
Padella
London Bridge, Shoreditch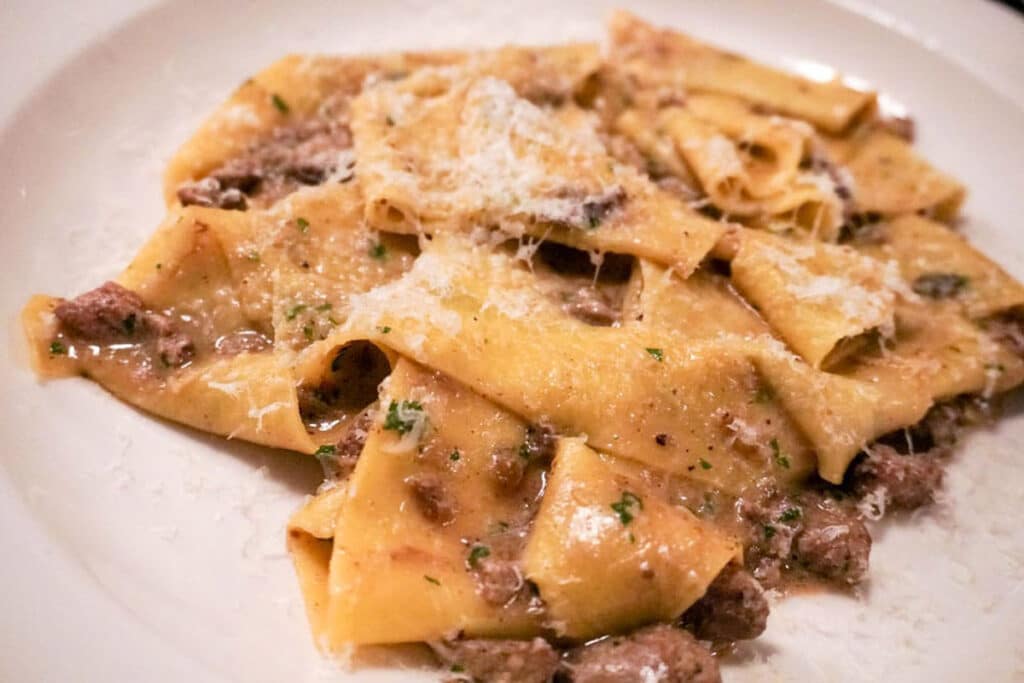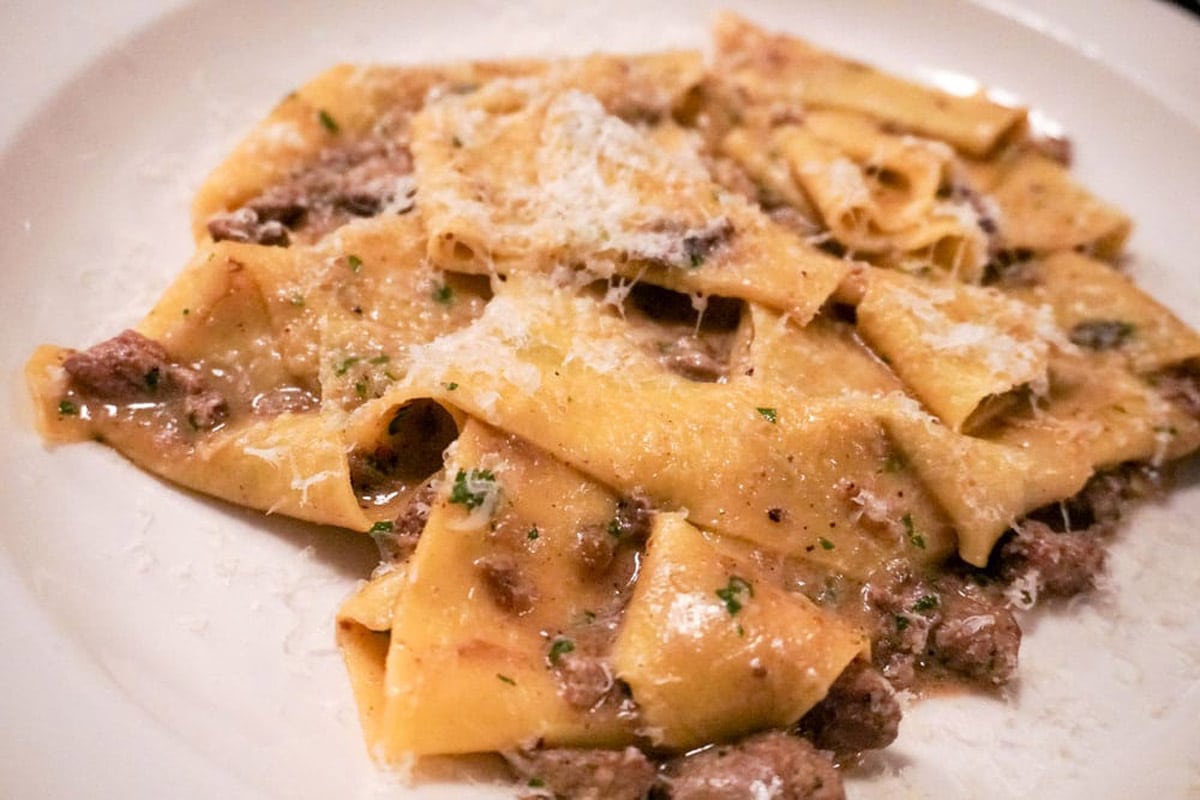 Padella joined the scene of London pasta restaurants and pretty much took it by storm. Their business model is simple – make fresh pasta with excellent sauces and sell it for the price you should be paying.
That is: you're not going to fork out more than it's worth. Pasta is basically just egg and flour after all. They make theirs fresh and top it off with the only thing in the restaurant that seems to be more than straightforward – their sauces.
They are changed in and out regularly and are never anything if not creative and delicious. Pair it with a glass of wine that's as reasonably priced as your main and you're on for a winner.
For all the above, even in the foodie mecca that it calls home, Padella is still arguably the best Italian restaurant the London Bridge dining scene can claim.
Ciao Bella
Holborn
Ciao Bella seems to have been around since the dawn of time. It's been serving the Italian-obsessed in London for literally years – nearly 50 of them – and the fact of Ciao Bella's institutional status in London's Italian dining circuit means you'll be eating alongside folk from all walks of life.
The food is unfussy, straight-up cooking that hits all the spots you want from an Italian menu. Our favourite is a faithful plate of spaghetti vongole, though it's hard to pass on one of the pizzas if you're unlucky enough to catch a glimpse of one before you've made up your mind on the order.
The interior is decorated with (what must be) tongue-in-cheek images of notable Italian actors and fictional figures that are fun to try and name while you wait for dinner to show up. If it's warm enough, though, try nab one of the coveted street-side seats outside.
Bar Italia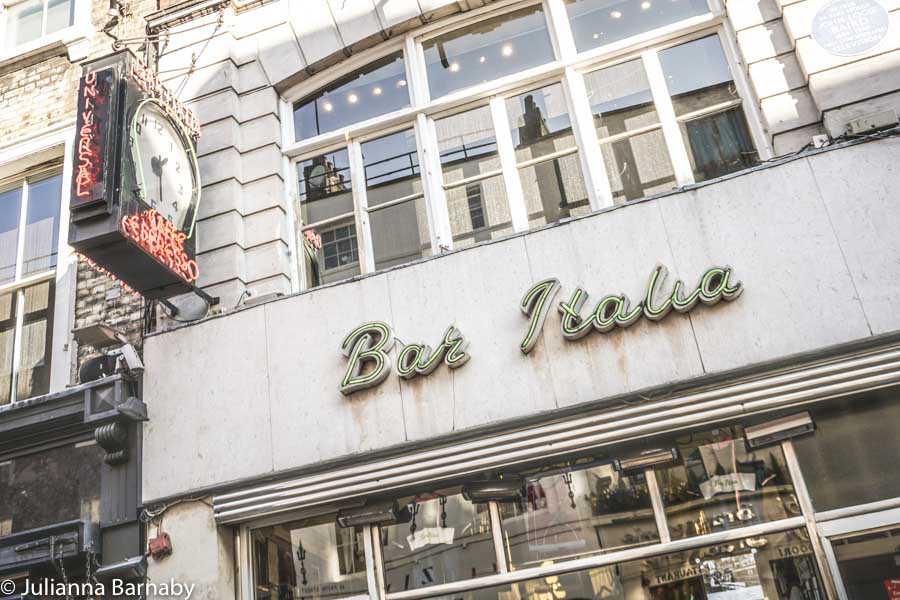 Ok, so you're right. Technically this is a bar – it's even in the name. That said, Bar Italia does have a full menu of food, and plenty of things on the pastry counter to fill it out into a two or three-course affair.
Then throw in the fact that Bar Italia is a London institution that's been frequented by the likes of Anthony Bourdain and a slew of other (admittedly less gourmand) celebrities, and that it's been doing its thing since 1946, and you can't really knock it.
The food is simple and will probably be enjoyed at their long counter seat as getting a spot to sit down at a real table here is near impossible – but that popularity is just another reason we're shoehorning a bar into our restaurant guide.
Bocca di Lupo
Soho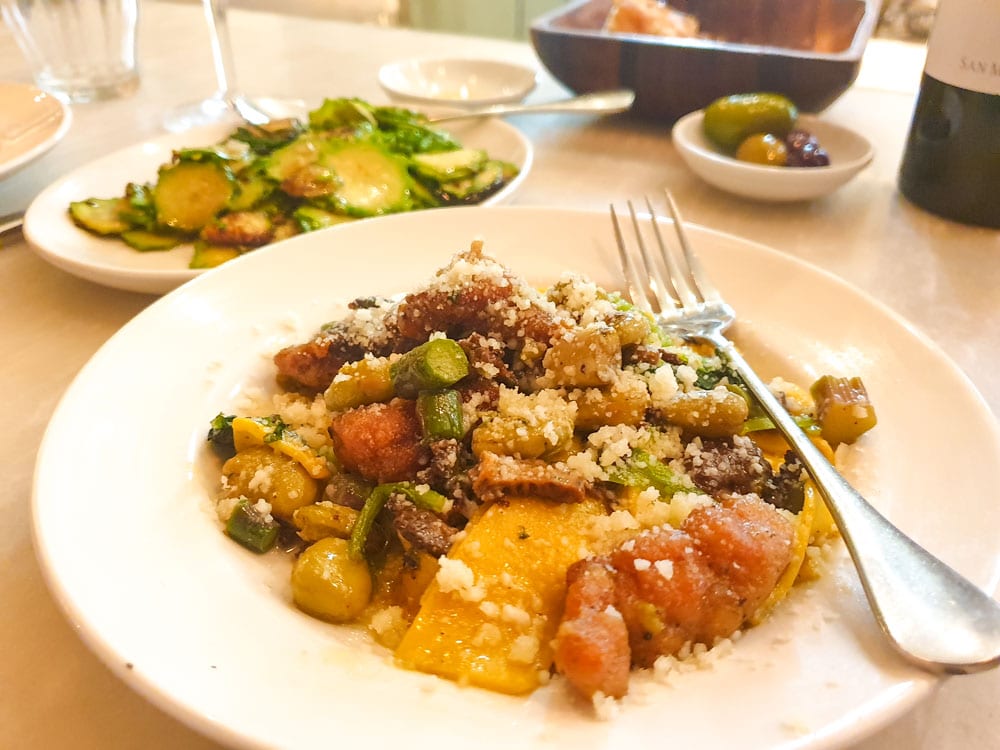 Another Soho institution makes our guide in the form of Bocca di Lupo – a friendly neighbourhood joint that's cooking puts it high on most people's lists as one of their favourite London Italian restaurants.
It's also won a lot of official recognition too, jumping to fame almost straight off the starting line. Why? Well, they do have a pretty stellar grasp of what makes a restaurant a special place, that magic unification of food and atmosphere.
Here a tapas-style method of dining takes over from a traditional setup of plate-after-plate dining, encouraging patrons to drink, chat and relax while taking their dinner slow. A formula we can't argue with one bit.
The River Cafe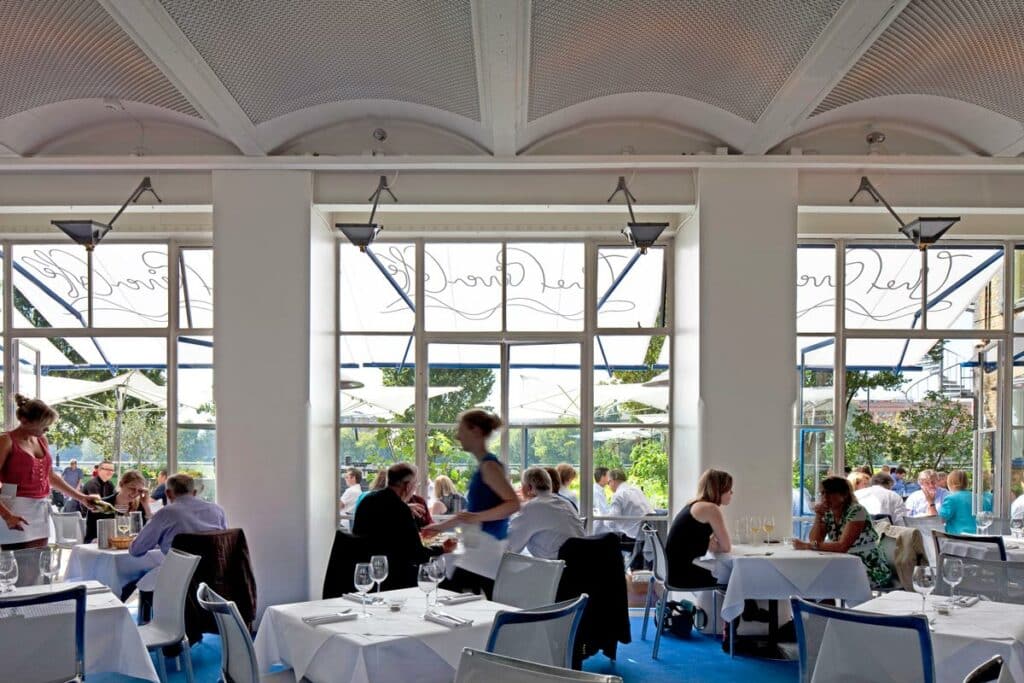 A conversation about the best Italian restaurants in London would be vapid to the point of ridicule without mentioning The River Cafe.
There aren't many restaurants in the world, let alone this city, that have produced as many talented chefs as this place. Among a host of others, we Brits have this place to thank for celeb chefs Jamie Oliver and Hugh Fearnley-Whittingstall.
But none of that means anything without a solid reputation for good cooking, and the River Cafe has it by the bucketload. It's been awarded a Michelin star for its inventive, seasonal cooking and is widely regarded as one of the best Michelin star Italian restaurants London has to offer.
Bancone
Another one of the restaurants to jump on the hot London food trend of making pasta and excellent sauces – and serving them up at prices that won't leave the customer feeling robbed – is Bancone.
They, much like a few other spots in our guide, have picked up a Michelin Bib Gourmand award for great-value cooking, and much like those other spots, command queues sometimes a month long on booking sites.
Once at the table though you'll be dining at one of the best affordable Italian restaurants London has to its name, on hand-made, fresh pasta, that will make you question how so many of the other restaurants can get away with charging what they do.
Luca
Clerkenwell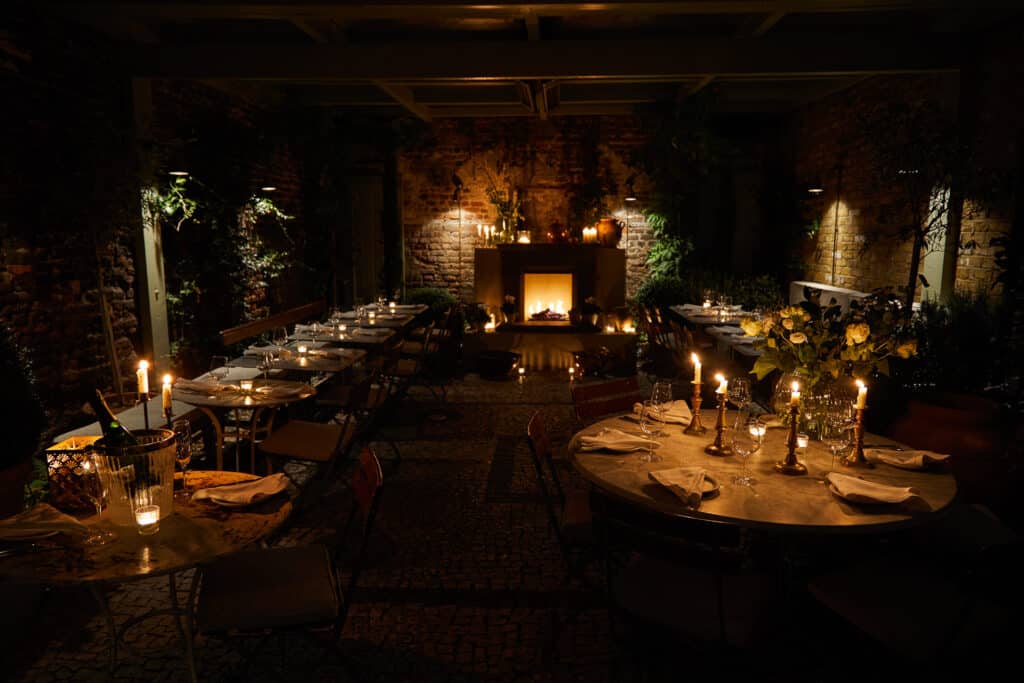 A surreptitious contender for best Italian in London may go to Luca. They take seasonal British ingredients and turn them into some really good-quality Italian cooking – good enough to win it a Michelin Star.
Much could be said about this cooking, but we also love Luca for its interior design. The back courtyard feels so charmingly rustic and Italian it's hard not to fall in love with the restaurant as soon as you see it.
And on an evening trip for dinner the dark, candlelit dining room ticks all the right boxes for a romantic dinner for two – fueled by some great Italian wine or a negroni or two from behind their bar.
Notto
Piccadilly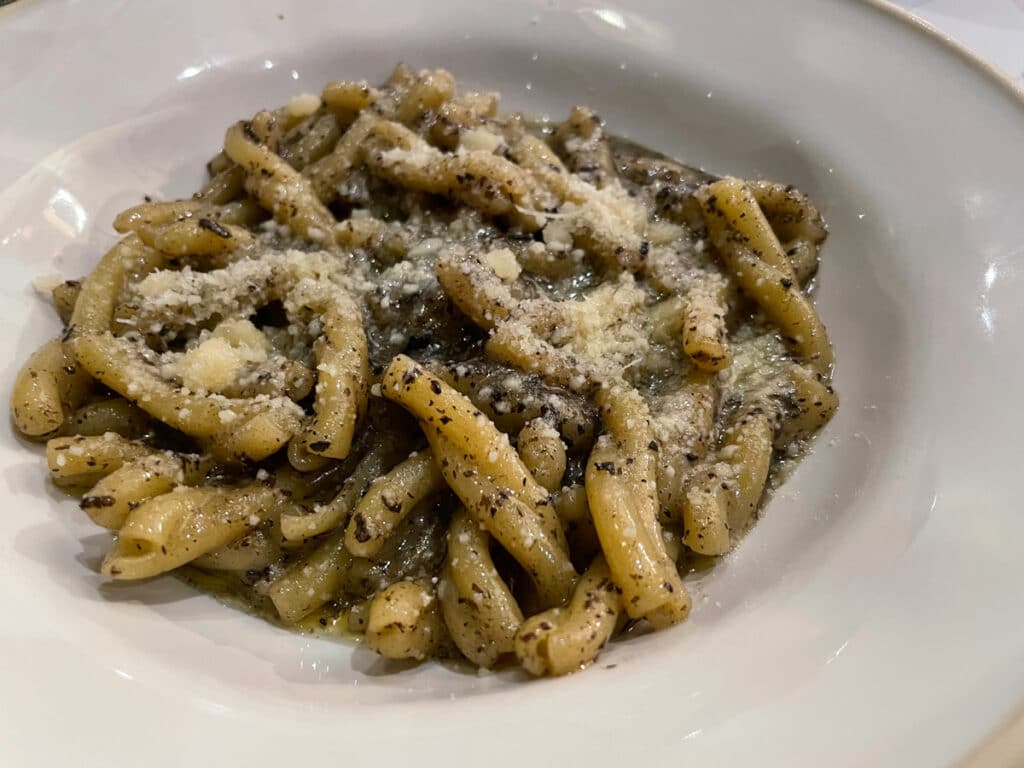 Notto is the new kid on the Italian block in London, and one that came in hot – you've gotta be pretty sure of yourself to swoop straight into a swanky Piccadilly address in a city with rent as high as Londons.
They did, we suppose, have some reliable market research under their belt though. Notto started life as a pasta delivery service during lockdown, and one that grabbed a lot of public attention.
They then put together a crack team of hospitality folk, from accomplished chefs to the most charming of maitre d's and set to work. We went down there to review the place when it opened and love it. You can read more about that here.
Practical Tips for Exploring the Best Italian Restaurants in London
London has a lot of Italian restaurants. Like loads of them. And, to be brutally honest, not all of them are that great. We've been stung too many times to remember. When it comes to Italian restaurants, it's really best to trust a recommendation.
Make sure you book ahead, folks.
London Italian Restaurants: Map