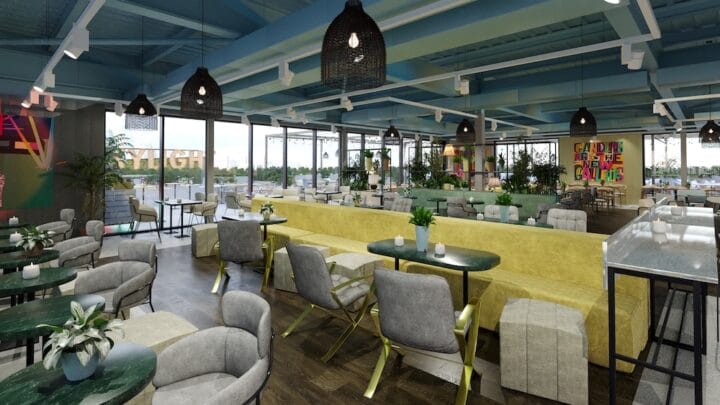 Drink your way around the best bars in Peckham with this go-to guide.
Reppin' South London cool, Peckham is known for its vibrant nightlife and atmospheric bars so it's safe to say that when it comes to drinking spots, there's no shortage of options.
Want to sip a cocktail whilst staring at the London skyline? Peckham's got you covered. How about quaffing a new-found saké with your pals? No problem. Whatever drinking spot you're looking for, Peckham comes through.
These are the bars in Peckham you shouldn't miss.
The Best Bars in Peckham
Frank's Cafe
££
Tucked away on the top floor of a ten storey car park, Frank's used to be one of the area's best-kept secrets.
Those days are long gone but this stunning rooftop bar in Peckham still continues to charm – not least because of that Instagram-worthy bubblegum pink staircase.
Even better than relying on looks alone, the cocktails at Frank's are reasonably priced, the food is delicious and it never fails to attract a laid-back crowd.
Skylight Peckham
££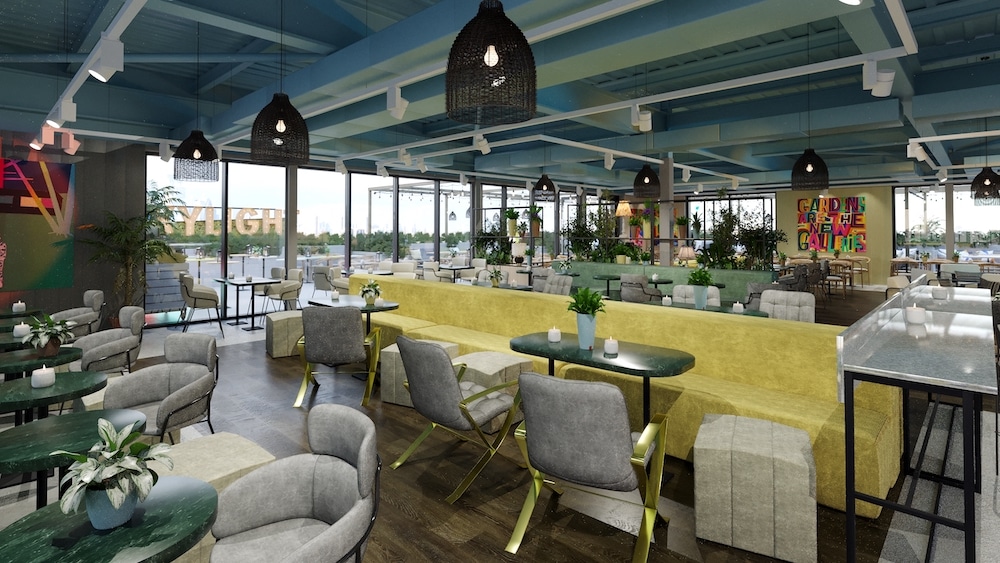 It may have only opened last year, but Skylight Peckham has already made a name for itself as one of the Peckham rooftop bars to have in your little black book.
Slightly bougier than the Tobacco Dock original, Skylight Peckham hones in on the best bits of its older sister – in other words, the cocktails and the food – adds in a hefty dollop of gorgeous views and lets rip.
Unlike some of Peckham's other rooftop spots, there's also a substantial indoor area to hunker down in on a rainy or chilly day.
Bar Story
£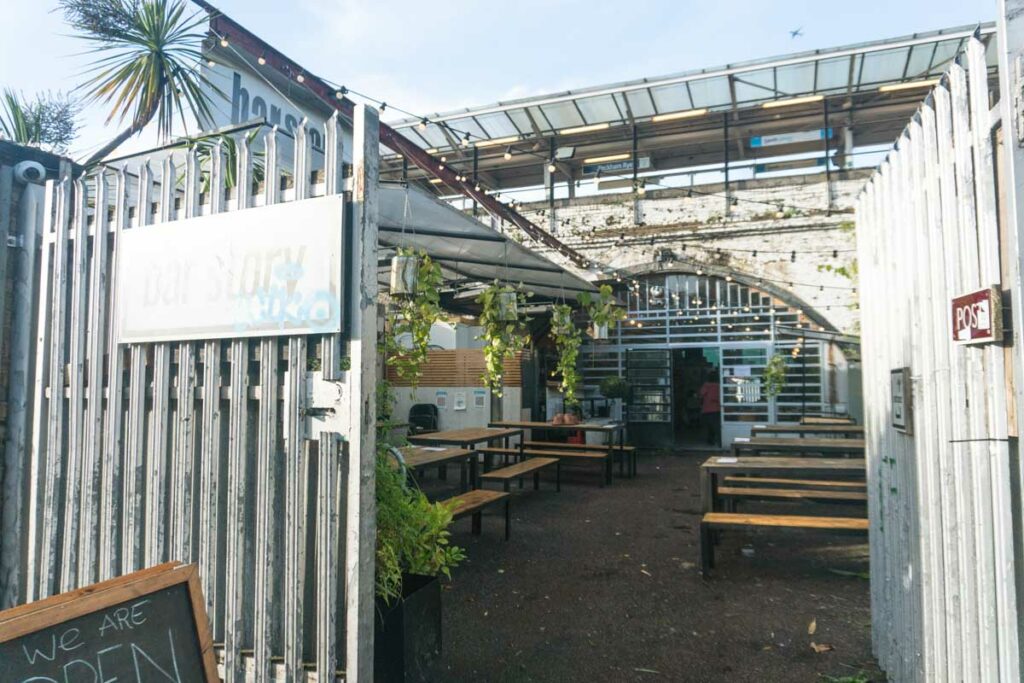 Ahh, Bar Story. If ever there's a classic Peckham bar we've got a lot of love for here at London x London, this is it.
Sitting underneath the train tracks of Peckham Rye Station, Bar Story's makeshift garden is one of the places to head to in the summer – particularly when their very generous happy hour is running.
The rest of the year, grab a seat in the cavernous space inside, work your way through their cocktail list – order one of their rather tasty pizzas to stop things from getting too messy.
Bussey Rooftop Bar
££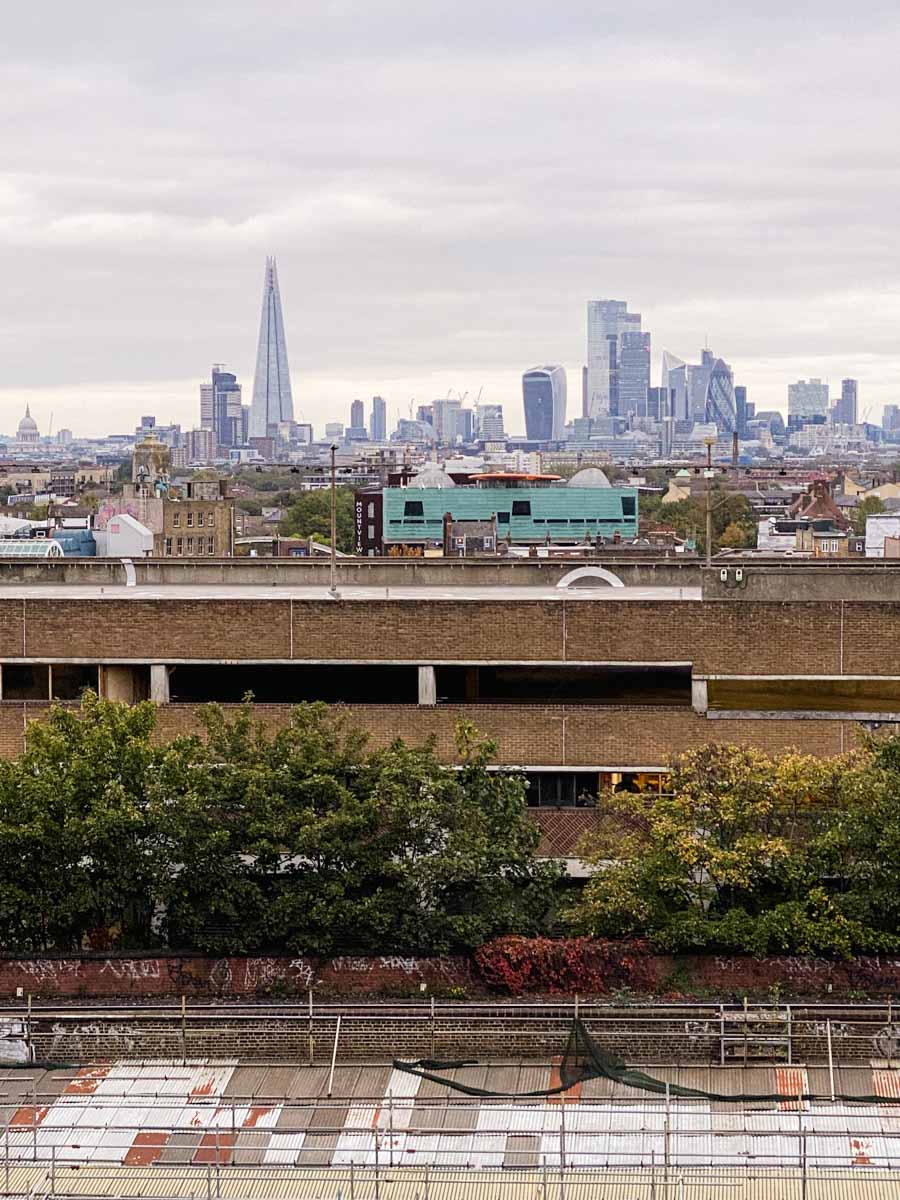 The iconic Bussey Rooftop Bar sits atop the Bussey building in the heart of Peckham – the tallest (and one of the coolest) bars in the area, with 360-degree views of all of London.
But the Bussey isn't just about the views. Their menu offers a wide variety of expertly-made virgin and hard cocktails and local beers. If you're feeling peckish, their socially-conscious pizza is a great choice to satisfy the munchies.
Funkidory
££
If you're tired of going to mediocre identikit bars, head to Peckham's Funkidory bar.
Touting pure funky vibes and cool music, this locally-owned favourite deserves a spot on any guide to Peckham's best bars.
Funkidory was first opened in 2018 by a couple with experience in the London bar and event scene and combined their expertise with their love of funk music. The result? A magical spot serving crafted cocktails with a carefully curated playlist to keep the good times rolling.
Near & Far
££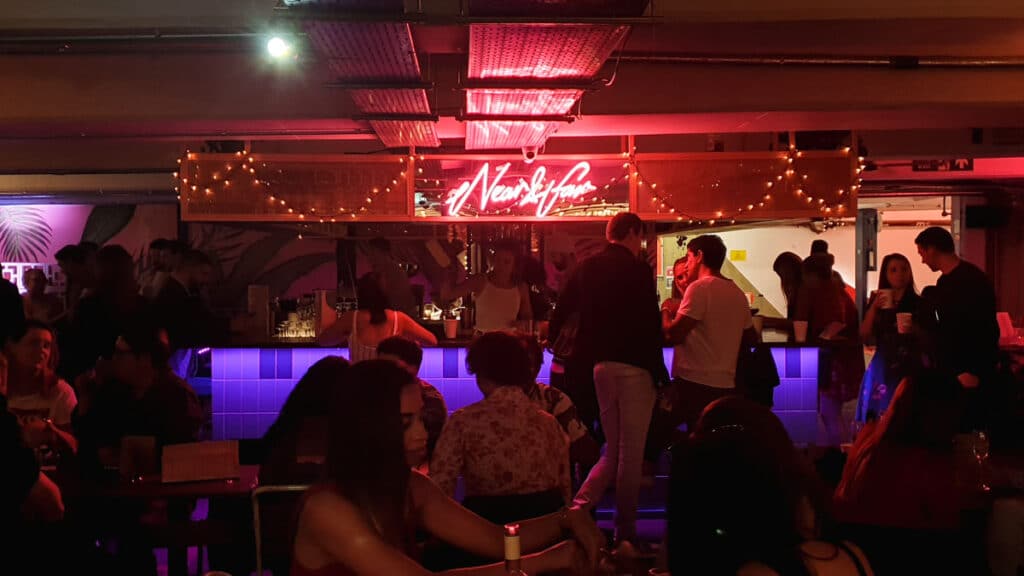 Near & Far is a fantastic bar located smack dab in the middle of Peckham Levels.
Inspired by world travels, imports, and exports, the menu and decor of Near & Far is genuinely something special.
It's the living embodiment of Palm Springs all neon lights and palm trees – if you took Palm Springs and put it into a South London car park that is.
Peckham Riviera
££
This bar is the perfect place if you want to take a break from the bustling London scene. Nestled between Peckham Rye Station's arches, Peckham Riviera is a heated outdoor garden with several art installations.
Located away from the main streets, Peckham Riviera is a spot of urban nature in the Peckham Bar scene. They have a container bar for great cocktails and beers and a rotation of local foodies to enjoy.
Things really kick off at the weekends – get there early if you want to bag a spot.
Rye Society
££
If you're looking for a great Peckham Rye bar, look no further than Rye Society, a local bar that showcases the produce of microbreweries in and outside of London.
Drink your way through the widest selection of craft beers in Peckham.
Located on the rooftop of the Bussey building, Rye Society pulls the best of the best from the microbreweries. It combines impressive beer with a menu filled with sustainable plant and meat burgers.
Forza Wine
£££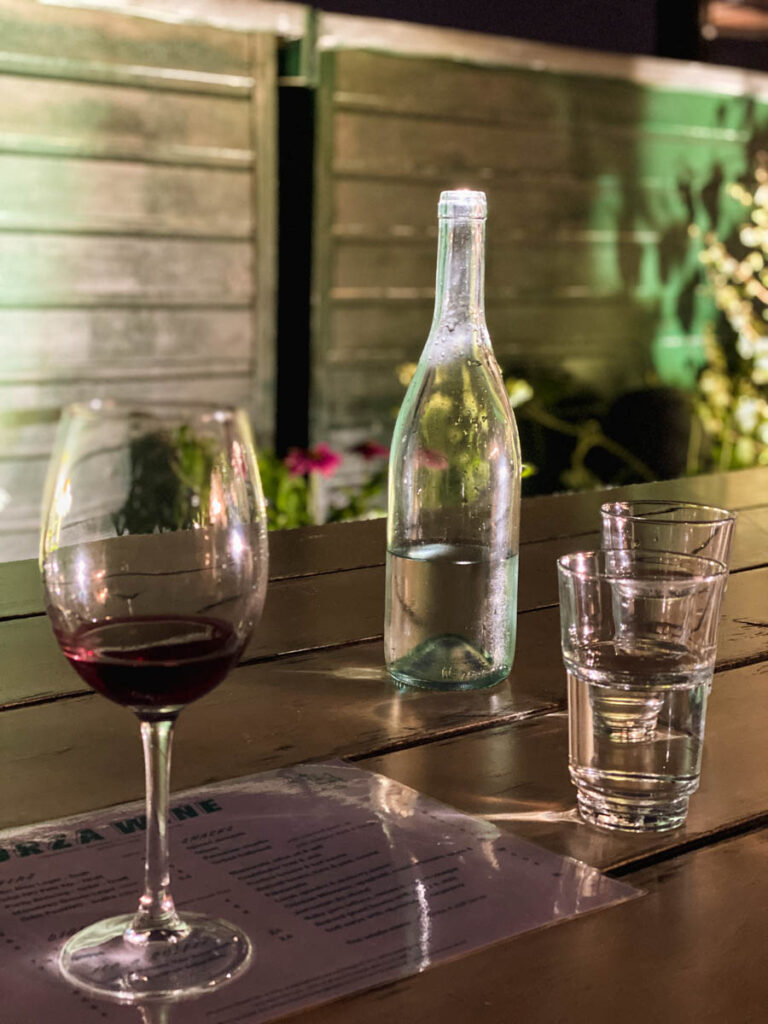 Forza Wine is like its previous Peckham incarnation Forza Win, but better. If you liked Forza Win, you'll love Forza Wine. If you never got to go to Forza Win, you shouldn't make the same mistake with Forza Wine.
A rooftop bar in Peckham offering snazzy drinks, food, and views, Forza Wine is undoubtedly on the higher end of Peckham bars, but it's worth it. It also just so happens to be one of the area's best date spots – just saying.
Brick Brewery Bar
££
Brick Brewery is a famous local brewer, and their original location on Peckham Rye is home to their Tap Room which has over twenty lines of their beers.
If you're a fan of their gorgeous beers, this bar is a must-visit to try all the varieties they have on tap. When you visit, make sure to try their quality gyros, they pair well with their top-notch beers.
Kanpai
££
Maybe you're looking for something a little different? Something you haven't tried before? Then check out Kanpai, the UK's first saké brewery
Saké is a traditional Japanese alcoholic drink made from rice, and the owners of Kanpai want to spread their love of saké with this brewery and bar.
Their bar specialises in sake and sake-based drinks, serving traditional Japanese street food such as takoyaki and gyoza. Just make sure to say "Kanpai!" before you down your glass. It's the equivalent of "Cheers!" but in Japanese.
Cool bars in Peckham: Practical Tips
Before you go drinking, make sure the bar you're going to is open. Most of the outdoor and rooftop bars close in the colder months when it's impractical to have the bar open.
Some bars such as Forza Wine reserve most of their seating for bookings. On the opposite end are other bars like Kanpai that take no bookings and operate on a first-come, first-served basis. Check how busy they are and the possible wait time before going.
Peckham Bars: Map
Discover More Peckham Guides